Vegan pasta with creamy sauce and roasted zucchini slices is a dish for every day. At the moment I get zucchini from all sides and I was long pondering what to do with it. At some point I had the idea to simply roast the zucchini slices with a little olive oil in the oven. No sooner said than done, and out came a fine pasta with a creamy sauce and a subtle roasted note.
Vegan pasta with creamy sauce and roasted zucchini slices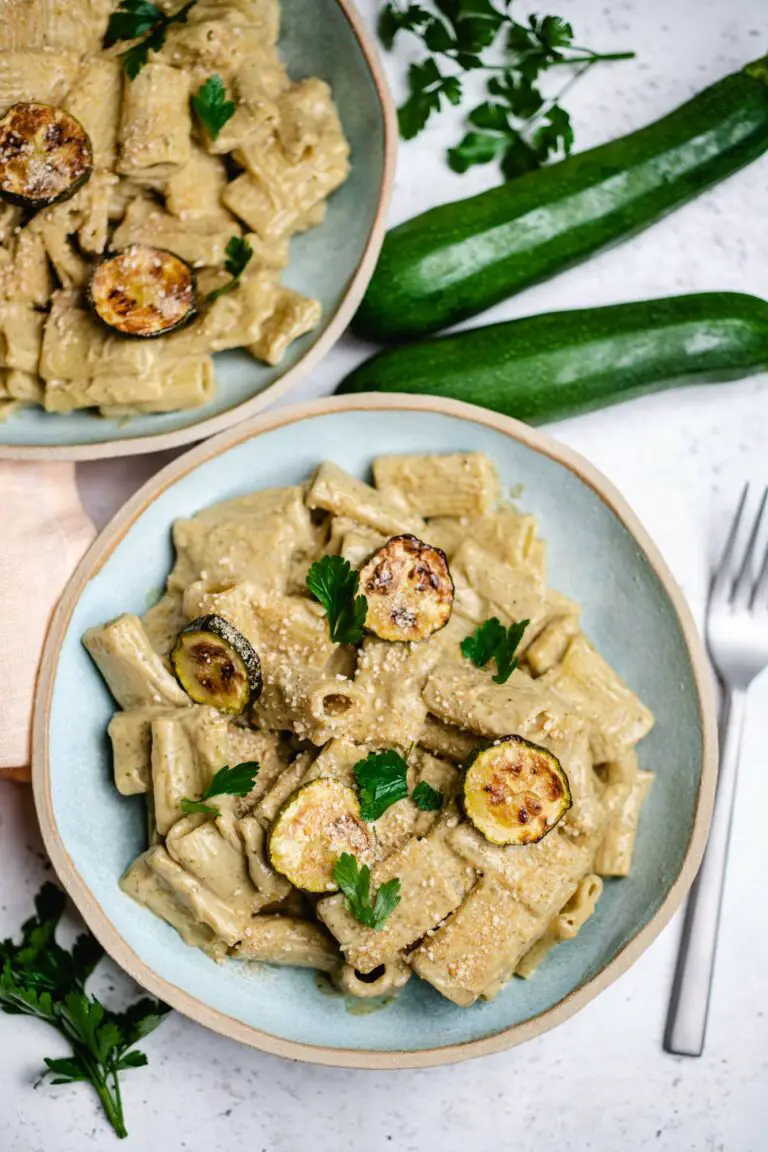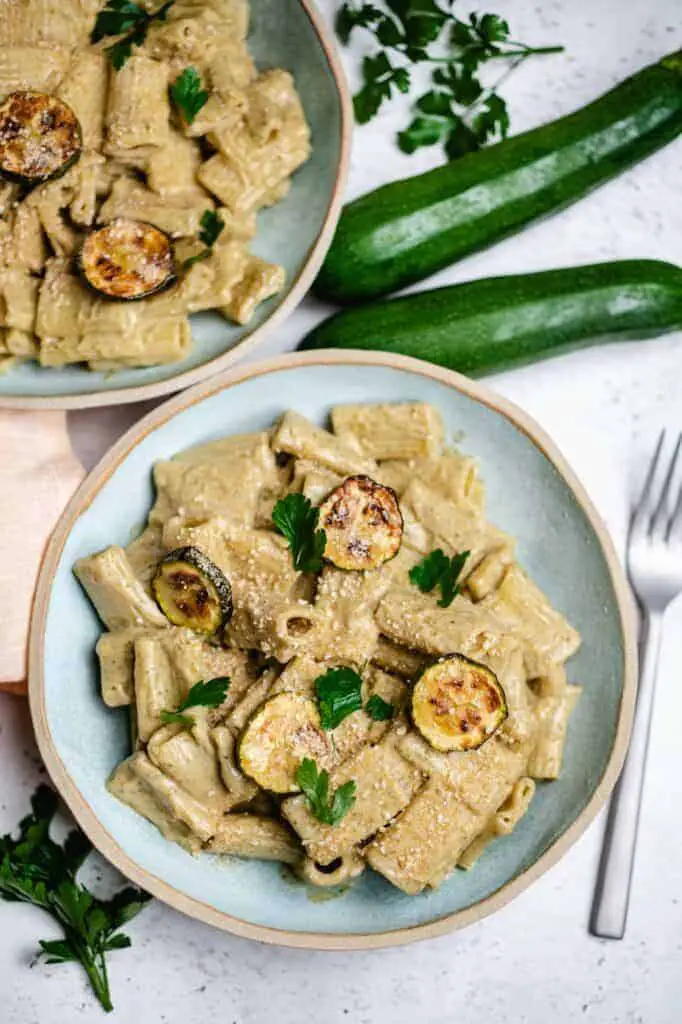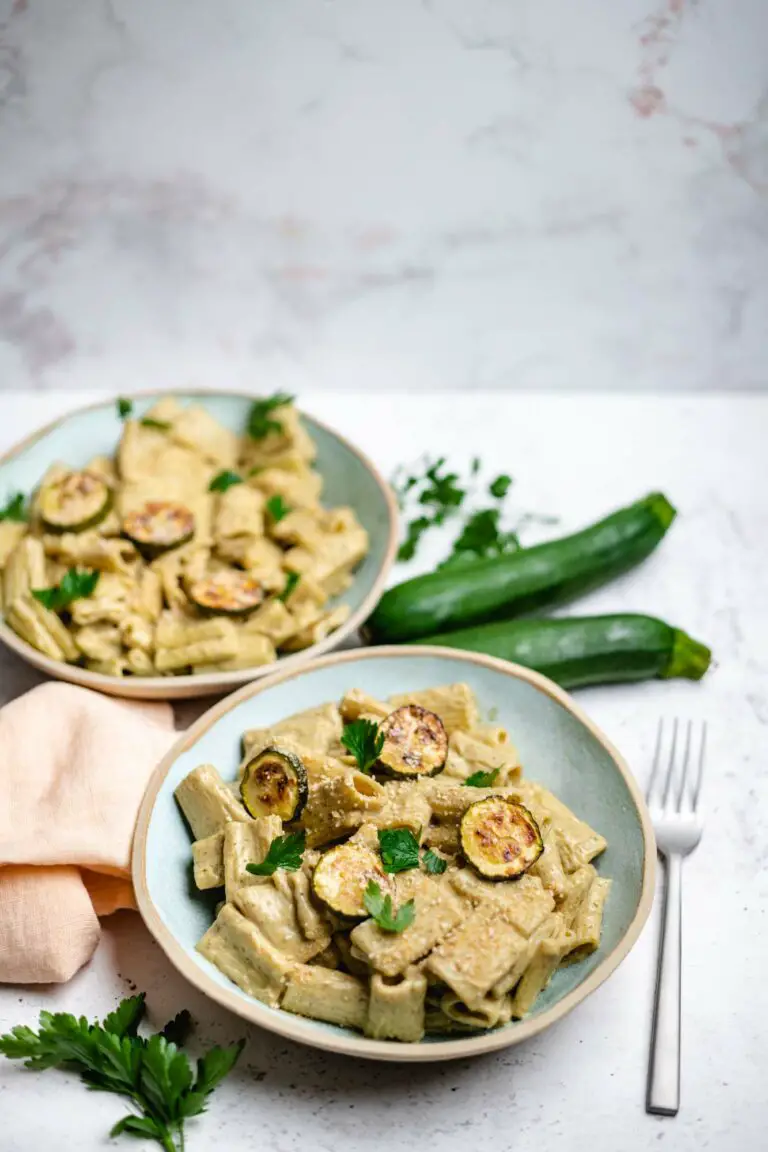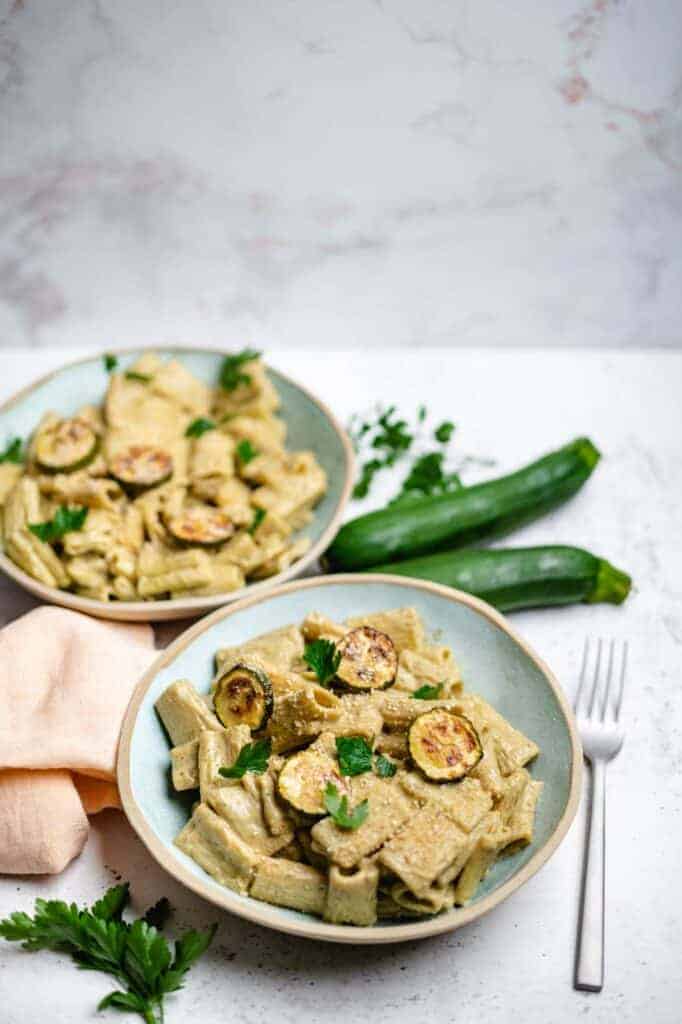 This simple and quick vegan dish consists of two components, the pasta, and the sauce. When choosing pasta, you can freely choose between a classic durum wheat pasta, or a gluten-free version. For gluten-free variations, pasta variations made from rice or other legumes are suitable. You can find gluten-free pasta in well-stocked grocery stores or online.
The creamy sauce consists of cashews, vegetable milk, salt, pepper, nutritional yeast flakes, lemon juice, the roasted zucchini slices, onion and garlic. This all goes together in the high-powered blender and is blended into a creamy sauce.
TIP: You can find instructions for soaking cashews here.
Simple vegan pasta dishes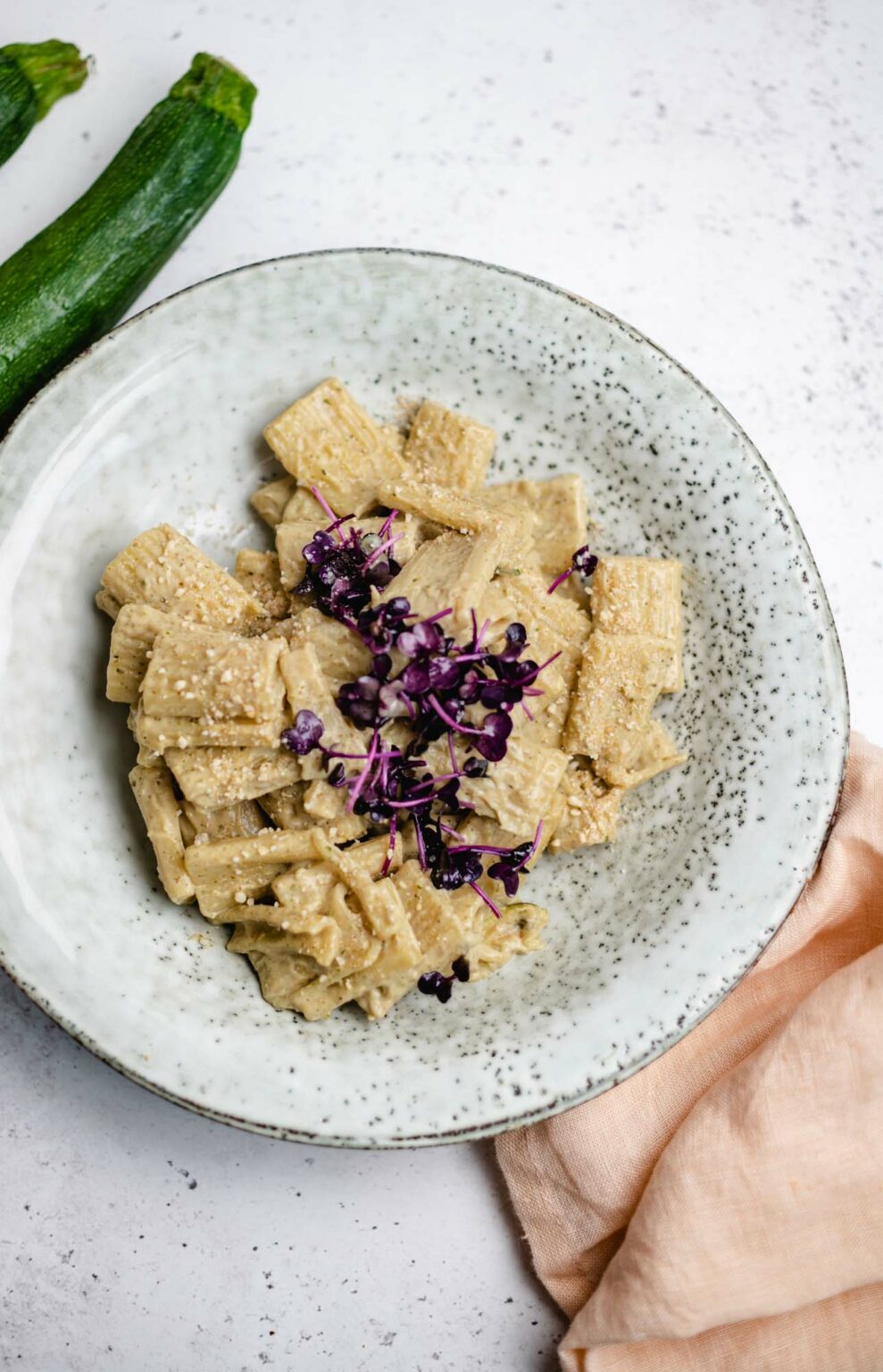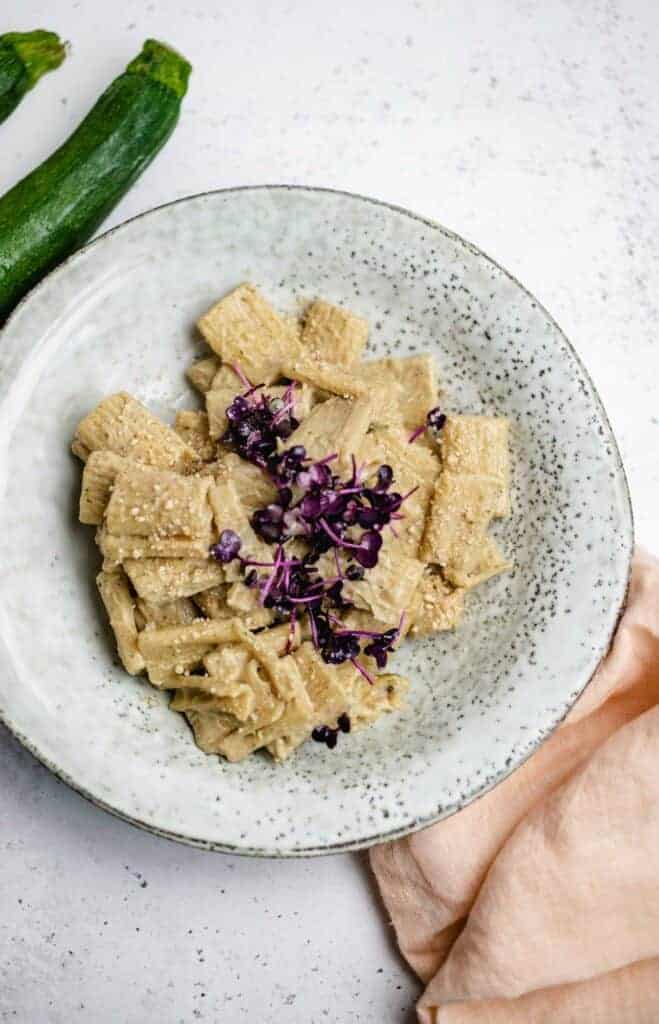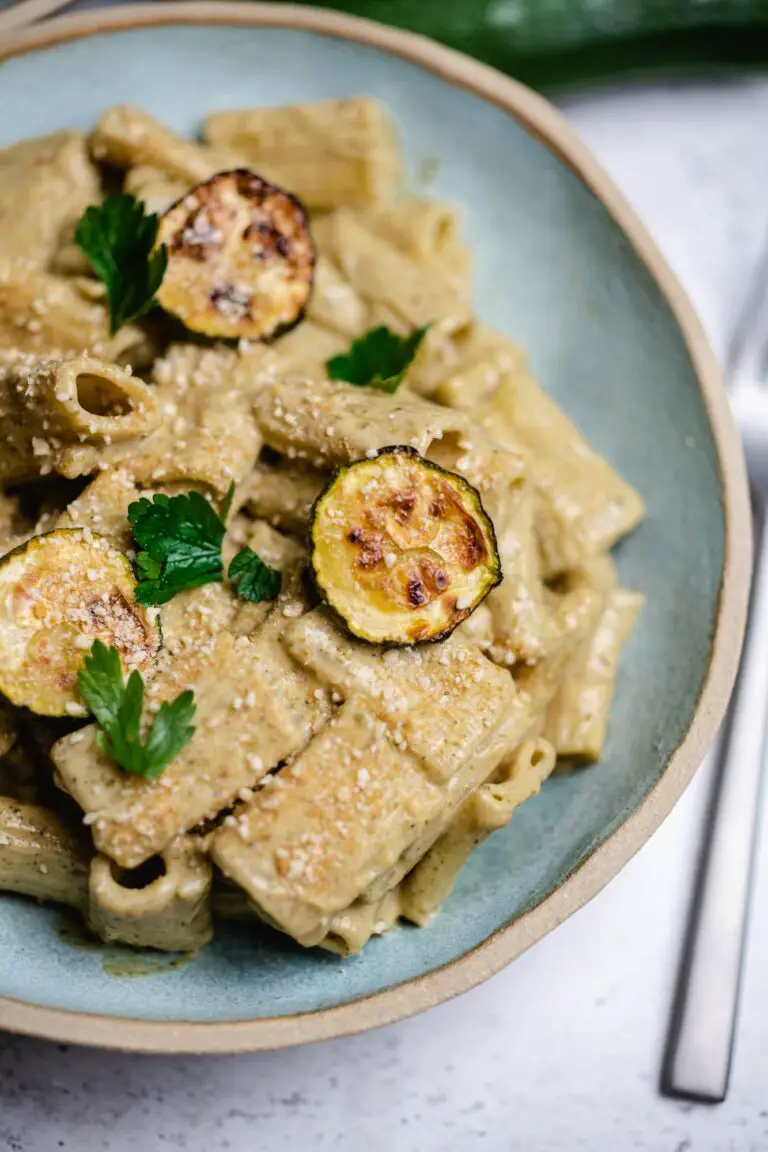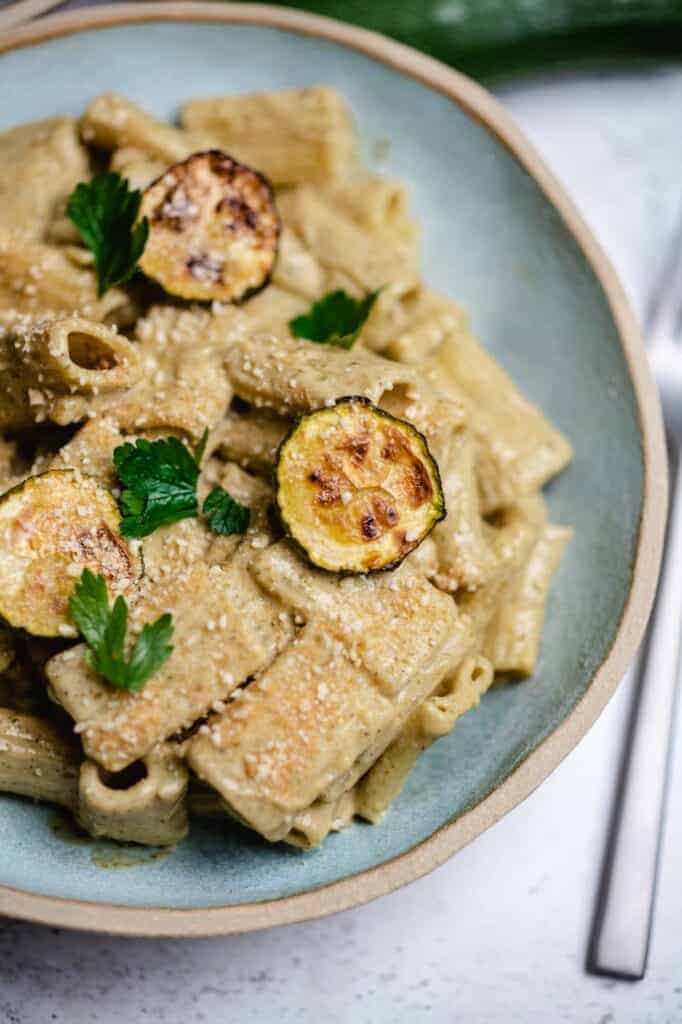 Zucchini is a fine thing and I love it because it is so versatile. The question is also how healthy they actually are. I have the most important answers for you here. Zucchinis are super healthy and rich in calcium, magnesium, iron, B vitamins, provitamin A and vitamin C. The green vegetable is very low in calories at 19 kcal per 100g, making it a light, low-nutrient addition to the vegetable kitchen.
If you feel like a different pasta variation today, I recommend the following recipes:
Pasta with roasted zucchini:
creamy
versatile
Quickly made
Fine roasted aromas
Easy to manufacture
Let's get started with this delicious vegan pasta dish. I wish you a lot of fun in the recooking and look forward to a review at the bottom of this page. If you post a picture, use the hashtag #veganevibes.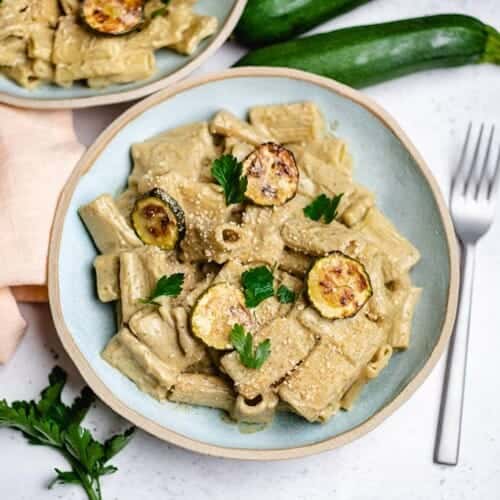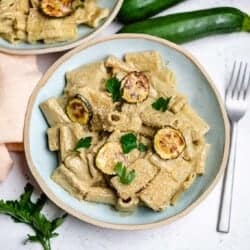 Pasta with roasted zucchini
Delicious pasta with roasted zucchini in a creamy sauce. This simple dish is full of roasted flavors and is perfect for every day. Quickly made with your pasta of choice, creamy and full of healthy ingredients.
AUTOR: VEGANEVIBES
Anleitung 
Preheat oven to 240 degrees convection (260 degrees top-bottom heat). Line baking sheet with baking paper or permanent baking mat.

Spread zucchini slices, onion slices and garlic on a baking sheet. Season with salt and olive oil and put in the oven. Roast for 20 minutes. Turn baking sheet once halfway through so that everything browns evenly.

3 Piece medium zucchini,

1 Piece white onion,

3-4 Piece Garlic cloves with peel,

1 tbspn Salt,

Olive oil to taste

THE PASTA Prepare al dente according to package instructions. Set aside.

Remove zucchini slices, onion and garlic from the oven and let cool briefly.

FOR THE SAUCE Place cashews (optionally soaked), nutritional yeast flakes, garlic cloves, lemon juice, salt, pepper, vegetable milk, along with the roasted zucchini slices (set aside a few slices for decoration), onion, and garlic in a high-powered blender and blend to a creamy sauce. Set aside.

50 g Cashews,

9 g Nutritional yeast flakes,

2 Piece Garlic cloves,

45 ml Lemon juice,

3 Piece medium zucchini

Pour the sauce into the pasta and stir vigorously until everything is well combined.

Season to taste and add seasoning if necessary.

Divide among plates, finish with parsley, Parmesan roasted zucchini slices and enjoy!

Store leftovers in the refrigerator for 3 days, preferably heat in a steamer or in a pot with a little water.
Nährwertangaben
Serving:
1
g
Calories:
389
kcal
Carbohydrates:
64
g
Protein:
15
g
Fat:
8
g
Saturated Fat:
1
g
Polyunsaturated Fat:
2
g
Monounsaturated Fat:
3
g
Sodium:
135
mg
Potassium:
402
mg
Fiber:
4
g
Sugar:
5
g
Vitamin A:
248
IU
Vitamin C:
9
mg
Calcium:
111
mg
Iron:
2
mg