Cinnamon crumble muffins are simply irresistible. I love them more than anything and could eat them morning, noon and night. The muffins are made quickly and yet very sophisticated, which I like so much about them. Often you just feel like something sweet and best of all it should also be healthy. That's exactly when these fine treats come in handy, made with fine gluten-free oat flour and cinnamon. Right now I have to think about our trip to London last year. There was a totally hip vegan donut store there called "Crosstown Donuts". There was also a delicious variety with cinnamon sprinkles. So delicious! Maybe I should make those sometime too. Donuts take a tad longer than muffins, so I honestly don't make them that often.
Cinnamon crumble muffins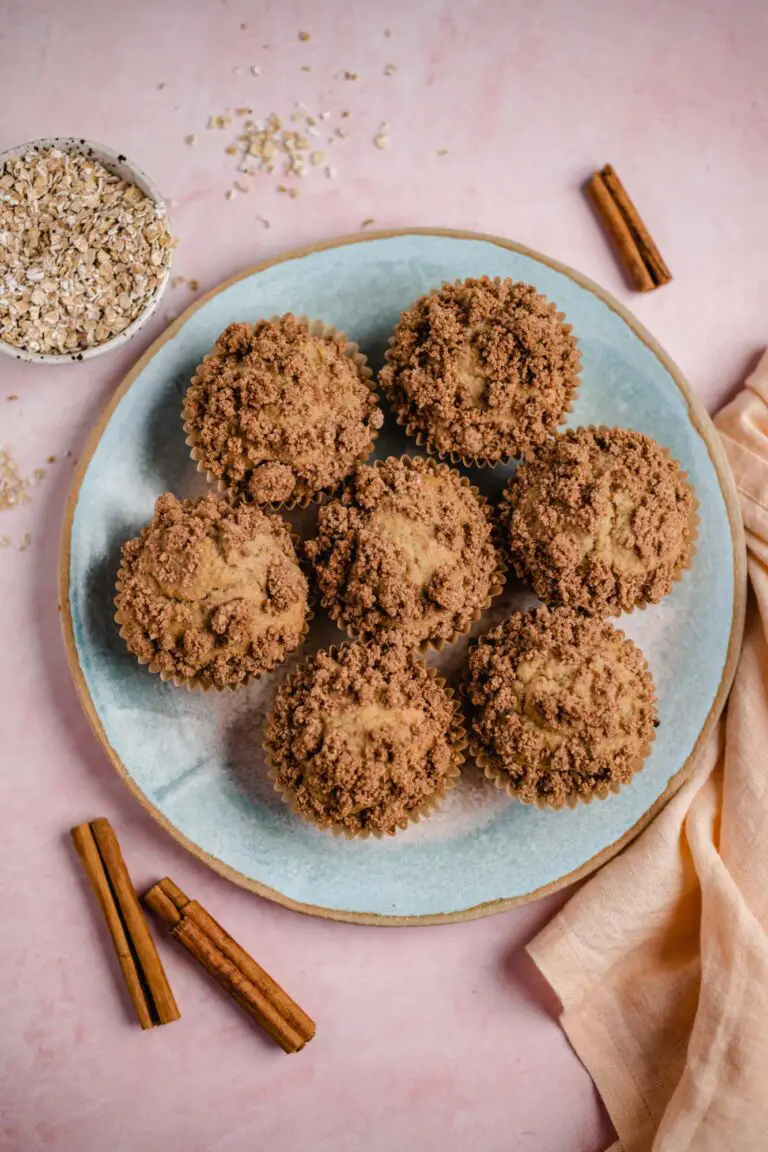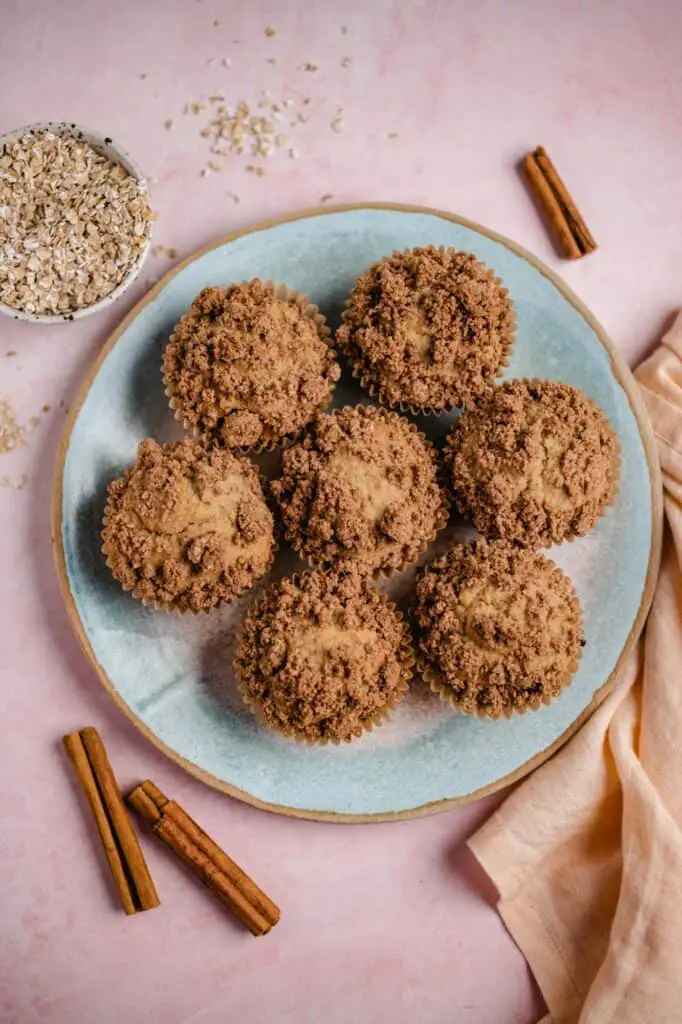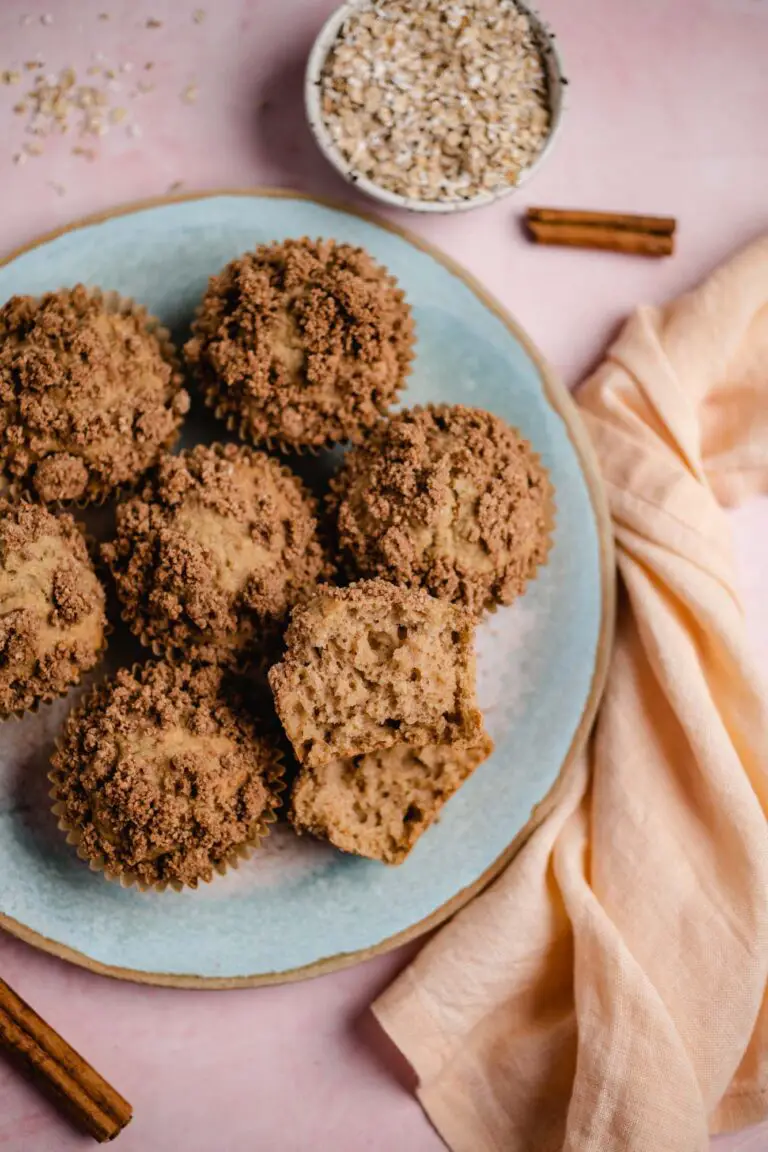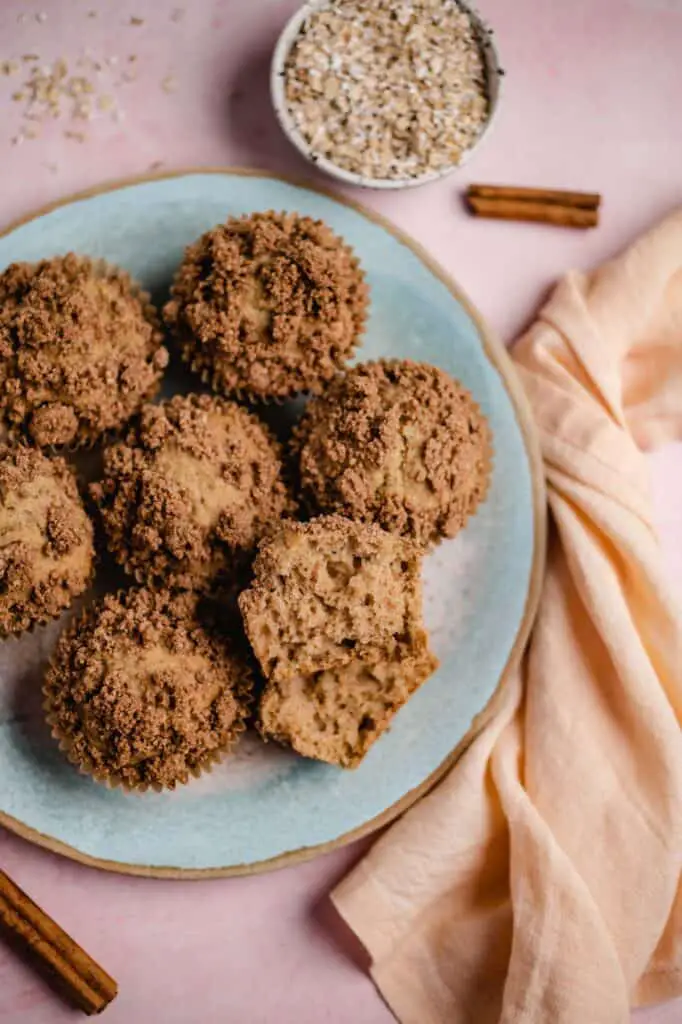 Let's move on to the production. First, I whisk oat flour, gluten-free flour blend, almond flour, raw cane sugar, baking powder and baking soda into a large baking bowl and mix the dry ingredients until everything is well combined and small clumps have dissolved. Then I add the liquid ingredients. Vegetable milk, coconut oil and apple pulp. From this I make a nice smooth dough that I set aside for now.
Now it's time for the delicious crumbles. For this I add oat flour, gluten free flour mix, cinnamon, maple syrup, raw cane sugar, coconut oil. All this is mixed with your hands to form a crumbly dough. If you don't like the crumbles so crumbly, I recommend using whole rolled oats instead of oat flour.
TIP: I simply make my own oatmeal by grinding the rolled oats to a fine flour in my high-powered blender. Otherwise, gluten-free oatmeal is now available in all well-stocked organic stores and drugstores.
Simple vegan cinnamon crumble muffins, gluten free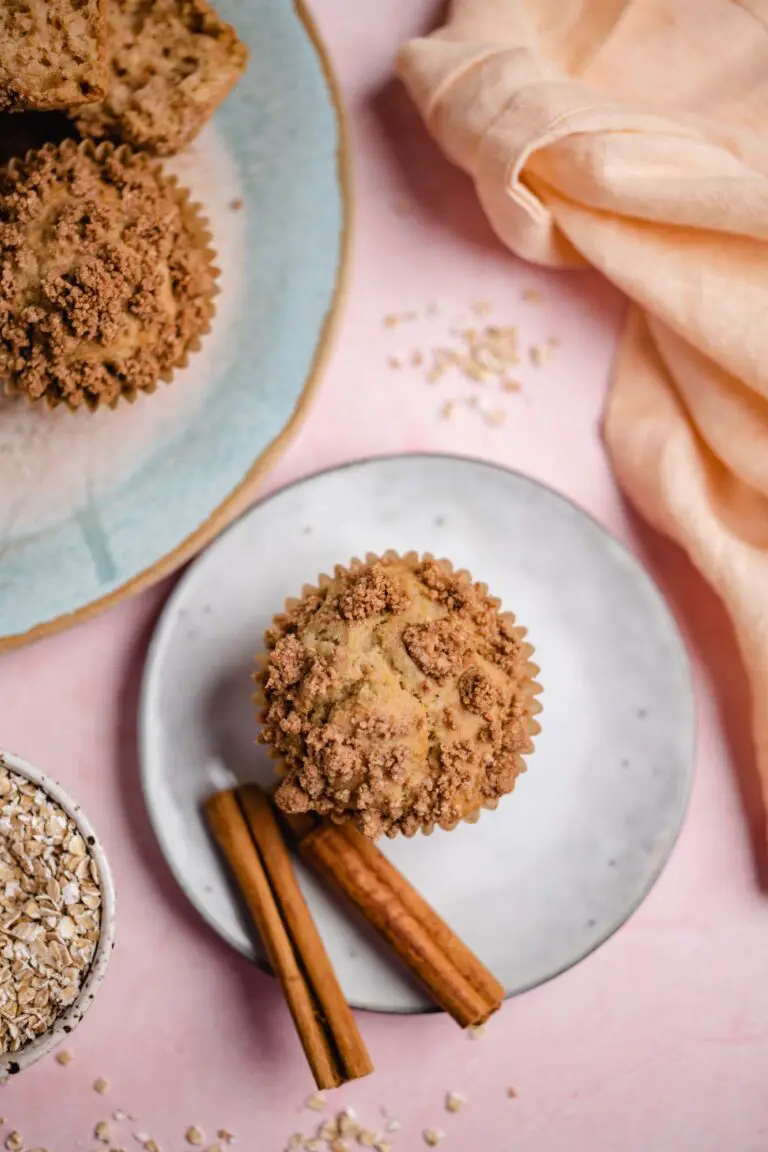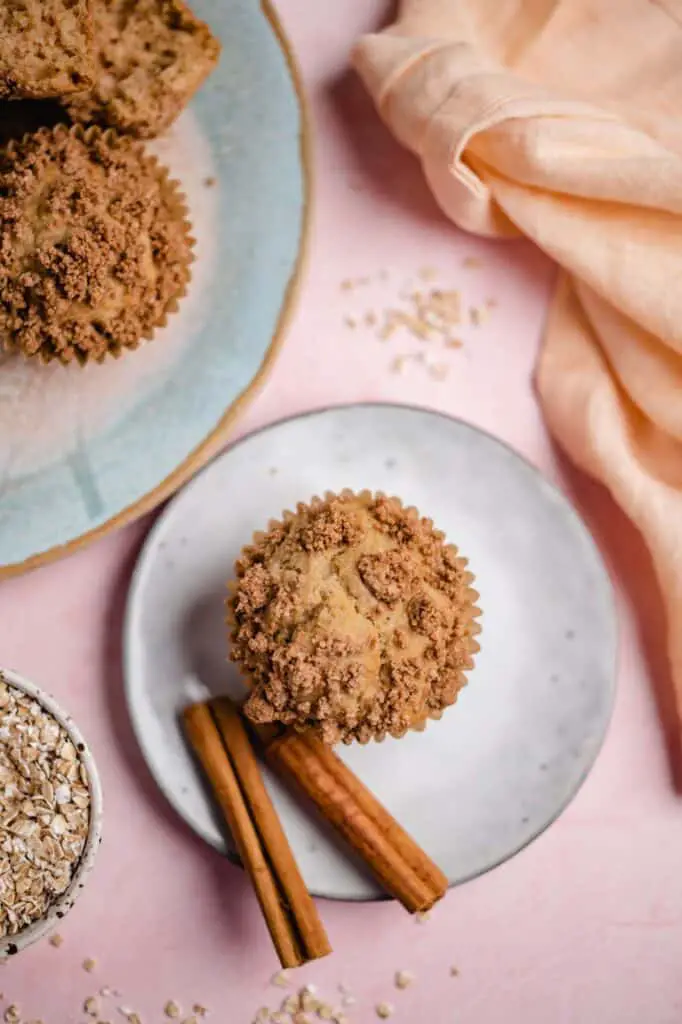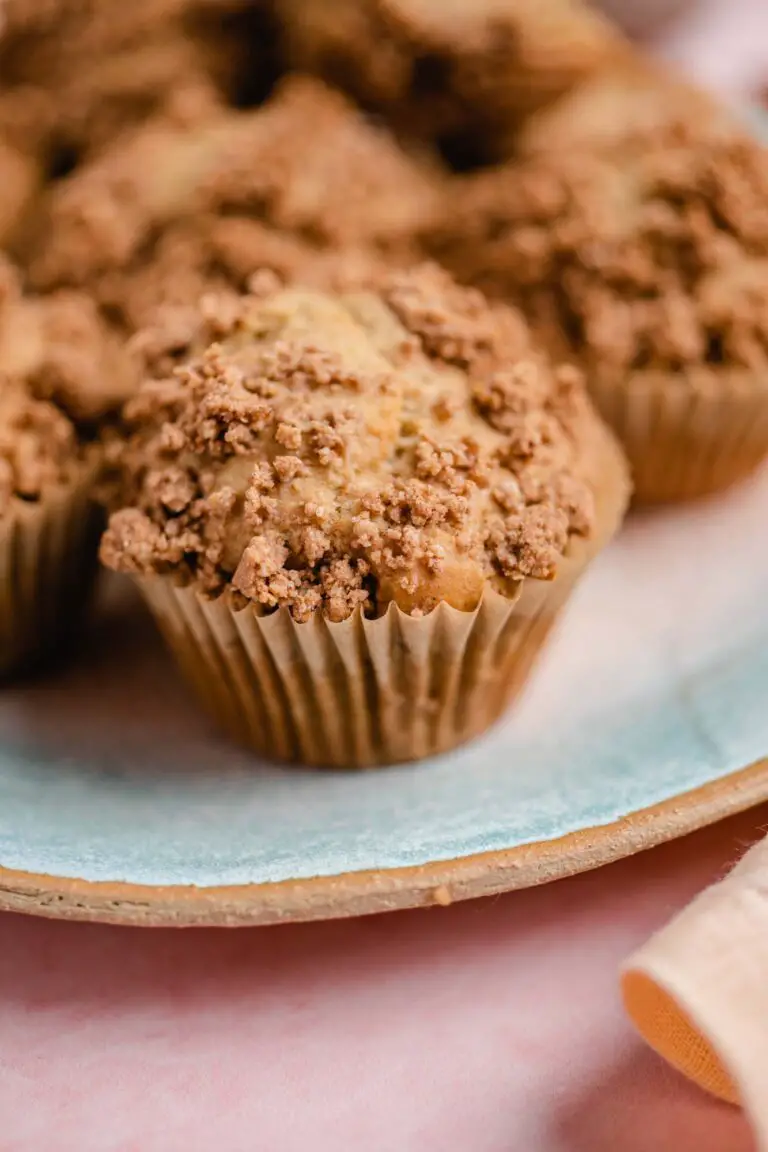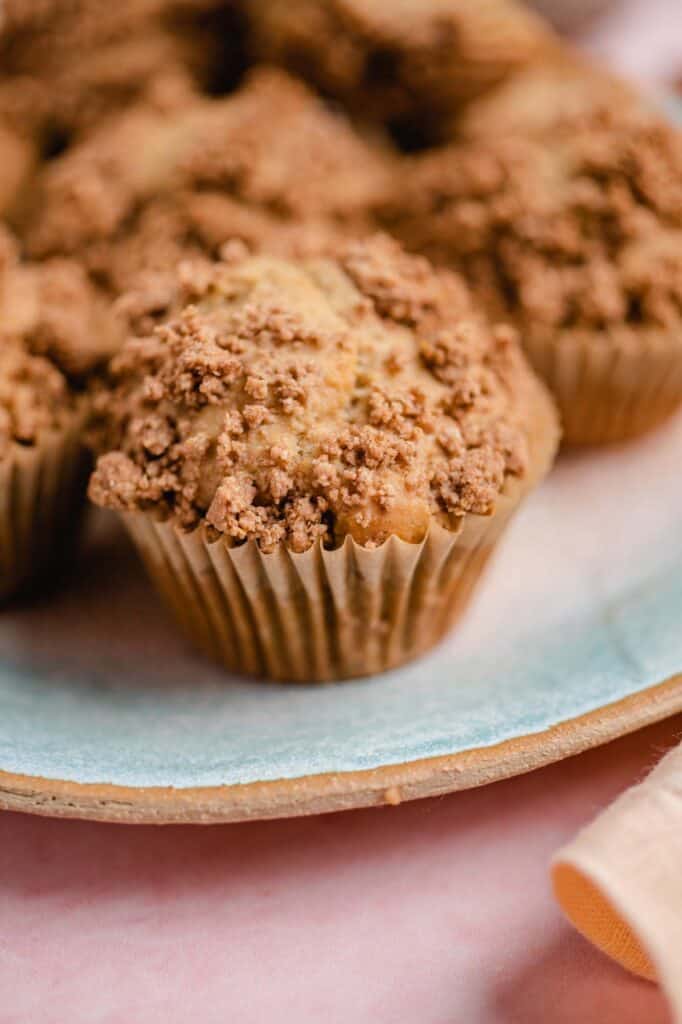 These small and delicate beauties are made quickly and taste simply wonderful. I love them fresh out of the oven and when I'm in the mood, I also like to eat a scoop of vanilla ice cream with them. Please note that this recipe and a gluten-free dough. It is important that this is not too moist, but rather compact. Otherwise, it will not rise well and may become gummy or lumpy. In the video you can see how the dough should ideally look.
If you're looking for some different muffins today, here are my suggestions:
Let's get started together! The muffins are ready in just 45 minutes and taste just great.
The Cinnamon Crumble Muffins are:
Locker & Fluffig
Cinnamon-y
Crumbe-lig
Vegan & gluten free on request
Quickly and easily made
Well, are you ready for the sweet sins? I wish you a lot of fun baking and of course a review at the bottom of this page. If you post a picture, feel free to use the hashtag #veganevibes.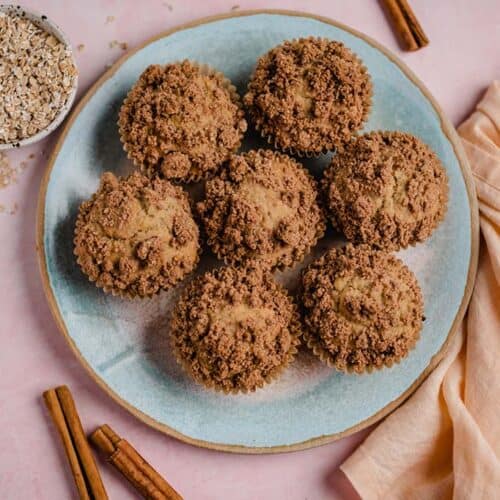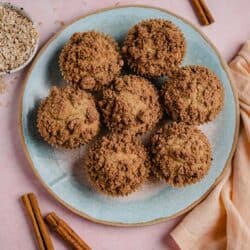 Cinnamon Crumble Muffins (45 minutes)
Quick and cinnamony muffins that are ready in no time. With delicious crumble made from fine oatmeal, these beauties are a real treat. Vegan, gluten-free and lactose-free.
AUTOR: VEGANEVIBES
Anleitung 
Preheat the oven to

180

°C

convection (

200

°C

upper-lower heat) and line a muffin baking tray for 12 muffins with muffin cups or grease lightly if needed.

FOR THE CRUMBLE provide a bowl. Add in oat flour, gluten-free flour blend, almond flour raw cane sugar, cinnamon maple syrup and coconut oil and mix with hands until a compact, slightly crumbly dough is formed. Note: If you don't like the crumble so crumbly, you can substitute rolled oats for the oat flour.

30 g Oatmeal,

40 g Gluten free flour mix,

30 g Raw cane sugar,

2 tbspn Cinnamon,

30 ml maple syrup,

30 ml Coconut oil,

2 tbspn Almond flour

FOR THE MUFFINS Provide a large baking bowl, add in oat flour, gluten free flour mix, raw cane sugar, baking powder and baking soda. Mix the dry ingredients well until everything is well combined and lumps have dissolved.

90 g Oatmeal,

150 g gluten free flour mix,

50 g Raw cane sugar,

2 tbspn Baking powder,

½ tbspn Baking soda

Add oat milk, apple pulp and coconut oil. Mix until a smooth and compact dough is formed. If the dough is too dry, add a sip of vegetable milk, if too runny, add a touch more flour.

NOTE: Do not add too much liquid, the dough should be compact rather than too liquid.

250 ml Oat milk,

125 g Apple pulp,

55 ml Coconut oil

Divide the batter evenly among the muffin cups with a spoon and garnish with the sprinkles.

Put in the oven and bake for

30 minutes

. Use a wooden stick to check if the muffins are baked through. Let cool and enjoy.

Store leftovers (if any) in an airtight box in the refrigerator for up to 5 days. Can be kept frozen for up to one month.
Nährwertangaben
Serving:
1
Muffin(s)
Calories:
212
kcal
Carbohydrates:
29
g
Protein:
4
g
Fat:
9
g
Saturated Fat:
6
g
Polyunsaturated Fat:
1
g
Monounsaturated Fat:
1
g
Sodium:
45
mg
Potassium:
124
mg
Fiber:
2
g
Sugar:
11
g
Vitamin A:
47
IU
Vitamin C:
0.1
mg
Calcium:
61
mg
Iron:
1
mg