Finallyit starts, the pumpkin season and I Today I have great new Pumpkin Muffins recipe for you… I could hardly wait to harvest the first Pumpkin to harvest in the garden, but today was the day. With big eyes and equipped with rubber boots I held my first Hokkaido of the season in my hand.
vegan pumpkin muffins with just one bowl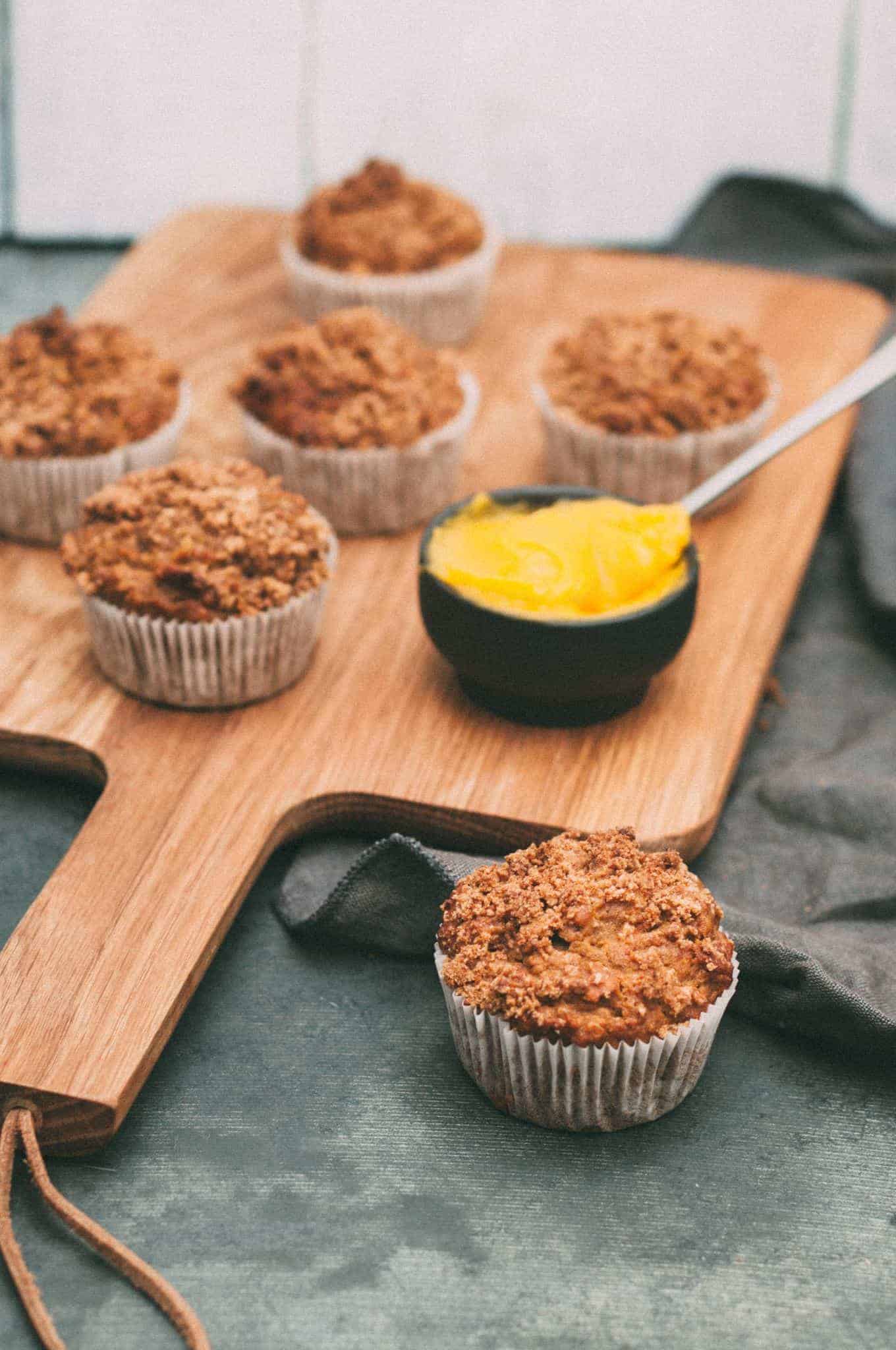 It also came straight into the oven and was braised for an hour in a roaster at 175 degrees. After that, my Blendtec was already waiting to make puree from the cooked pumpkin meat.
Why is the pumpkin so healthy? I have researched for you: The yellow vegetables consist of 90% water and have very few calories. But its content of minerals and vitamins is enormous. Potassium, iron and especially the important beta-carotene is contained in the flesh. Our body converts this into vitamin A, which is especially important for our eyes and mucous membranes. wow!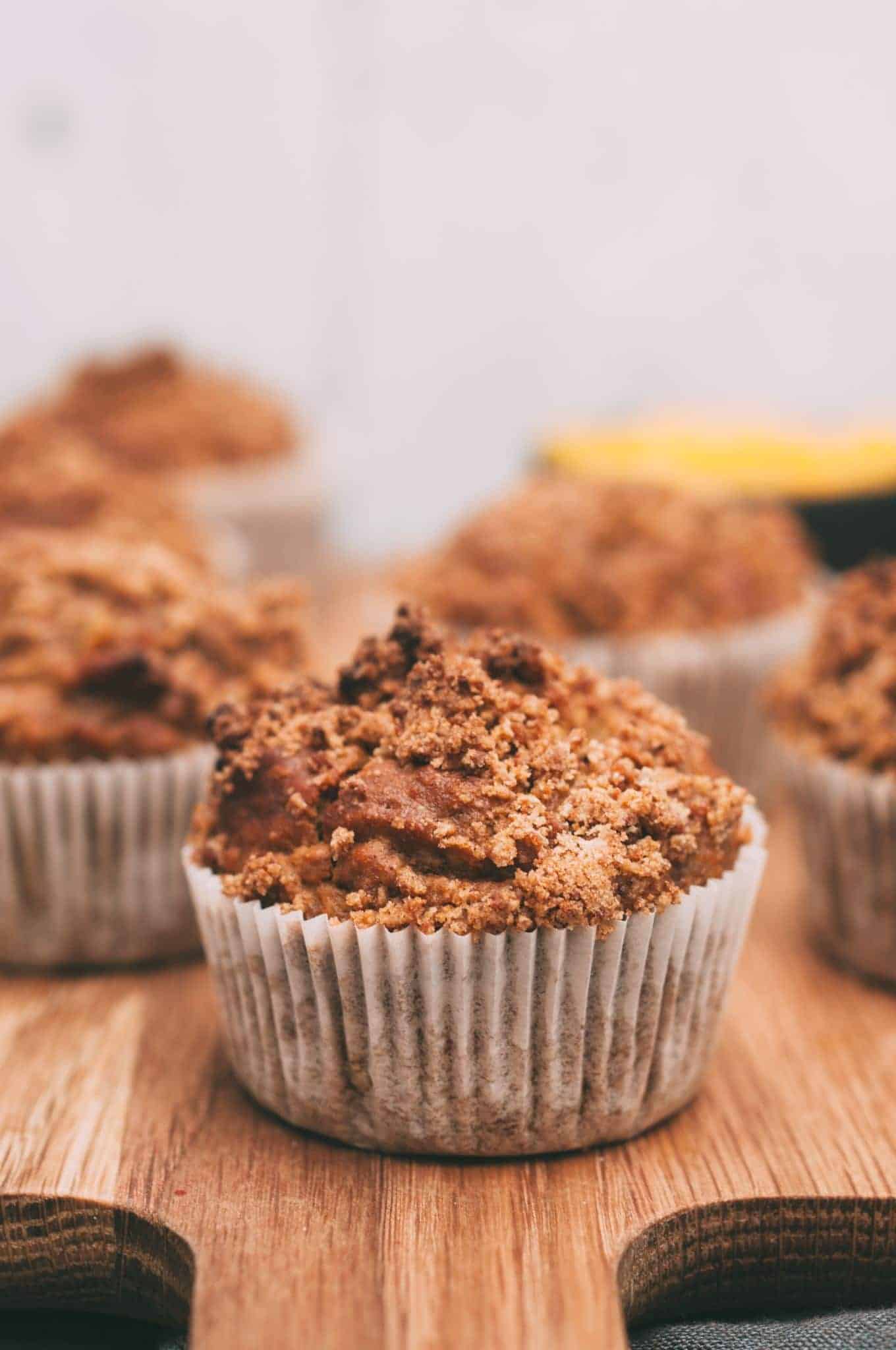 Back to the pumpkin muffins, they are:
Vegan and gluten-free
Naturally sweetened
With healthy fats (no margarine!)
& You only need a bowl and a muffin.
It actually took me a little while to find the perfect recipe. After all, the muffins should be loose, but still have a certain bite. I do not want to praise myself here, but I think I have succeeded in doing so.
The sprinklesalso deserve special attention, because instead of butter or margarine you will find only healthy coconut oil, great spices and cane sugar. Enjoy without a bad conscience.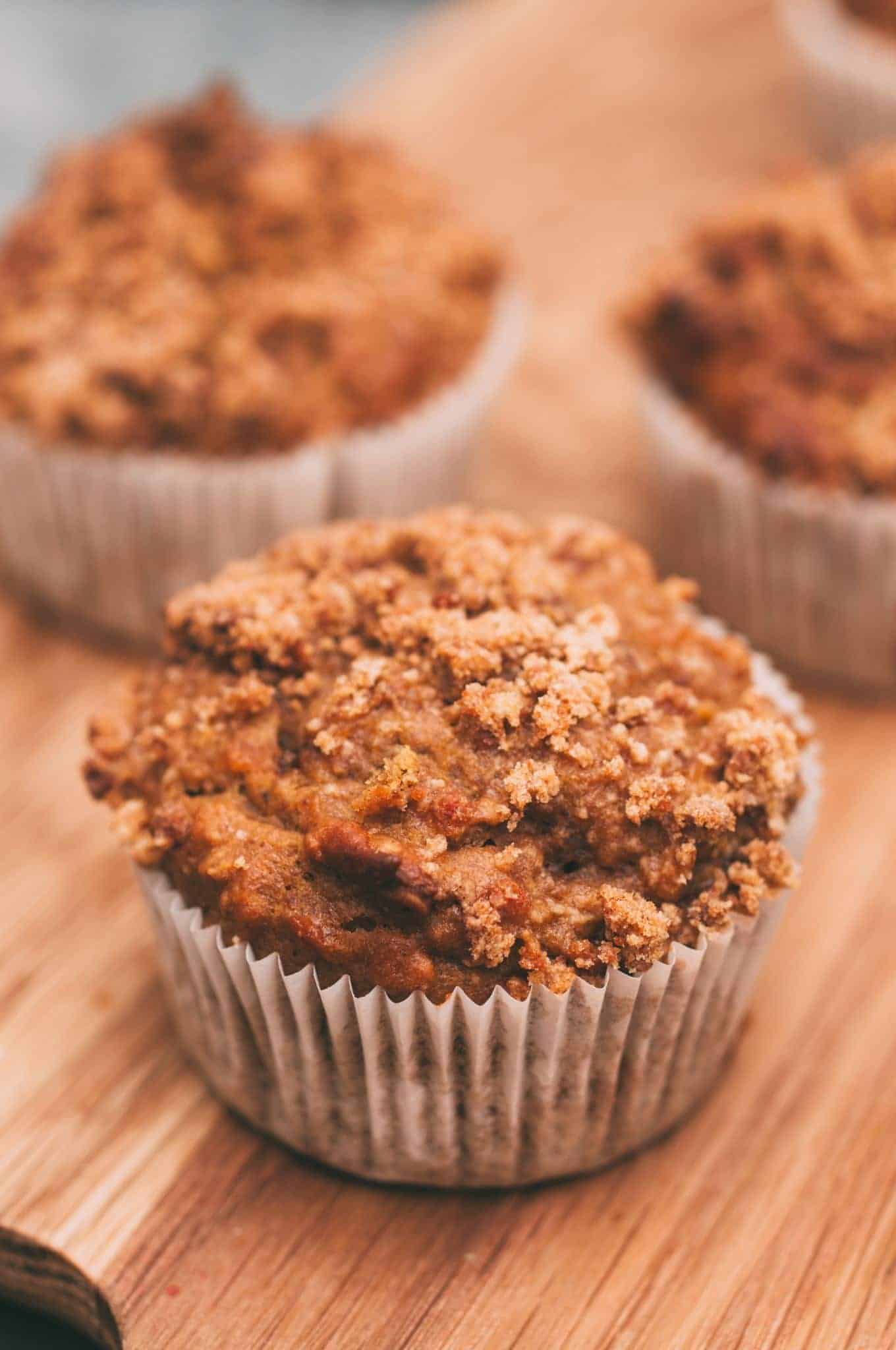 The vegan pumpkin muffins are:
crumbly
Inside soft
Pumpkin-sig
Naturally sweet
Easy to manufacture
Easy to manufacture
Let's go with these autumnal sweet pumpkin seductions. I wish you a lot of fun in recooking and of course a review at the bottom of this page. If you post a picture, use the hashtag #veganevibes.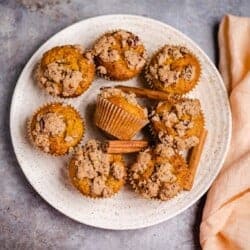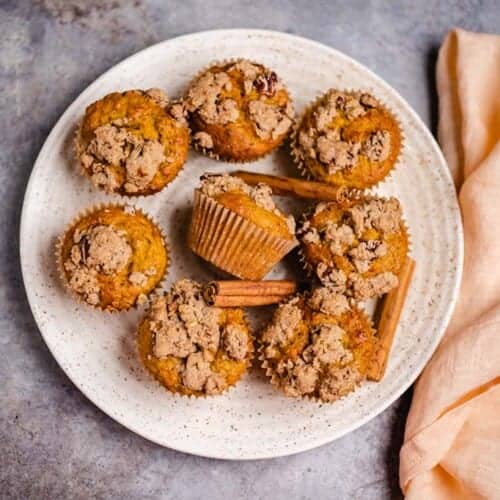 vegan pumpkin muffins (v/gf)
vegan pumpkin muffins with healthy sprinkles. Fluffy, soft, pumpkin-sig and naturally sweet. Perfect for autumnal breakfast, coffee wreaths or just as a snack.
AUTOR: VEGANEVIBES
Anleitung 
Preheat the oven to 175 degrees and lay a muffin baking tray for

12 muffins

with muffin moulds or lightly grease.

Prepare the flaxseed eggs in a large baking bowl and leave to pull for

5 minutes

.

2 Piece Flaxseed egg (=6 tbsp. hot or very warm water + 2 tbsp. flaxseed meal* = ground flaxseed)

Add the banana and mix loosely.


150 g Pumpkin puree,

146 g Cane sugar or raw cane sugar 2/3 cup,

60 ml maple syrup,

60 ml Olive oil,

1 tbspn Bourbon vanilla

Now mix the soda, salt, cinnamon and pumpkin spice. Then pour water into it and continue stirring.


2 tbspn Baking soda,

¼ tbspn Sea salt,

½ tbspn Cinnamon,

1 ¼ tbspn Pumpkin spice**,

120 ml Water

Stir in almond flour, oatmeal and gluten-free flour mixture until a uniform dough is formed. The dough should be easy to portable and neither too firm nor too liquid. Divide evenly into the muffin moulds with a spoon.


55 g Almond flour,

67 g Oatmeal,

160 g gluten-free flour mix or light spelt flour

Wash out the baking bowl for a short time and add all the ingredients for the sprinkles. Mix with your fingers until everything is well connected and spread the sprinkles evenly over the muffins. Turn into the oven and bake for

30 minutes.

Bake with the steam cooker at 165 degrees

for 35 minutes.

45 ml Frying and baking oil,

40 g fine spelt flour or gluten-free flour mix,

17 g Oatmeal,

24 g Walnuts,

1 tbspn Cinnamon,

1 ½ tbspn Cane sugar or another sugar,

Optional: 1/2 tsp ground ginger

With a toothpick pierce the muffin when it comes out clean, they are ready. Remove from the oven and allow to cool completely. enjoy!


Store in an airtight box for up to 4 days at room temperature.

Notizen
Pumpkin puree recipe:
*Preheat the pumpkin pulp oven to 175 degrees, halve a Hokkaido pumpkin and place in a roaster. Pour a small mange of water into it until the ground is covered. Fry for about 1 1/2 hours until the pumpkin is completely soft. Remove and leave to cool. Peel off the skin and remove the core meat. Put the flesh in a high-sugar blender and mix until a creamy puree has been formed. Alternatively, press through a hair sieve. Place in a mason jar and store in the freezer.
**If you don't have pumpkin spice at home, you can mix your own: mix 2 tsp cinnamon, 2 tsp ginger, 1 tsp nutmeg and 1/2 tsp carnations (all ground) and put in a small spice jar.
NOTES /HELPFUL ACCESSORIES:
Cooking spoon: http://amzn.to/2w2dKiC
Muffinform: http://amzn.to/2xa6DG2
Paper moulds: http://amzn.to/2x9VJAk
Nährwertangaben
Serving:
1
Muffin
Calories:
139
kcal
Carbohydrates:
19
g
Protein:
1
g
Fat:
7
g
Sodium:
55
mg
Potassium:
60
mg
Fiber:
1
g
Sugar:
16
g
Vitamin A:
1945
IU
Vitamin C:
0.7
mg
Calcium:
21
mg
Iron:
0.5
mg