Asian Noodles with Hoisin Sauce is to die for, especially if you love Asian food as much as I do. Honestly, I could eat Asian food every day without any problems. Bowls, Ramen, Stir Frys and much more. This dish is perfect if you already have homemade hoisin sauce in the fridge. 15 minutes, ready?
Asian noodles with hoisin sauce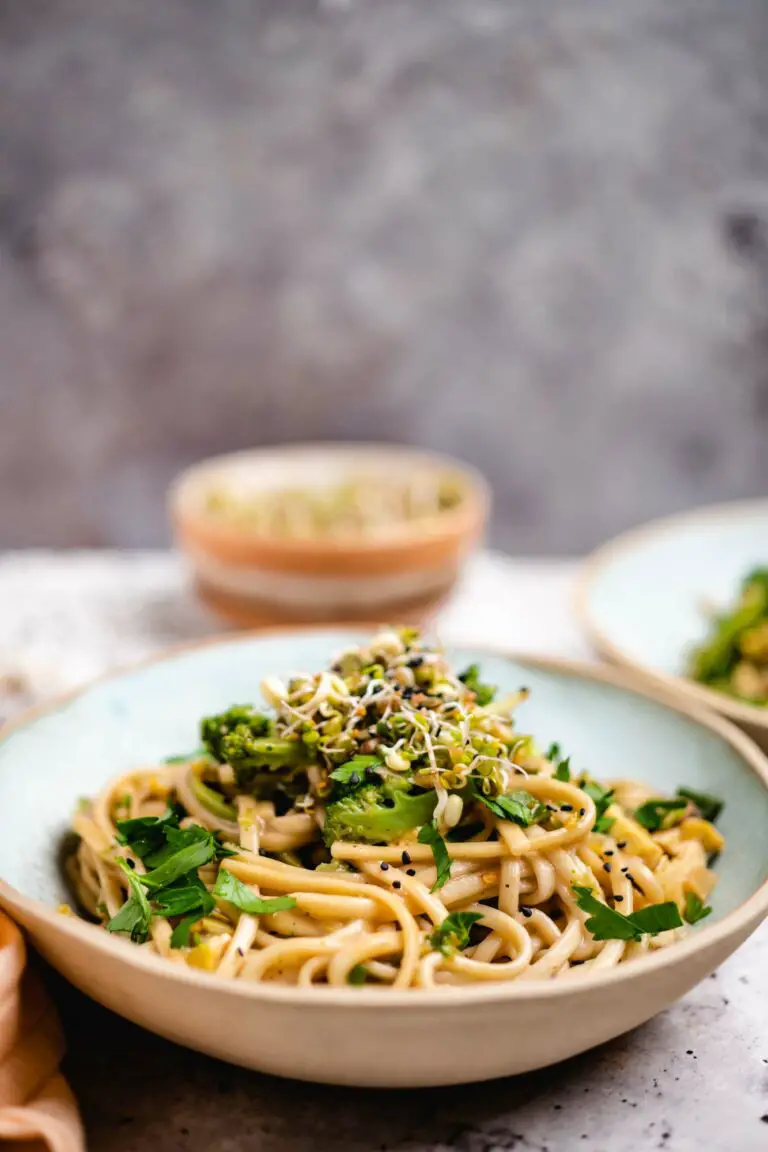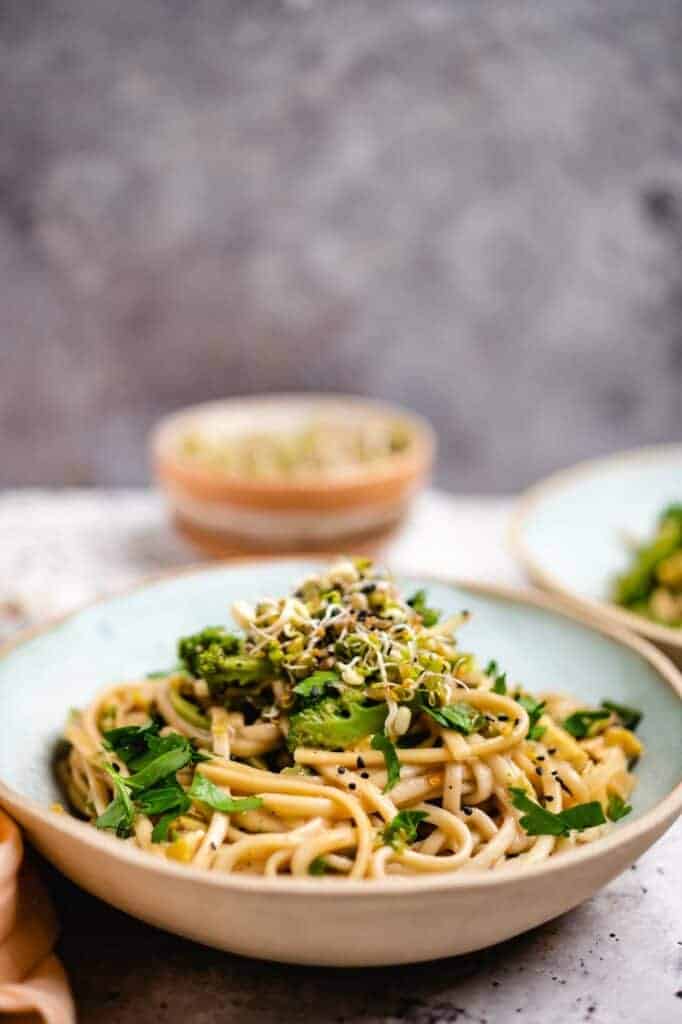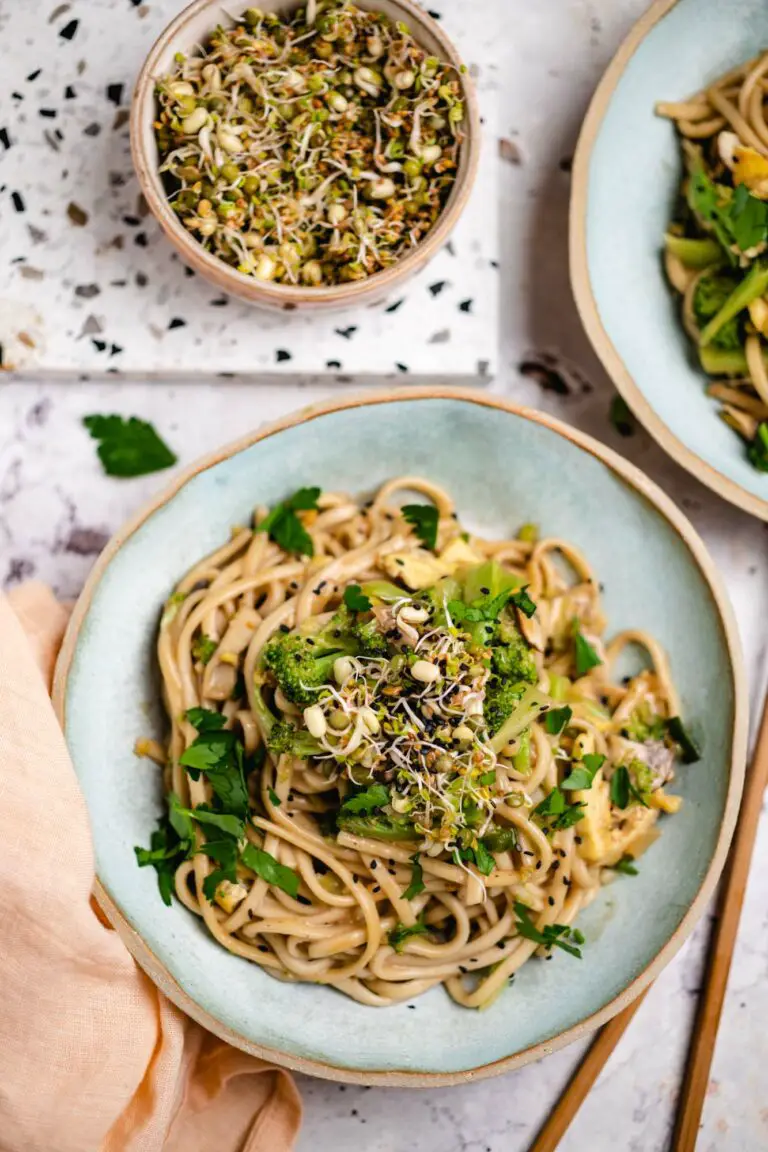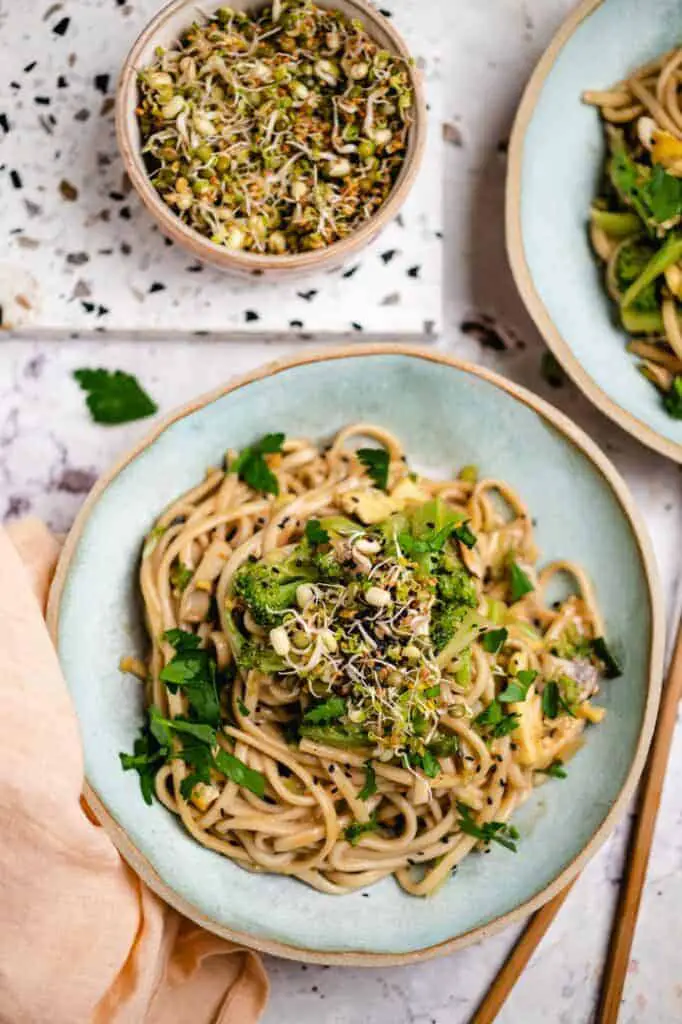 I have already reported in detail on the origins of hoisin sauce in this post. The other preparation steps are really simple. First, cook the Asian noodles of your choice. I used udon noodles in this case, but classic rice no odles or other gluten-free noodles of choice will also work. Next, fry the tofu until really crispy. To do this, put a little oil in the pan, cut the tofu into strips and let it get really golden brown. Set aside and move on to the sauce.
For this, mix water, cornstarch and hoisin sauce in a bowl and set aside. After all, we are only now taking care of the vegetables. For this, I put some sesame oil in a large pot or pan and sweat garlic and onion in it until translucent. Add broccoli, mushrooms and green onion. Gently sauté and soften with a little cooking water from the pasta. At the end, everything is mixed together and goes immediately to the table. Yummy!
Quick vegan dishes? Preparation is everything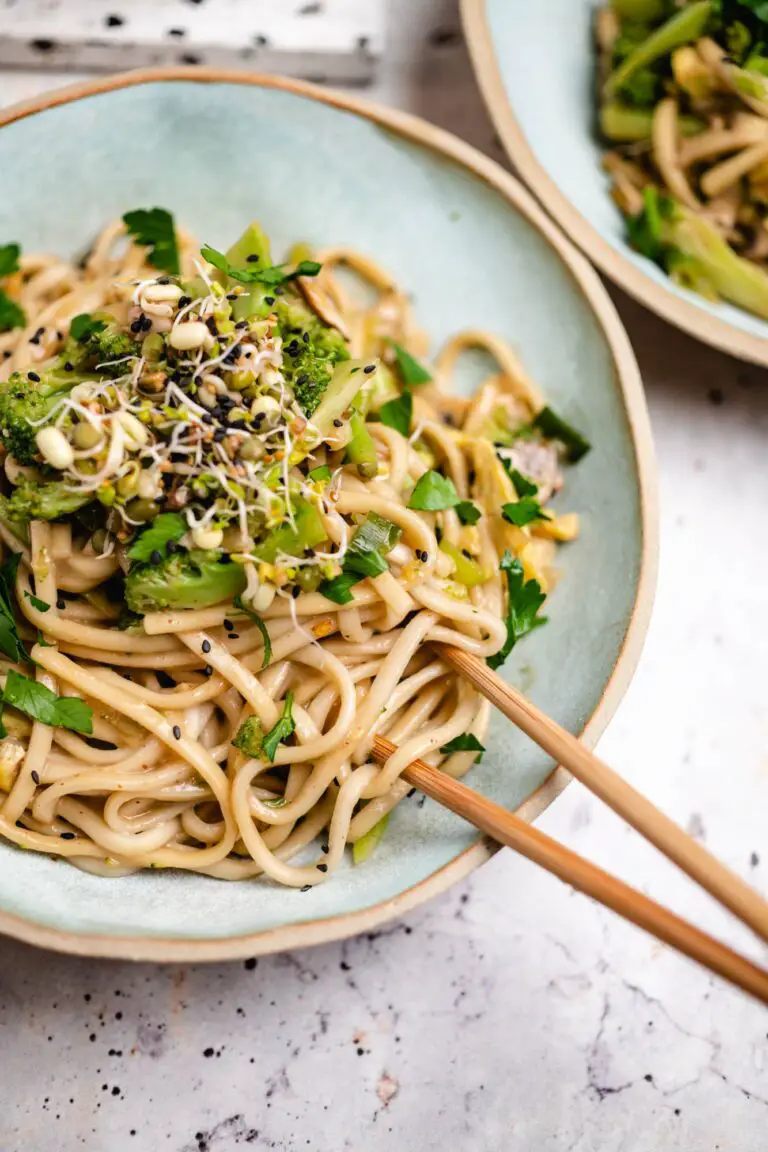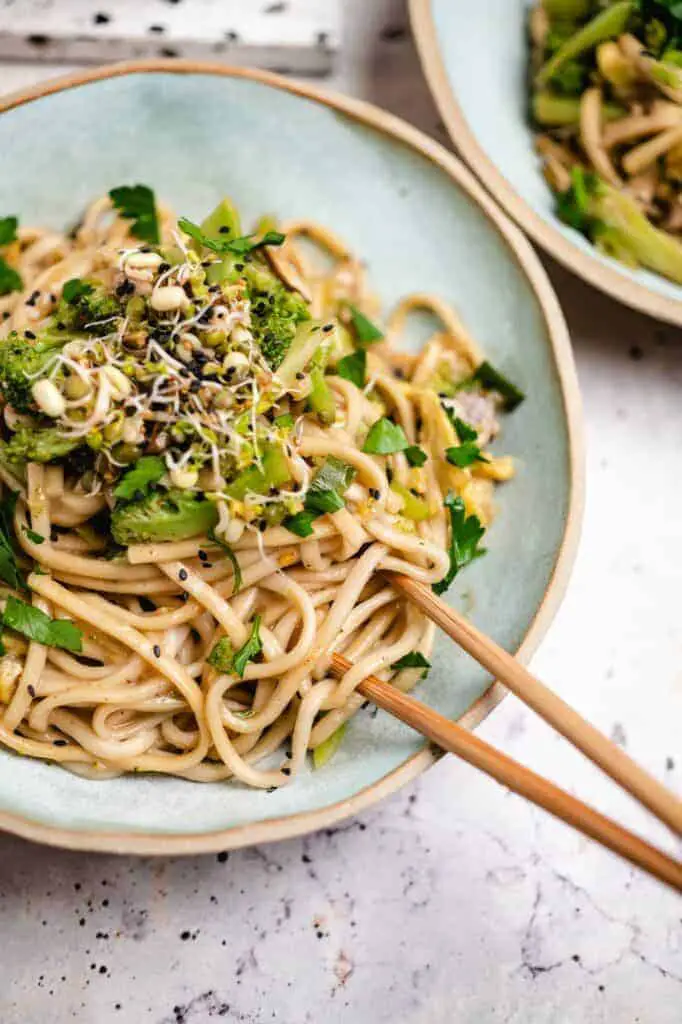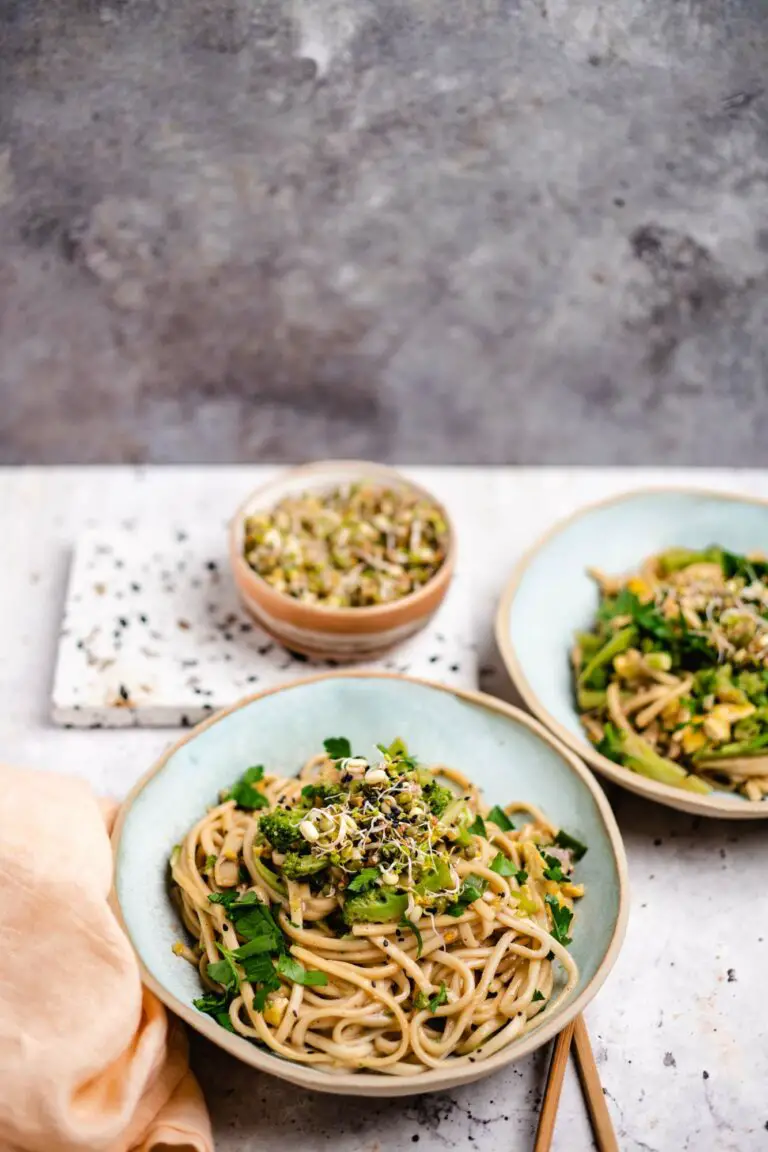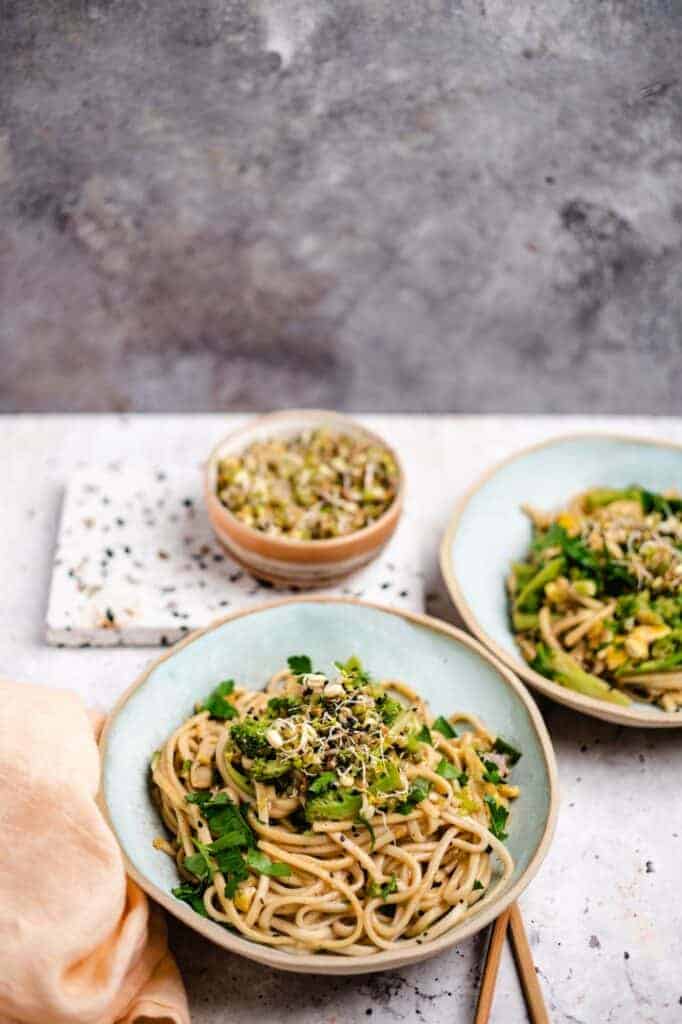 Hoisin sauce can be perfectly prepared and is ideal for making quick vegan dishes. I really like having them in the fridge and can't get enough. If you're in the mood for a different Asian dish today, I have the following suggestions for you:
I'm sure you're craving these delicious Asian noodles by now at the latest. They're perfect for a simple dinner or lunch and provide you with a filling serving of plant-based protein, vitamins and valuable fiber. Simple, fast and straightforward, just the way I like it!
The Asian Noodles with Hoisin Sauce are:
hearty
aromatic
with umami flavor
Rich in protein
Easy to manufacture
I hope you enjoy this delicious dish and I would be happy to see a review at the very bottom of this page. If you post a picture, use the hashtag #veganevibes.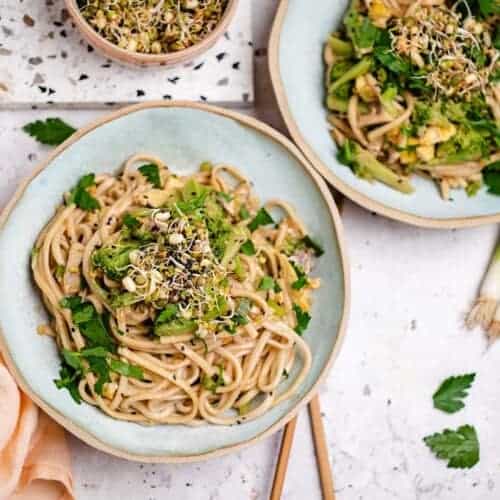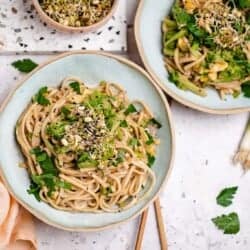 Asian noodles with hoisin sauce
Asian noodles with delicious hoisin sauce, lots of healthy vegetables and tofu. Quickly made, super tasty and ideal for every day. Vegan, gluten free.
AUTOR: VEGANEVIBES
Anleitung 
Cook pasta according to package instructions. Remove 2-3 tablespoons of cooking water. Set aside. Rinse pasta in cold water, set aside.

250 g Asian noodles of your choice

FOR THE TOFU Heat pan, add oil, tofu slices and fry for a few minutes until hot. Keep warm over low heat.

220 g Tofu natural,

1 tbspn Sesame oil

FOR THE SAUCE provide a small bowl. Dissolve cornstarch in water and stir in hoisin sauce. Set aside.

2 tbspn Cornstarch,

125 ml Water,

60 ml Hoisin sauce

FOR THE VEGETABLES Place a large pan or pot on the stove and let it get hot. Pour in the sesame oil. Sauté garlic and onion. Add the spring onion, mushrooms and broccoli. Continue to sauté. Blanch for about 5 minutes until the vegetables are soft but still crunchy.

1 tbspn Sesame oil,

2 Piece Garlic cloves,

1 Piece small onion,

4 Piece Spring onion,

6 Piece Mushrooms,

1 Piece small broccoli,

3 EL Ginger

Pour the sauce into the vegetables, stir. Add tofu and noodles and continue to stir until everything is well combined.

TIP: Season to taste and if salt is missing, add a generous dollop of tamari.

Put on plates, garnish with cilantro, sprouts and black sesame seeds. enjoy!

Sprouts,

Coriander,

Black sesame seeds to taste

Tastes best fresh.
Nährwertangaben
Serving:
1
Portion
Calories:
605
kcal
Carbohydrates:
101
g
Protein:
30
g
Fat:
10
g
Saturated Fat:
1
g
Polyunsaturated Fat:
4
g
Monounsaturated Fat:
2
g
Cholesterol:
1
mg
Sodium:
1990
mg
Potassium:
57
mg
Fiber:
9
g
Sugar:
20
g
Vitamin A:
25
IU
Vitamin C:
1
mg
Calcium:
151
mg
Iron:
2
mg