Vegan sushi is a must Summer a must. I'm still waiting for the real summer, because we haven't had such a really nice balmy night yet. Our fire basket is still there, waiting to be used for the first time. This weekend we were in the backyard having a barbecue when we got hit with a downpour. I can't complain because I had just finished my last bite of the Beyond Meat Burger. Pack everything back up and back into the house. They are luxury problems, but I really wouldn't mind a nice balmy evening on the terrace. They always say that hope dies last, and that certainly doesn't just apply to the balmy summer evening.
vegan sushi with spicy mayo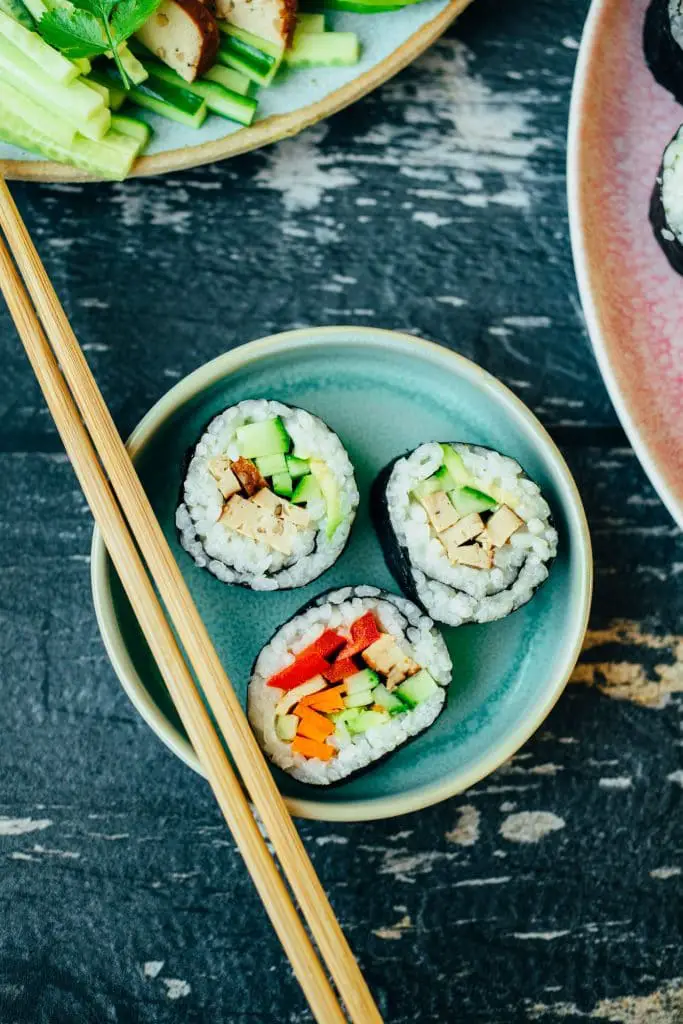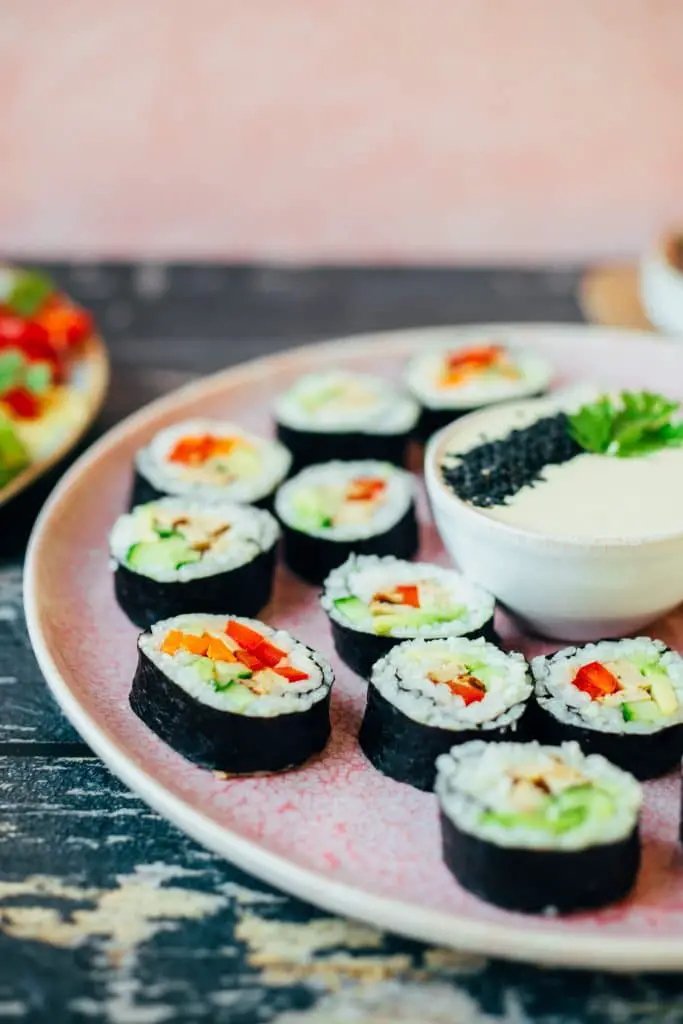 Making sushi is actually not that hard and I find the most challenging part is actually getting the roll right. This sounds simple, but in practice it often looks different. Roll forward with light pressure, tight enough that everything holds together. On the other hand, do not tighten too much, otherwise everything will fall out again at the front. It takes a a little flair but at the latest after two or three attempts the whole thing sits.
The first and most important step is cooking sushi Rice . First boil, then let swell and ready is the base. Then it's on to the vegetable chopping. Here(almost) everything is allowed:
Feel free to be creative here and write me below in the comments what your favorite sushi ingredients are. While we're at it, here's a little list of what basics you'll need to make sushi:
Sushi rice(please use special sushi rice, so you can make sure it sticks really well)
Japanese rice vinegar "Genmai Su
Nori seaweed leaves
Sushi mat
Vegetables of choice
Sushi ginger
Wasabi
Soy sauce or other dip of your choice
The variations are endless and there are many different ways to make the best vegan sushi. I just wanted to show you in the list above which materials you should have at home. Below in the ingredients I have linked you all the products and brands that I use myself.

Note: I am not sponsored by any manufacturer.
make vegan sushi yourself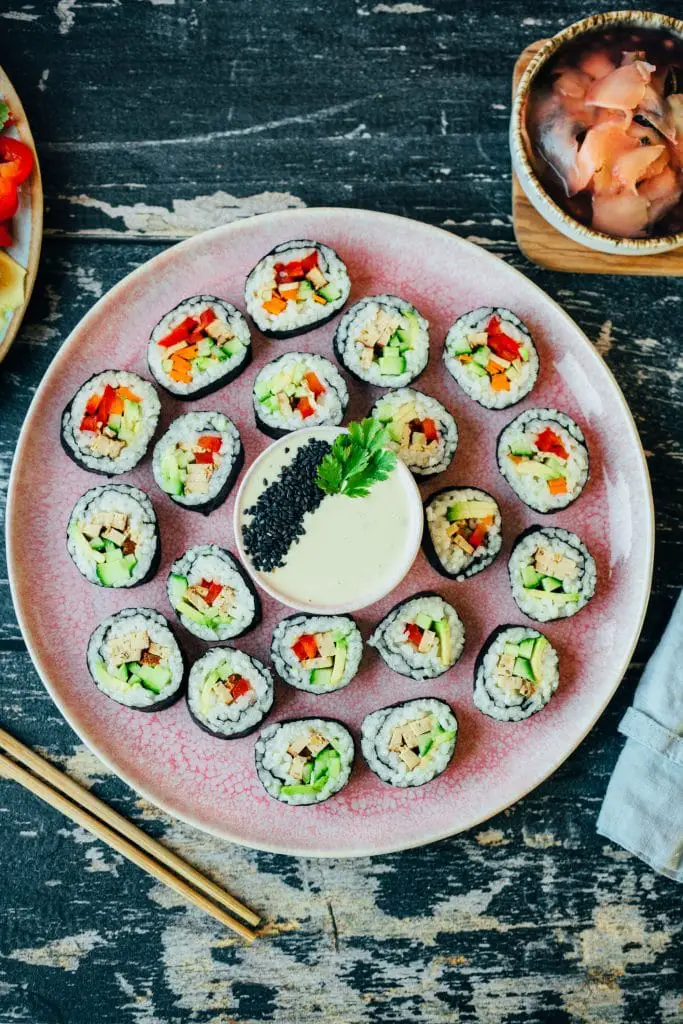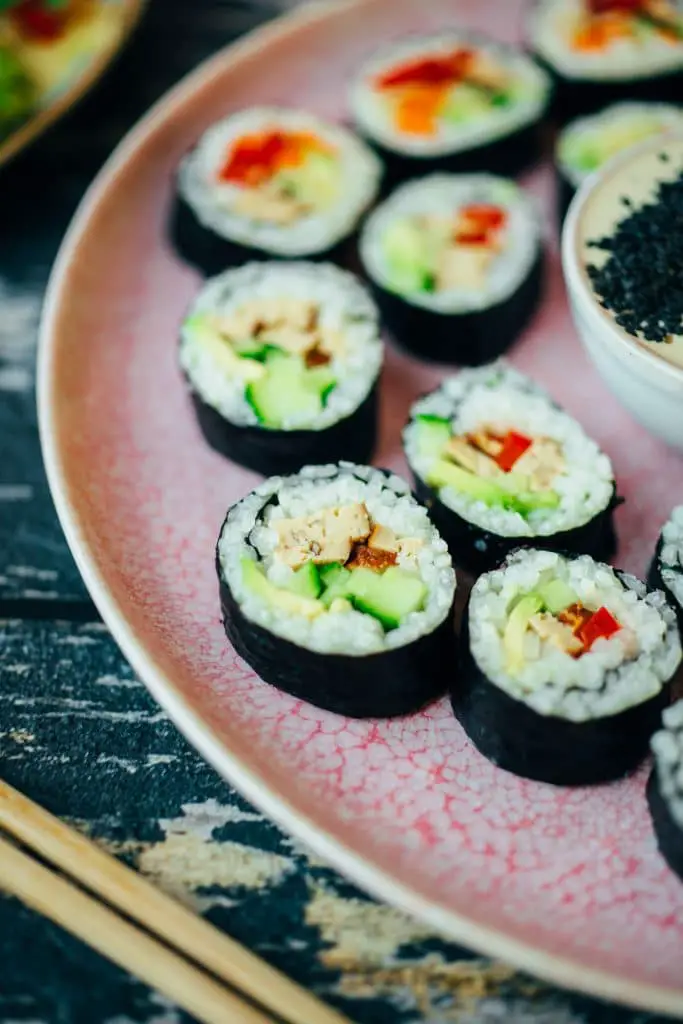 Now it can also almost start with our vegan sushi. As I said, you can hardly do anything wrong, yet there are one or two pitfalls. The most important thing, from my point of view, is not to make the rolls too full and to really spread the rice evenly. If you keep these two points in mind, you're already on the home stretch. Always use a sharp knife when cutting the rolls, otherwise you will virtually squeeze the rolls together and not get a nice result. I also always wet the knife before cutting, so it's even easier.
TIP: Plan a little extra time for preparation for sushi. It is a simple dish, but rolling it takes a little time and practice. If you're already a sushi roll pro, feel free to skip these lines.
For our Cashew Majo we need a portion of Cashew Majo (homemade) or a ready-made mayo of your choice, some chili and .
Vegan Sushi with Spicy Majo:
Summery
aromatic
filling
High fiber
Easy to manufacture
Let's go with this delicious vegan dish . I hope you enjoy re-rolling and I'd be happy to see a review at the very bottom of this page. If you post a picture, use the hashtag #veganevibes.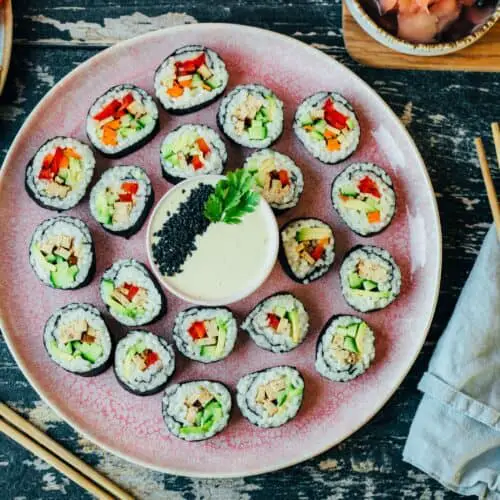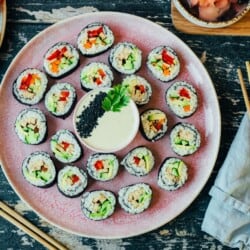 Vegan sushi with spicy mayo
Delicious vegan sushi with lots of healthy veggies, rice and a creamy, spicy mayo dip. Perfect for warm summer days.
AUTOR: VEGANEVIBES
Anleitung 
FOR THE RICE Wash sushi rice, place in a saucepan and bring to a boil with 2 cups of water. Boil for 10 minutes, remove heat and let steep for another 10 minutes with the lid closed. Check packaging instructions, as production may vary slightly from variety to variety.

160 g uncooked sushi rice,

500 ml Water

Once rice is cooked, add rice wine vinegar, maple syrup and salt and mix until everything is well combined. Set aside.

45 ml Genmai Su,

30 ml maple syrup,

½ tbspn Salt,

15 ml Rice wine vinegar

FOR THE SPICY MAJO, add cashew mayo, Bird Eye Chili and maple syrup to a bowl and whisk until everything is evenly combined.

30 ml maple syrup,

60 g Cashew mayo,

1 Bird Eye Chili,

Pepper to taste

Prepare sushi mat.

Place vegetables, nori leaves, rice and a small bowl of water within reach.

2 Cups Vegetables of choice,

4 Nori leaves

As a first step, spread sushi rice on the nori sheet with a spoon. Omit upper quarter.

Place vegetables of choice horizontally in bottom quarter (see video), roll up from bottom to top with a firm grip. Coat top quarter of nori sheet with water, then close roll tightly. Set aside and repeat until all four rolls are finished rolling.

Place on a cutting board and cut into 1-2cm thick rolls with a dampened, sharp knife.

Arrange on a plate and serve with cashew mayo, sushi ginger, soy sauce and wasabi.

Best fresh!
Nährwertangaben
Serving:
1
Roll
Calories:
268
kcal
Carbohydrates:
39
g
Protein:
3
g
Fat:
10
g
Saturated Fat:
1
g
Sodium:
144
mg
Potassium:
48
mg
Fiber:
1
g
Sugar:
5
g
Vitamin A:
25
IU
Vitamin C:
2
mg
Calcium:
16
mg
Iron:
1
mg