Multiseed crackers are simply wonderful. I'm always on the lookout for easy and healthy snacks and these crackers are perfect for that. They are quick to make and full of healthy ingredients. I especially like them on a tasty salad for an extra crunch, so to speak. Otherwise, they also go wonderfully with delicious dips, such as hummus or my beloved paprika cashew dip. However, you can also just snack on them whenever you feel like a healthy snack. I always keep them in a lockable box for quick and easy access.
Multiseed Cracker – gluten free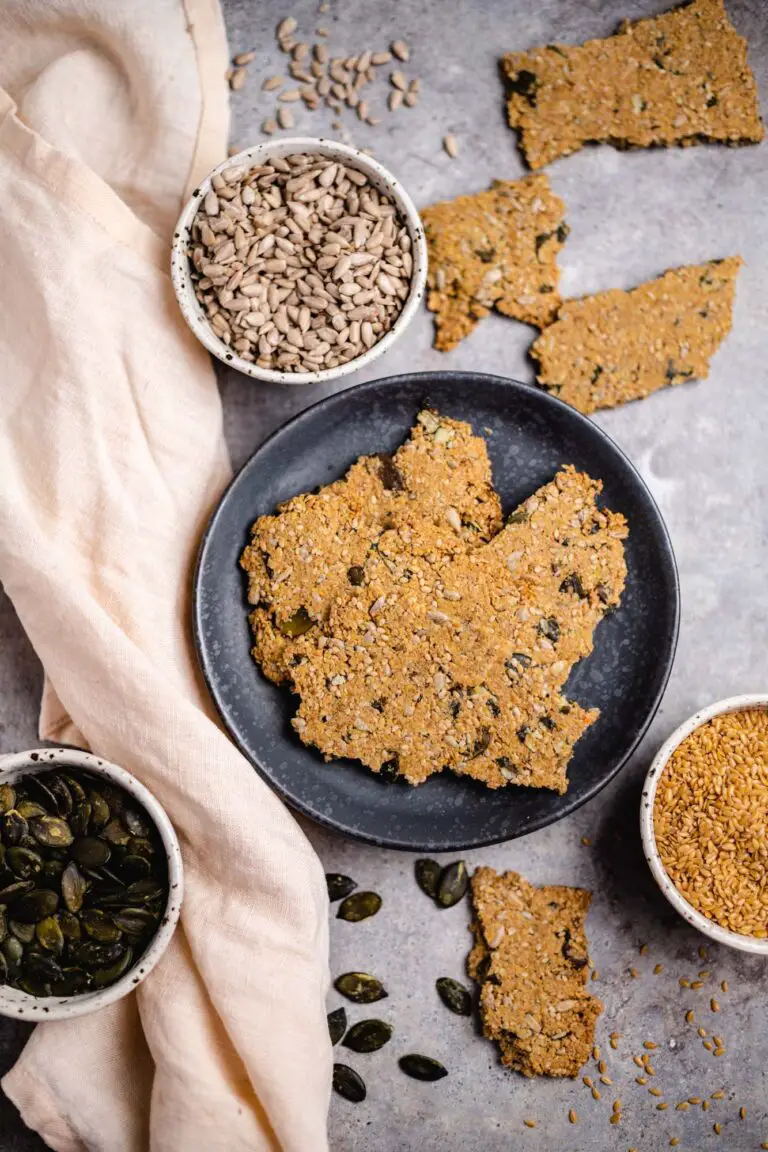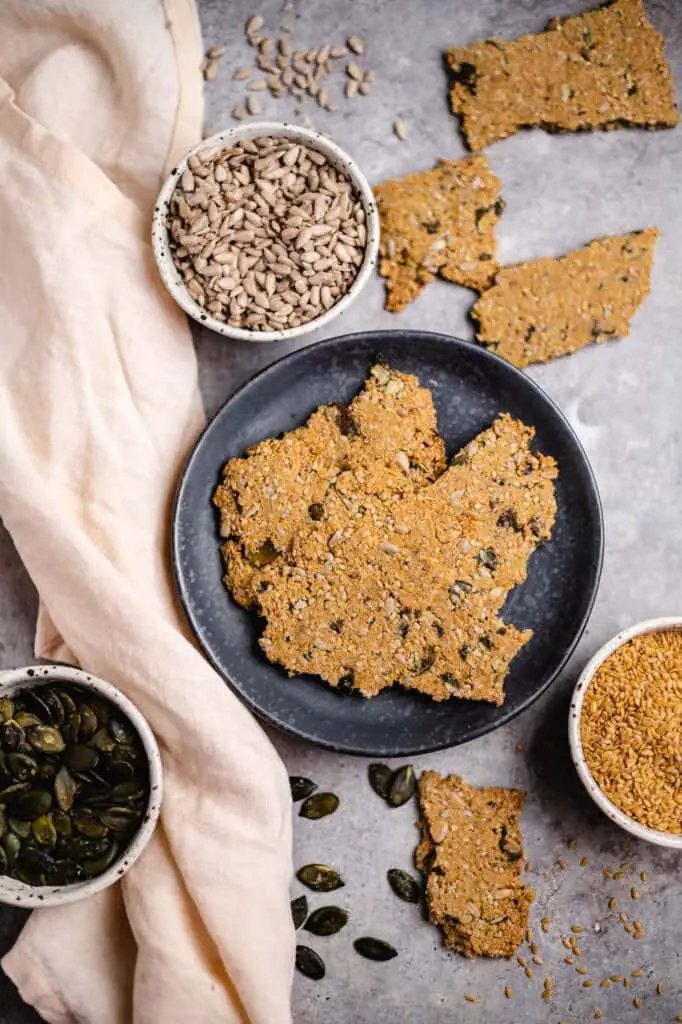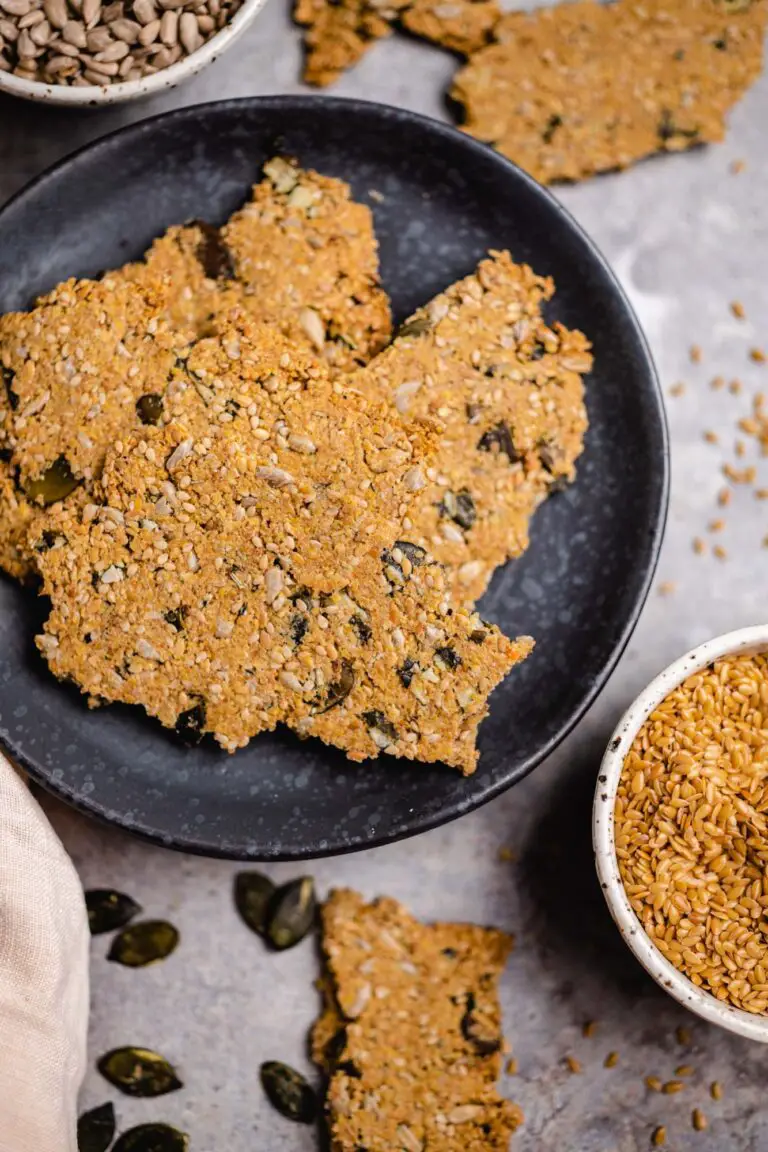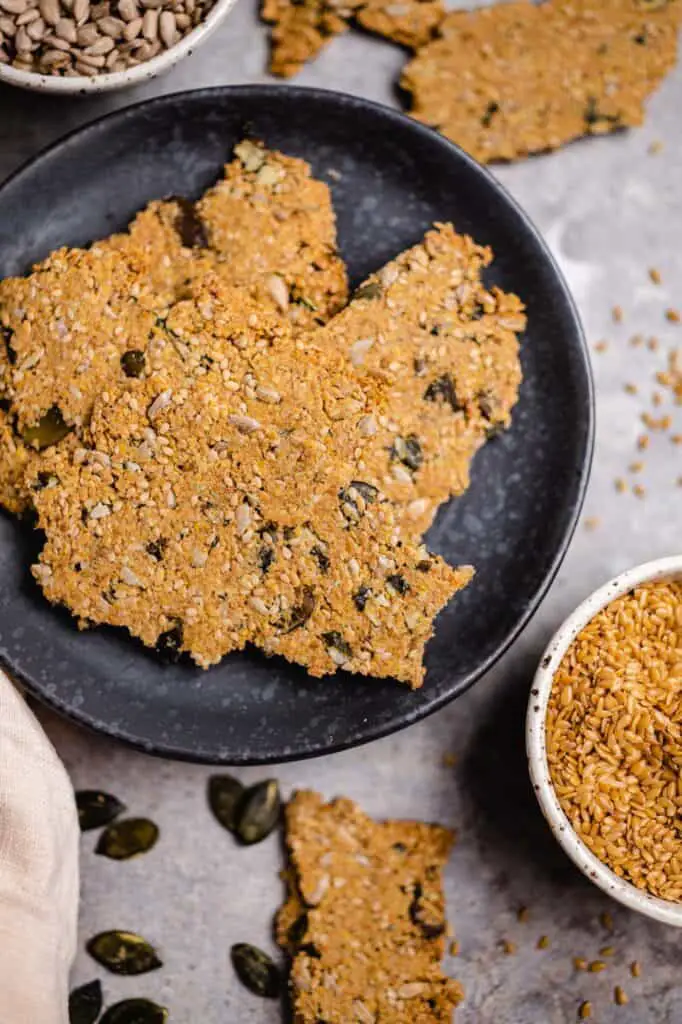 Many of us follow a gluten-free diet and are always looking for easy and healthy snacks. I bought a package of gluten-free crackers at the grocery store the other day and what can I say, they were just horrible. So I thought I would just make them myself. Completely without additives and only with the best organic ingredients.
Golden flax seeds, sesame seeds, pumpkin seeds, sunflower seeds, salt, pepper, rosemary and water. These are the ingredients for our crackers. To prepare, I first grind the flax seeds in my high-powered blender to a fine flour. I put that in a bowl along with pumpkin seeds, sunflower seeds, sesame seeds, salt, pepper, rosemary and water. I then knead the ingredients into a compact dough. Now the measurements are briefly put into the food processor to make them even finer. I use my MagiMix for this, however almost any other blender will work just as well here.
The last step is to roll out the dough on a baking paper or a permanent baking mat. I place it between two sheets of baking paper for this and get the best results.
TIP: Roll out crackers as thin as possible, otherwise they won't be really crunchy. If there is not enough space for this on a baking sheet, it is best to bake twice.
Bake vegan crackers yourself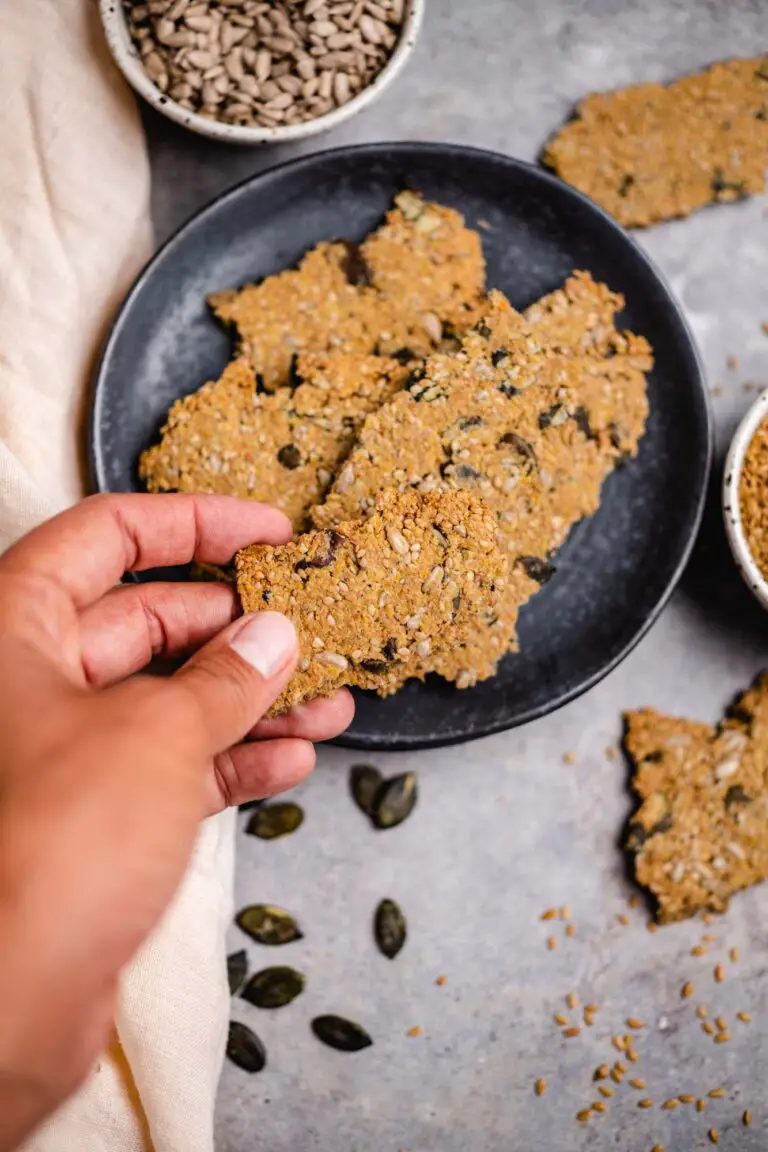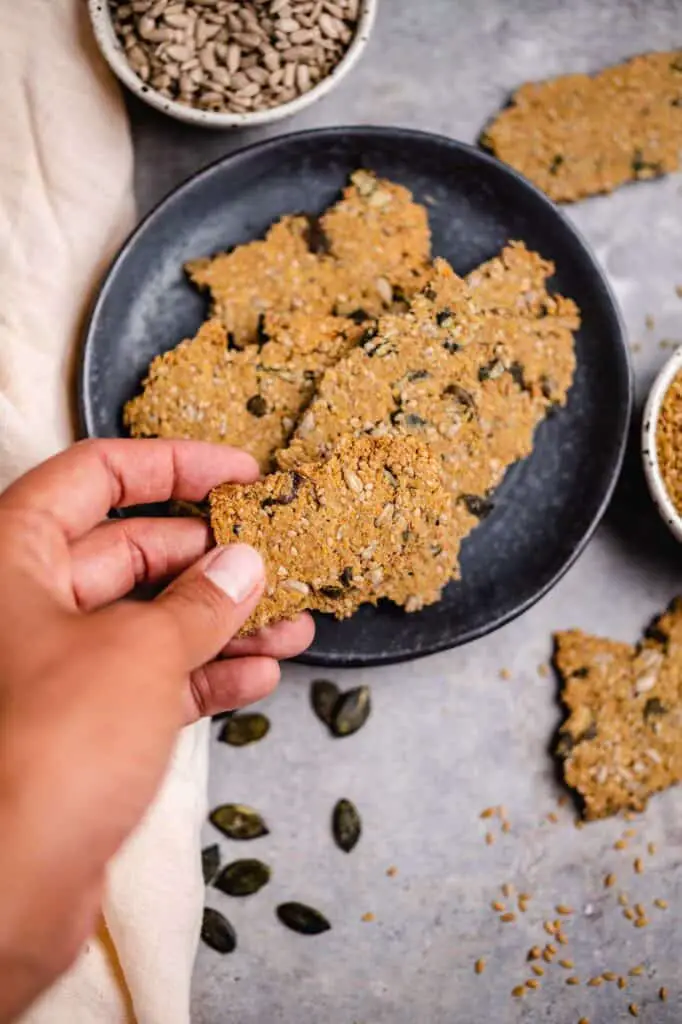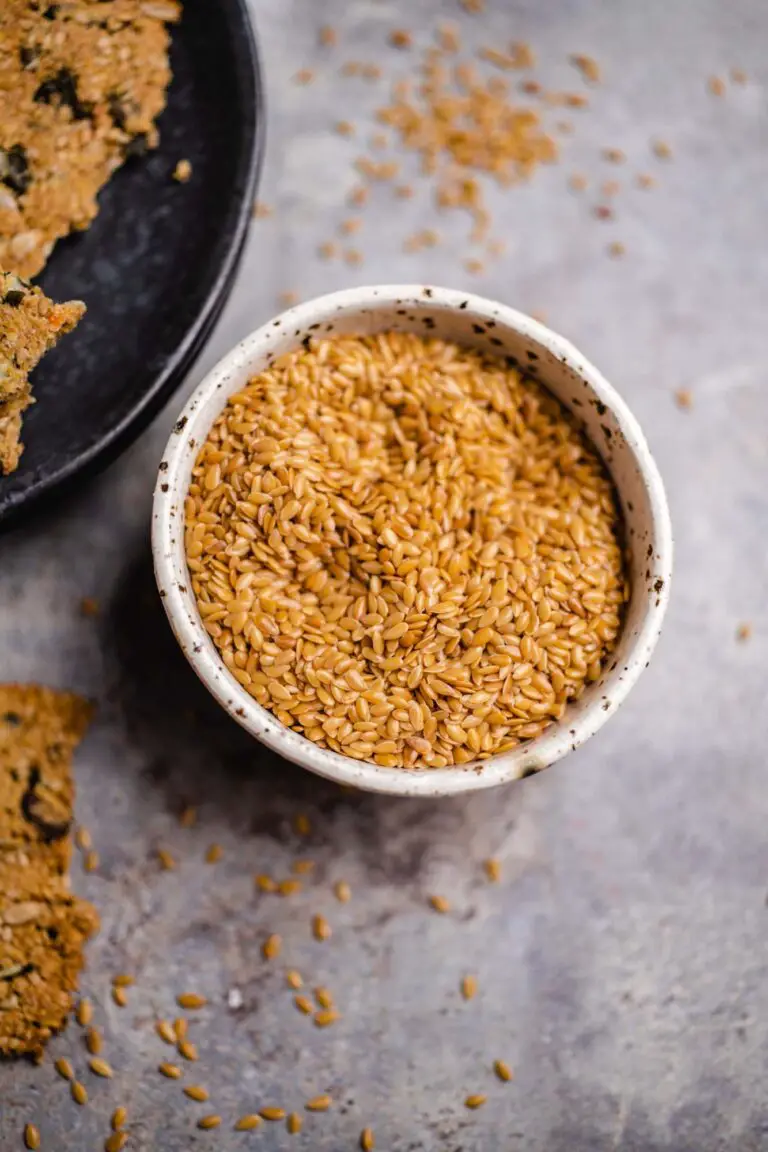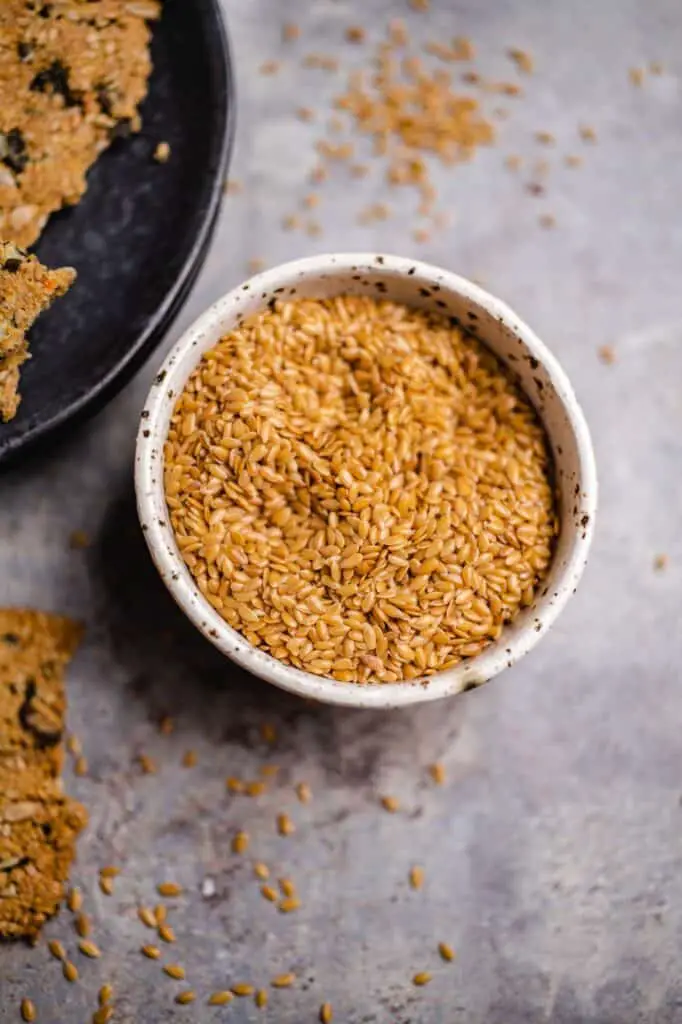 Once the crackers are done baking, they are then allowed to cool completely. After that, you get to decide what you want to do with it. Snack immediately, or use as a topping for a salad? You have the choice.
If you prefer not to bake crackers today, but rather a loaf of bread, I have the following suggestions for you:
Get started with these delicious gluten-free crackers. I hope you enjoy making it and of course about a review at the bottom of this page. If you post a picture, use the hashtag #veganevibes.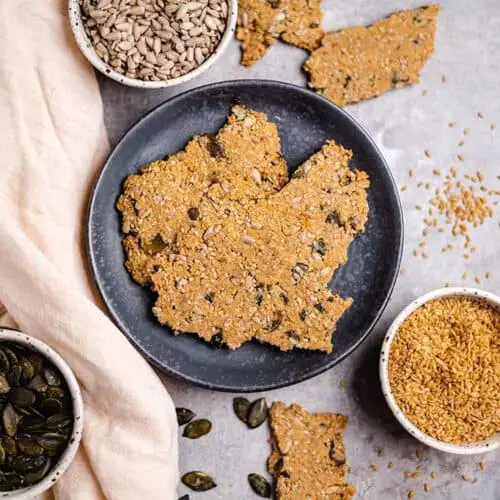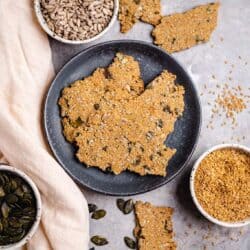 Multiseed Cracker (gf, of)
Simple, delicious crackers that are versatile. Perfect just like that, as a salad topping or as a refinement of various savory dishes. Easy to make, fast and versatile. Gluten free, oil free and vegan.
AUTOR: VEGANEVIBES
Anleitung 
Preheat oven to

175

°C

convection (

195

°C

upper-lower heat). Line baking sheet with parchment paper and have another baking sheet ready.

Place golden flax seeds in a high-powered blender and grind on high speed to a fine flour.

Place in a bowl along with pumpkin seeds, sunflower seeds, sesame seeds, rosemary, salt, pepper and water. Knead into a dough and once again put into a mixer (I use my MagiMix now). Pulse until the seeds have broken down a bit.

45 g Pumpkin seeds,

45 g Sunflower seeds,

45 g Sesame seeds,

1 tbspn Rosemary,

½ tbspn Salt,

Pepper to taste,

125 ml Water

Place the dough directly on the baking paper and place the second baking paper over it (alternatively, you could use a permanent baking mat for this). Press down carefully or roll out with a dough roller.

NOTE: Work carefully, otherwise the dough can tear quickly. Here it is recommended to practice a bit how it works best. Generally, the thinner, the drier and crispier the crackers will be.

Place in the oven and bake for

30 minutes

, until the dough is nice and dry and lightly browned around the edges. Remove from oven, let cool completely and enjoy!

Store in an airtight container at room temperature or in the refrigerator.
Nährwertangaben
Serving:
1
Portion
Calories:
71
kcal
Carbohydrates:
2
g
Protein:
2
g
Fat:
6
g
Saturated Fat:
1
g
Polyunsaturated Fat:
3
g
Monounsaturated Fat:
3
g
Trans Fat:
0.001
g
Sodium:
11
mg
Potassium:
75
mg
Fiber:
2
g
Sugar:
0.1
g
Vitamin A:
2
IU
Vitamin C:
0.1
mg
Calcium:
36
mg
Iron:
1
mg