Apple-hazelnut cake is really an absolute dream. Do you know when I am sure whether a cake has succeeded or not? When my husband and I regularly look in the refrigerator to see if there is anything left. Then there is also sometimes a fight for the last piece. Not angry, but loving, as befits a harmonious marriage. After all, there is always the possibility of baking another cake. This nutty, fruity dream is sure to win you over, too, and I've also got a gluten free option for all those who have to or want to do without gluten. Let's go, I would say.
Apple hazelnut cake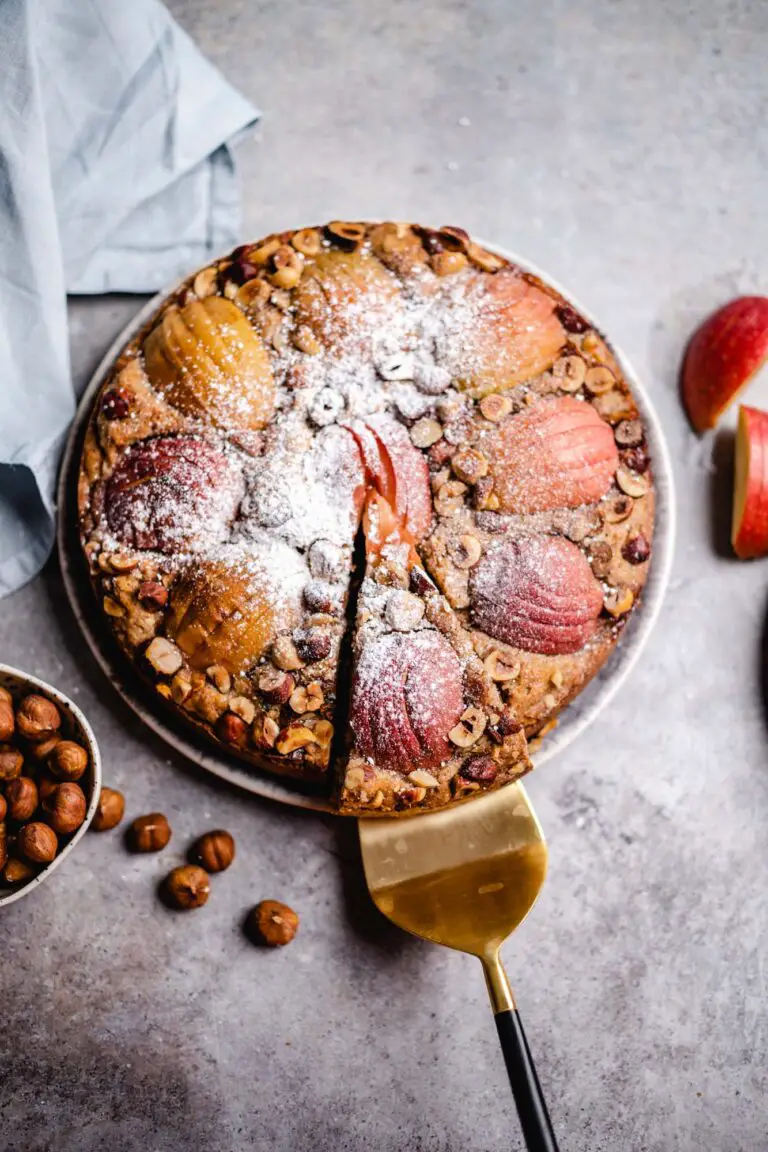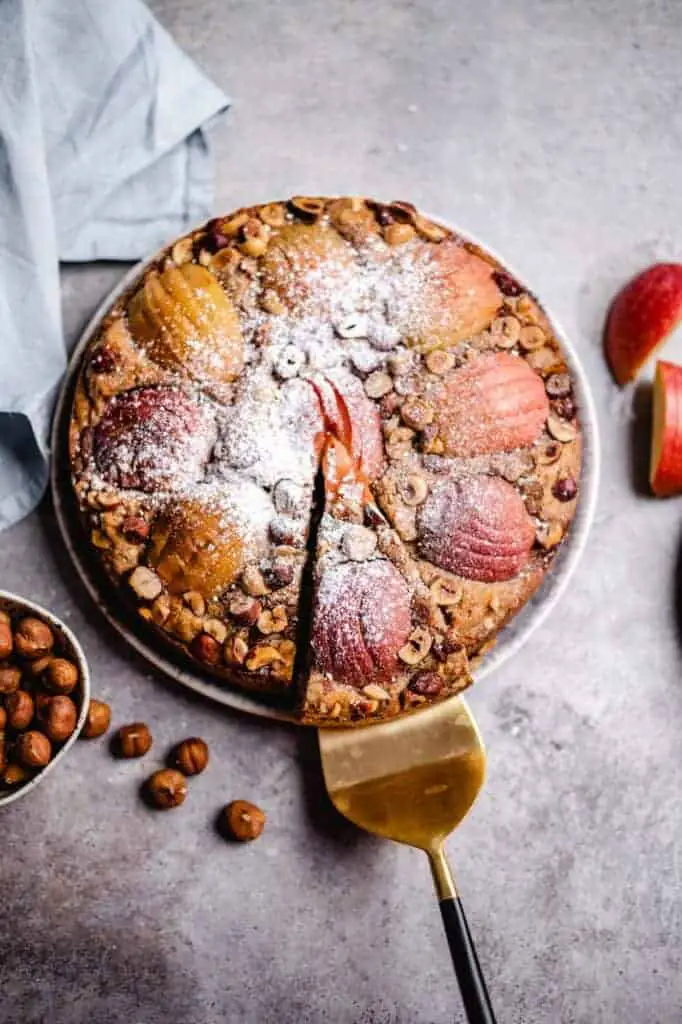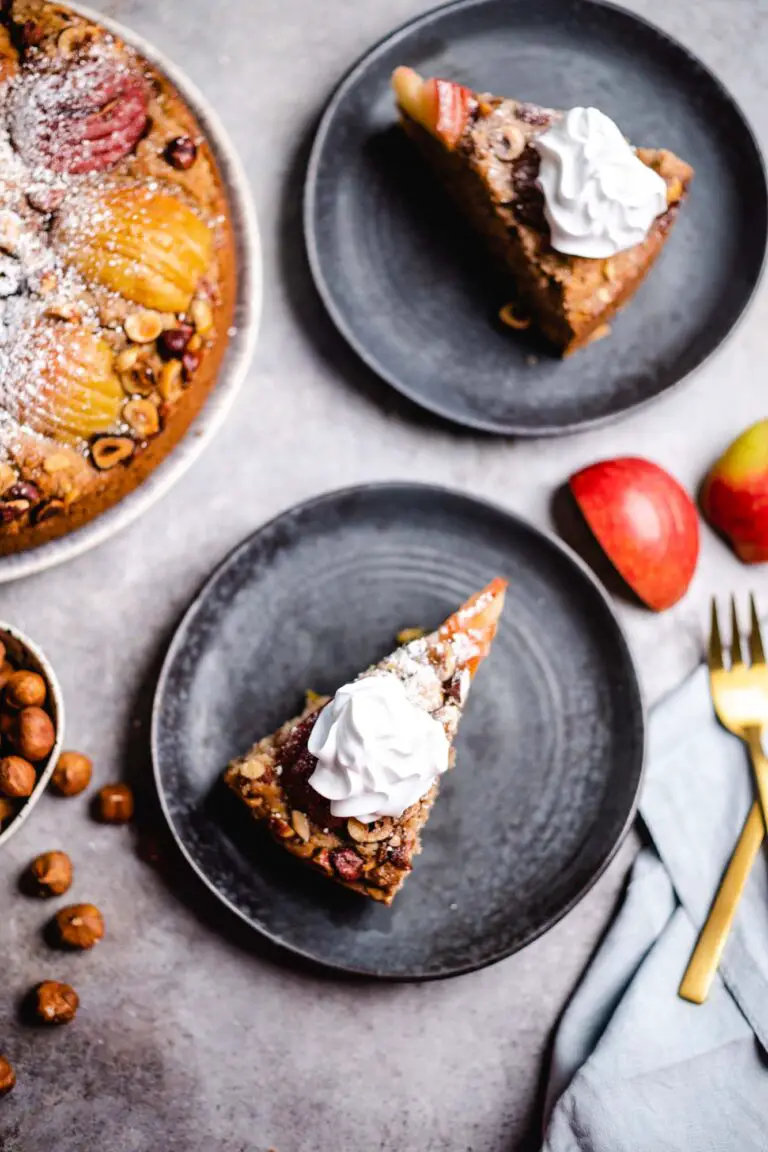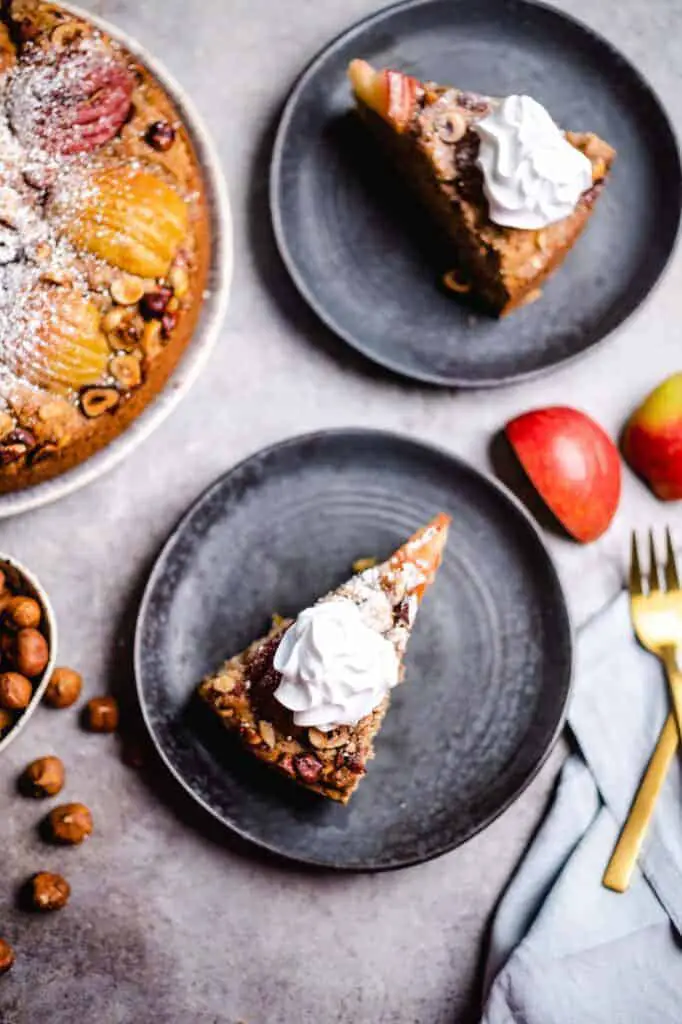 Making the cake is basically two steps, the sponge cake and apple topping. For the sponge cake we need flour, ground hazelnuts, baking powder, cinnamon, salt, vegan, cottage cheese, margarine, raw cane sugar, flaxseed eggs and some vegetable milk. The topping consists of fine organic apples, hazelnuts and margarine flakes.
Once everything is prepared, the sponge cake goes into a springform pan and the apples are spread on top. Then add hazelnuts on top, some raw cane sugar (or coconut blossom sugar) and a few flakes of margarine. Before now come again many letters that the recipe to be unhealthy: You can also omit the margarine and the extra sugar as a topping. I replaced some of the margarine with oil to make it reduced oil.
TIP: If you don't like using margarine, you can also use a high-quality baking oil. https://amzn.to/3GJQ5aj
Bake vegan sponge cake easily and quickly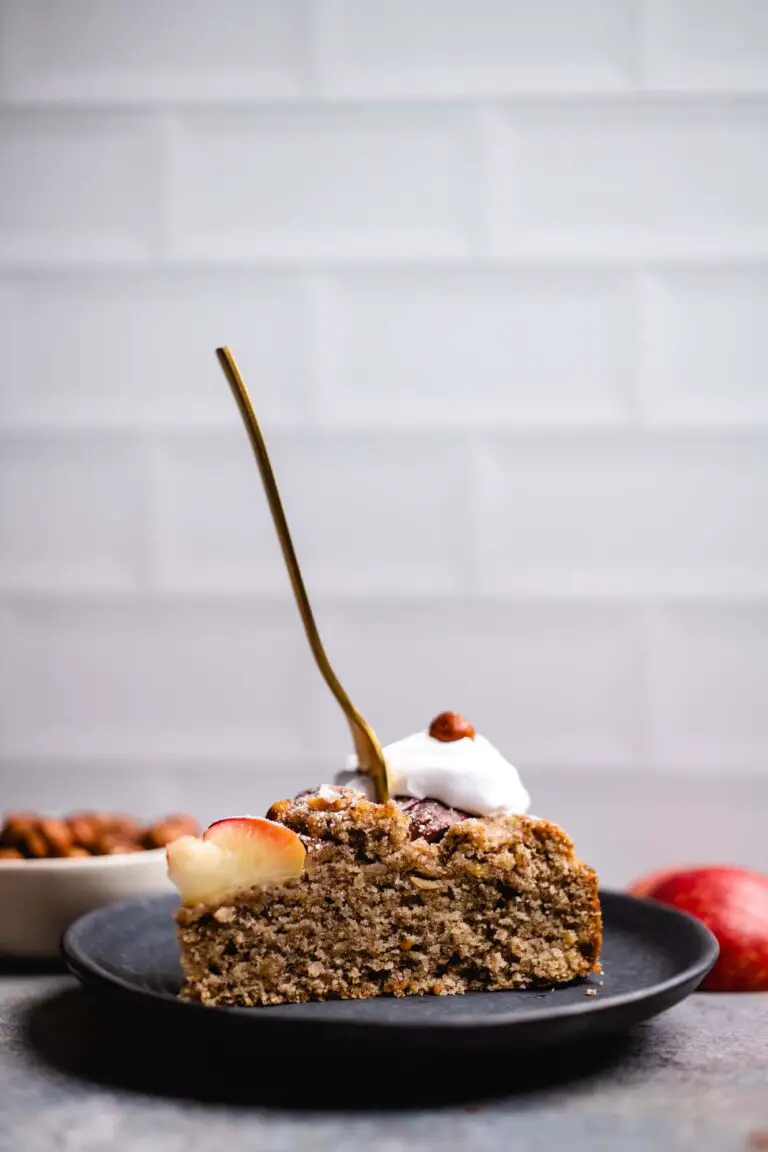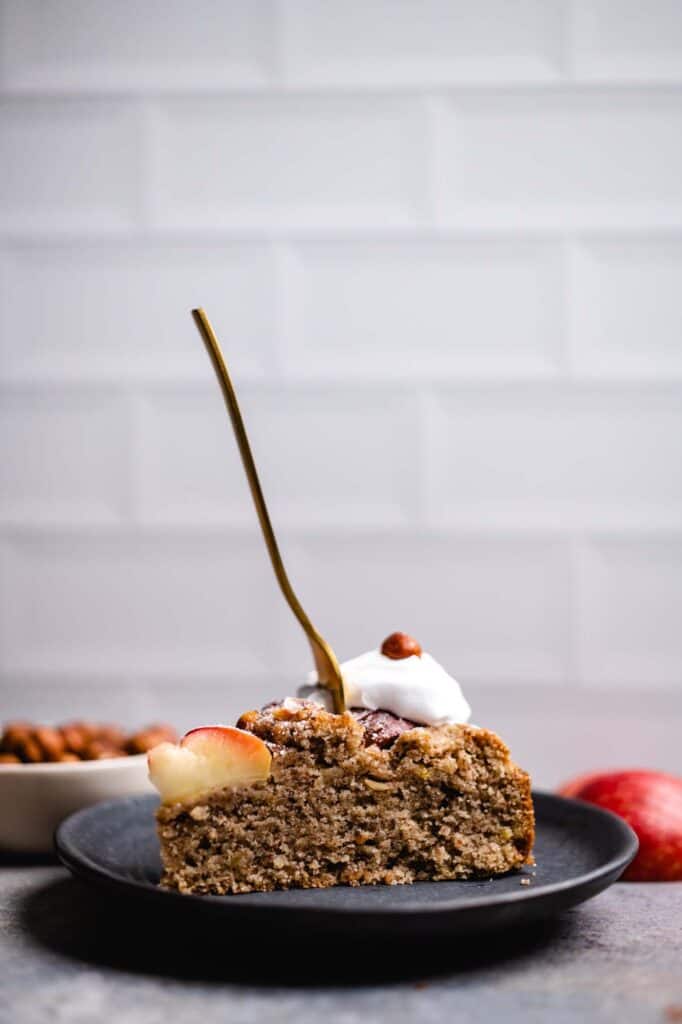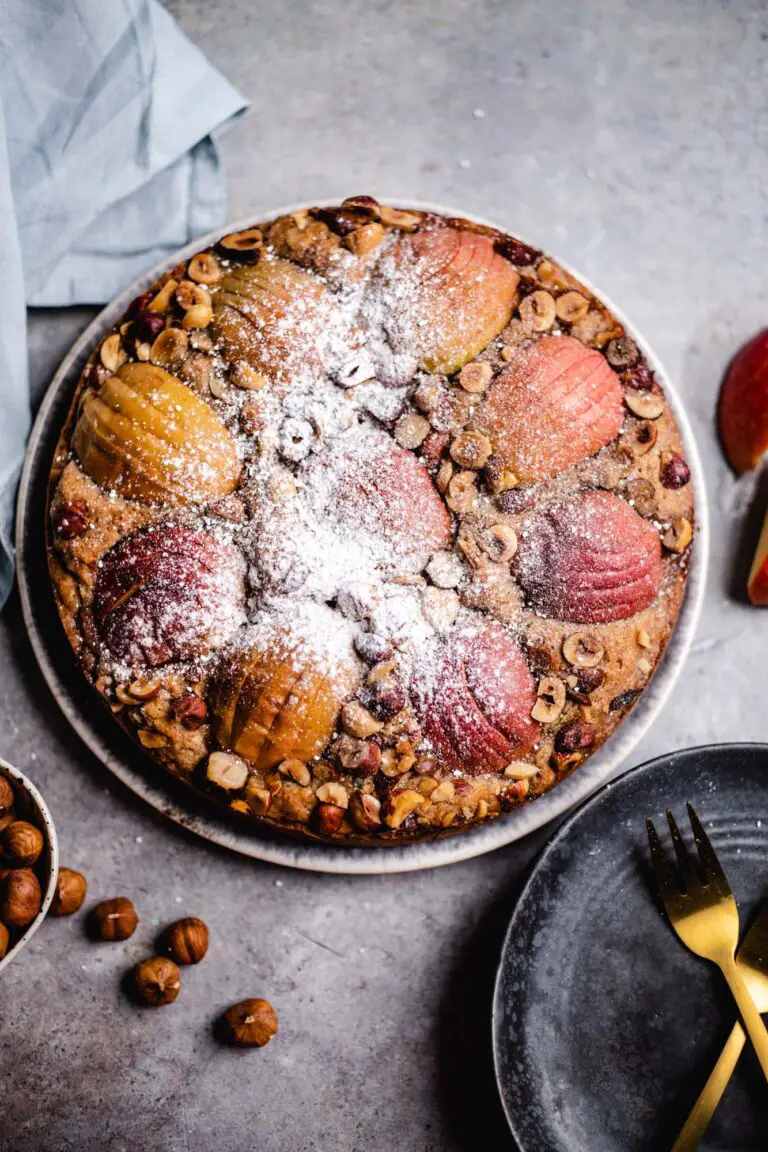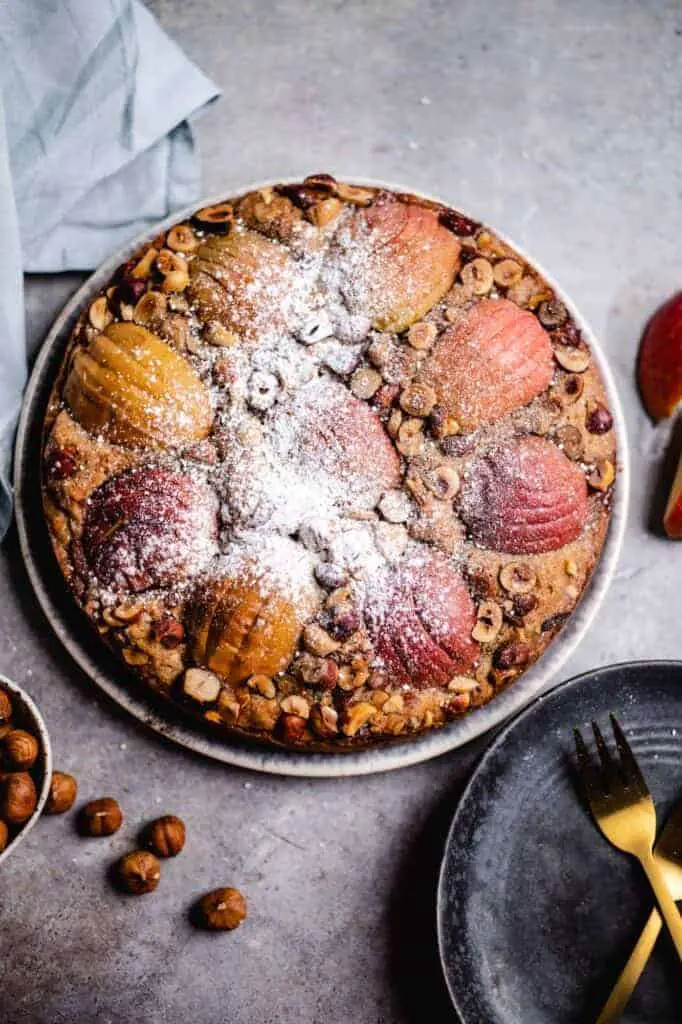 Otherwise, there is not much to consider when making the sponge cake. I use a springform pan with a diameter of 22cm. I line the bottom with some baking paper, alternatively you could grease it.
Tip: If you want to increase the fiber content, you can replace half of the flour with whole wheat flour.
If you are looking for a different cake variation today, I have the following suggestions for you:
The apple hazelnut cake is:
nutty
fruity
Perfectly sweet
loose
Easy to manufacture
Well, are you ready for these fine apple nut cakes? I wish you a lot of fun baking and of course a review at the bottom of this page. If you post a picture, use the hashtag #veganevibes.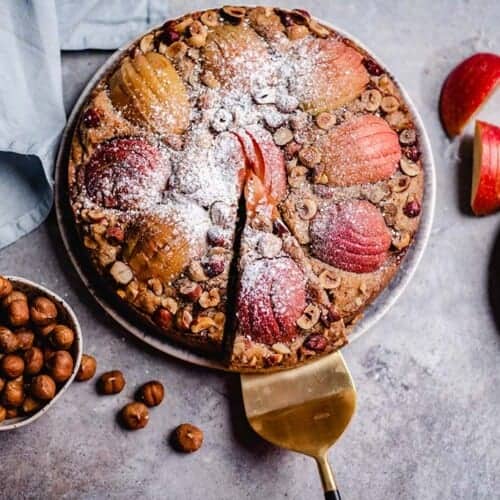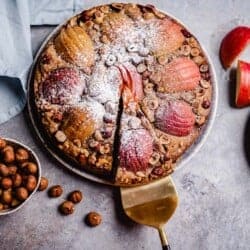 Apple hazelnut cake (v)
Juicy vegan apple-hazelnut cake with caramelized apple topping and crunchy hazelnuts. Perfect for a quick and delicious cake for afternoon coffee. Quick and easy to make, nutty fruity, vegan and delicious
AUTOR: VEGANEVIBES
FOR THE APPLE-HAZELNUT TOPPING:
3

Piece

medium apples

1

Piece

Lemon

30

g

Hazelnuts

coarsely chopped

30

g

Cinnamon sugar

or 2 tbsp. raw cane sugar mixed with ½ tsp. cinnamon

2

tbspn

Margarine
Anleitung 
Preheat the oven to 175 degrees (convection) 195 (upper-lower heat) and line a springform pan with baking paper.

FOR THE APPLE-HAZELNUT TOPPING Squeeze the lemon and pour the lemon juice into a bowl. Cut apples into quarters and score the surface. Place in the lemon juice with the cut edge facing down.

1 Piece Lemon,

3 Piece medium apples

TIP: Soaking in lemon juice prevents the apples from "browning".

FOR THE DOUGH Place margarine, raw cane sugar, flaxseed eggs and cottage cheese in a large baking bowl and mix well with a hand mixer or whisk. Add flour, ground hazelnuts, cinnamon, baking powder, salt, lemon zest and vegetable milk and mix until smooth.

100 g soft margarine,

100 g Raw cane sugar,

3 Piece Flaxseed eggs,

50 g vegan curd,

150 g Flour,

150 g ground hazelnuts,

1 tbspn Cinnamon,

3 tbspn Baking powder,

A pinch of salt,

Lemon peel,

30 ml Plant milk

The dough should be neither too solid nor too liquid. If too firm, use a little more vegetable milk and if too runny, use a little more flour.

Pour the dough into the prepared springform pan (diameter 22 cm) and smooth it out.

Spread the apple quarters in a circle on the dough, top with hazelnuts, cinnamon-sugar and margarine flakes and place in the oven.

30 g Hazelnuts,

2 tbspn Margarine,

30 g Cinnamon sugar

Put in the oven and bake for 40 minutes. Use a wooden stick to check if the cake is baked through. If so, then the wooden stick comes out dry. If dough is still stuck, then bake for another 10 minutes and check again.

Remove from the oven and allow to cool completely. Cut into pieces and enjoy!

Can be stored in an airtight container in the refrigerator for up to 5 days.
Nährwertangaben
Serving:
1
Piece
Calories:
246
kcal
Carbohydrates:
26
g
Protein:
4
g
Fat:
15
g
Saturated Fat:
2
g
Polyunsaturated Fat:
2
g
Monounsaturated Fat:
3
g
Trans Fat:
1
g
Sodium:
84
mg
Potassium:
57
mg
Fiber:
2
g
Sugar:
13
g
Vitamin A:
342
IU
Vitamin C:
3
mg
Calcium:
50
mg
Iron:
1
mg