Red wine cake is an absolute first on veganevibes.com. There is not yet a single recipe on this site with Alcohol but with this fine cake I just couldn't help myself. The great, red color of the frosting was so appealing to me that I couldn't resist. Thanks to Corona, we are all more at home again and can devote ourselves to baking. The Christmas markets remain closed and therefore this time also the mulled wine is drunk at home. Add to that a slice of red wine cake and all is right with the world again.
Vegan red wine cake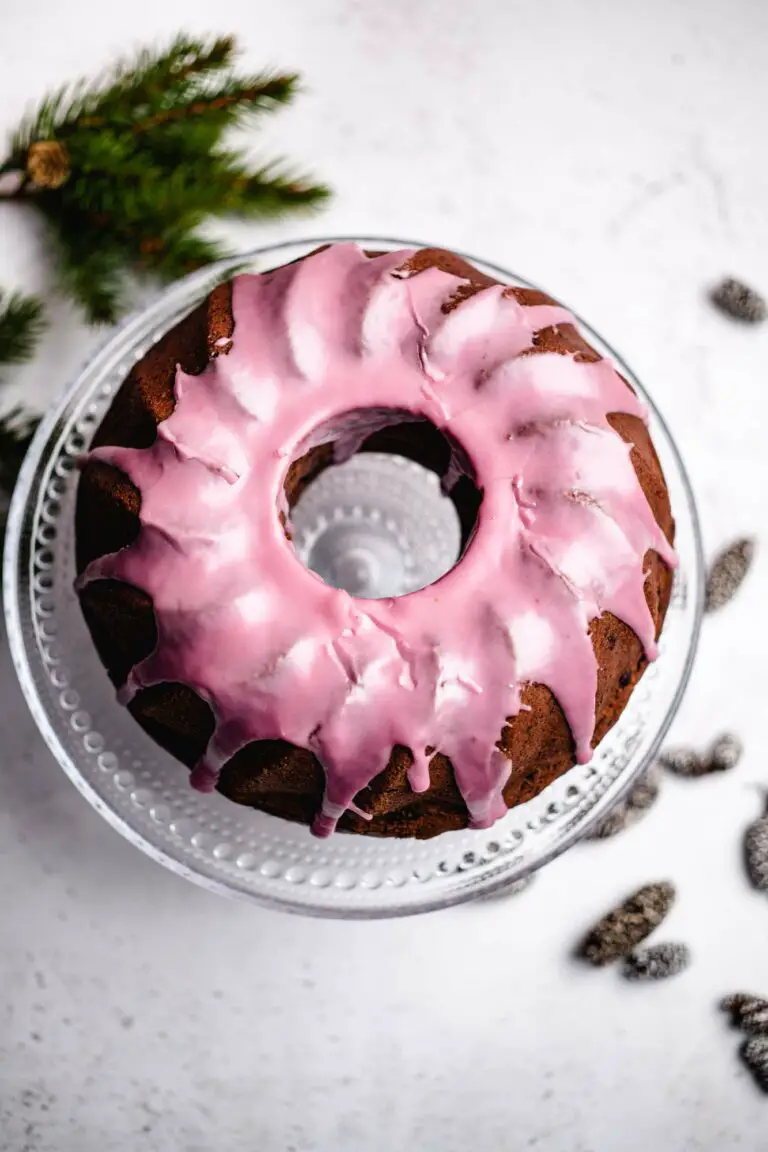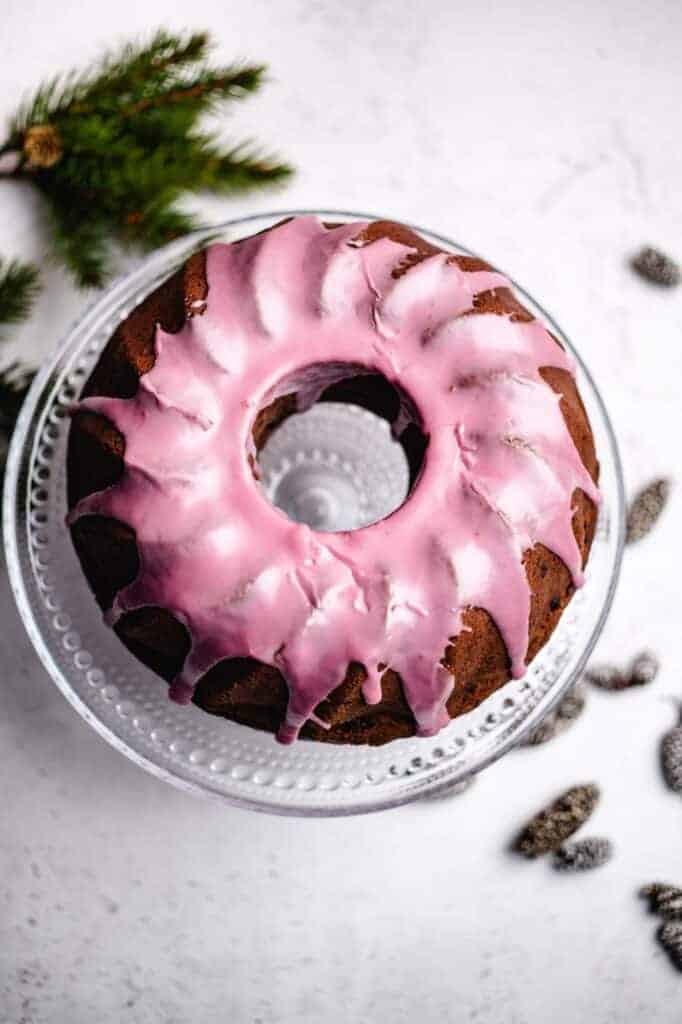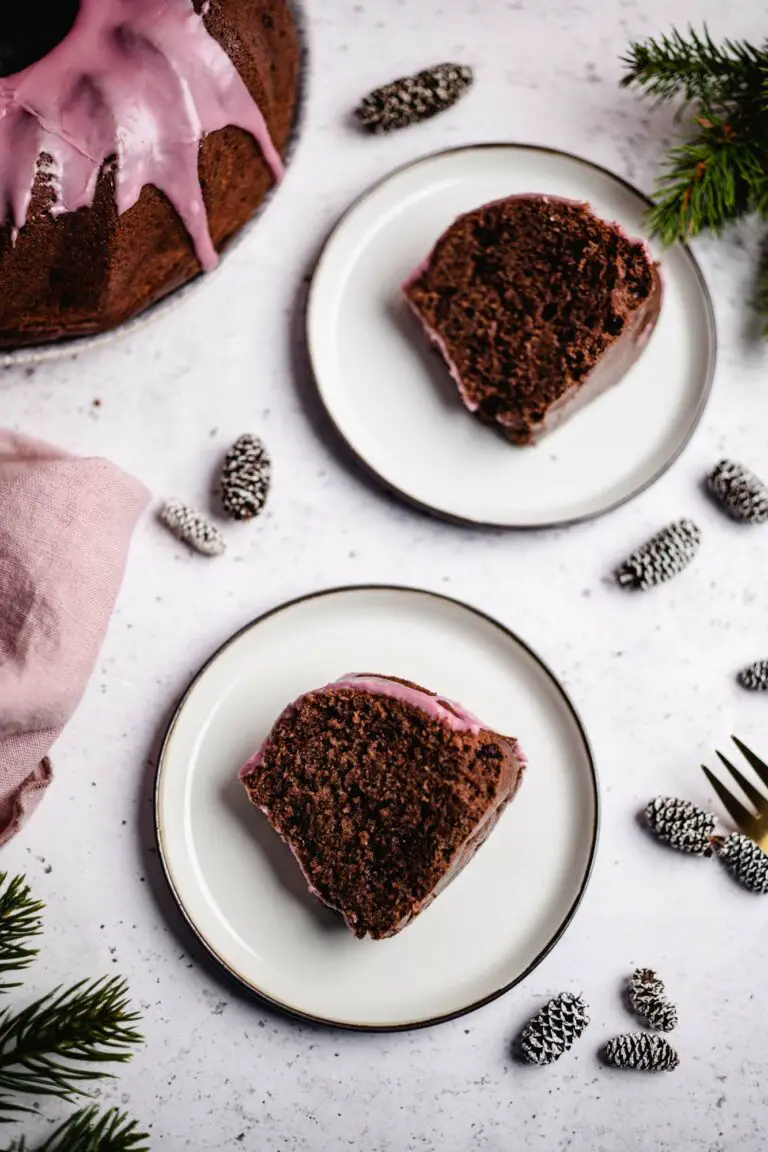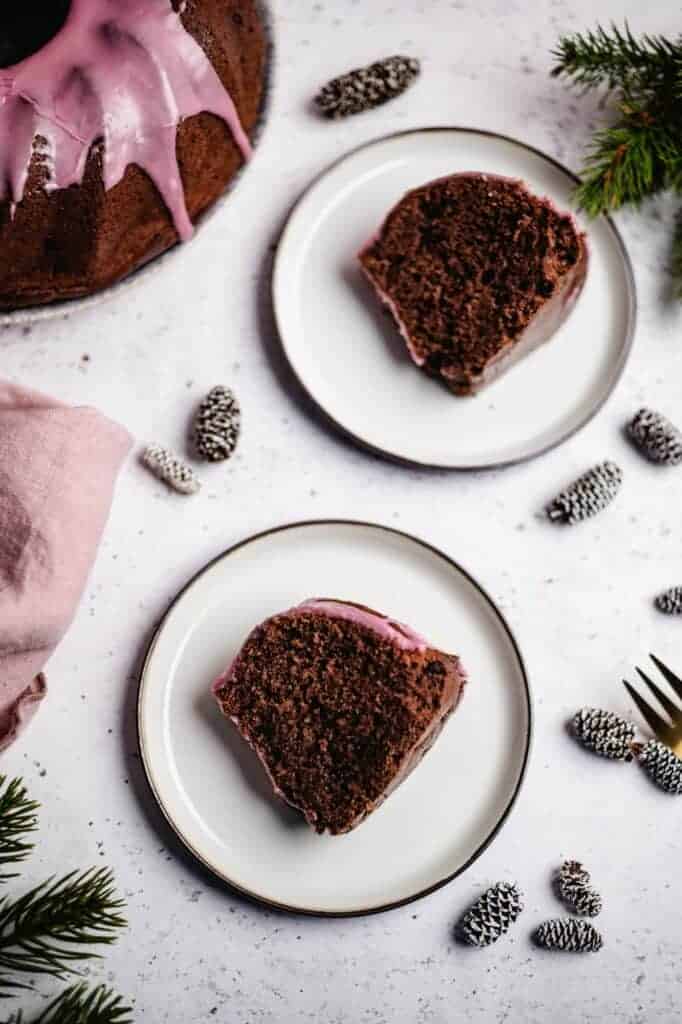 Do you like drinking red wine? To be honest, I like to treat myself to a glass now and then and enjoy it especially in winter in front of the crackling fireplace. To be honest, you can't really taste the alcohol in the red wine cake. If you absolutely do not like alcohol, you can also use a non-alcoholic wine or make a trial with unsweetened grape juice make. Otherwise, the cake is a simple sponge cake that is ready in no time.
I make the cake low fat and replace part of the margarine with soy yogurt. Margarine, soy yogurt, raw cane sugar, bourbon vanilla, spelt flour, baking powder, a pinch of salt, cinnamon, cocoa powder, red wine and dark vegan chocolate drops. This is all worked into an even batter and allowed to bake in the oven for 50 minutes until the cake is nicely risen, soft on the inside and crisp on the outside.
Bake simple red wine cake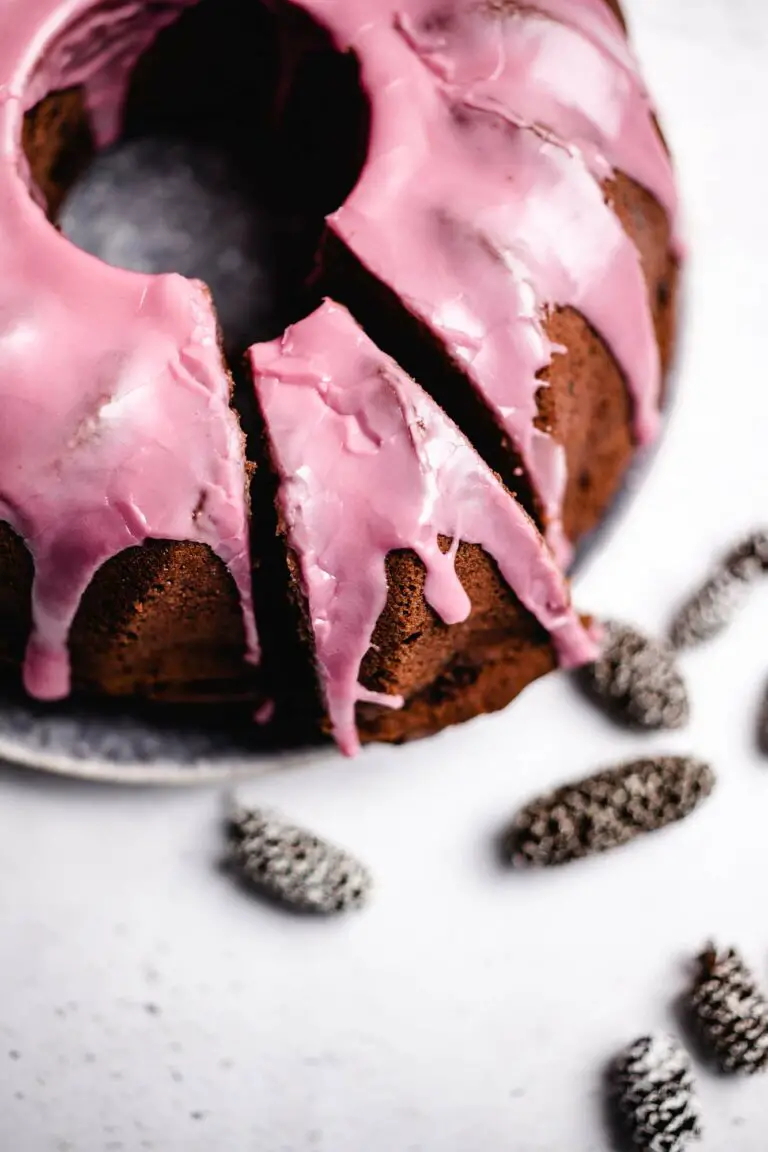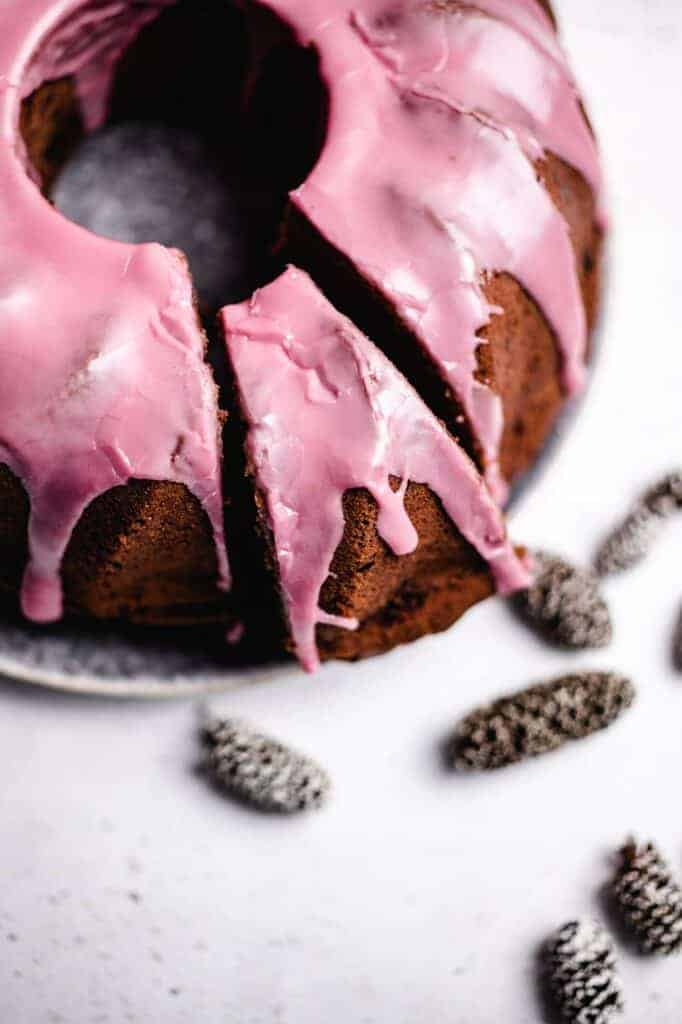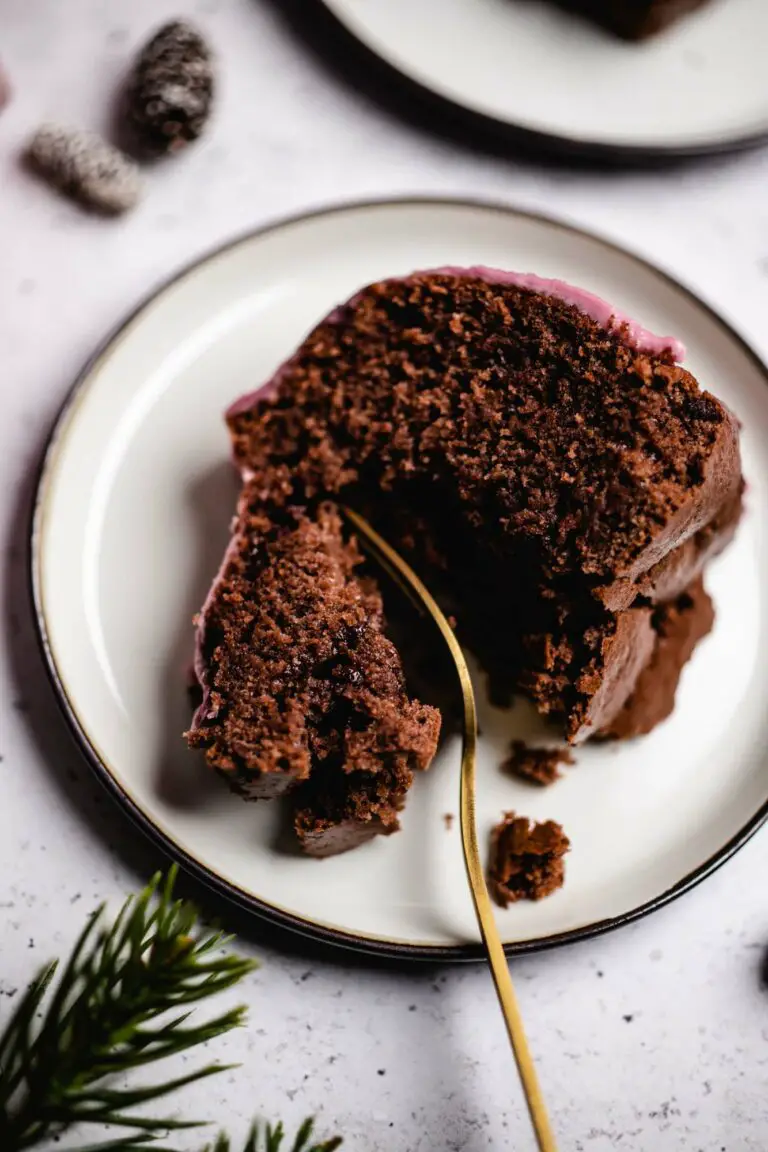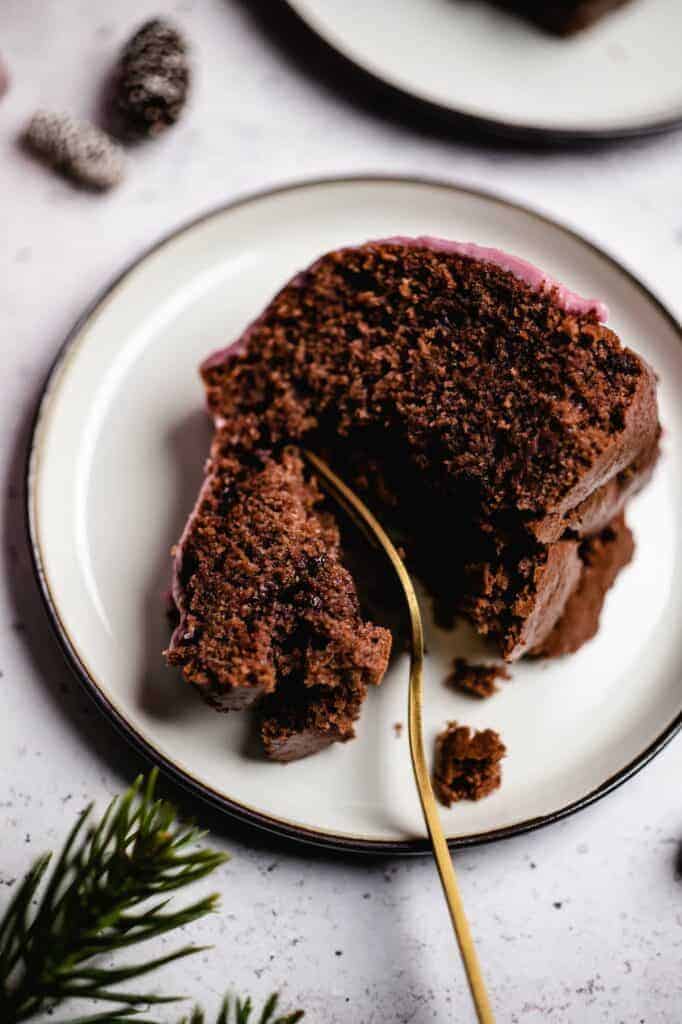 As always, making the cake is quick and easy, this time with my Magimix. However, it also works wonderfully with a normal mixing bowl and a whisk. Spelt flour, cocoa powder, raw cane sugar, flaxseed eggs, melted margarine, baking powder, bourbon vanilla, salt, cinnamon and soy yogurt. Finally, I add the red wine and the dough is ready. Almost, because at the very end I still dark, vegan chocolate drops under, because you treat yourself nothing else. Put it in the cake pan and put it in the oven. Once the cake is baked, it may be cooled and frosted. For the frosting, I use powdered sugar and red wine, which makes a beautiful pink color.
Tip: When making the frosting, add the red wine with extreme care. You quickly use too much of the liquid and the icing becomes too thin.
That's about it for our cake today. I haven't tried a gluten-free version yet, if you do, I'd love to hear back in the comments below.
If you don't feel like coffee cake today, I recommend the following cake creations:
The red wine cake is
Locker & Fluffig
chocolaty
Perfectly sweet
loose
Easy to manufacture
Well, are you ready for these fine sponge cakes? I wish you a lot of fun with the Nachbacken and of course about a rating at the bottom of this page. If you post a picture, use the hashtag #veganevibes.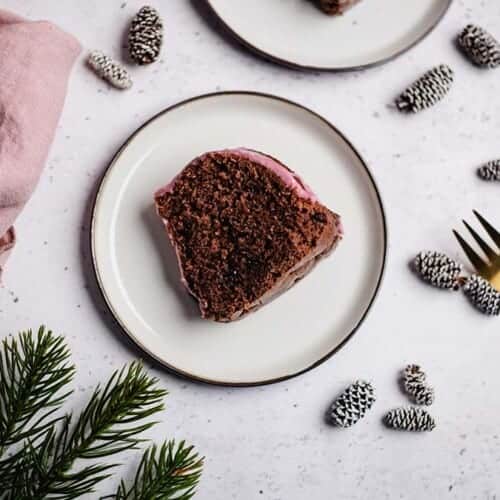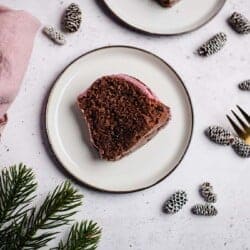 Vegan red wine cake
Juicy vegan red wine cake with red wine, cocoa powder and a tempting icing. Perfect for a quick cake for a vegan coffee party. Quick and easy to make, reduced oil, vegan and delicious.
AUTOR: VEGANEVIBES
Anleitung 
Preheat the oven to 175 degrees (convection) 195 (upper-lower heat) and grease a Gugelhupf mold.

For the dough Place spelt flour, cocoa powder, raw cane sugar, flaxseed eggs, melted margarine, baking powder, bourbon vanilla, salt, cinnamon, red wine, and soy yogurt in a food processor or large baking bowl and mix until everything is combined into a uniform dough. At the very end, fold in the chocolate drops.

250 g Flour,

30 g Cocoa powder,

150 g Raw cane sugar,

3 Piece Flaxseed eggs,

150 g Margarine,

3 tbspn Baking powder,

½ tbspn Bourbon vanilla,

½ tbspn Cinnamon,

A pinch of salt,

100 g Soy yogurt,

125 ml Red wine,

100 g dark vegan chocolate drops

The dough should be neither too solid nor too liquid. If too firm, use a little more vegetable milk and if too runny, use a little more flour.

Pour the batter into the prepared bundt pan, smooth it out, put it in the oven and bake for

50 minutes

.

Use a wooden stick to check if the cake is baked through. If so, then the wooden stick comes out dry. If dough is still stuck, then bake for another 10 minutes and check again.

Remove from the oven and allow to cool completely.

FOR THE ICING Put the powdered sugar in a bowl. Carefully pour in red wine, starting with ½ tablespoon and increasing until an even glaze is formed. Decorate red wine cake with it and let it set.

100 g Powdered sugar,

1 – 2 tbspn Red wine

Cut into pieces and enjoy!

Can be stored in an airtight container in the refrigerator for up to 5 days.
Nährwertangaben
Serving:
1
Piece
Calories:
314
kcal
Carbohydrates:
44
g
Protein:
4
g
Fat:
14
g
Saturated Fat:
4
g
Polyunsaturated Fat:
3
g
Monounsaturated Fat:
6
g
Sodium:
148
mg
Potassium:
85
mg
Fiber:
2
g
Sugar:
24
g
Vitamin A:
447
IU
Vitamin C:
1
mg
Calcium:
39
mg
Iron:
1
mg