Vegan tarte flambée has been so lacking on this blog. I wanted to make this recipe once for a very long time, but something else kept getting in the way. Then I discovered ready-made vegan tarte flambée bases at my favorite organic supermarket in Regensburg and there was no stopping me. Quickly made, hearty topping and irresistibly delicious.
Vegan tarte flambée, made simple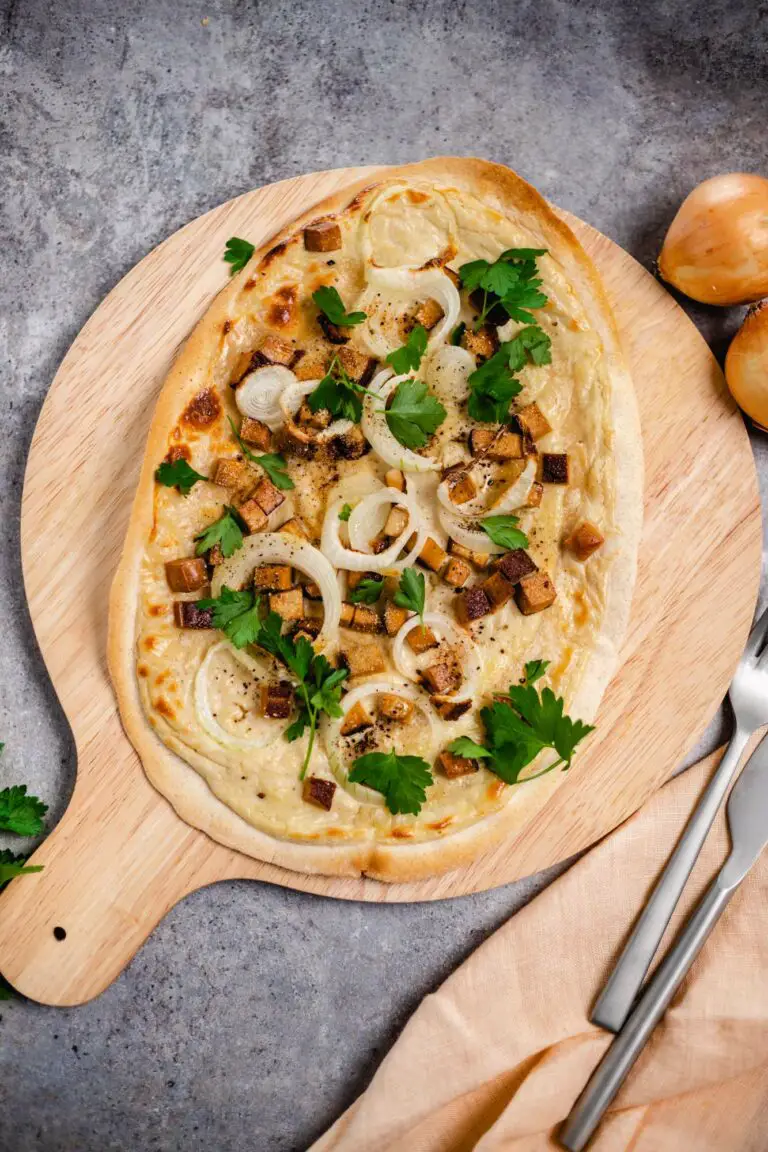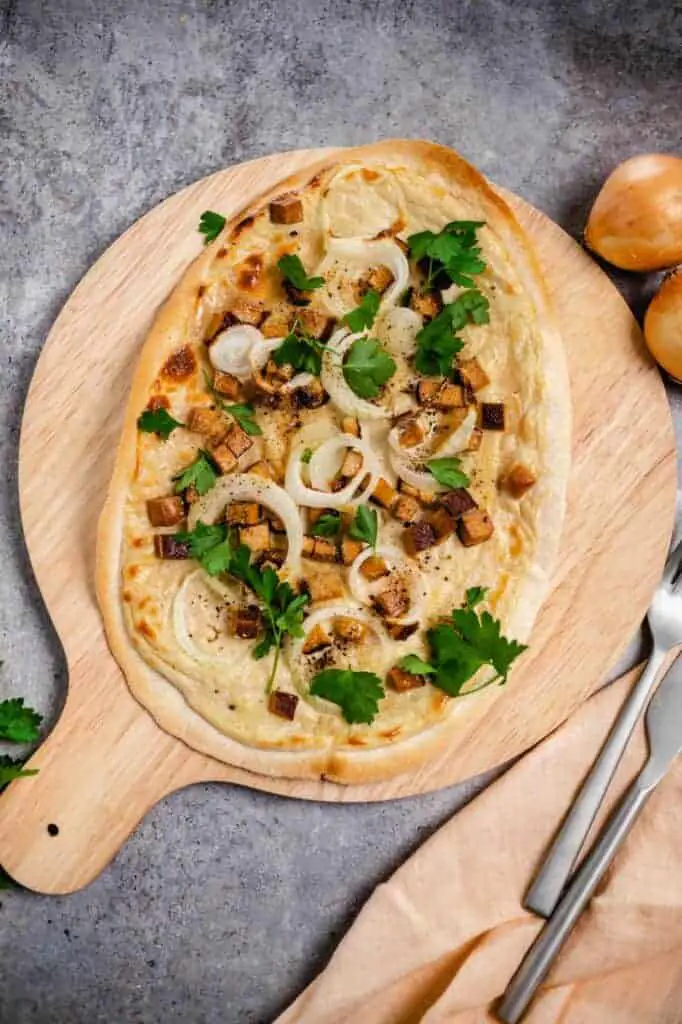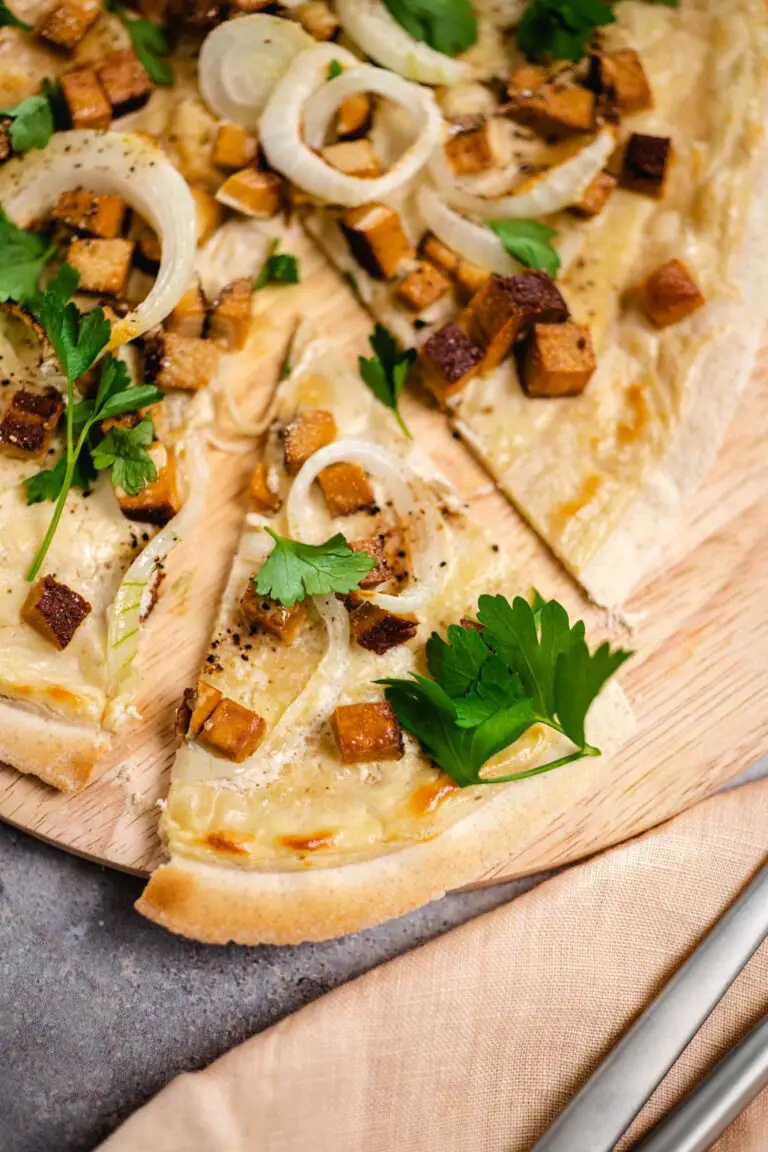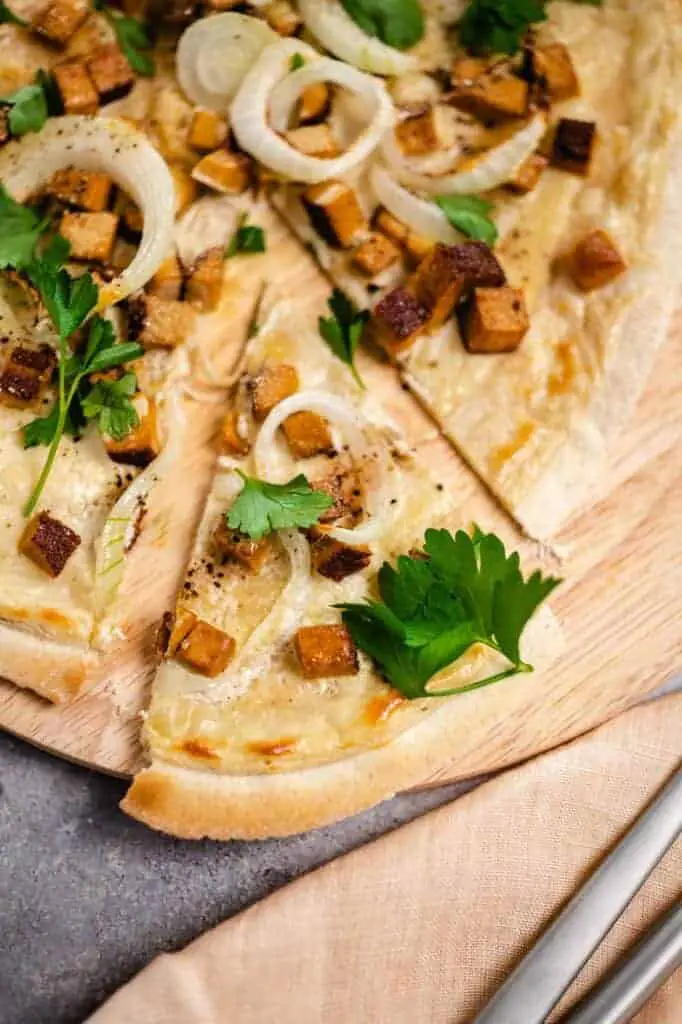 The tarte flambée consists of two main steps. The first step is to make the base, which I'm saving this time because I found really great ready-made bases. I'll go into more detail below on how to make homemade tarte flambée bases if you want to make them yourself. The second step is the preparation of the surface. I use a mixture of vegan cottage cheese and homemade creme fraiche for this. Add white onion rings, smoked tofu, garlic granules, nutmeg, salt pepper and fresh parsley.
First, I spread the cream of curd and creme fraiche evenly on the bases. On top I spread the onion, smoked tofu and seasoning and off it goes into the oven.
Flammkuchen dough without yeast make yourself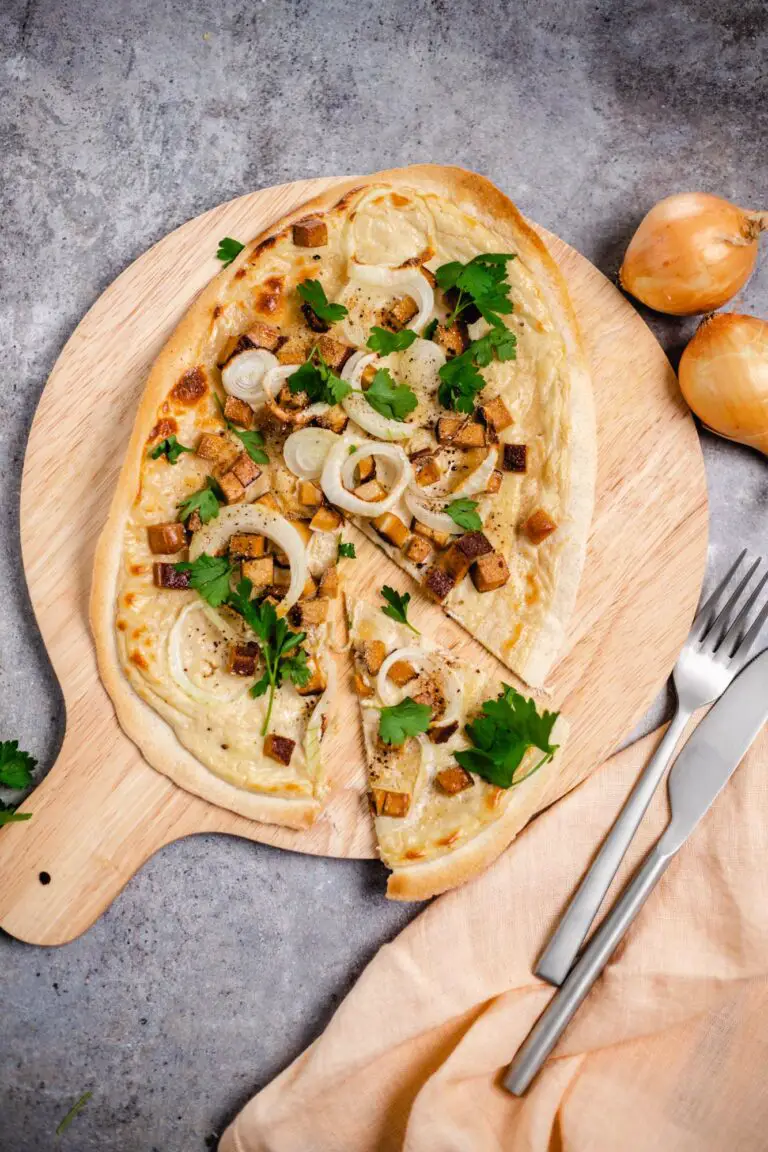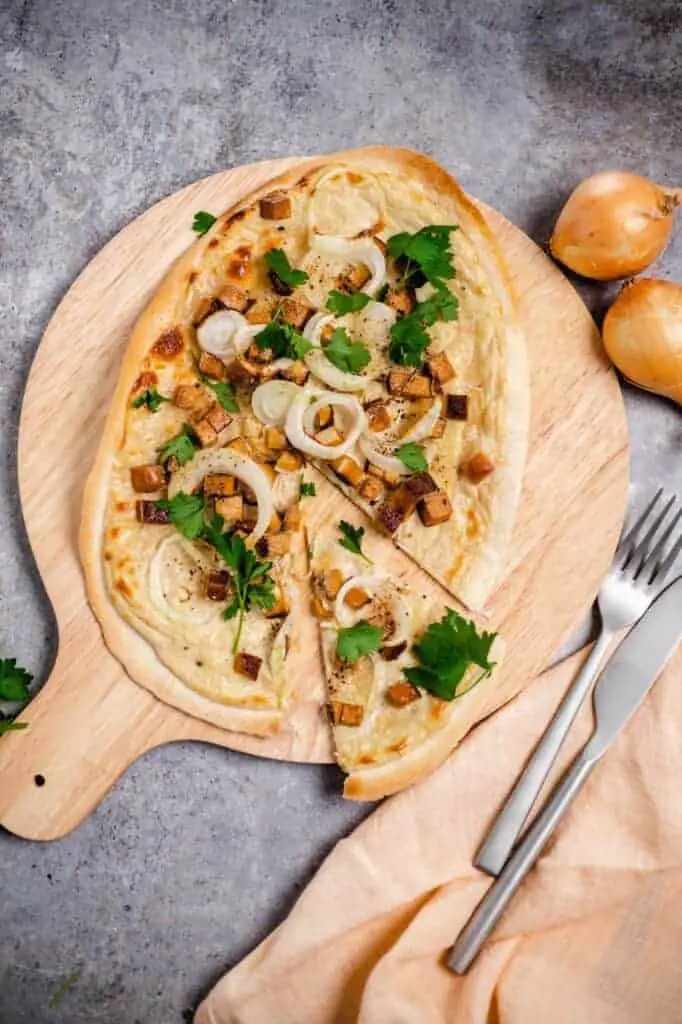 Flammkuchen dough can also be made quite easily yourself, without yeast. For this you need flour, olive oil, water and salt. Simply work into a smooth dough with your hands or with a dough hook. Then divide into four portions and roll out. The dough is ready for topping and baking.
The tarte flambée has its origins in Alsace and is topped with only a few ingredients. In the meantime, however, there are countless variations and everything is allowed that is fun. Here are some suggestions on how you might top your tarte flambée.
Pumpkin, pear strips and walnuts (autumnal)
House thin slices of pumpkin and potatoes
Sweet with apples, pears and crumble
Asparagus and smoked tofu
Green asparagus and sugar snap peas (spring-like)
Spinach and onion
If you're not in the mood for tarte flambée today, but for a classic pizza variation, I recommend the following recipes:
The vegan tarte flambée "Alsatian style" is:
Crispy
spicy
aromatic
filling
Easy to make
Are you ready for this delicious tarte flambée? I wish you a lot of fun in recooking and of course a review at the bottom of this page. If you post a picture, use the hashtag #veganevibes.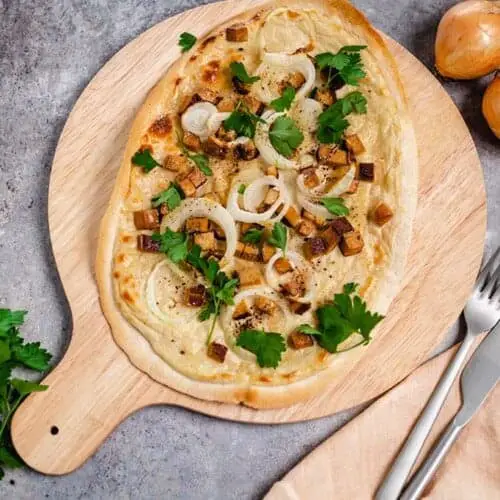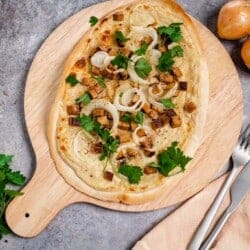 Vegan tarte flambée "Alsatian style
Delicious, crispy tarte flambée "Alsatian style" topped with a fine cream, onion and smoked tofu. A fantastic combination of flavors and a great alternative if you don't want a classic vegan pizza. Crispy on the outside, aromatic and easy to make. Vegan, lactose free.
AUTOR: VEGANEVIBES
4

Piece

ready vegan tarte flambée doughs

optionally make it yourself(see notes below)
FOR THE COVER:
100

g

Creme fraiche

see recipe above, or bought ready

50

g

vegan curd or cream

200

g

Smoked tofu

cut into small cubes

2

Piece

white onion

peeled and cut into rings

1

tbspn

Garlic granules

or 2 fresh garlic cloves, peeled and finely chopped

½

tbspn

Salt

¼

tbspn

Nutmeg

Parsley to taste
Anleitung 
FOR THE CREME FRAICHE Place cashews, vegetable milk, lemon juice, and salt in a high-powered blender and blend on high speed to a fine cream. Pour into a bowl and place in the refrigerator.

100 g Cashews,

90 ml Plant milk,

30 ml Lemon juice,

1 Pinch of salt

Take ready-made tarte flambée dough from the packaging or make your own ( See notes ) and place 2 doughs next to each other on a baking tray.

4 Piece ready vegan tarte flambée doughs

Now preheat oven to 220 degrees convection or pizza level.

In a bowl add creme fraiche, vegan curd or cream, garlic granules, salt, nutmeg, pepper and parsley and mix with a spoon.

100 g Creme fraiche,

50 g vegan curd or cream,

1 tbspn Garlic granules,

½ tbspn Salt,

¼ tbspn Nutmeg,

Pepper to taste,

Parsley to taste

Spread evenly on tarte flambée bases. Spread onion rings and smoked tofu on top and sprinkle more parsley if desired.

2 Piece white onion,

200 g Smoked tofu

Place in oven and bake for

10 minutes

until edges are crisp browned.

Remove from oven, sprinkle with fresh parsley and enjoy!

Perfect for freezing.
Notizen

Tip:
If you want to make the dough yourself, I have the following easy recipe for you:
220g flour – 2 cups
30ml olive oil – 2 tbsp
150ml water – 2/3 cup
1 pinch salt
Preparation: Place all ingredients in a bowl and mix by hand or food processor (dough hook) until smooth. If too dry, use a little more water, if too wet, use a little more flour. Divide into 4 equal portions and roll out into the typical tarte flambée shape.
Nährwertangaben
Serving:
1
Piece
Calories:
354
kcal
Carbohydrates:
39
g
Protein:
13
g
Fat:
23
g
Saturated Fat:
6
g
Polyunsaturated Fat:
6
g
Monounsaturated Fat:
8
g
Sodium:
136
mg
Potassium:
1371
mg
Fiber:
18
g
Sugar:
10
g
Vitamin A:
24718
IU
Vitamin C:
5
mg
Calcium:
158
mg
Iron:
12
mg