Vegan chocolate eggs is what I want for Easter. Can you still remember Easter in your childhood days? In our house, tons of sweets were hidden in the garden and it took my brother and me what felt like an eternity to find them all. Then they were all neatly stowed in the basket and then eaten one by one. Admittedly, as a child I was not yet concerned with what ingredients are in a conventional chocolate egg and whether that is now healthy or not. Also I have of course no calories counted . Maybe I should have done that back then, because there were phases when I was quite chubby. If I had my healthy Easter eggs back then, this wouldn't have happened to me. Joking aside, as a child you try out everything and from my point of view you should. Hiding and searching for Easter candy is a lovely custom and was extremely fun for my brother and me. Today I would hide something healthier candy, like these yummy chocolate eggs.
Vegan chocolate eggs for Easter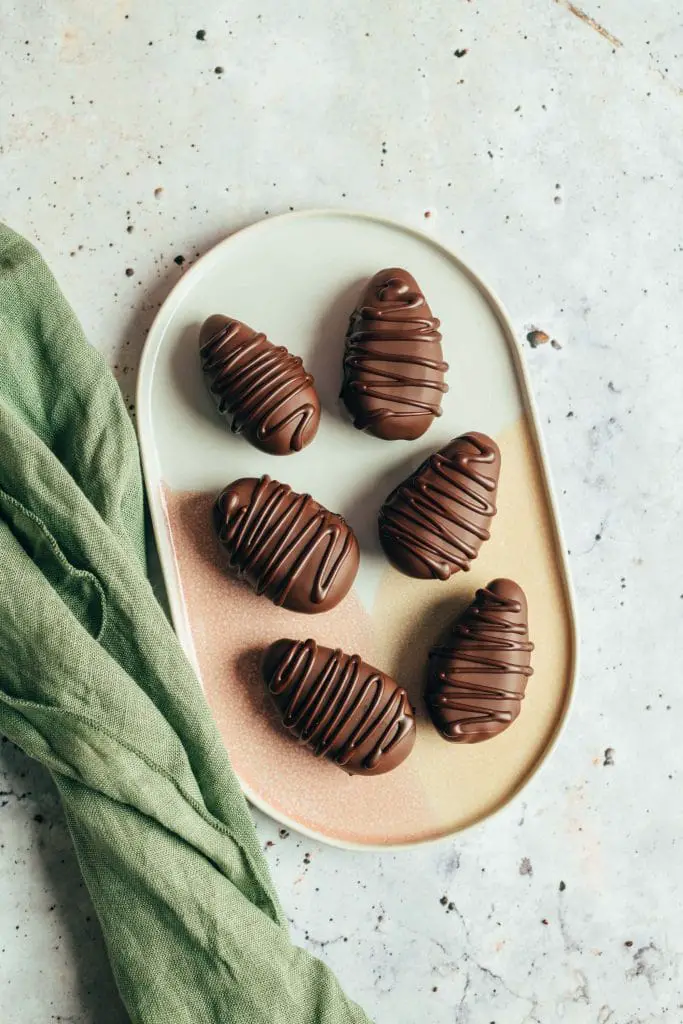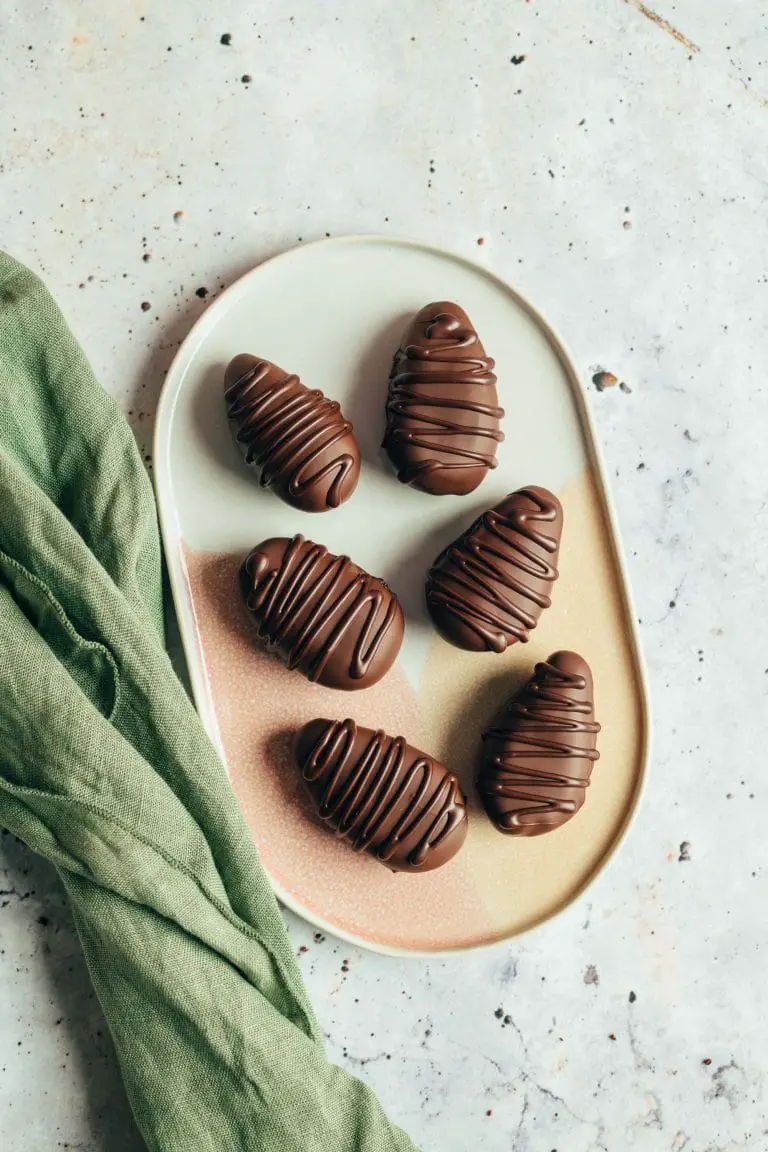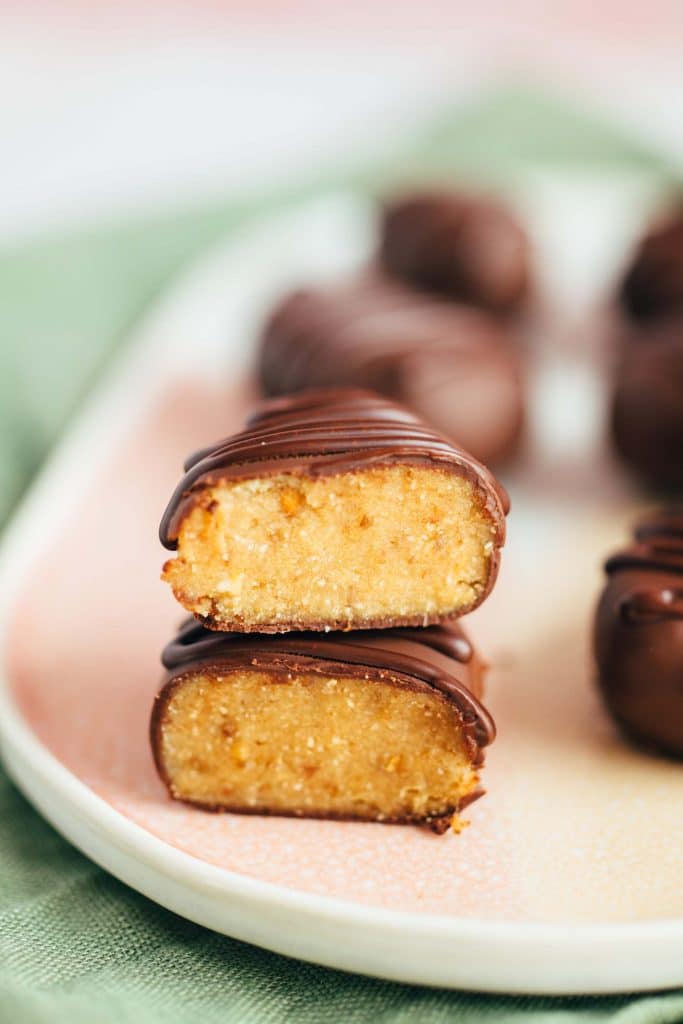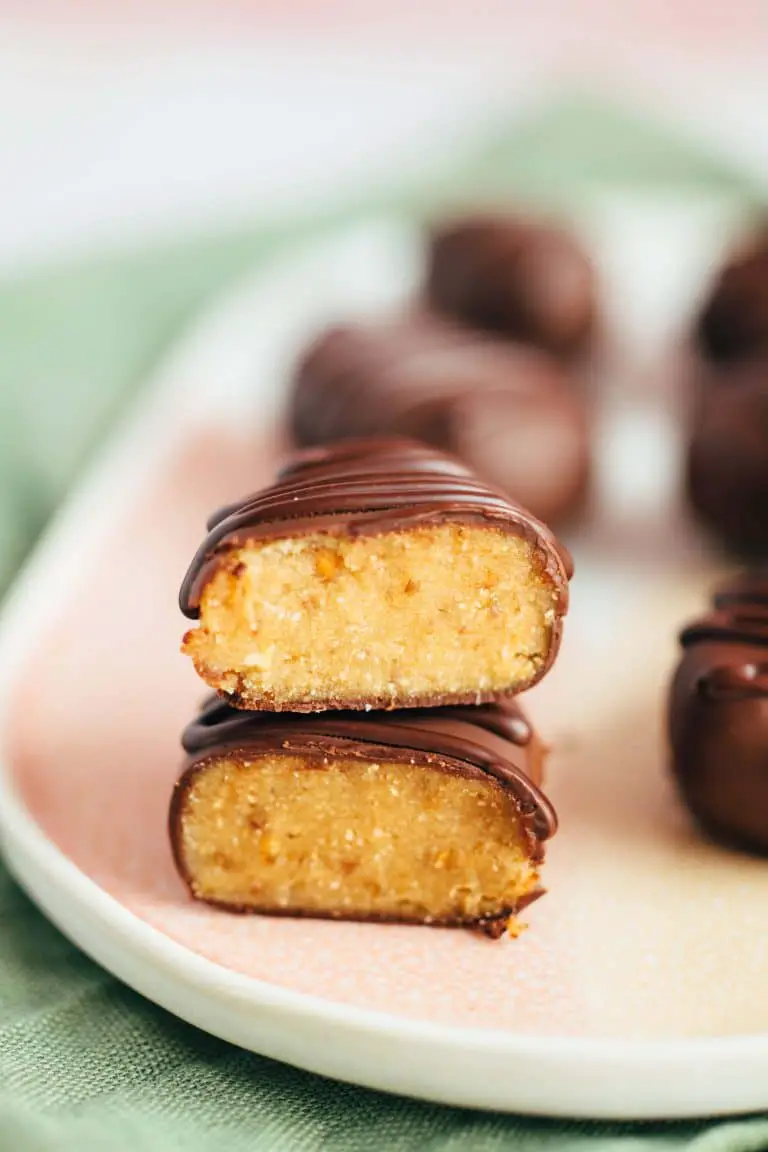 I researched for a really long time when I went looking for delicious, vegan Easter recipes. With conventional baked goods, most of it is too over the top for me, with too much schnick schnack, cream and way too much colorful fuss. Who knows me, knows that I like it simple and minimalist. That's exactly why I came up with the idea with the eggs. It should be wholesome, oil-free and gluten-free, and preferably naturally sweetened. I have combined all this in this recipe and yet it is so simple, with few ingredients and made quickly.
The base for these sweet, gooey chocolate eggs are dates and water. This goes together in the high-powered blender and is blended as fine as possible. Add almond flour and peanut butter. Mix again until everything is combined into a fine dough and then check the consistency. If necessary, add a little coconut flour and you're done. Now you can start rolling the eggs. To make everything nice and even, I first use an ice cream scoop and use it to form some equally sized balls. I then divide them in half again and shape them into eggs by hand. Here you can let your imagination run wild and shape the eggs as you like.
TIP: If you have an Easter egg silicone mold at home, feel free to use it. This will make the candy perfect and identical.
Vegan Easter recipes so easy!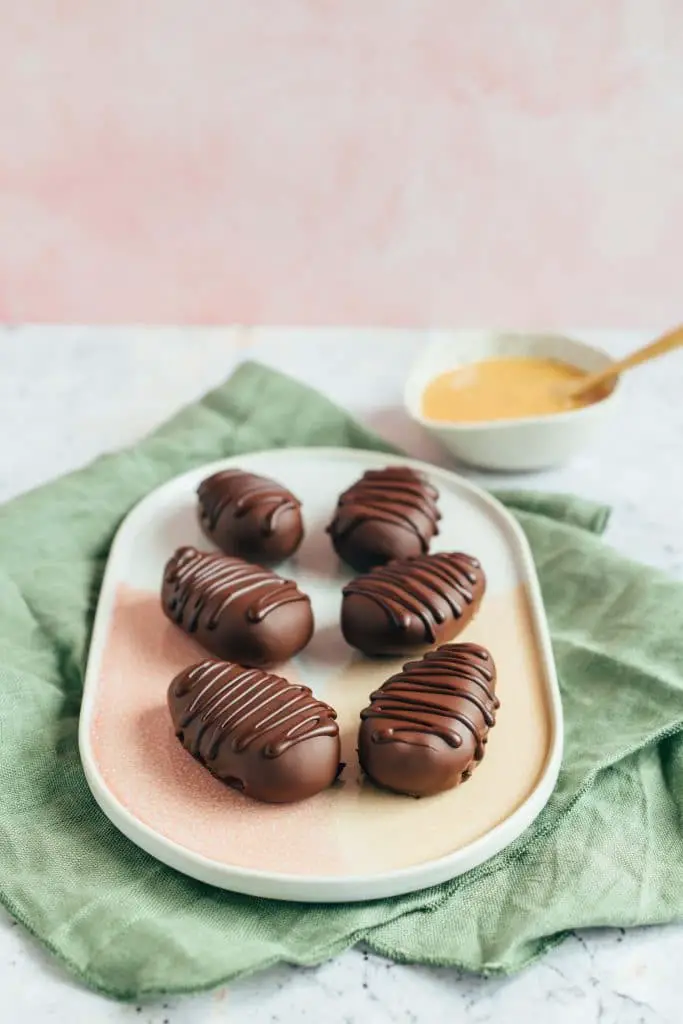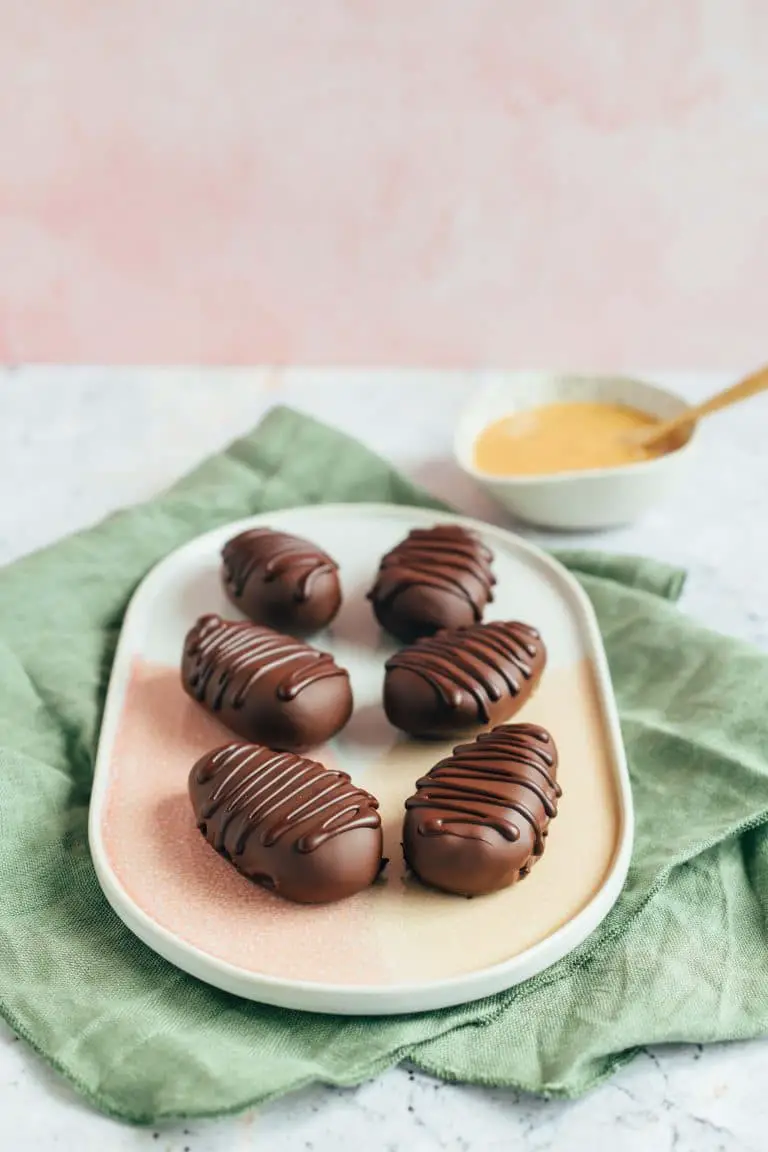 You really can't go wrong with this simple recipe. It is geling safe and tastes really incredibly delicious. I like to keep the chocolate eggs in the refrigerator, because they taste best when chilled. I chose dark vegan chocolate for the chocolate coating. Works here, but also vegan milk chocolate or white chocolate, depending on what you're in the mood for.
TIP: If you want to thin your couverture or chocolate that you melted, add a small amount of cocoa butter. This makes it more fluid and easier to use for frosting.
If you are looking for more options for vegan sweets and desserts for Easter, I have the following recommendations for you: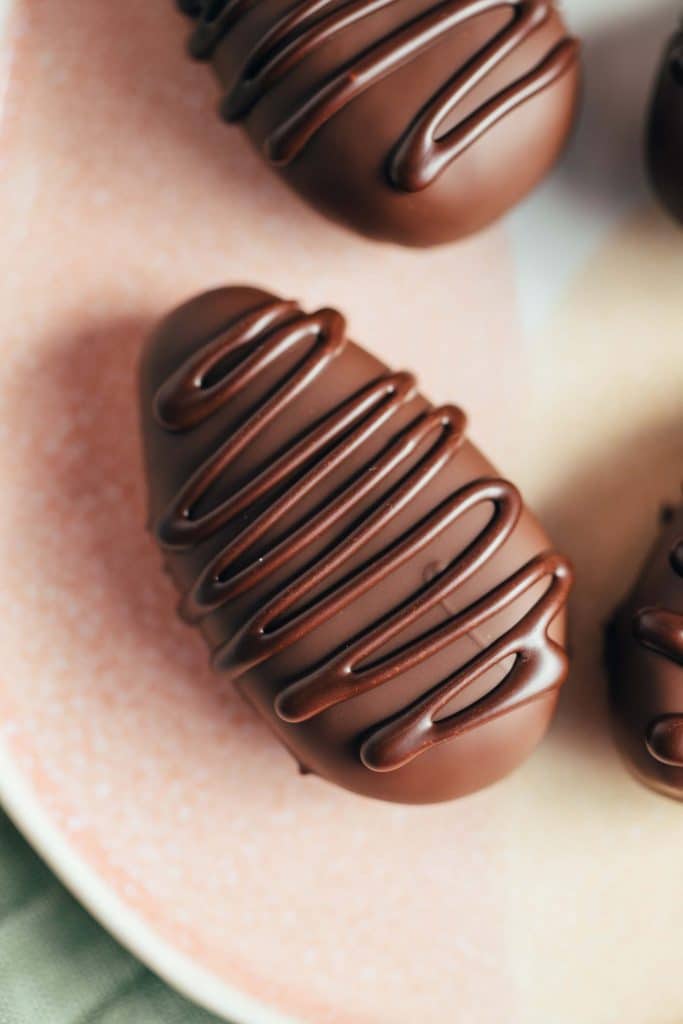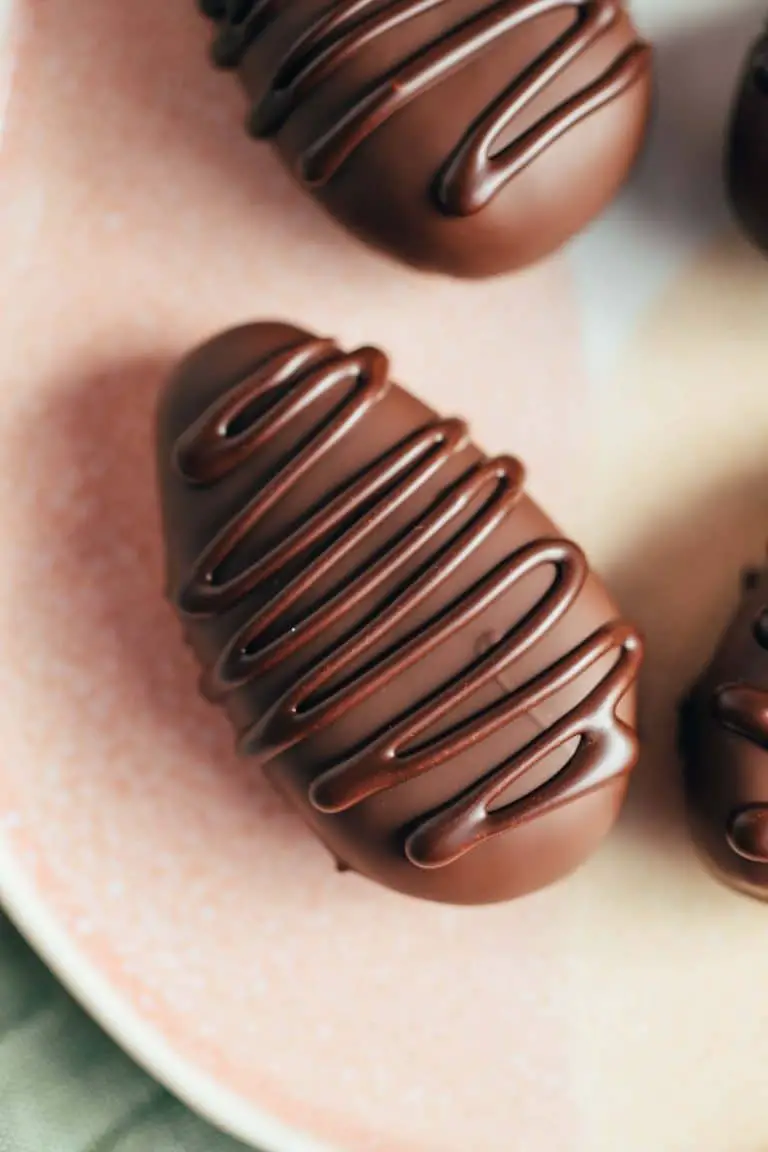 For a complete roundup of even more Easter recipes, click here.
Let's start with this classic, the healthy chocolate eggs, which embellishes every Easter nest. I hope you have fun making it and of course I'm happy about a review at the bottom of this page. If you post a picture, use the hashtag #veganevibes.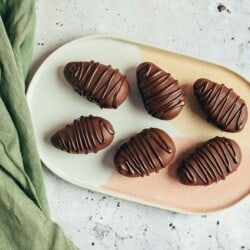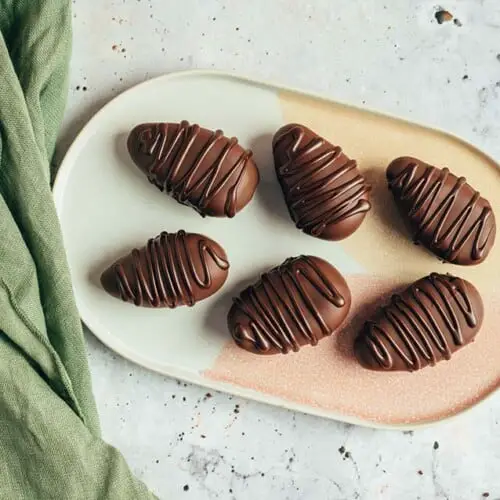 Vegan chocolate eggs (5 ingredients)
Fine chocolate eggs that sweeten every Easter nest. Quickly made with only 5 ingredients, filled with a dough of peanut butter, Medjool date, almond flour and covered with fine dark chocolate. Oil-free, gluten-free and naturally sweetened. Perfect as a healthy Easter surprise for the whole family.
AUTOR: VEGANEVIBES
FOR THE FILLING:
200

g

Medjool dates

if the dates are quite dry, soak them in hot water for 15 minutes, drain them and then use them

160

ml

Water

120

g

Peanut butter

or any other nut butter of your choice

120

g

Almond flour

more as needed, alternatively use coconut flour

optionally a pinch of salt
FOR THE CHOCOLATE COATING:
150

g

dark vegan chocolate

coarsely chopped

optional 13-26g cocoa butter, 1-2 tablespoons, for liquefying the chocolate
Anleitung 
FOR THE FILLING Place Medjool dates and water in a high-powered blender and blend on high speed to a fine cream. Add peanut butter and blend again until well combined. Add almond flour and mix again on low speed until a fine dough is formed. Optionally add a pinch of salt and/or bourbon vanilla.

200 g Medjool dates,

160 ml Water,

120 g Peanut butter,

120 g Almond flour,

optionally a pinch of salt,

optional ¼ tsp bourbon vanilla

If the dough is too mushy, add a touch more flour. If too firm, add a tad more water. Dose carefully. The dough should be firm enough that it can be portioned without problems. Transfer dough to a bowl.

Separate into equal portions with an ice cream scoop or spoon. TIP: Dip ice cream scoop or spoon repeatedly in water, then portioning is easier.

Cut portions in half again by hand and shape into eggs.

Once all eggs are formed, place in freezer and allow to set for

20 minutes

.

FOR THE CHOCOLATE COATING Gently melt the chocolate over a water bath. If necessary, stir in 1-2 tablespoons of cocoa butter to make the chocolate thinner and easier to coat.

150 g dark vegan chocolate,

optional 13-26g cocoa butter, 1-2 tablespoons, for liquefying the chocolate

Once the chocolate has melted, remove eggs from the freezer and coat one at a time. Let set on a draining rack or baking paper, Enjoy!

Store remaining chocolate eggs in an airtight container in the refrigerator for up to one week. Best when chilled!
Notizen
Calorie calculation without cocoa butter
Nährwertangaben
Serving:
1
Piece
Calories:
161
kcal
Carbohydrates:
17
g
Protein:
5
g
Fat:
10
g
Saturated Fat:
1
g
Sodium:
46
mg
Potassium:
181
mg
Fiber:
3
g
Sugar:
12
g
Vitamin A:
25
IU
Calcium:
36
mg
Iron:
1
mg