Tagalongs cookies, ever heard of them? Personally, I have never heard of it, but I found the composition really exciting. Right now, everything is a bit monotonous and I'm longing for a daily soul-soother. The weather is gray in gray and gone are the days when I raced down the slopes here in town on my skis. Ahm, no, not quite, because I went down more like a lame duck. But that's not because of me , but because of the low gradient here in the area. Nevertheless, I must not complain, because with the Huskies at the front on the hip belt then still came neat speed purely. Actually, I had hoped to come to Austria at least once this season. However, the dream has been virtually washed away with the onset of the third wave. Well, summer is approaching and I'm looking forward to getting my mountain bike out of hibernation. Until then, I'm passing the time with healthy, vegan and gluten-free snacks like these irresistible cookies.
Vegan Tagalongs or Girl Scout Cookies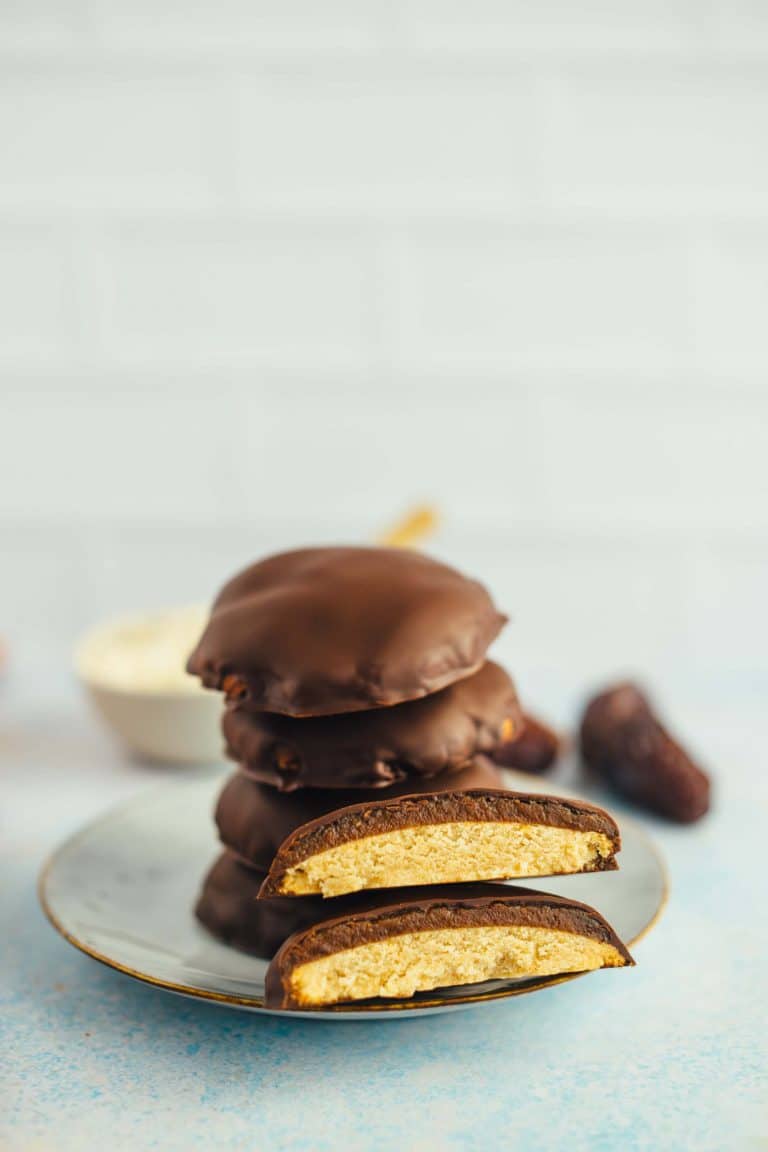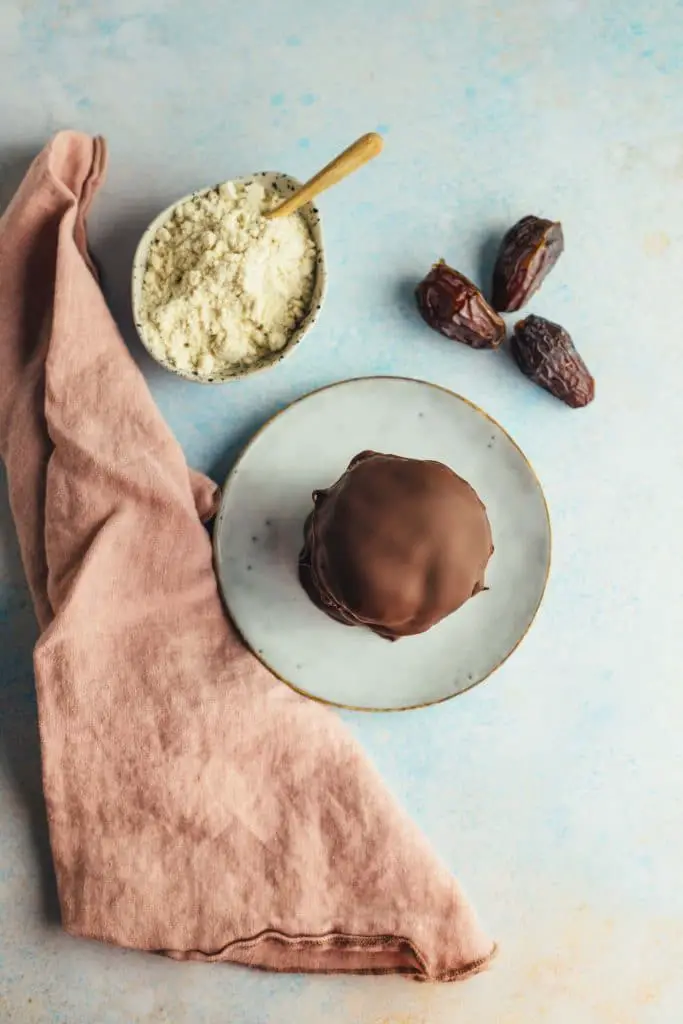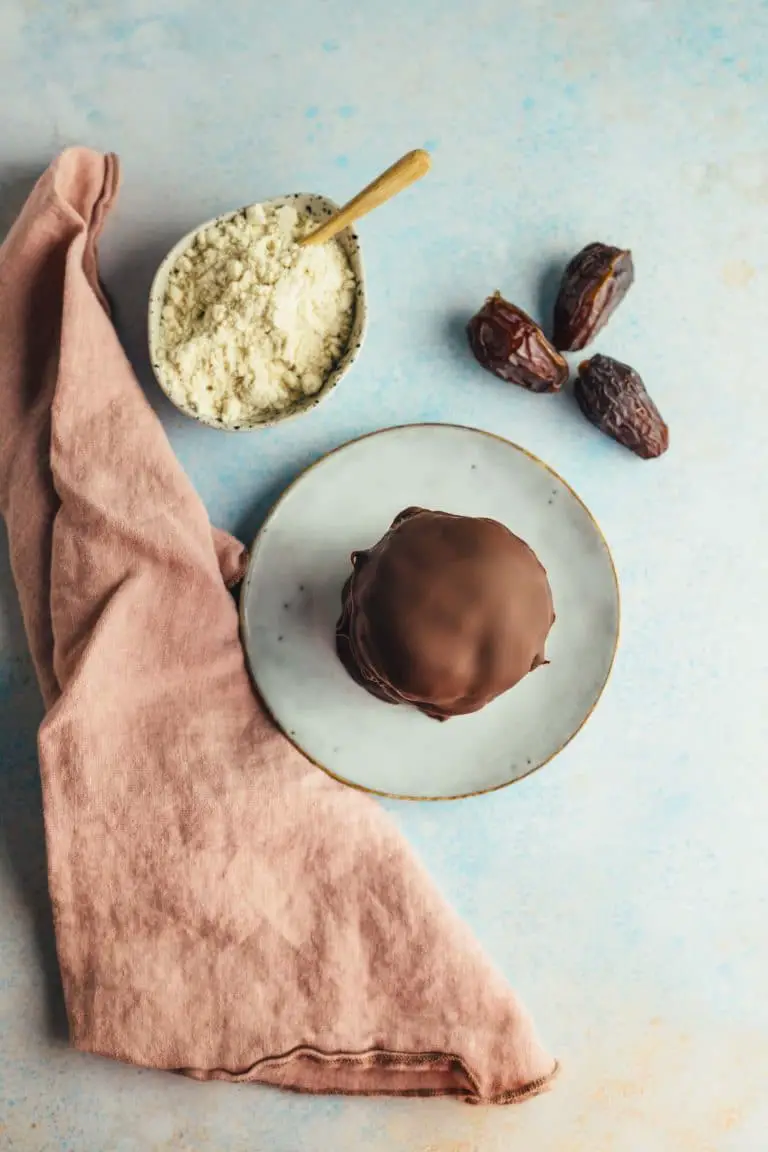 My cookie variations are getting wilder and tastier. This fine version once again uses a lot of healthy ingredients. Gluten-free, vegan and oil-free are these beauties, sweetened with natural maple syrup and dates.
Basically, the cookies consist of three different layers: Cookie, date caramel and chocolate. The cookie bakes quickly and the date caramel takes a few minutes as well. The most elaborate part of this recipe, is the coating with chocolate. However, this is also done quickly and you can nibble here and there from the Schoki, also not so bad, right?
Let's take a closer look at the layers, starting with the cookies, which are also the base for this recipe. Almond flour, buckwheat flour, maple syrup, coconut puree and a pinch of salt. Work everything into a smooth dough and shape into 8 equal balls. Flatten once on the baking sheet and work a little more until the cookies are really nice and round. Put in the oven and bake until crispy.
TIP: You can make the coconut puree yourself, here are the instructions.
Healthy vegan cookies with date caramel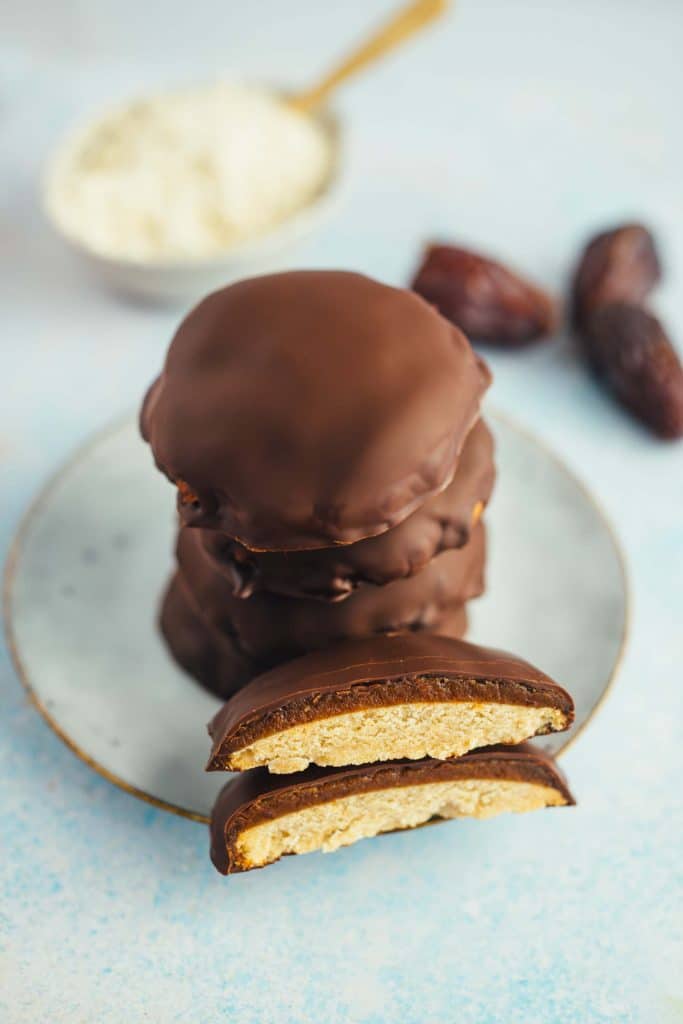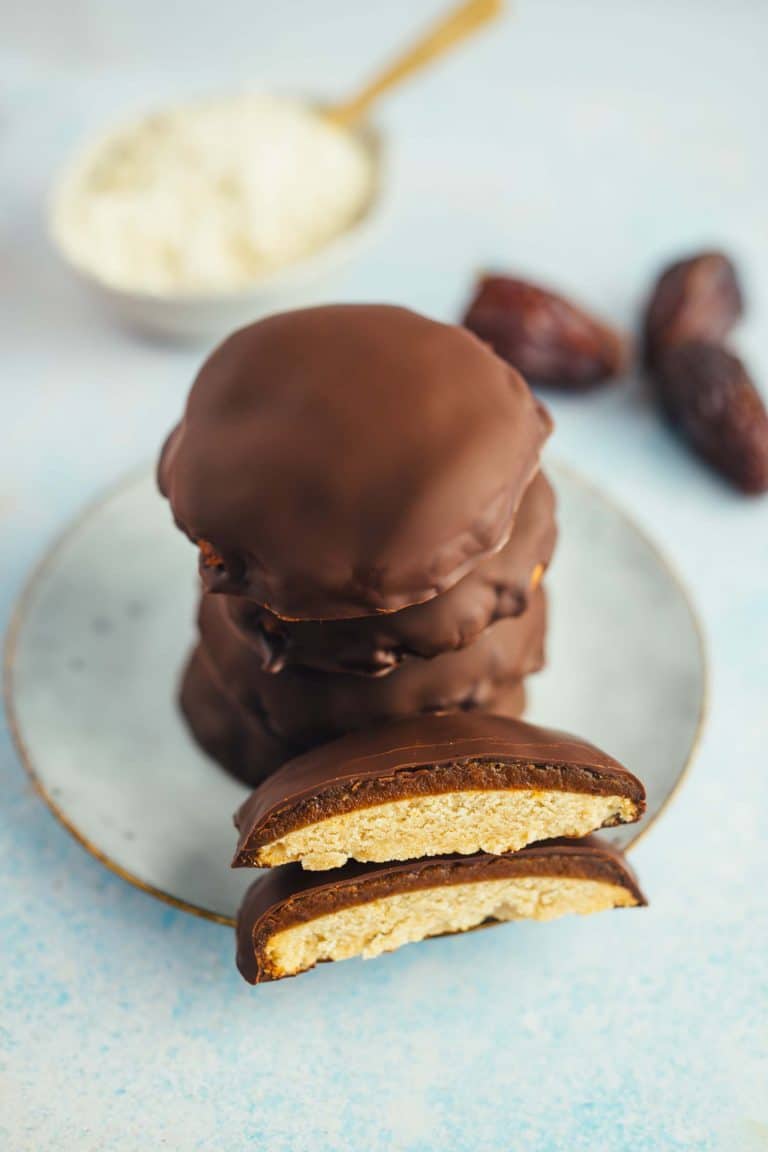 The second layer is a fine date caramel made with only 4 ingredients. Medjool dates, almond paste, maple syrup and a pinch of salt. Process in a blender to a fine caramel and spread evenly over cookies. Shape with lightly moistened fingers and proceed with the overlay. I always have a large bar of dark vegan chocolate at home that I stock up on. My husband likes to laugh at me when I take the tablet, which weighs over 1.2 kilograms, out of the cupboard.
Off into the melting pot and if in doubt add a handful of cocoa butter. why? It helps to make the chocolate a little more liquid. This in turn is advantageous for a thinner coating.
Vegan snacks without regret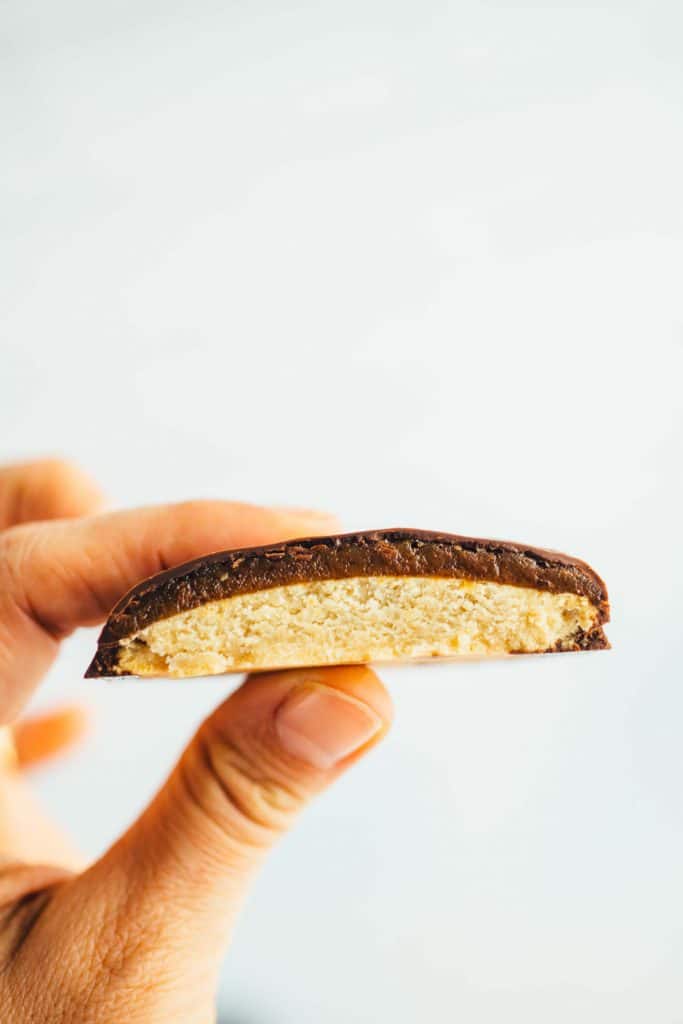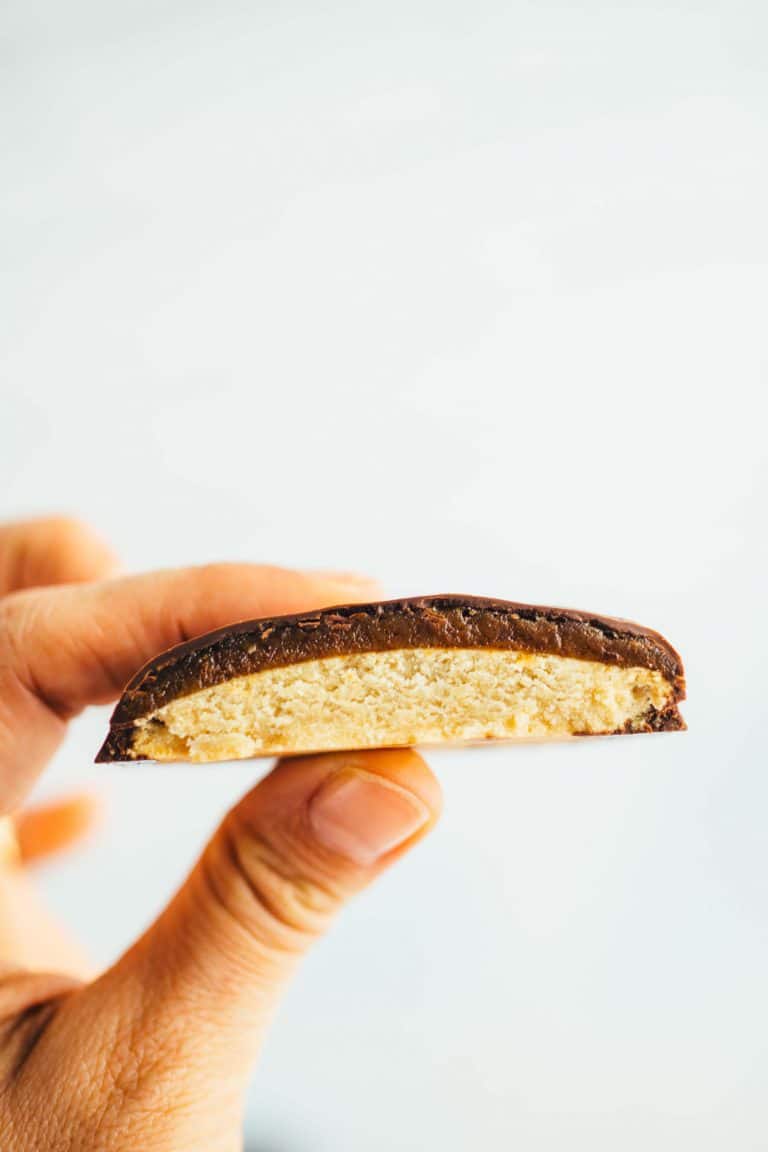 Meanwhile, I love healthy vegan snacks without gluten, sugar and oil. To be honest, that wasn't always the case. I ate the snacks from supermarkets and gas stations for a long time and got used to the extreme sweetness. Meanwhile, I can hardly eat industrially processed sweets because my teeth hurt afterwards. On the other hand, I still find it amazing how easy it is to substitute with natural sweeteners. Here is a brief overview of the ingredients and what makes them so healthy:
Voilá, these are the healthy tagalongs or Girl Scout cookies. Are you ready for these super simple, irresistible sweets? You are
Quickly made
sweet
Caramel
simple
chocolatey
These cookies just always taste good, after a hard workout, with afternoon coffee or breakfast. I think they are also super nice as a gift, packaged in a sustainable box with a few flowers a beautiful idea for vegan Mother's Day. Match it with a café latte, golden milk or a glass of cold almond milk.
Let's go with these incredibly delicious vegan cookies, I wish you much fun in re-baking and of course about a review at the bottom of this page. If you post a picture, use the hashtag #veganevibes.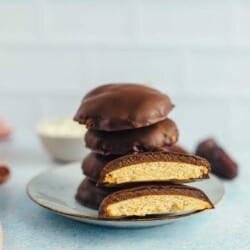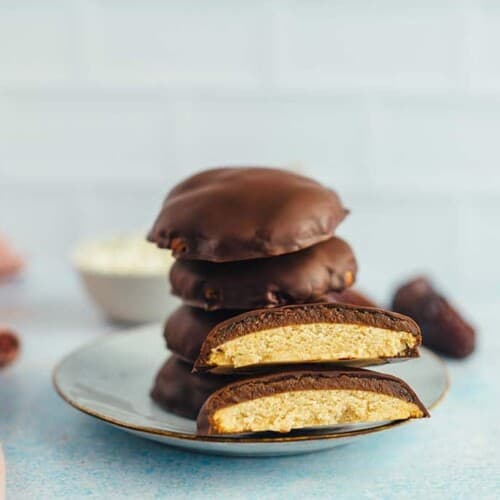 Tagalongs Cookies (v&gf) 30 minutes
Vegan Tagalongs the gluten free candy made of a fine cookie layer, date caramel and chocolate coating. Ideal as a healthy, naturally sweetened snack for all occasions. Kids love them! Quick to make, vegan, oil-free and gluten-free.
AUTOR: VEGANEVIBES
FOR THE CHOCOLATE COATING:
Anleitung 
Heat oven to 175 degrees convection (195 degrees top/bottom heat) and line a baking sheet with baking paper or a permanent baking mat.

FOR THE BISCUITS Combine almond flour, buckwheat flour, maple syrup, coconut puree and salt in a bowl and mix to form a compact dough.

120 g Almond flour,

35 g Buckwheat flour,

80 ml maple syrup,

80 g Coconut Mush,

A pinch of salt

If the dough is much too dry, add a small sip of warm water. Dose carefully, otherwise the dough can quickly become mushy. Conversely, if the dough is too mushy, add more flour.

Separate 8 equal pieces with your hands and spread them on the baking sheet (lined with baking paper or permanent baking mat). Shape into even cookies with moistened hands and place in oven.

Bake for

10-12 minutes

. Remove from the oven and allow to cool completely.

FOR THE DATE-NUT LAYER Place Medjool dates, almond paste, maple syrup and salt in a blender and blend to a fine caramel.

60 g Almond paste,

30 ml maple syrup,

A pinch of salt,

4 Piece soft Medjool dates

Once cookies are cooled, spread caramall over all cookies and shape with wet hands to form a slight dome.

FOR THE CHOCOLATE COATING Melt the chocolate carefully over a water bath. Optionally dilute with cocoa butter and coat the cookies individually with it. Drain and allow chocolate to set at room temperature.

150 g dark vegan chocolate,

15 g Cocoa butter

Together with a hot drink, a glass of almond milk, or enjoy just like that!

Shelf life up to 7 days when sealed airtight.
Nährwertangaben
Serving:
1
Piece
Calories:
199
kcal
Carbohydrates:
16
g
Protein:
5
g
Fat:
13
g
Saturated Fat:
2
g
Sodium:
4
mg
Potassium:
93
mg
Fiber:
4
g
Sugar:
9
g
Vitamin A:
1
IU
Vitamin C:
1
mg
Calcium:
62
mg
Iron:
1
mg