Panna Cotta Tarte is a recipe that has been missing on this blog. I love tartes and just recently posted a fine s'mores tart here. At the idea of making a panna cotta tart, I could not resist. Simply delicious and with a creamy, milky filling, gelled with agar-agar. When I think about it, I immediately get hungry again. I think there's a piece in the fridge too. Let's get started with this summer fresh and delicious tart, Italian style.
Vegan panna cotta tart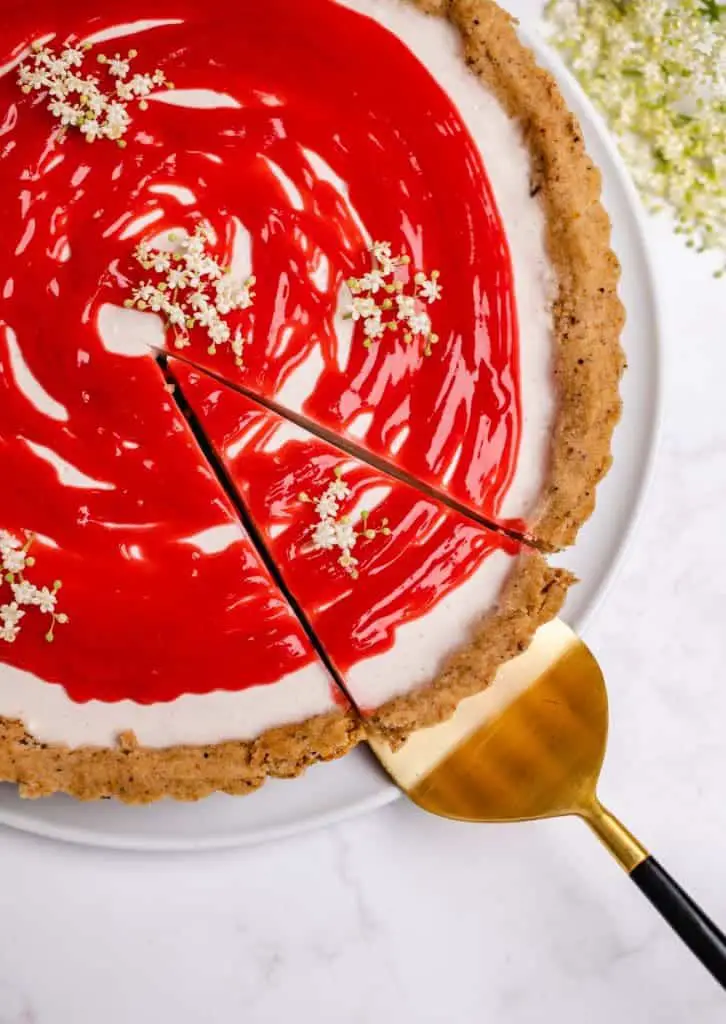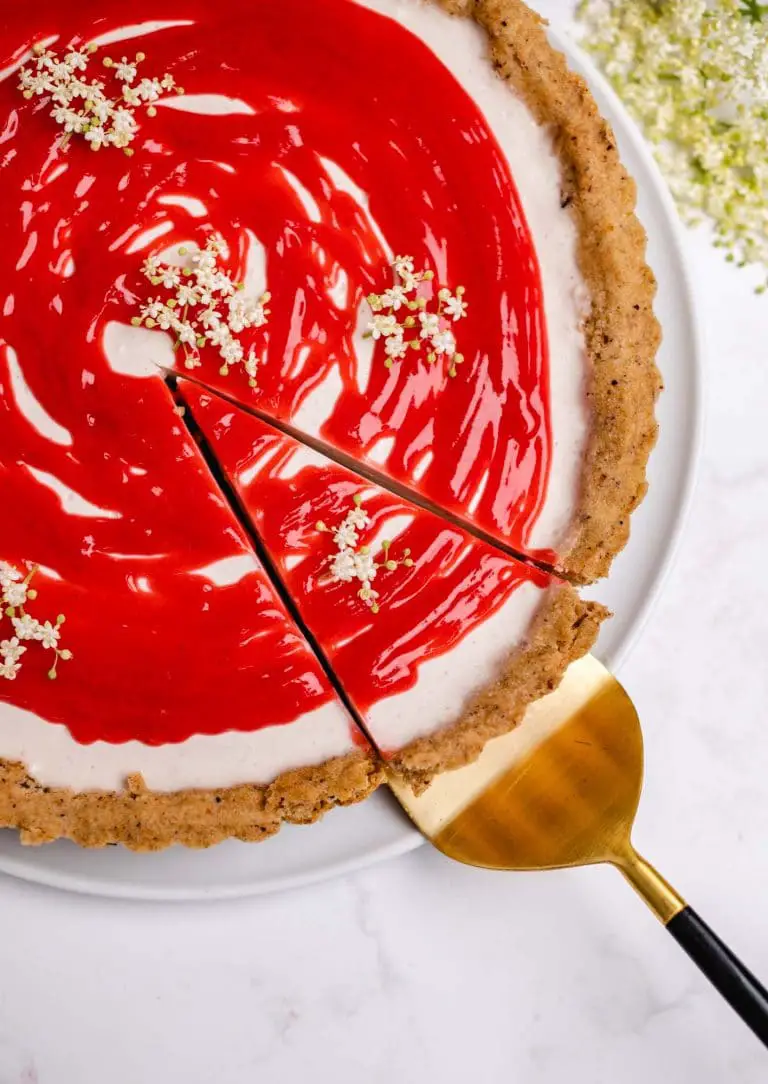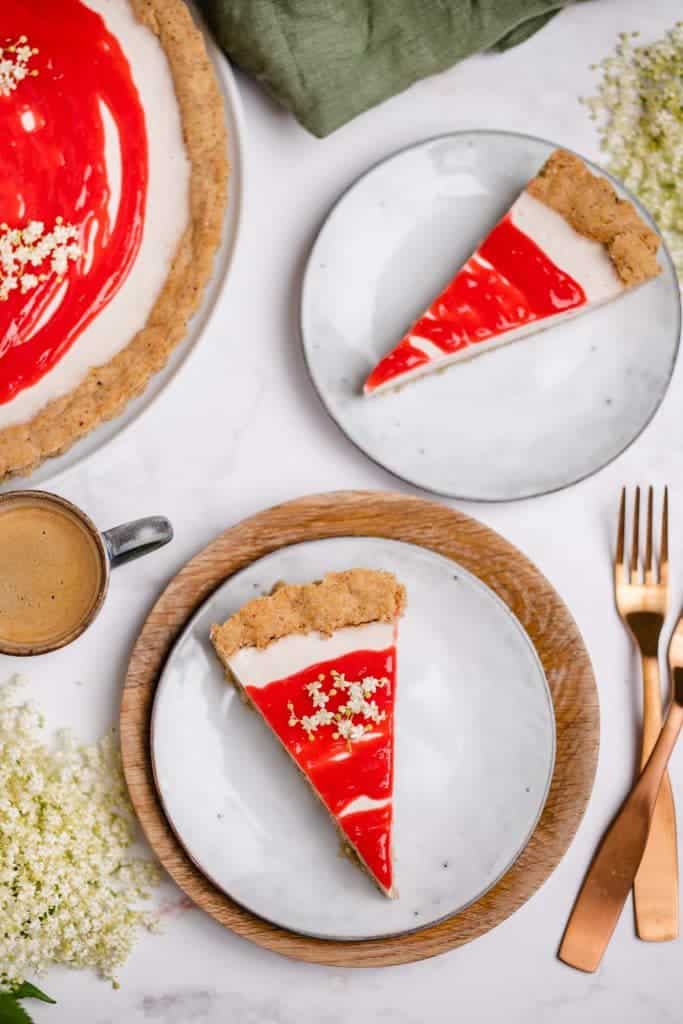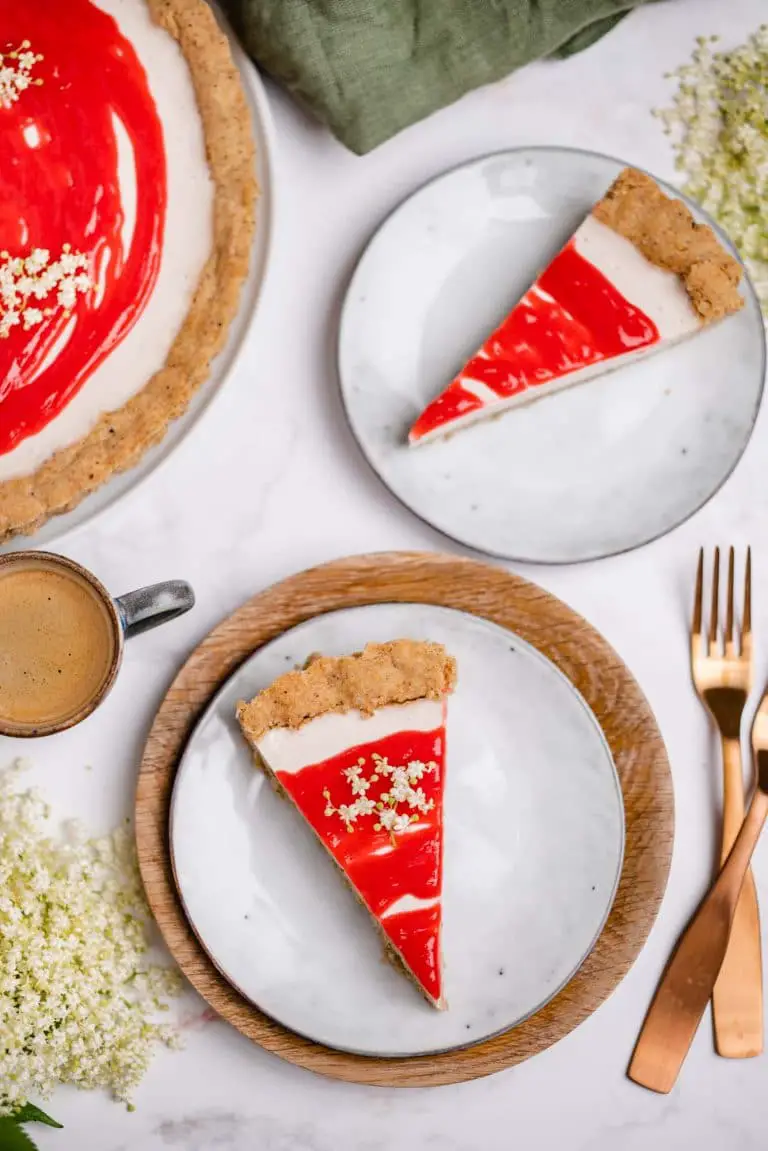 Our tart today consists of two simple layers. The base is a simple shortcrust pastry baked blind. The in turn consists of hazelnuts, raw cane sugar, margarine, spelt flour and a pinch of salt. I process all this into a fine dough in my MagiMix and let it rest in the refrigerator for 30 minutes. It is then pressed into a tart mold. I have one with a removable bottom, which I really like because you can easily lift the dough out.
The technique of "blind baking" is simple. First, I poke the bottom a few times with a fork, which prevents bubbles from forming during baking. Then I put in a round cut out baking paper and fill the hollow with legumes. The point of blind baking is that the dough doesn't rise too much and stays in shape. The panna cotta filling can then be added.
On top is a layer of panna cotta of cream, cottage cheese, vanilla, sugar and vanilla. The whole thing is gelled with agar-agar, quick and easy. Almost nothing can go wrong here, except that the cream burns on the bottom. More tips and tricks below in the tutorial. Once the panna cotta filling is in the tart, it also goes right into the fridge to set.
Vegan panna cotta as a tart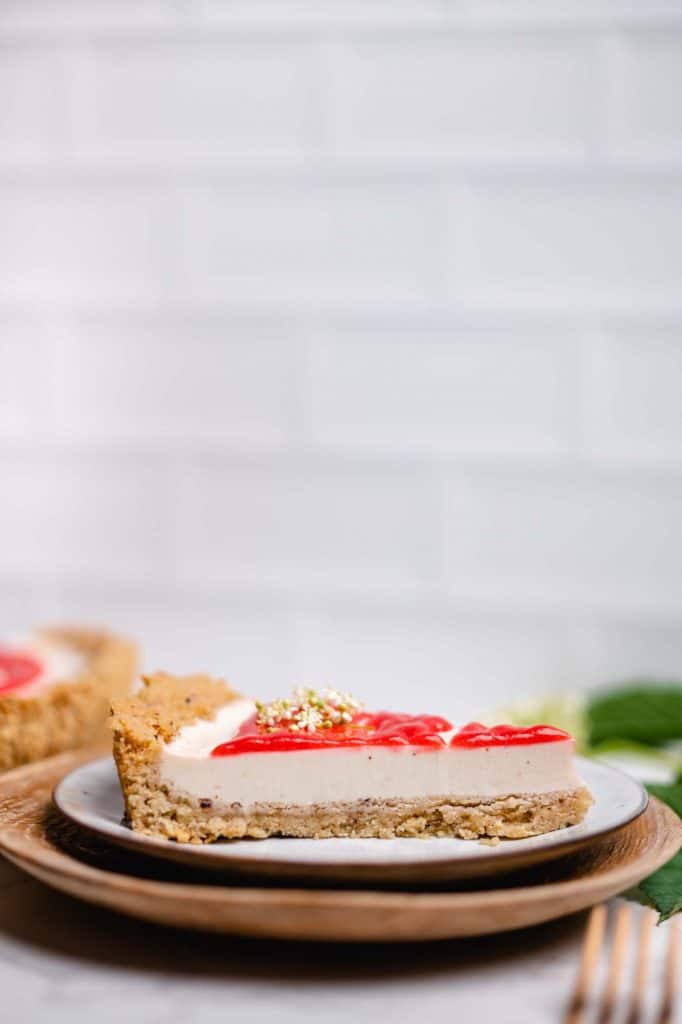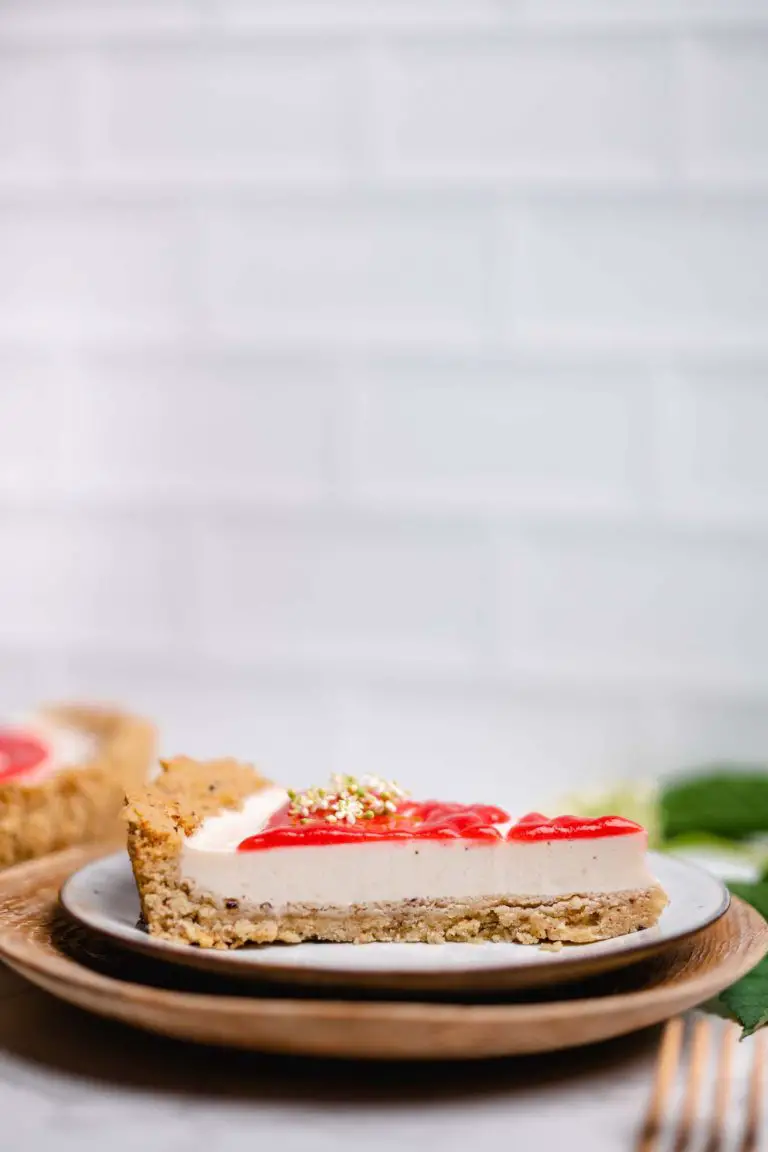 It's great how easy and fast you can make a panna cotta without animal gelatin. When using agar-agar, there is not much to remember except that the liquid must boil for at least 2 minutes for the agar-agar to be activated. It becomes solid again already from a temperature of degrees, so work quickly.
I still have one highlight and that is the topping! A quick strawberry sauce with only 3 ingredients and a secret ingredient. Fresh strawberries, maple syrup, lemon juice and xanthan gum. Maybe one or the other is just wondering if I can actually still live without xanthan gum? The answer is no! I use it almost daily in vegan cooking.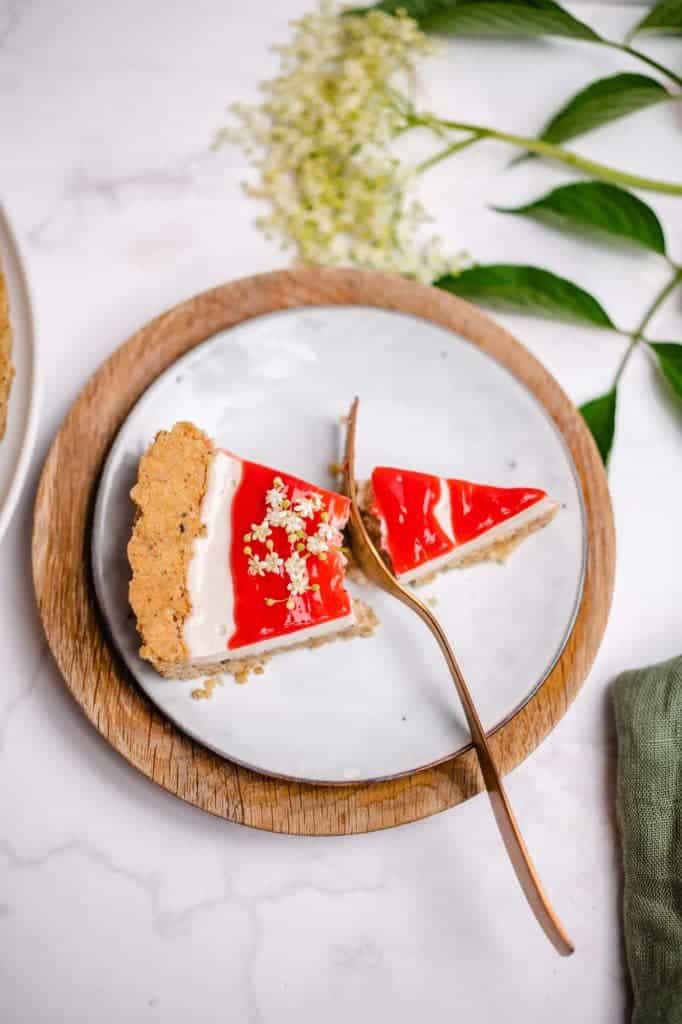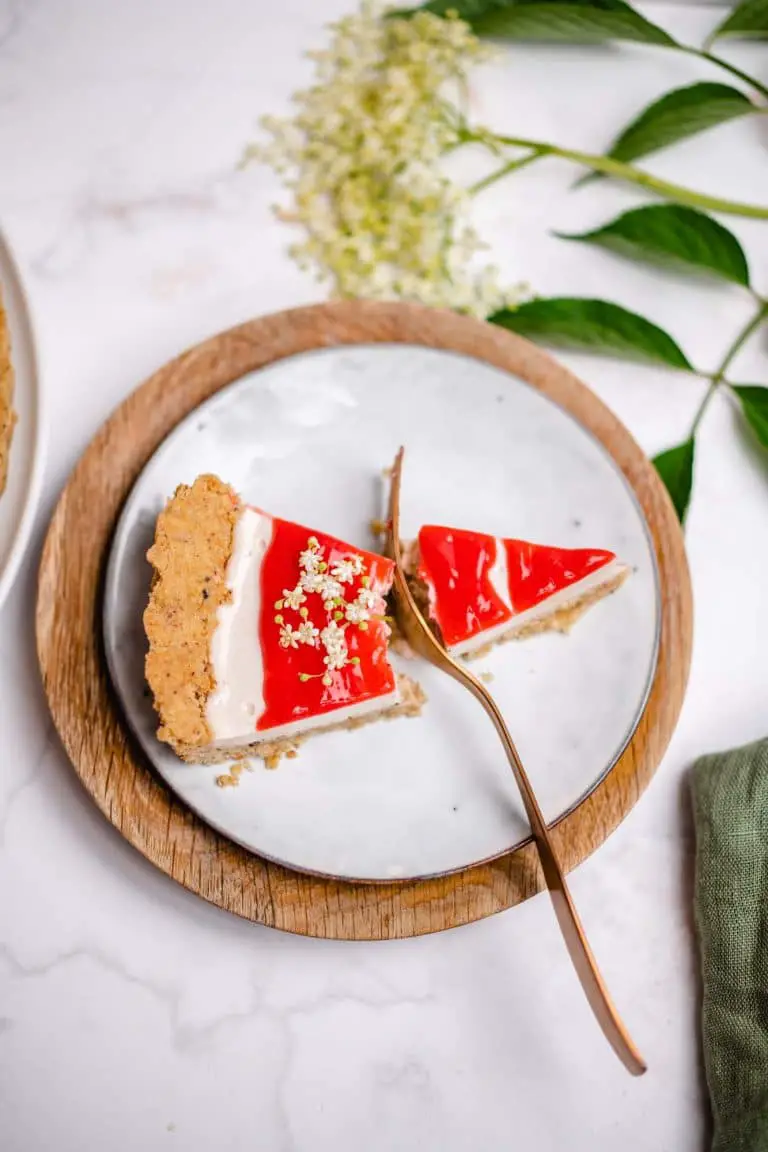 If you're in the mood for a different tart today, I recommend the following variations:
Let's get started with this fine tart that will satisfy any chocolate craving, no matter how big. I hope you have fun making it and of course I'm happy about a review at the bottom of this page. If you post a picture, use the hashtag #veganevibes.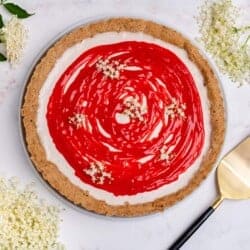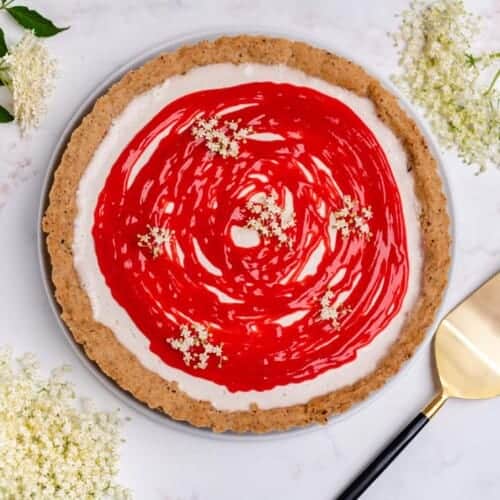 Panna Cotta Tart
Fine tart made of a shortcrust pastry base, creamy panna cotta filling and a topping of homemade strawberry sauce. The perfect summer dessert, for all those who like panna cotta different. Quickly made and incredibly delicious!
AUTOR: VEGANEVIBES
FOR THE SHORTCRUST PASTRY:
100

g

Hazelnuts

ground or grind yourself in a blender, if no nuts at hand, just use more flour

200

g

Flour

70

g

Raw cane sugar

200

g

Margarine

30

ml

ice cold water

1

Cup

Legumes

dry for blind baking
FOR THE PANNA COTTA FILLING:
FOR THE QUICK STRAWBERRY SAUCE:
Anleitung 
Provide tart pan.

FOR THE SHORTCRUST Grind hazelnuts fresh in a blender (if not using ready-ground). Add flour, raw cane sugar and salt and mix.

100 g Hazelnuts,

200 g Flour,

70 g Raw cane sugar,

1 Pinch of salt

Add margarine and ice cold water and work into a smooth dough.

200 g Margarine,

30 ml ice cold water

Cover and refrigerate for 30 minutes.

In the meantime QUICK STRAWBERRY SAUCE make. To do this, place all ingredients except the xanthan gum in a blender and puree until fine. Pass through a hair sieve and remove remaining seeds. Return to blender, add xanthan gum and blend again on high speed until liquid thickens slightly.

45 ml maple syrup,

30 ml Lemon juice,

½ tbspn Xanthan Gum,

250 g fresh strawberries

Preheat oven to 180 degrees convection.

Remove shortcrust pastry from refrigerator and press into tart pan. Pull up edges and poke a few holes in the bottom with a fork.

Cut a baking paper round the size of the tart pan and place it on the bottom of the tart. Press down with hands and spread legumes on top.

Put in the oven and bake for 15 minutes. Remove, remove legumes and baking paper, and return to oven. Bake for another 10 minutes.

Remove from oven and let cool completely.

FOR THE PANNA COTTA FILLING provide a small saucepan and heat cream in it. Be careful not to let it get too hot too quickly and keep stirring, the cream can easily burn. Pour in cane sugar and agar-agar and continue stirring until everything is combined. Simmer for at least 2 minutes, otherwise the agar agar will not gel. Add vegan curd and bourbon vanilla and continue stirring.

500 ml vegan cream,

70 g Raw cane sugar,

4 g Agar-agar,

130 g Vegan curd,

½ tbspn Bourbon vanilla

Pour the still hot measures directly into the completely cooled shortbread and place in the refrigerator. Allow to set for at least

4 hours

or overnight.

Cut into pieces and garnish with strawberry sauce and enjoy!

Store remaining pieces in an airtight container in the refrigerator for up to 3 days.
Nährwertangaben
Serving:
1
Piece
Calories:
434
kcal
Carbohydrates:
43
g
Protein:
5
g
Fat:
28
g
Saturated Fat:
5
g
Polyunsaturated Fat:
5
g
Monounsaturated Fat:
16
g
Sodium:
233
mg
Potassium:
252
mg
Fiber:
2
g
Sugar:
25
g
Vitamin A:
728
IU
Vitamin C:
18
mg
Calcium:
55
mg
Iron:
1
mg