Forexactly 10 minutes and 25 seconds I've beensitting here trying to describe this incredibly brilliant mousse Tarte mousse. It is simply intergalactically good! Ok, I'll try to be a little more detailed. When you take a bite of this tart, your fork first slides through a fluffy Chocolate mousse then continues through a layer of chocolate custard cream and finally bores through a crispy shortcrust pastry. Well, can you now roughly imagine what I mean?
Mousse-au-Chocolate Tarte (vegan and gluten-free)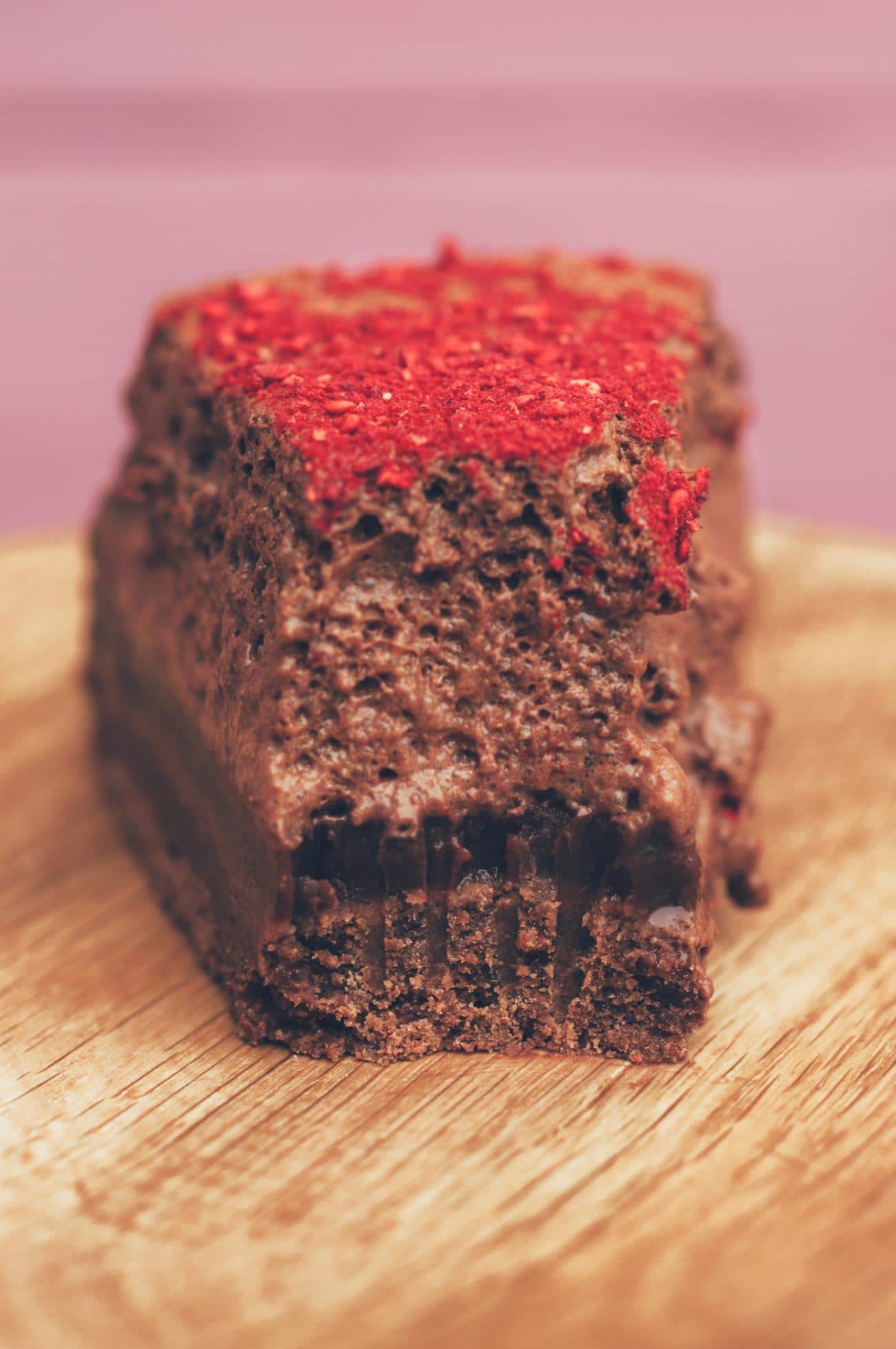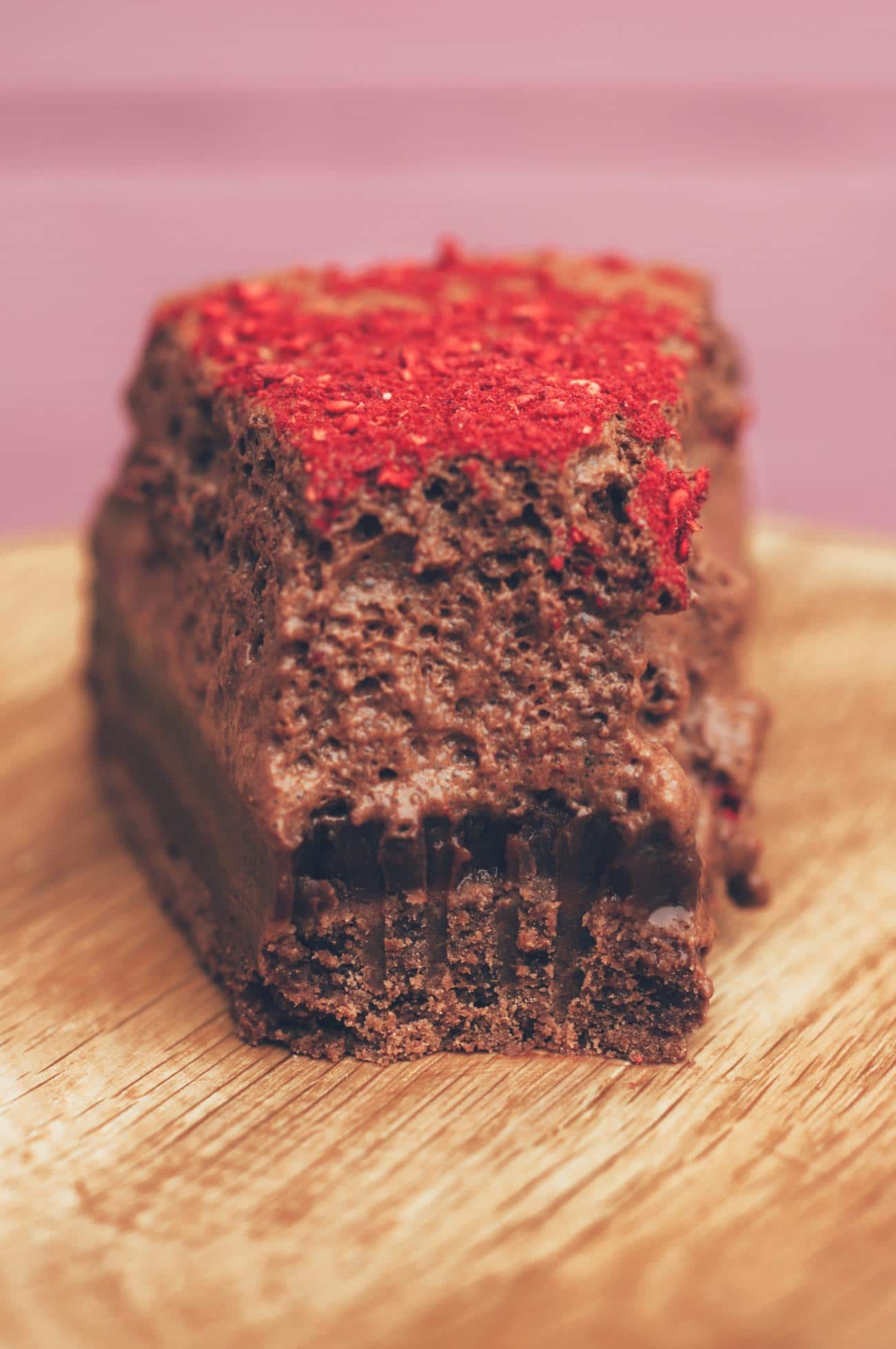 Do you want it too? Then let's get started

Caro
The most important thing in advance: There is an extreme risk of addiction, so I would like to point out that if you are addicted to chocolate mousse, you should consult your doctor first. Okay, all kidding aside. The preparation of the tart takes a little longer than a classic vegan sponge cake. Nevertheless, the production is quite simple, if you follow a few tips. The longest time the tart actually needs in the refrigerator to become firm. Ideally, you just prepare them the day before.
Aquafaba or Kicherschnee is a great way to make a fluffy, firm "beaten egg white" in vegan cooking, too. Below I will show you how to do it.
The vegan mousse-au-chocolate tart is:
Light
chocolatey
Pleasantly sweet
Crispy bottom
Creamy in the middle
filling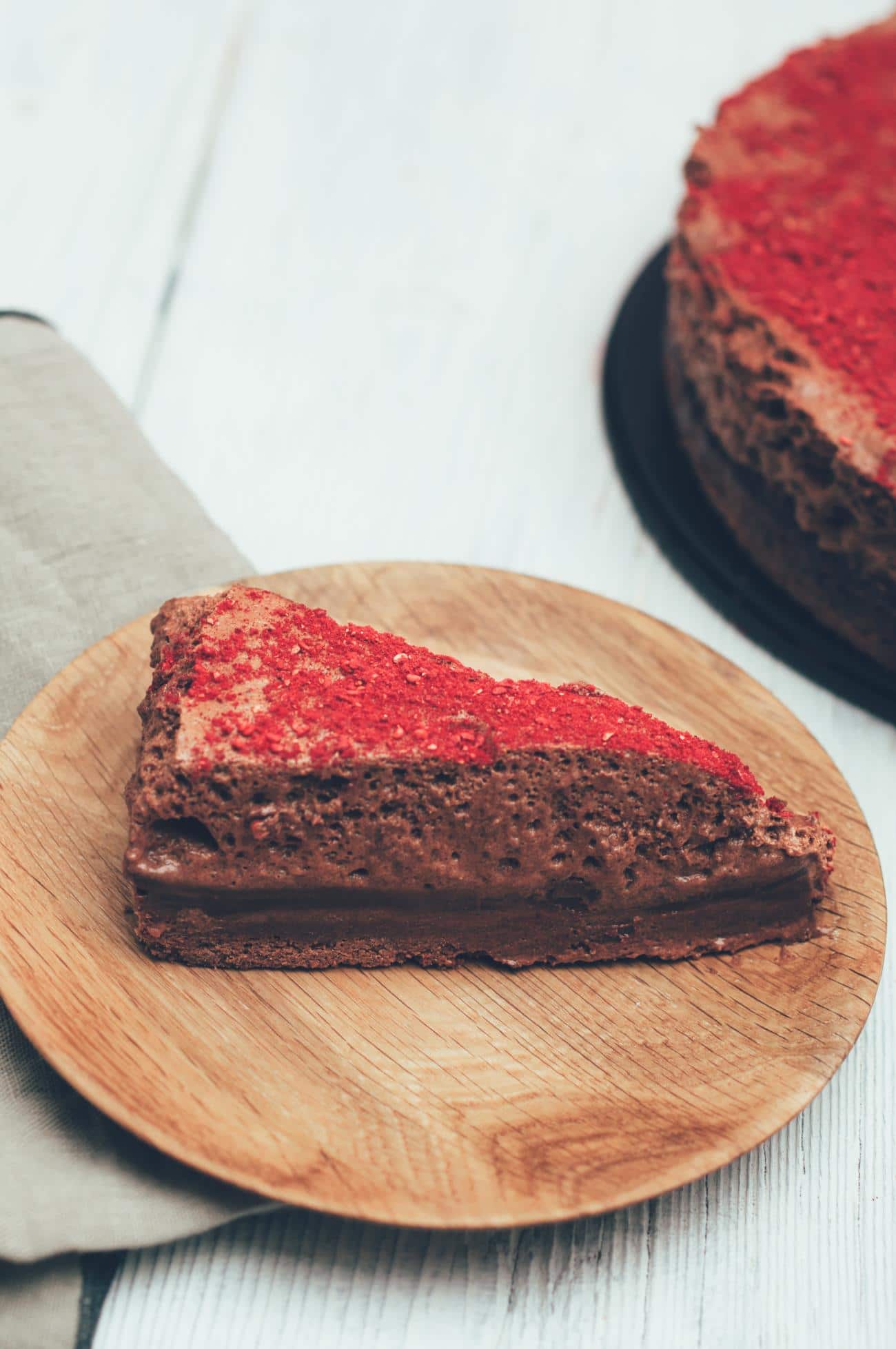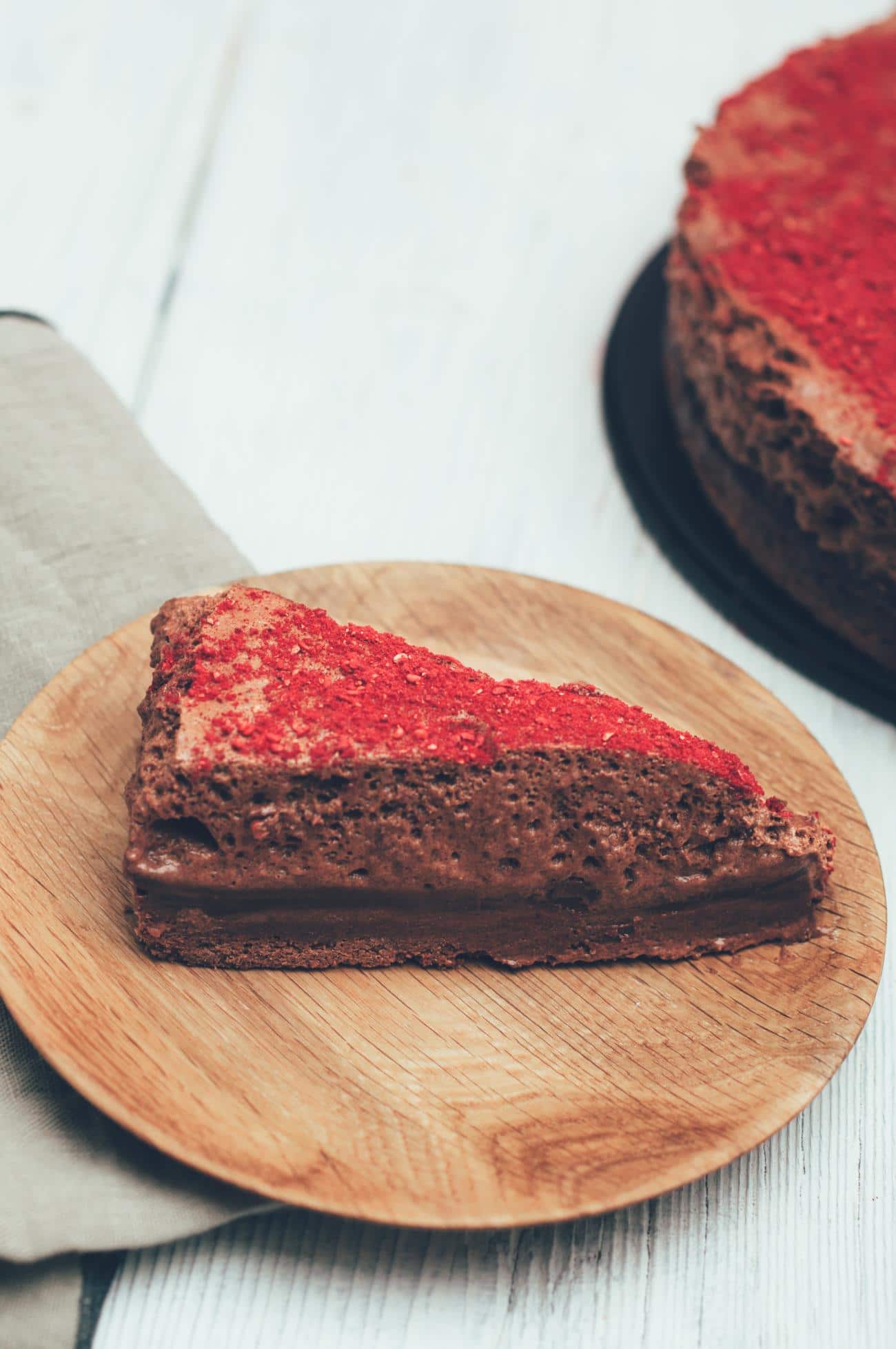 Now I hope that you got desire on this wonderful tart and wish you much fun with the Nachbacken and of course about a review at the bottom of this page. If you post a picture, use the hashtag #veganevibes.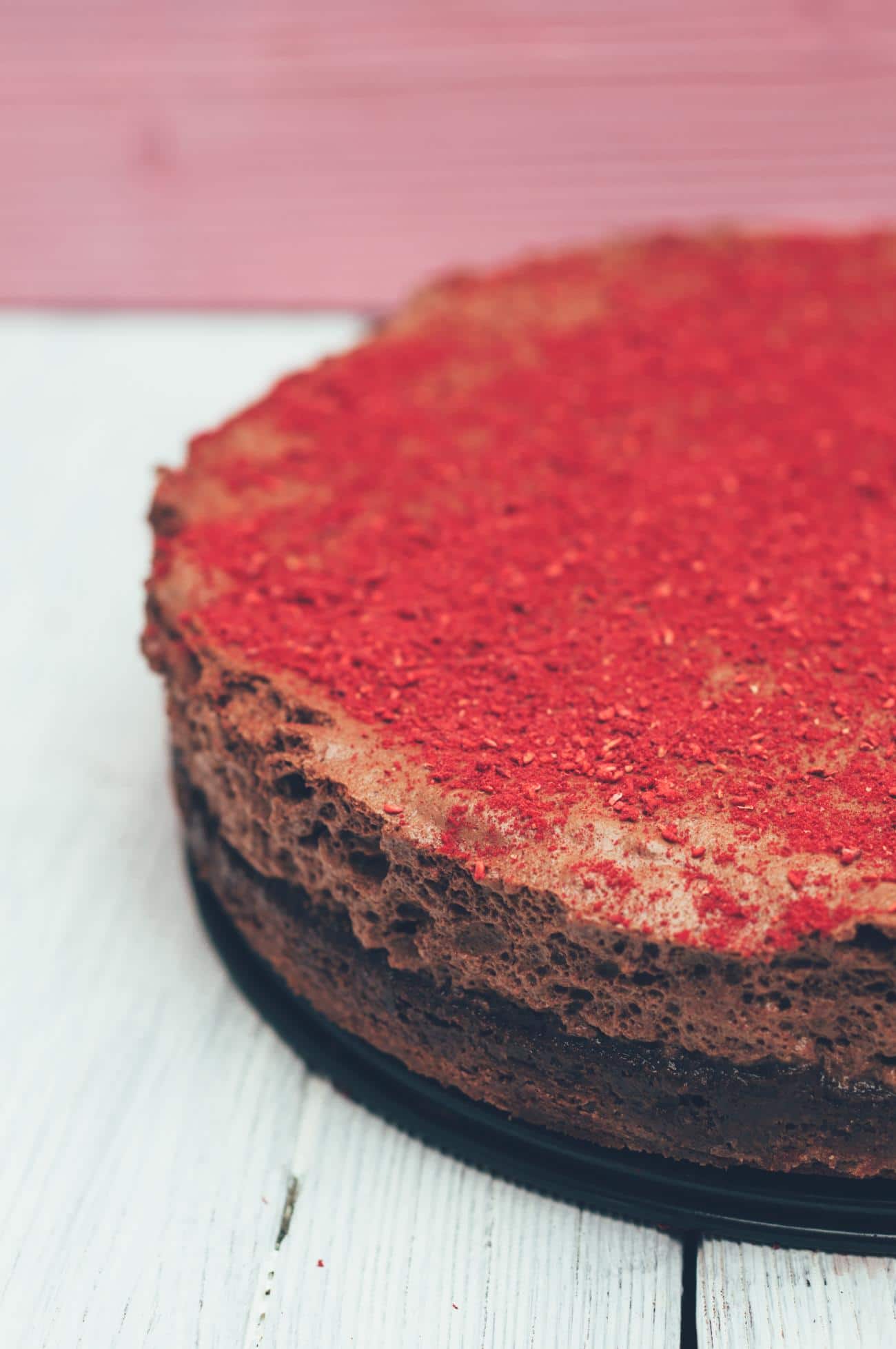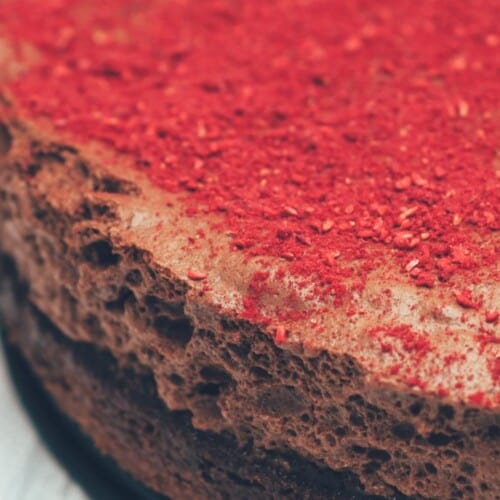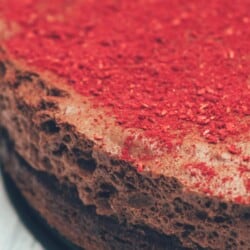 Mousse-au-Chocolate Tarte (vegan, gluten-free) with 9 ingredients
Vegan and gluten-free mousse-au-chocolate tart made of 3 layers: Chocolate shortbread base, chocolate pudding layer, topped with a wonderfully fluffy mousse made with vegan Aqufaba chocolate mousse and raspberry powder (for a slightly tart note for contrast).
AUTOR: VEGANEVIBES
Anleitung 
Line the bottom of a springform pan (20cm diameter) with baking paper and grease the edges with a little asan.


Place gluten-free flour mix, cocoa powder, raw cane sugar, and alsan in a bowl and work into a dough with your hands. After 2-3 minutes of kneading, the ingredients should all be well mixed and the dough should be compact, but also slightly crumbly (see picture). Press the dough into the springform pan, pull up the edges and chill in the freezer (or refrigerator) for one hour.


140 g Gluten free flour mix,

7,5 g Cocoa powder,

50 g Raw cane sugar,

75 g cold Alsan or another vegan margarine

Preheat the oven to 180 degrees. In a blender, blend the oat milk, starch, cocoa and raw cane sugar until smooth. After one hour, remove the springform pan from the freezer (or refrigerator) and pour in the chocolate milk. Put in the oven at medium heat and bake for about

40 minutes




50 g Raw cane sugar,

250 ml Oat milk or other unsweetened plant milk,

30 g Strength,

15 g Cocoa powder,

12,5 g Raw cane sugar,

A pinch of salt,

Optional: a pinch of bourbon vanilla powder

Remove shortbread from oven and let cool completely. It is ok if the custard layer is not 100% set, it will combine beautifully with the chocolate mousse.


For the chocolate mousse, melt the chocolate coating in a water bath. Be careful not to let it get too hot. Once the chocolate has melted, set aside and let cool slightly while preparing the chickpea whipped cream (aquafaba).


Now add chickpea water (room temperature) to a mixing bowl and process with a food processor on high speed to make a firm chickpea paste. The dimensions should look like a classic egg whites. A hand mixer will also work, though a food processor is more convenient and faster.

Fold the still liquid couverture into the beaten egg white. Important: Do not add all the chocolate at once, but add 2-3 tablespoons at a time, step by step. Stir in slowly with a whisk, in no case too fast or the measurements will collapse. Work leisurely from the bottom up, incorporating the couverture evenly until everything is well combined.


150 g vegan dark chocolate coating

Pour the chocolate giggle snow mixture onto the completely cooled cake layer and spread evenly. Place in the refrigerator and chill for at least 6 hours, ideally overnight.

Remove from the refrigerator and release from the springform pan. Sprinkle with raspberry powder as desired, cut into pieces and enjoy! Keeps in the refrigerator up to 3 days.
Nährwertangaben
Serving:
1
Piece
Calories:
236
kcal
Carbohydrates:
29
g
Protein:
3
g
Fat:
12
g
Saturated Fat:
4
g
Sodium:
65
mg
Potassium:
172
mg
Fiber:
2
g
Sugar:
13
g
Vitamin A:
345
IU
Calcium:
55
mg
Iron:
1.9
mg