S'mores Tarte? Yes, that's the look on the faces of most who have tasted this fine tart. Have I mentioned that I'm a big fan of sweets? Yes, I can not resist when something chocolatey comes to the table. When I was in Berlin last year, I saw a S'mores Tarte in a café and it stuck with me. So I started researching how I could make this fine tart vegan. As you can see, it worked and today I present the world premiere on veganevibes.
Vegan S'mores Tart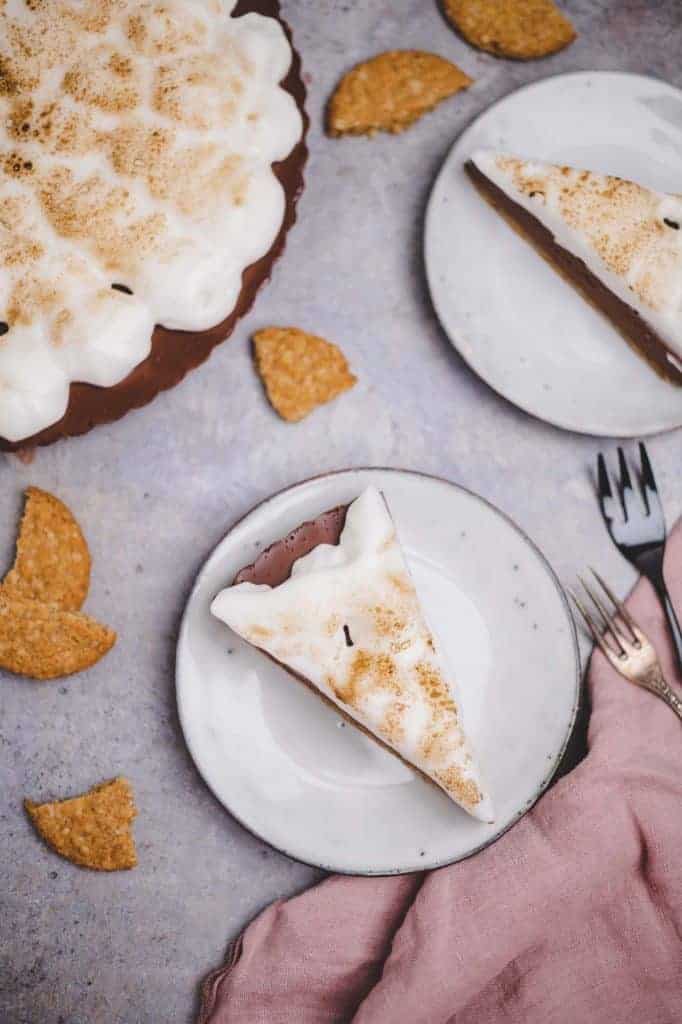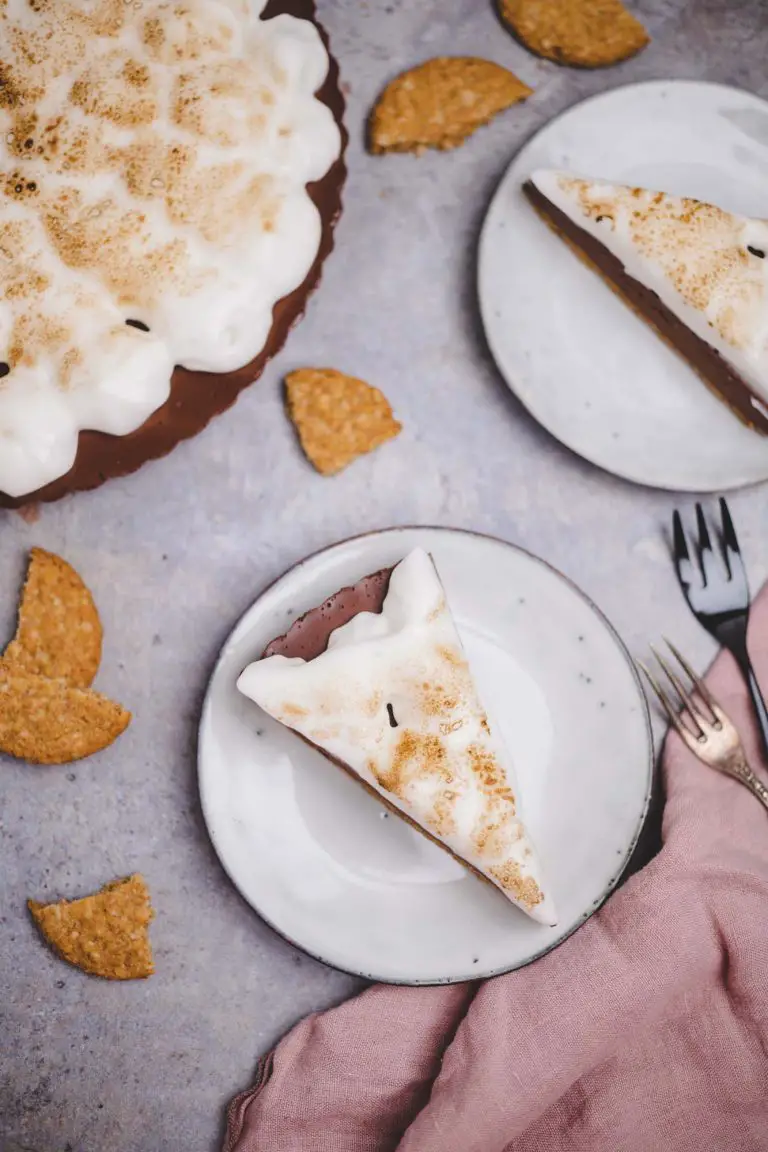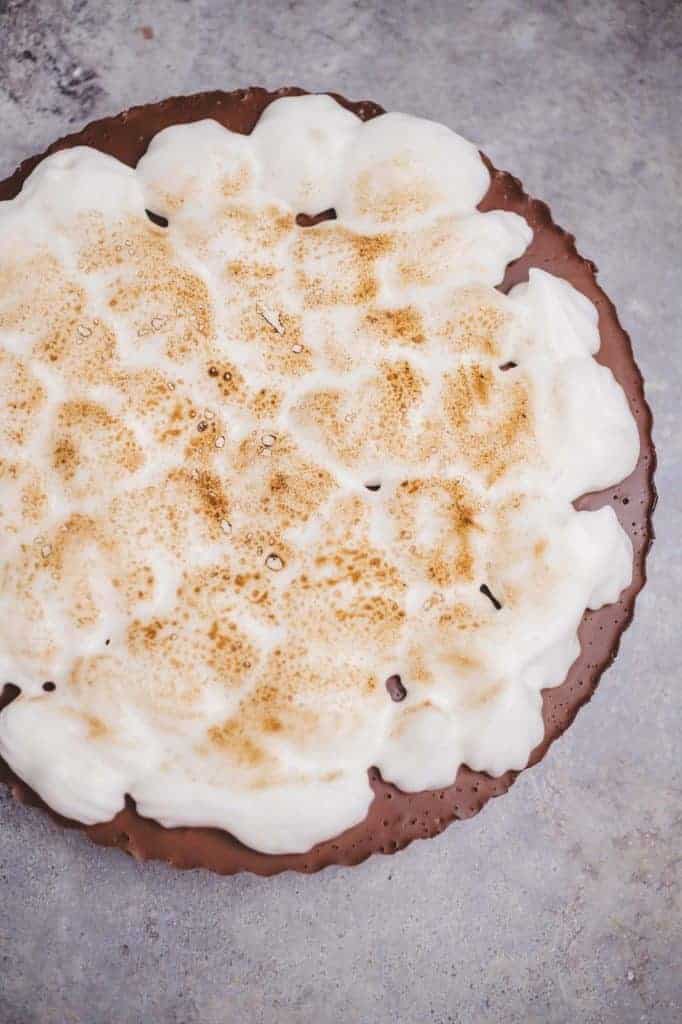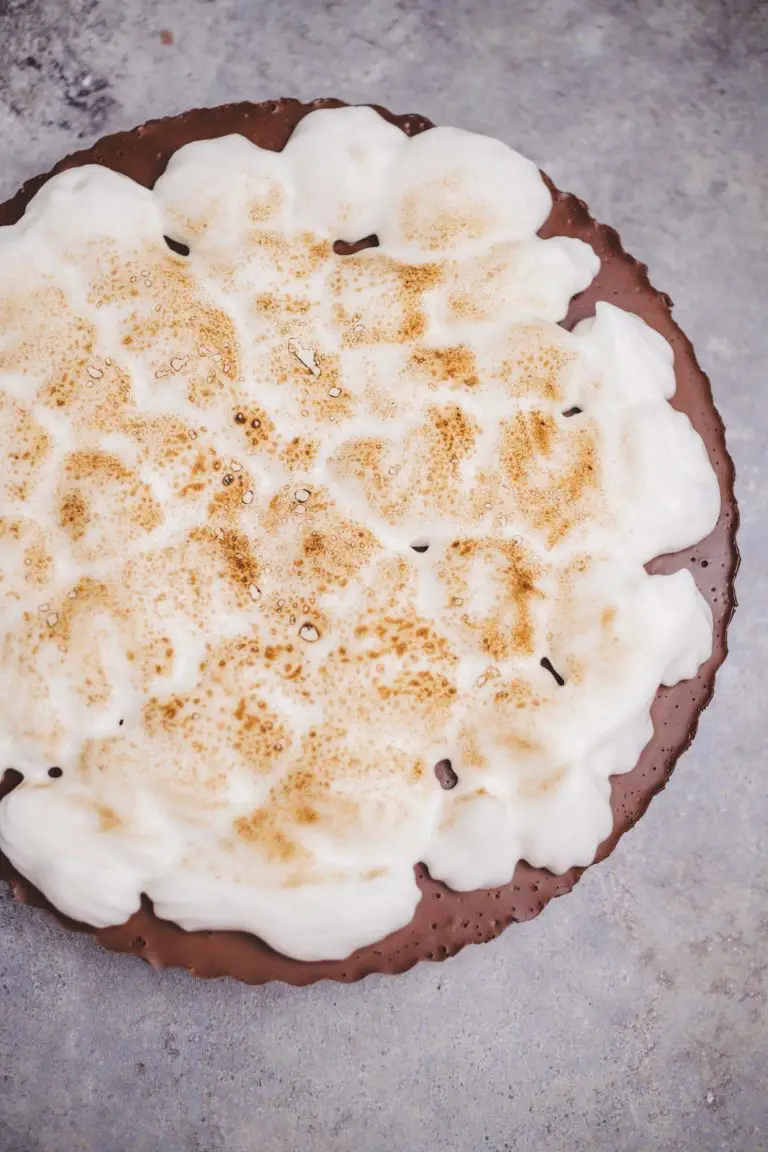 Our tart today consists of three simple steps. The base of cookies and margarine. Followed by a middle layer of coconut milk and chocolate. It gets exciting when it comes to the topping, because here I use a portion of aquafaba with some xanthan gum and powdered sugar. Using a piping nozzle, this comes in a creative pattern on the tart and is then nicely browned with a flambé burner (Candyman).
Note: It is essential to use sugar in the false beaten egg (aquafaba), otherwise it will not caramelize.
Bake vegan tart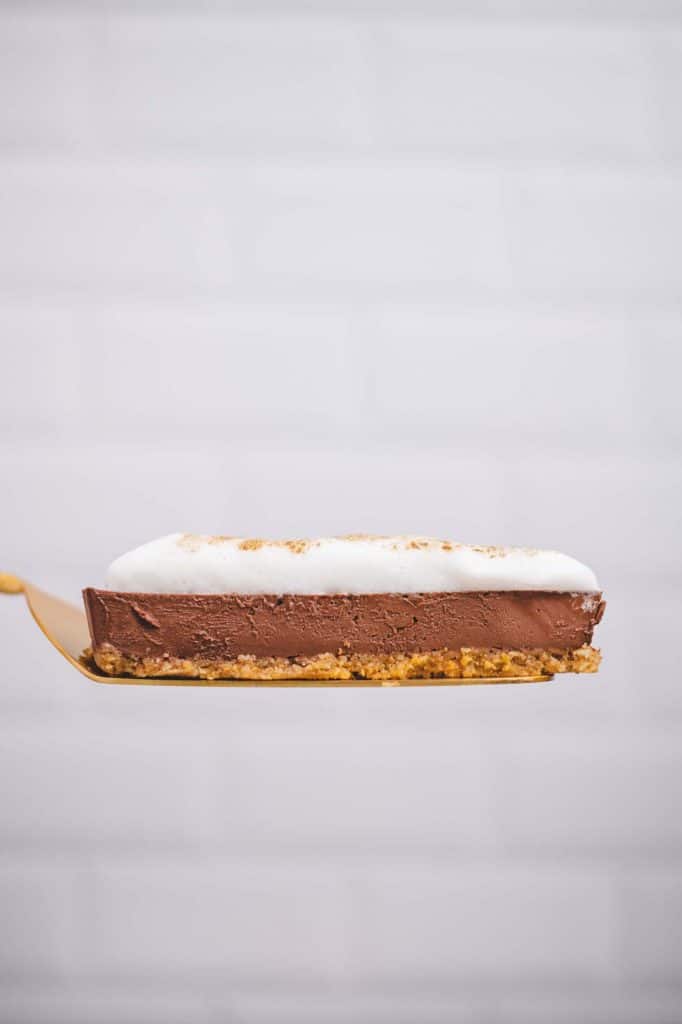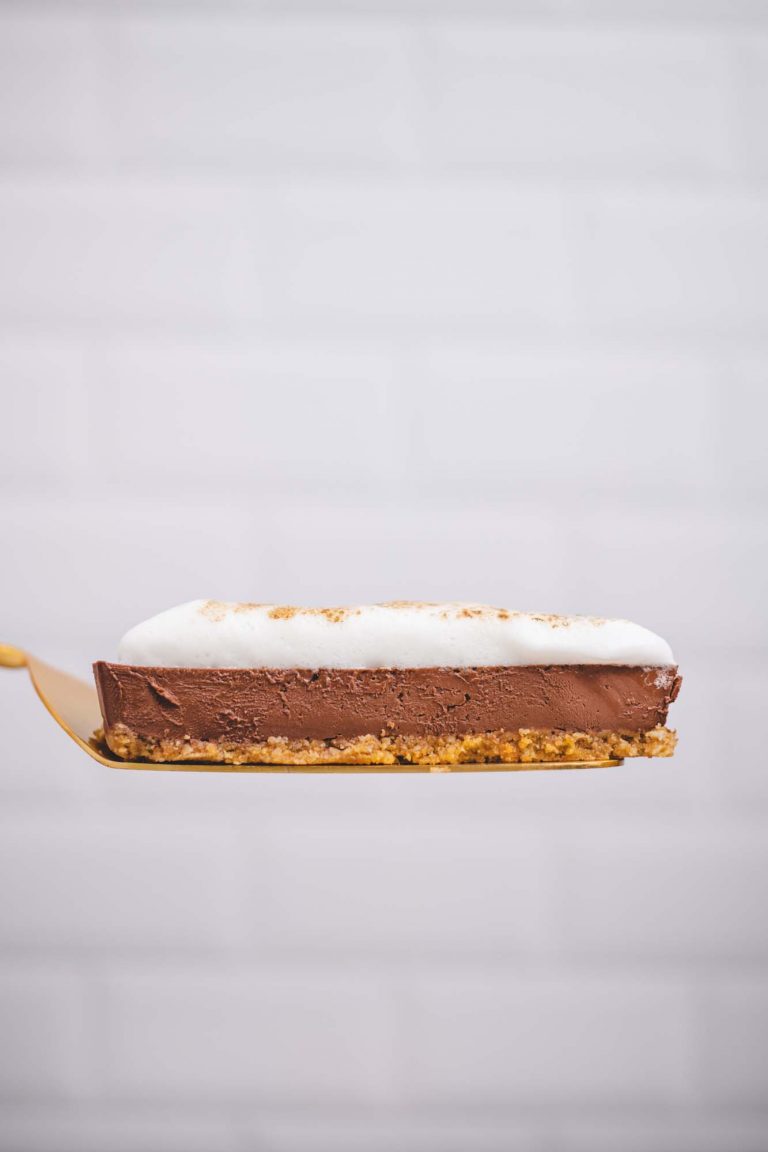 Actually, with the tart you can not really talk about baking, because it is more about layering. But sometimes it's just fun when things aren't so complicated, but still delicious.
I think it just goes with any occasion, unless it's too warm! This is also my tip, because aquafaba is not heat stable. Therefore, I advise to add the beaten egg whites to the tart just before serving and only as much as is really needed. If you're only serving half the tart, it's best to make only half the amount of aquafaba indicated.
TIP: Always store tart in the refrigerator, because at room temperature it can easily melt and no longer hold its shape.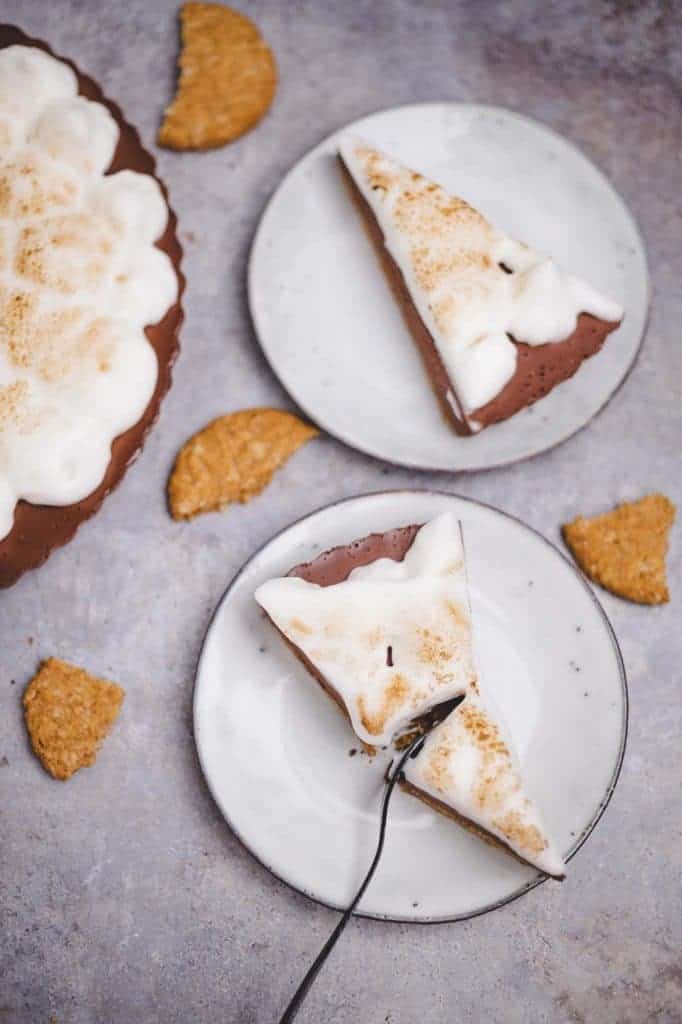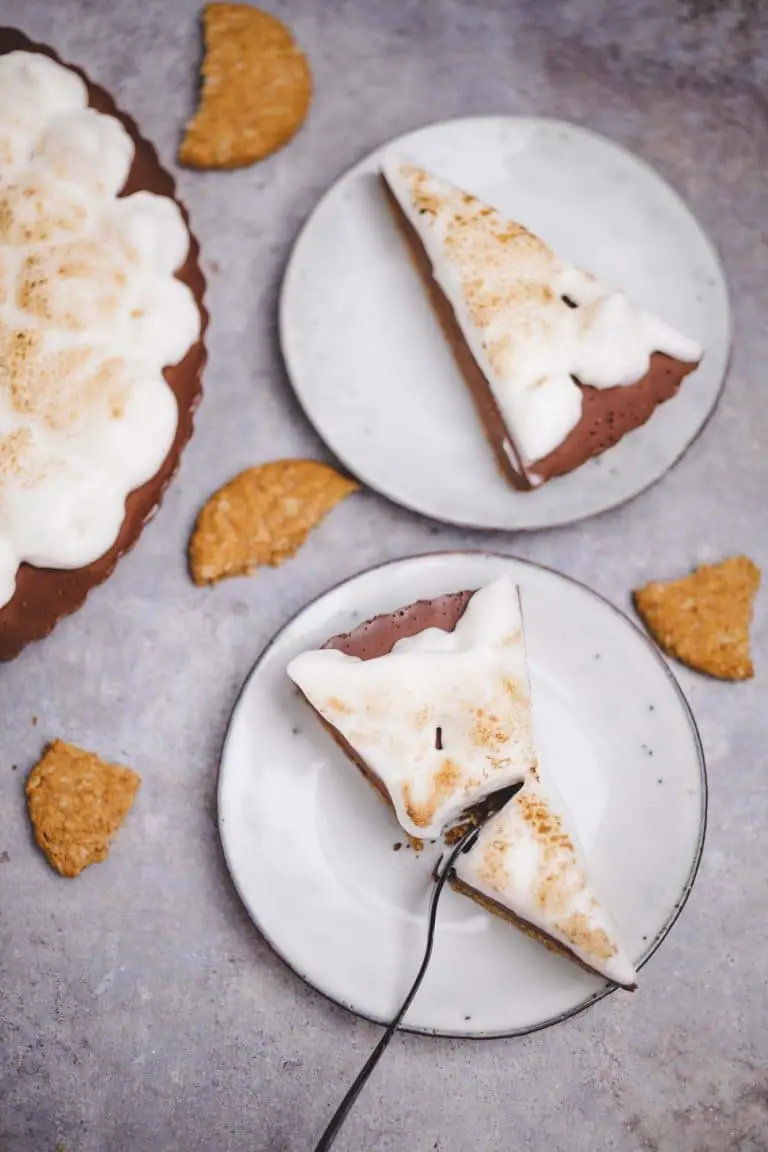 If you're in the mood for a different tart today, I recommend the following variations:
Let's get started with this fine tart that will satisfy any chocolate craving, no matter how big. I hope you have fun making it and of course I'm happy about a review at the bottom of this page. If you post a picture, use the hashtag #veganevibes.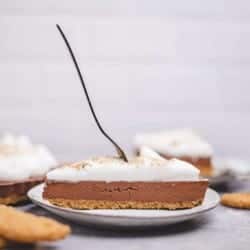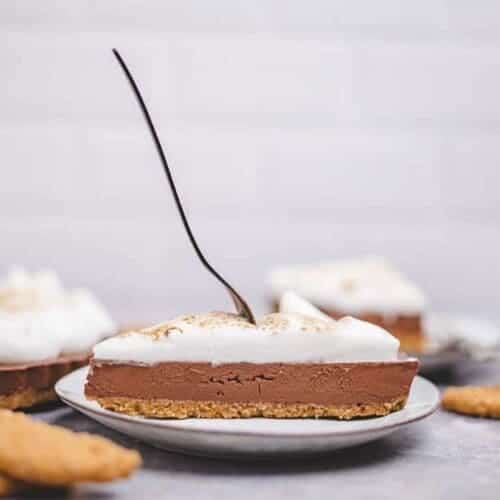 Vegan S'mores Tart
Fine s'mores tart made with a cookie base, melt-in-your-mouth vegan chocolate filling and a meringue topping of aquafaba. Perfect for those who want to make an impression at the next party. Quickly made and incredibly delicious!
AUTOR: VEGANEVIBES
FOR THE CAKE BASE:
220

g

Oatmeal cookies

Bought or homemade

60

g

Margarine

room-warm
FOR THE CHOCOLATE MOUSSE:
Anleitung 
Prepare tart pan.

FOR THE CAKE BASE Place oatmeal cookies in a blender and blend until a coarse flour is formed. It can be a little crumbly and not too fine. Pour in margarine and pulse again until well combined.

220 g Oatmeal cookies,

60 g Margarine

Press the mixture into the tart pan and smooth it with the palms of your hands.

Place in the freezer.

FOR THE CHOCOLATE MOUSSE melt the vegan chocolate and carefully stir in the coconut milk.

300 g dark vegan chocolate,

400 ml Canned coconut milk

Take the tart base out of the freezer and pour the chocolate-coconut milk mixture directly into it.

Place in the refrigerator and allow to set for at least

4 hours

.

About 30 minutes before serving, make a portion of false beaten egg whites (or aquafaba). Carefully add the powdered sugar and, at the very end, the xanthan gum. The aquafaba should be firm enough to form peaks.

1 Portion Aquafaba,

½ tbspn Xanthan Gum,

44 g Powdered sugar

Pour into a piping nozzle and decorate tart with it as you like.

Turn on flambé burner and use it to gently brown the surface.

Use carefully, the fambé burner is very hot!

Cut into pieces and and enjoy!

Remaining pieces ( WITHOUT AQUAFABA TOPPING ) store in an airtight container in the refrigerator for up to 5 days.
Nährwertangaben
Serving:
1
Piece
Calories:
363
kcal
Carbohydrates:
29
g
Protein:
3
g
Fat:
26
g
Saturated Fat:
15
g
Polyunsaturated Fat:
2
g
Monounsaturated Fat:
8
g
Cholesterol:
4
mg
Sodium:
150
mg
Potassium:
94
mg
Fiber:
3
g
Sugar:
15
g
Vitamin A:
195
IU
Vitamin C:
1
mg
Calcium:
14
mg
Iron:
2
mg