Cookies with cranberries and white chocolate, you may have already discovered them in my Instagram Story discovered? I was on the road in Ingolstadt last week and had to pass the time changing tires. What's the best thing to do when you're out in the cold? No question about it, eat a cookie. I was more than pleased with the cookie and the fact that the dealership had a good coffee machine. Espresso and cookie in dreary fall weather? I can absolutely recommend this combination.
Cookies with cranberries and white chocolate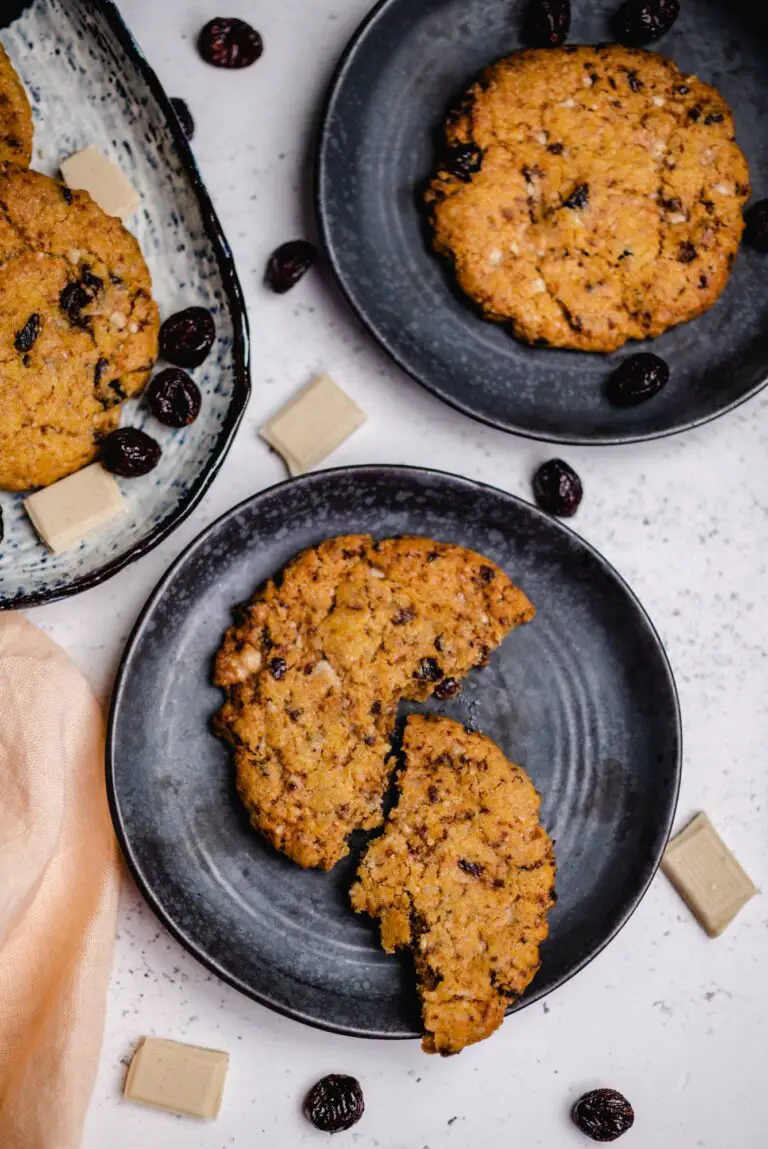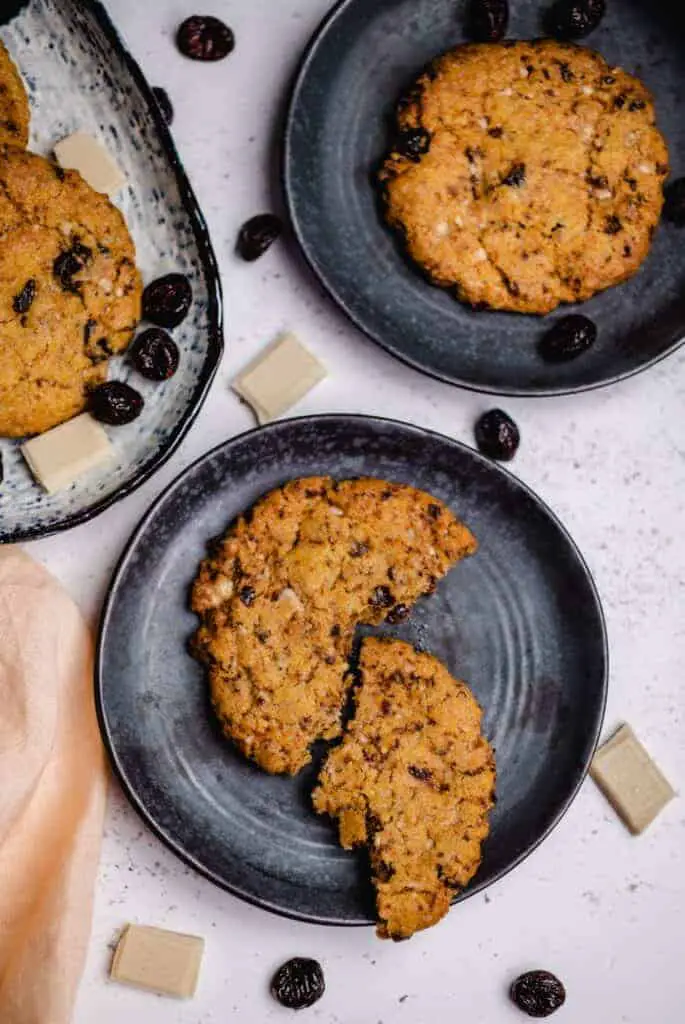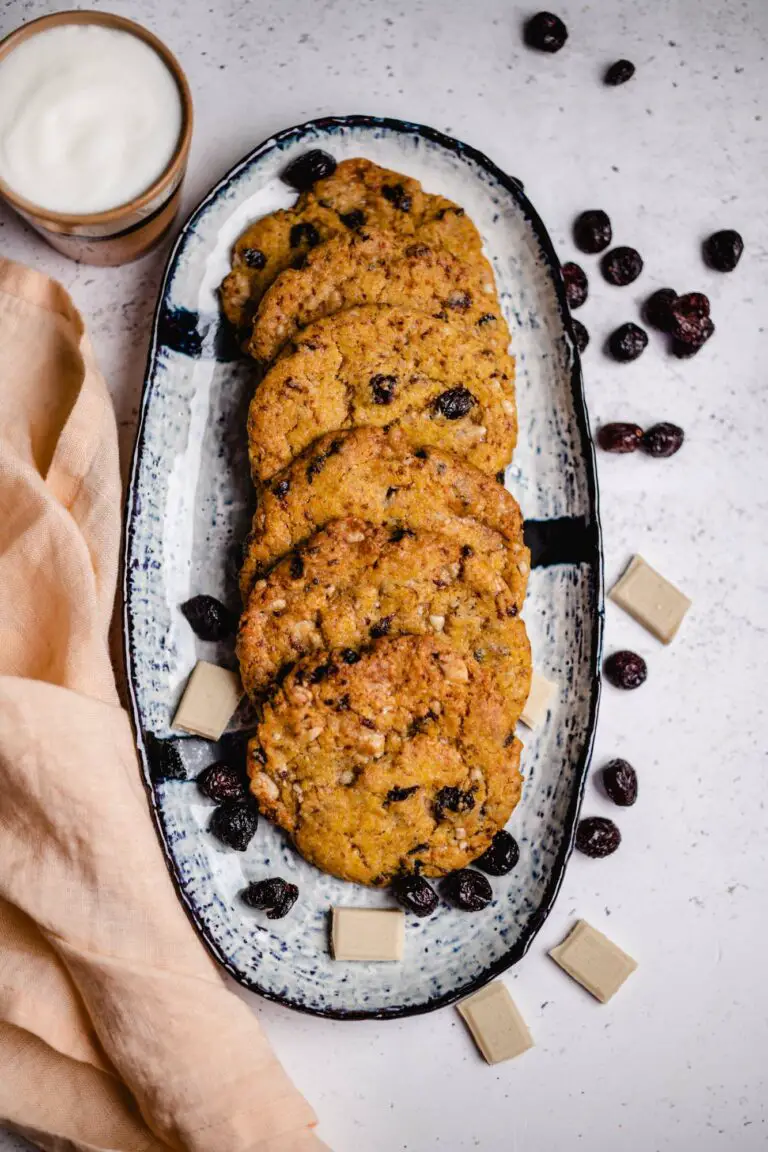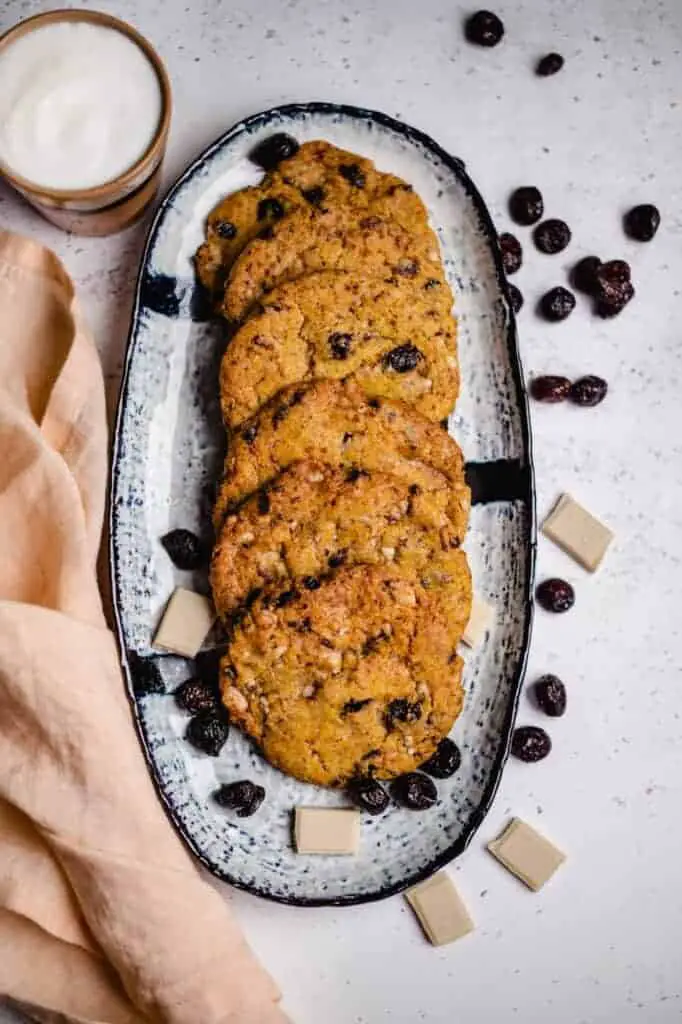 Let's move on to the ingredients. Spelt flour, raw cane sugar, coconut blossom sugar, corn starch, baking soda, bourbon vanilla, baking powder, pinch of salt, margarine, apple pulp, cranberries and white chocolate. This is all worked together into a fine dough and cookies are formed from it. I love American style cookies, so really big, flat and crispy.
TIP: If you're craving more cookies and other holiday baking goodies, I highly recommend these two free Christmas e-books. You get them for free when you sign up for the newsletter.
Simple vegan cookies to bake after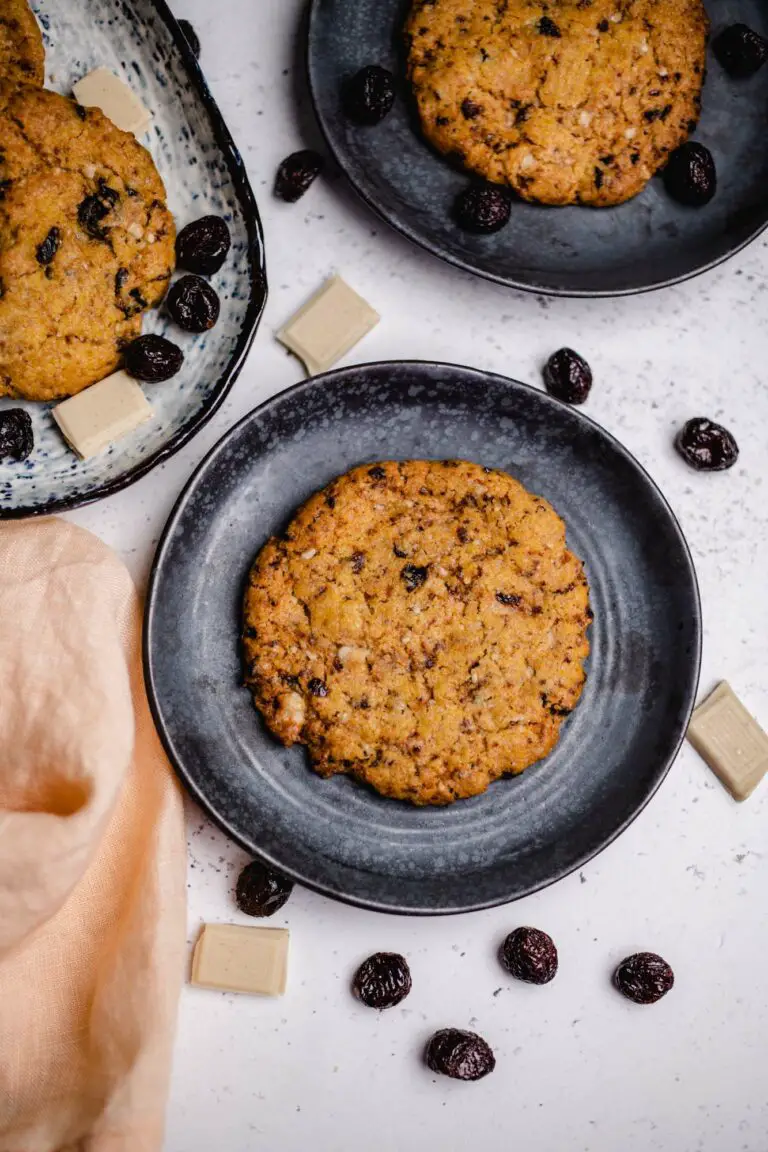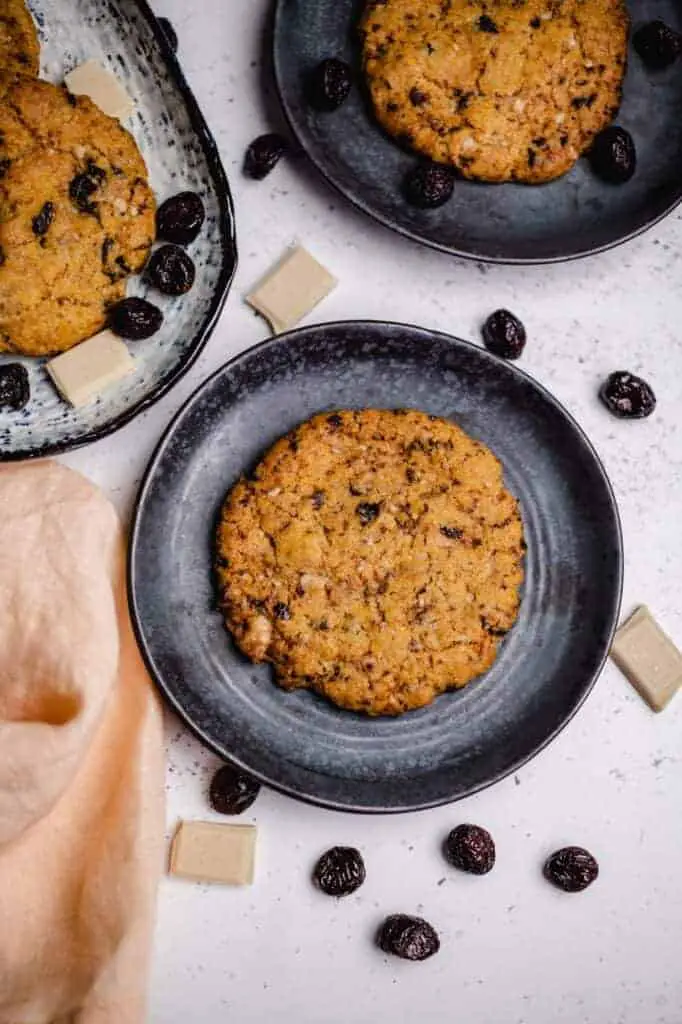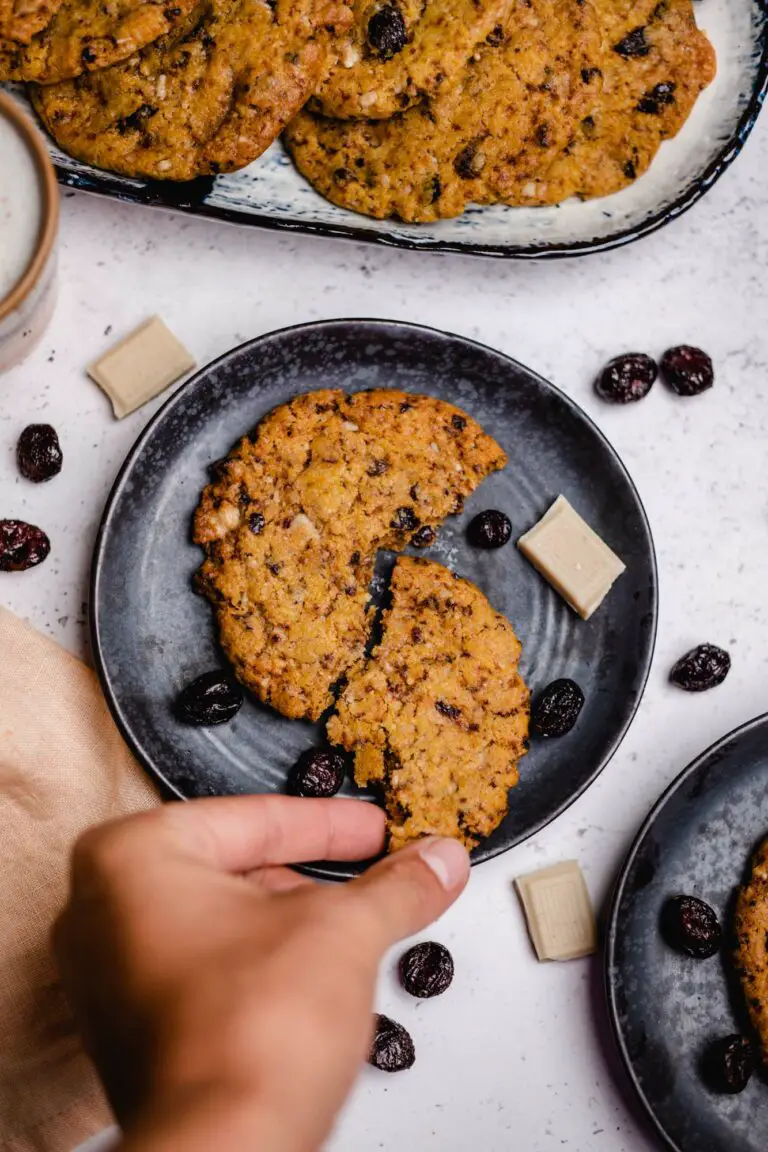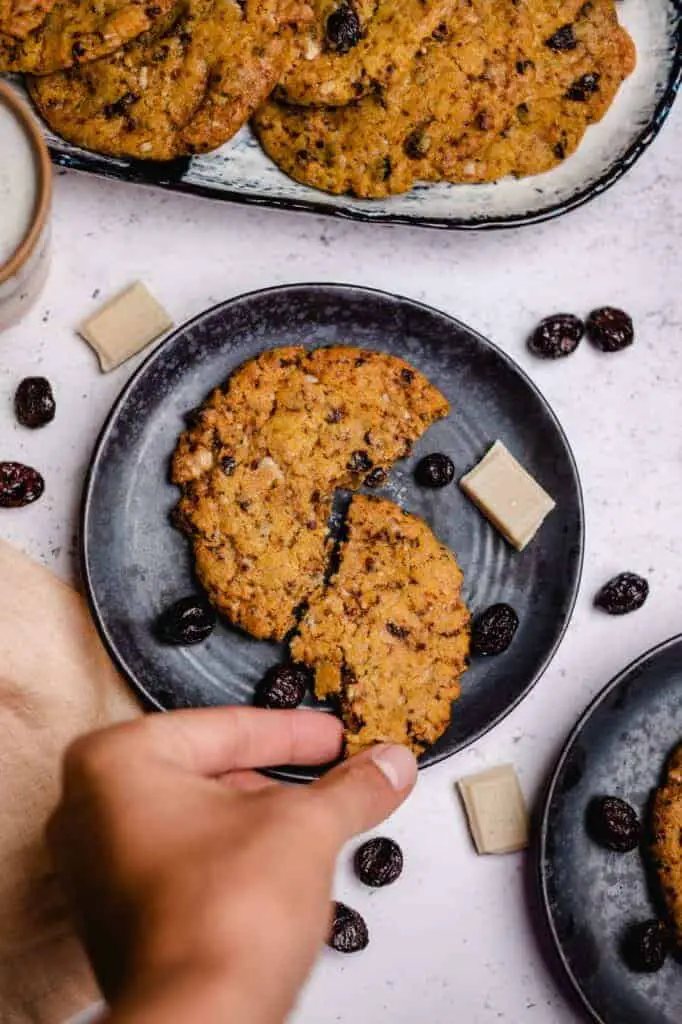 Perfect with a simple vegan hot chocolate or who has to fight with a small infection, the ultimate cold tonic. By the way, it also tastes so great. By the way, cranberries also fit wonderfully into the cold and dark season and provide you with potassium, sodium, magnesium, copper and manganese.
If you do feel like making other cookies, I recommend the following variations:
Are you ready for these awesome cookies with cranberries and white chocolate? They are:
Quickly made
sweet
Crispy
simple
fruity
versatile
Let's go with these incredibly delicious vegan cookies, I wish you much fun in re-baking and of course about a review at the bottom of this page. If you post a picture, use the hashtag #veganevibes.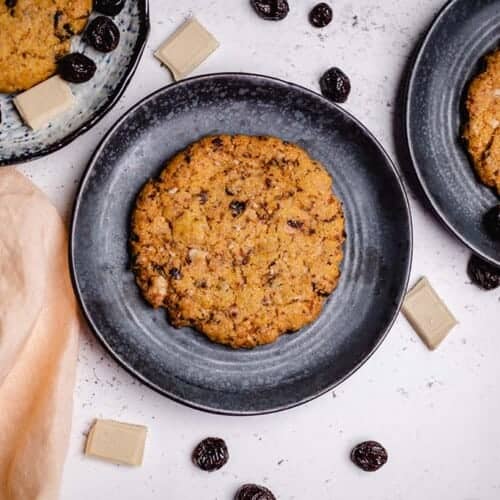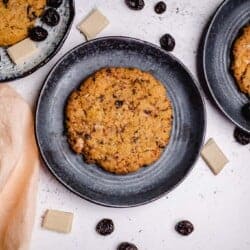 Cookies with cranberries and white chocolate
Fine vegan cookies with cranberries and white chocolate that you should not miss. Crispy, fruity and seductively sweet with fine coconut blossom sugar. Quickly made, succeeds safely and very tasty.
AUTOR: VEGANEVIBES
Anleitung 
FOR THE DOUGH Place spelt flour, raw cane sugar, coconut blossom sugar, cornstarch, baking soda, bourbon vanilla, baking powder, salt, vegan margarine and apple pulp in a food processor and process until smooth. At the very end white chocolate and cranberries and work into it.

221 g Spelt flour,

110 g Raw cane sugar,

50 g Coconut blossom sugar,

1 ½ tbspn Cornstarch,

½ tbspn Baking soda,

½ tbspn Bourbon vanilla,

1 tbspn Baking powder,

¼ tbspn Salt,

115 g vegan margarine,

40 g Apple pulp,

90 g white chocolate,

65 g Cranberries

Preheat oven to 175 degrees, line baking sheet with parchment paper or a permanent baking mat.

Roll one heaping tablespoon of dough (2 ½ tablespoons ~44g) at a time into a small ball and flatten to form a round cookie. For small cookies, simply use half the dough (~ 22g). Spread cookies on a baking sheet lined with baking paper or a silicone mat. NOTE: Be sure to keep enough space between the cookies, as they will spread during the baking process.

Bake on medium for about 15-16 minutes, until the edges are lightly golden brown. For the smaller cookies, reduce baking time to 8-10 minutes. Remove from oven and allow to cool completely and enjoy!

Store leftovers (if any) in an airtight container for up to 5 days.
Nährwertangaben
Serving:
1
Cookie
Calories:
225
kcal
Carbohydrates:
32
g
Protein:
3
g
Fat:
9
g
Saturated Fat:
3
g
Polyunsaturated Fat:
2
g
Monounsaturated Fat:
3
g
Trans Fat:
1
g
Cholesterol:
2
mg
Sodium:
106
mg
Potassium:
34
mg
Fiber:
3
g
Sugar:
17
g
Vitamin A:
372
IU
Vitamin C:
1
mg
Calcium:
22
mg
Iron:
1
mg