Cookie Brownie "Brookie" is just the thing for those who can't decide between a cookie or a brownie. I love sweet sins and cookies are at the top of the list. But brownies are also so delicious and that's why I had the idea to combine both things. Why not just put a cookie on top of the brownie. Off to the oven, bake and enjoy! Add a scoop of ice cream on top and the dessert is perfect. I have to honestly admit that I almost can't say no to these treats. That's why I consciously say stop at some point, because otherwise I won't fit into anything anymore. Now, however, let's get started with this delightful cookie brownie.
Cookie Brownie "Brookie" vegan and gluten free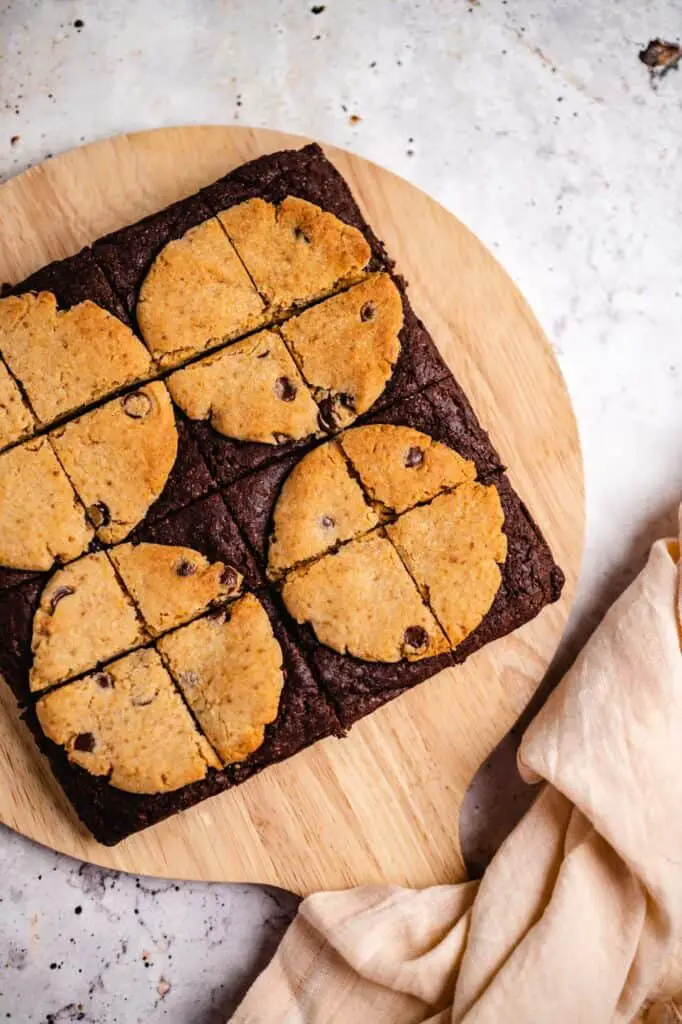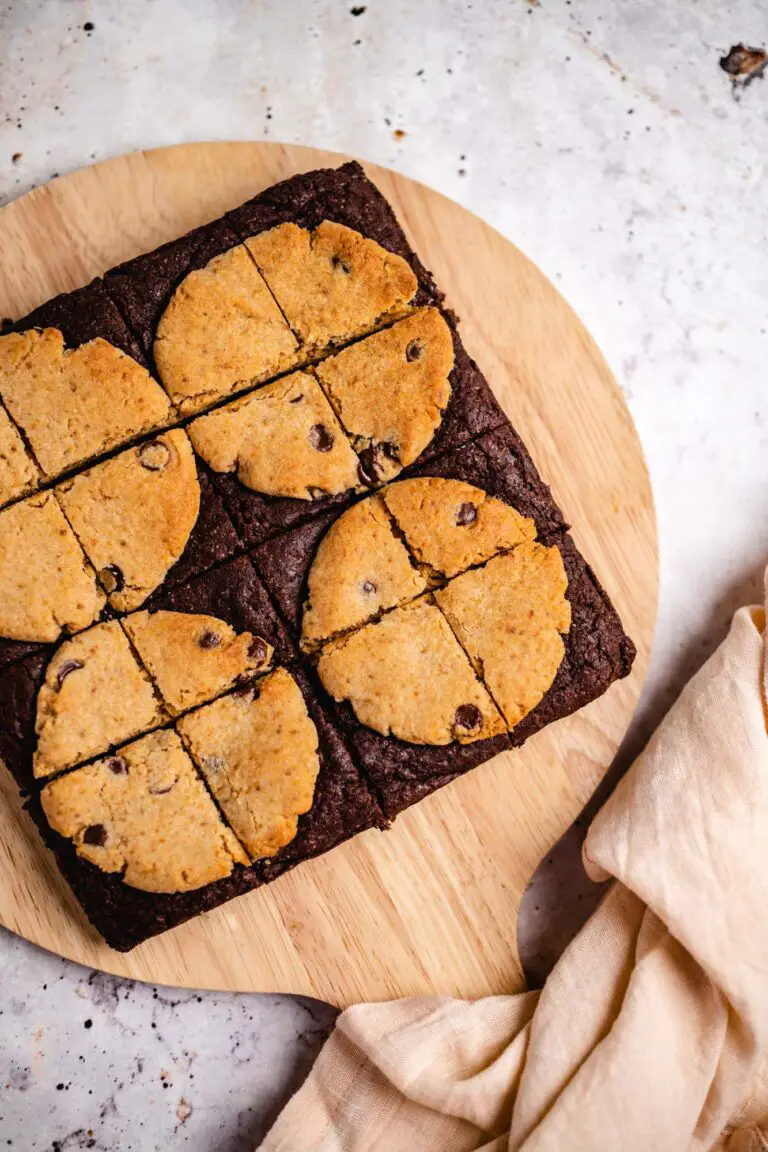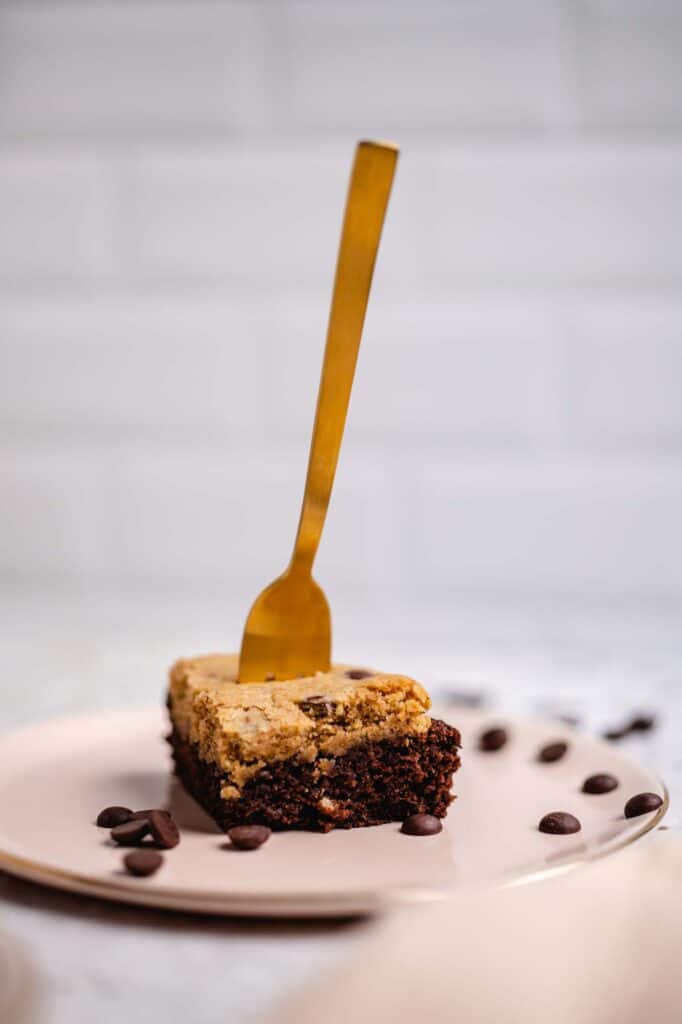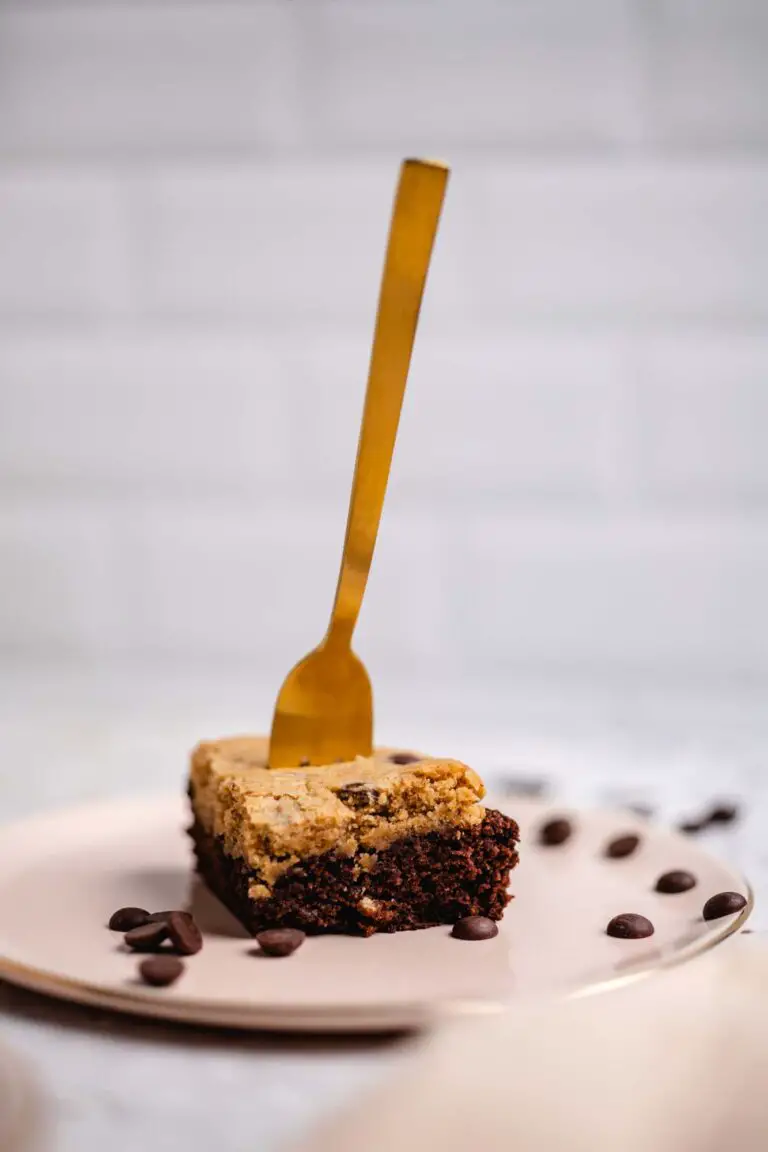 Our brownie today is easy to make, however, we need a cookie dough in addition to the brownie batter. There is already a recipe for the world's best vegan cookieson the site, however I make these gluten free. You'll find instructions for a gluten-free version right in the cookie ingredient list. Next, there is the question of how much cookie dough you want to make. For the brownies we need very little batter, however I still make the full amount. why? Because I'm about to bake another round of cookies on this occasion.
TIP: You can freeze the remaining cookie dough without any problems and defrost it when you have the opportunity. As we all know, a cookie always goes, right?
The gluten-free brookie is made with flaxseed eggs, Buckwheat flour, Raw cane sugar, Almond flour, Baking Powder, Bourbon Vanilla, Salt, Cocoa Powder, Baking Oil, Maple syrup and Apple pulp. This is all worked into a fine dough and off it goes into the baking pan and into the oven.
Gluten free and vegan baking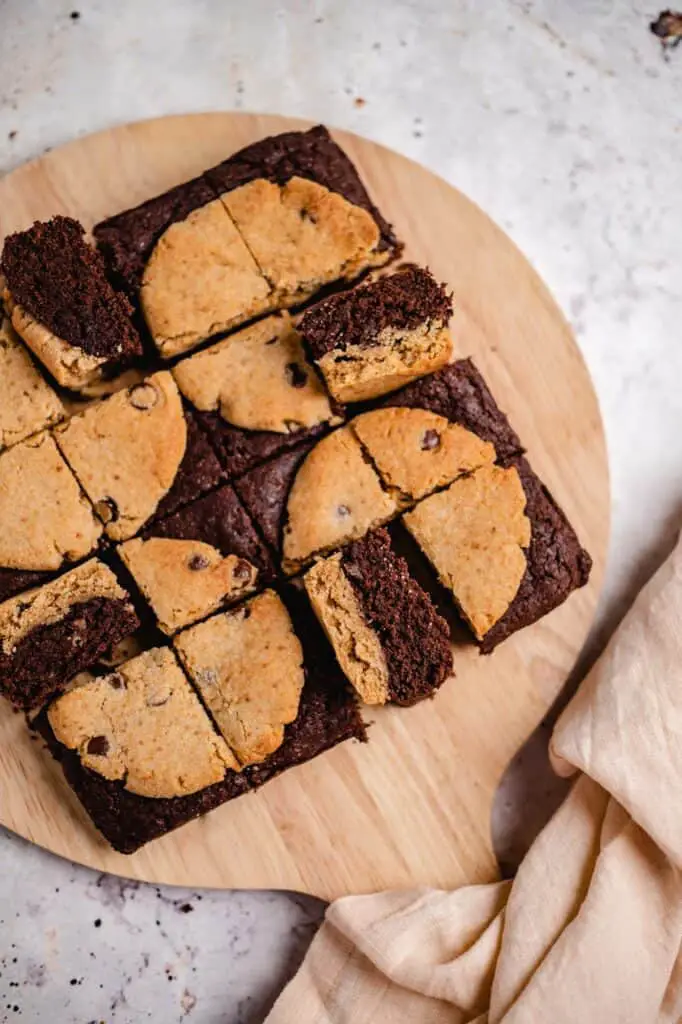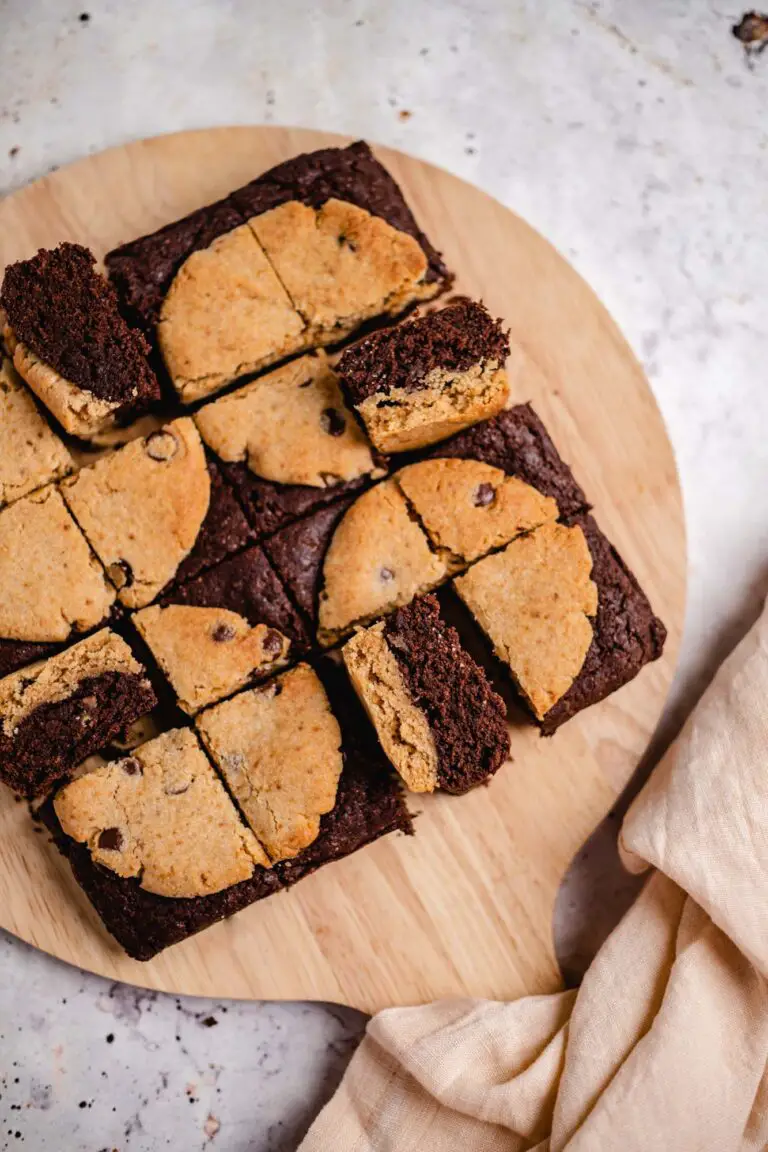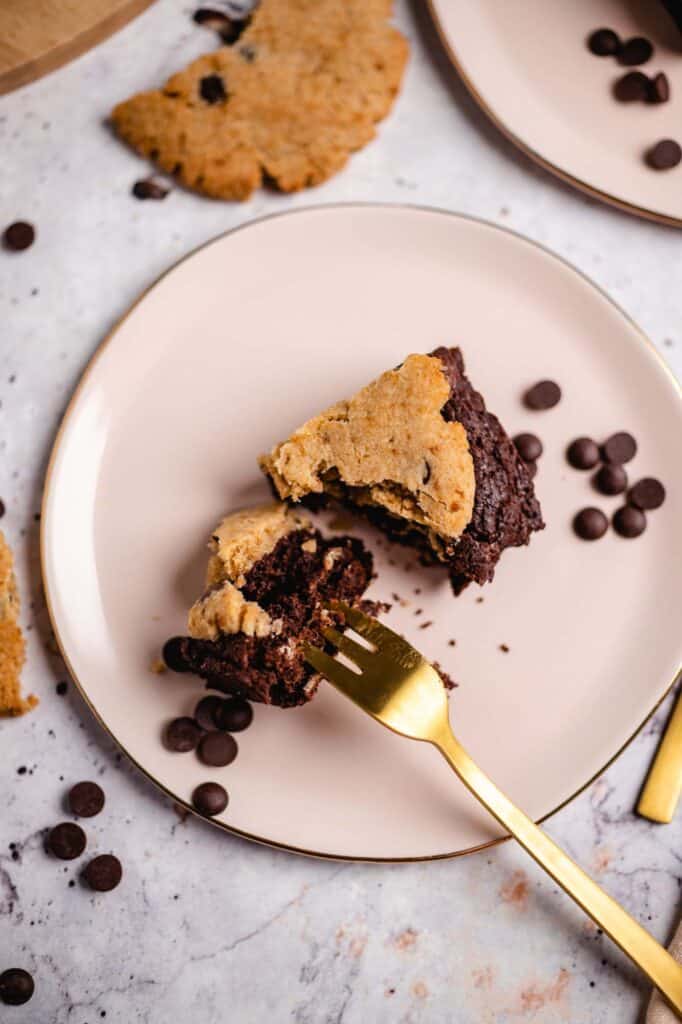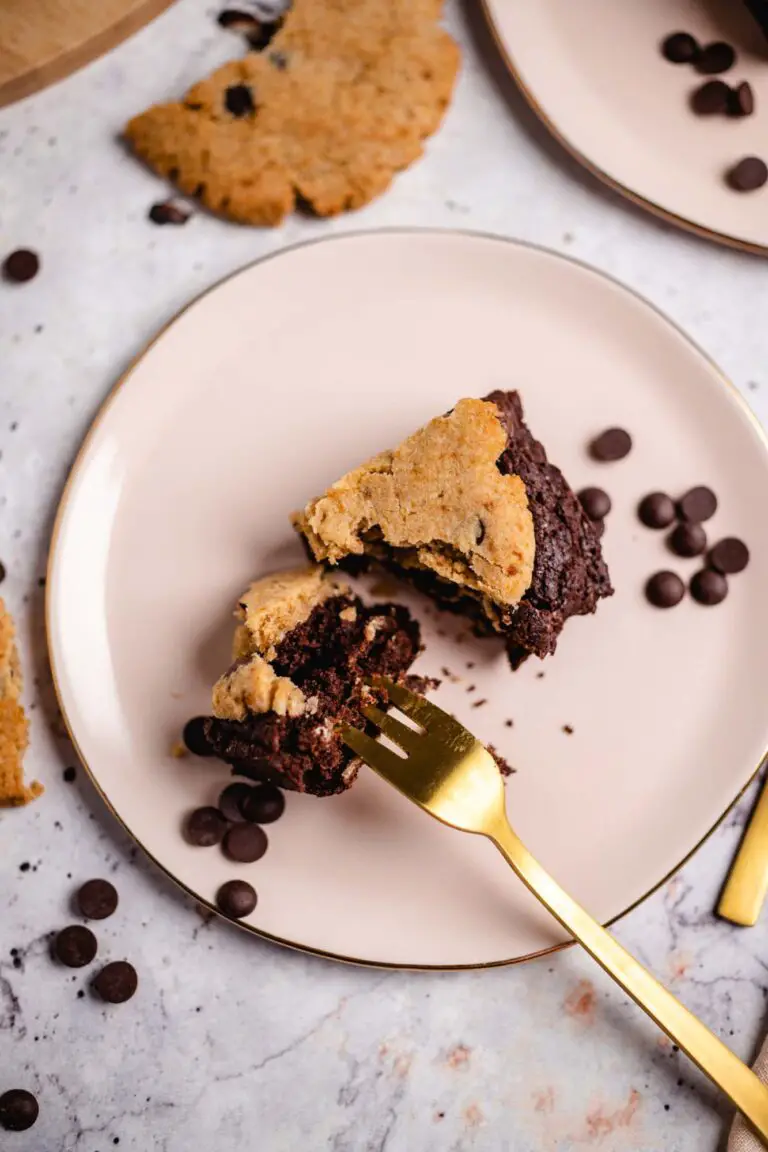 The crowning touch on this delicious cookie brownie "Brookie" is definitely a scoop of vanilla ice cream. I love to make my own ice cream and here's also directly to the recipe.
For all those who can't get enough of cookies or brownies, here's a selection of other vegan recipes
The Cookie Brownie "Brookie" is:
rich
juicy
chocolatey
Cookie
Gluten free
Brownies simply fit always and for every occasion. Let's go with this incredibly delicious sins, I hope you enjoy baking and of course about a review at the bottom of this page. If you post a picture, use the hashtag #veganevibes.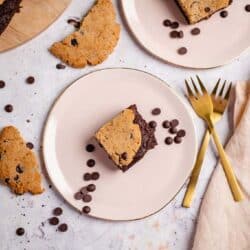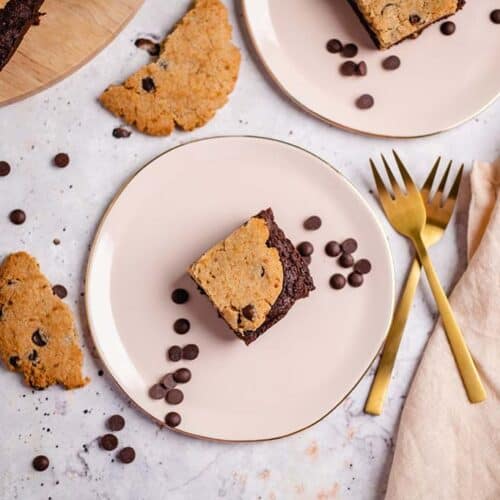 Cookie Brownie "Brookie
Perhaps the best vegan cookie brownie "Brookie" the world has ever seen. Perfect for those who are looking for a more unusual recipe and want to score points with it. Rich, fluffy, topped with fine cookies. Vegan, gluten free.
AUTOR: VEGANEVIBES
Anleitung 
Put flaxseed eggs in a small bowl and let them steep for

5 minutes

.

Preheat the oven to

180

°C

(200

200

°C

) and grease a brownie pan (20x20cm) with a little oil and dust with cocoa powder or line with baking paper.

Place buckwheat flour, almond flour, baking powder, bourbon vanilla, salt and cocoa powder in a bowl and stir with a whisk until everything is well combined and lumps are dissolved.

120 g Buckwheat flour,

30 g Almond flour,

3 tbspn Baking powder,

1 tbspn Bourbon vanilla,

¼ tbspn Salt,

50 g Cocoa powder

Add baking oil, vegetable yogurt, coconut blossom sugar and maple syrup and continue mixing until a compact dough is formed. Stir in chocolate drops and pour into baking dish. Smooth out.

80 g Baking oil,

96 g Raw cane sugar,

60 ml maple syrup,

30 g Apple pulp

Prepare cookie dough ( to the recipe ) and portion out dough for four cookies. Shape cookies (as flat as possible) and place on top of brownies dough. Place in the oven and bake for 20 minutes, until the cookies are nicely browned and the ends of the brownie are dry.

Remove from the oven and allow to cool completely. Cut into pieces and remove from baking pan. enjoy!

Store leftovers in an airtight box for up to 5 days. In the freezer for up to one month.
Nährwertangaben
Serving:
1
Brookie
Calories:
282
kcal
Carbohydrates:
38
g
Protein:
4
g
Fat:
15
g
Saturated Fat:
3
g
Polyunsaturated Fat:
6
g
Monounsaturated Fat:
3
g
Trans Fat:
0.1
g
Sodium:
89
mg
Potassium:
199
mg
Fiber:
4
g
Sugar:
19
g
Vitamin A:
11
IU
Vitamin C:
0.03
mg
Calcium:
52
mg
Iron:
2
mg