Zoodles with spaghetti is as simple as it is ingenious. I love pasta more than anything, but sometimes I wish it was a little healthier and lower in calories. So why not replace some of it with zucchini noodles? I found the idea simply ingenious and have also immediately made me to the implementation. At the moment the weather doesn't really know where it wants to go and fluctuates between cold, rainy and bathing temperatures. Then, when I catch a sunny moment during my lunch break, I sit down in the sun with a delicious serving of this fine pasta. Replenish vitamin D stores.
Zoodles with spaghetti – an incredibly delicious combination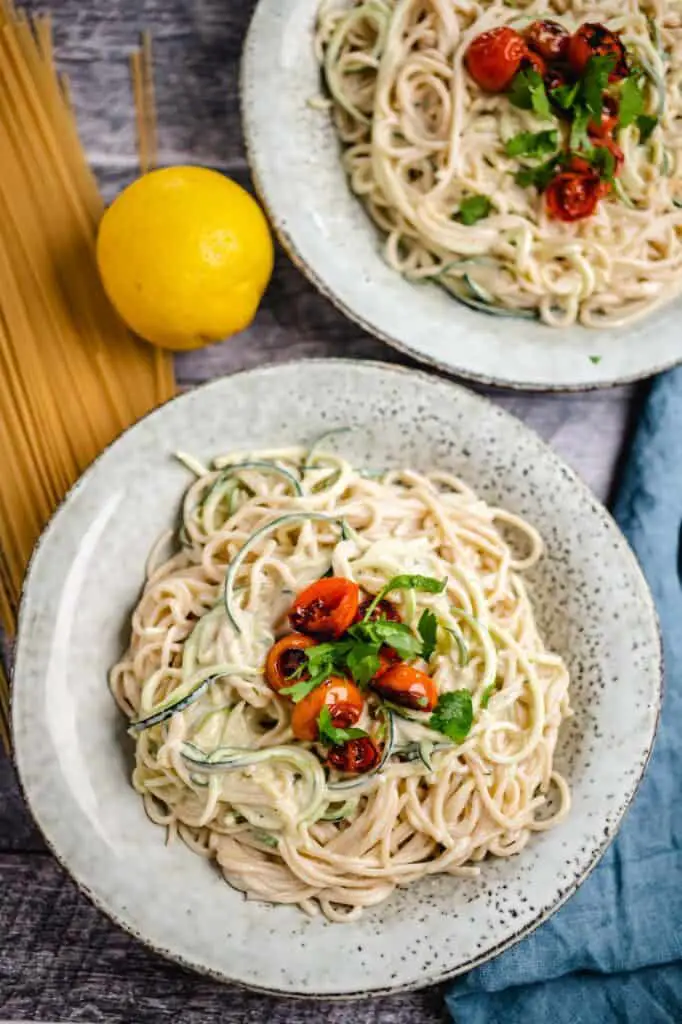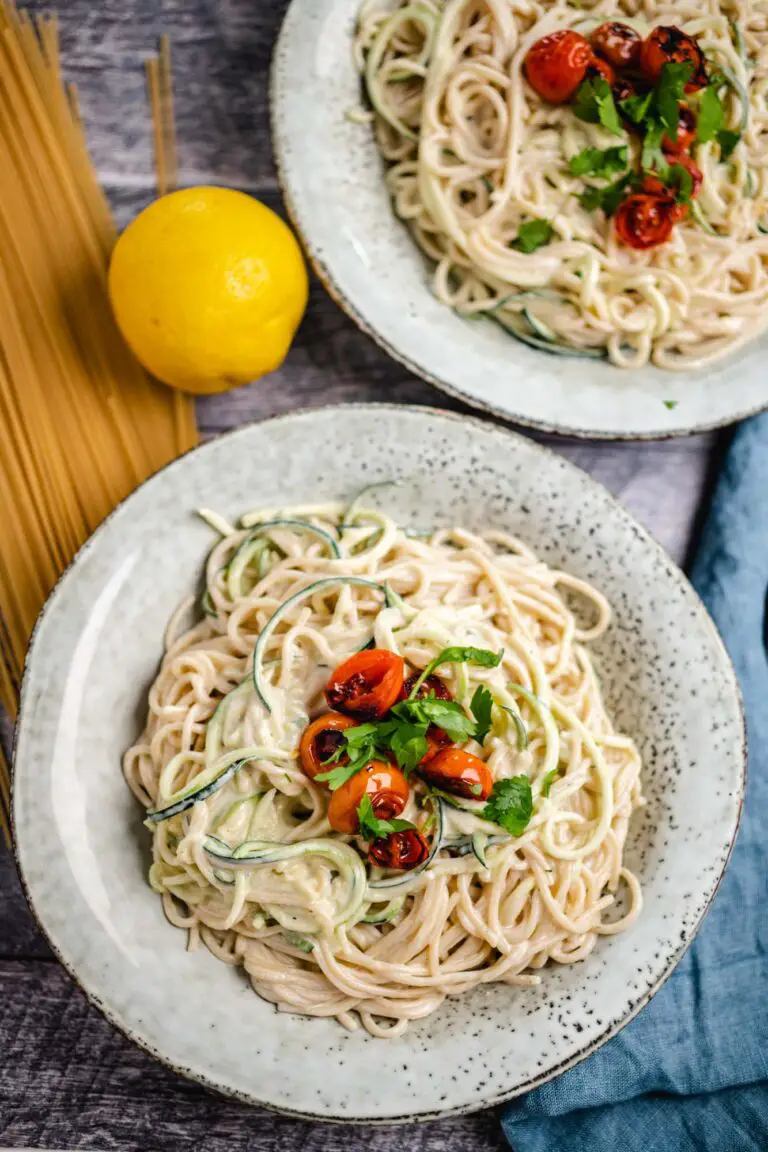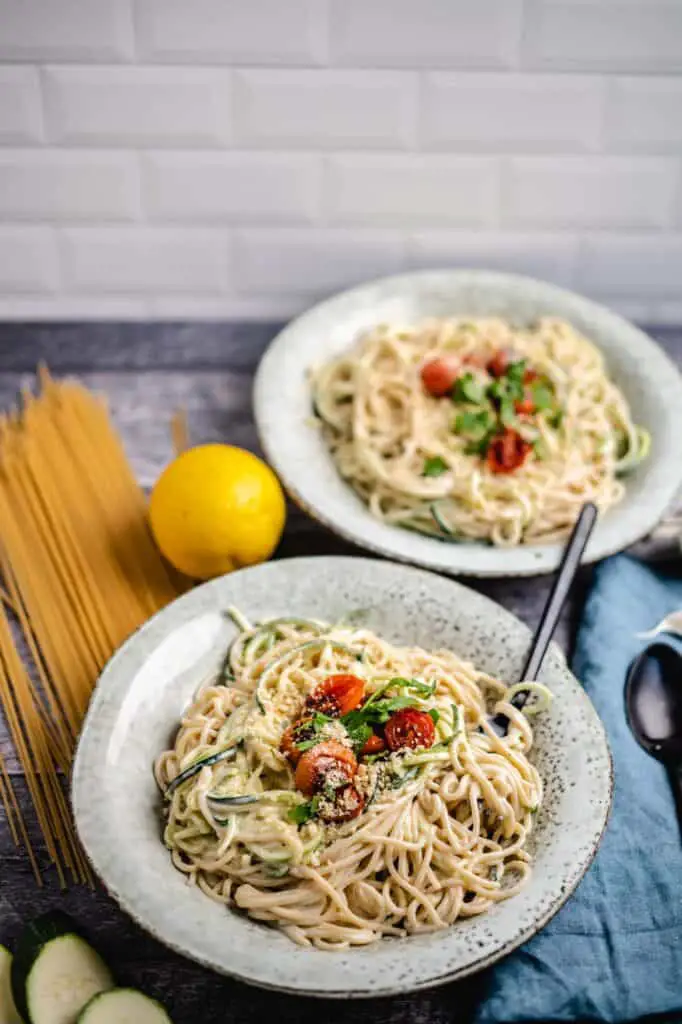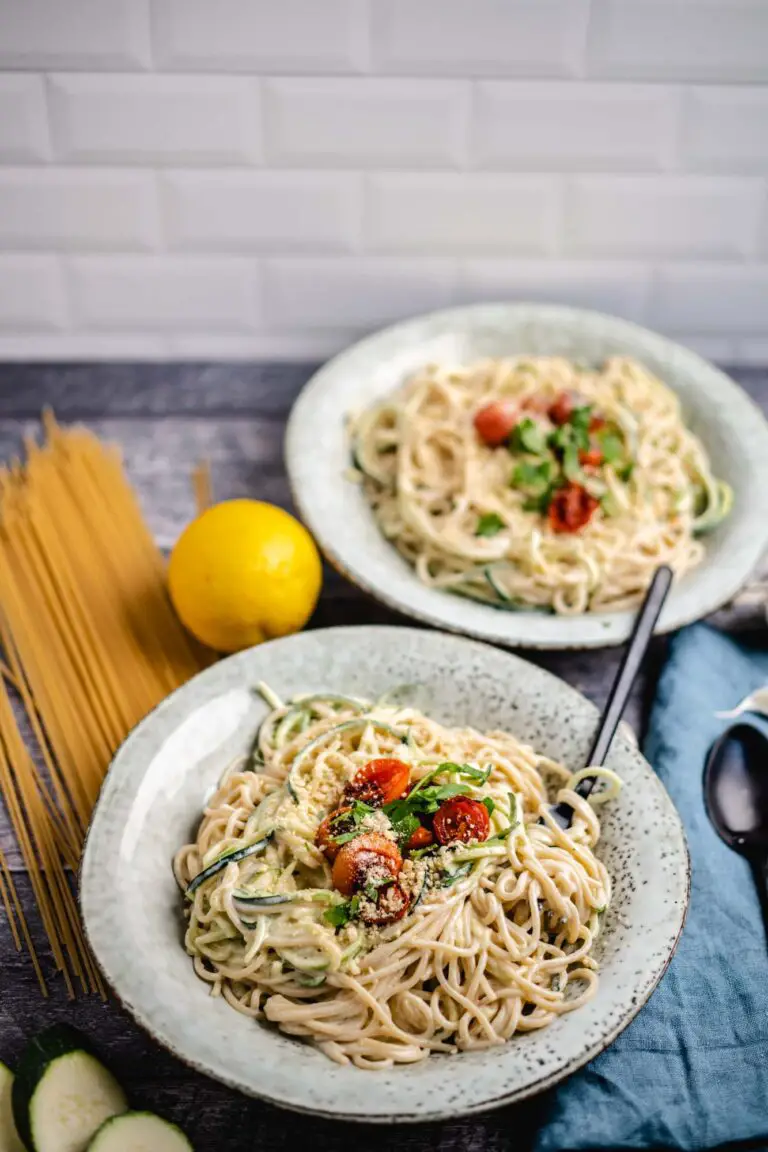 Today's recipe is made in three easy steps. First, cook the pasta of your choice. You can either use regular durum wheat spaghetti or a gluten-free variety. I chose emmer spaghetti for this recipe, a primal wheat variety.
Then it's on to the zoodles. I have a simple sprial slicer at home that works very well in theory, but after two or three zucchinis or cucumbers I feel like my arm is going to fall off. Well, you can also see it as training for the arm muscles. Anyway, I use two medium zucchini and I twist them through the spiral slicer.
The only thing missing is a delicious sauce. Here again my beloved cashews come into play. They come together with vegetable milk, nutritional yeast flakes, lemon juice, garlic, Dijon mustard, pepper and salt to taste. All of this goes together in the blender and is blended on high speed to make a creamy sauce. Finally, put everything together in a large bowl. Spaghetti, zoodles and the creamy sauce.
TIP: I usually buy cashews in a bulk pack from Rapunzel. The company supports a cooperative with women who are paid fairly for their work and have above-average working conditions. The nuts are organic & fair and also a tad more expensive. Personally, though, I think the extra price for such a good product is worth it if you can or want to spend it.
Low calorie vegan pasta dishes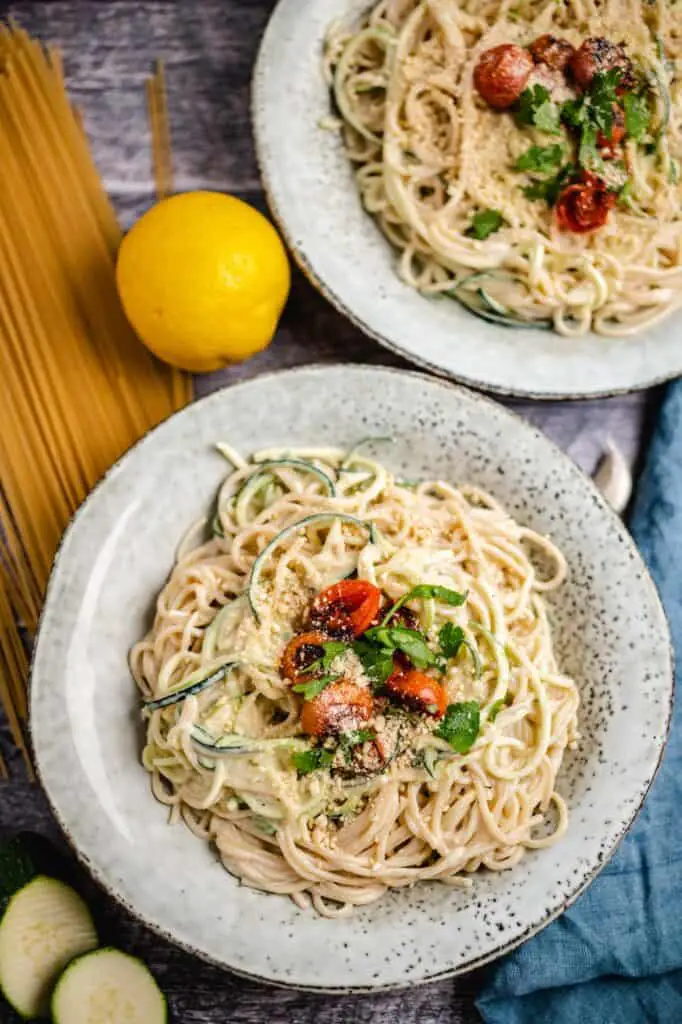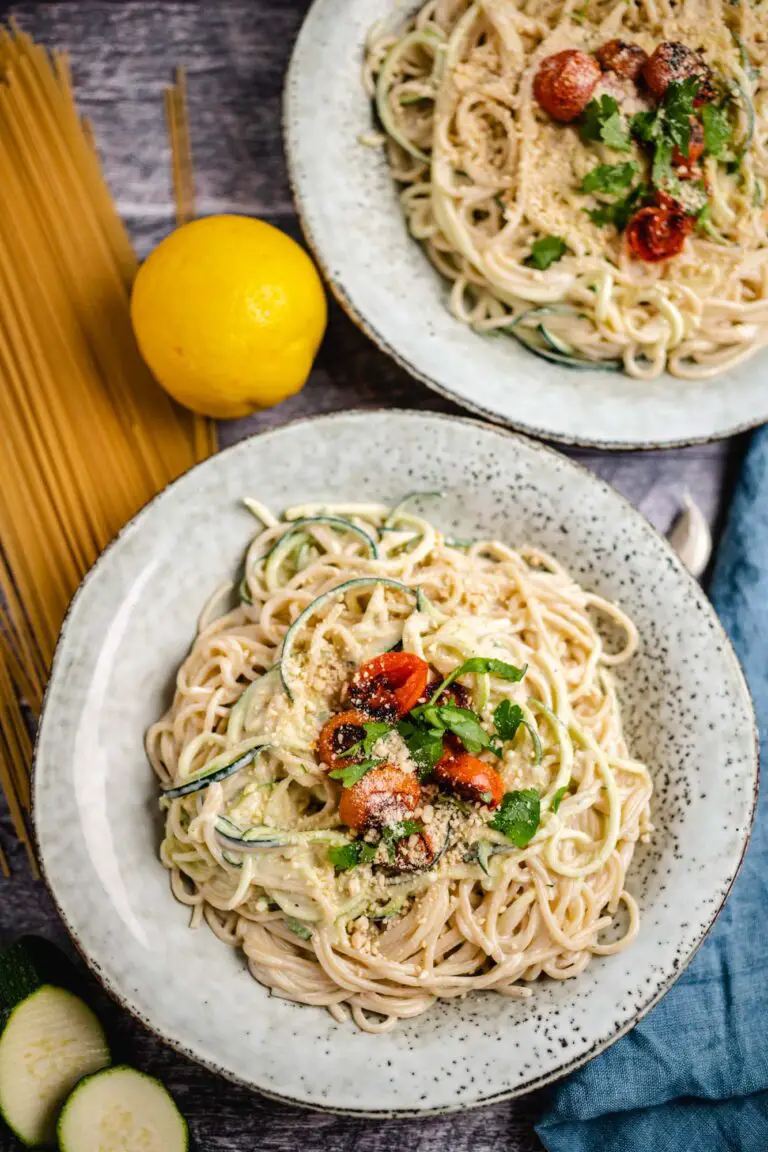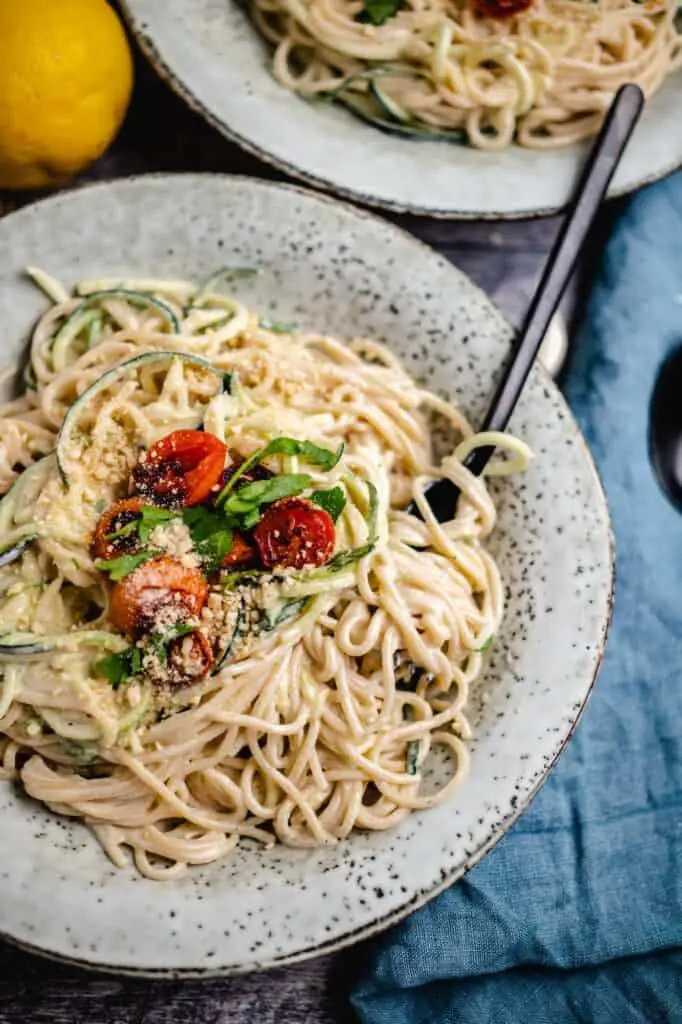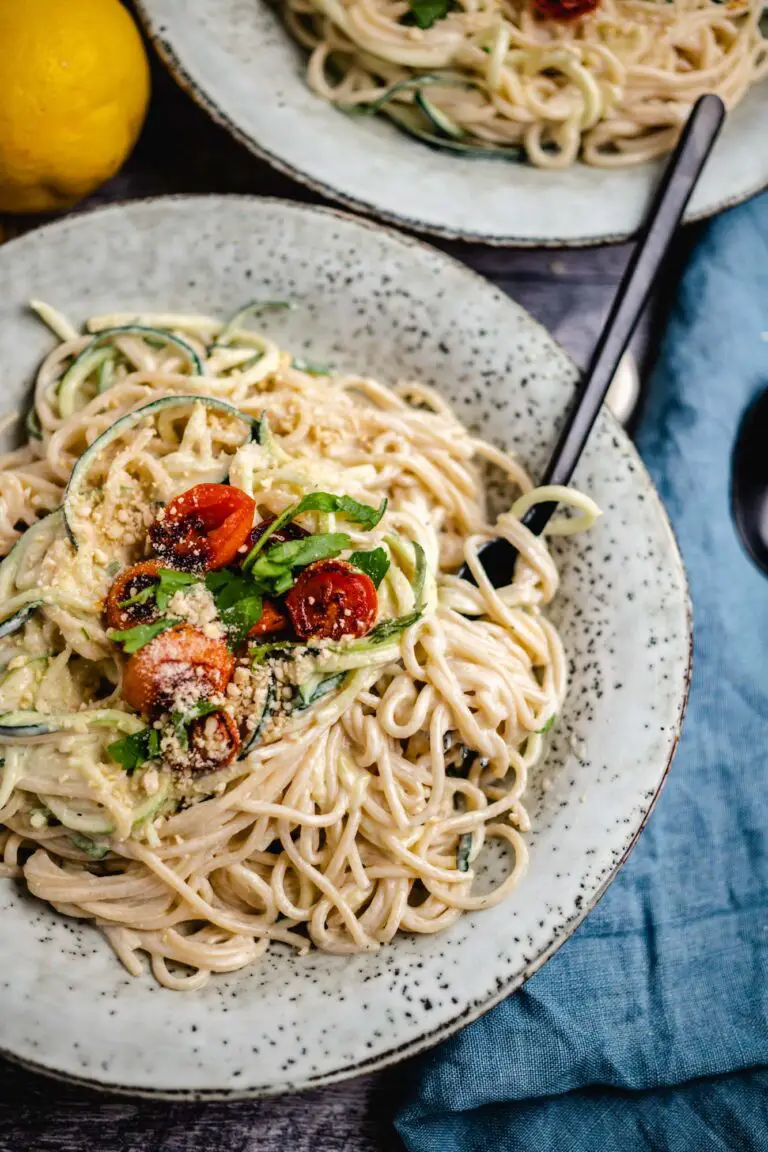 I think the idea of mixing zoodles with spaghetti is just brilliant, especially if you want to cut calories, or just make the dish a tad lighter. To add a little color, I sautéed a handful of cherry tomatoes in a little oil and added a few sprigs of lemon thyme to the pan. This gives a wonderful flavor and adds a nice splash of color to the dish. Otherwise, fresh basil and Parmesan cheese goes wonderfully with it.
Looking for another vegan pasta dish? Then I recommend you the following delicacies:
The zoodles with spaghetti are:
Reduced calories
creamy
Quickly made
filling
Mild-aromatic
Well, fancy a delicious vegan zoodles with spaghetti? I wish you a lot of fun in recooking and of course a review at the bottom of this page. If you post a picture, feel free to use the hashtag #veganevibes.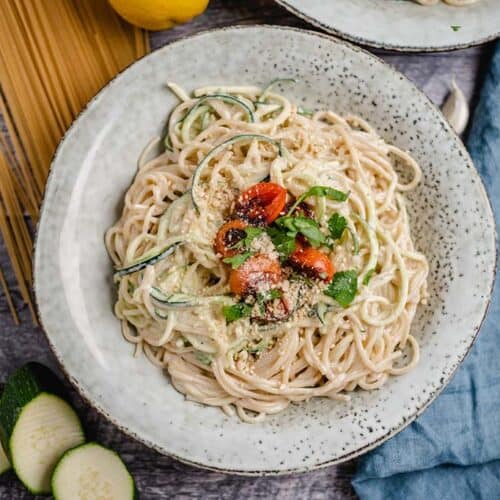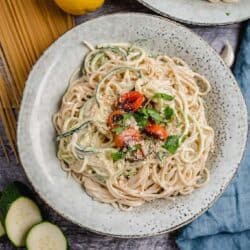 Vegan zoodles with spaghetti
Creamy, aromatic pasta made with zoodles and classic spaghetti. Creamy, quickly made with a great seasoning of nutritional yeast flakes and Dijon mustard. Perfect for every day, vegan, gluten-free and full of healthy ingredients. Vegan and low calorie.
AUTOR: VEGANEVIBES
Anleitung 
Cook pasta of choice (according to package directions) and set aside.

150 g Spaghetti of your choice

For the zoodles, provide a spiral slicer and twist the zucchini through the spiral slicer. Set aside.

FOR THE SAUCE Place cashews, garlic cloves, nutritional yeast flakes, Dijon mustard, lemon juice, oat milk, a little zest of an organic lemon, pepper and salt to taste in a high-powered blender and blend on high speed until a creamy sauce forms. Season and set aside.

80 g Cashew nuts,

2 Piece Garlic cloves,

2 EL Nutritional yeast flakes,

1 TL Dijon mustard,

200 ml Oat milk or other neutral plant milk of choice,

A little grated organic lemon,

Pepper to taste,

Salt to taste,

30 ml Lemon juice

FOR THE CHERRY TOMATOES Heat olive oil in a small pan, add cherry tomatoes and fry until hot. Turn heat down to medium, add lemon thyme sprigs and sauté for a few minutes.

15 ml Olive oil,

10 Piece Cherry tomatoes,

3-4 Branches Lemon thyme

Provide a large bowl. Add the pasta and zoodles and pour the creamy sauce over them. Mix well until everything is combined and heat again briefly until the cashew sauce thickens slightly. Remove from heat and divide into pasta plates.

Sprinkle with fresh basil (or other herbs of choice), cherry tomatoes and vegan parmesan and serve. Best fresh.

Vegan parmesan,

Fresh basil
Nährwertangaben
Serving:
1
Portion
Calories:
645
kcal
Carbohydrates:
88
g
Protein:
23
g
Fat:
27
g
Saturated Fat:
4
g
Polyunsaturated Fat:
4
g
Monounsaturated Fat:
15
g
Sodium:
84
mg
Potassium:
1084
mg
Fiber:
5
g
Sugar:
16
g
Vitamin A:
804
IU
Vitamin C:
50
mg
Calcium:
228
mg
Iron:
7
mg