Vegan Mac and Cheese au gratin is the answer for those who crave vegan oven meals. I love dishes from the oven and yet make them far too rarely because it always has to go fast. You know it with certainty, there is too much to do and then it should go very quickly in the kitchen. At the moment we are blessed with lots of snow here in Bavaria and I am over the moon. Finally I can ski down to the valley with the dogs here right outside the front door. Since 2017, there has not been a similarly good winter here in the area, so the joy is all the greater for that. What could be better than a warm oven meal after working out in the snow?
Mac and cheese vegan with cashews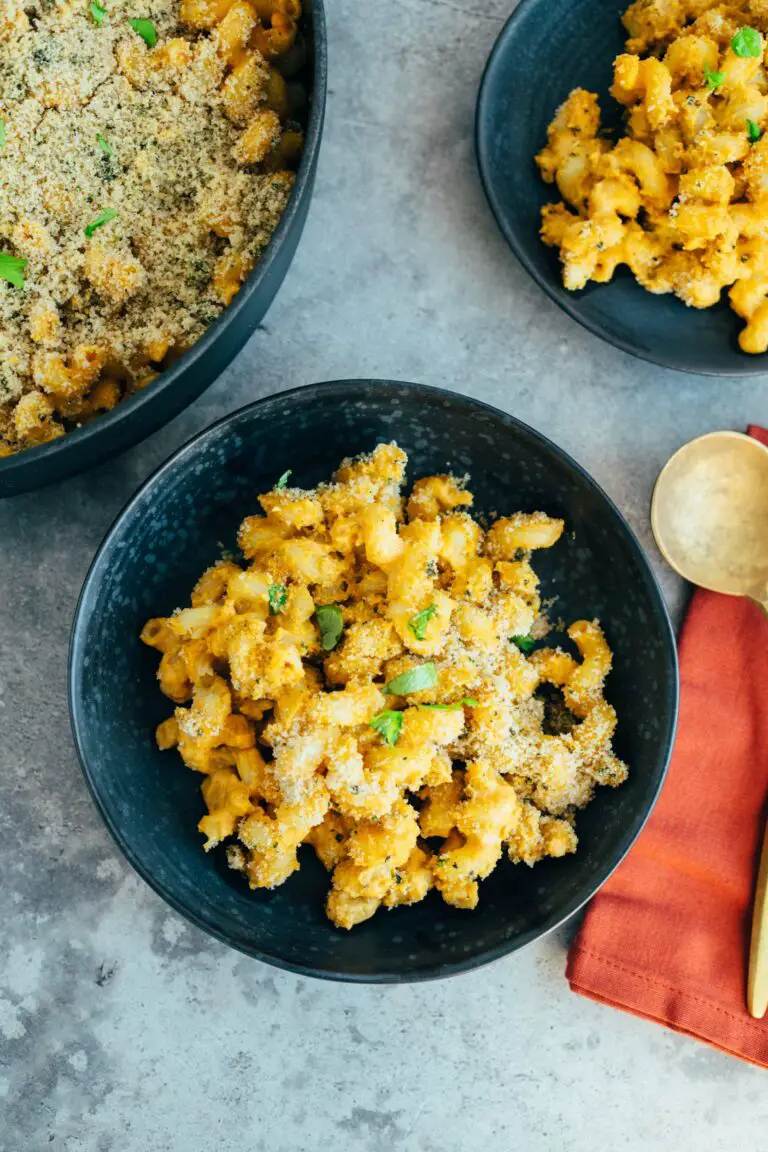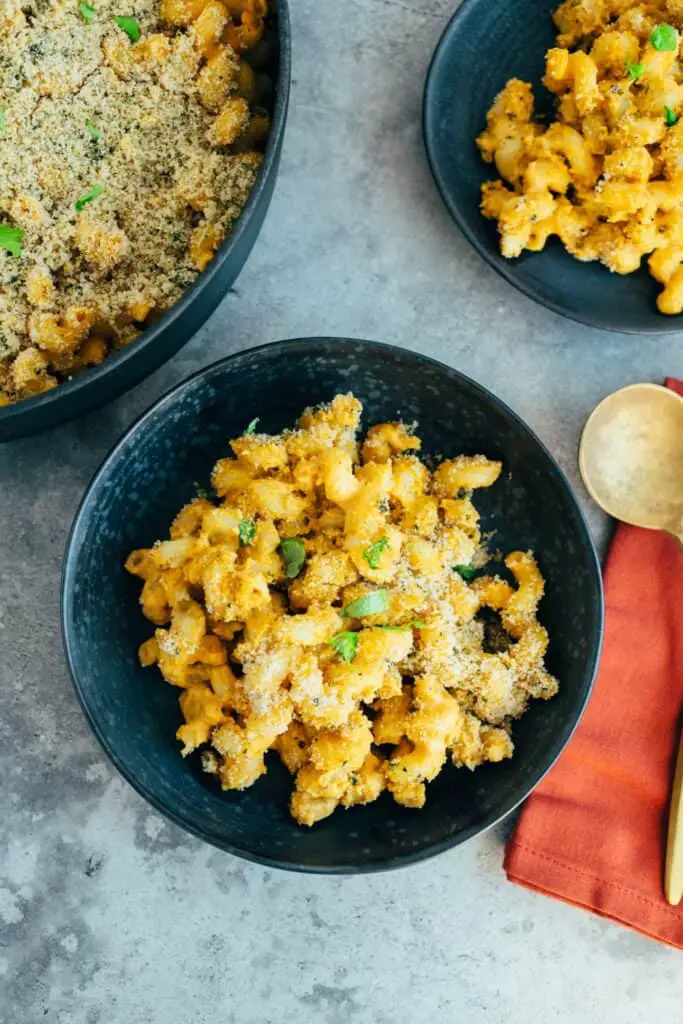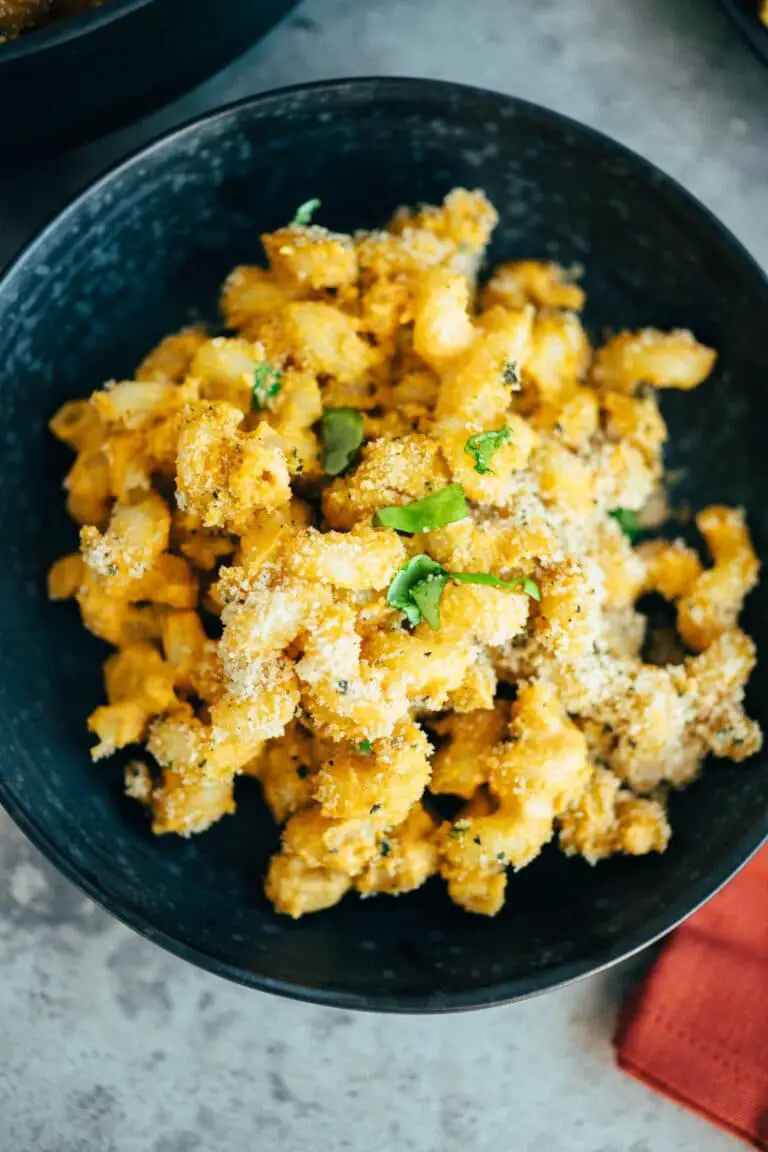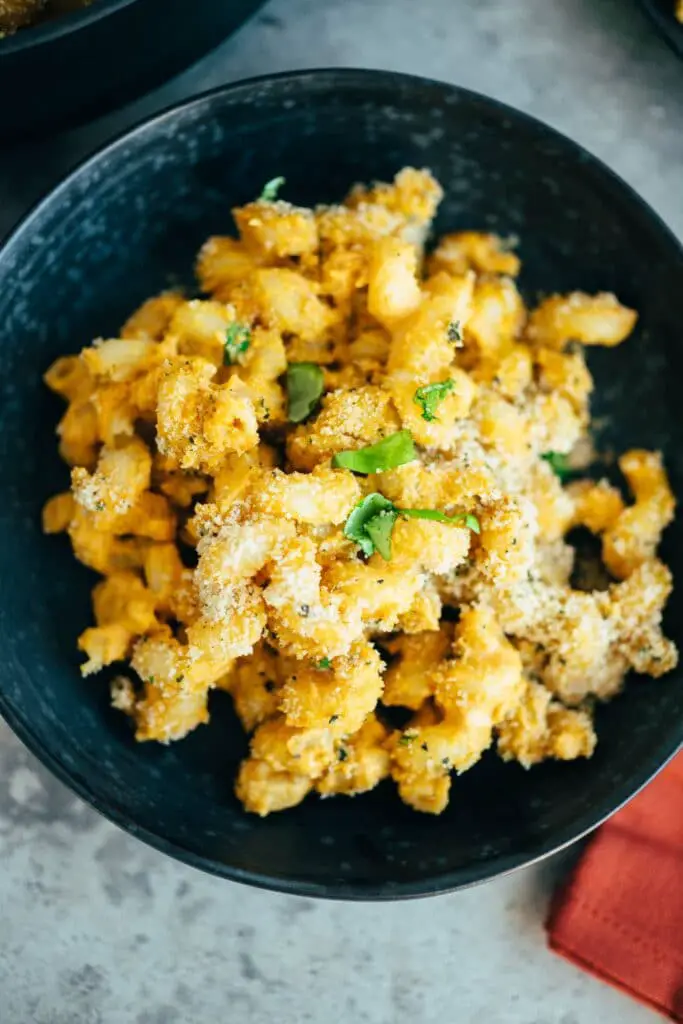 Meanwhile, there are already two vegan mac and cheese dishes on my blog, a pumpkin mac and cheese and an instant mac 'n cheese powder. I love both variants more than anything, but of course the gratinated version must not be missed in any case.
It is made in three steps, pre-cook the pasta , make the mac and cheese cheese sauce and mix together the topping. Then mix, layer and it's off to the oven. For the sauce we need a little oil (or vegetable broth if oil-free), carrot, onion, garlic cloves. This is briefly sautéed in a pan until translucent and a little toasted to activate the natural sugars in the vegetables and make them easier to blend. The vegetable mix from the pan then goes into the blender along with cashews, plant milk, mustard, lime juice, soy sauce, nutritional yeast, paprika, nutmeg, salt and pepper and is blended into a fine, creamy liquid. Optionally, I add more garlic granules and onion powder.
TIP: Reduce the cooking time of the pasta by 2-3 minutes when pre-cooking so that it still has a good bite after baking. If they are cooked too long beforehand, then they can quickly become too soft.
For the topping in this case I use a mixture of olive oil, breadcrumbs and pesto. If you like, you can always use a ready-made vegan cheese. If the dish is also to be gluten-free, look for gluten-free quality when choosing pasta and breadcrumbs.
Easy vegan mac and cheese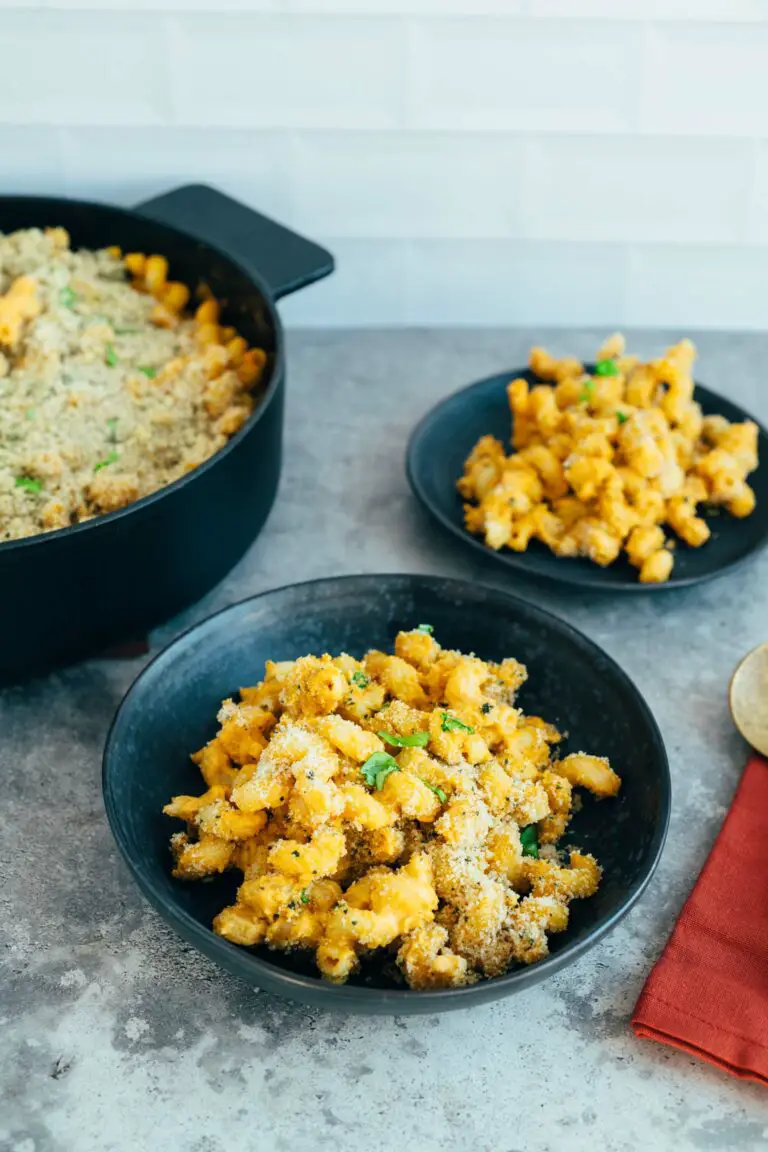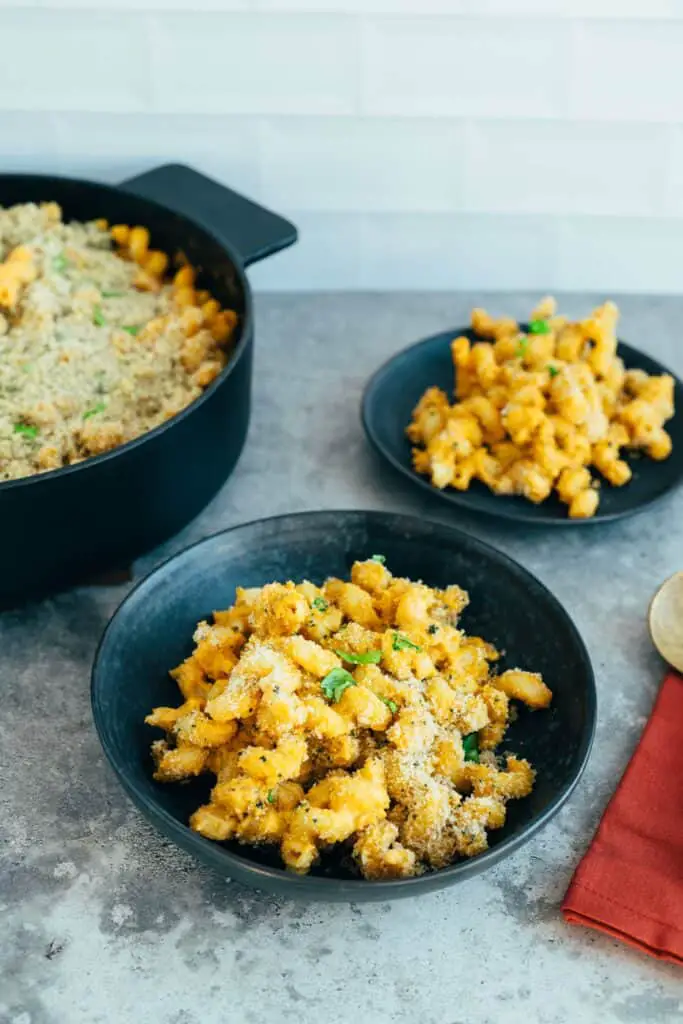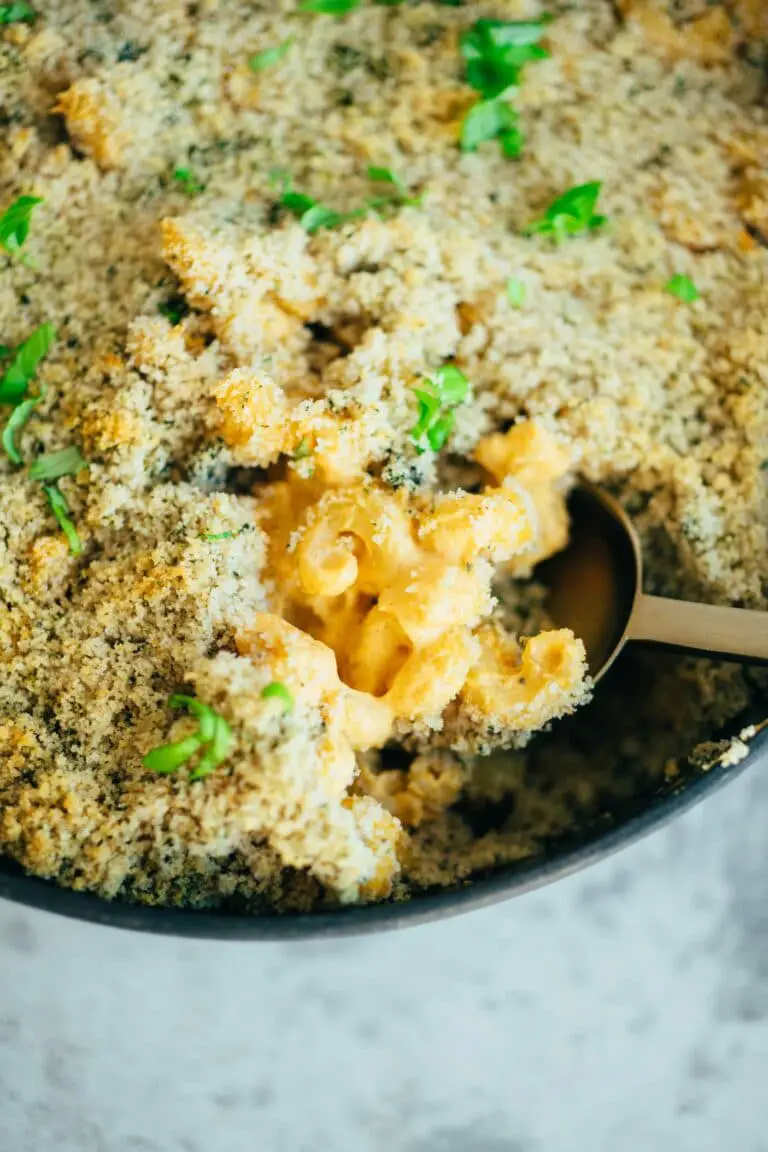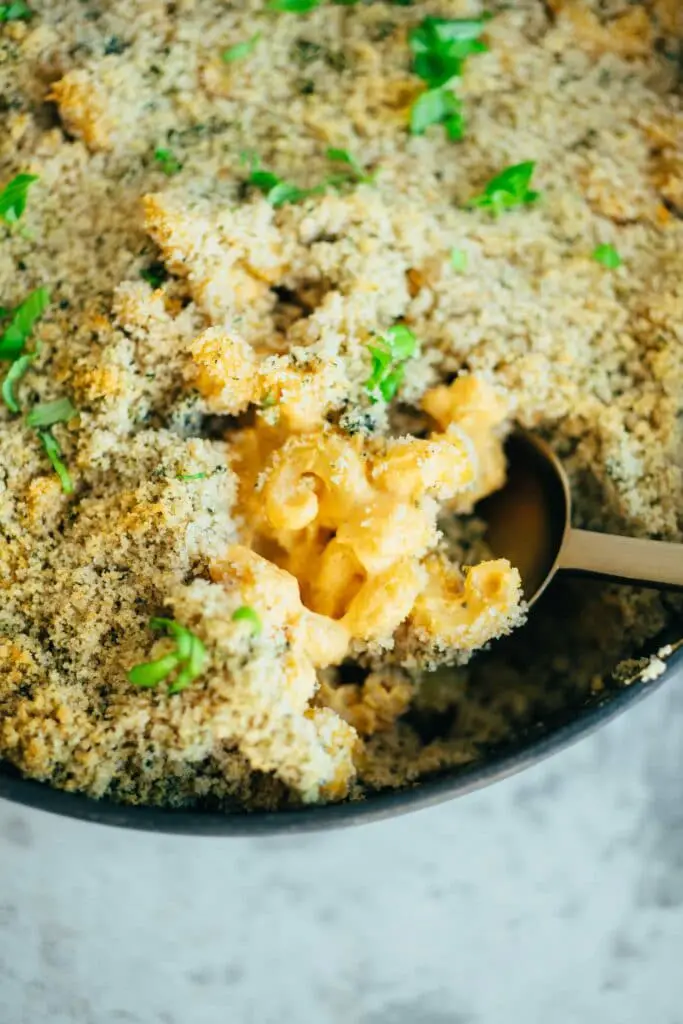 Once everything is prepared, we mix the pasta with the sauce, put it in a baking dish and top the whole thing with the fine breadcrumb-pesto mixture. Then it goes straight into the oven and bakes for 20 minutes. During this phase, I stand patiently in front of the oven and look in every few minutes to see if it is ready. In the meantime, I set the table and am startled with joy when the oven finally makes a loud beep. Meal time!
TIP: Remove dish from oven and let sit for 5-10 minutes. Then take with a clean portioning spoon on the baking dish and arrange on plates.
If you're in the mood for pasta today, but not mac and cheese, I recommend my Pasta alla Norma, High Protein Past a or Mexican Style Pasta.
The creamy mac 'n' cheese au gratin is:
creamy
Cheesy
Fine roasted flavors
filling
Easy to manufacture
I hope you enjoy recreating this delicious pastaand of course I'm happy to receive a review at the very bottom of this page. If you post a picture, feel free to use the hashtag #veganevibes.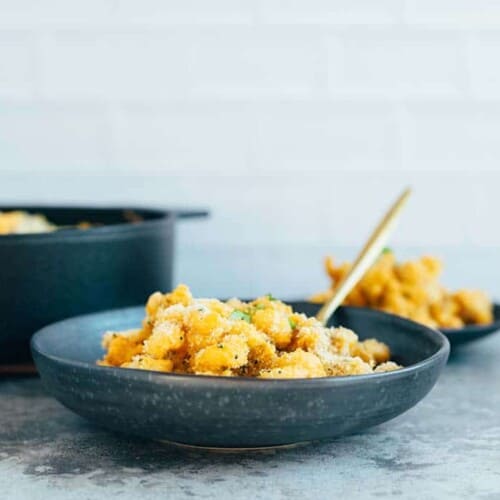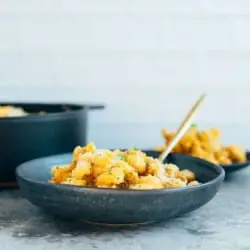 Creamy mac 'n' cheese au gratin
Creamy mac 'n' cheese au gratin, with simple ingredients and a topping of breadcrumbs and pesto. Lactose free, gluten free and darn tasty for the fall-winter season.
AUTOR: VEGANEVIBES
FOR THE MAC AND CHEESE SAUCE:
15

ml

Frying and baking oil

if oil-free, work with vegetable broth or water

2

Piece

Garlic cloves

finely chopped or pressed

1

Piece

large white onion

peeled and chopped

1

Piece

big carrot

peeled and cut into cubes

375

ml

Plant milk

150

g

Cashews

pay attention to sustainable quality

12

g

Nutritional yeast

2

tbspn

Paprika

1

tbspn

Sea salt

2

tbspn

spicy mustard

¼

tbspn

Nutmeg

Optional: onion powder
TOPPING:
155

g

Breadcrumbs

or breadcrumbs

45

ml

Olive oil

2

tbspn

Pesto

or 2 tsp Italian herbs

Fresh basil or parsley to taste

Optional: ready vegan cheese for gratinating
Anleitung 
Pre-cook pasta according to package instructions. Reduce cooking time by 2 minutes. Then strain, briefly rinse and set aside.

Heat the pan on a stove, put the frying oil. Add in the onion, garlic and carrots and sauté for 3-5 minutes until translucent. Be careful not to let it get too hot, otherwise the garlic can easily burn.

15 ml Frying and baking oil,

2 Piece Garlic cloves,

1 Piece large white onion,

1 Piece big carrot

Remove from heat and set aside.

Heat oven to 180 convection (200 degrees top and bottom heat).

FOR THE MAC AND CHEESE SAUCE Place vegetable milk, cashews, carrot-garlic-onion mixture, nutritional yeast flakes, onion powder (optional), paprika, salt, bell pepper, mustard, and nutmeg in a high-powered blender and blend on high speed for 60 seconds to make a smooth and creamy sauce.

375 ml Plant milk,

150 g Cashews,

12 g Nutritional yeast,

2 tbspn Paprika,

1 tbspn Sea salt,

2 tbspn spicy mustard,

¼ tbspn Nutmeg,

Optional: onion powder,

Black pepper to taste

Place fully cooked pasta in baking dish, pour Mac and Cheese Sauce over and stir until combined.

In a bowl, combine breadcrumbs (breadcrumbs), olive oil and pesto (or Italian herbs) and mix until well combined.

155 g Breadcrumbs,

45 ml Olive oil,

2 tbspn Pesto

Sprinkle over the mac and cheese in the baking dish and place in the oven.

Remove from oven, let set for 5 minutes. Portion onto plates, serve with desired accompaniments and enjoy!

Fresh basil or parsley to taste,

Optional: ready vegan cheese for gratinating

Store leftovers covered in the refrigerator for 1-2 days and heat up best in the steamer or with a sip of vegetable broth in the pot.
Nährwertangaben
Serving:
1
Portion
Calories:
583
kcal
Carbohydrates:
73
g
Protein:
19
g
Fat:
25
g
Saturated Fat:
6
g
Cholesterol:
1
mg
Sodium:
299
mg
Potassium:
474
mg
Fiber:
5
g
Sugar:
6
g
Vitamin A:
284
IU
Vitamin C:
5
mg
Calcium:
156
mg
Iron:
4
mg