Vegan Lentil Fesenjan is a cooperation with the company Müller's Mühle, which offers a variety of legumes in excellent quality. I opted for the Pardina Lentils and am looking forward to this simple and sophisticated recipe. Dishes with lentils don't have to be boring and offer a variety of options. I'm definitely a big lentil fan and enjoy trying different varieties. Green lentils, Beluga lentils, mountain lentils or as here, the fine Pardina lentils.
Article contains paid advertising
Vegan lentils fesenjan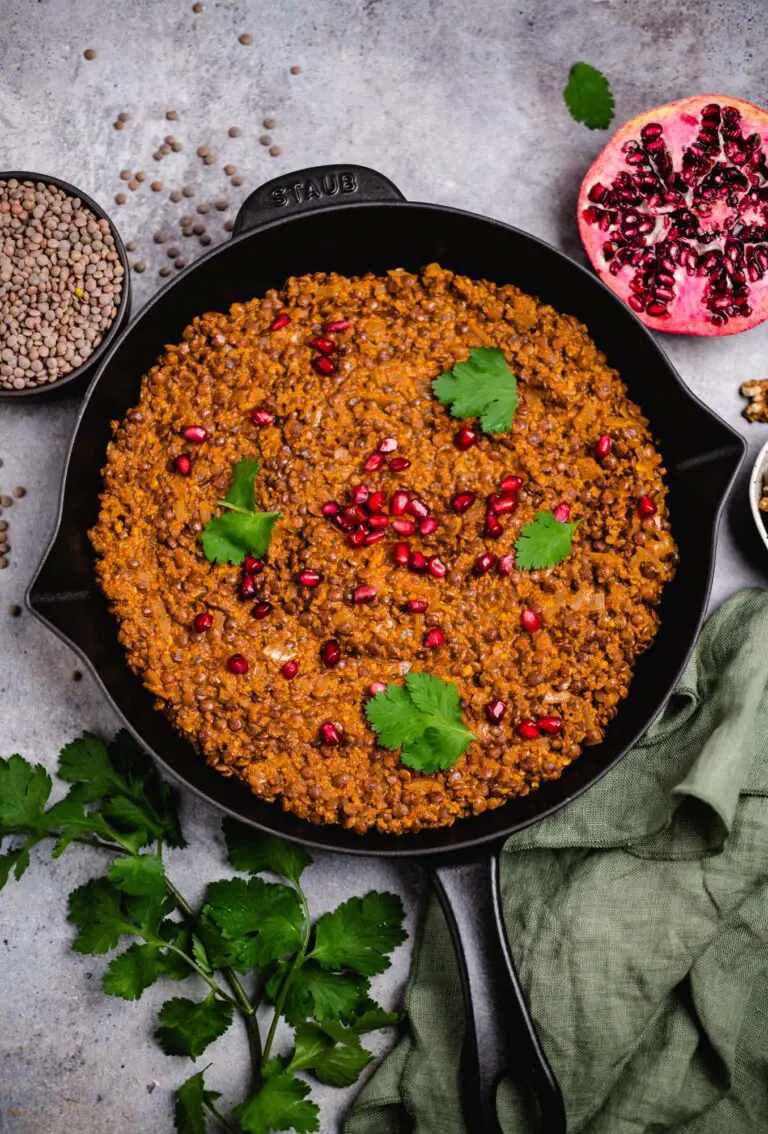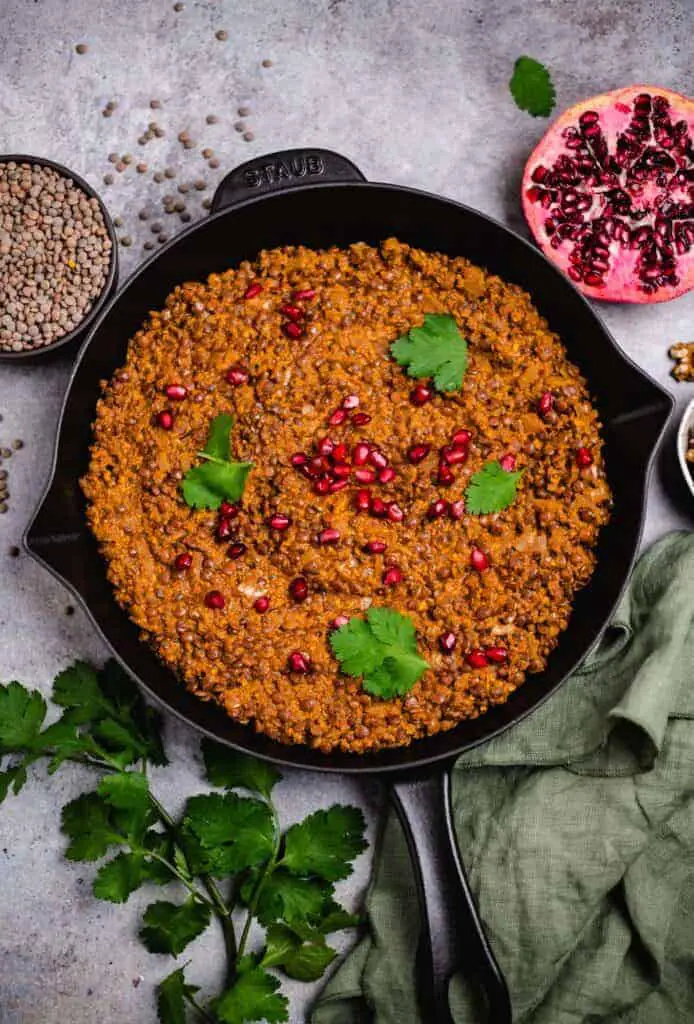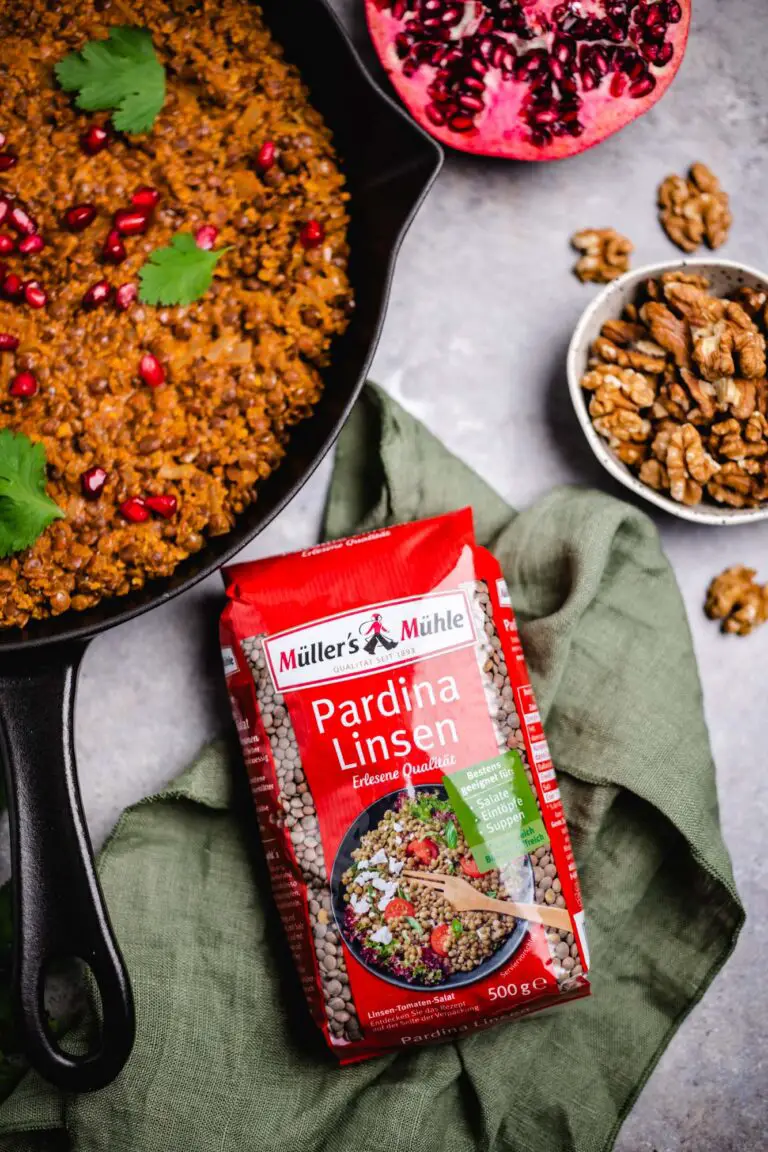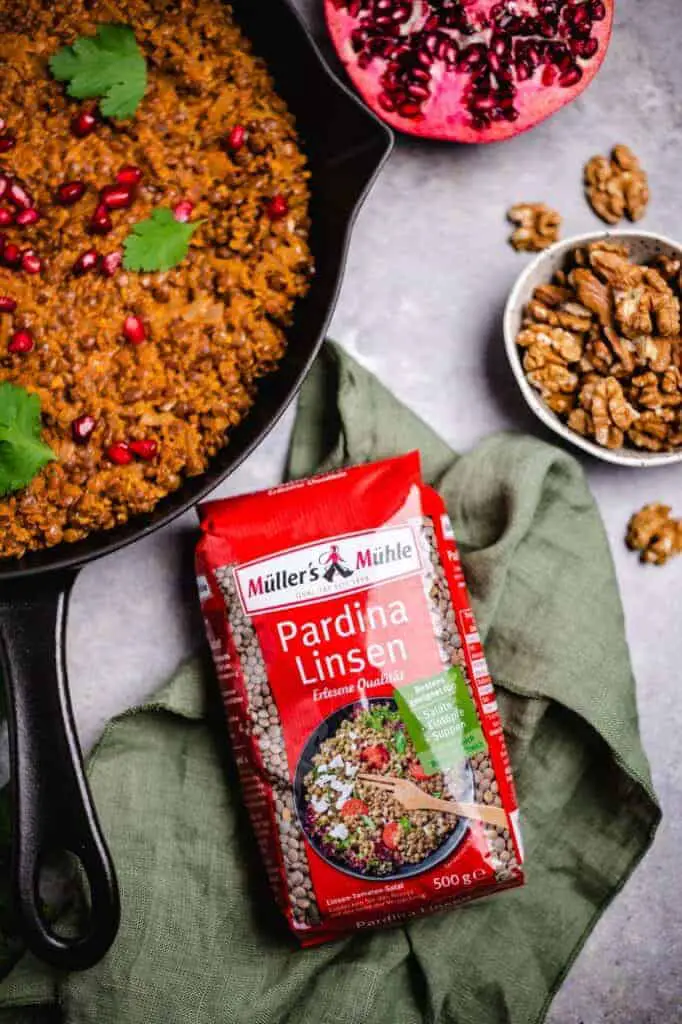 Let's talk about the main ingredient of this fine dish right away and that is the Pardina lentils from the company Müller's Mühle. They have a brown shell with yellow inside and are quite suitable for a vegan diet. The Pardina lentil is stable to cooking and remains firm to the bite without u disintegrating. It is rich in high quality vegetable protein and a very good source of iron. It is also particularly rich in fiber and contains little fat. The lentil variety scores with a high content of phosphorus, magnesium and thiamine, with a low salt content at the same time.
Pardina lentils are grown mainly in Spain, where they have a tradition of more than 800 years. The name Pardina comes from the Spanish "pardo" and simply means "brown". Americans simply call them "Spanish brown lentils." The main cultivation area of the Pardina lentil is in the Tierra de Campos, on the Castilian plateau. In addition to Spain, the lentil variety is also produced in the USA and around 20,000 tons of the popular lentil variety are harvested each year, with an upward trend.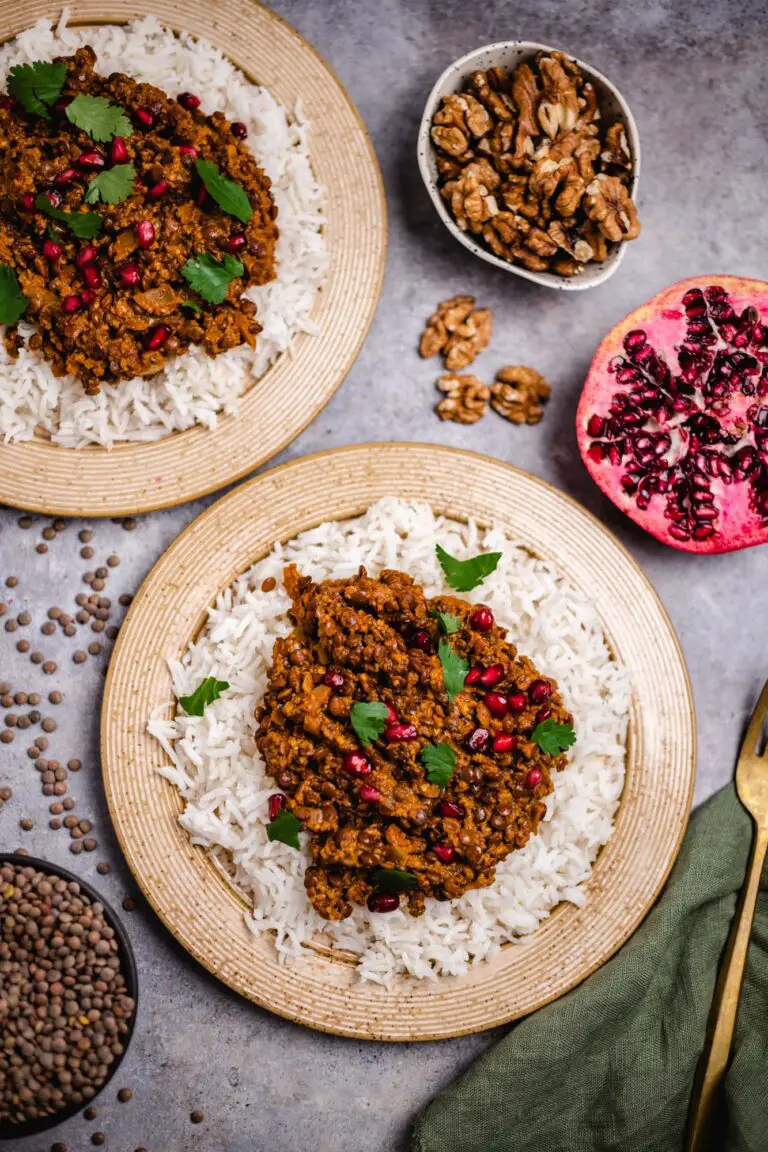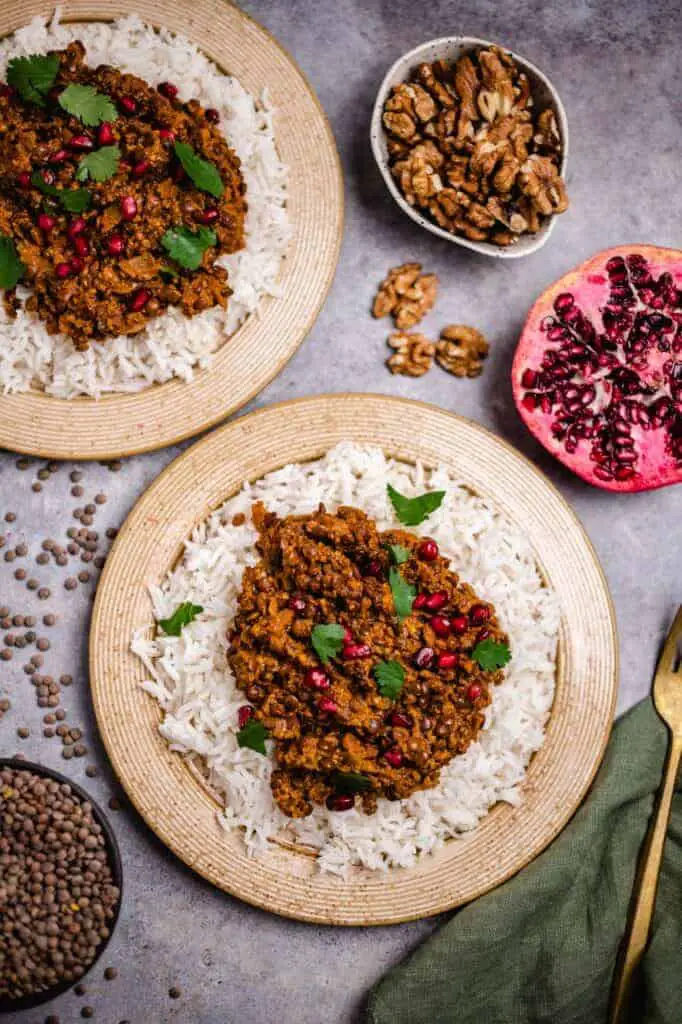 Müller's Mühle has been processing high-quality vegetable raw materials since 1893 and is located in Gelsenkirchen, Germany. The company offers natural cooking ingredients for a modern, plant-based diet. The products support a healthy lifestyle and offer numerous nutritional benefits, as they are particularly rich in protein and fiber. Müller's Mühle products make it easy to cook plant-based dishes, for sustainable enjoyment and natural joie de vivre.
The special quality is also reflected in the processing of the products and I am extremely satisfied with the quality of the legumes. Lentils, along with other legumes, are not only delicious and versatile, but also particularly sustainable. They have small nodules on their roots that are attached to bacteria that can convert nitrogen from the air into nutrient-rich compounds. Therefore, they can grow in particularly low nitrogen soils and provide important nutrients to the soil. By incorporating lentils into your diet, you're not only doing good for your health, but also for the planet's.
Vegan lentil dishes simple and fast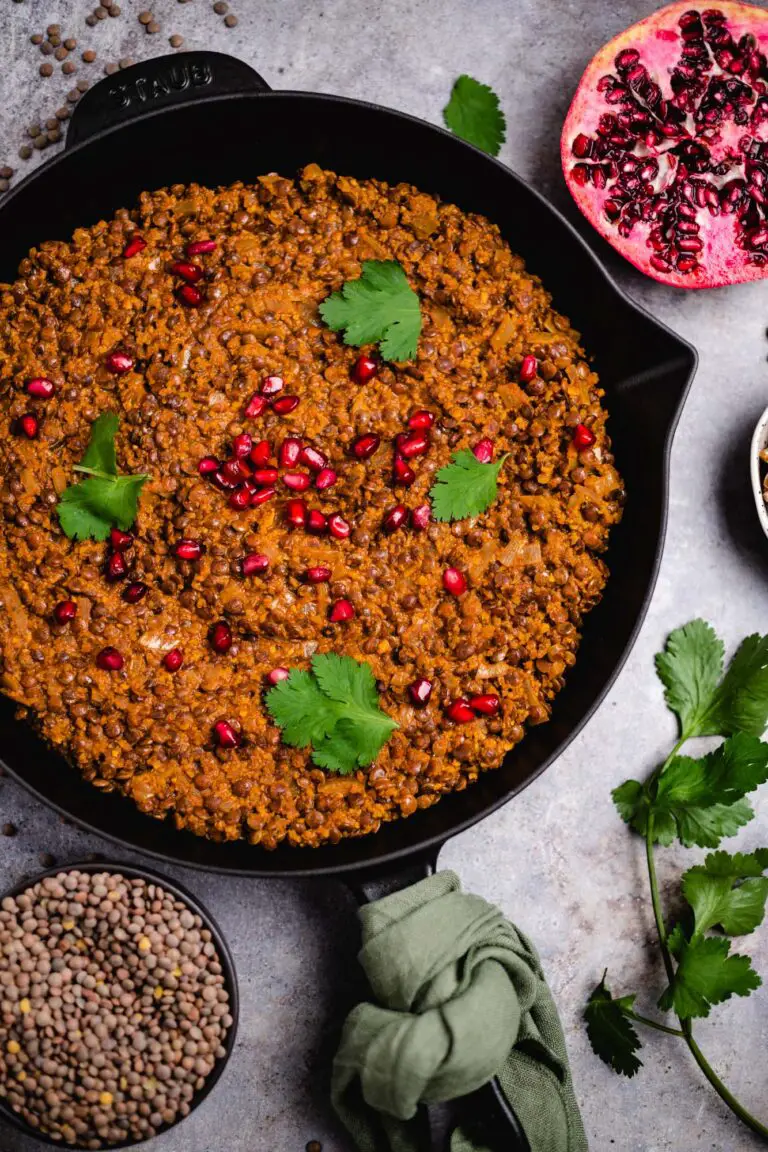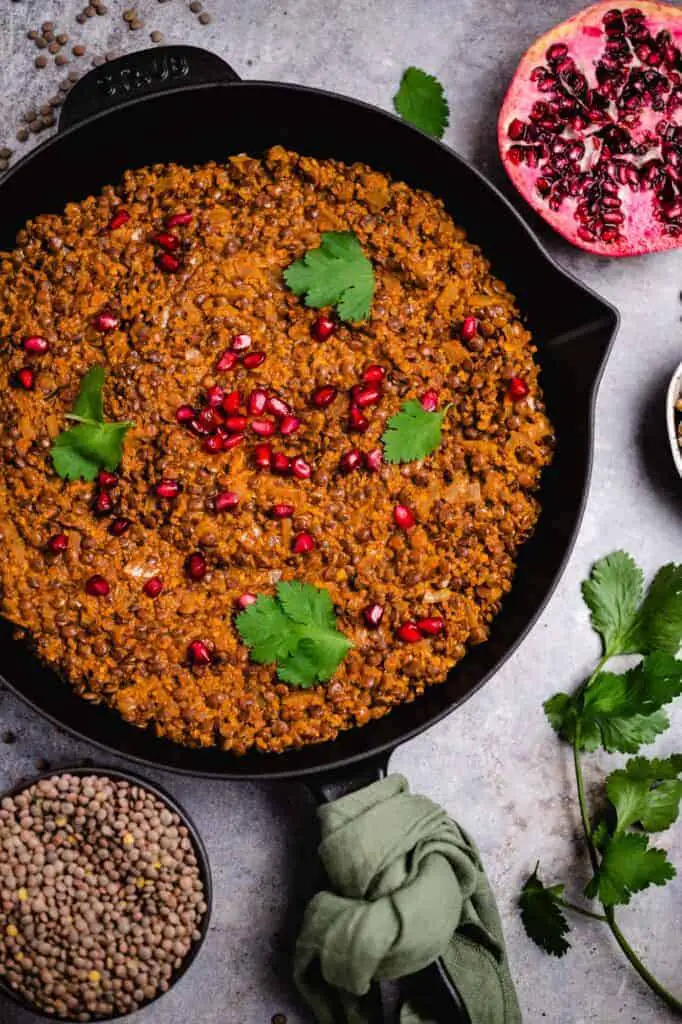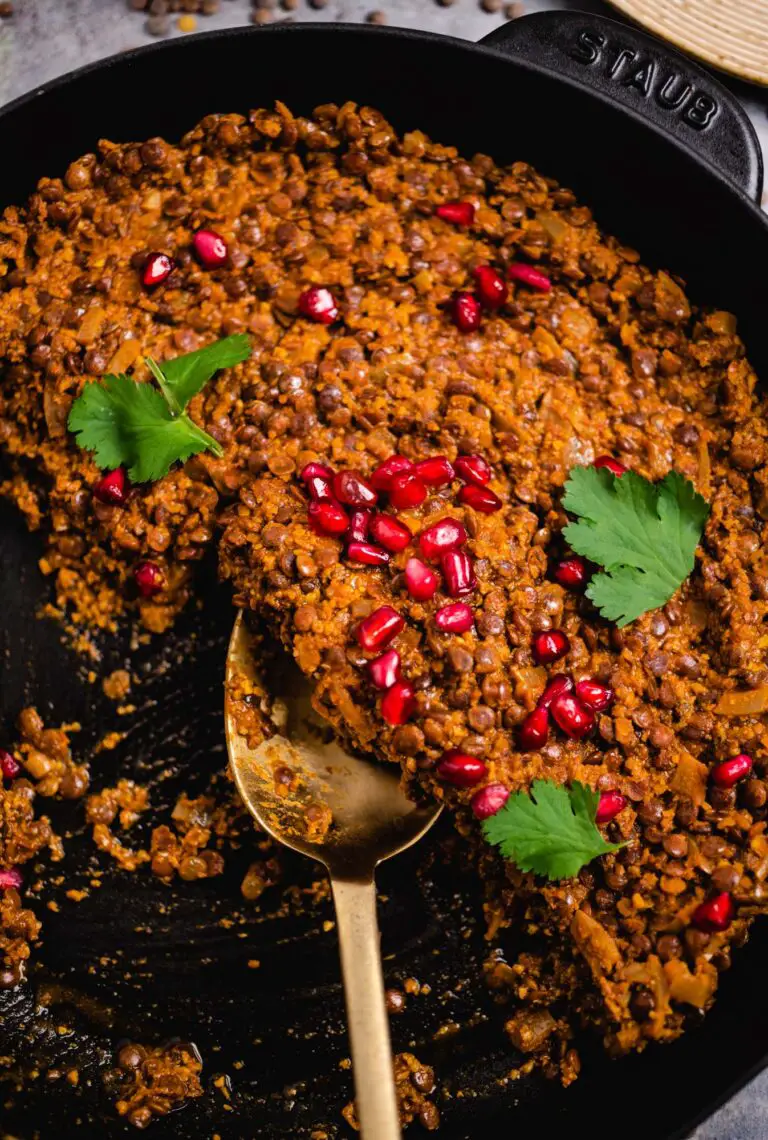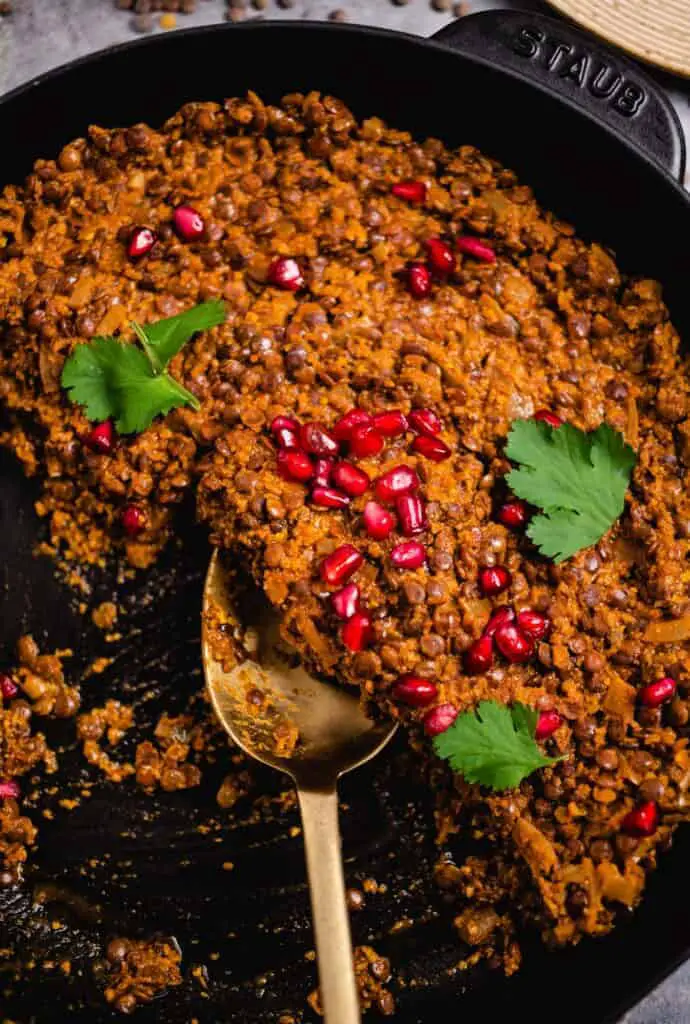 Today's dish originally comes from the Persian region and is mostly cooked with chicken. I simply replace it with these wonderful lentils. The combination of roasted walnuts and pomegranate syrup, which provides a fruity-tart note, is very fine. Cooking this recipe is quick and easy and it is also very suitable for beginners.
I serve it with basmati rice and top it with fresh pomegranate seeds and parsley. If you don't particularly like rice, you can serve it with quinoa, millet or another pseudo grain of your choice. For a low-carb version, I recommend cauliflower rice as a side dish.
TIP: Pardina lentils do not need to be soaked. Simply boil them with three to four times the amount of water and after 20-40 minutes (depending on the degree of bite you want) they are ready!
If you are looking for another quick and healthy recipe with lentils today, I have the following suggestions for you:
The vegan fesenjan is:
aromatic
High protein
High fiber
filling
Easy to make
Craving this healthy, hearty dish with savory lentils? I wish you a lot of fun in recooking and of course a review at the bottom of this page. If you post a picture, use the hashtag #veganevibes.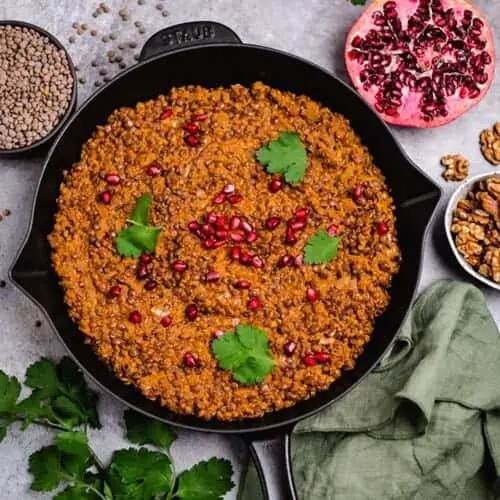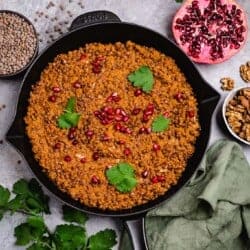 Vegan lentils fesenjan
Fancy a hearty lentil dish with an oriental flair? This fine fesenjan will delight you, with roasted walnuts, lentils, pomegranate syrup and fine spices. Traditional Persian cuisine interpreted plant-based. Vegan, high in fiber and full of flavors.
AUTOR: VEGANEVIBES
TO SERVE:
Basmati rice

Fresh parsley

Pomegranate seeds
Anleitung 
TIP: If you soak the lentils overnight, you will reduce the cooking time from 30 to 20 minutes.

Preheat oven to 175 degrees (convection) or 195 degrees top-bottom heat and line a baking sheet with baking paper or a permanent baking mat.

Spread walnuts evenly on baking sheet and place in oven. Roast for

10 minutes

. Keep in mind not to burn the nuts. Remove from the oven and let cool. Place in a blender and process to a coarse flour. Set aside.

In the meantime, make the pomegranate syrup(this step is omitted if ready-made pomegranate syrup is used). To do this, put a cup of pomegranate juice (250ml) in a small saucepan and bring to a boil. Turn heat down to medium and simmer

for

about

25-30 minutes

until the juice has reduced to about ⅓ of the original amount. Remove from heat and set aside.

3 tbspn Pomegranate syrup

Provide a large pot, heat olive oil in it. Add onion, onion, salt, pepper, tomato paste, turmeric and cinnamon and stir. Add the lentils and deglaze with vegetable stock. Simmer for about

20 minutes

until the lentils are soft but still firm to the bite.

15 ml Olive oil,

1 Piece yellow onion,

½ tbspn Salt,

½ tbspn Pepper,

30 g Tomato paste,

1 tbspn Turmeric,

½ tbspn Cinnamon,

600 ml Vegetable broth,

205 g Pardina lentils

Add pomegranate syrup, walnut flour and maple syrup, stir and season to taste.

3 tbspn Pomegranate syrup,

15 ml maple syrup

Store leftovers in an airtight container in the refrigerator for up to 4 days (without rice) or freeze in portions.
Notizen
*Calorie calculation without side dishes
Nährwertangaben
Serving:
1
Portion
Calories:
404
kcal
Carbohydrates:
41
g
Protein:
17
g
Fat:
21
g
Saturated Fat:
2
g
Polyunsaturated Fat:
12
g
Monounsaturated Fat:
5
g
Sodium:
712
mg
Potassium:
695
mg
Fiber:
18
g
Sugar:
6
g
Vitamin A:
460
IU
Vitamin C:
4
mg
Calcium:
62
mg
Iron:
5
mg