Soup with sweet potatoes and red lentils is a real boon for cold and uncomfortable days like these. They are uncomfortable mainly because you virtually do not get to see the sun. Maybe you're luckier, but in our latitudes you can count the hours of sunshine in recent months on one hand. This is exactly why I love soups in bright colors, like this delicate, creamy version with red lentils and sweet potato. Admittedly, I wasn't always a big sweet potato fan, but since I've been eating a plant-based diet, it's been making its way onto the table more and more often.
Soup with sweet potatoes and red lentils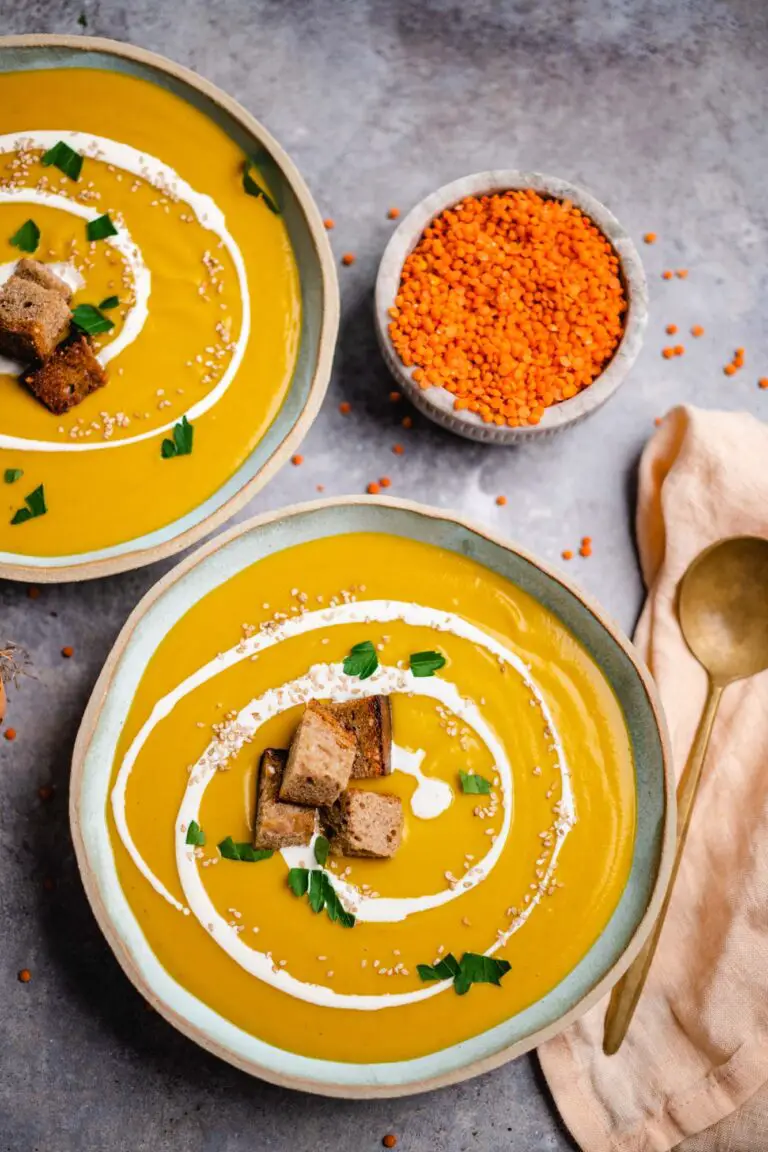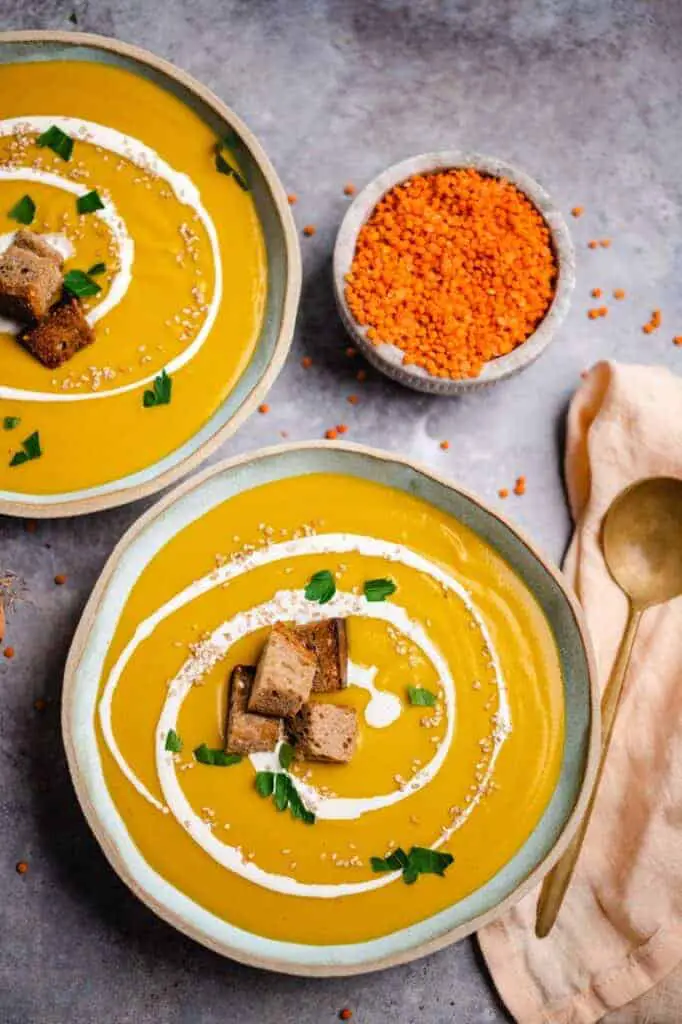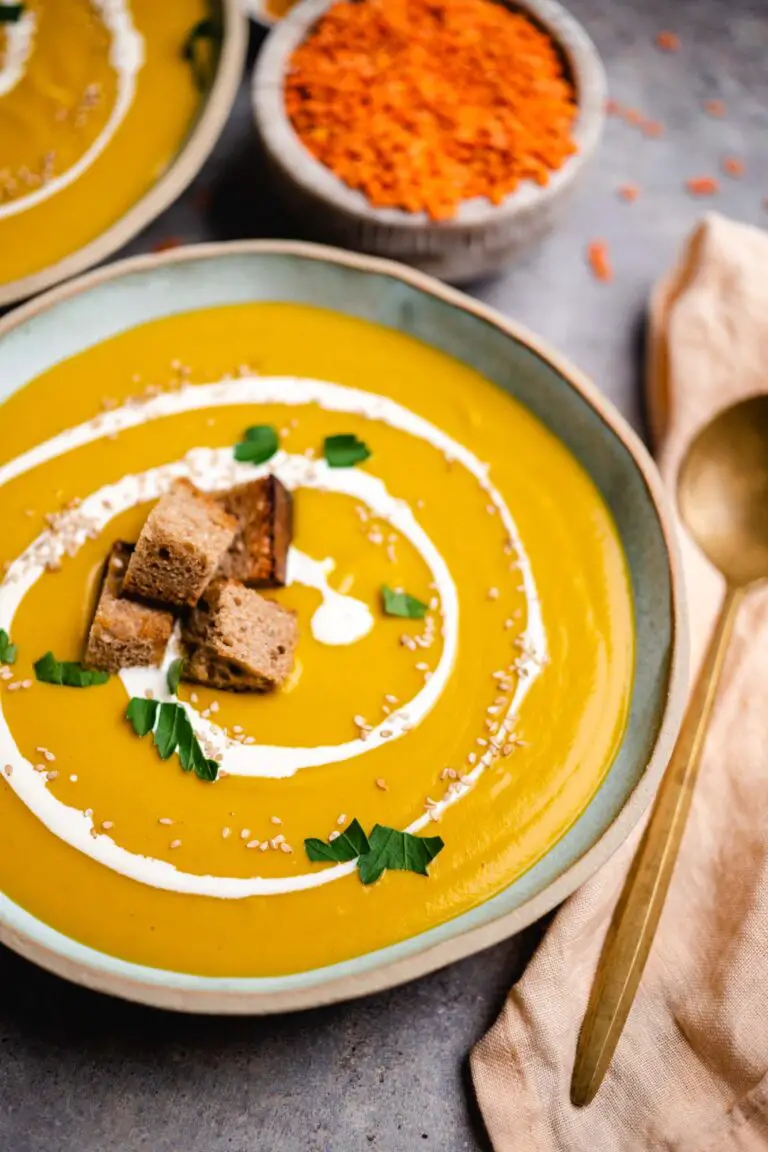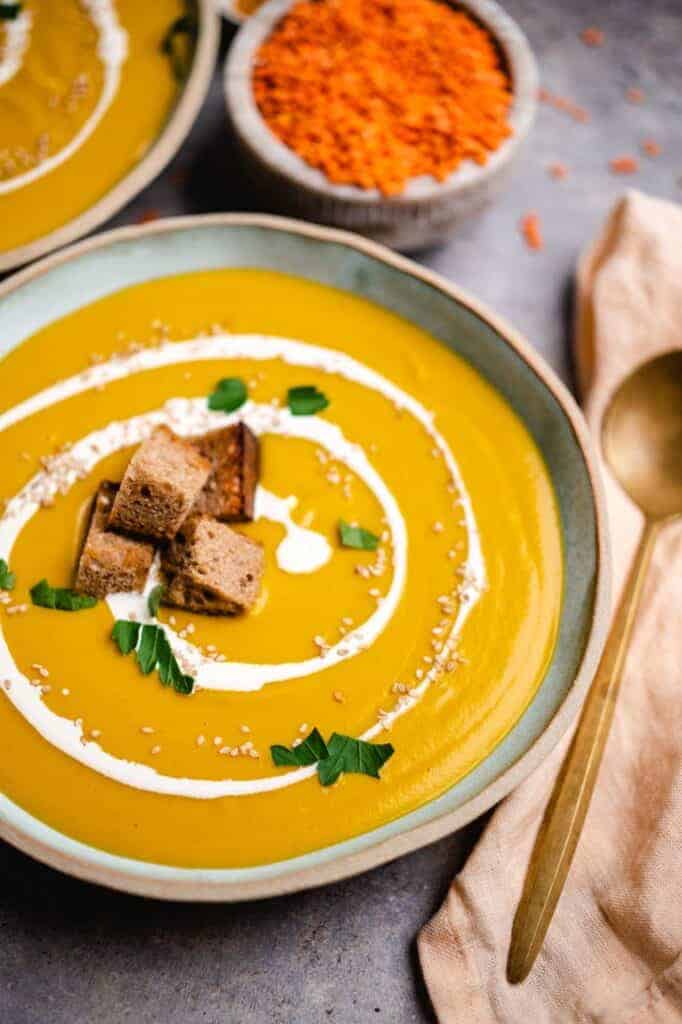 The soup is easy to make and features subtle roasted flavors. Namely, the sweet potato is sliced and roasted in the oven. This gives it a very delicate flavor, unlike when it is fried in oil. While it is allowed to stew in the oven wrapped in a little olive oil and salt, I prepare the soup with the red lentils.
To do this, put some olive oil in a large pot. Onion and garlic are sweated and stewed until translucent. Add the red lentils, curry powder, turmeric and cinnamon. Deglaze with fine coconut milk and a little vegetable broth or water. That's all, because now the soup is allowed to simmer until the lentils are cooked. At the very end, I put the roasted sweet potatoes and lentils in a high-powered blender and puree them very finely. Now you get to decide how creamy or runny the soup can be and thin it accordingly. Here, water or vegetable broth is best suited for this purpose.
Vegan soups easy to make yourself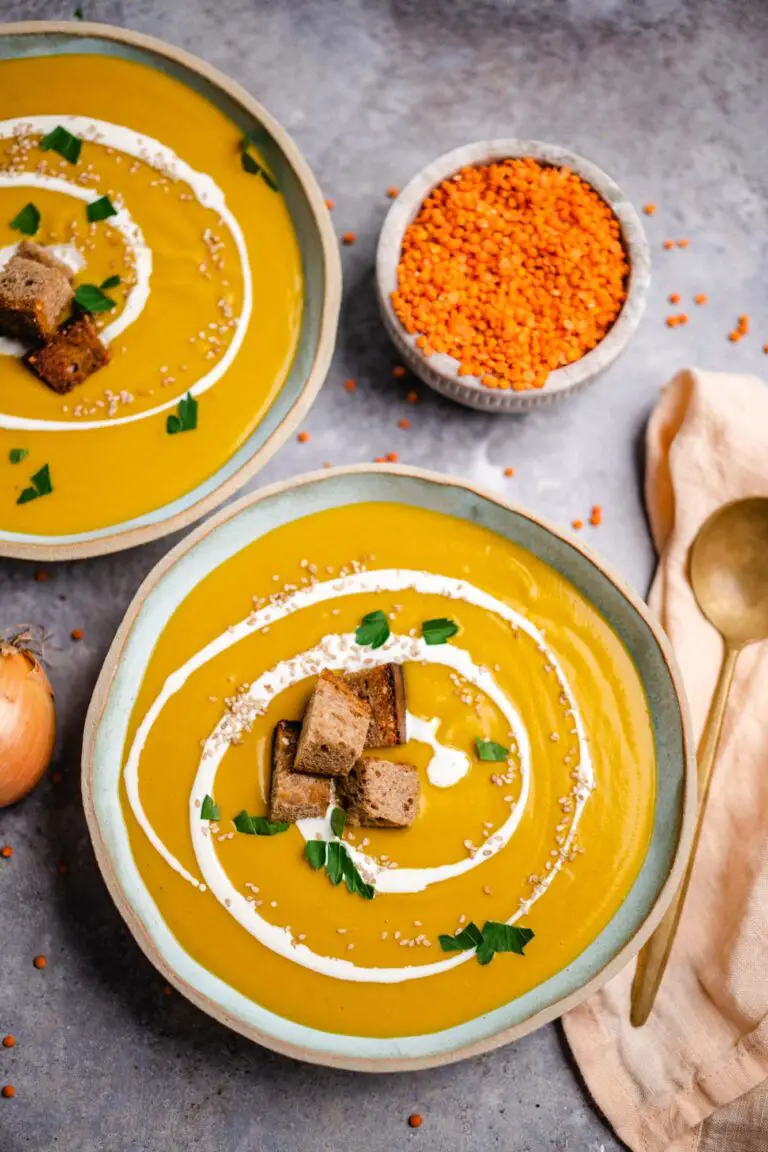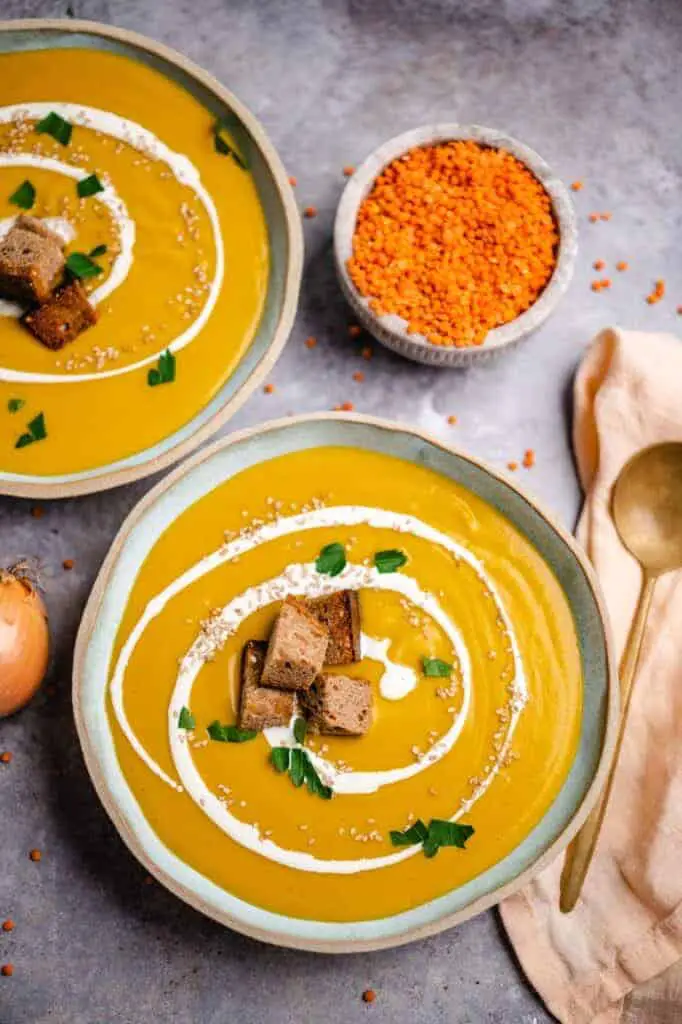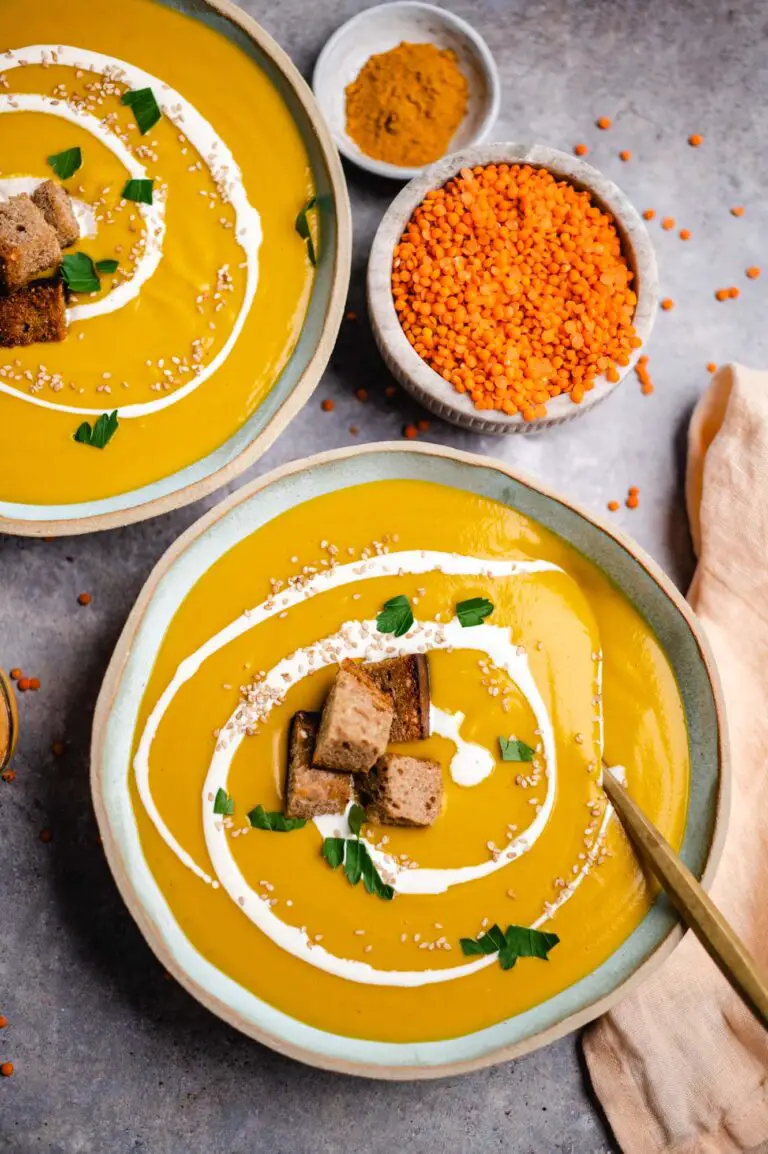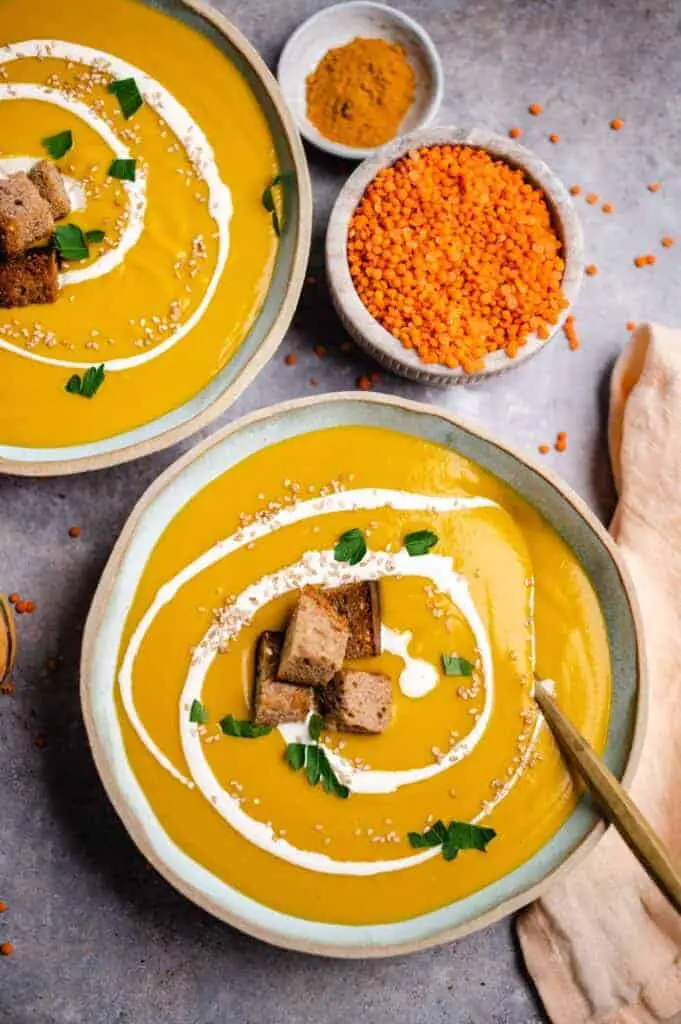 Vegan soups are simply fun and delicious. I prefer to refine them with toasted croutons from bread. This also usually fits quite well, because there is always a piece left over and so finds a useful use.
A few more lines about the star of our dish today, the red lentils. They are particularly rich in iron and high-quality vegetable protein. In addition, there is valuable dietary fiber, which is especially crucial for our microbiome. The good bacteria in the intestine love indigestible food components and produce short-chain fatty acids. These in turn are indispensable for healthy intestinal flora, immune system and metabolism. Red legumes are also high in bioactive substances such as saponins, flavones and phenolic acid, which can lower cholesterol and protect against cancer.
This soup is simply ideal for cold and dreary winter days. If you're in the mood for a different, warming soup today, I recommend the following recipes:
The soup with sweet potatoes and red lentils is:
Warming
aromatic
creamy
filling
Quick and simple
Are you ready the delicious and tasty, vegan and warming soup? I wish you a lot of fun in recooking and of course a review at the bottom of this page. If you post a picture, use the hashtag #veganevibes.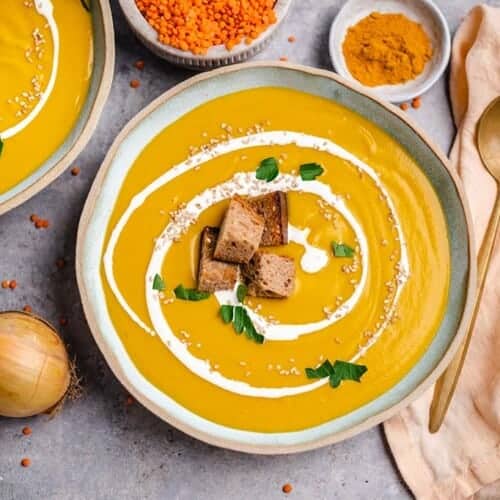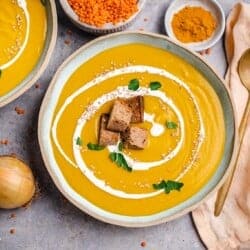 Soup with sweet potatoes and red lentils
Quick, warming and creamy soup, ideal for the cold, dreary winter days. Sweet potatoes and red lentils meet fine coconut milk and curry. Quick to make, vegan and gluten-free. Together with crunchy croutons, a real treat for the soul.
AUTOR: VEGANEVIBES
FOR THE REST OF THE SOUP:
TO SERVE:
Bread croutons

Fresh parsley

Sesame

Vegetable cream
Anleitung 
FOR THE SWEET POTATOES Preheat oven to 175 degrees convection (195 degrees top-bottom heat) and line with a baking paper or permanent baking mat. Place sweet potato slices, olive oil, and salt in a large bowl and stir until well combined. Spread evenly on baking sheet, place in oven and roast for 30 minutes.

2 Piece large sweet potatoes,

15 ml Olive oil,

A strong pinch of salt

FOR THE REST OF THE SOUP heat a large pot with oil on the stove. Add the onion and garlic, stir and sweat for a few minutes. Add red lentils and continue to sweat. Add curry powder, turmeric, cinnamon and salt and continue stirring.

15 ml Olive oil,

1 Piece Onion,

2 Piece Garlic cloves,

100 g red lentils,

2 tbspn Curry powder,

1 tbspn Turmeric,

½ tbspn Cinnamon,

Salt to taste

Deglaze with coconut milk.

Add vegetable broth and lemon juice and simmer, covered, over medium heat for 20 minutes until lentils are tender.

500 ml Vegetable broth,

30 ml Lemon juice

Place soup in a blender (or use a blender) along with the roasted sweet potatoes and puree until smooth. Season to taste and add salt if necessary.

Divide into plates, garnish as desired and enjoy!

Bread croutons,

Fresh parsley,

Sesame,

Vegetable cream,

Chili flakes

Keeps up to 2 days covered in the refrigerator, frozen up to 4 weeks. Is very suitable for reheating.
Nährwertangaben
Serving:
1
Portion
Calories:
344
kcal
Carbohydrates:
20
g
Protein:
7
g
Fat:
28
g
Saturated Fat:
21
g
Polyunsaturated Fat:
1
g
Monounsaturated Fat:
5
g
Sodium:
339
mg
Potassium:
442
mg
Fiber:
7
g
Sugar:
3
g
Vitamin A:
236
IU
Vitamin C:
7
mg
Calcium:
28
mg
Iron:
3
mg