Vegan Nougat Chocolate Eggs My Loved Ones is the answer to everyone who wants healthier Easter eggs. I'm definitely one of them and love every variation of chocolate eggs imaginable. If you look around the supermarkets, you'll find tons of sweet stuff, from eggs to Easter bunnies to Easter bread. If you take a closer look at the labels, you will quickly notice that there are all kinds of additives in the products that you really don't want. That's why I prefer to make my own sweets, because then I can decide exactly what goes into them. With these sweet eggs, you can certainly argue whether they are the healthiest or not, but at least they taste good. Let's get going so they can still finish on time.
Vegan nougat chocolate eggs for Easter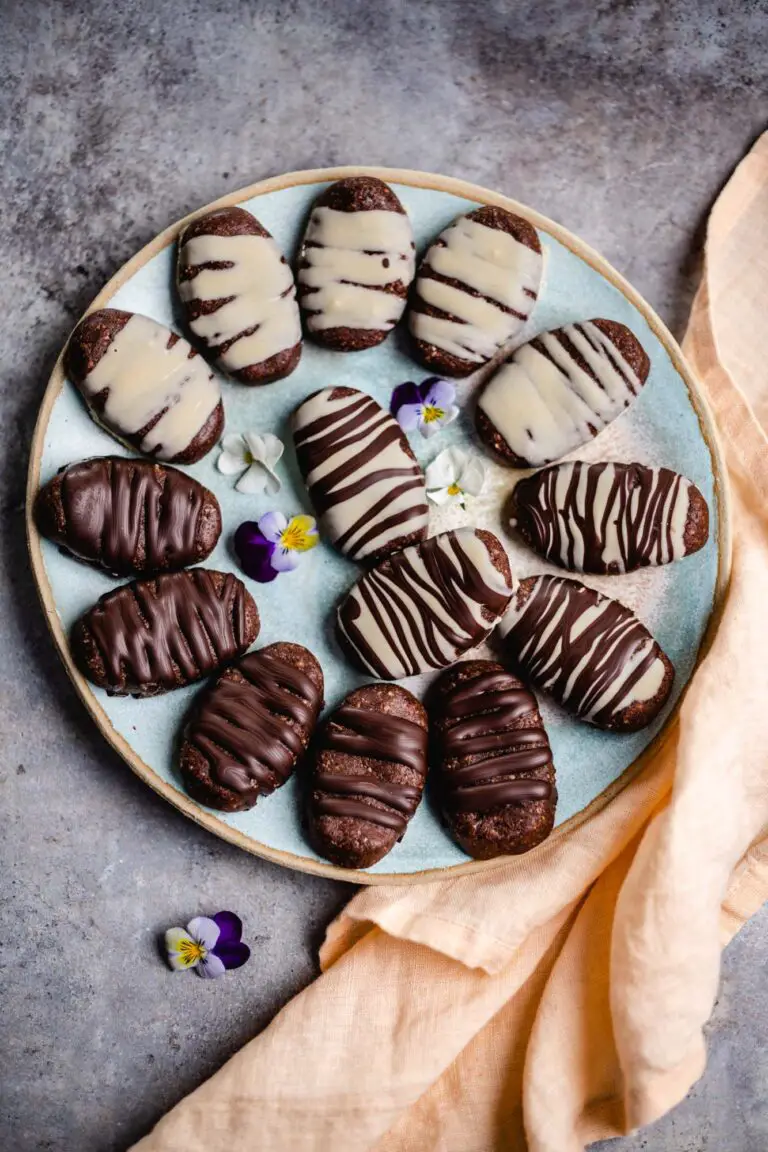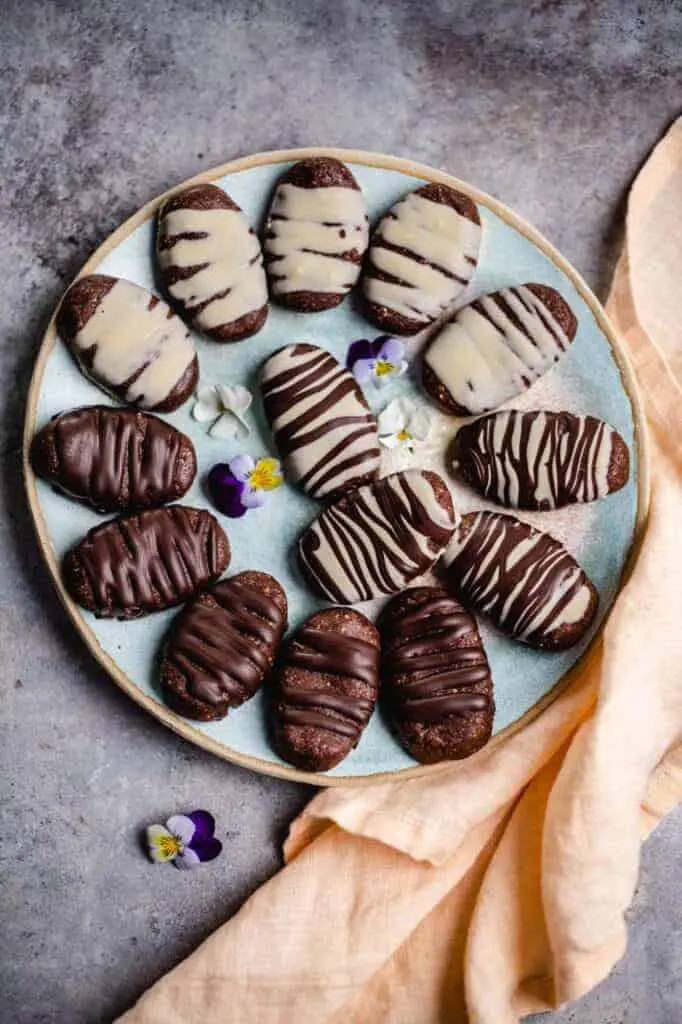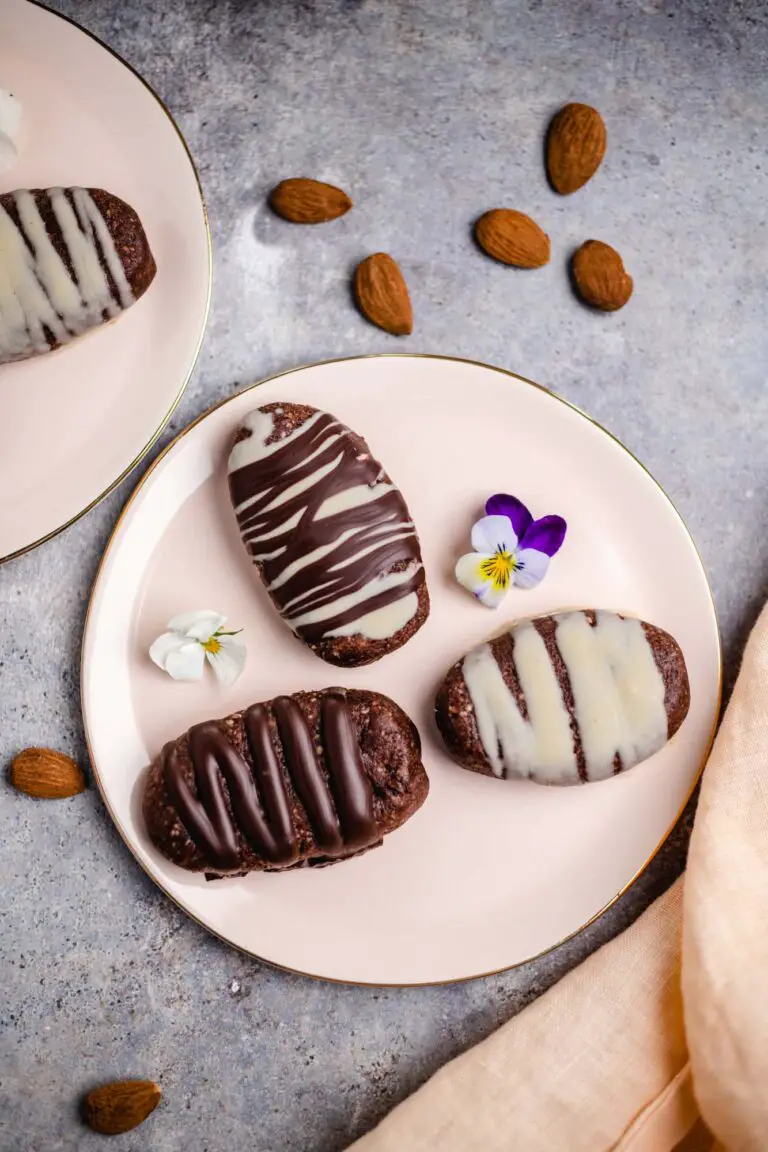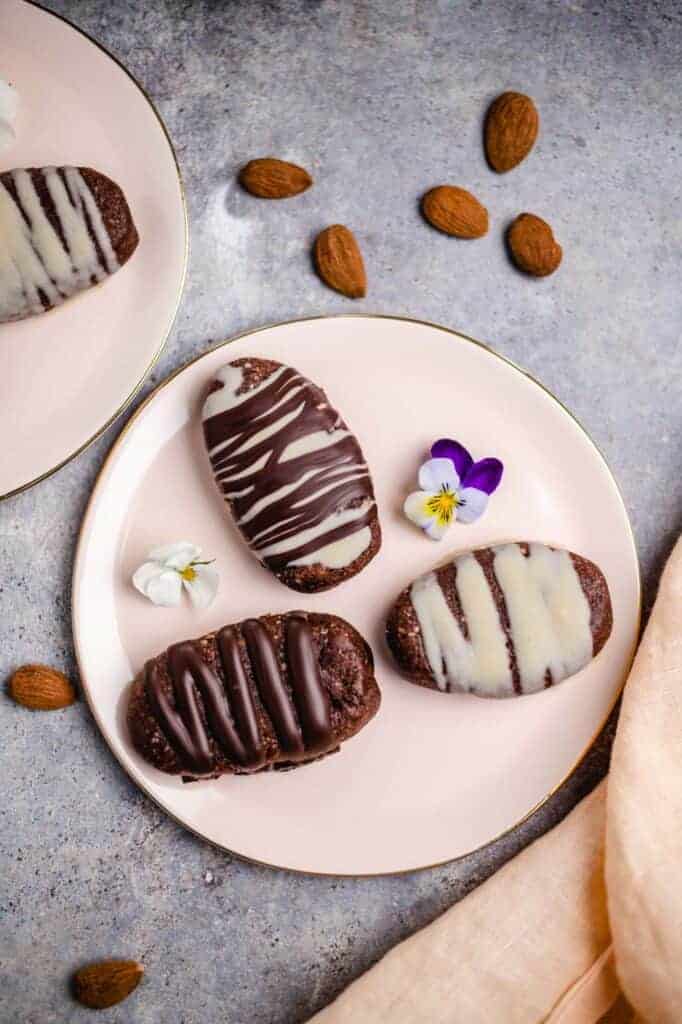 Let's move on to the ingredients. First, I grind the almonds in a blender to a fine flour. For this I use my MagiMix, but alternatively a high-powered blender will also work. Then I add the dates, cocoa powder and salt. Now mix again until a fine, compact mass is formed. This can take a while until everything is well connected.
TIP: I highly recommend using a powerful blender like the MagiMix with an S-shaped blade to make raw food dough. I've done a lot of trial and error here and have found that high-powered blenders don't work at all for this purpose.
Once the dough is ready, I divide it into 14 equal portions and roll balls out of it. Now comes the actual finishing touch, in which I flatten the dough and add a small teaspoon of nut nougat cream to each. Then I seal the dough and shape it into an egg. Once all the eggs are formed, I add white and dark chocolate on top. Now everything may cool down and then also be nibbled immediately. If you want to make the nut nougat cream yourself, you can find the recipe here.
Vegan Easter recipes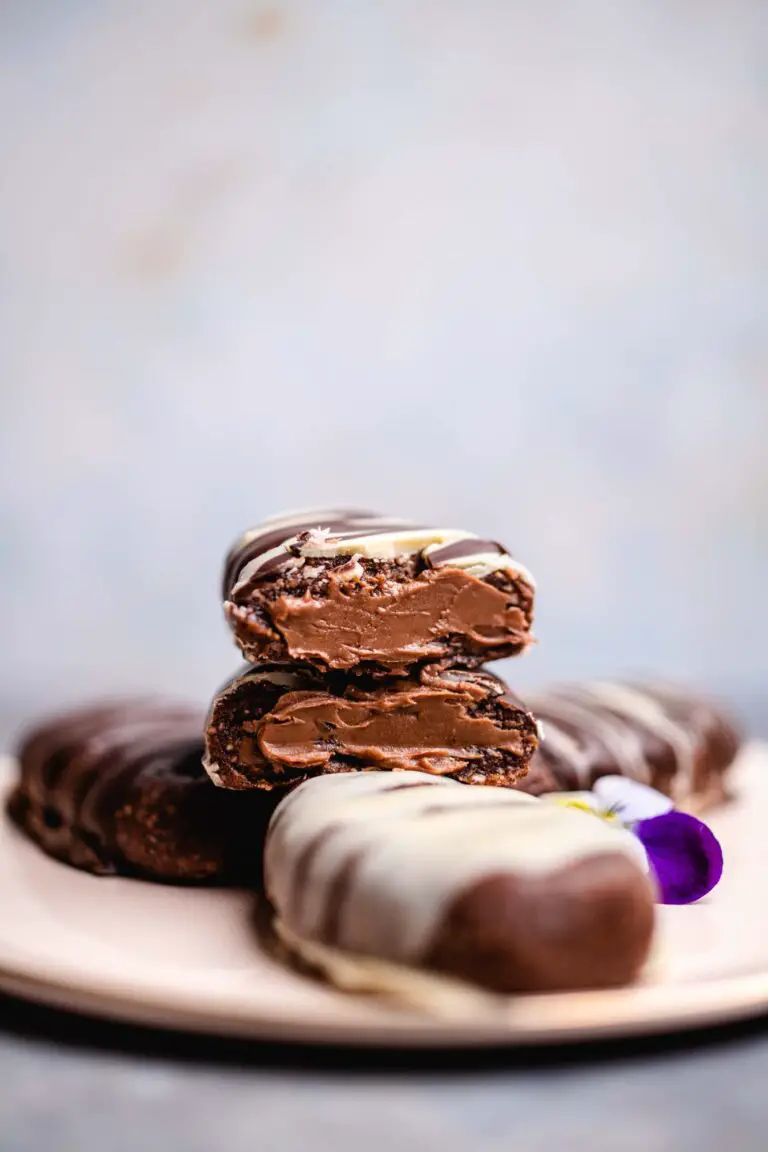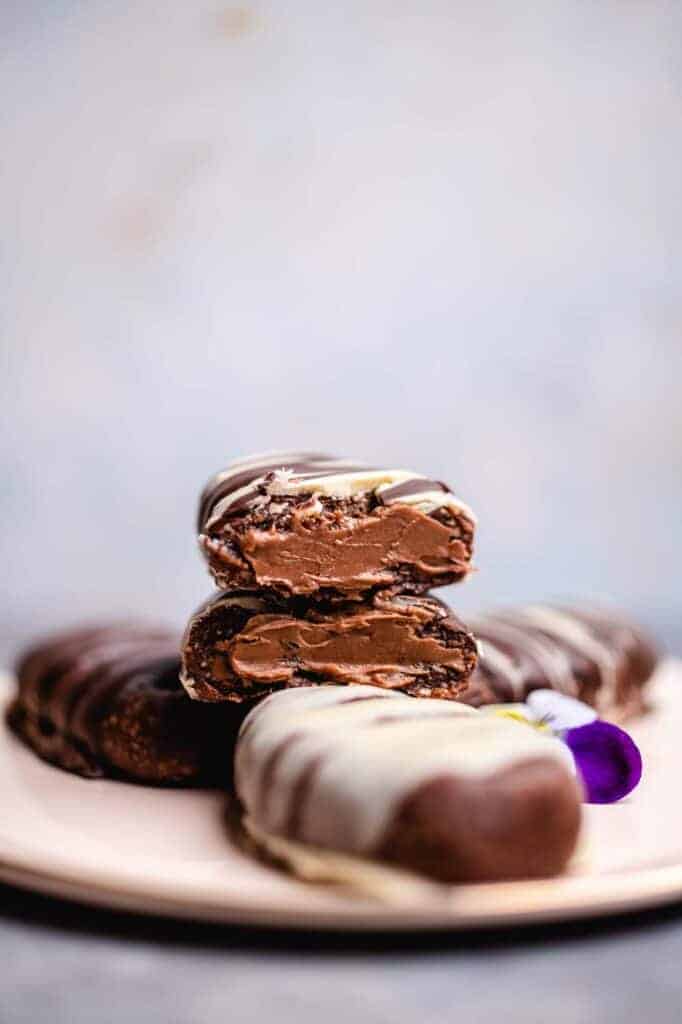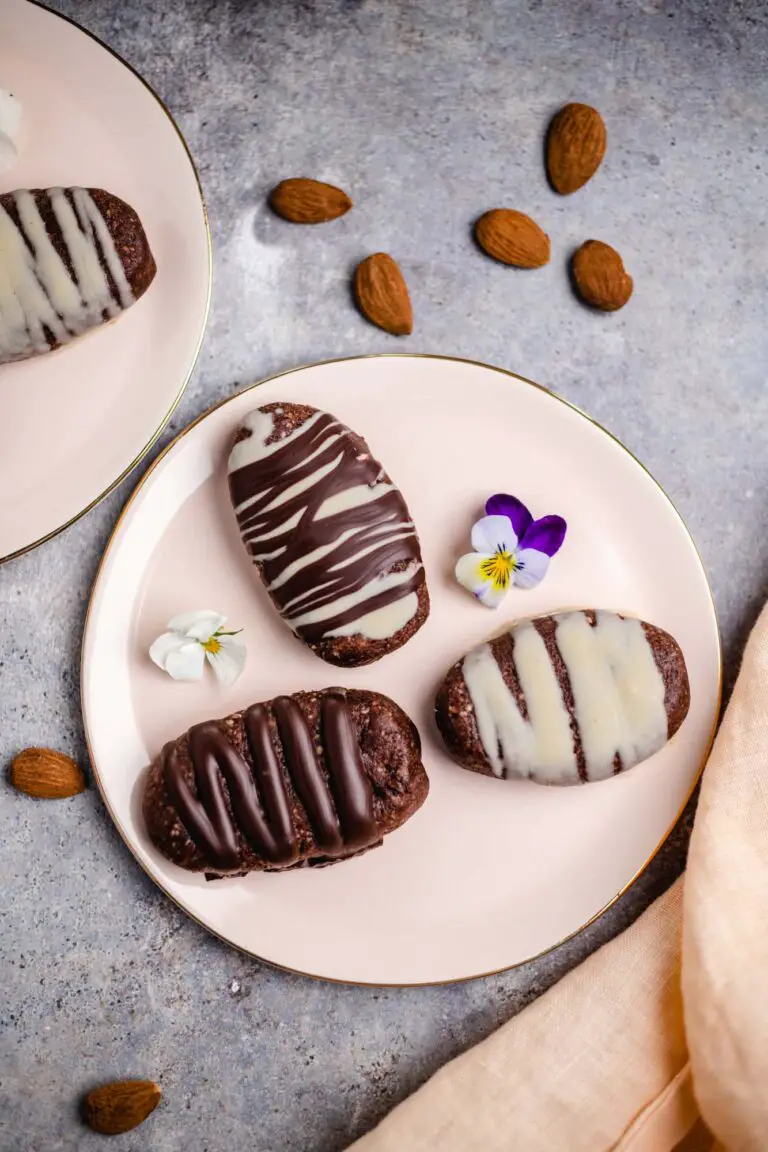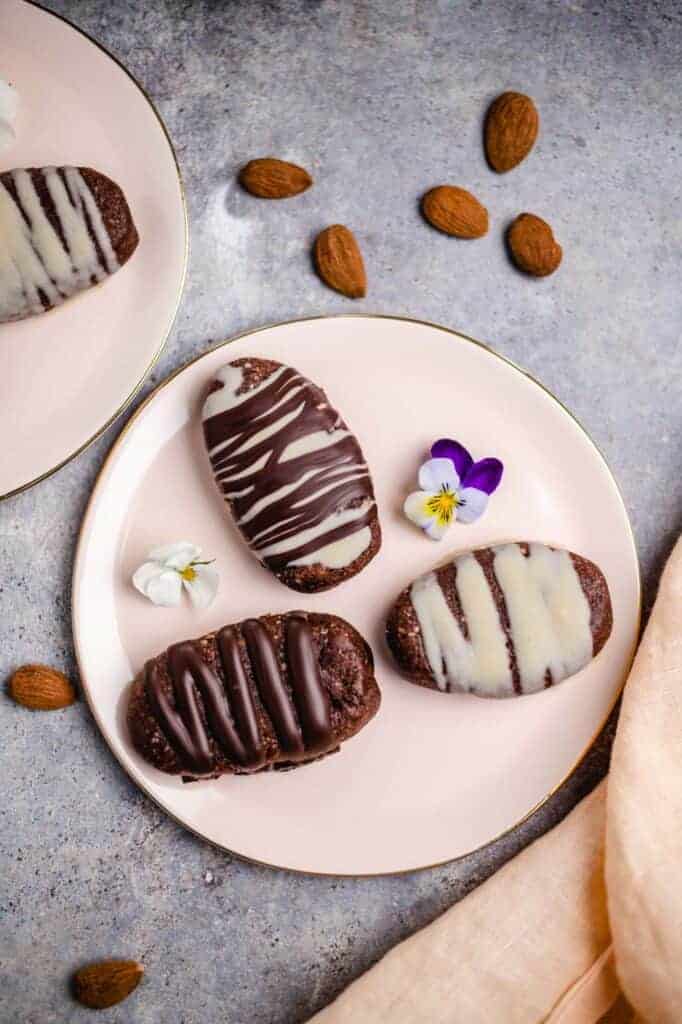 These fine and wholesome Easter eggs are just super delicious. They are geling safe and require only a tiny bit of fingertip feeling. I always keep the chocolate eggs in the refrigerator, because that's how they taste best to me. I chose dark and white vegan chocolate for the chocolate coating. Works here, but also vegan milk chocolate or white chocolate, depending on what you're in the mood for.
TIP: If the white vegan chocolate likes to clump, then I recommend adding a small amount of cocoa butter. This makes it more fluid and easier to handle.
If you are looking for more options for vegan sweets and desserts for Easter, I have the following recommendations for you:
For a complete roundup of even more Easter recipes, click here.
Get started with these delicious, healthy nougat chocolate eggs that will brighten up any Easter nest. I hope you have fun making it and of course I'm happy about a review at the bottom of this page. If you post a picture, use the hashtag #veganevibes.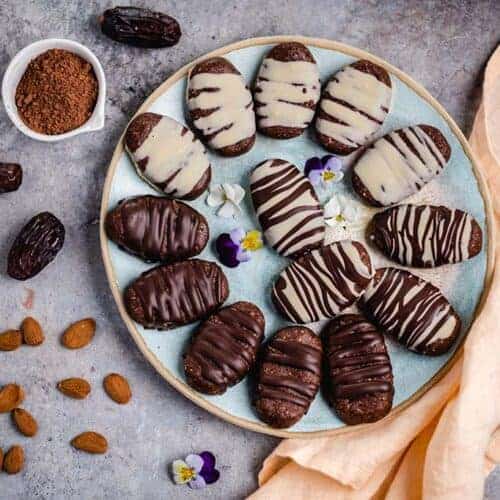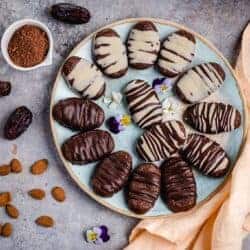 Nougat chocolate eggs
Fine nougat chocolate eggs that sweeten every Easter nest. Quickly made with just a few ingredients, filled with nut nougat cream and covered with fine dark chocolate. Oil-free, gluten-free and naturally sweetened. Perfect as a healthy Easter treat for the whole family.
AUTOR: VEGANEVIBES
FOR THE CHOCOLATE COATING:
80

g

dark vegan chocolate

coarsely chopped

80

g

white vegan chocolate

coarsely chopped

optional 13-26g cocoa butter, 1-2 tablespoons, for liquefying the chocolate
Anleitung 
FOR THE EGGS Put the almonds in a blender and grind to a fine flour. Add Medjool dates, cocoa powder and salt and blend again until well combined. Mix until a uniform, compact dough is formed. Place in a bowl and refrigerate for

20 minutes

, this will make the dough easier to work with.

288 g Medjool dates,

200 g Almonds,

15 g Cocoa powder,

a pinch of salt

With your hands, divide into 14 equal pieces and shape into balls. Take one ball each and flatten with your hands. Put a teaspoon of nut nougat cream in each and fold the dough over it. Carefully shape into an egg.

FOR THE CHOCOLATE COATING Gently melt the dark and white chocolate over a water bath. If necessary, stir in 1-2 tablespoons of cocoa butter to make the chocolate thinner and easier to coat.

80 g dark vegan chocolate,

80 g white vegan chocolate,

optional 13-26g cocoa butter, 1-2 tablespoons, for liquefying the chocolate

Top with light and dark chocolate, depending on your mood. Let set on a draining rack or baking paper, Enjoy!

Store remaining chocolate eggs in an airtight container in the refrigerator for up to one week. Best when chilled!
Nährwertangaben
Serving:
1
Piece
Calories:
234
kcal
Carbohydrates:
29
g
Protein:
5
g
Fat:
13
g
Saturated Fat:
5
g
Polyunsaturated Fat:
2
g
Monounsaturated Fat:
6
g
Trans Fat:
1
g
Cholesterol:
1
mg
Sodium:
8
mg
Potassium:
304
mg
Fiber:
4
g
Sugar:
23
g
Vitamin A:
33
IU
Vitamin C:
1
mg
Calcium:
71
mg
Iron:
1
mg