Marble cake is one of my favorite cake variations. Quick to make, looks beautiful with the marbling and is also gluten free. Gluten-free cakes often taste dry or crumbly, but that is not the case with this recipe. I even had my brother-in-law test it, who is not vegan, and he found the cake very tasty. Add a dollop of cream and a nice cup of coffee or tea and the day is saved. Well, did you get a craving for this easy, delicious and gluten-free sponge cake? Then let's get started together.
Marble cake gluten free and vegan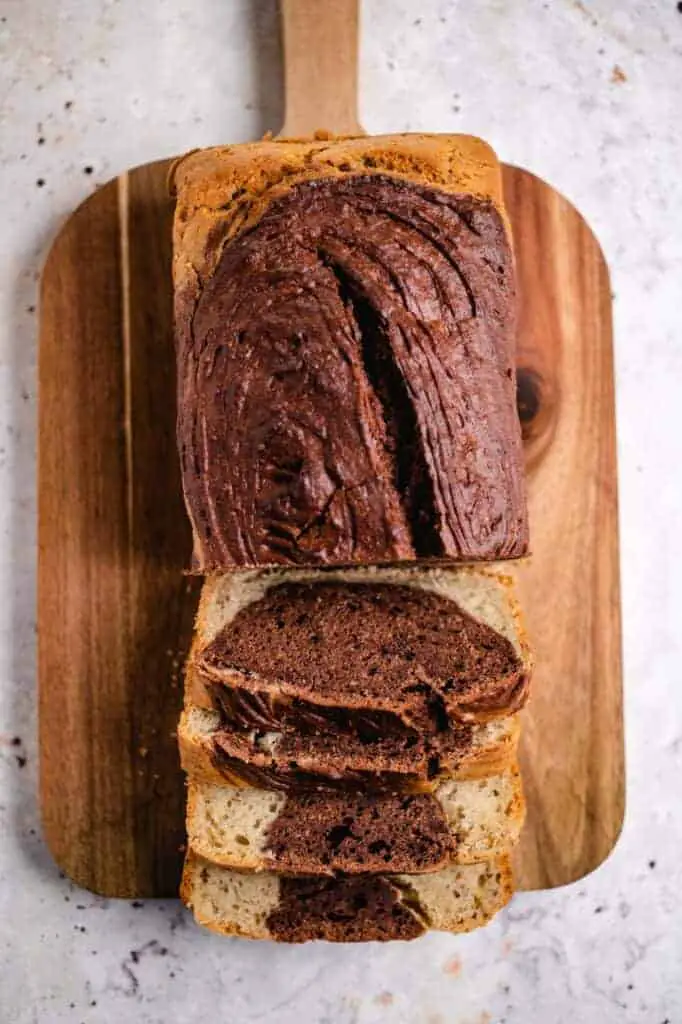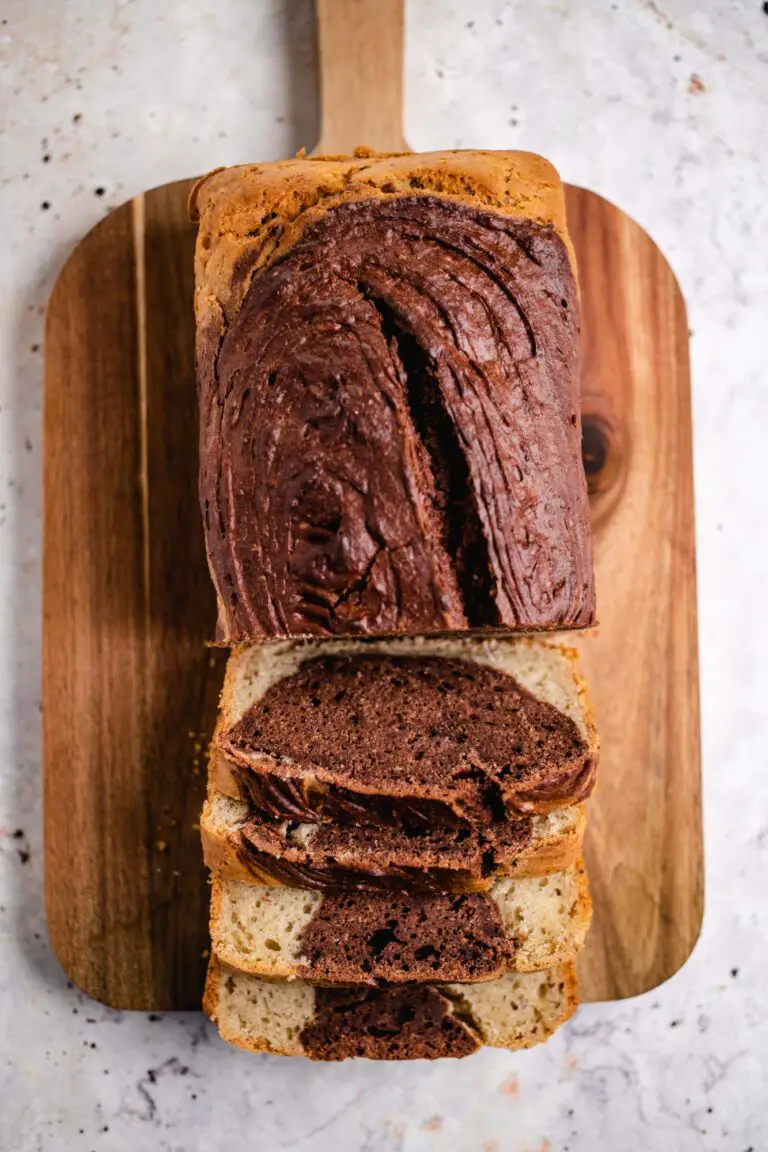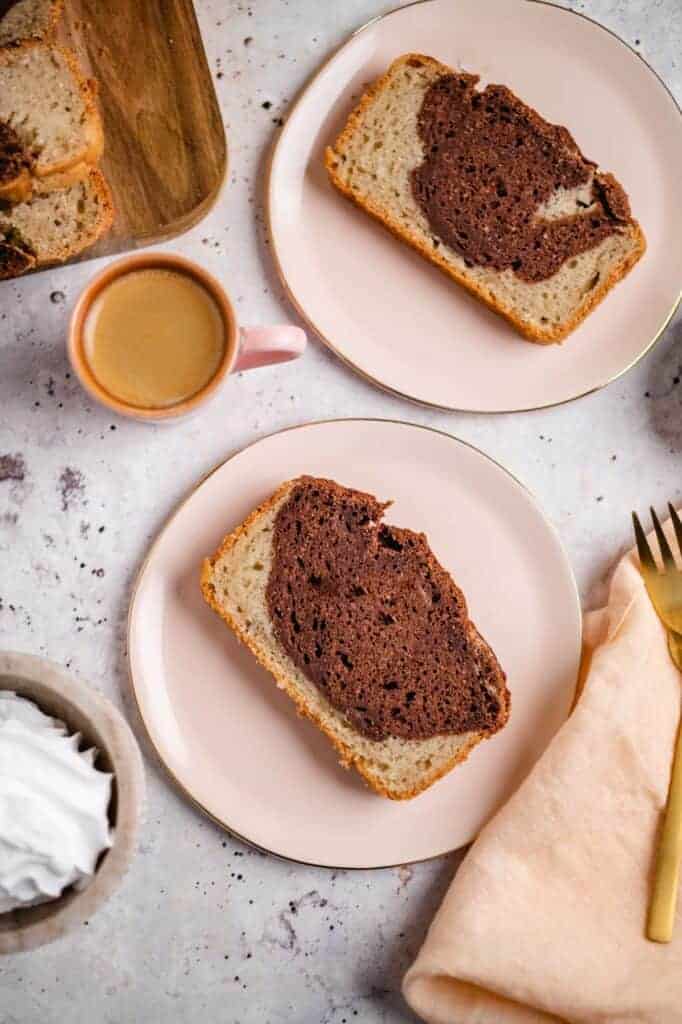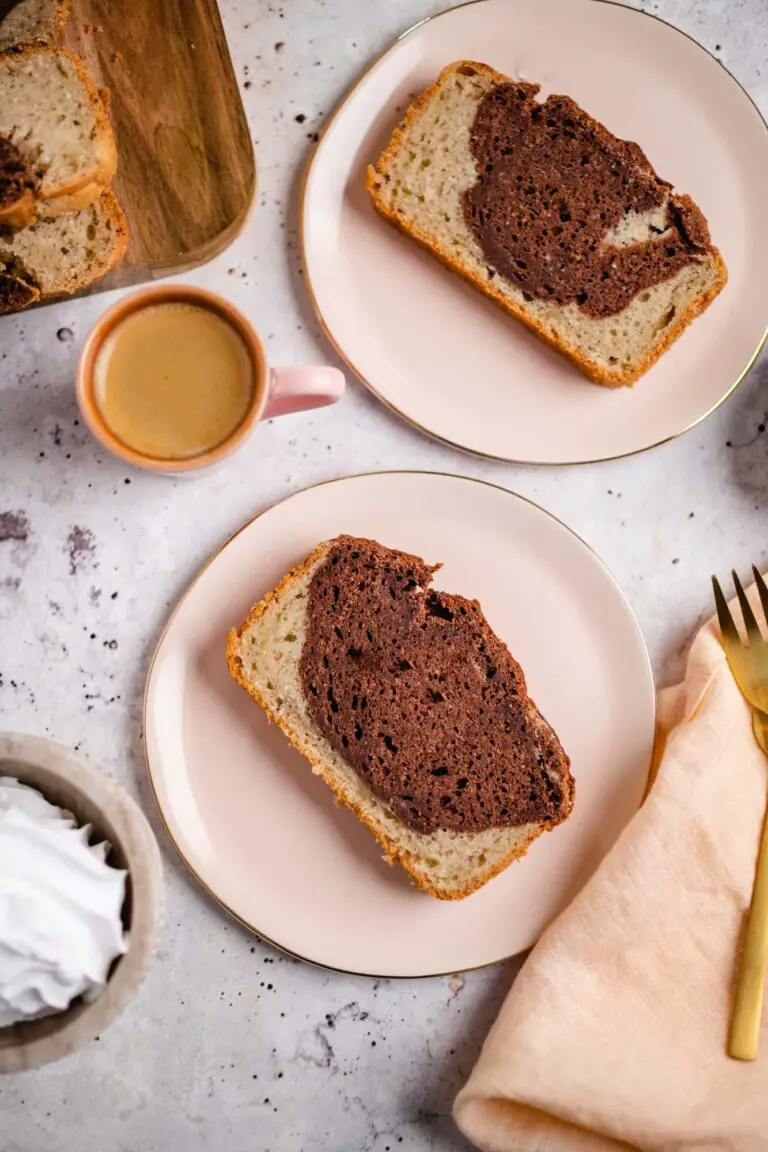 Gluten-free cakes are always a challenge for me, too, because the doughs behave differently than classic sponge cakes. If the ratios are not right, they quickly become dry and crumbly and stick to the palate in a very strange way. Therefore, I have also long fiddled with how a gluten-free flour should look best. Here you can find my recipe for a gluten-free flour mixture. I put them together specially because I find the ready-made gluten-free flour mixes in the supermarket too starchy.
The batter could not be simpler. Vegetable milk, oil, raw cane sugar, flaxseed egg, vegetable yogurt, gluten-free flour mix, oat flour and baking powder. This is all worked into a uniform dough and about half of it goes into a king cake pan. To the remaining dough I add cocoa powder, which I stir in carefully. Finally, the dough containing cocoa is now also added to the king cake pan and carefully incorporated. I use a fork to mix the two doughs.
TIP: If the dough with the cocoa is too dry, add a small sip of vegetable milk. Not too much, otherwise it will quickly become too runny.
Bake simple marble cake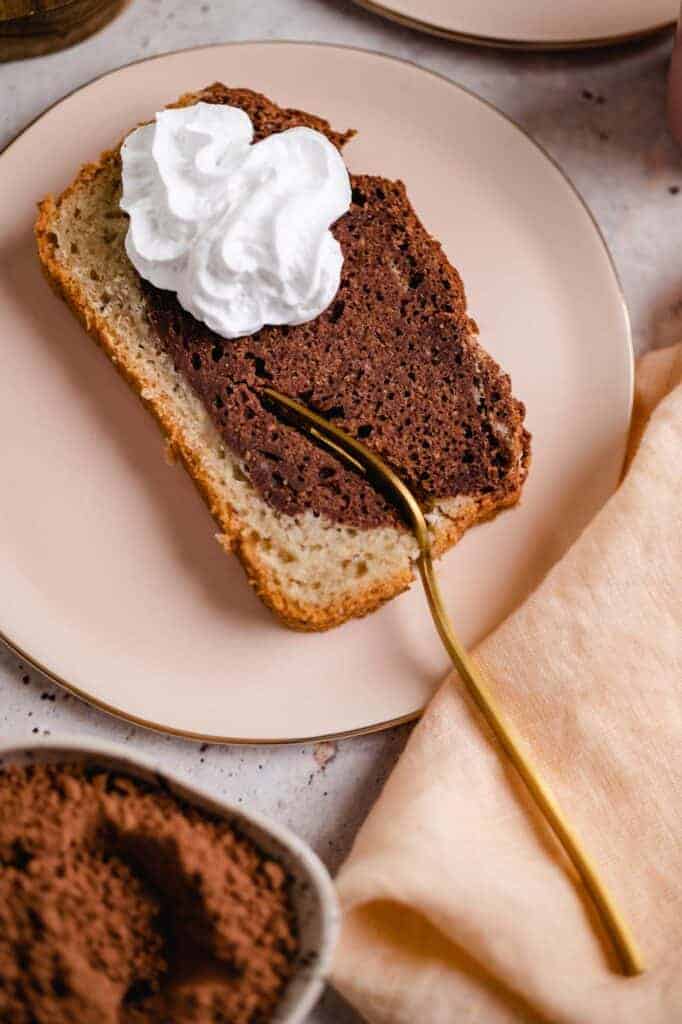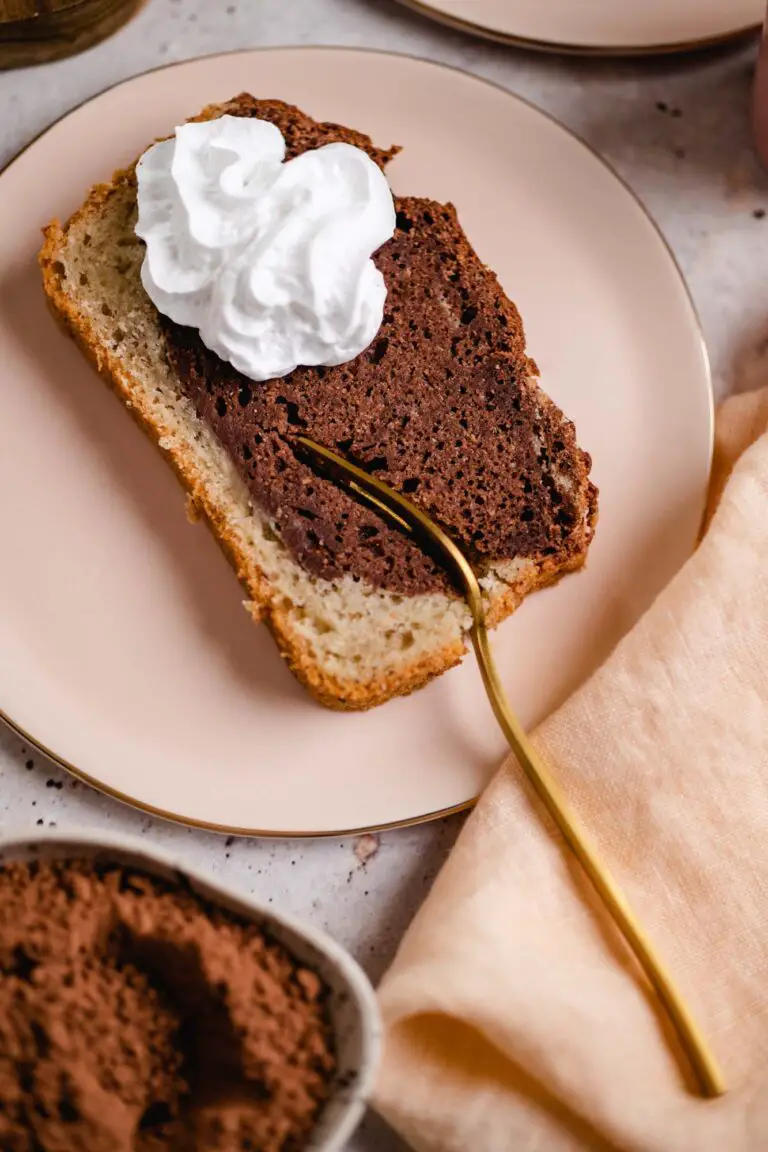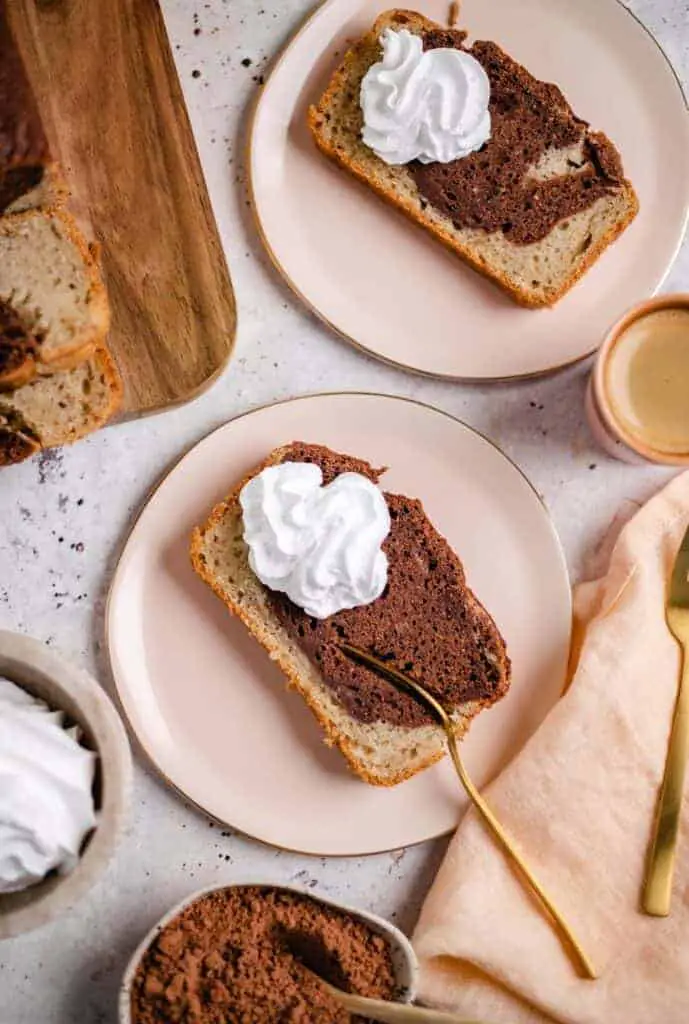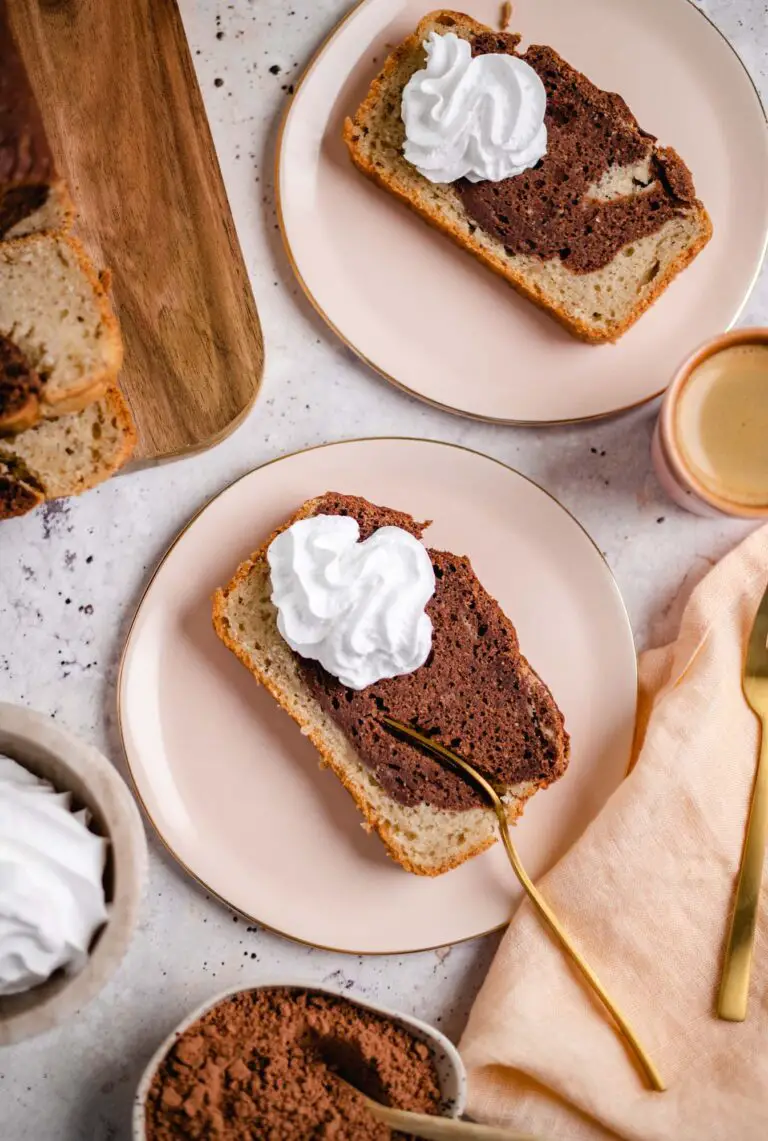 Are you convinced about a gluten-free diet? Feel free to let me know in the comments if you actually suffer from an intolerance to gluten, or assume that a gluten-free diet is better for your health. There are certainly different approaches and opinions here. Some people suffer from a so-called celiac disease and have to be very careful not to eat anything containing gluten. Then there are those who are 100 percent convinced of the health benefits of a gluten-free diet. Be that as it may, it is important to make sure that it is as complete as possible. Gluten-free can also mean that the substitute products consist mainly of starch, which has hardly any nutritional value. That's why in my gluten-free flour blends you'll also find whole-grain flours like rice flour and oat flour.
Otherwise, you can hardly go wrong with this simple, delicious sponge cake. I hope you have fun trying it out and feel free to let me know how it turned out in the comments below.
If you are not in the mood for coconut cake today, I recommend the following cake creations:
The marble cake is gluten-free:
Locker & Fluffig
Cocoa flavor
Perfectly sweet
loose
Easy to manufacture
Well, are you ready for this simple sponge cake? I wish you a lot of fun baking and of course a review at the bottom of this page. If you post a picture, use the hashtag #veganevibes.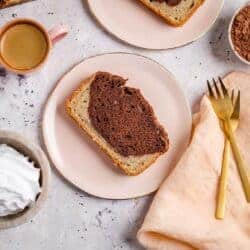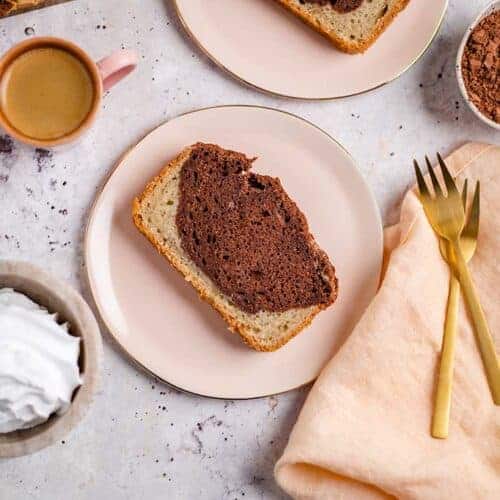 Marble cake gluten free
Gluten free vegan marble cake with only a few ingredients. Easy to make, not crumbly or dry. Ideal for all fans of gluten-free baking who like easy baking recipes that are sure to succeed. Quick and easy to make, subtle hint of cocoa, moist vegan and delicious. Perfect for the gluten-free, vegan coffee party. Vegan, gluten-free, lactose-free.
AUTOR: VEGANEVIBES
FÜR DEN KUCHEN:
250

ml

Plant milk

I use oat milk

125

ml

Baking oil

or another neutral oil of your choice

2

Pieces

Flaxseed eggs

190

g

Raw cane sugar

or other sugar of your choice

½

TL

Bourbon vanilla

ground

150

g

Soy yogurt

or any other vegetable yogurt of your choice

270

g

gluten free flour mix

either a ready-made flour mixture from the supermarket or according to my recipe here.

70

g

Oatmeal)

or more gluten-free flour mixture

4

TL

Baking powder

30

g

Cacao
Anleitung 
Preheat the oven to 175 degrees (convection) 195 (upper-lower heat) and grease and/or line a king cake pan with baking paper.

To make the CAKE, place the plant milk, baking oil, flaxseed eggs, raw cane sugar and bourbon vanilla in a baking bowl and mix with a hand mixer (or in a food processor) until well combined. Add soy yogurt, gluten-free flour blend, oat flour, and baking powder and continue mixing until a uniform dough is formed. The dough should not be too firm or too runny. If too firm, use a little more plant milk and if too runny, use a little more flour.

250 ml Plant milk,

125 ml Baking oil,

2 Pieces Flaxseed eggs,

190 g Raw cane sugar,

½ TL Bourbon vanilla,

150 g Soy yogurt,

270 g gluten free flour mix,

70 g Oatmeal),

4 TL Baking powder

Pour about half of the batter into the prepared loaf pan and smooth it out. Add cocoa powder to the remaining batter in the baking bowl and stir to combine. If the batter is too firm, add a small sip of vegetable milk.

Pour onto the light batter in the pan, work in with a fork so that the batter mixes a bit, place in the oven and bake for 60 minutes.

Use a wooden stick to check if the cake is baked through. If it is, then the wooden stick comes out dry. If batter is still stuck, then go back another 10 minutes and check again. Remove from oven and let cool completely.

NOTE: I like to let the cake cool overnight so it is really well cooled and just tastes better.

Can be stored in an airtight container in the refrigerator for up to 5 days.

TIP: Optionally refine with an extra chocolate icing.
Nährwertangaben
Serving:
1
Pieces
Calories:
294
kcal
Carbohydrates:
38
g
Protein:
6
g
Fat:
14
g
Saturated Fat:
2
g
Polyunsaturated Fat:
7
g
Monounsaturated Fat:
3
g
Trans Fat:
1
g
Sodium:
54
mg
Potassium:
179
mg
Fiber:
3
g
Sugar:
17
g
Vitamin A:
82
IU
Vitamin C:
3
mg
Calcium:
86
mg
Iron:
2
mg