Vegan and healthier Toffifee have been on my list for a long time and I have also tried endless variations. I always like things simple and straightforward, without white sugar or other unwelcome ingredients if possible. This variant actually uses only 4 ingredients. Dates, hazelnuts and chocolate. I always find it fun when we have healthy snacks like these in the fridge because they really don't last long. I always have to try diligently and it does not take long until my husband stands next to me and wants to know exactly what I test here so. If friends or family come over, everything is eaten up in no time. Actually a good sign, right?
Vegan Toffifee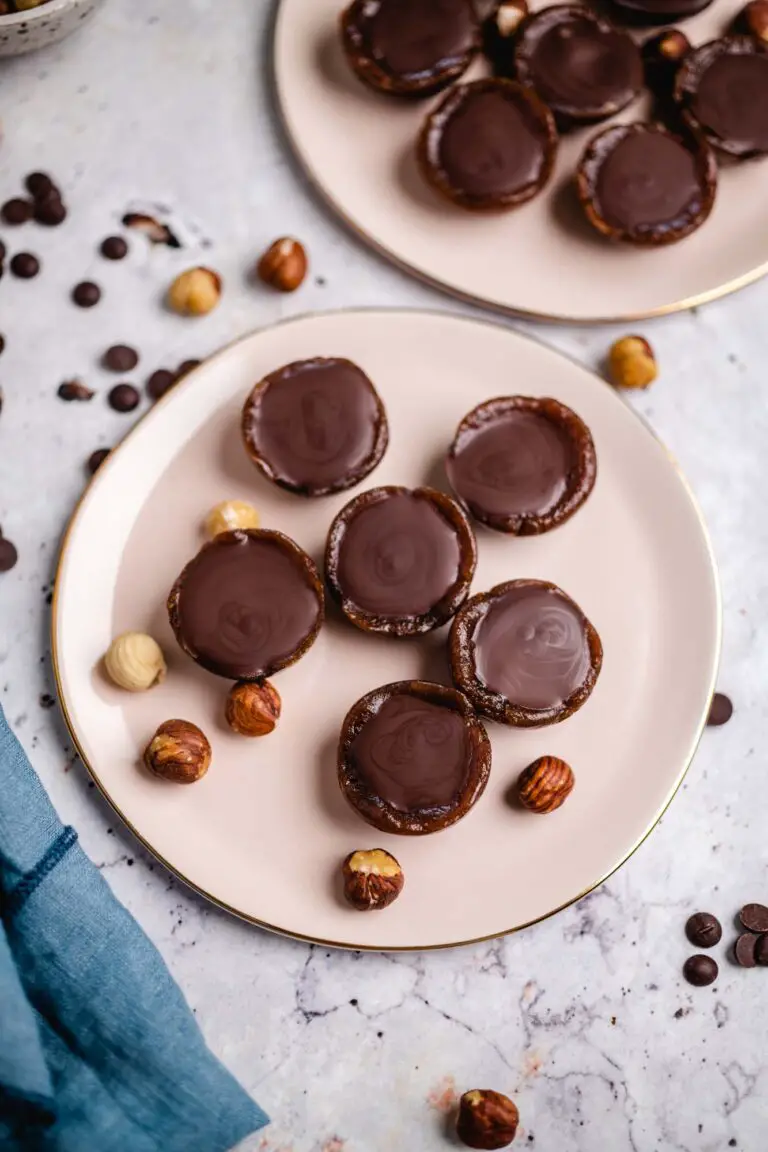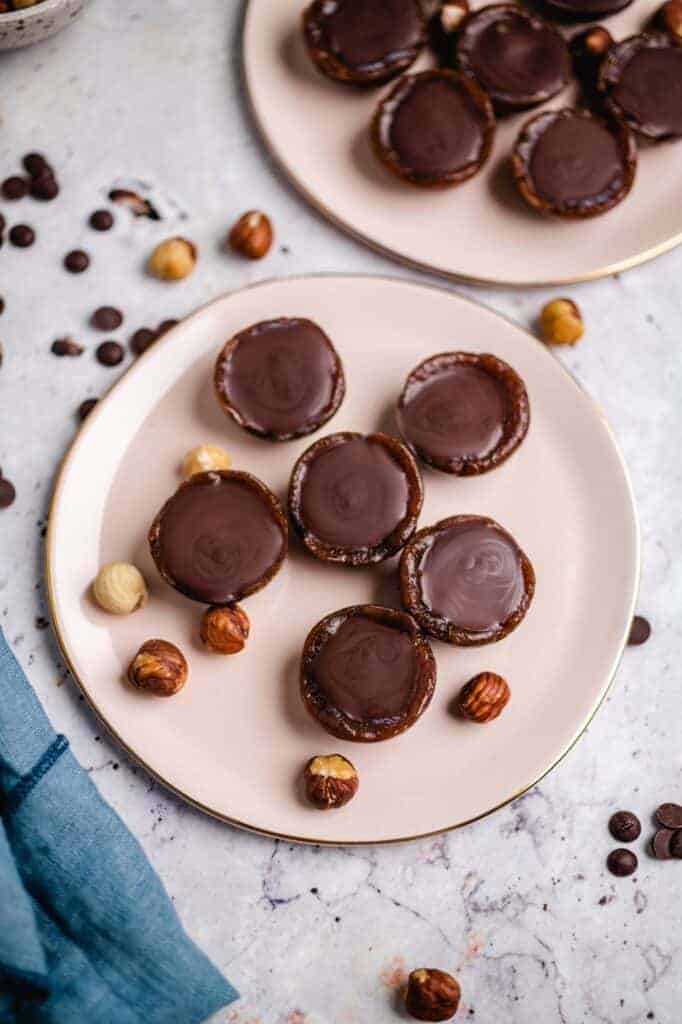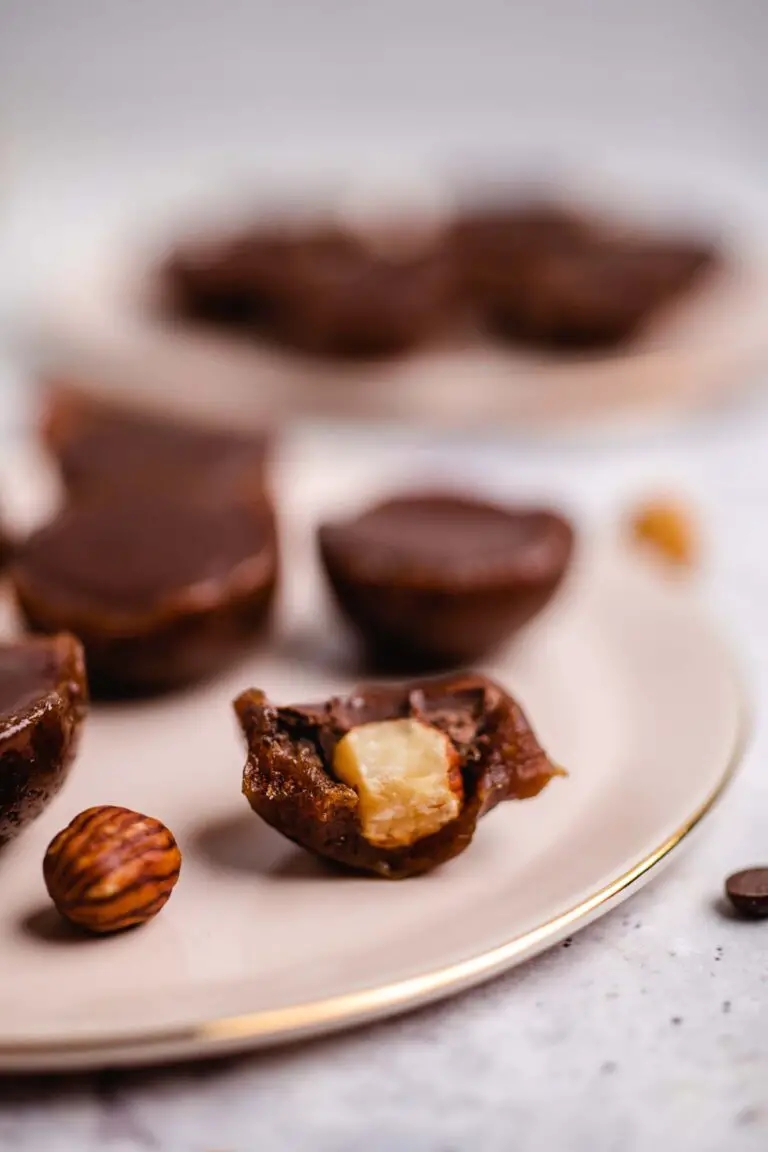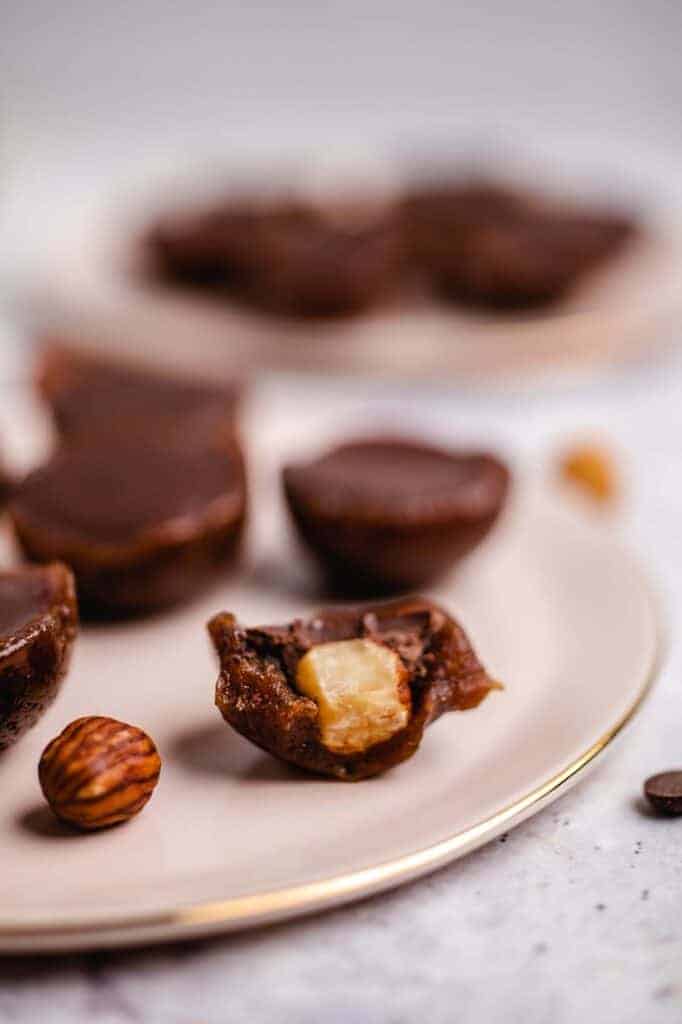 Let's move on to the ingredients. Hazelnut puree, dates, chocolate and whole hazelnuts, that's about it. We make the caramel layer from dates and hazelnut puree. For this I use my Magimix, which has never let me down when making raw dough. I press the dough into a silicone mold, which is absolutely necessary for this recipe, at least if you want it to look like a real Toffifee. On top comes a hazelnut, which I have previously roasted in the oven. At the very end, I add melted chocolate on top and the healthy Toffifee are ready.
TIP: I always recommend a powerful blender like the MagiMix with an S-shaped blade for making raw food dough. I have tried a lot here and have found that this blender works best. My device has been in use for years and has never disappointed me.
I roast the hazelnuts at 160 degrees convection oven for 10 minutes. But you can also use already roasted hazelnuts. This saves you roasting and you can use the hazelnut kernels immediately.
Healthy vegan sweets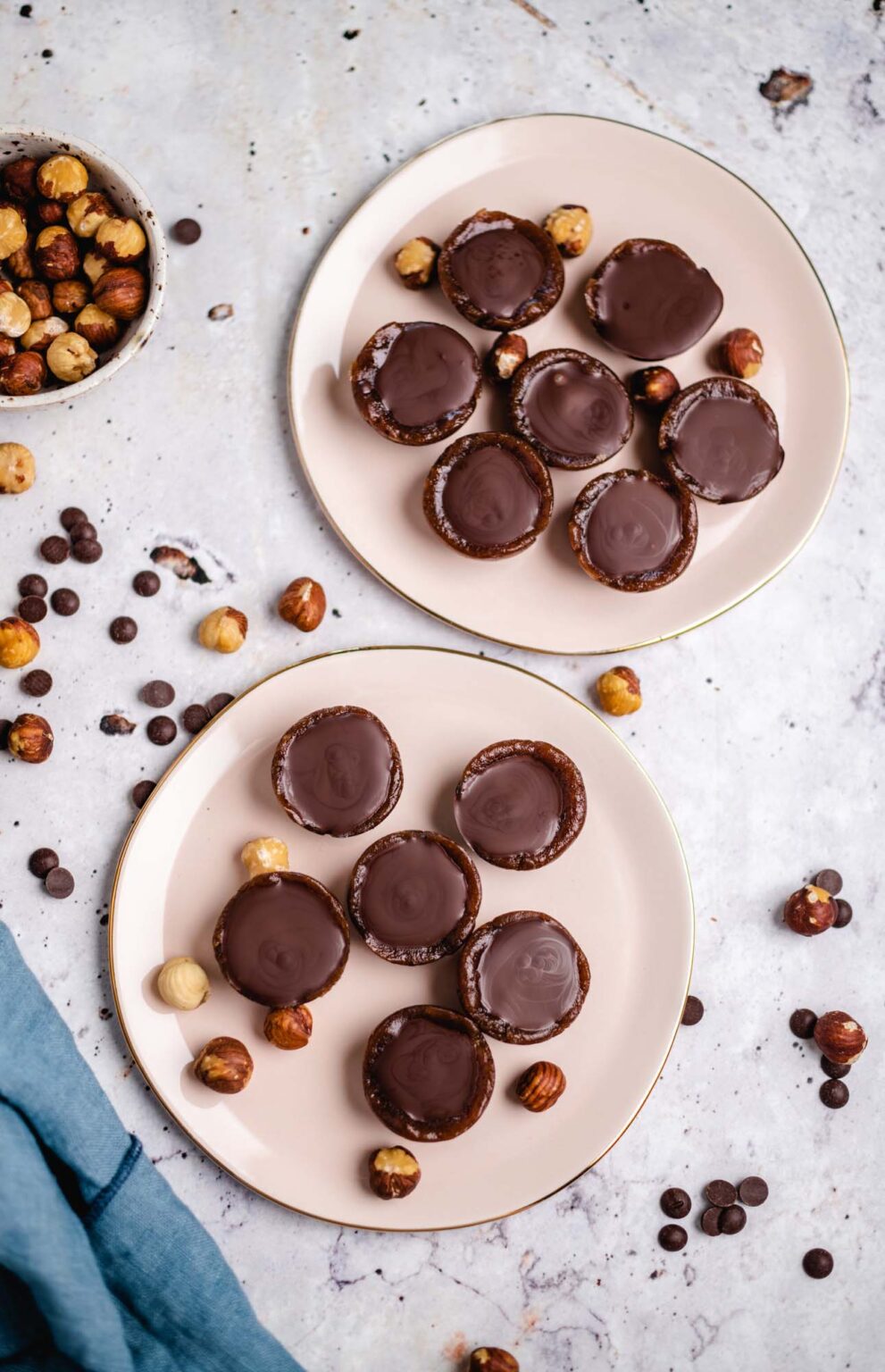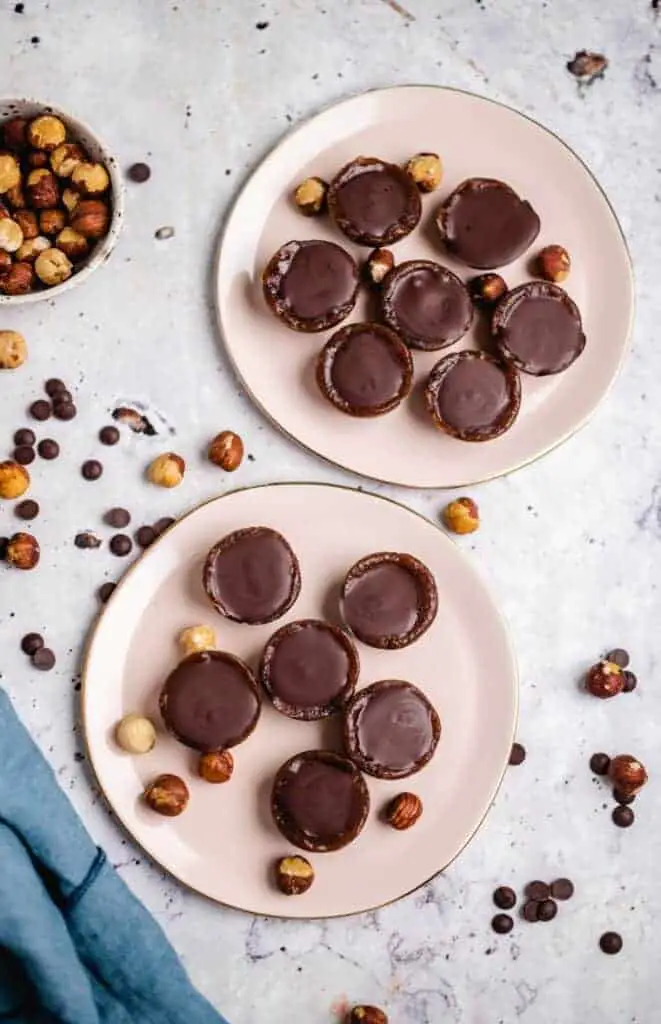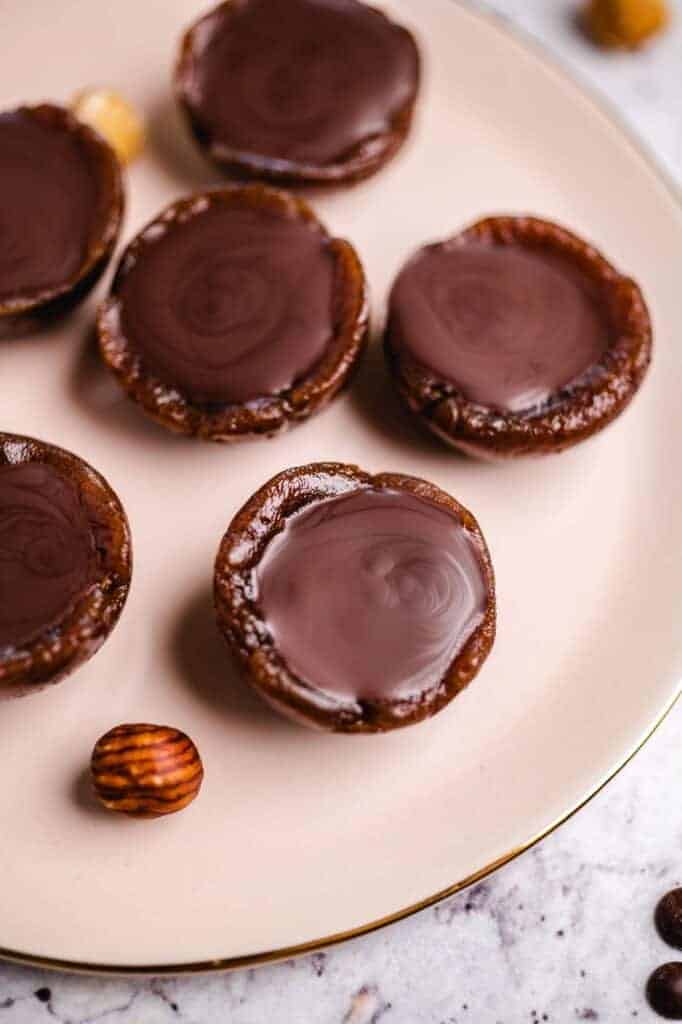 These fine and healthier Toffifee are just super delicious. They are sure to succeed and require minimal effort. I always keep them in the fridge because that's how they taste best to me. When it comes to chocolate, I make sure it's good quality and not too bitter. I have linked my favorite brand to you below.
TIP: If you want to thin the chocolate a bit to make it easier to coat, add 1-2 tablespoons of cocoa butter as it melts.
If you're looking for more vegan candy options, I have the following recommendations for you:
Let's get started with this delicious, healthy vegan Toffifee variation that you're sure to love. I hope you have fun making it and of course I'm happy about a review at the bottom of this page. If you post a picture, use the hashtag #veganevibes.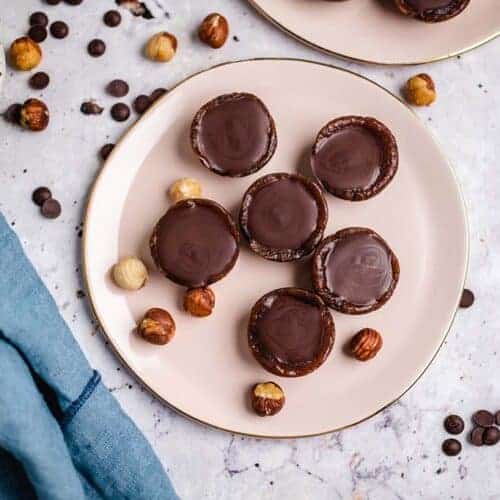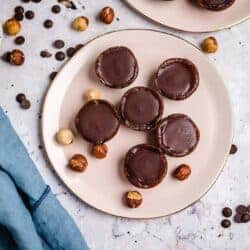 Vegan Toffifee (4 ingredients)
Fine, healthier vegan Toffifee variant, quickly made with only 4 ingredients. Fine caramel made from dates and hazelnut puree, topped with a roasted hazelnut and fine dark chocolate. Perfect as a healthy snack when the craving for something sweet comes. Oil-free, gluten-free and naturally sweetened.
AUTOR: VEGANEVIBES
Anleitung 
Preheat oven to 160 degrees convection (180 degrees top-bottom heat) and toast the 20 hazelnut kernels in the oven for 10 minutes. If ready roasted hazelnut kernels are used, this step can be omitted.

If the dates are very hard, soak them in hot water for 1 hour and let them steep. I save myself this step because I have a good mixer I the raw dough also becomes so super.

Place dates and hazelnut paste in a blender (I use a Magimix with an S-shaped blade) and blend until a compact raw dough is formed. Separate a teaspoon from each and press into the hollow of the silicone mold. Repeat until all wells are filled. Press one hazelnut into each and refrigerate.

300 g Medjool dates,

30 g Hazelnut puree

FOR THE CHOCOLATE COATING Gently melt dark chocolate over a water bath. Remove silicone molds from refrigerator and pour a small amount of chocolate on each well, leaving edges free. Place back in the refrigerator and allow to set. enjoy!

90 g dark vegan chocolate coating

Store remaining Toffifee in refrigerator for up to one week. Best when chilled!
Nährwertangaben
Serving:
1
Piece
Calories:
82
kcal
Carbohydrates:
14
g
Protein:
1
g
Fat:
4
g
Saturated Fat:
1
g
Polyunsaturated Fat:
1
g
Monounsaturated Fat:
2
g
Sodium:
1
mg
Potassium:
123
mg
Fiber:
2
g
Sugar:
12
g
Vitamin A:
23
IU
Vitamin C:
1
mg
Calcium:
13
mg
Iron:
1
mg