Vegan nougat bars are the enemy of anyone who wants to stay away from chocolate, fat and calories. They are in the positive sense a devil's stuff, because they really taste extremely good, but are just also very high in calories. I don't mind, but I hear there are people who go on a diet before Christmas. I do not belong to this group, because here on this blog I want to present vegan recipes that taste. That's not to say that healthy cookies can't be delicious, but when I'm invited to my mother-in-law's house for Christmas, I just can't score with air-dried, unsweetened date-cinnamon cookies.
Vegan nougat bars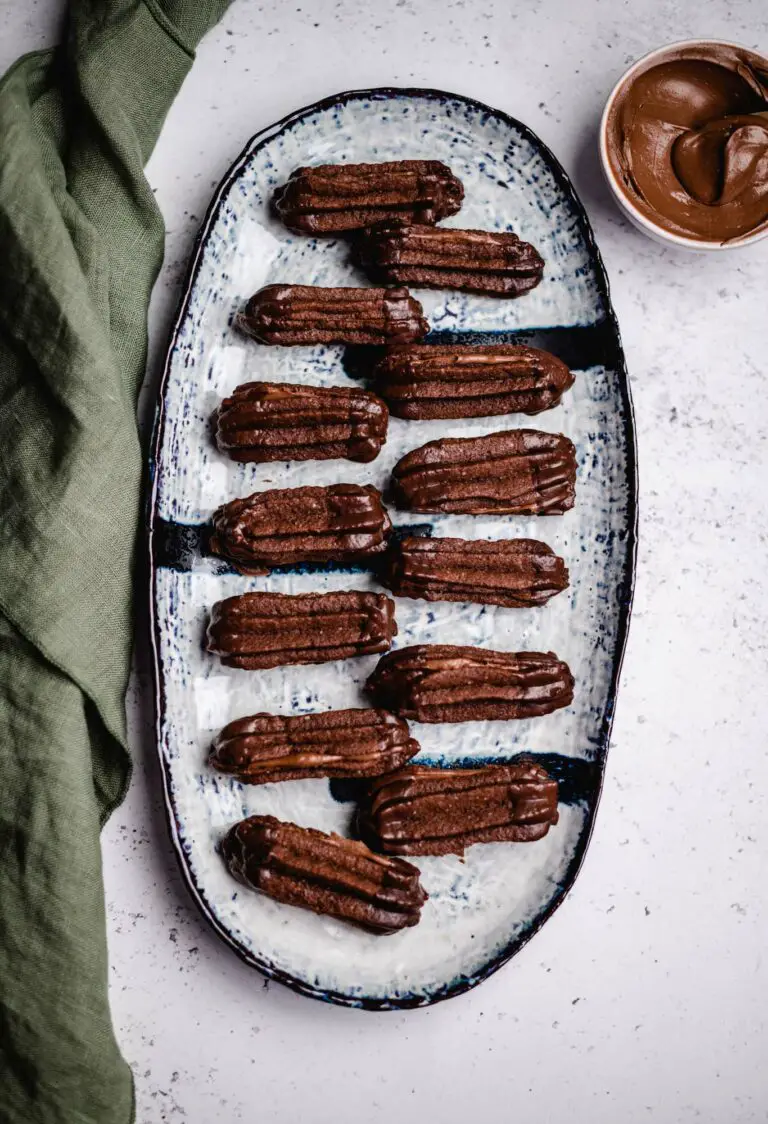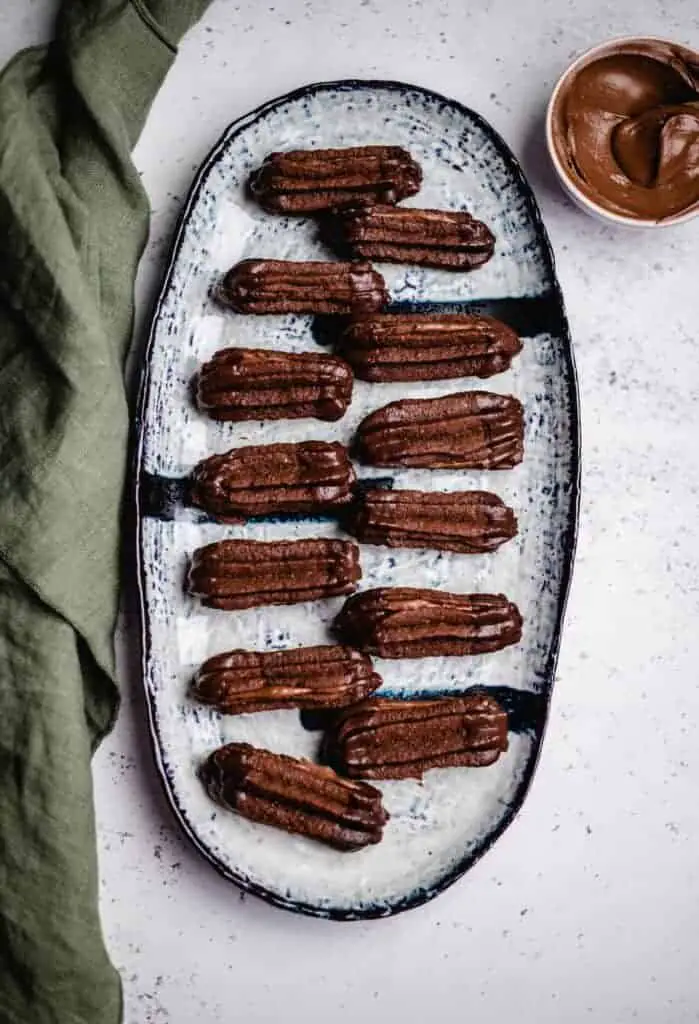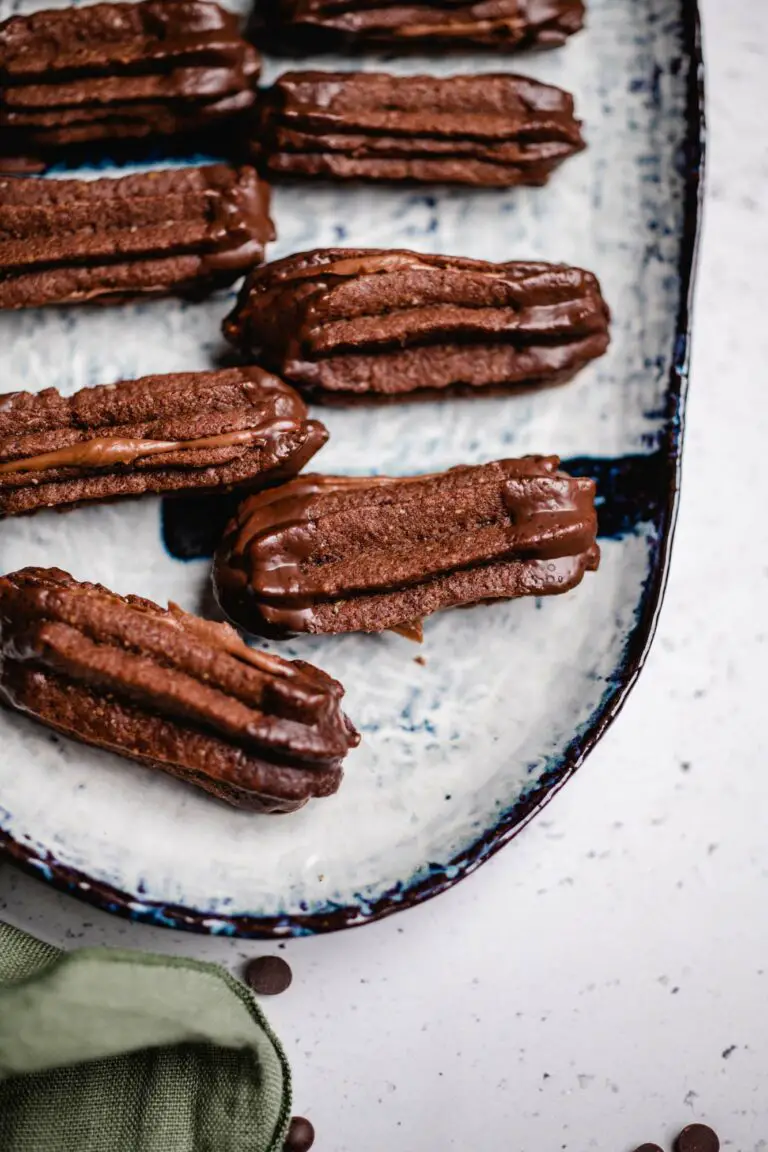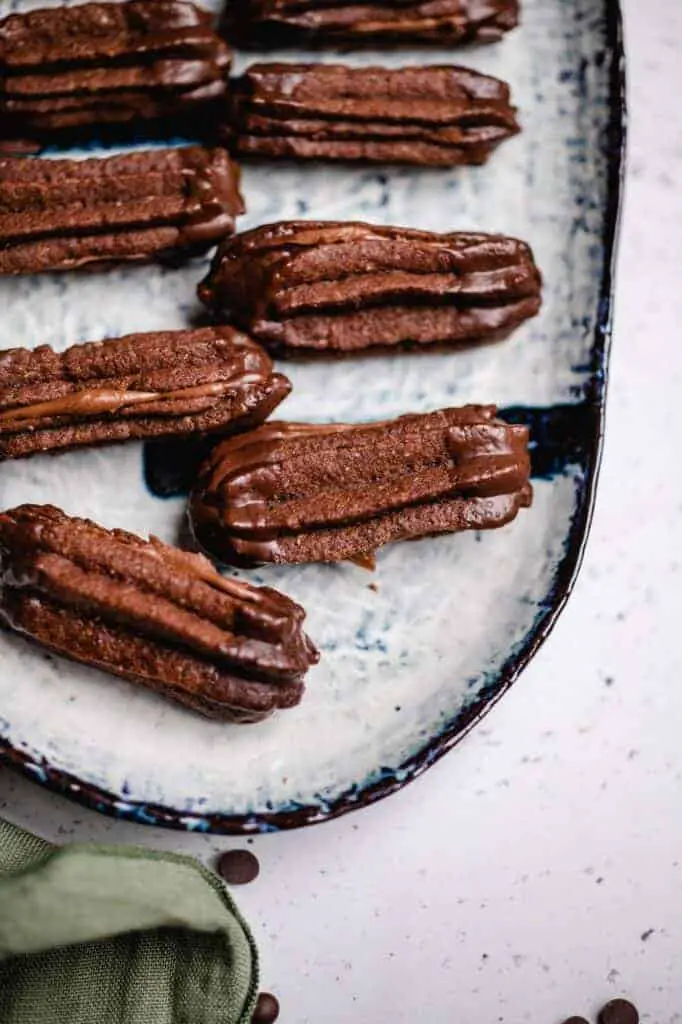 Vegan nougat sticks are quasi double-decker, which are glued together in the middle with nut nougat cream. The ends are then dipped in liquid chocolate and the sweet little treats are ready. The ingredient list is short and simple, flour (I use very fine spelt flour this time), ground hazelnuts, raw cane sugar, cocoa powder, baking powder, cinnamon, bourbon vanilla, flaxseed one and margarine. I put all of this into my MagiMix (or other food processor of choice) and process it into a uniform, compact dough.
TIP: I always grind the flour for the flaxseed eggs myself from whole flaxseeds. You could also use ready-made linseed meal, but this has already been deprived of the valuable linseed oil. In turn, it contains valuable omega-3 and omega-6 fatty acids, which are essential for our body. That's why I always grind flaxseed myself and store the flour in an airtight container in the refrigerator or freezer.
Vegan nougat cookies with chocolate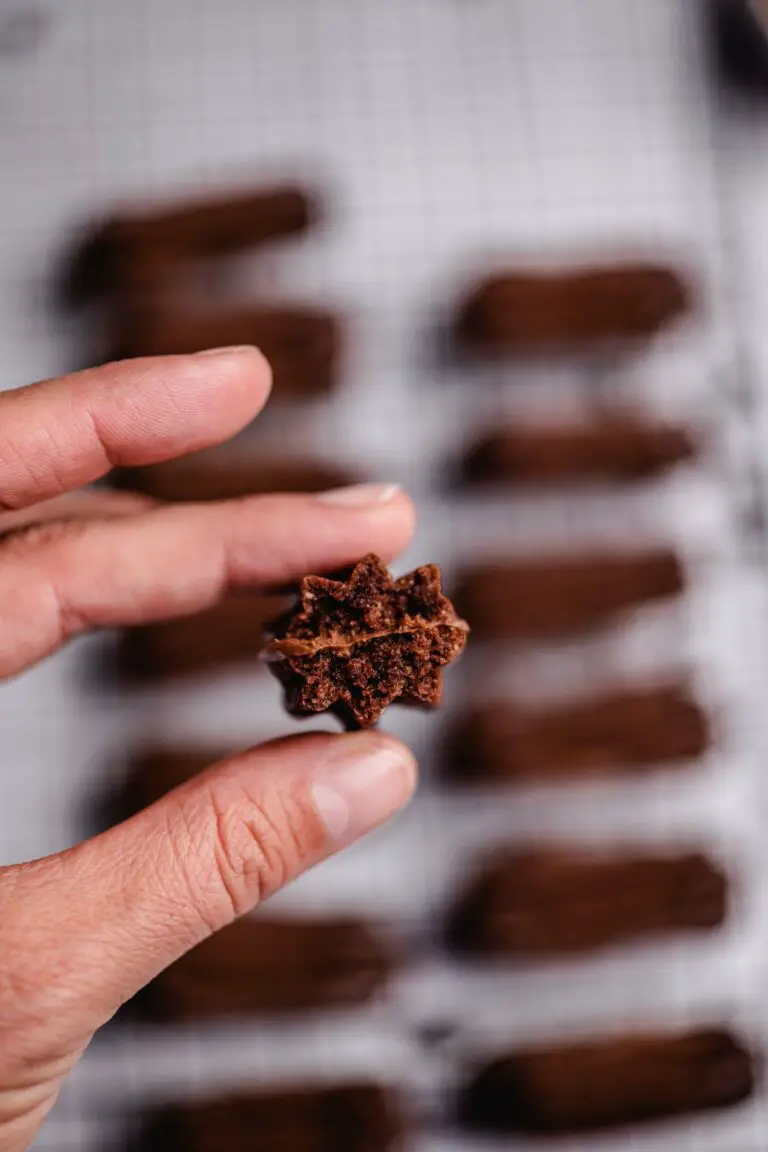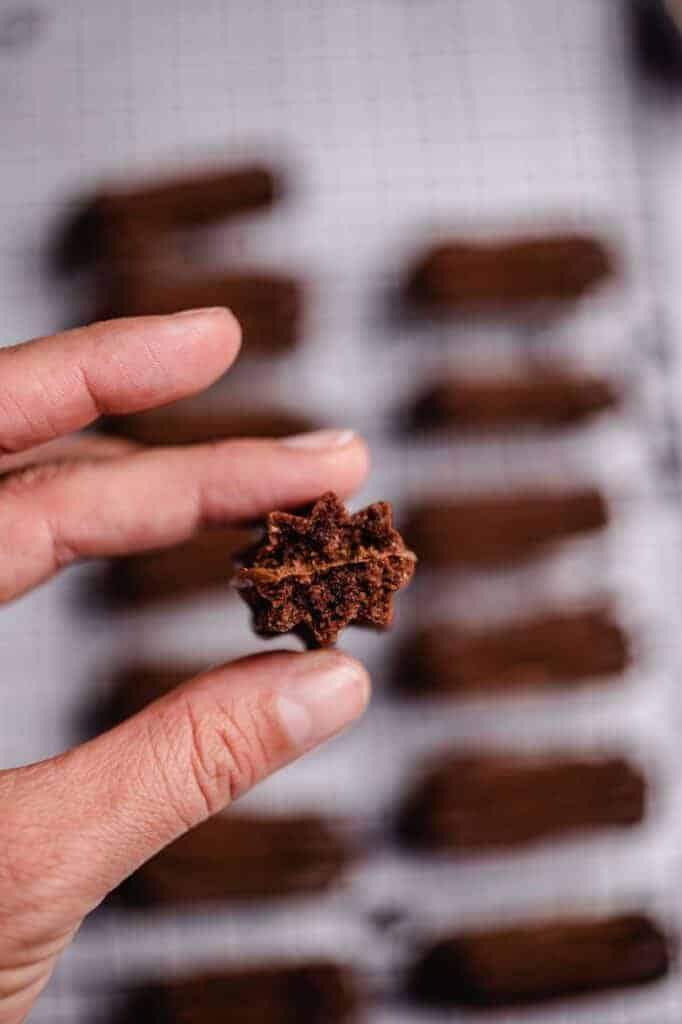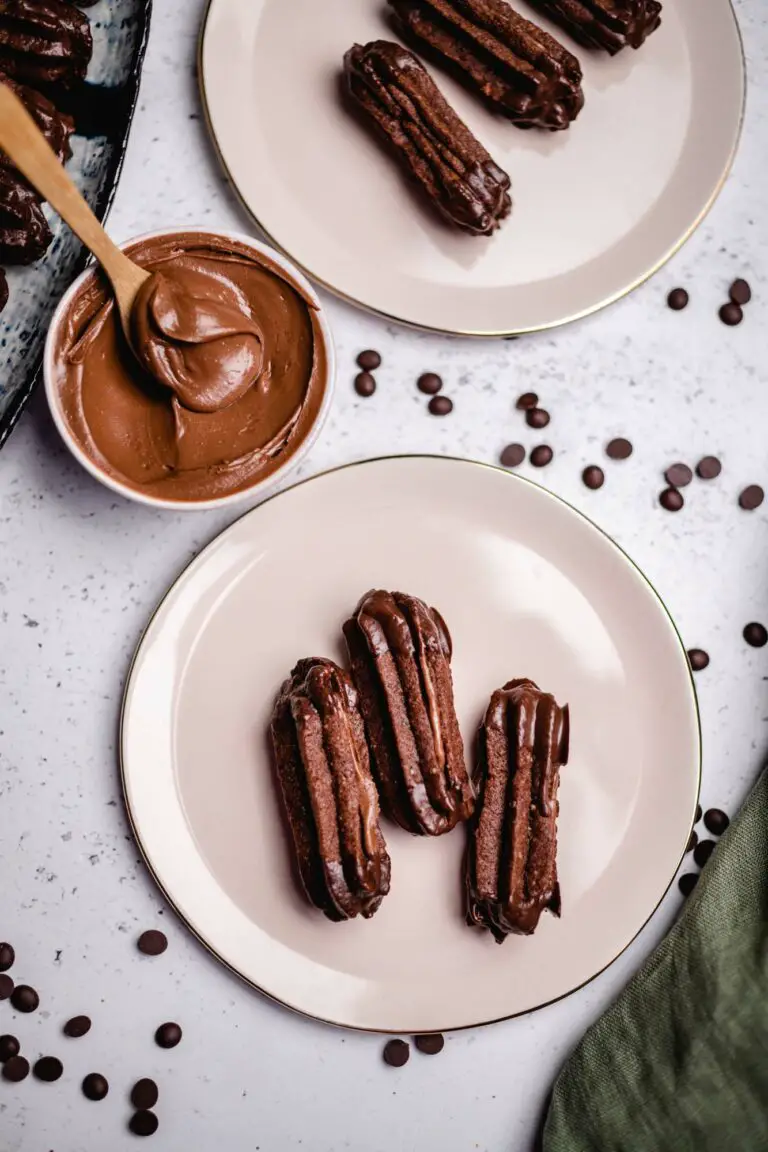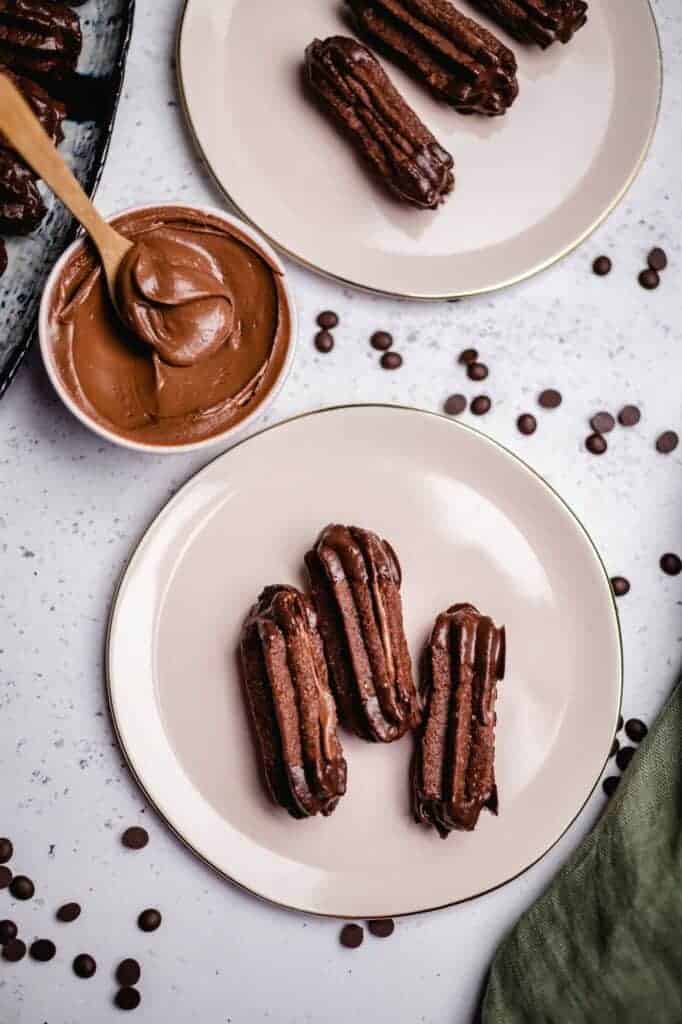 For the filling I use nut nougat cream, because I do not have to melt it and it is easy to spread on the dough sticks. Otherwise, you could also melt vegan nougat and use it for the filling. The sticks get a special touch when you fill them with sour jam. Other than that, there is only one more thing we should discuss and that is the consistency of the dough. Depending on what kind of piping nozzle you use, you may need to make the batter runnier with some vegetable milk. Just try around a bit until you find the right variation for you.
If you are looking for a different cookie recipe today, I have the following suggestions for you:
Let's get started with these incredibly delicious vegan nougat bars. I hope you enjoy baking and of course about a review at the bottom of this page. If you post a picture, use the hashtag #veganevibes.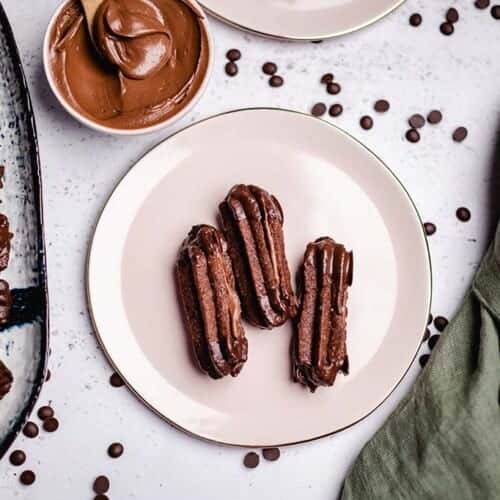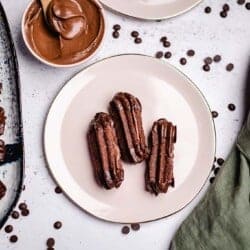 Vegan nougat bars
Simple, crumbly and vegan nougat bars filled with delicious nut nougat cream and dipped with delicious dark chocolate. Perfect for the vegan Christmas cookie plate.
AUTOR: VEGANEVIBES
Anleitung 
Preheat oven to 175 degrees convection (195 degrees top-bottom heat) and line a baking sheet with baking paper or a permanent baking mat.

FOR THE DOUGH provide a mixer. Mix spelt flour, hazelnuts, raw cane sugar, cocoa powder, baking powder, cinnamon, bourbon vanilla, flaxseed eggs and margarine until smooth. If the dough is too firm for the piping nozzle, then carefully thin with a little vegetable milk.

200 g fine spelt flour type630 or wheat flour type550,

125 g Hazelnuts,

100 g Raw cane sugar,

15 g Cocoa powder,

1 tbspn Baking powder,

½ tbspn Cinnamon,

½ tbspn Bourbon vanilla,

2 Piece Flaxseed eggs,

200 g vegan margarine,

Optional vegetable milk for dilution

Then pour the dough into a piping bag and pipe 4-5 cm long strips onto the baking paper. Bake for 7-8 minutes until the dough has risen once and is dry on the surface.

Remove from the oven and allow to cool completely. Nut nougat cream Prepare and spread on one pastry stick at a time. Place another dough stick on top and repeat until all dough sticks are used.

100 g Nut nougat cream,

100 g dark vegan chocolate coating

Melt the chocolate carefully in a water bath. Dip both ends of the dough sticks into the chocolate and place on a draining rack (baking paper or permanent baking mat). Let become solid and enjoy!

The delicious nougat bars last up to 2 weeks at cool room temperature (similar to other long-life pastries such as Stollen).
Nährwertangaben
Serving:
1
Cookies
Calories:
107
kcal
Carbohydrates:
10
g
Protein:
2
g
Fat:
7
g
Saturated Fat:
2
g
Polyunsaturated Fat:
1
g
Monounsaturated Fat:
3
g
Trans Fat:
1
g
Sodium:
36
mg
Potassium:
40
mg
Fiber:
1
g
Sugar:
5
g
Vitamin A:
192
IU
Vitamin C:
1
mg
Calcium:
9
mg
Iron:
1
mg