Avocado tahini bread with mushrooms sounds simple and almost a little banal. The inspiration for this recipe comes from my trip to Mexico, where we ate endless amounts of avocados. On the spot, they taste almost a tad more aromatic and creamy. In Germany you can also get avocados, but often they are still rock hard. If you then put them in a warm place to ripen, you have to check almost every hour to see if they are already ripe. Feeling after a missed moment, you cut open the fruit and it's already spoiled. How many of you know the plight of avocados? I wish I could get them directly and perfectly ripe from México. Well, you can wish, can't you?
Avocado tahini bread with mushrooms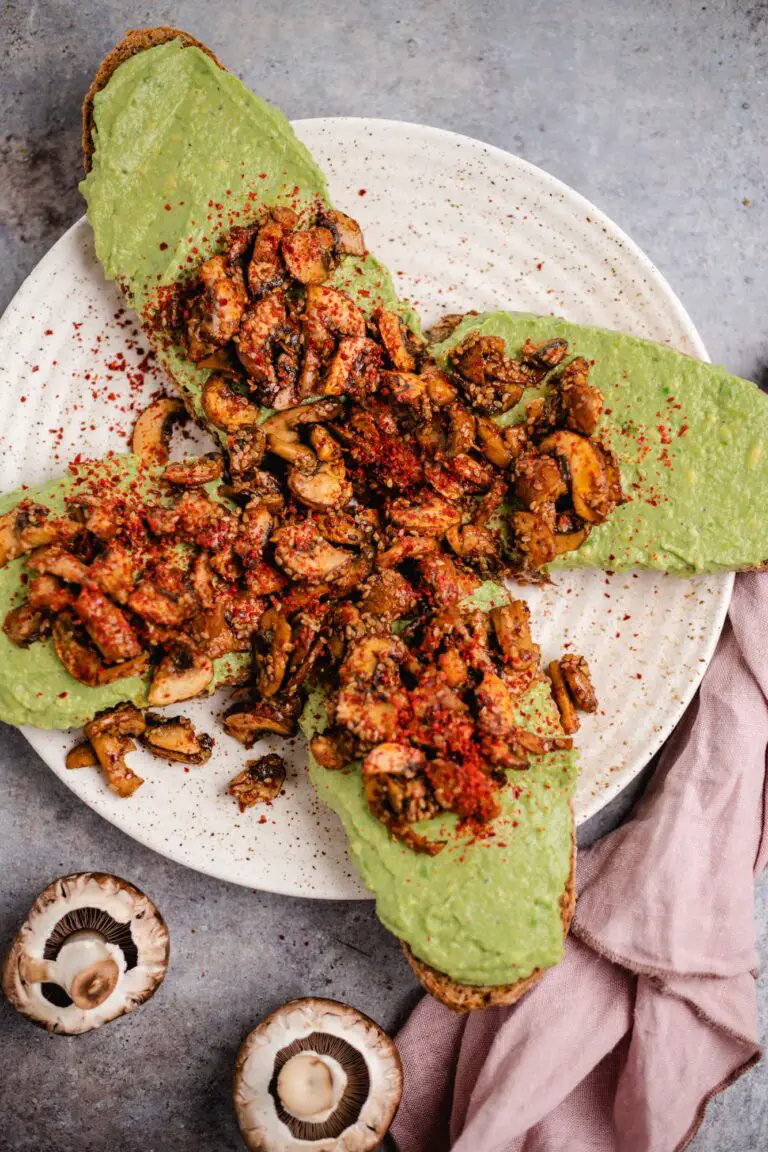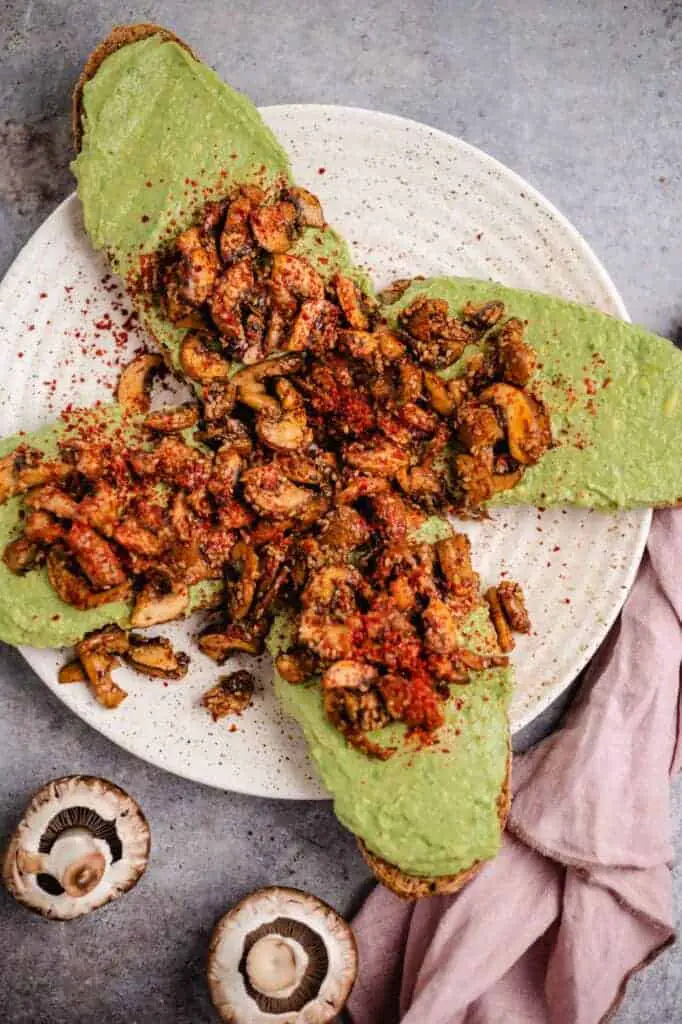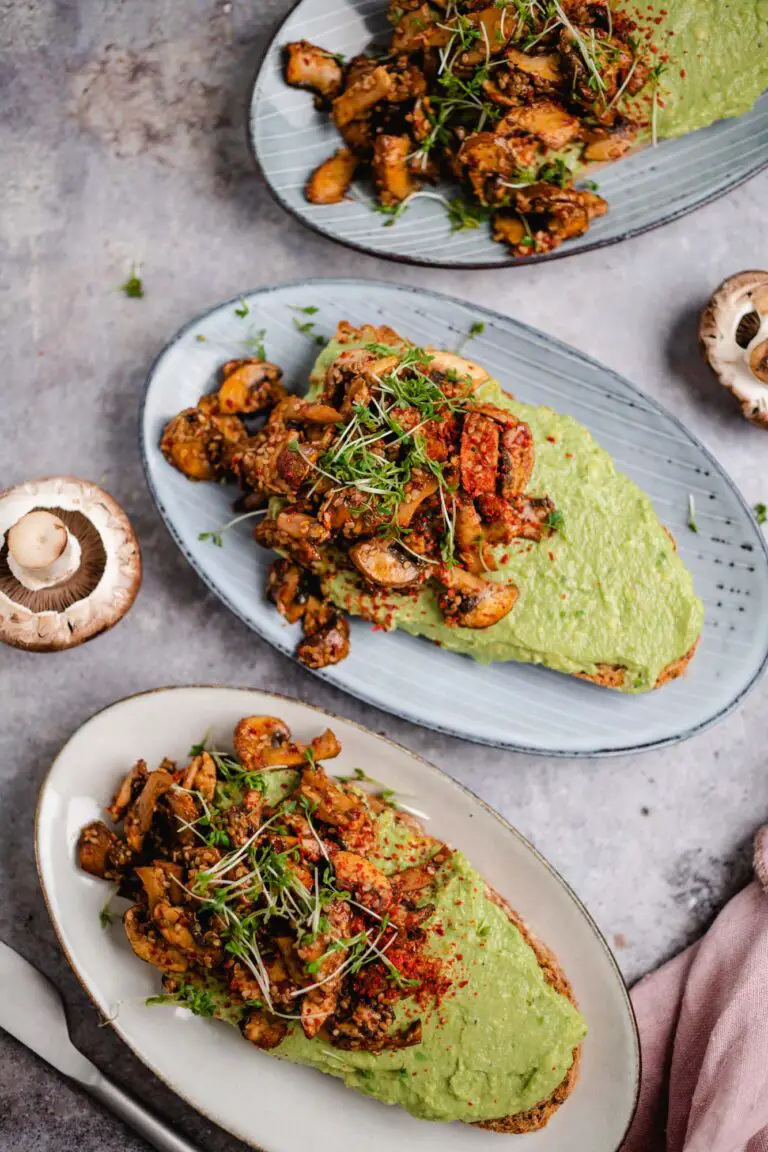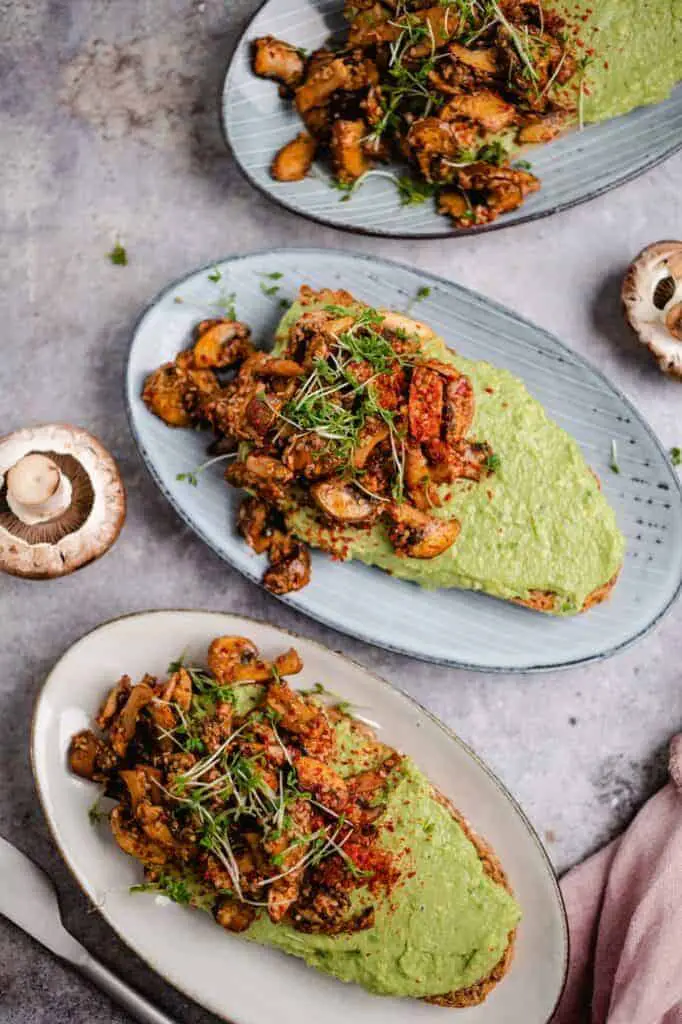 For today's recipe we need fresh sourdough bread. I like to buy it very much at the Hofpisterei, organic & regional, what more could you want? The avocado cream is quickly mixed with a ripe avocado, tahini, lemon juice, salt and pepper. The tahini provides an extra creamy consistency and naturally provides you with valuable calcium. Once the cream is mixed, I put it in the fridge and in the meantime I prepare the mushrooms. For this I sweat some oil in the pan and put the mushrooms directly into it. Once they become slightly glazed, I add sesame seeds, chili flakes (I use slightly milder Korean chili flakes), lemon juice and tamari.
At the end I finish the breads. For this I need four slices of sourdough bread, the Avo Tahini cream and the mushrooms. First, I spread a thick layer of avocado cream on the breads and place the mushrooms loosely on top.
TIP: If you like, you can sprinkle fresh herbs such as parsley or cilantro on top. Yummy and full of healthy ingredients.
Simple vegan dishes with sourdough bread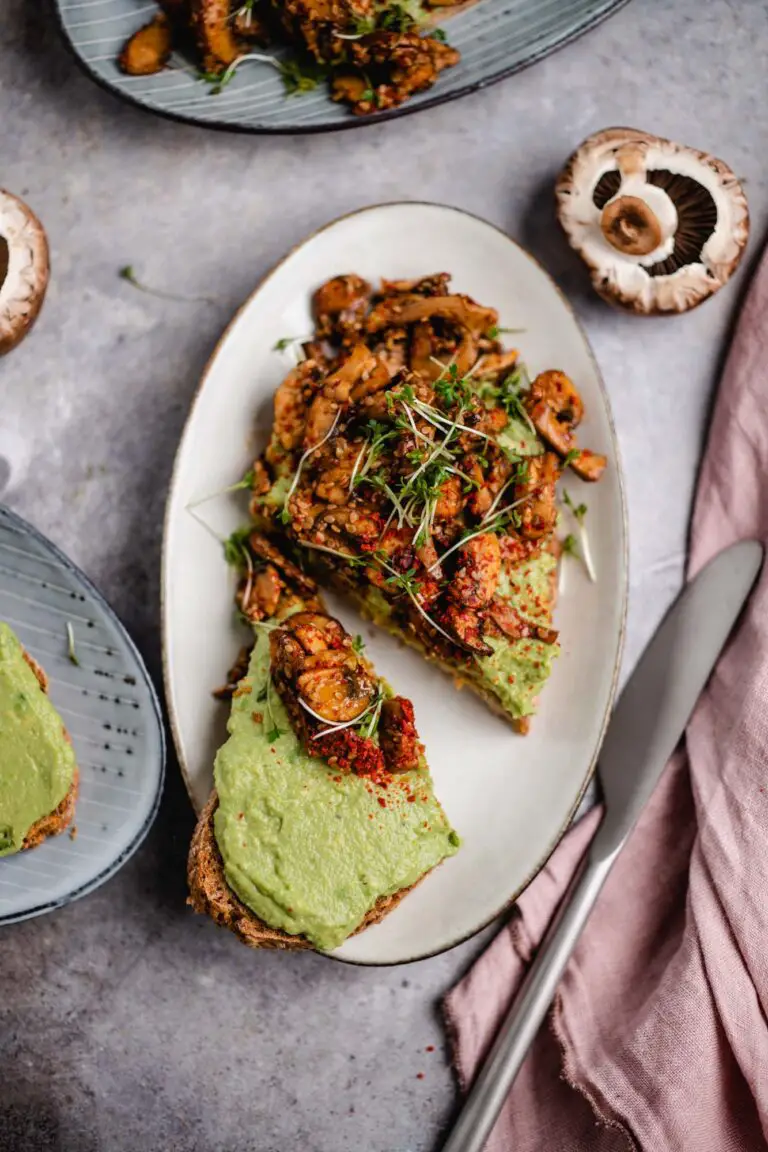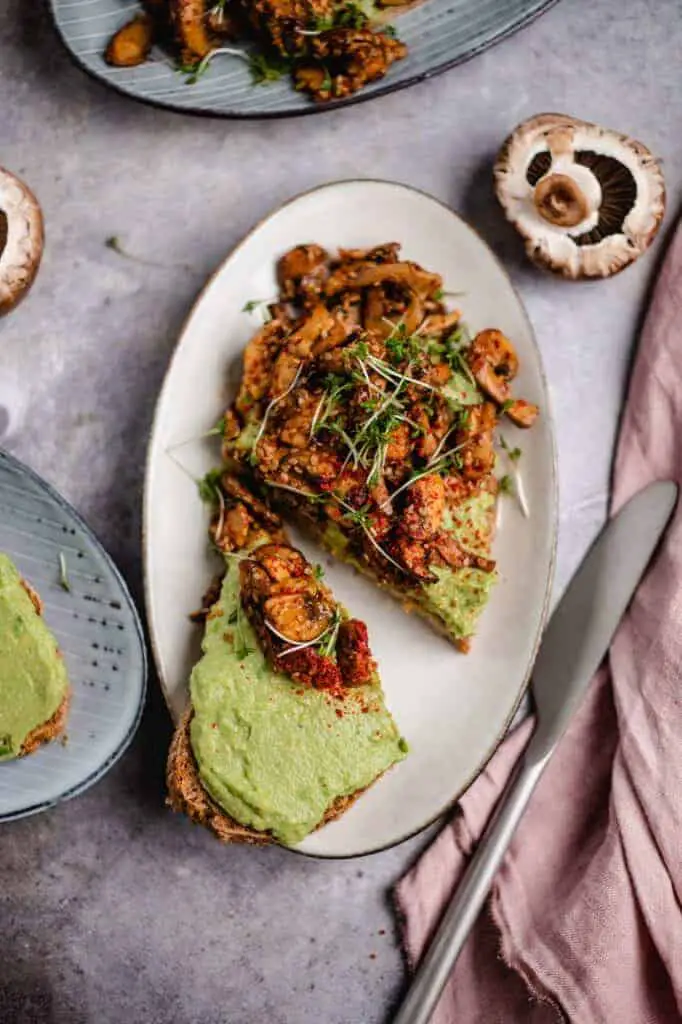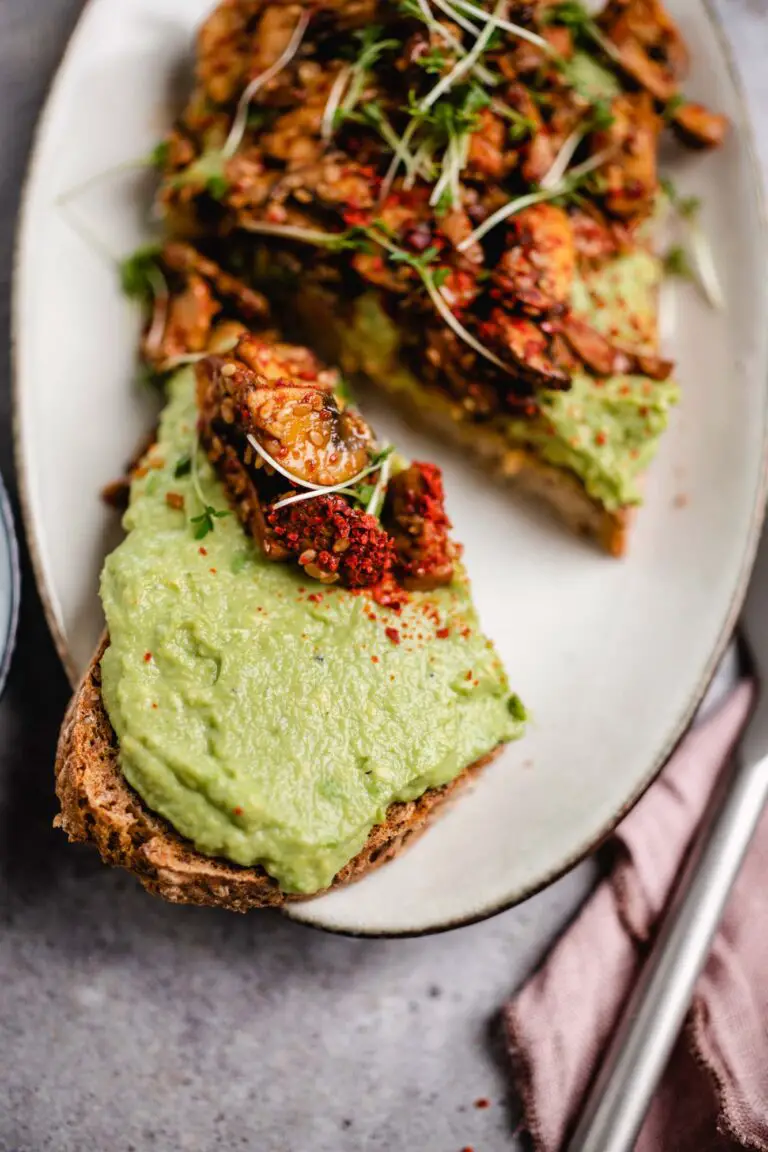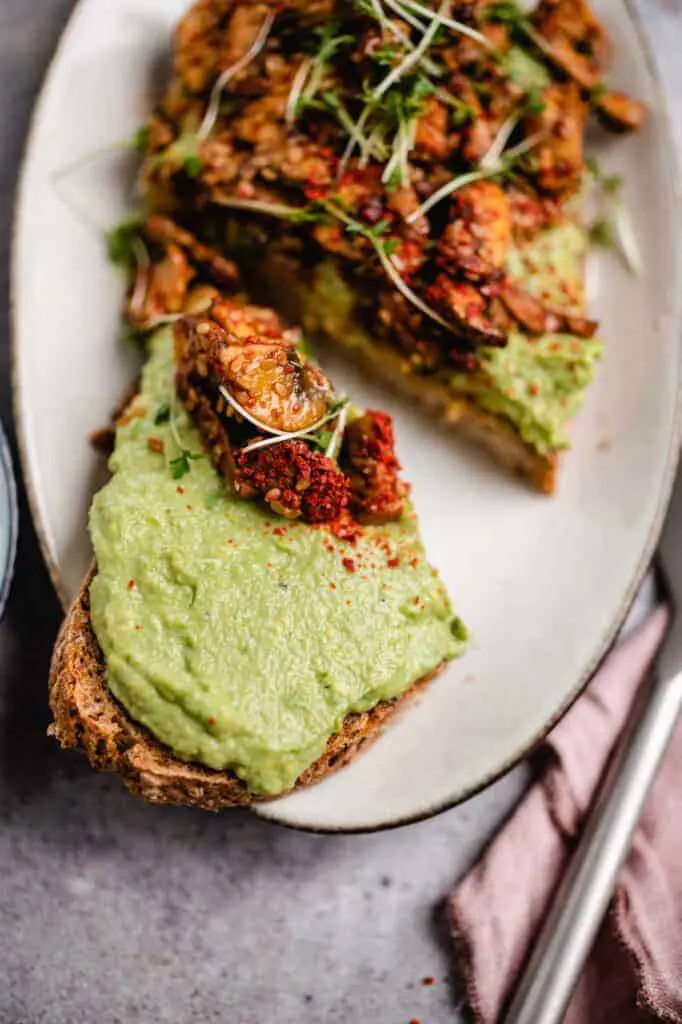 By the way, avocados are not only delicious, but also full of healthy ingredients and fats. At the same time, the fats in the avocado can definitely be classified as healthy, as they are especially rich in unsaturated fatty acids. In addition, there are plenty of vitamins and minerals, such as B vitamins, vitamin K, potassium, vitamin and vitamin C. It is also interesting that 100g avocado already cover almost 30 percent of the daily requirement of vitamin K. Together with tahini, this recipe is a real nutritional bomb and also tastes incredibly delicious.
If you're in the mood for a different savory spread today, I have the following suggestions for you:
The avocado tahini bread with mushrooms is:
aromatic
Slightly spicy
quickly made
saturating
Full of healthy ingredients
I wish you much joy in recreating and of course about a rating at the bottom of this page. If you post a picture, feel free to use the hashtag #veganevibes.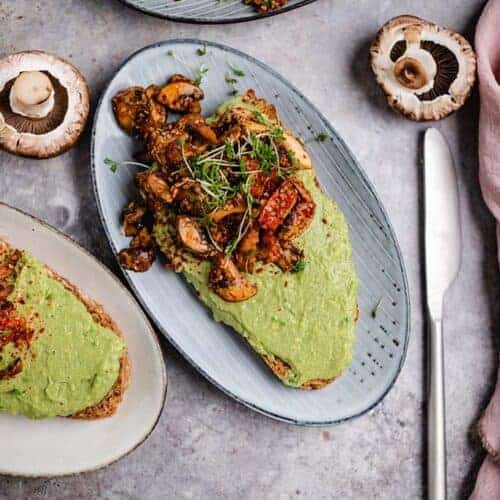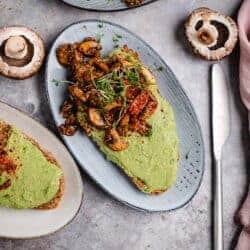 Avocado tahini bread with mushrooms
Avocado, tahini and mushrooms on bread, ready is this fine vegan dish. Sourdough bread topped with a cream of avocado, tahini and aromatic mushrooms from the pan. Ideal as a snack, or together with a salad as a main course. Nutritious, vegan and delicious.
AUTOR: VEGANEVIBES
OTHER:
4

Slices

Sourdough bread

Fresh herbs to taste
Anleitung 
FOR THE AVOCADO CREAM provide a small bowl. Slice avocado lengthwise and add flesh to plate. Add tahini, lemon juice, salt and pepper and stir and mix with a fork until a fine cream is formed.

1 Piece large avocado,

1 tbspn Tahini,

1 tbspn Lemon juice,

Pepper to taste,

Salt to taste

FOR THE MUSHROOMS Heat the pan and pour in the olive oil. Add mushrooms and stir until they become slightly translucent. Add sesame seeds and chili flakes and deglaze with tamari.

1 tbspn Olive oil,

250 g Mushrooms,

2 tbspn Sesame seeds,

1 tbspn Chili flakes,

1 tbspn Tamari

Place sourdough bread on a plate, spread with avocado cream and loosely top with mushrooms. Top with fresh herbs of choice and enjoy.

4 Slices Sourdough bread,

Fresh herbs to taste

Best fresh!
Nährwertangaben
Serving:
1
Portion
Calories:
291
kcal
Carbohydrates:
40
g
Protein:
10
g
Fat:
12
g
Saturated Fat:
2
g
Polyunsaturated Fat:
2
g
Monounsaturated Fat:
7
g
Sodium:
402
mg
Potassium:
584
mg
Fiber:
6
g
Sugar:
5
g
Vitamin A:
166
IU
Vitamin C:
8
mg
Calcium:
48
mg
Iron:
3
mg