Nicecream, Banana Ice Cream, banana ice cream or simply a healthy Ice cream , all naturally sweetened without added sugar. When I think about it, it's pretty darn cool to make an Ice cream with only one ingredient. A Banana and nothing else. Sounds simple, and it is, if you keep a few things in mind. I have summarized all this for you in this post as simple as possible. While I'm at it, I'd like to bring another topic to your attention. That's up for a vote today and it's really giving me a headache. Today, the Federal Council will decide how to proceed with caste farming in industrial meat production. Unfortunately, it appears that once again there will be a transition period of 8-10 years until the caste system is ended. This form of husbandry has been illegal since 2001. It breaks my heart to see the mother sows standing in little metal boxes unable to move. All this happens because the system cheap meat requires it. Not to mention many other unethical practices. Let's use our voices together to end these undignified conditions once and for all. Check out animalequality.com to find out how you can become a supporter.
Nicecream or Banana Ice Cream is fun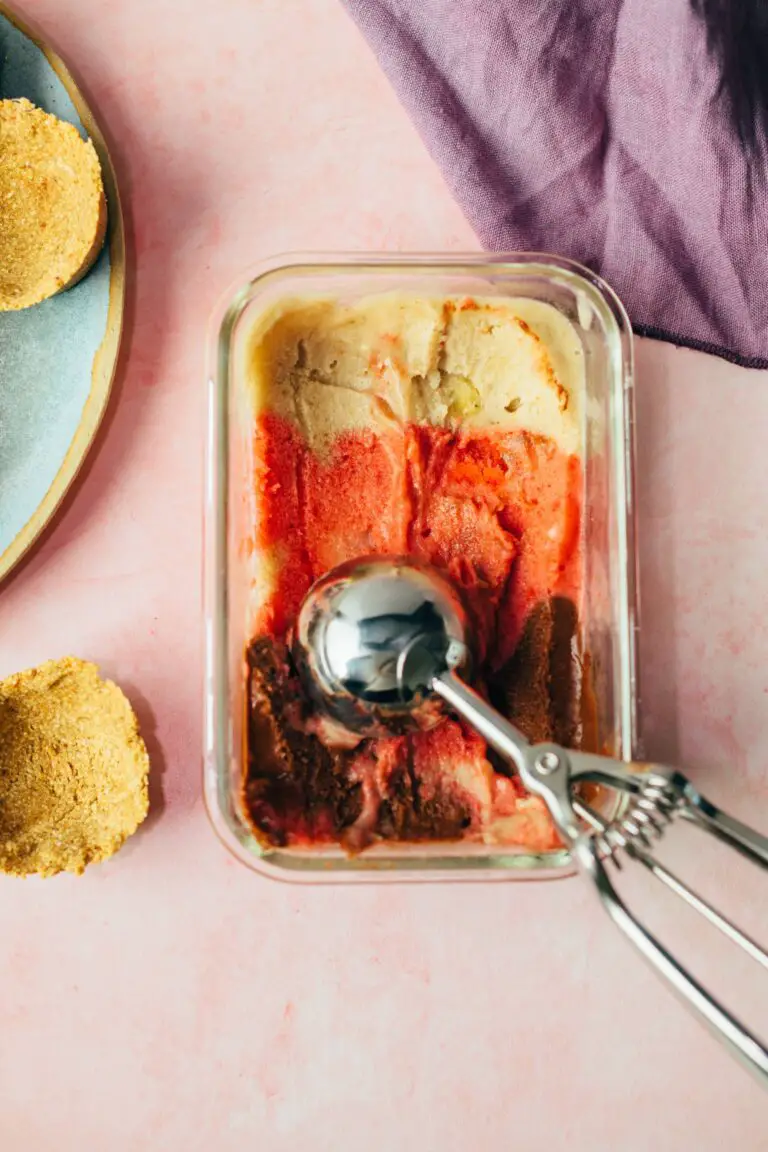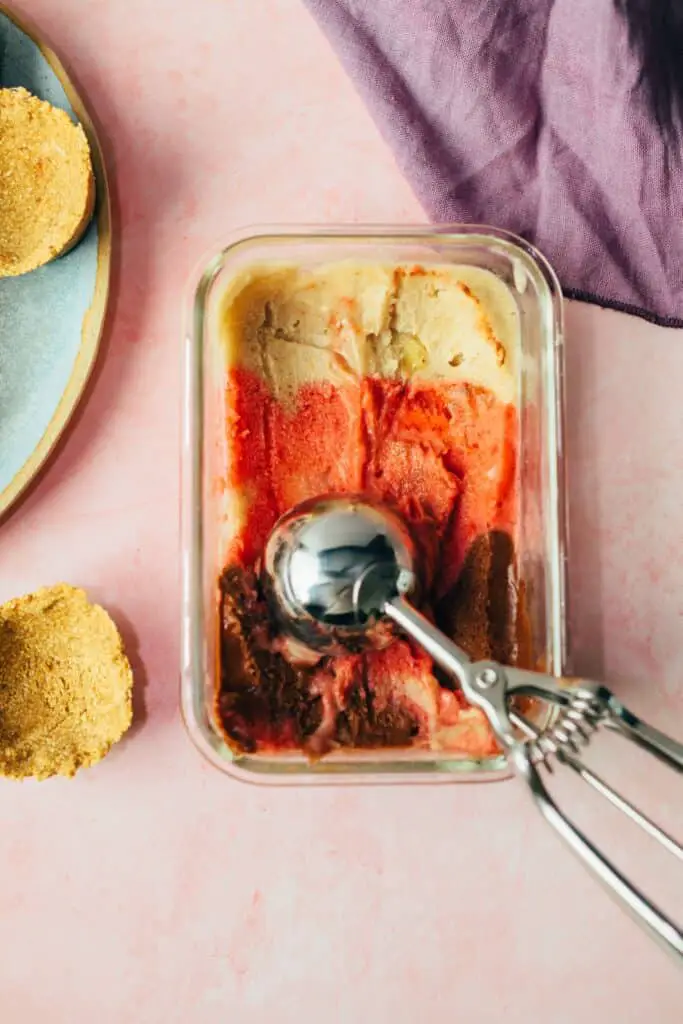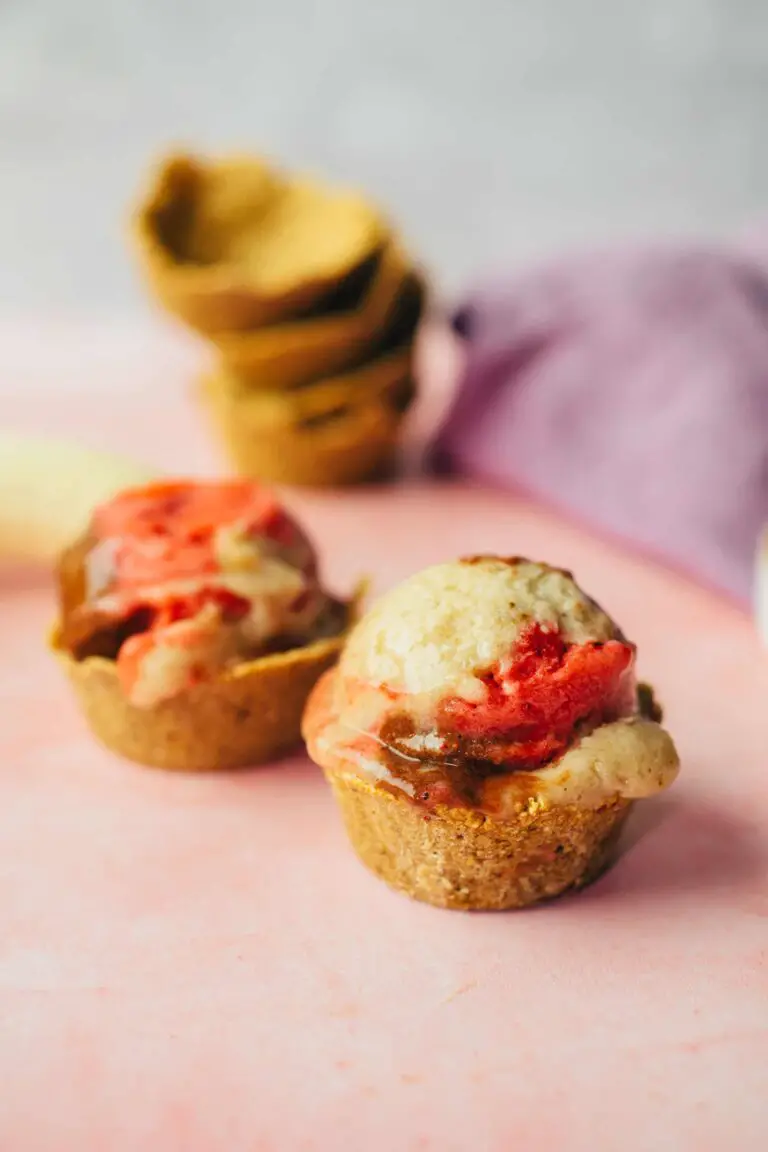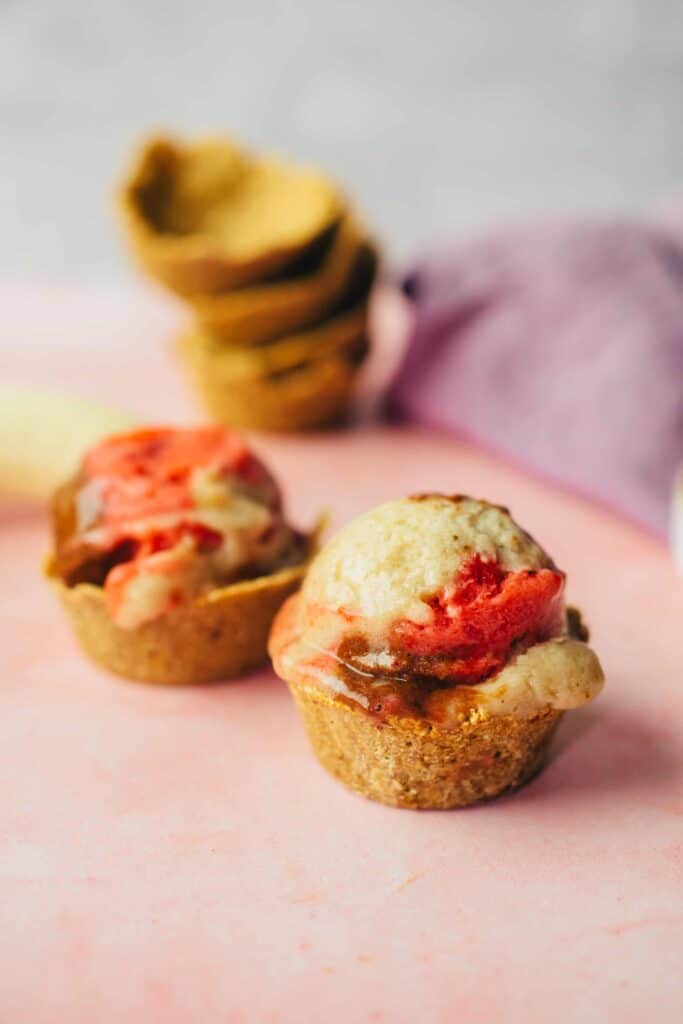 As always, let's start with the ingredients list. Our main ingredient are Bananas and they are enough in theory all by themselves for our ice cream today. The production is really simple, but there are once again a few things to consider so that the result is also sensational.
It is best to freeze the bananas as ripe as possible, they can have brown spots and be very ripe. Fresher bananas are not sweet enough to make a really good ice cream with. If in doubt, leave to ripen a little longer.
Be sure to cut bananas into pieces before freezing. You see recipes from time to time where whole bananas are frozen. Processing is definitely easier with pre-cut bananas.
Allow bananas to thaw for a few minutes before processing. This facilitates processing enormously.
In our today's variant come beside Banana cocoa powder and Strawberries are used. The inspiration for this is the Neapolitan ice cream with three different flavors. Chocolate, banana and strawberry. Just writing about these three delightful varieties makes the corners of my mouth move upward. So Yummy!
TIP: There are endless possibilities when putting together the flavor of Nice Cream. In addition to the three flavors I'm showing here, I'd like to give you some more ideas.
More Nice Cream Variations:
Chocolate nut with 2 tablespoons cocoa powder and 2 tablespoons nut puree of your choice*.
Mixed Berry with one cup of mixed frozen berries**.
Tropical Vibes with 1 cup frozen mango pieces and/or other tropical fruit**.
Salted Caramel with 2-3 tablespoons date caramel and a pinch of coarse salt*.
Matcha Vibes with 1 tsp spirulina or chlorella and 1 tsp matcha powder *
Oreo Dream with 5-6 Oreo cookies roughly broken*.
*Please note during the preparation that you first make the banana ice cream and only then add the other ingredients.
**Place the frozen fruit in the blender with the bananas and process simultaneously.
Which blender is best for making Nice Cream or banana ice cream?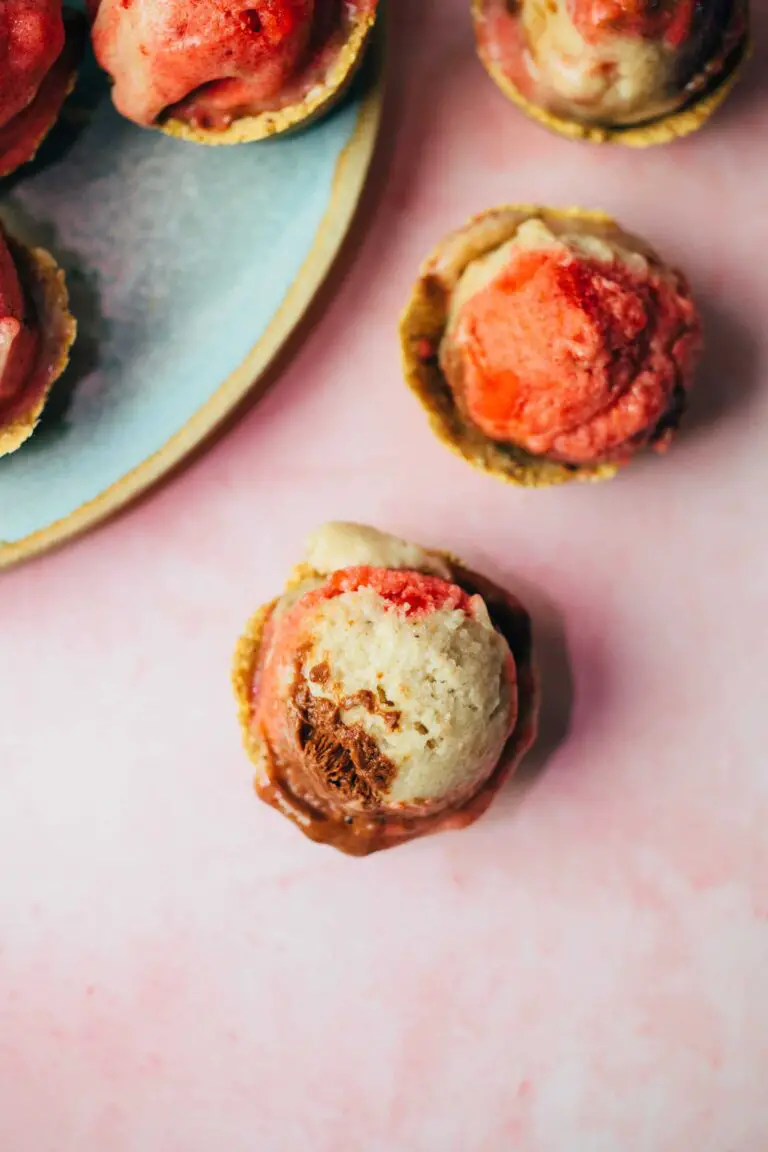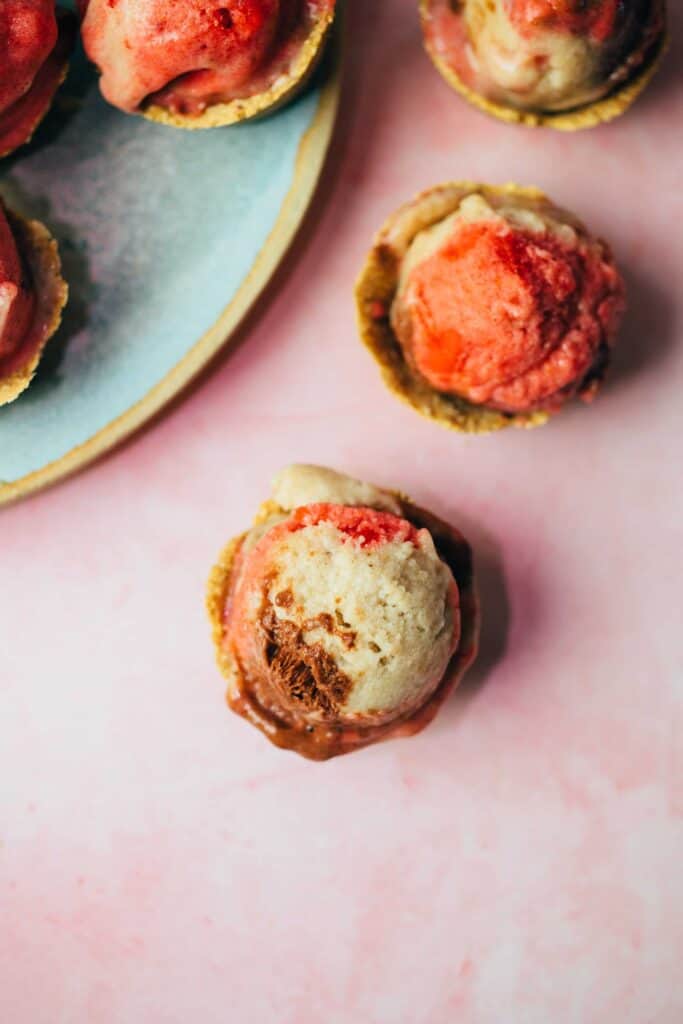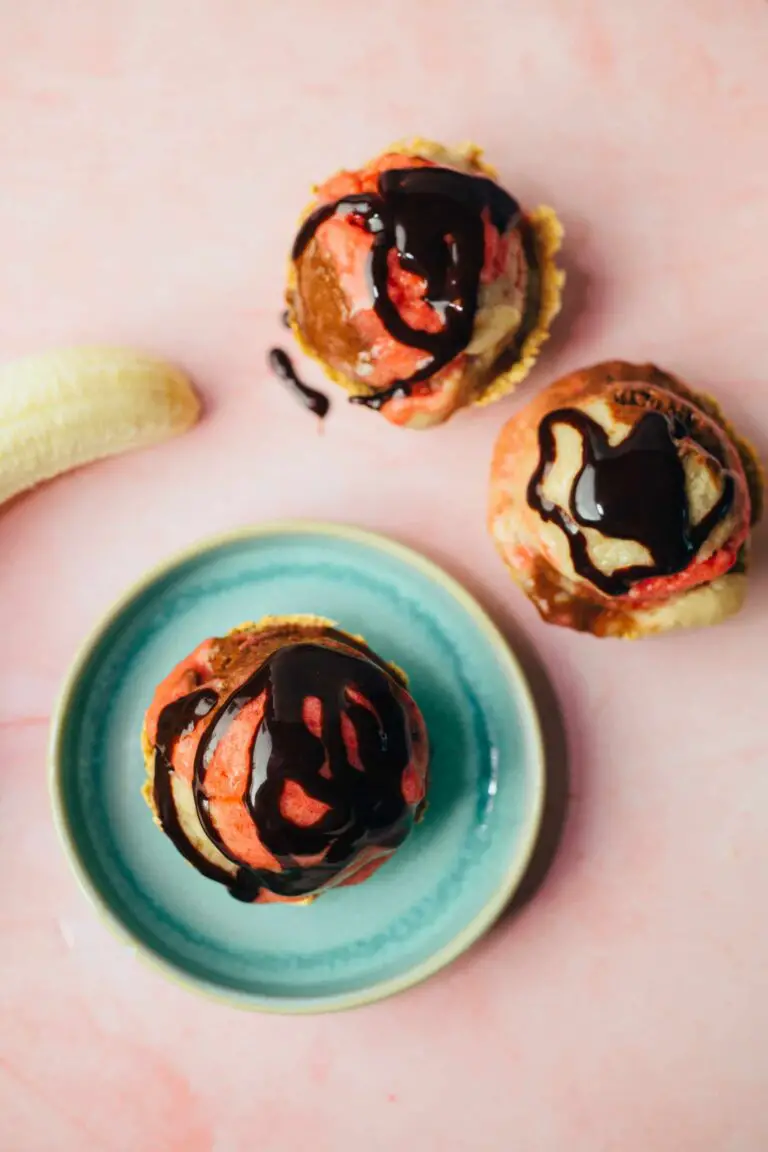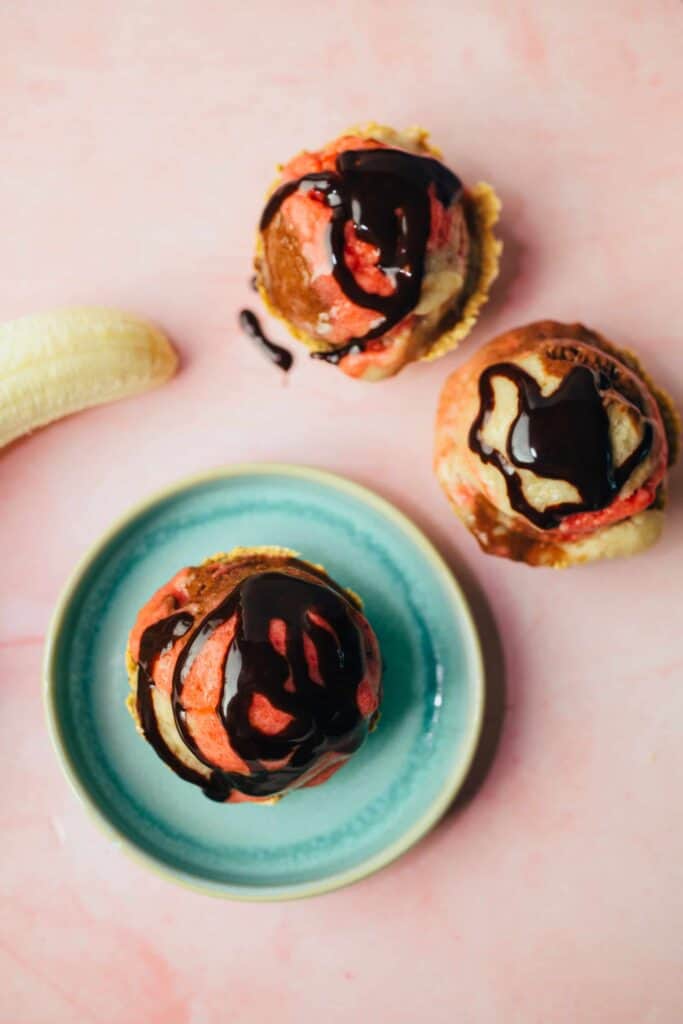 There are two types of mixers that are suitable for the production of Nice Cream suitable. One is a high-powered blender and the other is a Magimix. Here are the pros and cons of the two blenders and what to look for when using them:
High-powered blenders (Vitamix, Blendtec or similar) are generally suitable for making banana ice cream. But now comes the big "BUT", because they only work really well if you have a blender jar with a pestle. Without a pestle, it is actually difficult because the blender needs enough liquid to process the bananas. The knife spins and nothing happens. Click here to go directly to a model With pestle, so you understand what I mean.
Food processor "MagiMix" is the second variant, which also works extremely well in my view. There are many devices that are equipped with a so-called "S-blade", that is, an S-shaped blade. This ensures an even shredding of the bananas and a wonderful, creamy result. Besides the MagiMix I use, there are other models from other manufacturers that work similarly. Do you have any experience? Feel free to share them with us at the very bottom in the comments.
If you're in the mood for a different ice cream option today, I recommend my creamy vanilla ice cream , Strawberry ice cream or Fudge Brownie Ice Cream .
Are you ready for this great Nice Cream Neapolitan Style? It is:
Quickly made
creamy
chocolatey
Strawberry-ig
Without added sugar
Let's go with this incredibly delicious vegan dessert I wish you much fun with the Nachkochen and of course about a rating at the bottom of this page. If you post a picture, use the hashtag #veganevibes.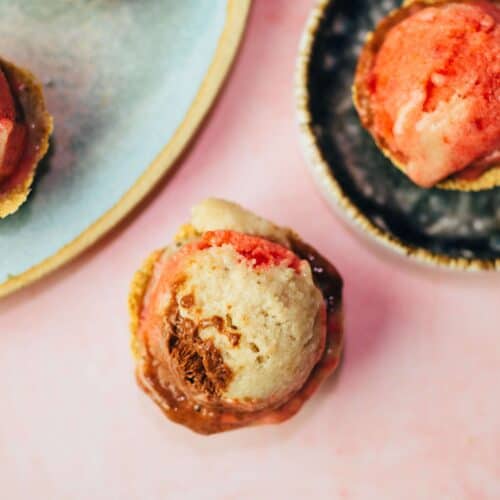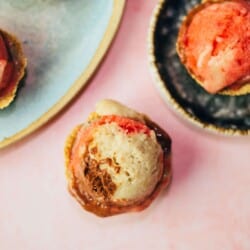 Banana Nicecream Neapolitan Style
Delicious Nicecream in three different flavors banana, strawberry and chocolate. Quickly made, no added sugar perfectly suited for the health-conscious ice cream lover. Ideal also for children.
AUTOR: VEGANEVIBES
250

g

Bananas

sliced and frozen

100

g

Strawberries

Frozen

1

tbspn

Cocoa powder

optional 1-2 tablespoons maple syrup
Anleitung 
Place frozen banana slices in a blender (see notes on different blenders above) and blend to a fine, creamy ice cream. Optionally add 1-2 tablespoons maple syrup for a caramel note.

⅔ of the banana ice cream into a bowl and leave ⅓ in the blender.

Place frozen strawberries in blender and blend together with ⅓ banana ice cream to make a fine banana-strawberry ice cream.

Transfer from blender to a bowl and briefly rinse the blender

Again, add ⅓ banana ice cream to the blender and add 1 tablespoon cocoa powder. Mix briefly until everything is well combined.

1 tbspn Cocoa powder,

optional ¼ tsp bourbon vanilla,

optional 1-2 tablespoons maple syrup

Now all three flavors are ready and can be eaten immediately. If the ice cream has become a little too liquid during the process, simply place in the freezer for another 1-2 hours.

Chocolate sauce,

Healthy ice cream cones

Keeps up to 1 month airtight in the freezer.
Nährwertangaben
Serving:
1
Portion
Calories:
129
kcal
Carbohydrates:
33
g
Protein:
2
g
Fat:
1
g
Saturated Fat:
1
g
Sodium:
6
mg
Potassium:
524
mg
Fiber:
4
g
Sugar:
18
g
Vitamin A:
80
IU
Vitamin C:
40
mg
Calcium:
14
mg
Iron:
1
mg