Mango protein lassi my dears, does it sound good? I think it sounds very tempting. I am already waiting eagerly for spring, although on the other hand I have not yet finished with winter. Only today I saw my touring skis standing in the corner and was quite sad. Strictly speaking, I have not used it once. Only a couple of times I rode it down our local mountain. It was fun, but it doesn't compare to a real mountain or climb. Well, don't complain, just look positively into the future. There will be another winter without Corona and I am looking forward to it. In the next few weeks, spring announces itself and I will enjoy it to the fullest. After a long walk with the dogs, our drink today fits the bill perfectly. Protein-rich, fruity and refreshing at the same time.
What actually is a mango lassi?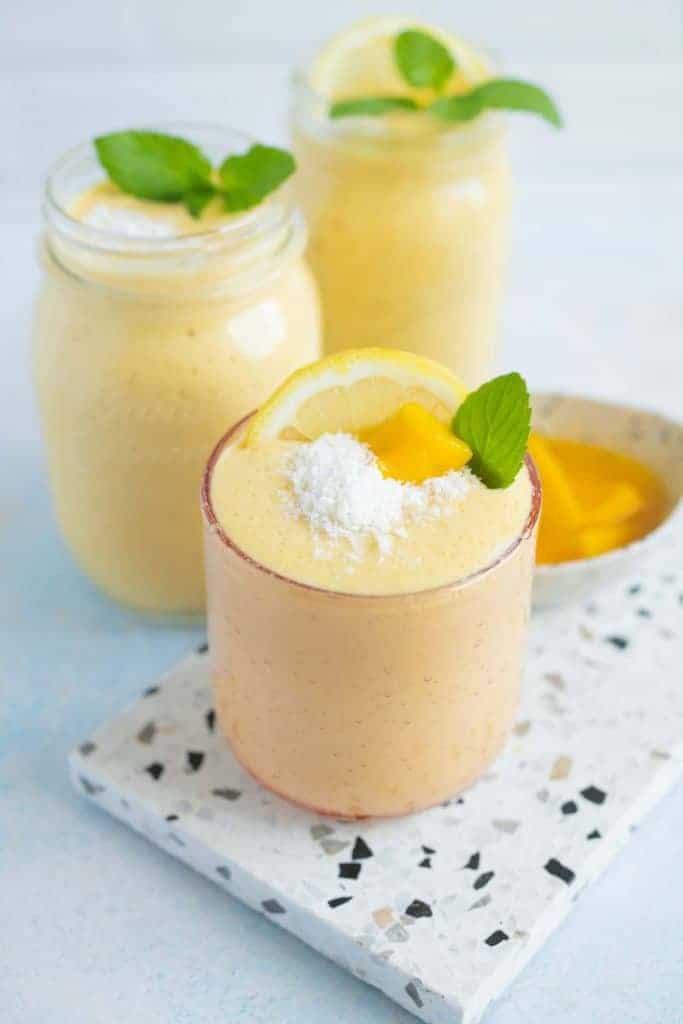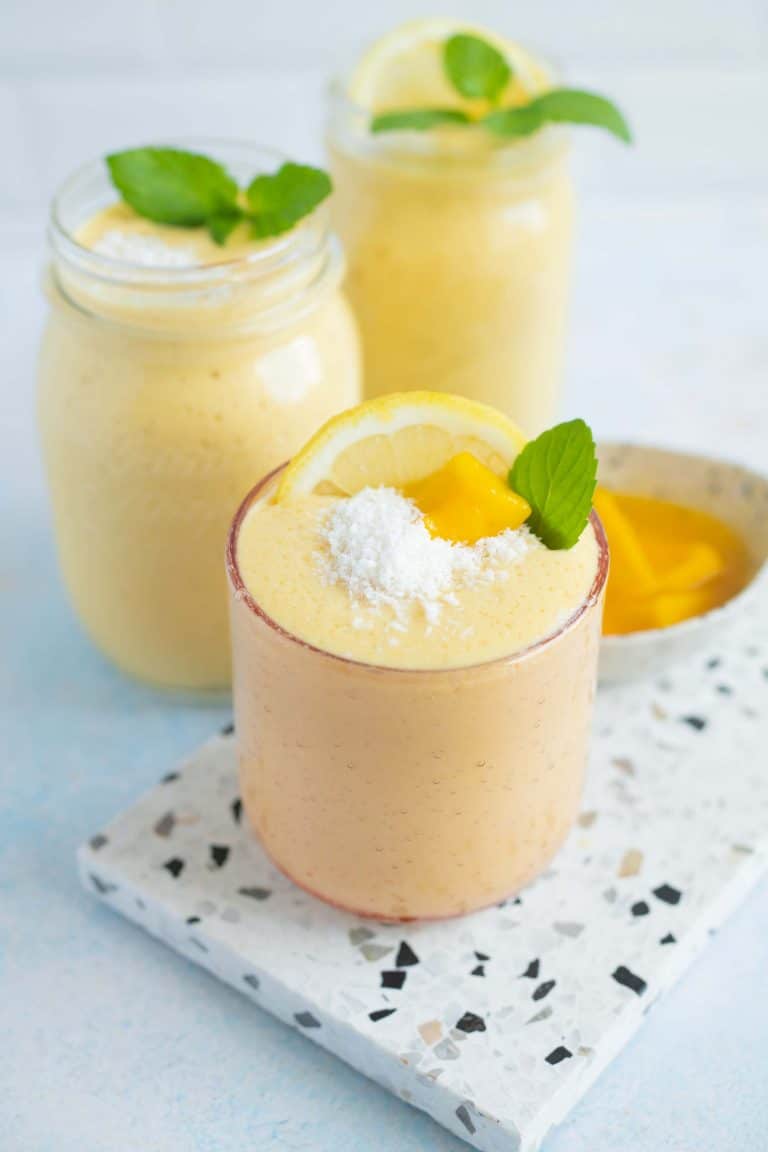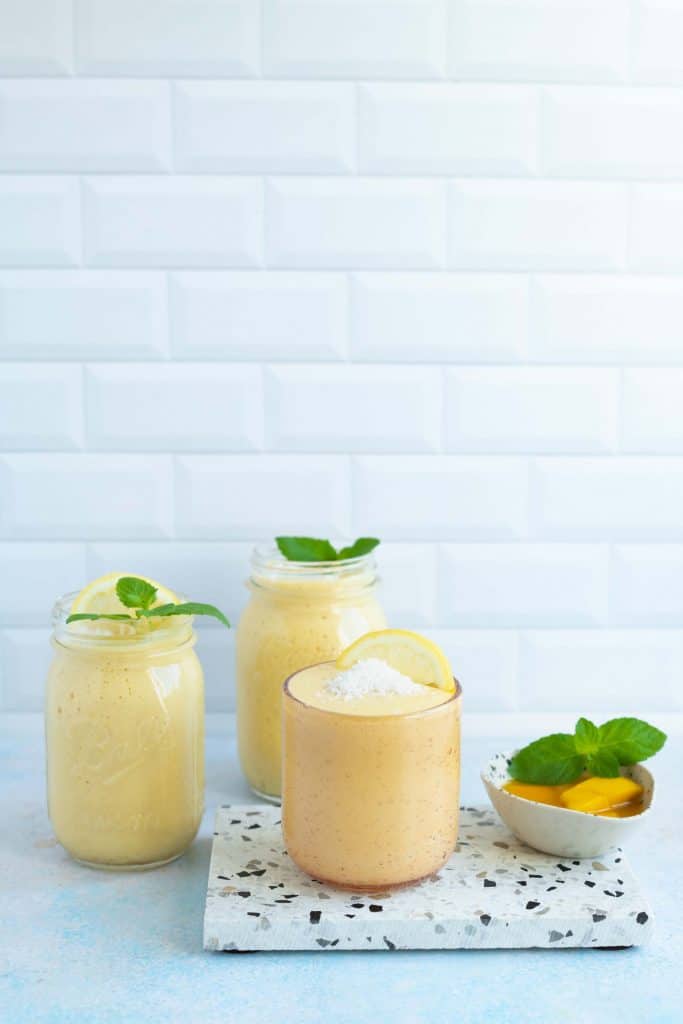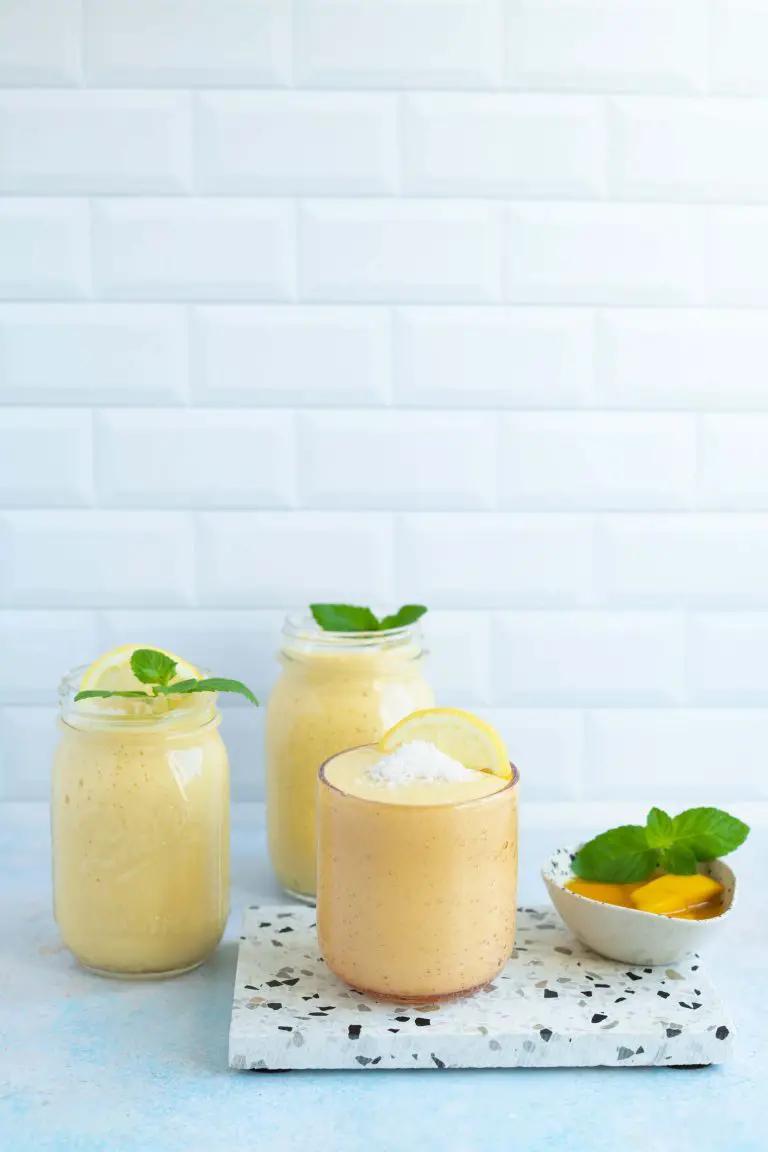 Mango Lassi is a drink that originated in northwestern India and consists mainly of mangoes and yogurt. In India it is a bit hotter than here (at least in many regions) and there it is served as a classic snack. However, depending on the time of day, many Indians enjoy it with a main course.
I opted for silken to fu instead of yogurt in my variation today. But you can always work with yogurt, here especially a creamy vegetable yogurt such as coconut yogurt is ideal.
Silken tofu, lemon juice, still water, mango (from a jar), raw cane sugar (or other sweetener of choice), a pinch of salt and other spices of choice. Ginger, cardamom, cinnamon and mint are the most popular add-ons. If you like, add extra protein powder.
Which mangoes are suitable for mango lassi?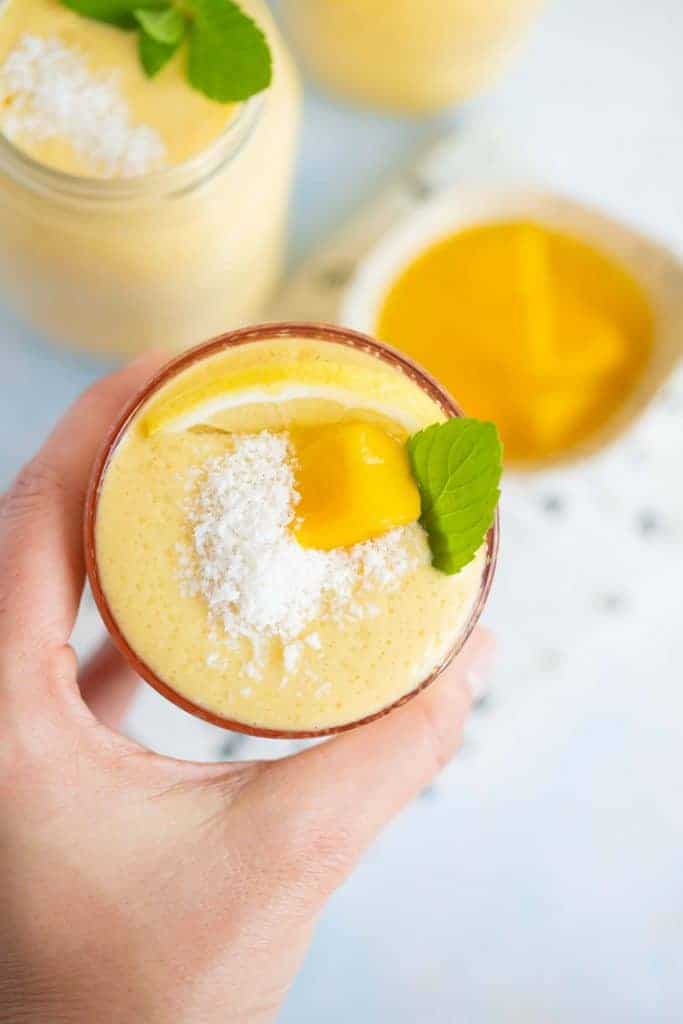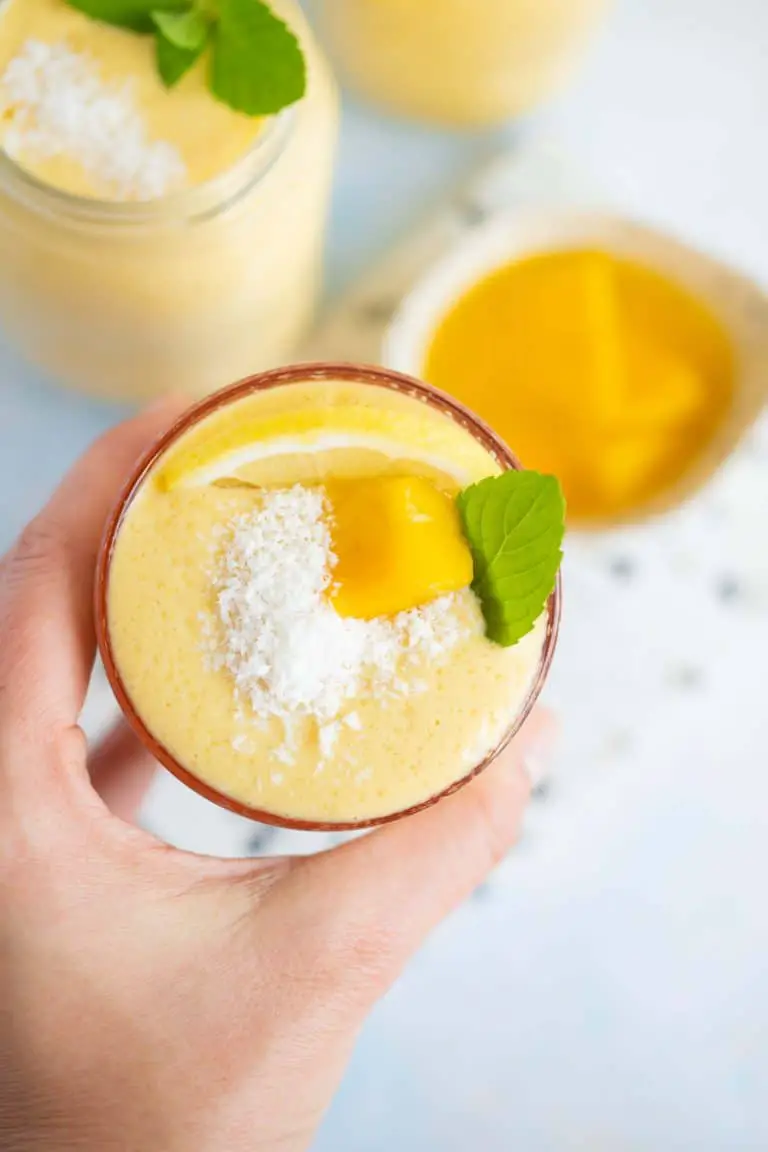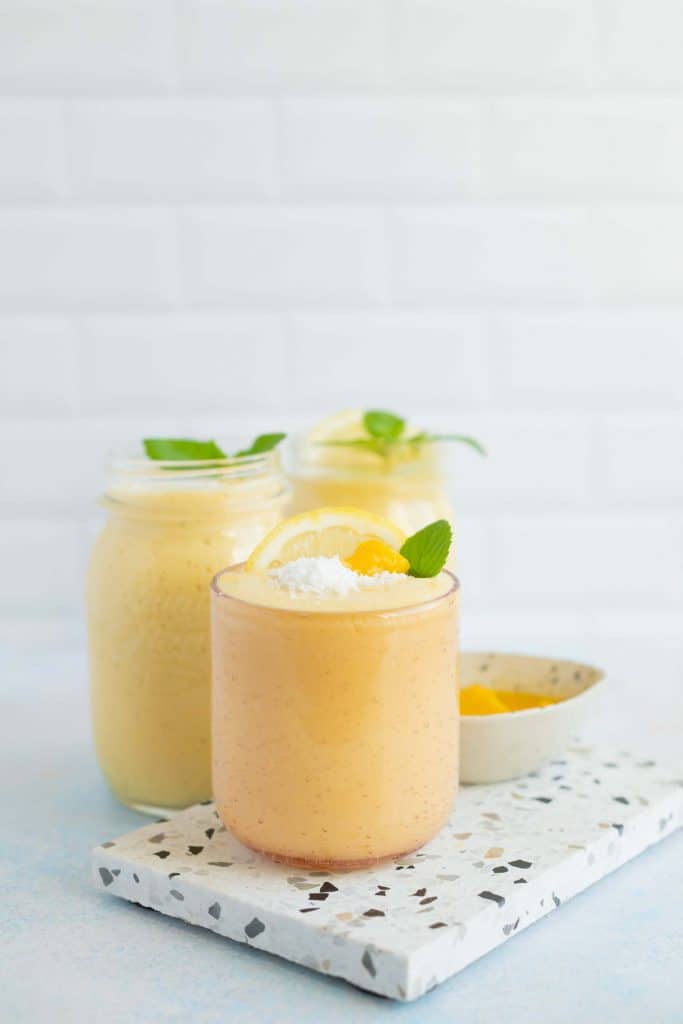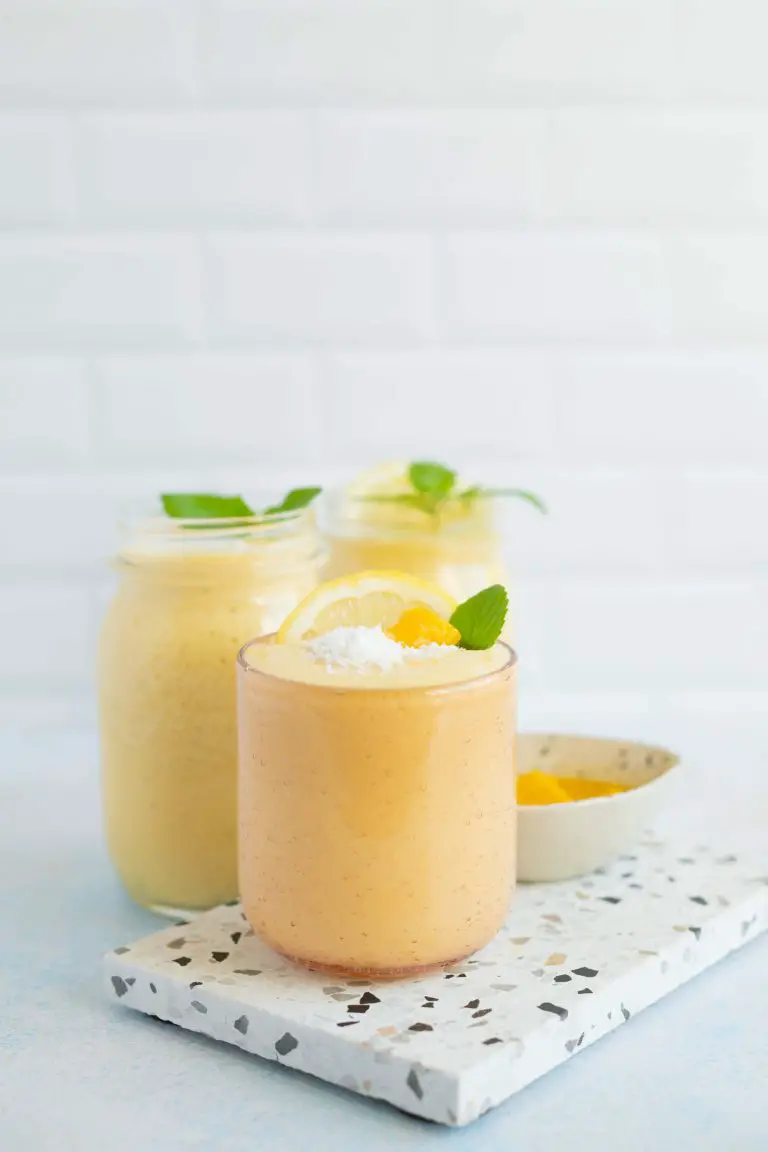 I'm going to be completely honest with you, because how many times have I bought a mango that looked perfect in super. Once home and stored at room temperature, it was still rock hard days later. Waited another few days and still hard. At some point I took the plunge and cut open the fruit. The result? The flesh was rock hard and tasted like nothing. Unfortunately, this happens all too often and sometimes it seems more likely to win the lottery than to find a tasty, ripe mango. So here are my tips on where to find the right mangoes for lassi:
Usemango from the jar: I now always have a few jars of mango in the jar at home and can access so flexible. I prefer to use organic products that are also unsweetened. The price is admittedly a bit high, but you can rely on the quality. I have linked the my favorite brand below.
Mangos from Jurassic Fruit: The online supplier offers tree-ripened fruit that is of exceptionally good quality and, in my opinion, cannot be compared with the goods from the supermarket. The fruit delivered was perfectly ripe and sweet. Please note that this is my personal opinion and I have no connection with the company.
You have a dealer you trust and you know you can always get ripe and sweet mangoes there.
Store mango properly
If your mango is not really ripe after you buy it, it is best to put it next to apples. Why? Apples produce a ripening gas that also benefits our mangoes. Once the fruit is ripe enough, it is best to store in the refrigerator. There, the ripening process is slowed down in case you don't want to eat or process your mangoes right away.
Perfect! I love the lassi on extra ice, especially when it's a little warmer outside.
The Mango Protein Lassi is:
fruity
sweet
Refreshing
High protein
filling
It's Mango Protein Lassi time! If you love the recipe , I appreciate a review at the very bottom of this page. If you post a picture, then like to use the hashtag #veganevibes.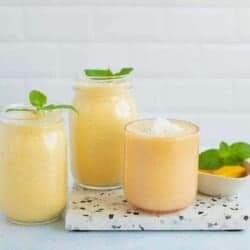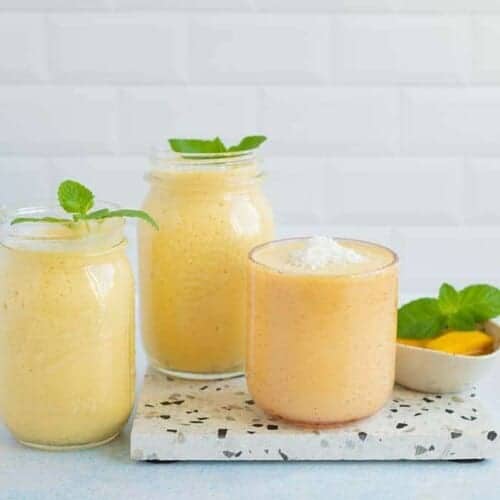 Mango Protein Lassi (10 minutes)
Indian inspired soft drink with fine silken tofu, mango, and ice. A perfect drink for warm days or as a supplement to a high protein diet. Topped off with mint and ice, a fruity and refreshing vegan dream.
AUTOR: VEGANEVIBES
400

g

Silken tofu

1 package

60

ml

Lemon juice

or lime juice

400

ml

still water

250

g

Mangoes from the jar

or 2 ripe mangoes, peeled and cut into pieces

30

g

Raw cane sugar

alternatively another sweetener of choice, more or less depending on the sweetness of the mangoes

Fresh mint to taste

Cinnamon

ground optional

Ginger

ground optional

Cardamom

ground optional
TOPPING:
Fresh lemon slices

Mint leaves

Ice cube

Straws
Anleitung 
Place silken tofu, lemon juice, still water, jarred mangoes, raw cane sugar, pinch of salt, mint + cinnamon, ginger, and cardamom (optional) in a high-powered blender and blend until a fine, creamy liquid is formed.

400 g Silken tofu,

60 ml Lemon juice,

400 ml still water,

250 g Mangoes from the jar,

30 g Raw cane sugar,

1 Pinch of salt,

Cinnamon,

Ginger,

Cardamom,

Fresh mint to taste

Pour into large (optional) glasses filled with ice. Garnish with fresh lemon slices, shredded coconut and mint leaves of choice and serve.

Fresh lemon slices,

Coconut flakes,

Mint leaves,

Ice cube,

Straws

Best fresh. Store in an airtight container in the refrigerator for 1-2 days.
Nährwertangaben
Serving:
1
Portion
Calories:
126
kcal
Carbohydrates:
21
g
Protein:
5
g
Fat:
3
g
Saturated Fat:
1
g
Sodium:
11
mg
Potassium:
303
mg
Fiber:
1
g
Sugar:
18
g
Vitamin A:
677
IU
Vitamin C:
29
mg
Calcium:
43
mg
Iron:
1
mg