Filled cookies, gluten-free and super delicious? Then you've come to the right place, because these cookies are simply amazing. I'll come back to the topic of addiction. I'm not really addiction-prone, but I can't say no to this fine cookie. When I tested them I already knew that they would not survive long in the refrigerator. Then, on one Sunday in question, the addiction attacked me. I was making myself a hot Pumpkin Spice Latte when I discovered these fine beauties in the fridge. I started with three pieces and could not resist my addiction. In the end, I ended up with a magical six cookies. wow! If you also want to try this unspeakably delicious Christmas cookie, let's get started together.
Filled cookies (gluten free)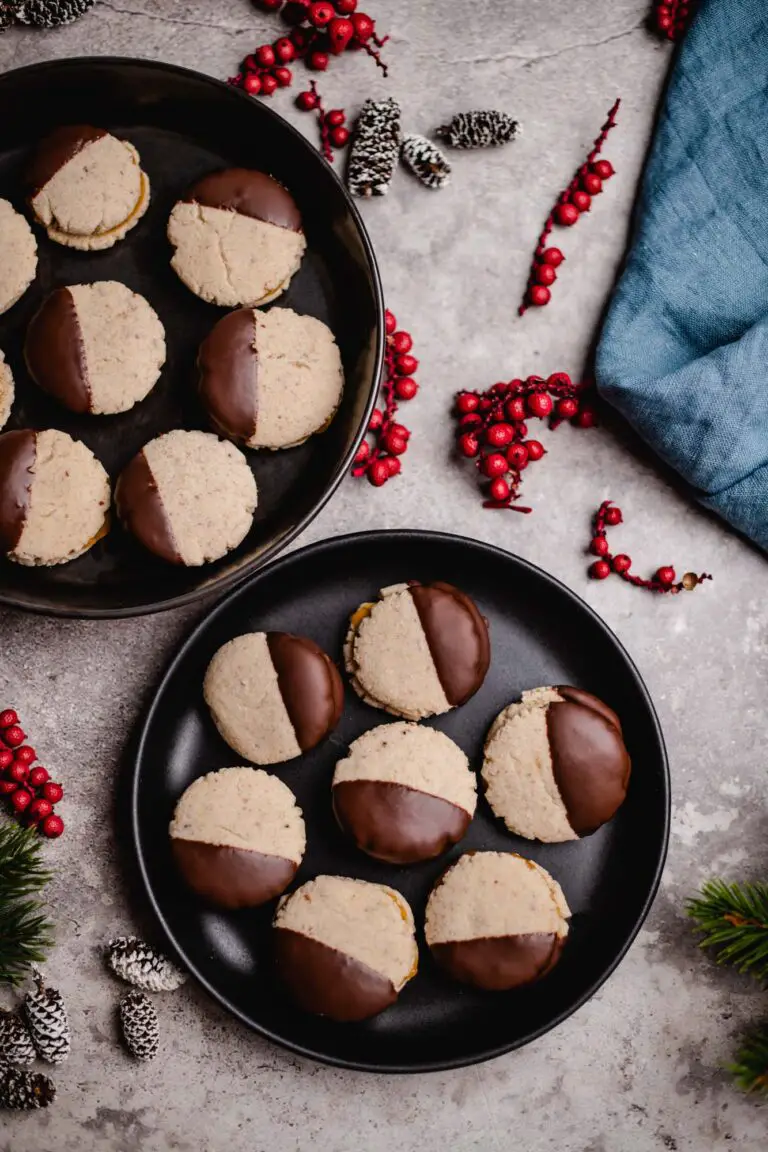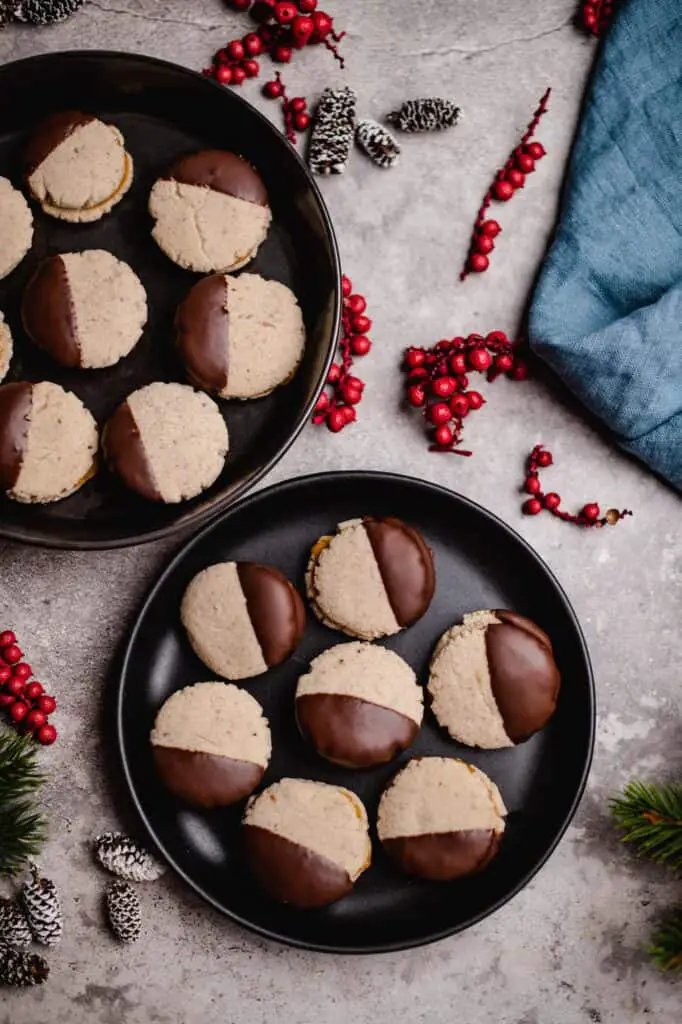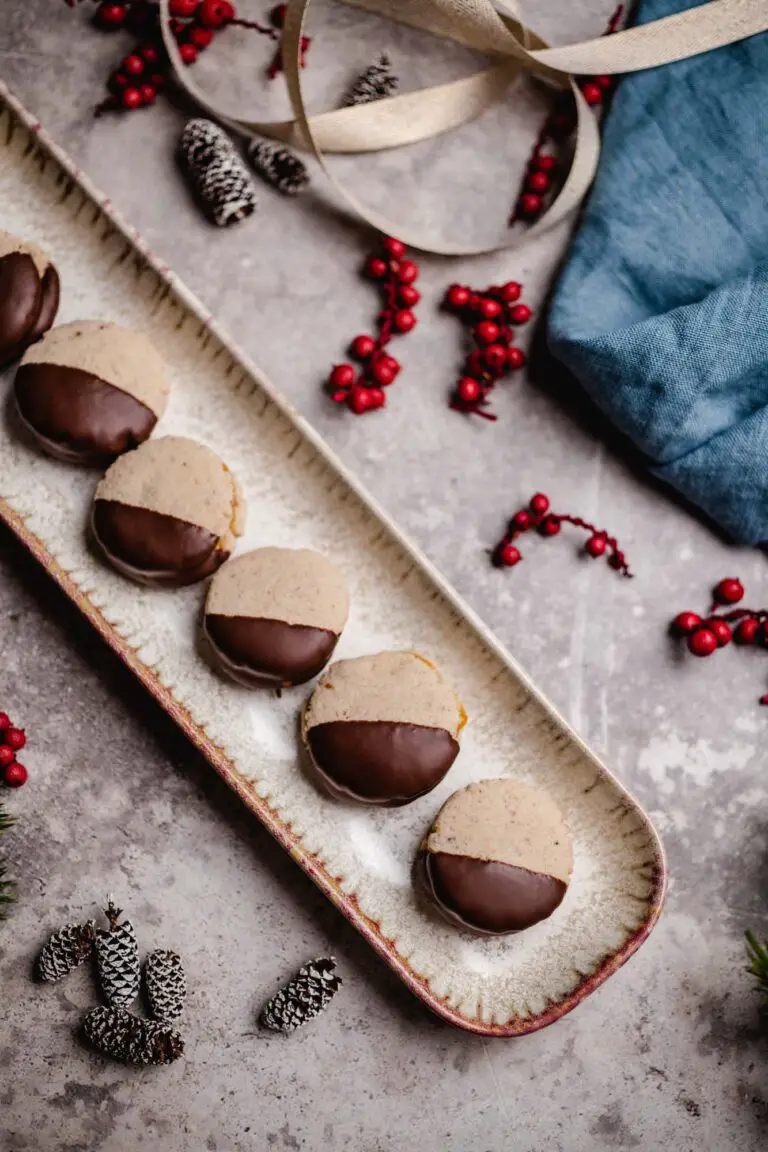 I'm a big lover of filled cookies, especially because they are so beautifully fruity and delicious on the inside. The only downside is that the cookies always take quite a long time to make. The dough is made in no time, but the shaping just takes a little time. It's best to make them when you have time and spend a leisurely day at home, for example. I believe that baking is almost like meditation. Mix the ingredients together, cut out, fill and dip in chocolate. Most of the time I listen to an interesting podcast on the side and am in my own world for a few hours.
Let's move on to making the dough, which is quick and easy. Put gluten-free flour mix, oat flour, almond flour, baking powder, flaxseed eggs, margarine and lemon zest in a blender. I use my Magimix with an s-shaped blade, but you can also use a food processor of your choice. This is all worked into a compact dough and then you're ready to go. Separate dough into several portions and roll into long strands. Separate small portions and roll into balls. They are then immediately placed on a baking tray lined with baking paper and lightly pressed down. Already it goes off into the oven. Once the little beauties are cooled, they are still filled with delicious apricot jam and dipped in chocolate. I'm definitely in love, what about them?
TIP: If you don't have apricot jam at home, you can use another tart jam, such as currant jam.
Make vegan gluten free cookies yourself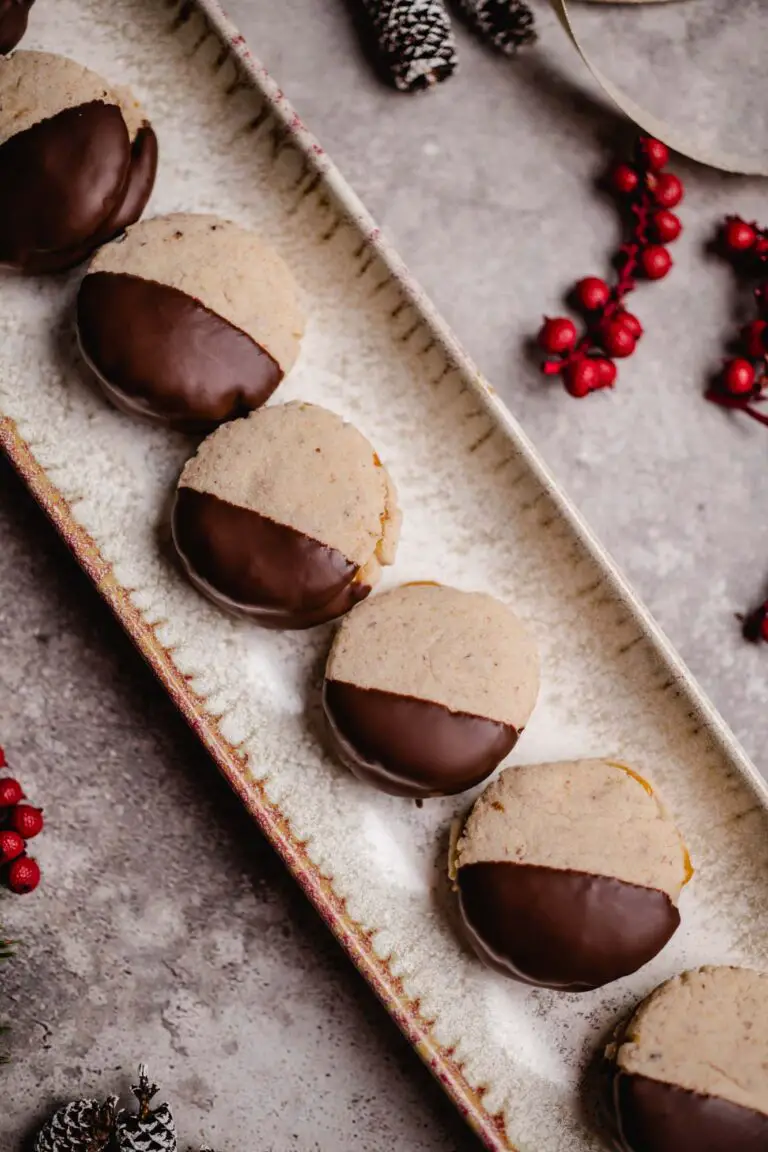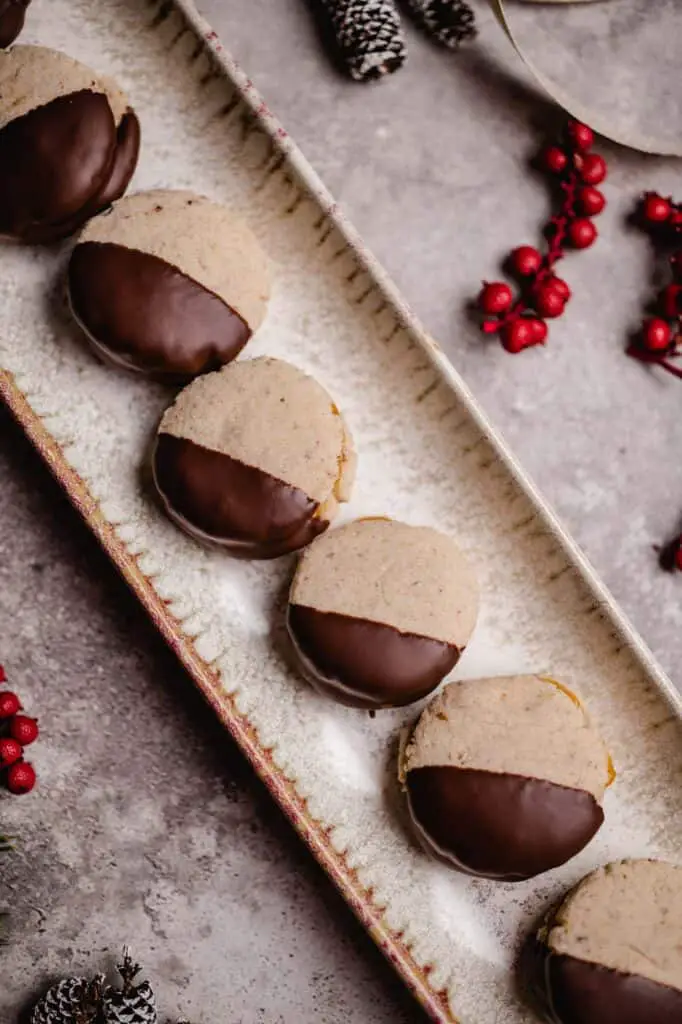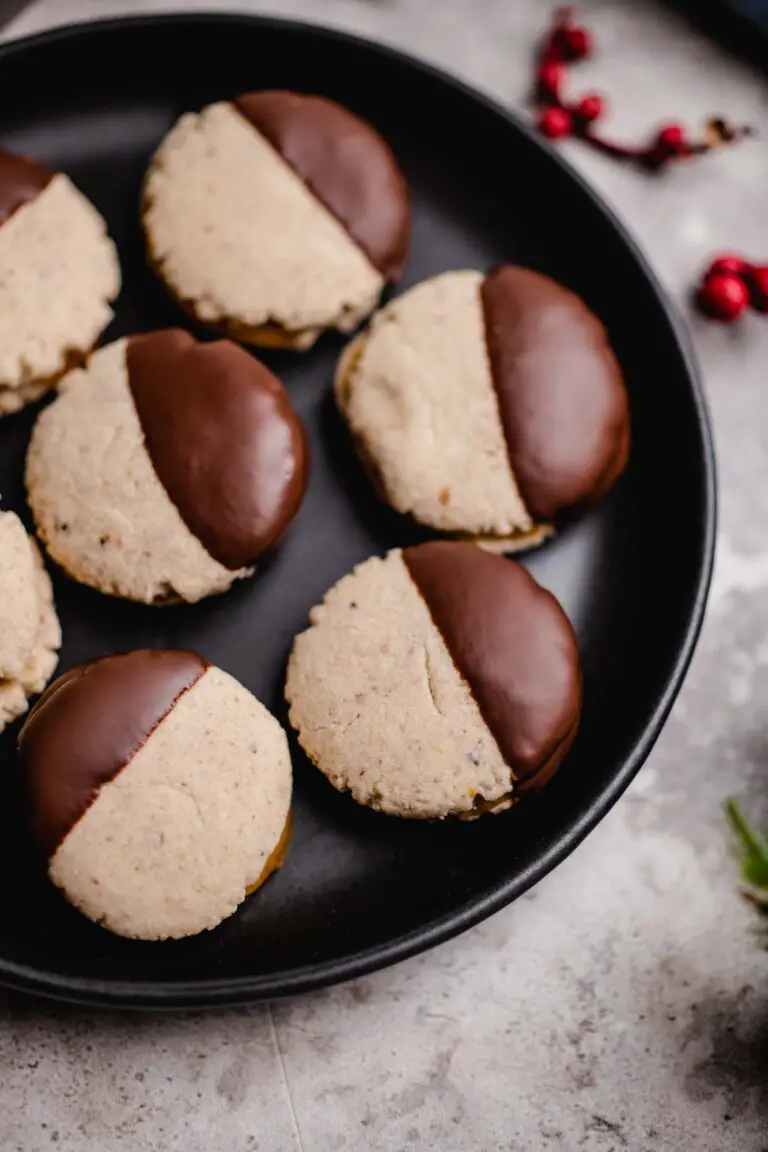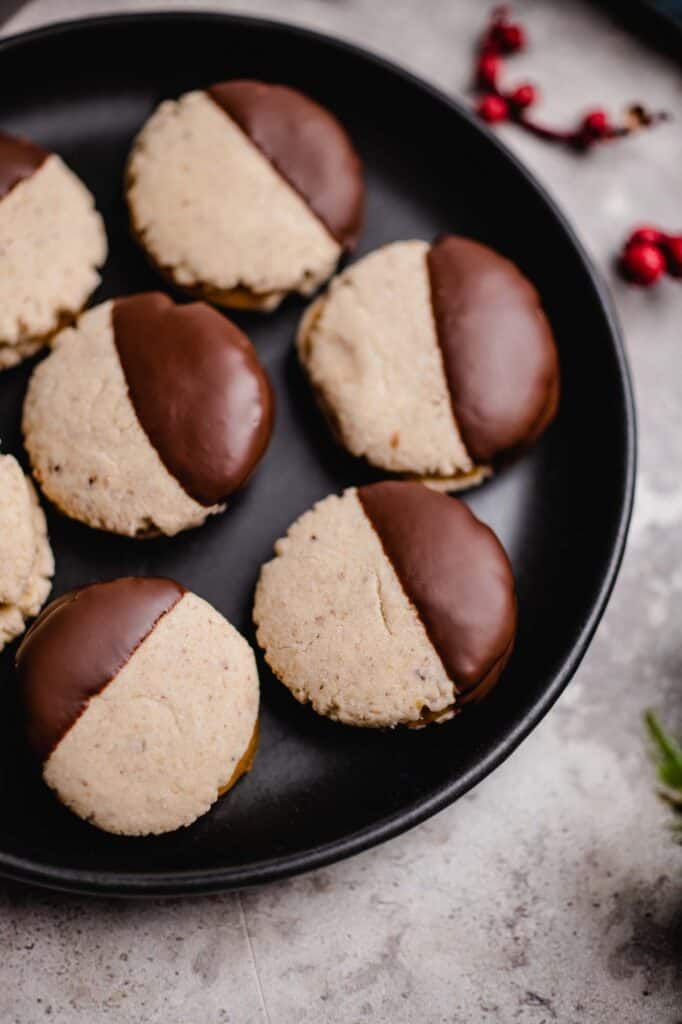 You may be thinking to yourself, gluten-free yes, but healthy these cookies are far from it. You could be right, but unfortunately I don't have good news here, because the margarine is not so easy to replace. The only option here is to consciously indulge in a cookie here and there, or switch to other healthier variations. Christmas is now cookie time and I would love for you to try this fine variation.
If you're in the mood for some other cookie recipes today, I have the following suggestions for you:
TIP: Do you already know the free Christmas booklet? If not, you'll get it easily when you sign up for the newsletter here.
I hope you enjoy baking and of course about a review at the bottom of this page. If you post a picture, use the hashtag #veganevibes.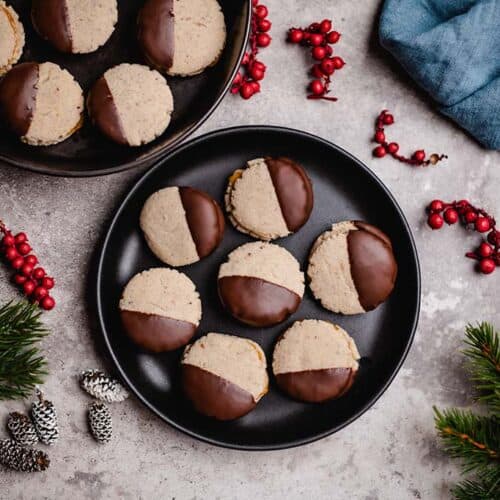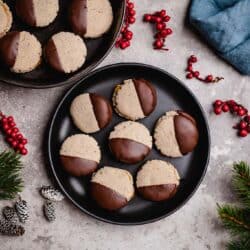 Filled cookies (gluten free)
These filled cookies are gluten-free and irresistibly delicious. Filled with fine apricot jam and covered with dark chocolate, they are a very special highlight. Shortbread, fruity, Christmasy and easy to make. Vegan, gluten-free, lactose-free.
AUTOR: VEGANEVIBES
FOR FILLING AND DECORATING:
100

g

Apricot jam

100

g

dark chocolate coating
Anleitung 
FOR THE DOUGH Provide mixer or food processor. Add gluten-free flour mix, oat flour, almond flour, baking powder, margarine, raw cane sugar, cinnamon and lemon zest and mix to a compact dough.

200 g gluten free flour mix,

100 g Oatmeal,

50 g Almond flour,

200 g Margarine,

120 g Raw cane sugar,

½ tbspn Cinnamon,

zest of half a lemon

Preheat oven to

160

°C

(hot air) or

180

°C

(upper-lower heat) and line a baking sheet with a permanent baking mat (or baking paper).

Separate dough into portions and roll into a rope. Separate 1 teaspoon of dough from each, shape into a ball and place on baking sheet. Press down lightly. Repeat until the dough is used up. TIP: I use a jar with a flat bottom for pressing.

Place in oven and bake for

10 minutes

. NOTE: Please do not wait for the cookies to brown, as the gluten-free flour does not brown.

Remove from the oven and allow to cool completely.

Meanwhile, gently heat dark chocolate over a water bath and melt. Provide apricot jam.

Spread the inside of one cookie with a little apricot jam, cover with a second cookie and press down very gently.

Dip one side directly into the melted chocolate and allow to set on a draining rack. Repeat until all cookies are processed.

100 g dark chocolate coating

Give away or nibble and enjoy!

The cookies will last about 2 weeks in a tightly sealed tin (if not eaten first).
Nährwertangaben
Serving:
1
Piece
Calories:
119
kcal
Carbohydrates:
13
g
Protein:
2
g
Fat:
7
g
Saturated Fat:
2
g
Polyunsaturated Fat:
1
g
Monounsaturated Fat:
2
g
Trans Fat:
0.03
g
Cholesterol:
0.1
mg
Sodium:
45
mg
Potassium:
48
mg
Fiber:
1
g
Sugar:
5
g
Vitamin A:
320
IU
Vitamin C:
0.3
mg
Calcium:
13
mg
Iron:
1
mg