Double Choc Banana Bread is as the name suggests, really nice and chocolaty and makes the hearts of Chocolate Junkies like me beat faster. What kind of weather is it at the moment, or rather what kind of winter is it? I had hoped for snow, but it doesn't even snow in the Alps this year. Since you should always think positive, I like to sweeten the stormy and rainy days with some chocolate, in the form of bars, spreads or even Banana bread . When I look outside, a trip to the kitchen is obvious. I think I'm going to get another slice of Banana Bread.
Double Choc Banana Bread – nothing more to say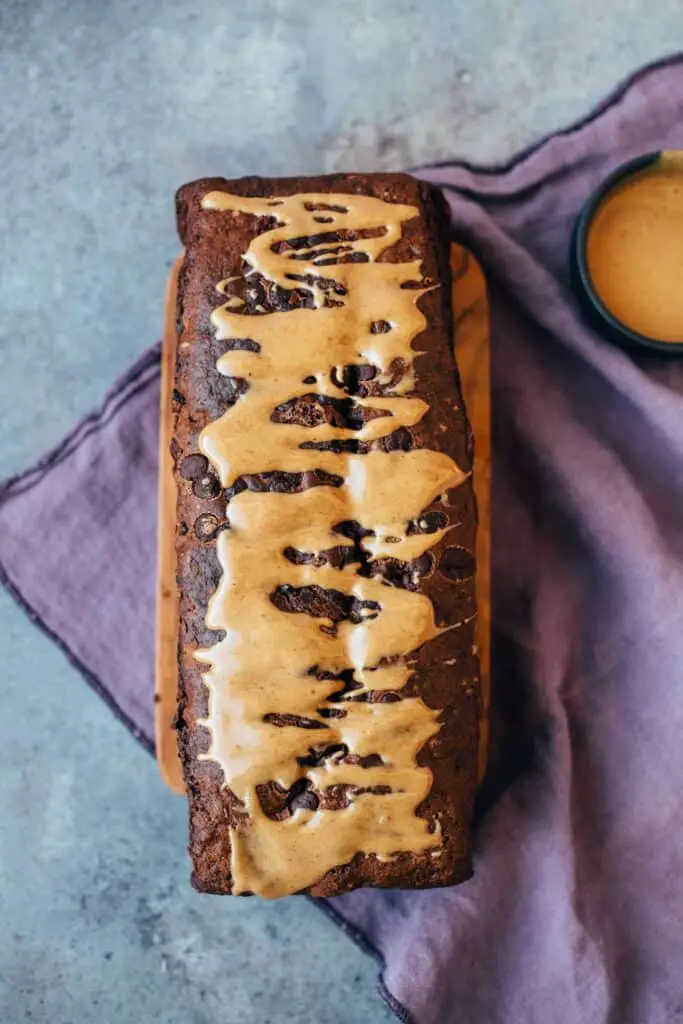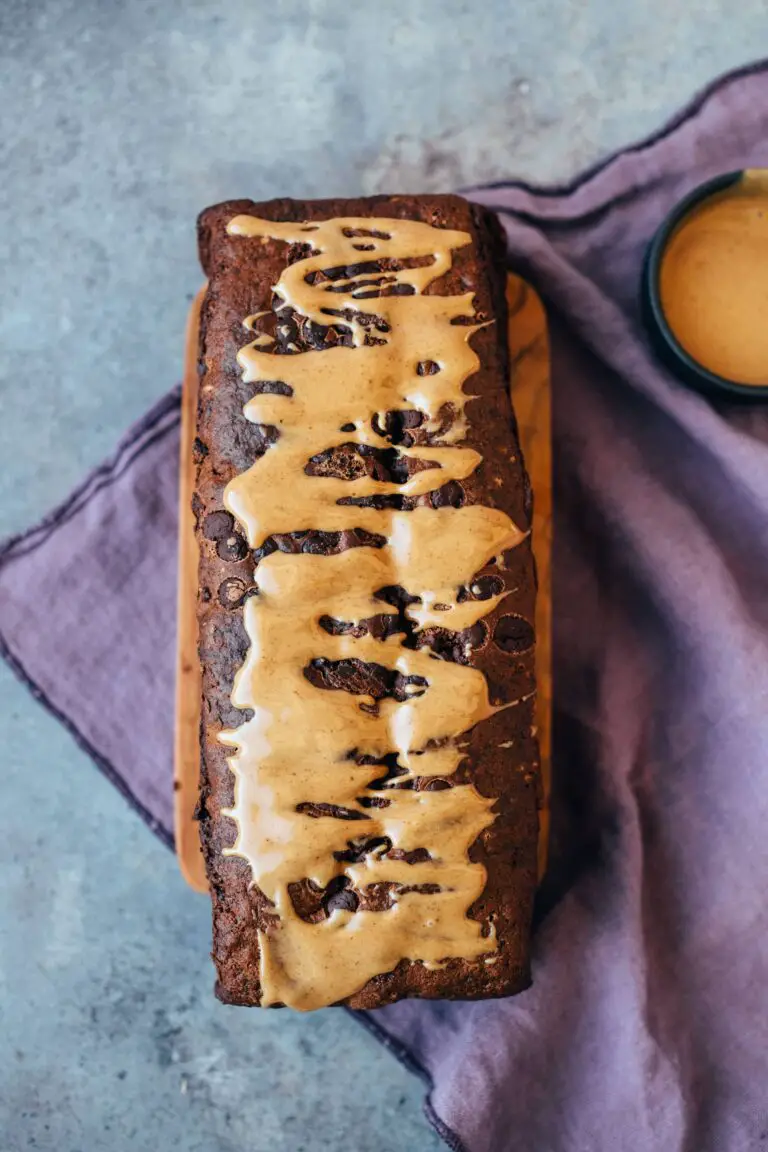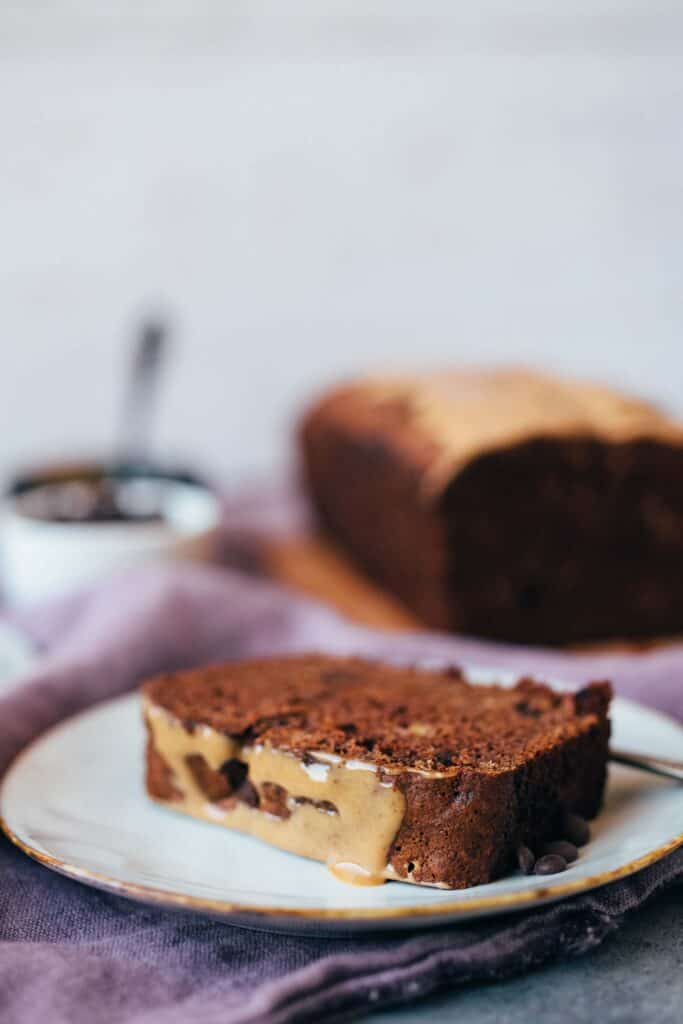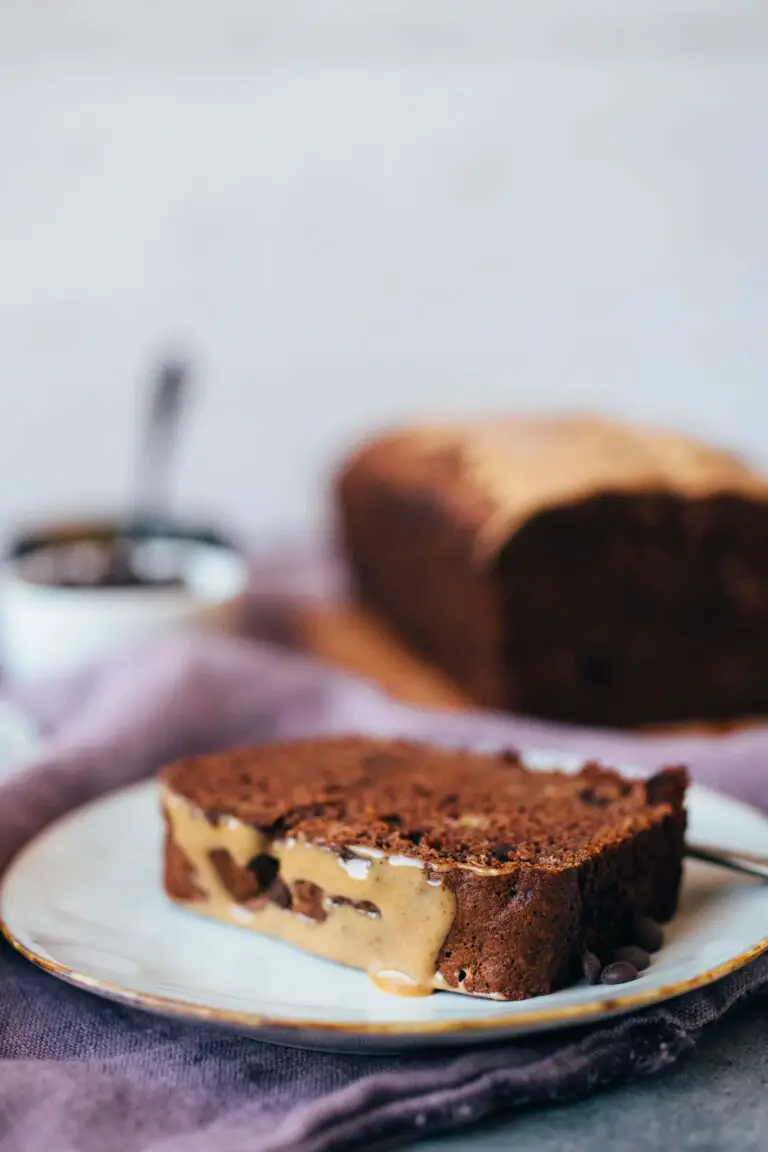 The most important thing for our today's Banana Bread is of course the Banana and it should be nice and ripe. This means that it may already have brown spots on the outside, up to a completely brown skin. Just check by feel whether the degree of ripeness fits and leave them in doubt a day longer. Bananas are particularly well suited for baking in vegan cuisine because they create a good binding and virtually act as a Egg substitute function. Bananas are also a great source of magnesium, fructose (perfect for active people), calcium and easily digestible carbohydrates. TIP: A detailed blog article on the topic You can find bananas here .
Vegan banana bread for the win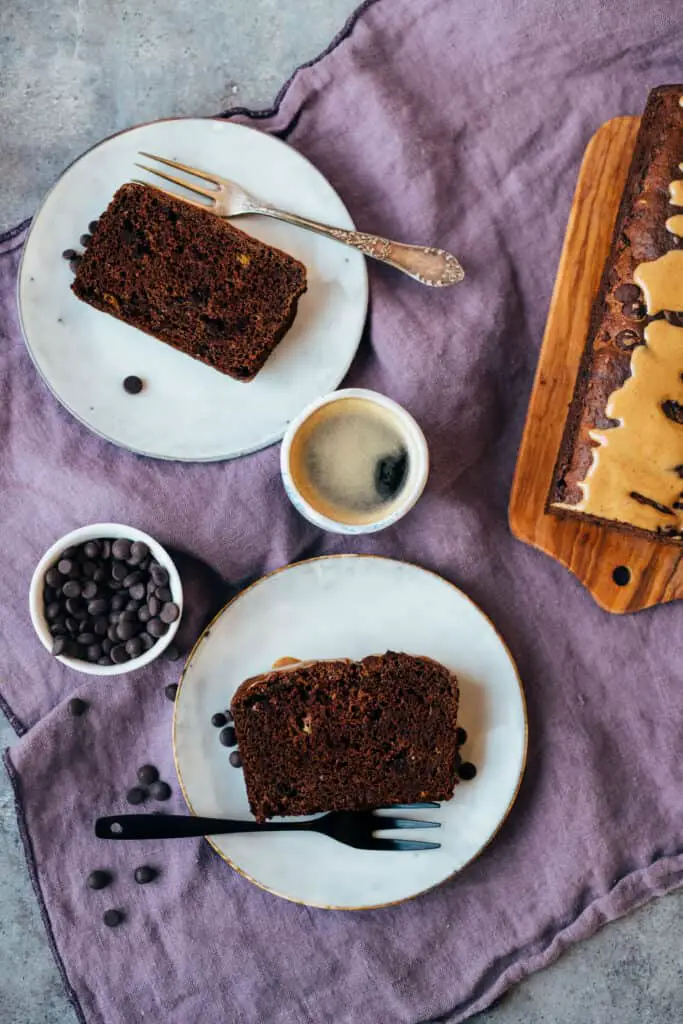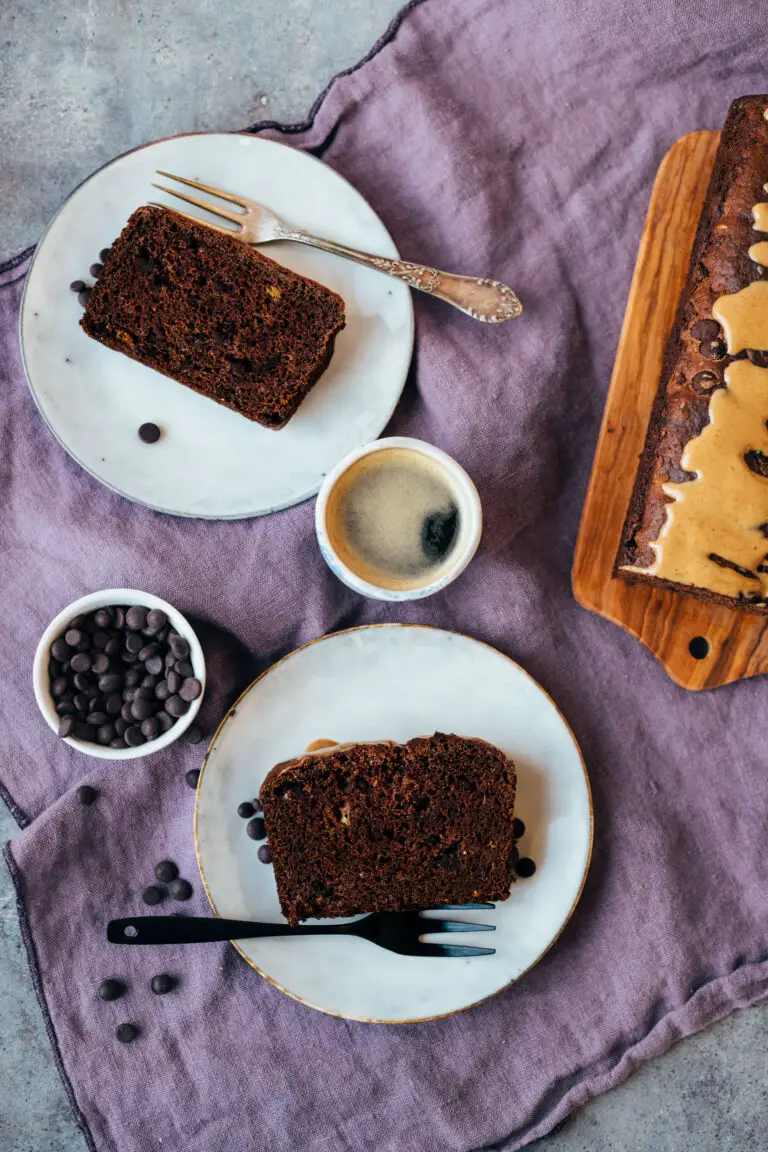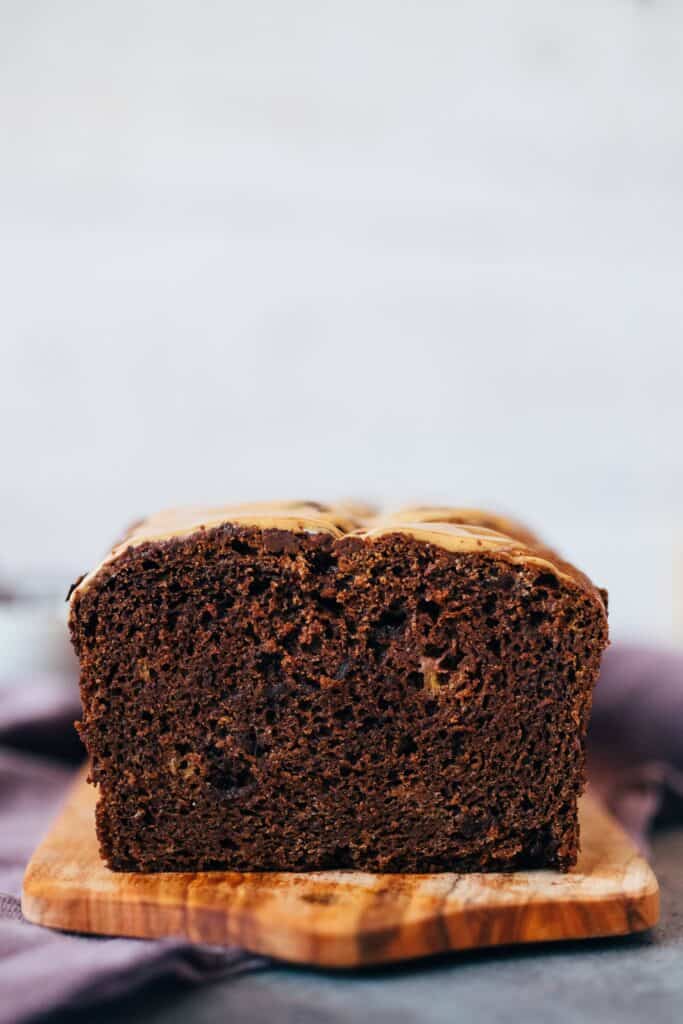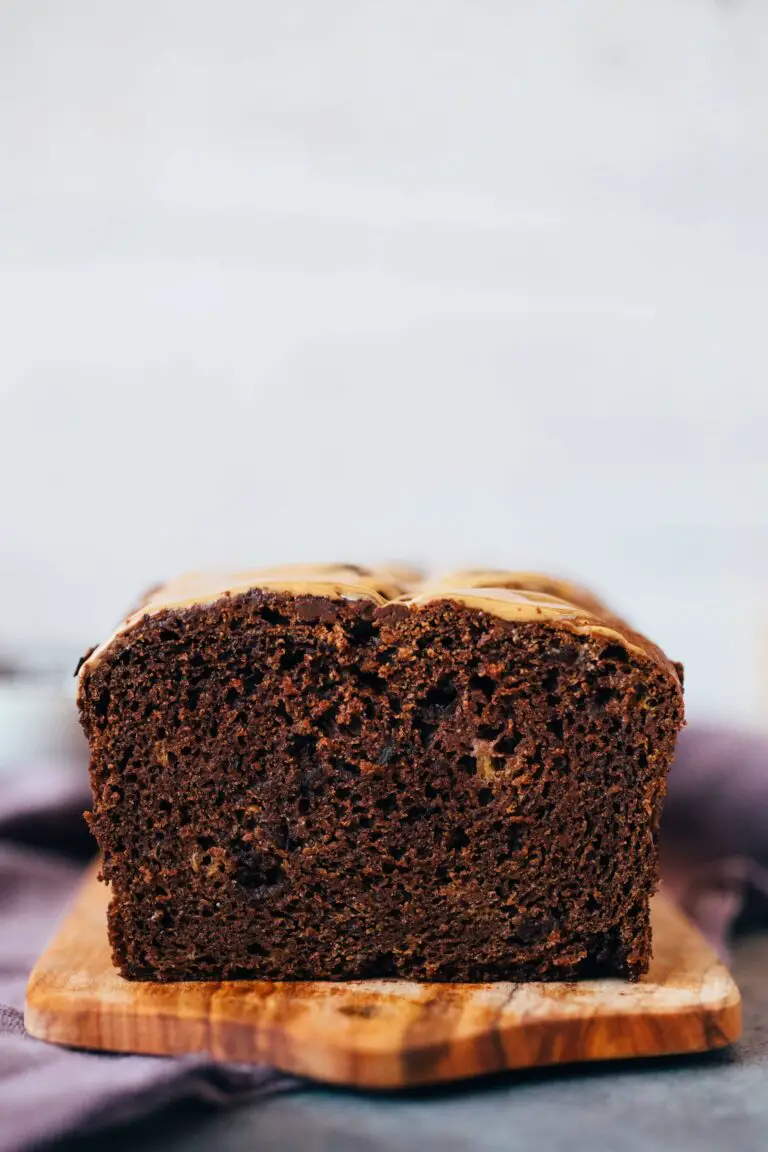 Let's take a look at the ingredients together. I made a conscious decision to omit the oil again for once in this recipe. why? I have already explained this in detail in my article Recipe Double Chocolate Cookies explained. Apple cider vinegar, baking soda and Vegetable milk form the basis and provide motive power in the dough. Flax egg, raw cane sugar, maple syrup, buckwheat flour, spelt flour, cocoa, baking powder, flax egg, mashed banana, bourbon vanilla and salt.
That's it and once again we have a really simple dough with gelinggarantie, if you pay attention to the following points:
Consistency: should be firm enough to easily pour the dough into the baking pan, but just not too firm. On the other hand, in no case too liquid. Watch the video and add a little more plant milk or flour depending on how you feel.
Baking time: Here you can test with a wooden stick. If it comes out clean, then the cake is ready. Otherwise, use reheat and simply leave cake in oven for another 30 minutes.
Refinement: if you like it a bit juicier, you can add 2-3 tablespoons of almond paste to the dough. I simply decorated the banana bread with nut puree.
What goes with the delicious Double Chocolate Banana Bread? One creamy chocolate chia smoothie glass of vegan Almond Milk or one Pumpkin Spice Latte ?
The Double Chocolate Banana Bread is:
oil-free
Pleasantly sweet
chocolaty
saturating
Full of healthy fiber
I hope you enjoy baking and of course about a review at the bottom of this page. If you post a picture, use the hashtag #veganevibes.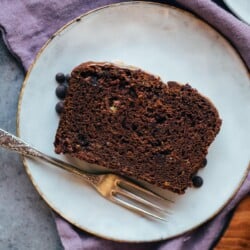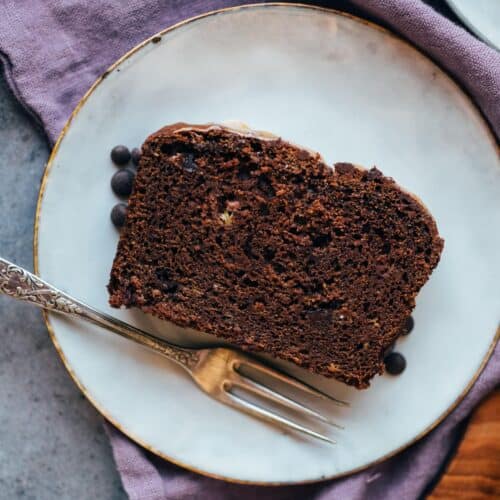 Double Chocolate Banana Bread
Simple, geling safe Banana Bread. Quick to make, oil-free and incredibly delicious. Extra chocolaty thanks to cocoa and chocolate chips. Gluten-free option.
AUTOR: VEGANEVIBES
AS TOPPING:
vegan chocolate drops to taste

Nut puree at will
Anleitung 
Preheat oven to 175 degrees and grease a king cake pan and optionally dust with a little flour.

Peel bananas and mash in a large baking bowl with a fork.

3 Piece medium ripe bananas

Add almond milk, apple cider vinegar, and baking soda to a large baking bowl and whisk to combine.

90 ml Almond milk,

15 ml Apple cider vinegar,

½ tbspn Baking soda

Place a sifter on the bowl and sift in spelt flour (optional gluten-free flour blend), buckwheat flour, and cocoa.

115 g fine spelt flour or gluten-free flour mix,

120 g Buckwheat flour,

2 EL Cocoa powder

Add flaxseed egg, mashed bananas, raw cane sugar, maple syrup , baking powder, salt and vanilla. Stir until a uniform dough is formed. Fold in chocolate drops.

1 tbspn Flaxseed egg,

3 Piece medium ripe bananas,

100 g Raw cane sugar,

60 ml maple syrup,

2 tbspn Baking powder,

A pinch of salt,

¼ tbspn Bourbon vanilla,

90 g dark chocolate drops

TIP: Check consistency, if too firm add more vegetable milk, if too runny add more flour. See video for proper consistency.

Pour batter into king cake pan, smooth (optional) with more chocolate drops sprinkled on top and place in oven. Bake for 40 minutes and test with a wooden stick if the banana bread is ready. If the wooden stick comes out clean, then it's done. Turn off oven and like to let banana bread cool in oven. Allow to cool completely.

vegan chocolate drops to taste,

Nut puree at will

Cut into pieces and enjoy plain, dust with powdered sugar or garnish with coconut cream. Keeps up to 5 days airtight in a cool environment.
Nährwertangaben
Serving:
1
Portion
Calories:
189
kcal
Carbohydrates:
37
g
Protein:
4
g
Fat:
4
g
Saturated Fat:
2
g
Sodium:
70
mg
Potassium:
172
mg
Fiber:
4
g
Sugar:
18
g
Calcium:
71
mg
Iron:
2
mg