Buckwheat crepes with spinach and mushrooms, I was really in the mood for this. At the moment, there's almost a bit of a spring mood. The sun comes out for the first time in weeks and I can hardly believe it. Finally, warming rays of sunshine on my skin again. I can't wait to sit on our new patio with a hot cup of coffee soon. We are in the process of paving it. Finally! The old terrace was so broken and crooked that sometimes even the soup ran out of the plate. Well, that will change very soon and I can't wait to plant fresh herbs either. Yuhuu!
Buckwheat crêpes with spinach and mushrooms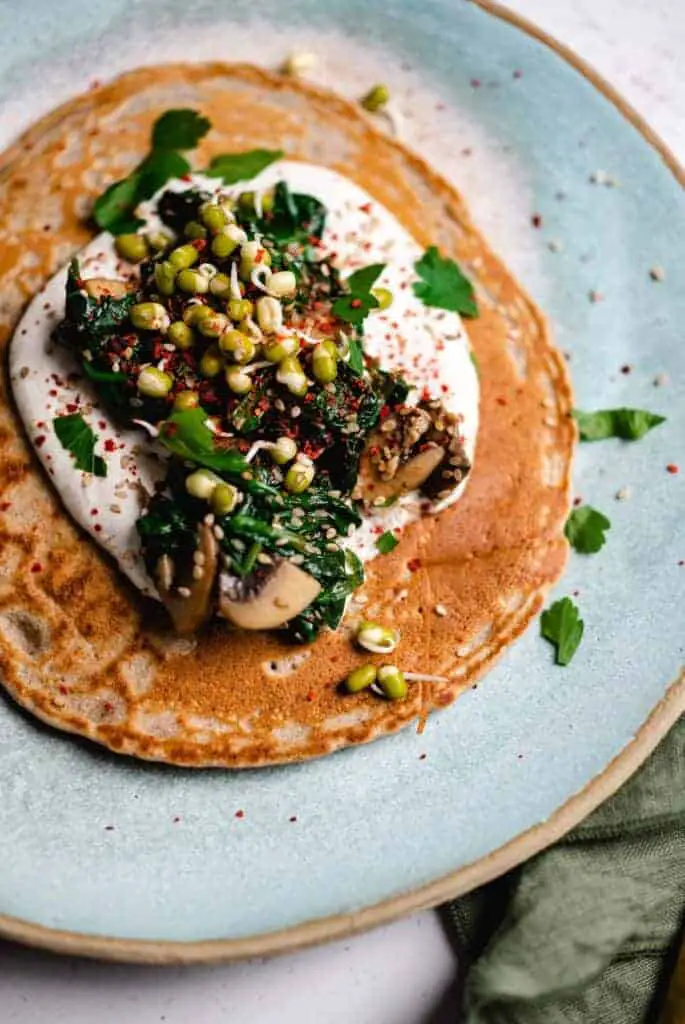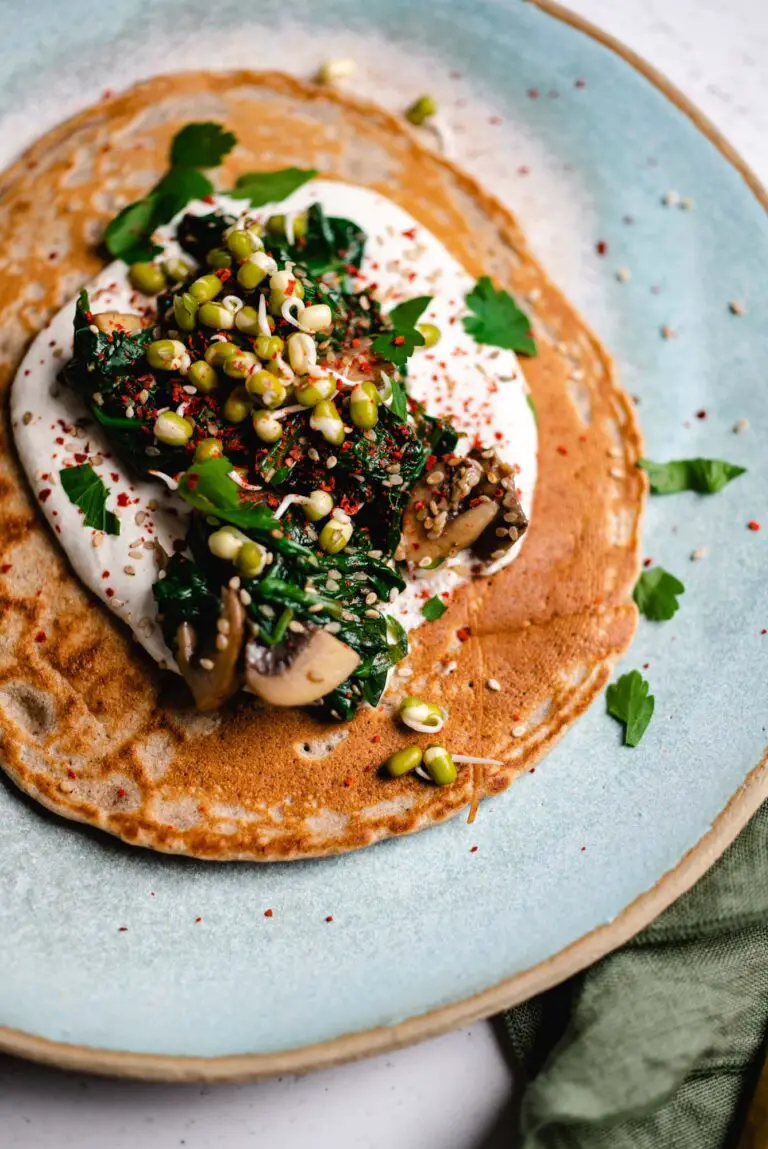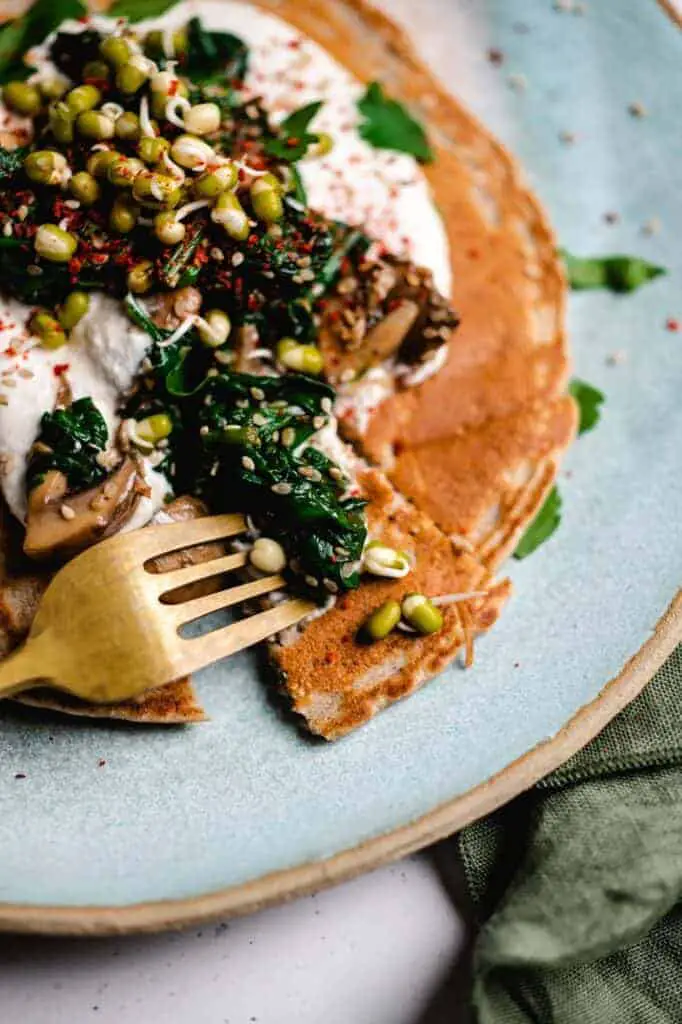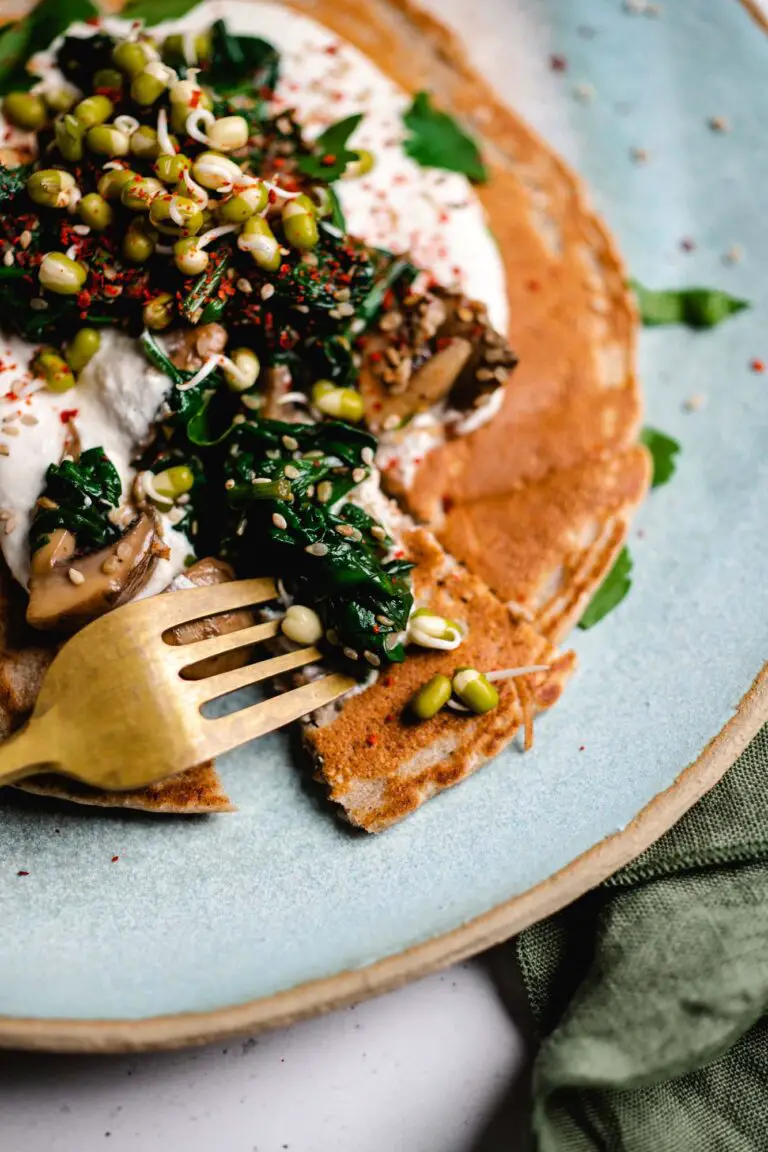 Our today's crêpes basically consist of three preparation steps. The Crêpe dough the Cashew cream and the Mushroom and spinach topping . Let's start with the crepes. They consist of buckwheat flour, spelt flour (or gluten-free flour blend), flaxseed meal, plant milk, salt and baking powder. This is all worked into a fine dough and baked out in the pan. For the cashew cream we need cashews, water and salt. That's all, sounds simple, right?
The last step is to make the mushroom and spinach vegetables. For this I sweat little oil in a pan. To this I add the mushrooms, which I sauté until they are translucent. Add some tamari, sesame seeds and the spinach. Mix everything well until the spinach has collapsed and the fine vegetable is ready.
Tips for baking out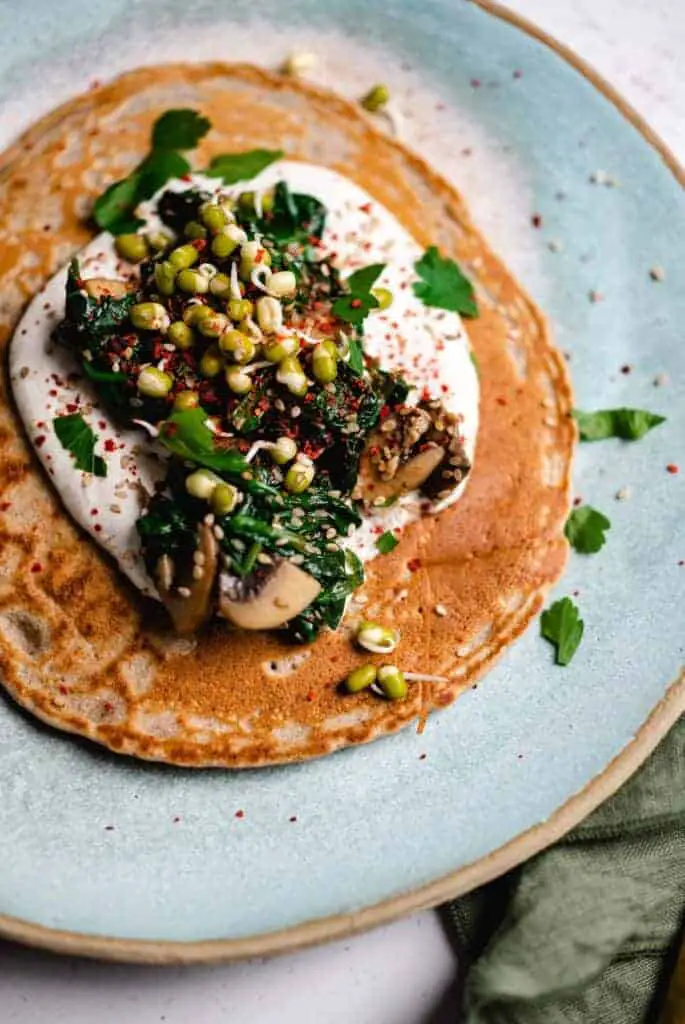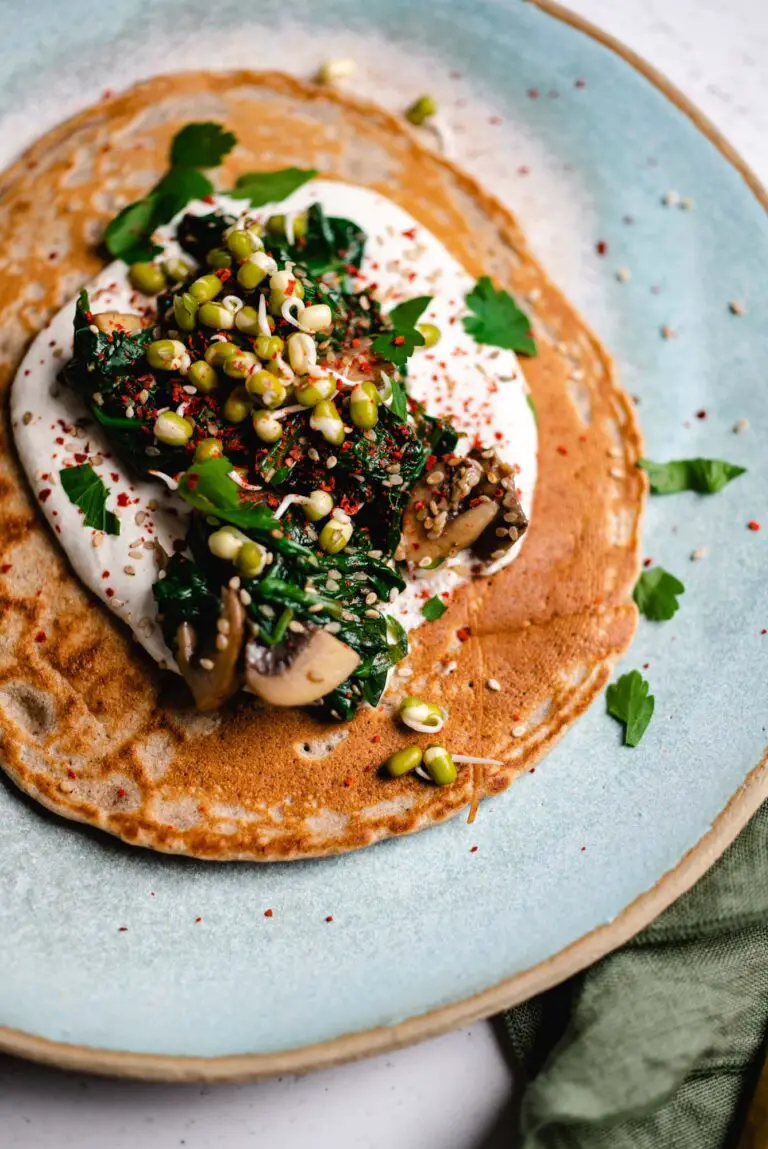 You might think that you can't go wrong with baking out crêpes. Unfortunately, this is not always the case, because how many times have I had the perfect batter and then wanted to throw the crêpes out the window along with the pan? Especially when baking pancakes or crepes, I am totally convinced of a well coated pan. Unfortunately, I have not had such good experiences with cast iron pans because you need oodles of oil and the batter tends to burn more. Have you had other experiences with cast iron pans? Then feel free to write a comment at the very bottom.
Basically, I always have a little key of oil next to the pan and brush it with a small amount of high heat oil. In conjunction with a well coated pan, I have had only the best experiences.
How healthy is buckwheat actually?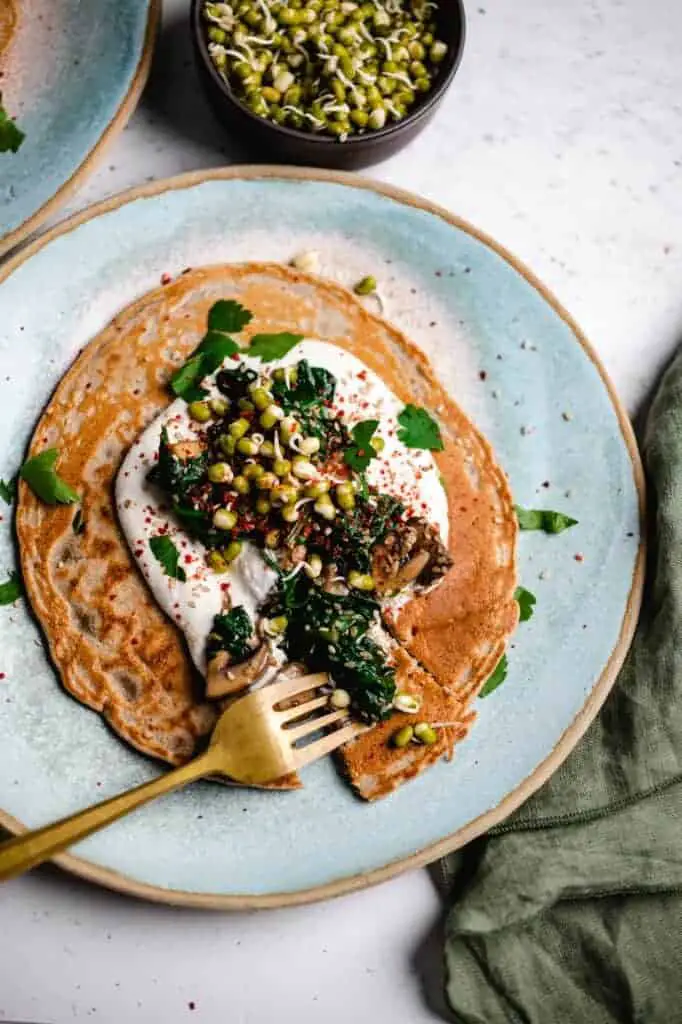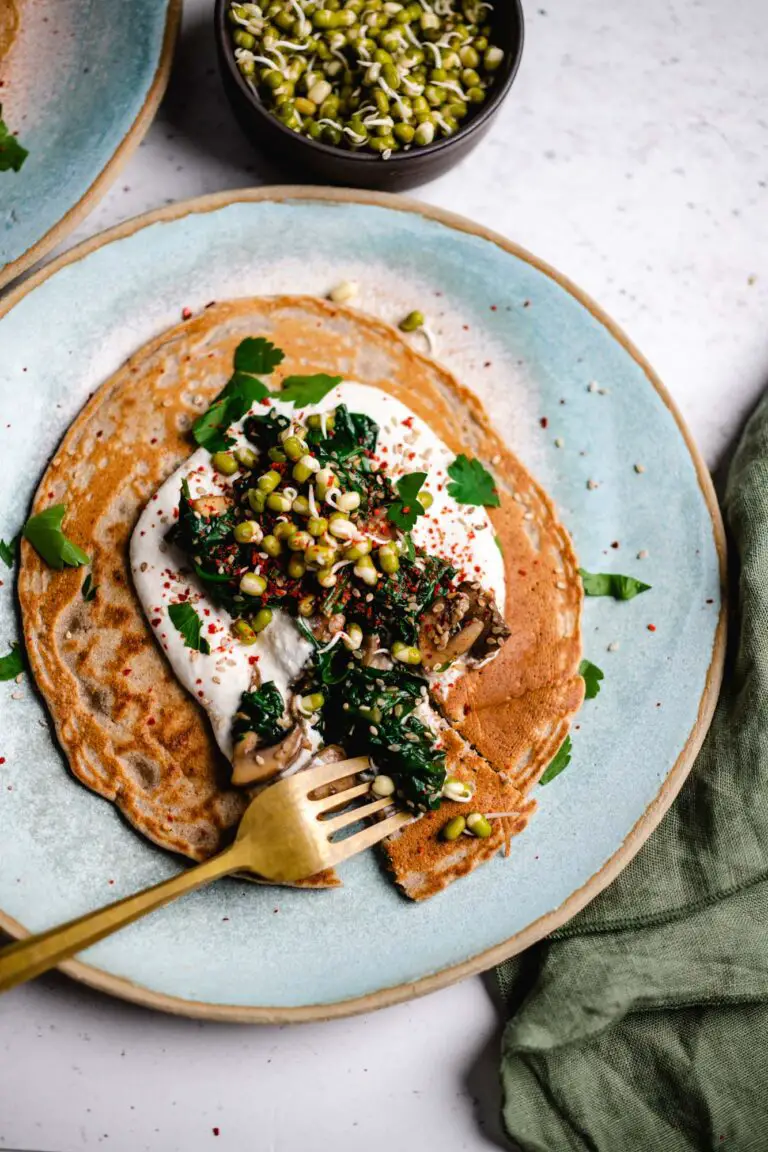 Buckwheat is naturally gluten-free and was once considered the poor man's food. At the same time, it is full of healthy ingredients:
High quality vegetable protein
Vitamins such as B1, B2 and E
Potassium, iron, calcium and magnesium
Secondary plant substances
If you have today list on another recipeme buckwheat, then I have the following suggestions for you:
I would say we start off with this wonderful recipe. I wish you a lot of fun in recooking and of course a review at the bottom of this page. If you post a picture, use the hashtag #veganevibes.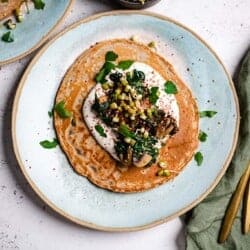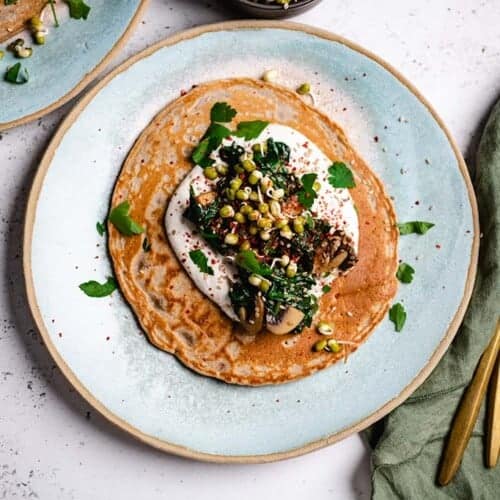 Buckwheat crêpes with spinach and mushrooms
Fine buckwheat crepes topped with cashew cream, spinach and mushrooms. Perfect for those looking for a simple but special dish that will fill you up and make you happy. Filling, gluten-free option, vegan and gluten-free option.
AUTOR: VEGANEVIBES
Anleitung 
FOR THE CASHEW CREAM Place the cashews, water and a pinch of salt in a high-powered blender and blend to a fine cream. Alternatively, use vegan cream cheese or other savory cream of choice.

150 g Cashews,

120 ml Water,

A pinch of sea salt

FOR THE CREPES : Heat the pan to medium heat. Prepare a small key with high-heat oil and a silicone brush.

Provide a bowl for the dough. Pour in buckwheat flour, spelt flour, flaxseed, baking powder and salt. Add vegetable milk and mix with a hand mixer or whisk until smooth. The dough should be a little more liquid, like an ordinary cake batter.

TIP: Alternatively, use a high-powered blender with dough program for preparation.

100 g Buckwheat flour,

100 g fine spelt flour,

1 tbspn Flaxseed,

1 tbspn Baking powder,

1 Pinch of salt,

350 ml Plant milk

Dip the silicone brush into the oil and brush the bottom of the pan.

Some high heat oil for baking out

Using a soup ladle, skim off a portion of batter and place in pan and bake for

2-3 minutes on

each side until golden brown. Remove and place on a plate.

TIP: Do not make dough too thin, otherwise you can not turn the crêpes well.

Repeat this step until the batter is completely used up and all the crêpes are nicely stacked on top of each other (this keeps them nice and warm).

FOR THE MUSHROOM AND SPINACH TOPPING Heat a large frying pan and pour in the oil. Add mushrooms and sauté while stirring. Once mushrooms start to become translucent, deglaze with tamari and add sesame seeds. As a final step, add baby spinach and fold in. Continue to simmer briefly until everything is well combined and set aside.

15 ml Olive oil,

120 g Mushrooms,

15 ml Tamari,

16 g Sesame seeds,

100 g Baby spinach

Arrange crêpes on plates, spread cashew cream on top, mushroom spinach on top and garnish with mung beans and chili.

Mung bean sprouts,

Chili flakes

Keep remaining pancakes (without topping) covered in refrigerator for up to 2 days, wet with a little water and reheat in a hot pan.
Nährwertangaben
Serving:
1
Crêpe
Calories:
503
kcal
Carbohydrates:
53
g
Protein:
19
g
Fat:
26
g
Saturated Fat:
4
g
Polyunsaturated Fat:
6
g
Monounsaturated Fat:
13
g
Sodium:
311
mg
Potassium:
779
mg
Fiber:
9
g
Sugar:
6
g
Vitamin A:
2688
IU
Vitamin C:
14
mg
Calcium:
228
mg
Iron:
7
mg