Tomato chickpea skillet sounds simple and not particularly exciting. At the same time, this fine recipe is full of flavors, makes you full and craving for more. I love chickpeas because they are so versatile and easy to work with. Admittedly, I use jarred or canned chickpeas very often because it's so quick. With that said, you could also make them from scratch and soak the dried chickpeas first and then cook them. Ultimately, however, one usually does not have the time or patience for it and then I am happy about the variant from the jar. This dish is great for a quick and easy lunch or dinner and tastes great even cold. A dream!
Tomato chickpeas pan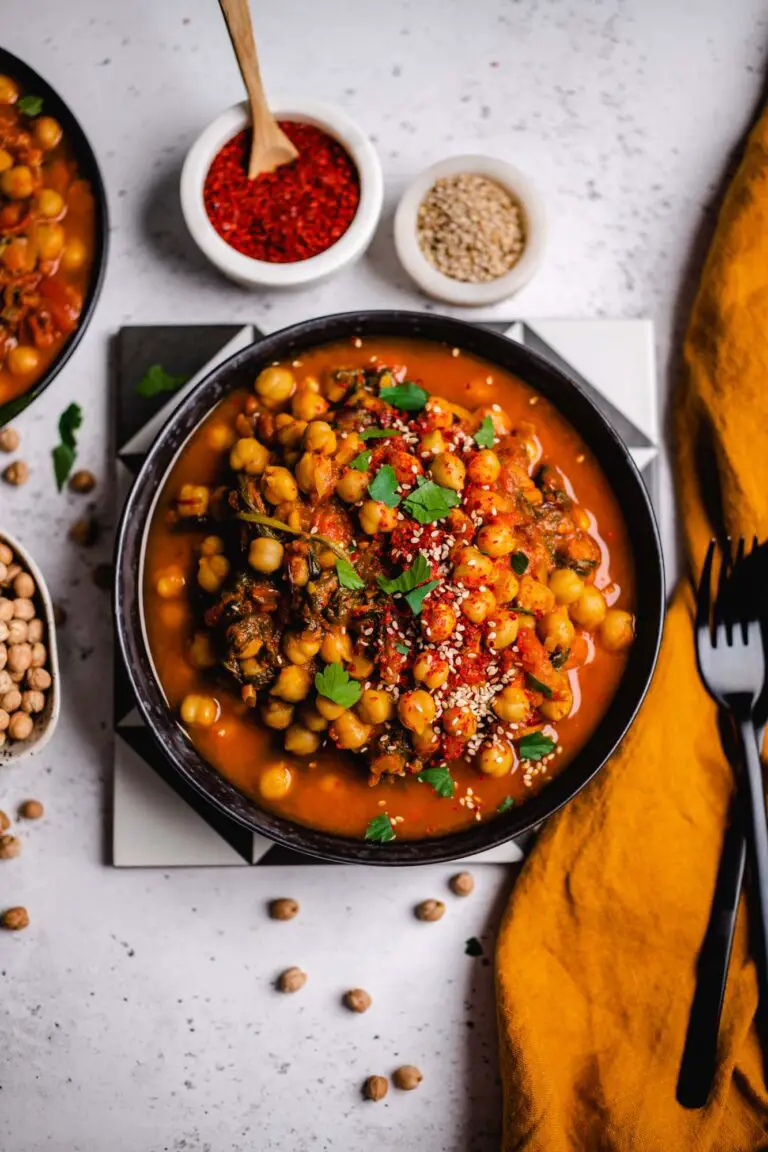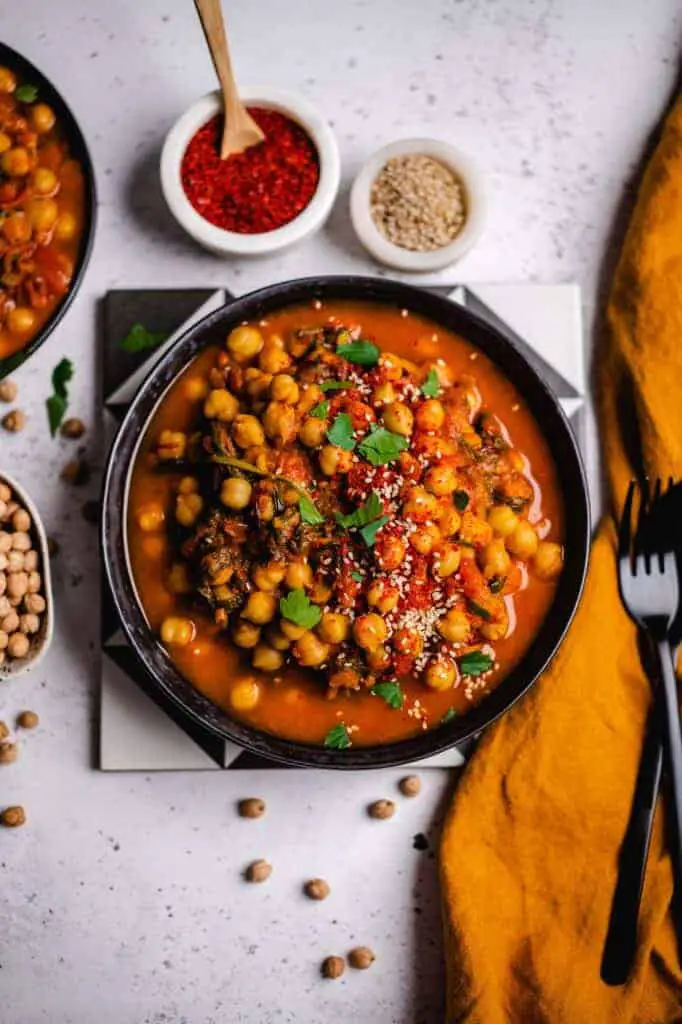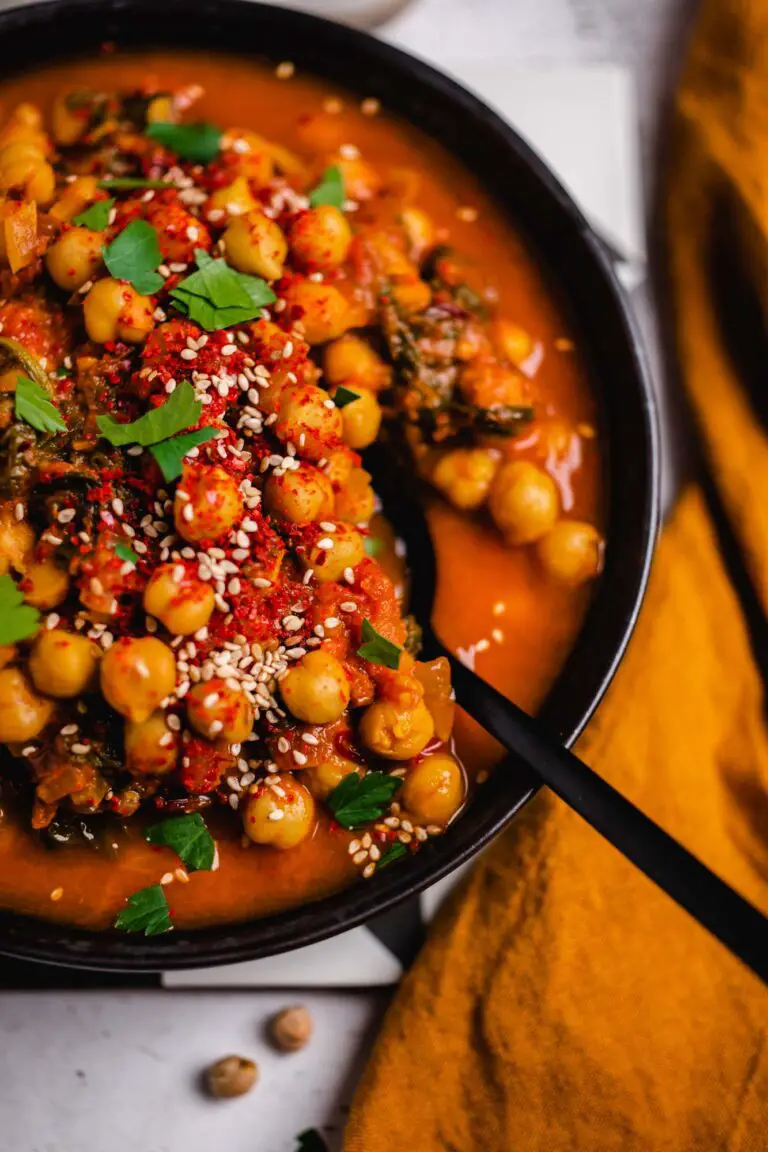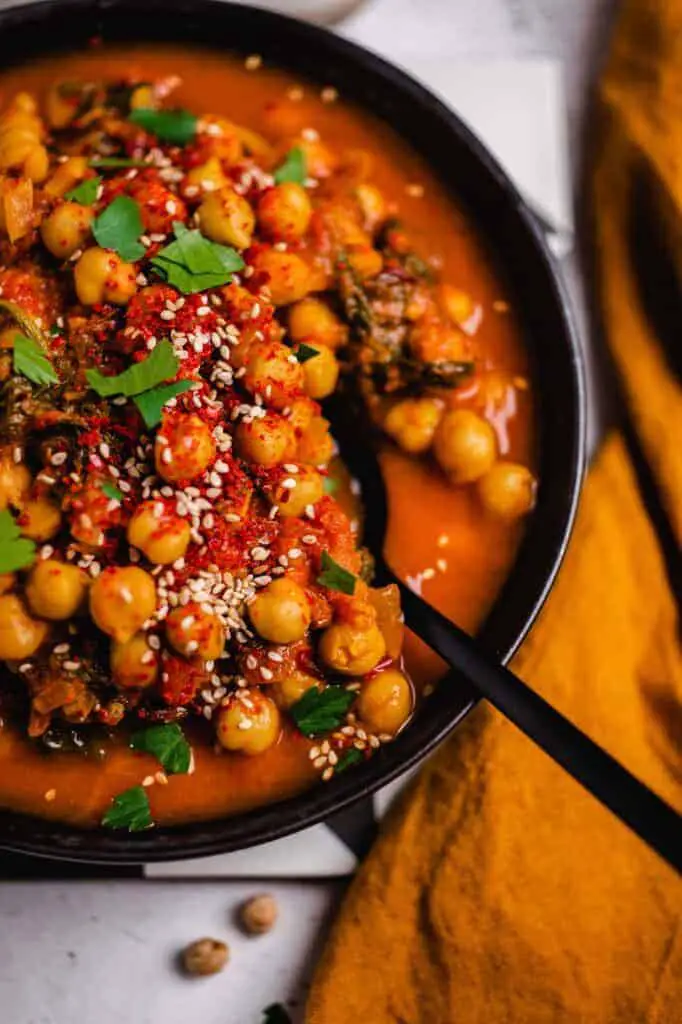 Our skillet today is what we call a one-pot dish, which means we only need one pot for it. First, I sweat in it onion and spices in a little oil. To this I add dried tomatoes and deglaze the whole thing with a can of tomatoes and some water. Add to this some coconut blossom sugar, mustard and the cooked chickpeas. Of course, some green should not be missing and therefore I add baby chard.
I use chard because I discovered it by chance in the organic supermarket. However, spinach or kale will also work, depending on what you have on hand. Now the fine stew is allowed to boil down for another 15-20 minutes and then it's ready to enjoy!
TIP: I use basmati rice as a side dish, preferably the whole grain variety, for an extra serving of fiber.
Simple vegan chickpeas pan with tomato sauce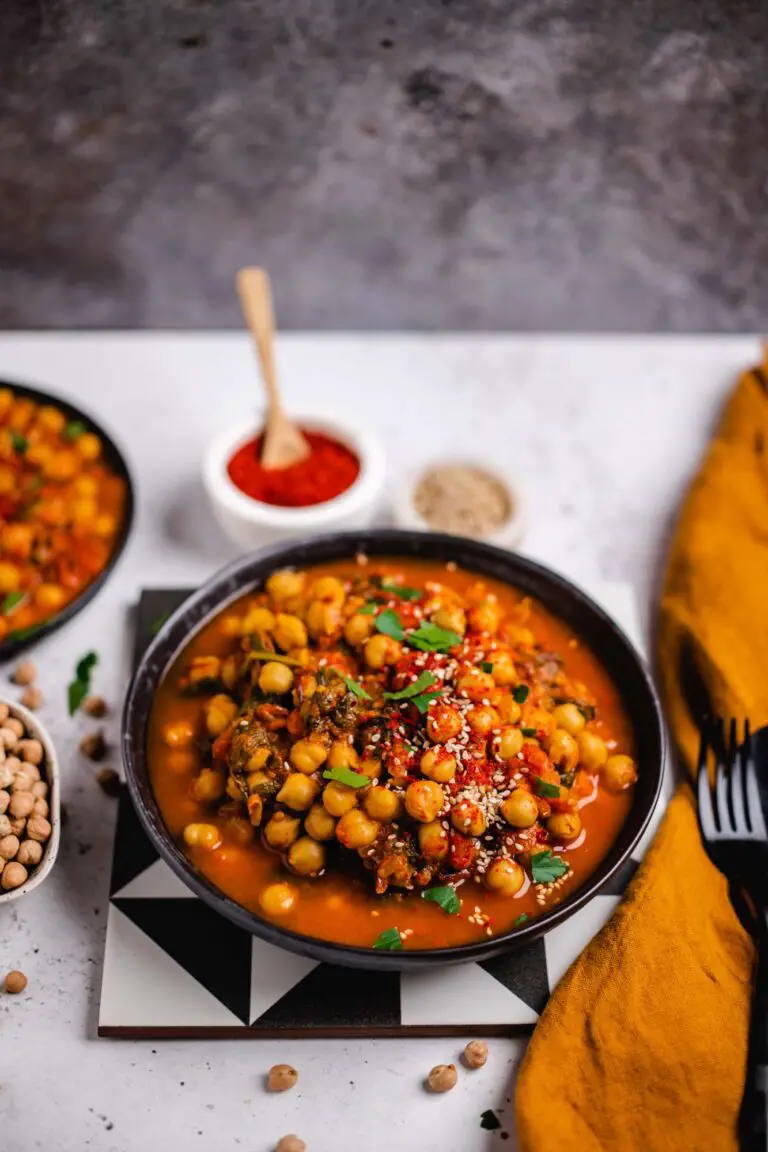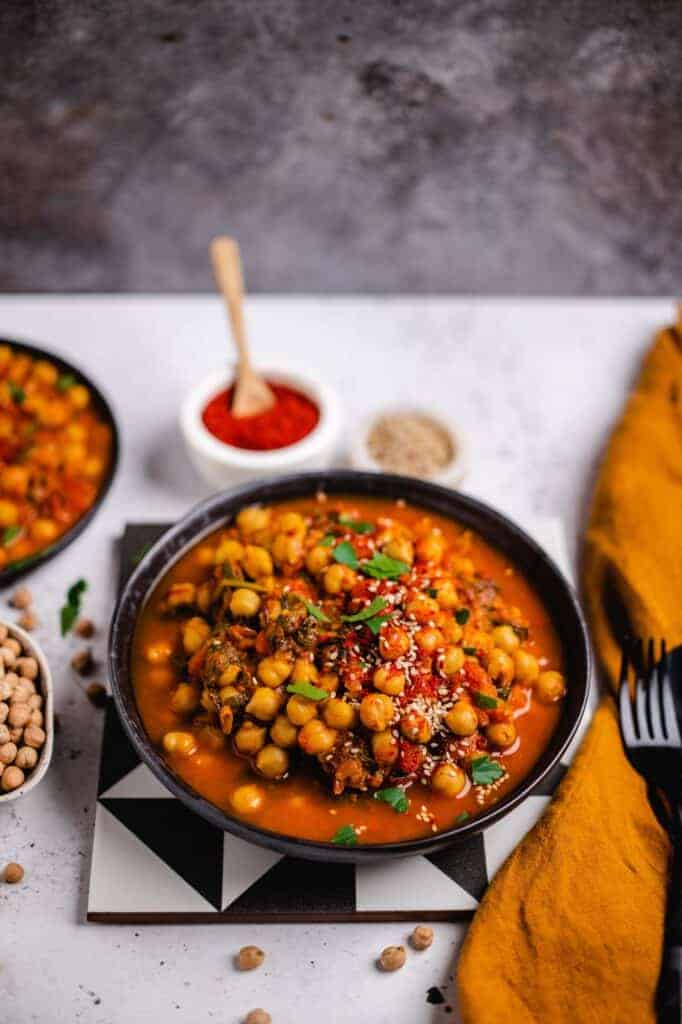 This simple dish scores not only for its ease of preparation, but also for its high vegetable protein and fiber content. Chickpeas have a high content of antioxidants, with a very low fat content. The complex dietary fibers provide long saturation and ensure that blood sugar remains stable for a long time and does not rise too much.
Tomatoes are almost taken for granted in our diet and that's why we often forget how healthy they actually are. Researchers even advise daily consumption of tomatoes, as they are said to prevent cancer and reduce elevated blood lipid levels. Tomatoes have a high water content and are rich in important vitamins and minerals. Particularly valuable are the secondary plant substances, such as lycopene. . This is a pigment that the tomato produces to protect itself from harmful sunlight. These are intended to protect people from certain diseases. Ingenious, isn't it?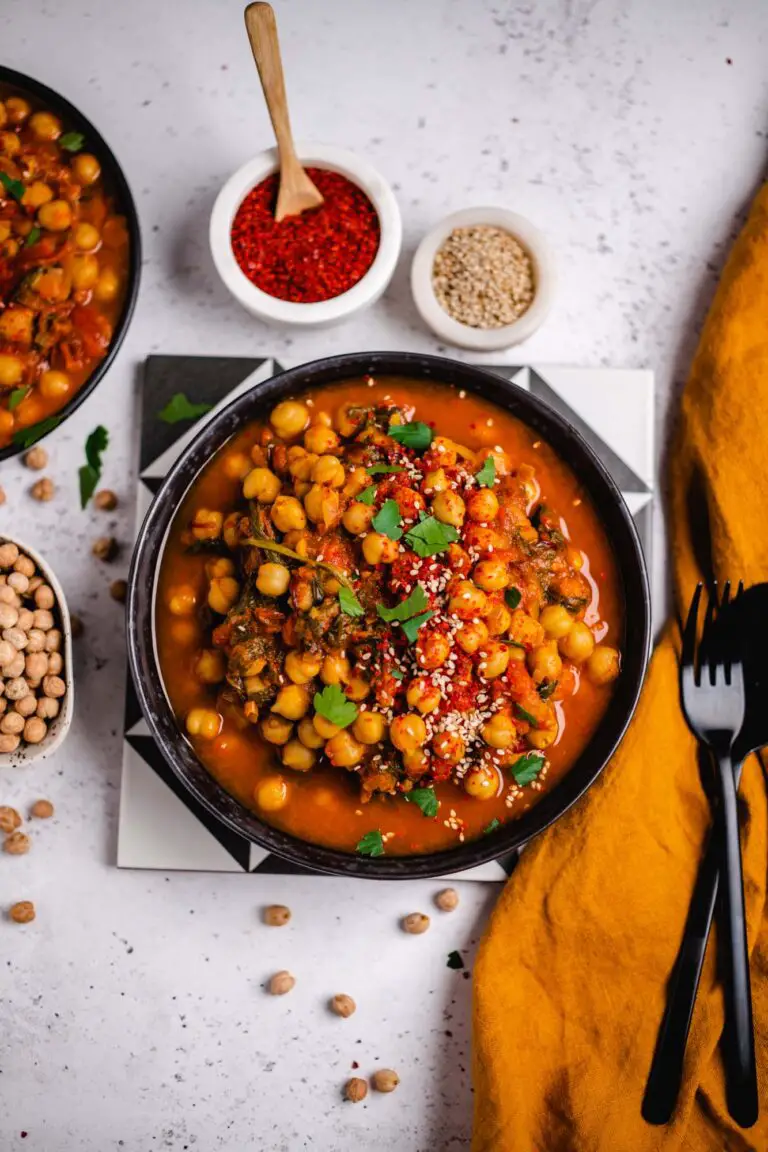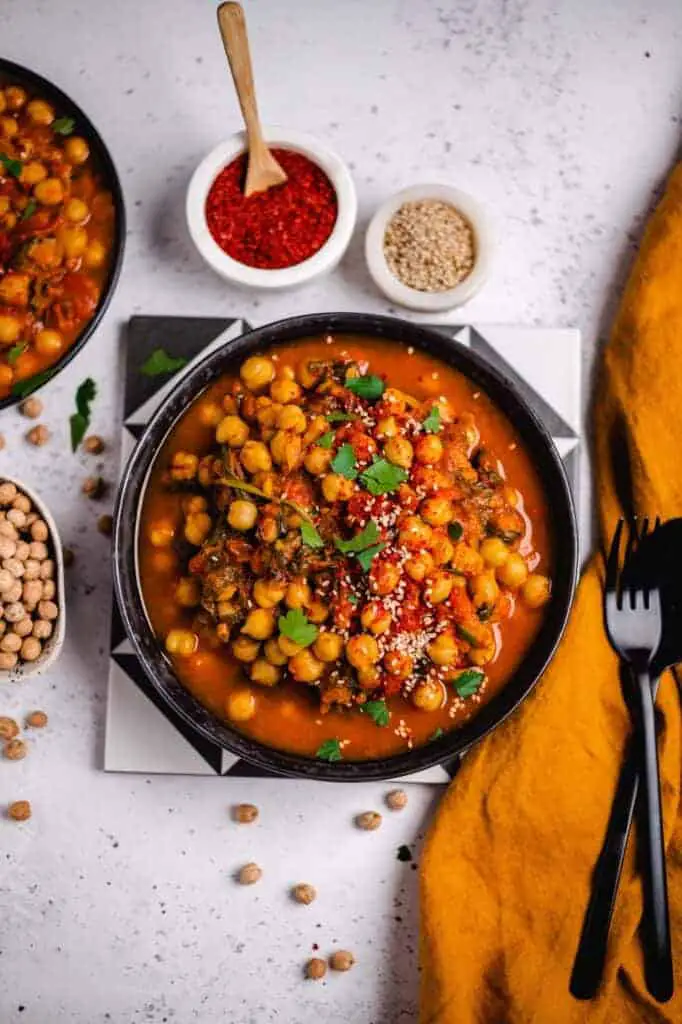 As you can see, today's dish is not only delicious, but also very healthy and provides you with important fiber, vitamins, minerals and phytochemicals.
If you are looking for other quick and healthy recipes today, I have the following suggestions for you:
The Tomato Chickpea Skillet is:
hearty
High protein
creamy
filling
Easy to make
Craving this healthy, hearty one-pot dish? I wish you a lot of fun in recooking and of course a review at the bottom of this page. If you post a picture, feel free to use the hashtag #veganevibes.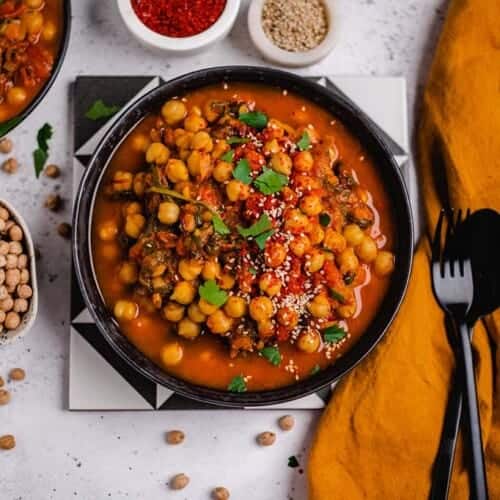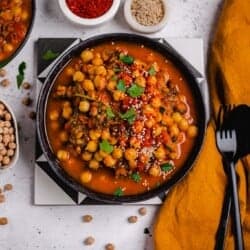 Tomato chickpeas pan
Fancy a quick, delicious and healthy dish? Then this delicious tomato and chickpea skillet is just what you need. Fruity, aromatic and rich in valuable fiber and phytochemicals. Vegan, gluten free and high in fiber.
AUTOR: VEGANEVIBES
FOR CHICKPEA PAN:
15

ml

Olive oil

more at will

1

Piece

red onion

peeled and diced

2

Piece

Garlic cloves

1

tbspn

Coriander seeds

1

tbspn

Paprika powder

1

tbspn

Turmeric

½

tbspn

Cumin ground

1

tbspn

Salt

30

g

Dried tomatoes

coarsely chopped

400

g

Tomatoes

quartered

250

ml

Water

800

g

Chickpeas

Cooked

1

tbspn

Coconut blossom sugar

30

ml

Lemon juice

1

tbspn

spicy mustard

I use Dijon mustard

100

g

Baby chard

or baby spinach
TO SERVE:
Sesame seeds

Fresh parsley
Anleitung 
If serving rice as a side dish, prepare now.

FOR THE CHICKPEA PAN Heat a frying pan or pot until hot. Pour in the oil and sauté the garlic and onion.

15 ml Olive oil,

1 Piece red onion,

2 Piece Garlic cloves

Add in coriander seeds, paprika, turmeric, cumin, bird eye chili and salt. Continue stirring and sweating. Add dried tomatoes and continue stirring.

1 tbspn Coriander seeds,

1 tbspn Paprika powder,

1 tbspn Turmeric,

½ tbspn Cumin ground,

1 tbspn Salt,

30 g Dried tomatoes,

1 Bird Eye Chili

Deglaze with canned tomatoes & cherry peas and water.

400 g Tomatoes,

800 g Chickpeas,

250 ml Water

Add coconut blossom sugar, lemon juice and hot mustard and continue stirring.

1 tbspn Coconut blossom sugar,

30 ml Lemon juice,

1 tbspn spicy mustard

Stir in baby chard or spinach, cover and simmer 15-20 minutes.

Divide among plates, add rice (optional) and garnish with sesame seeds and fresh parsley. enjoy!

Store leftovers in an airtight container in the refrigerator for up to 5 days (without rice) or freeze.

Sesame seeds,

Fresh parsley,

Basmati rice
Nährwertangaben
Serving:
1
Portion
Calories:
544
kcal
Carbohydrates:
87
g
Protein:
27
g
Fat:
13
g
Saturated Fat:
2
g
Polyunsaturated Fat:
4
g
Monounsaturated Fat:
5
g
Sodium:
260
mg
Potassium:
1593
mg
Fiber:
24
g
Sugar:
21
g
Vitamin A:
3498
IU
Vitamin C:
40
mg
Calcium:
179
mg
Iron:
10
mg