Falafel – my eternal love. Just recently, when we were in the Zillertal my brother started with his cravings for falafel. It would be so delicious now, a Falafel sandwich with lactic pickled vegetables from the Arab. It stuck in my mind so much that I got to work on it right away at home. This time, however, I didn't want the classic falafel balls, but something in the form of a patty. Since I still have so many black beans in the cupboard, they were used up right away. The result is a really delicious, tasty dish that you can prepare super well. How to do it? More about this further down in the text.
Big Shoutout to Vegan Falafel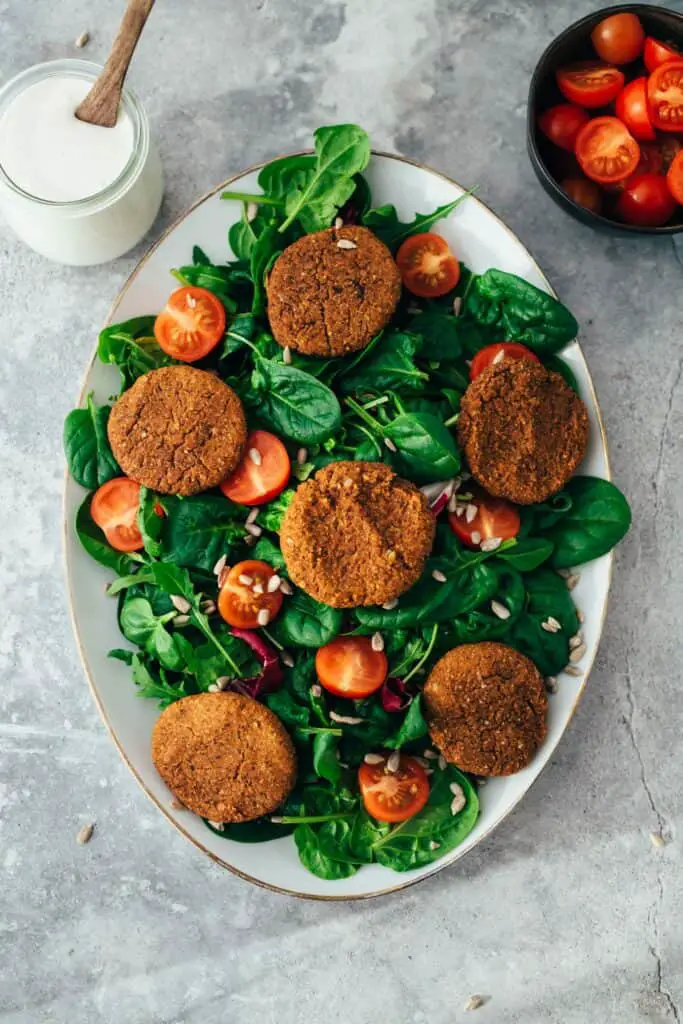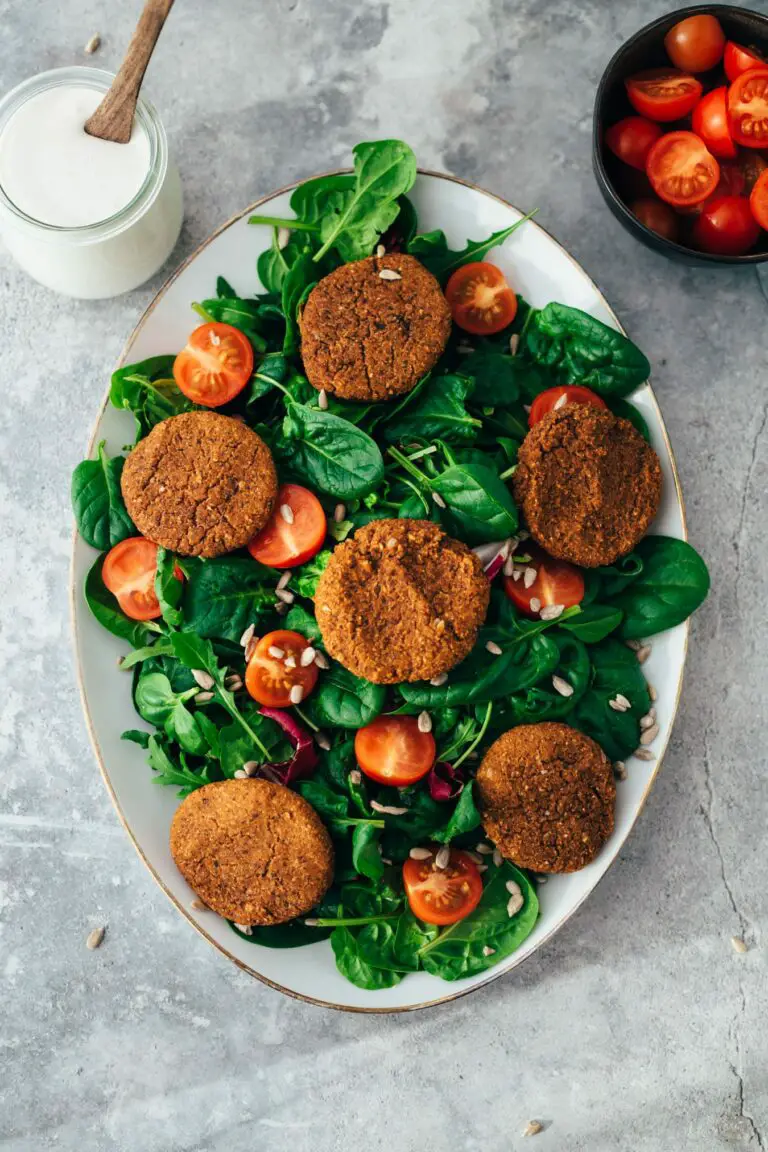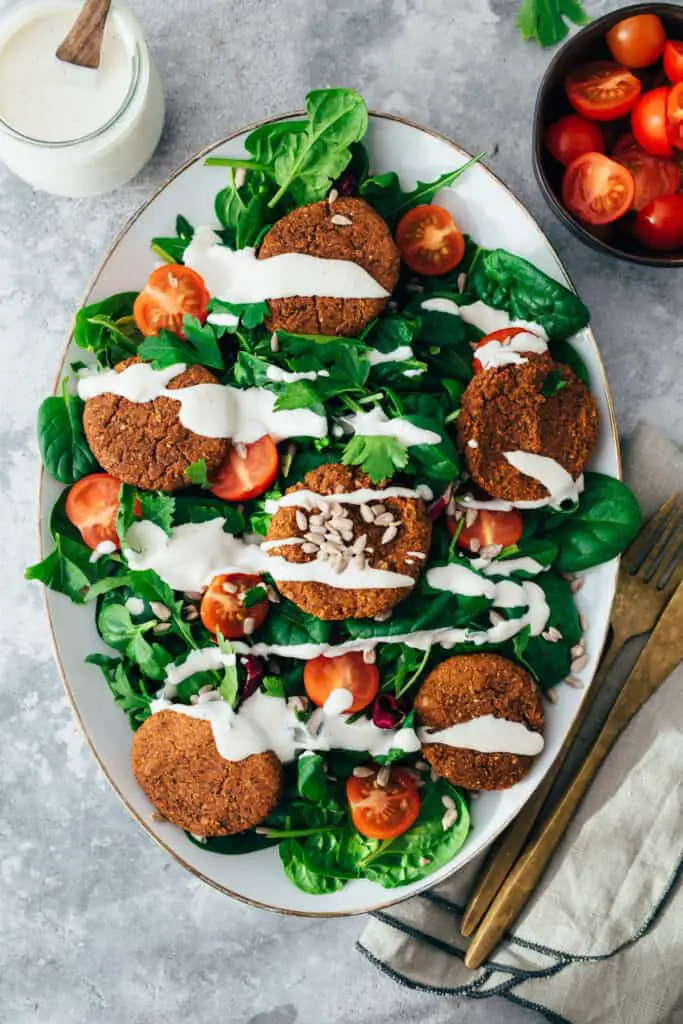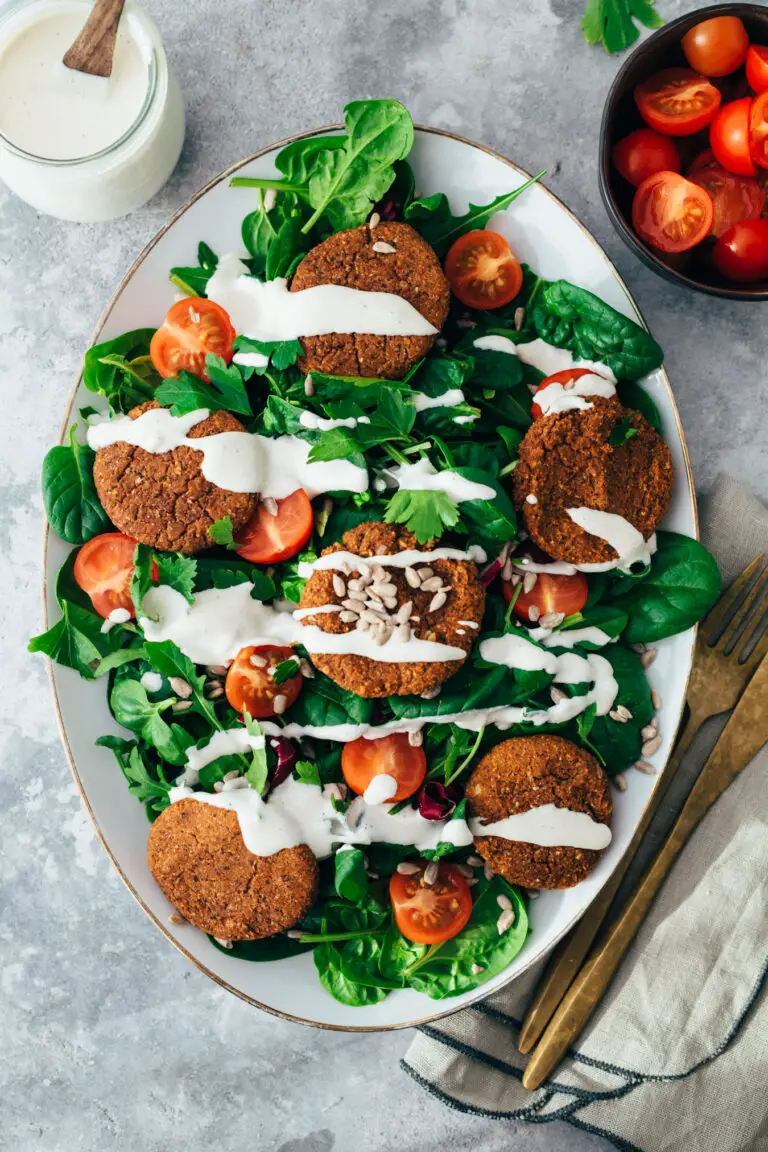 Falafel patties with black beans and quinoa
Right at the beginning, here's a tip on how you can best prepare things and save a lot of time. The first thing I always do on Sunday, I a larger portion Quinoa or Rice precooked. Right now I'm more on my quinoa kick, so there's always a bowl in my fridge with Quinoa , at which I help myself throughout the week. For this dish, too, you need the pseudo-cereal and if that is already waiting for you at home, all the better. You can also prepare the dough for the patties the night before and put it in the fridge. The next day, simply preheat oven, portion and off it goes into the oven for 20 minutes. Ready!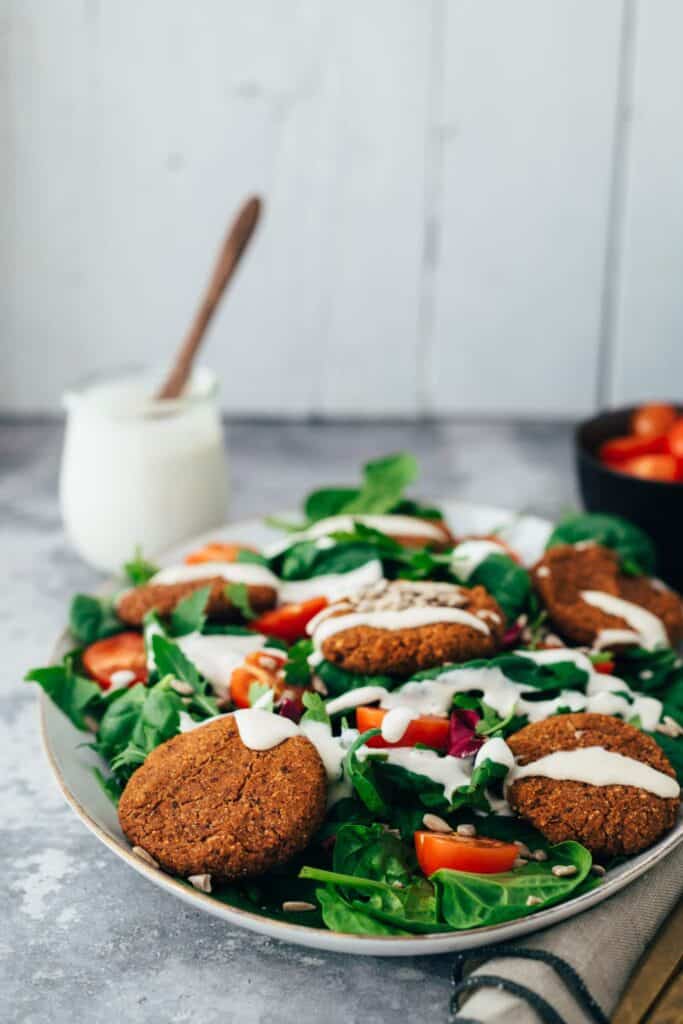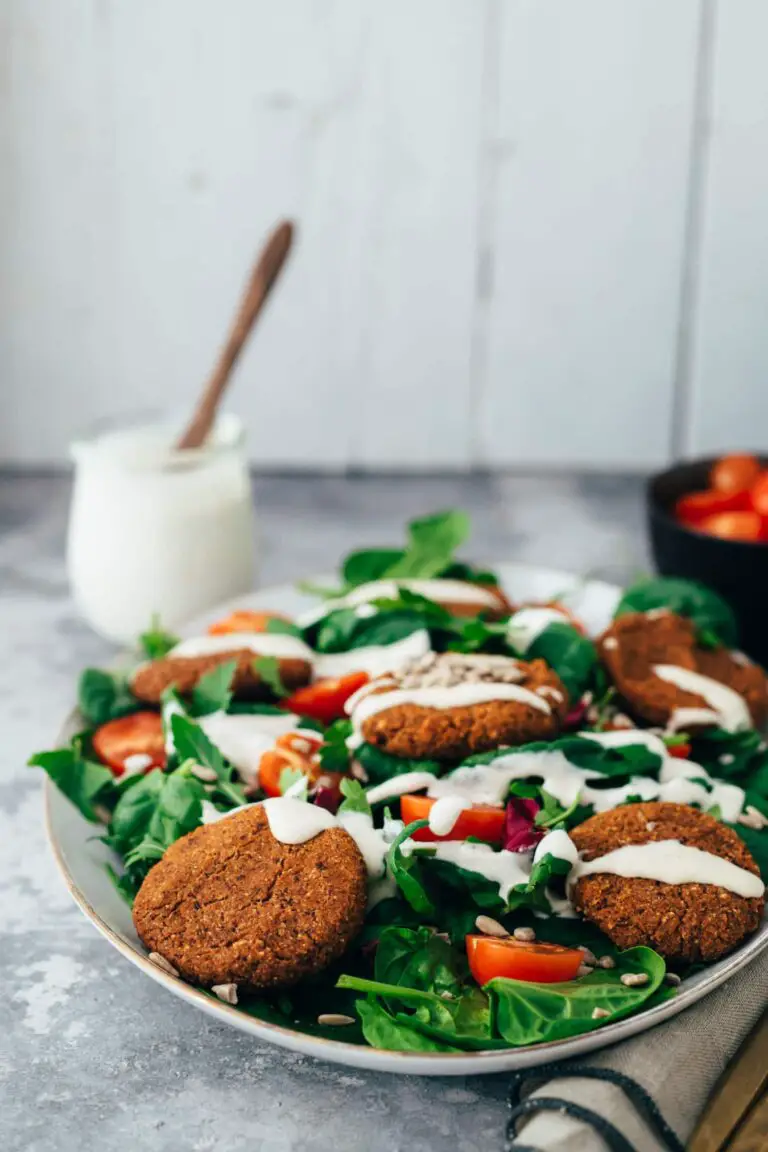 Advanced construction art – a falafel sandwich
What exactly comes now in the dough? Quinoa, black beans, sunflower seeds, oatmeal, garlic (or garlic granules), sea salt, pepper, cumin, coriander, Tomato paste, tamari, chili and nutritional yeast. Since we bake the patties in the oven, this saves a lot of oil.
You can serve it in two different ways. On a bed of lettuce with fresh cherry tomatoes and a tasty Tahini sauce . That would be the low carb, low calorie version, so to speak.
But the highest art is a delicious falafel Sandwich which requires some skill. All kidding aside, my husband is really a top sandwich farmer and put together a delicious falafel sandwich. For this you need a pita bread, tahini sauce, harissa, lettuce, cherry tomatoes, lactic fermented vegetables and the falafel patties. This is all pressed one by one into the pita bread and voilà, your sandwich is ready.
Are black beans actually healthy?
Yes, they are and you should include them in your diet much more often. Black beans are rich in:
Dietary fiber and proteins
B vitamins
Minerals such as phosphorus, iron, magnesium and potassium
The falafel patties with black beans and quinoa (gf) are:
Crispy
Rich in Dietary fiber
Oriental seasoned
filling
Easy to make
Are you ready for this delicious falafel patties? I wish you a lot of fun with the Nachkochen and of course about a rating at the very bottom of this page. If you have a picture feel free to use the hashtag #veganevibes.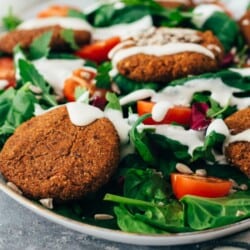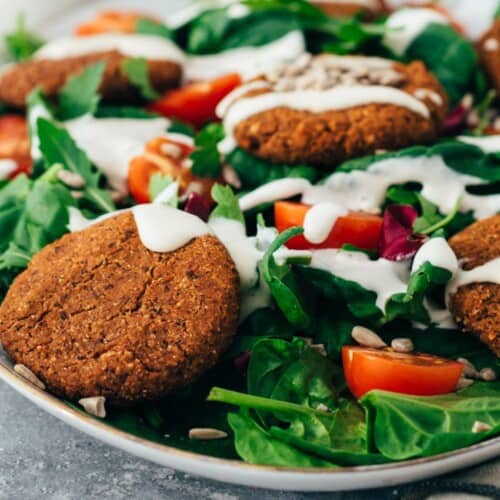 Falafel patties with black beans and quinoa (gf)
Hearty, oriental-inspired falafel patties. Crispy on the outside, soft on the inside. Perfect as a sandwich in a fresh pitta bread or served on a bed of lettuce with tahini sauce.
AUTOR: VEGANEVIBES
(optional) FOR TAHINI SAUCE:
TO SERVE:
Mixed

Green salad

Cherry tomatoes

quartered

Lactic fermented vegetables

Harissa

Fresh coriander or parsley
Anleitung 
Cook quinoa according to package directions and let cool (if not already precooked). Set aside.

Process oats in a high-powered blender to make oat flour. Set aside.

(optional) Tahini sauce prepare and set aside.

¼ tbspn Sea salt,

¼ tbspn Garlic granules or 1 clove of garlic,

1 tbspn Lemon juice,

125 ml Warm water,

120 g Tahini

Preheat oven to 190 degrees and preheat a baking tray with baking paper.

Place all ingredients for the falafel Place in a food processor and process to a uniform dough.

185 g cooked quinoa,

240 g black beans,

45 g Oatmeal,

16 g Sunflower seeds,

6 g Garlic cloves,

½ tbspn Sea salt,

1 tbspn Cumin,

½ tbspn Coriander,

30 g Tomato paste,

30 ml Tamari,

1 Bird Eye Chili or other chili powder to taste,

1 tbspn Nutritional yeast

Using a spoon, divide into 16 even portions, place on baking sheet and flatten slightly to create patties.

Put in the oven and bake for

15 minutes

. After half the time, ideally turn over once.

Remove from oven and serve with desired side dishes or as a sandwich.

Mixed,

Cherry tomatoes,

Lactic fermented vegetables,

Sunflower seeds,

Hummus,

Harissa,

Fresh coriander or parsley

Can be kept in the refrigerator for up to 3 days, in the freezer for up to one month. Defrost slowly in the oven at 175 degrees and let it get hot.
Nährwertangaben
Serving:
1
Roast
Calories:
118
kcal
Carbohydrates:
13
g
Protein:
4
g
Fat:
5
g
Sodium:
141
mg
Potassium:
182
mg
Fiber:
2
g
Vitamin A:
35
IU
Vitamin C:
1
mg
Calcium:
22
mg
Iron:
1.4
mg