Quick, easy and vegan cherry pies are the solution when relatives (or in Corona times, a relative) announce themselves. There is not enough time for a cake and it must be homemade. With these fruit-filled puff pastries, no one will notice that they are vegan. With some people, this is also an advantage, otherwise you could unsettle them. No offense meant either and reminds me of my husband's late uncle. It was a very traditional person and loved his home cooking. A bachelor in his old age, he was regularly invited to family dinners at Christmas. I had agreed to make a salad. Lamb's lettuce, balsamic dressing, topped with pomegranate seeds. The green salad leaves were no problem for Uncle Ludwig, but he left the red pomegranate seeds neatly in the plate. Well, I'm definitely sure he would have loved those cherry pockets. After all, you don't necessarily have to reveal that they are vegan.
Vegan cherry pockets, quick and easy to make yourself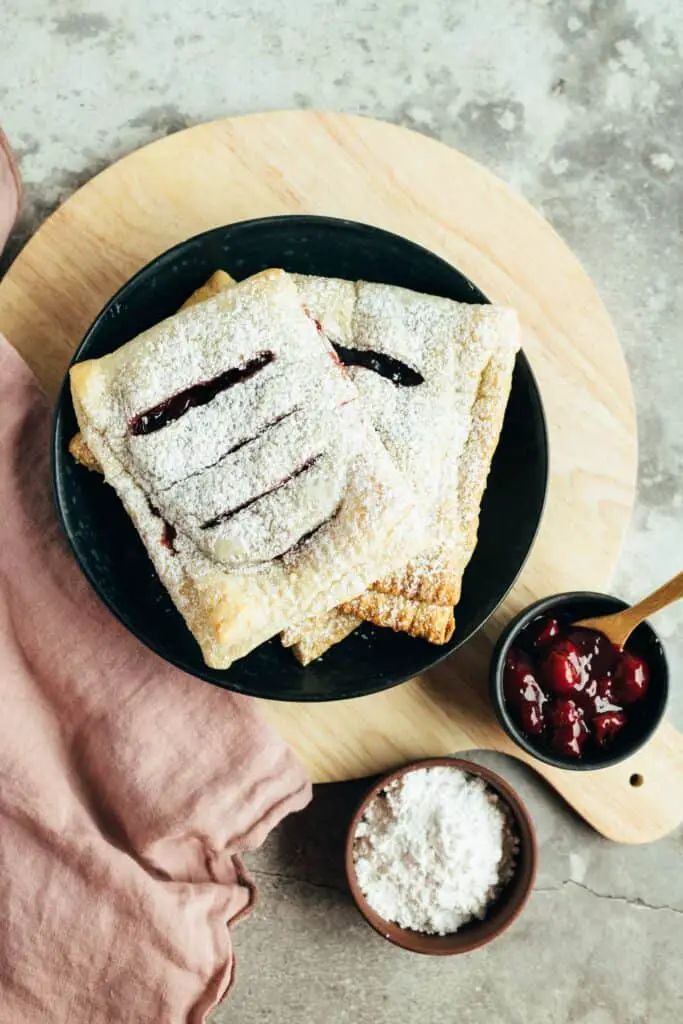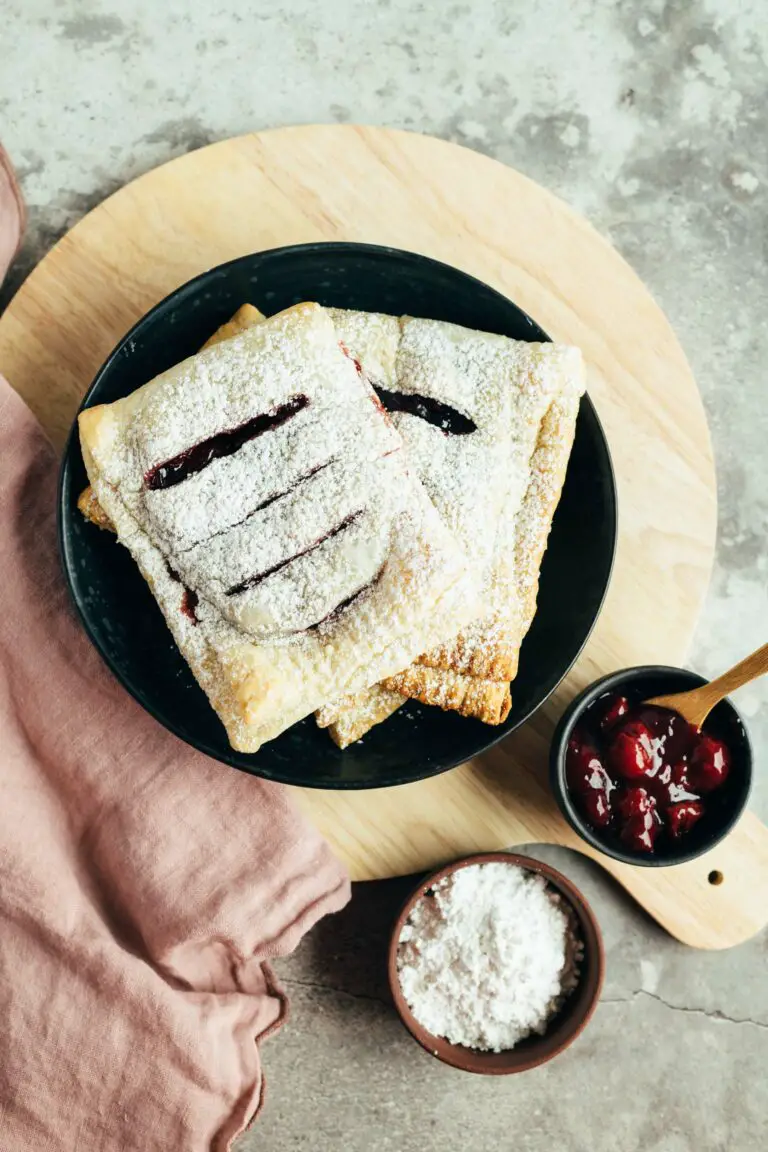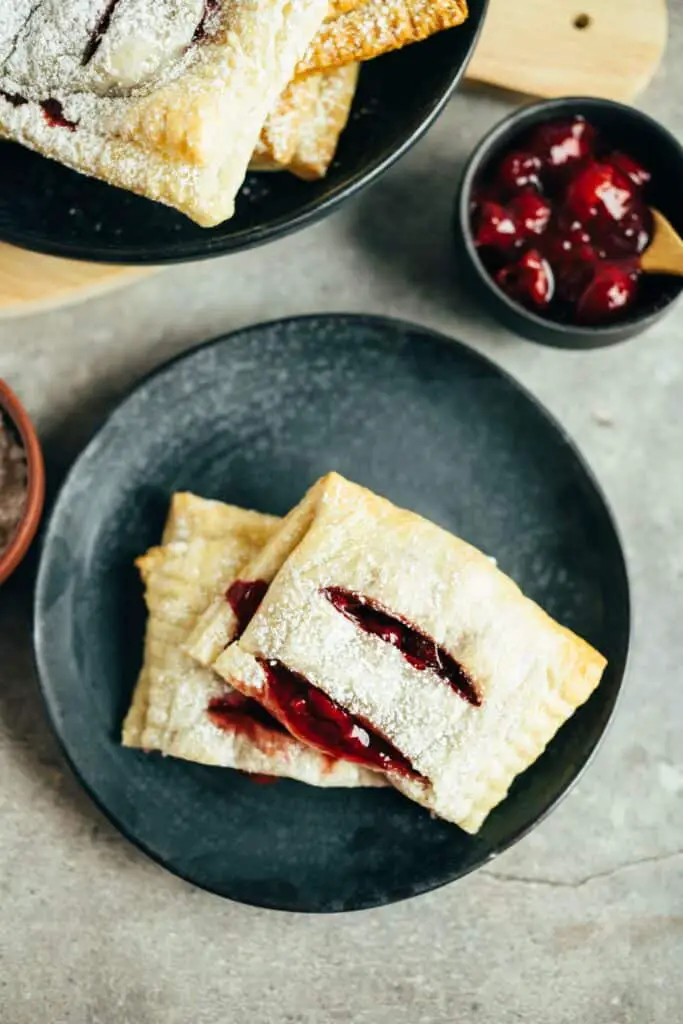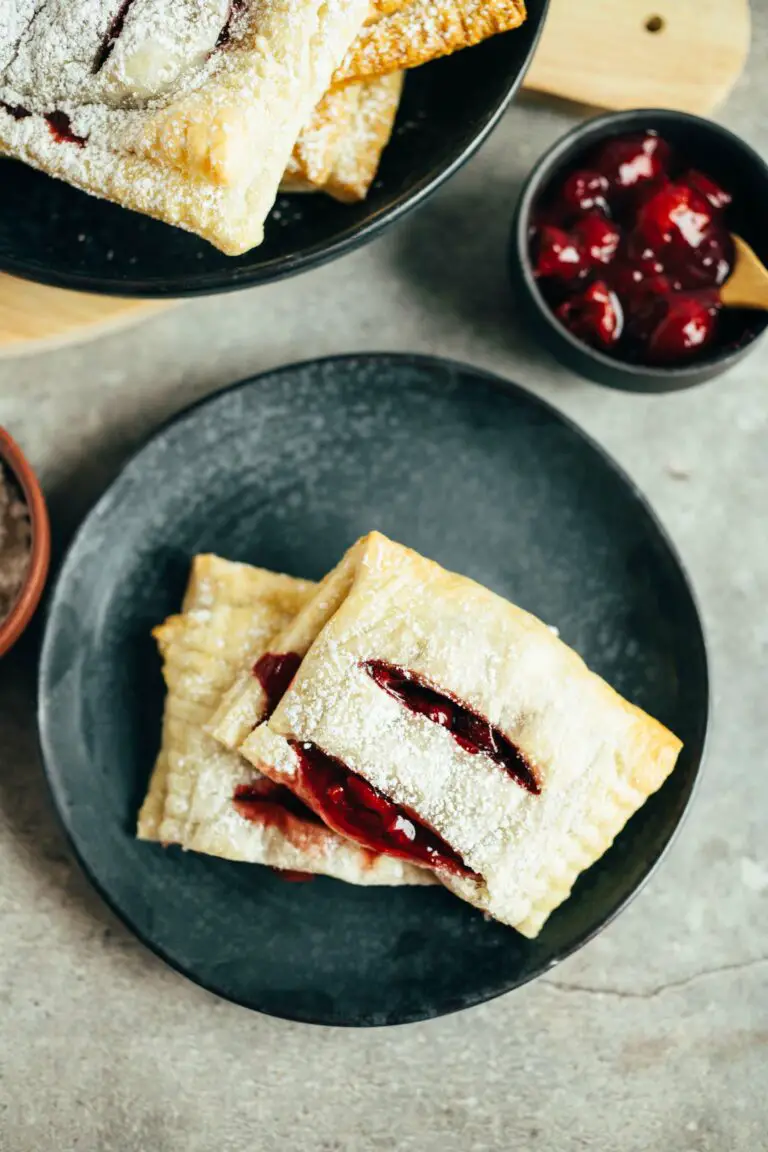 This time we do not make dough together, because we buy it ready-made in the supermarket. You could also prepare it yourself, but that takes time. I like to keep a vegan puff pastry in the fridge just in case. After all, there are always situations when you want to quickly access a ready-made dough. Vegan puff pastry is now available in many well-stocked supermarkets and health food stores. Online I have also already found and have even discovered vegan and gluten-free variants.
The filling goes super fast. Pass a jar of sour cherries through a sieve and collect the juice in a small saucepan. Stir in cornstarch, bourbon vanilla and raw cane sugar and bring to a boil. Once it thickens while stirring, remove heat. Add cherries back in and transfer to a bowl. Place in the refrigerator for 10 minutes and let cool.
Meanwhile, remove the puff pastry from the refrigerator, unwrap and roll out. Cut into four equal pieces and cut four horizontal slits at one end. Spread cherry filling on top, fold and put in oven.
Vegan pastry with fruity cherry filling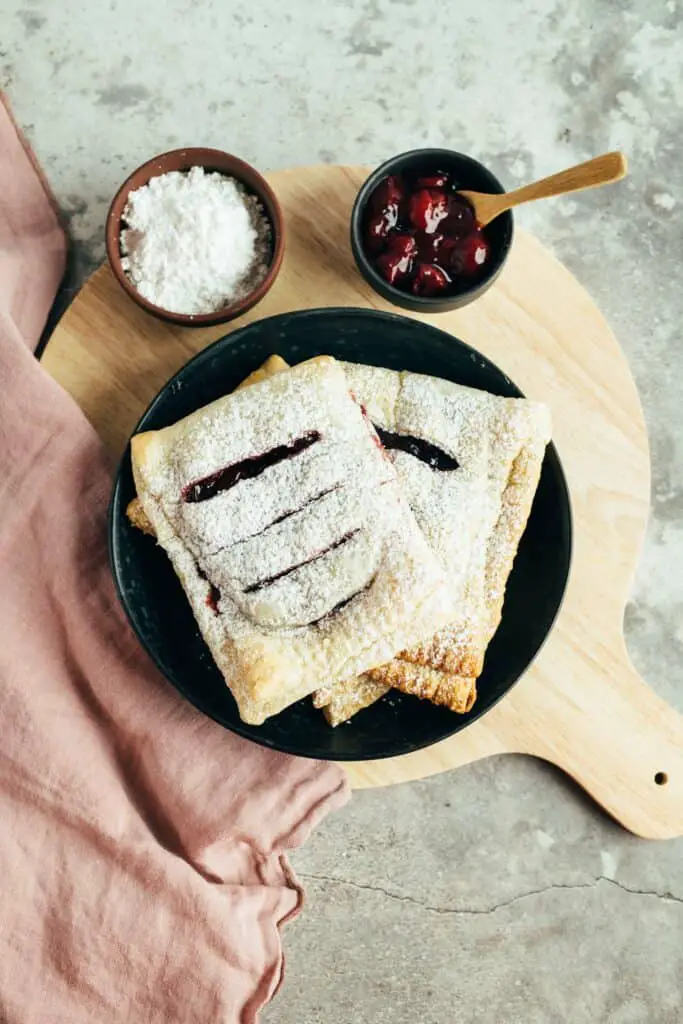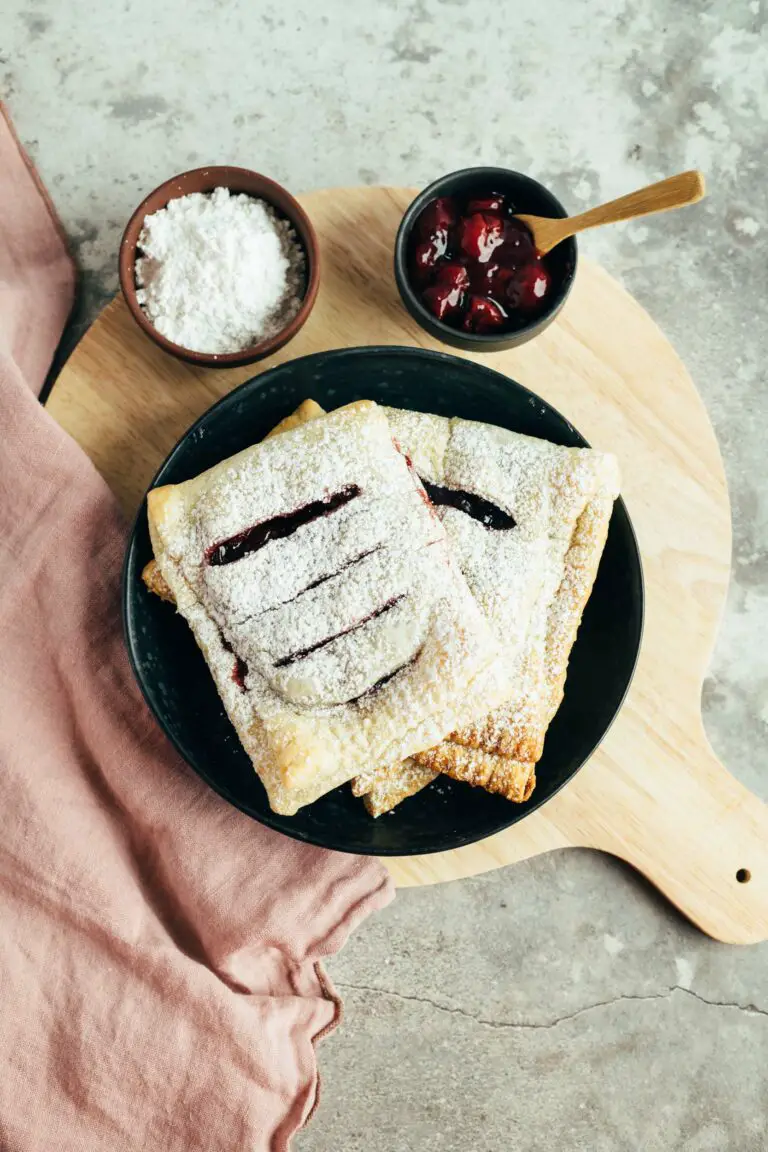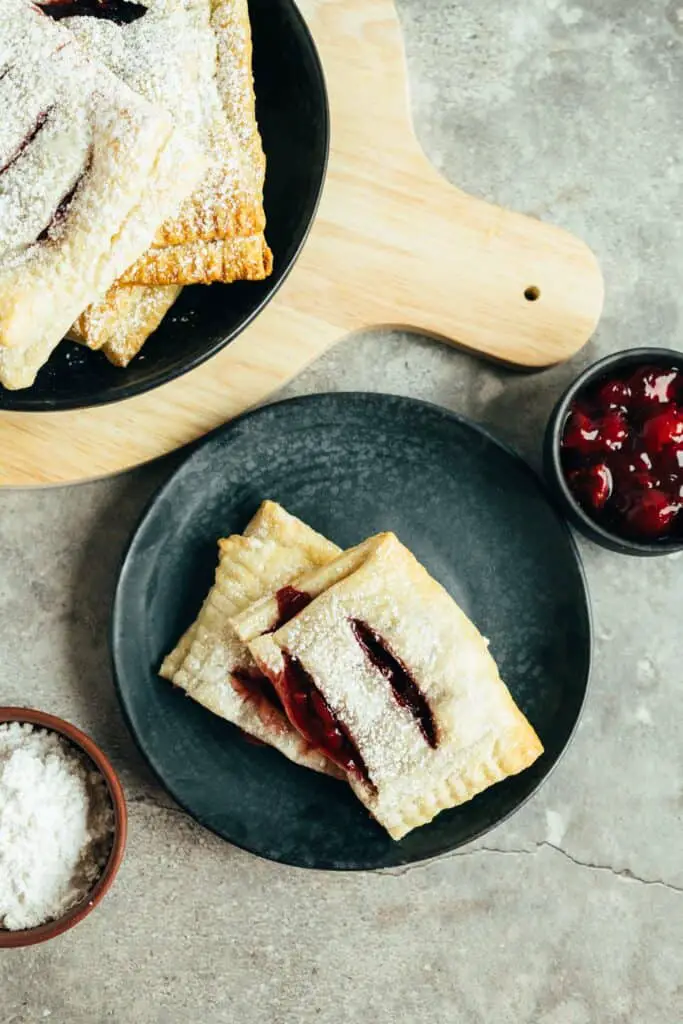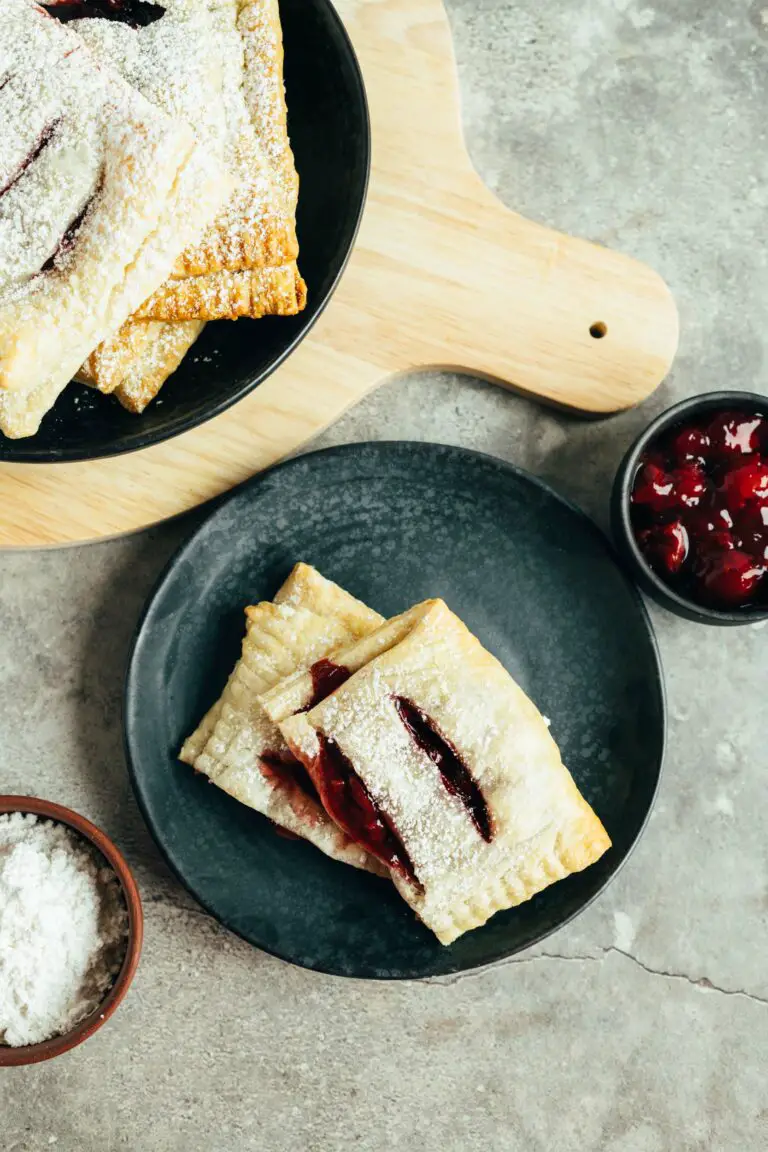 Of course, the powdered sugar must not be missing at the end. So this recipe is less suitable for people who want to avoid sugar and fat. For this you will find on this page some simple cakes that are baked both oil-free and gluten-free.
Regarding the filling, everything is allowed that is fruity and fun. However, I find sour cherries ideal. The acidity combined with the fruity taste is reminiscent of the classic from the bakery. If you try the pockets with a different fruity filling, feel free to comment below. I am very happy to hear about your experience.
Let's move on to the tips & tricks so that the delicious cherry pockets also succeed with certainty.
Remove puff pastry from refrigerator about 10 minutes before processing, it will be easier to shape.
The puff pastry is usually already on a baking paper, which does not need to be removed. You can just leave the cherry pockets on top and bake. I just cut around it with scissors. Once the dough is filled and becomes a little heavier, it is difficult to lift without everything shifting. So just leave it on the paper and remove it after baking.
Be sure to let the filling cool before spreading it on the puff pastry. Otherwise, the dough may melt and lose its shape.
Moisten the fork well, this will make it easier to seal the edges.
Do not put too much filling in the individual cherry pockets, otherwise it may run out the sides again.
It is best to spread the powdered sugar on the still hot cherry pockets immediately.
If you're craving a different kind of sweet classic today, I recommend my vegan chocolate bananas, grandma's style apple pie, or the world's best vegan cookies. I hope you enjoy baking and of course about a review at the bottom of this page. If you post a picture, use the hashtag #veganevibes.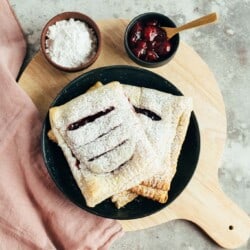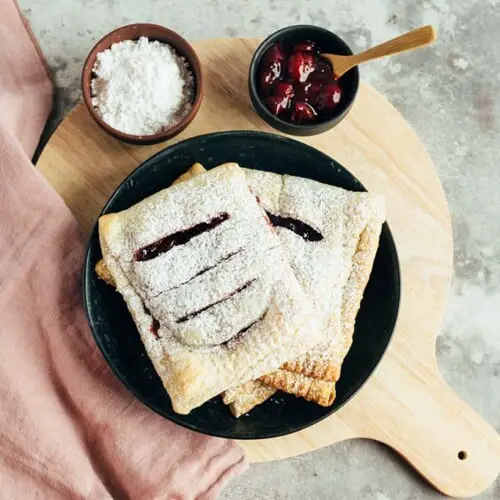 Vegan cherry pockets (35 minutes)
Simple, vegan cherry pockets made with puff pastry and homemade cherry filling. Few ingredients, simple preparation and topped with fine powdered sugar. Quick to make for your vegan coffee party.
AUTOR: VEGANEVIBES
1

Piece

finished puff pastry

on vegan Label pay attention

360

g

jar sour cherries

corresponds to a small glass

24

g

Cornstarch

or other thickness of your choice

36

g

Raw cane sugar

or other sweetener of choice

½

tbspn

Cinnamon

optional
Anleitung 
Preheat the oven to 180 degrees Celsius (or 200 degrees Celsius top/bottom heat) and line a baking tray with a baking mat or baking paper. Note: You do not necessarily need the baking paper if you use the integrated paper of the flaky pastry.

Remove puff pastry from refrigerator

10 minutes

before processing, unwrap and roll out. Set aside.

1 Piece finished puff pastry

Place small saucepan on stove, place strainer on top and drain cherries so that cherry juice runs into saucepan.

Whisk cornstarch, sugar, and (optional) cinnamon into cold juice. Then bring to a boil while stirring. As soon as the liquid thickens, remove from heat and fold in the cherries. Transfer to a bowl and place in the refrigerator.

24 g Cornstarch,

36 g Raw cane sugar,

½ tbspn Cinnamon

Meanwhile, cut the puff pastry into 4 equal sections starting from the long side (see video).

Cut about 4 parallel slits at one end (takes about 1/3 of the area).

Remove cherry filling from refrigerator and check to see if it has cooled slightly. If it is too hot, please wait a little longer, otherwise the puff pastry may melt.

Place cherry filling on top of puff pastry sections, leaving enough room around the edges.

Fold in top half of dough with slits and press down edges with a fork to seal. TIP: Moisten the fork with a little water to make it easier.

Optionally spread with vegetable cream and sprinkle with flaked almonds.

Vegetable cream,

Flaked almonds

Put in the oven and bake for

20 minutes

.

Dust with powdered sugar while still hot and enjoy!

Store at room temperature or in the refrigerator for up to 2 more days. Best fresh.
Nährwertangaben
Serving:
1
Piece
Calories:
281
kcal
Carbohydrates:
42
g
Protein:
3
g
Fat:
12
g
Saturated Fat:
3
g
Sodium:
76
mg
Potassium:
221
mg
Fiber:
2
g
Sugar:
21
g
Vitamin A:
58
IU
Vitamin C:
6
mg
Calcium:
17
mg
Iron:
1
mg