This time I really thought long and hard about what to do with my freshly harvested blackberries. Sometimes it feels like a dream, but there are an incredible number of blackberry bushes on our property and I can harvest fresh berries every day. That's why I could come up with something new every day and I would still have some of the little super berries left over. If you are from the Regensburg area, feel free to drop by!
Blackberries in a fluffy chocolate cake – vegan and gluten-free!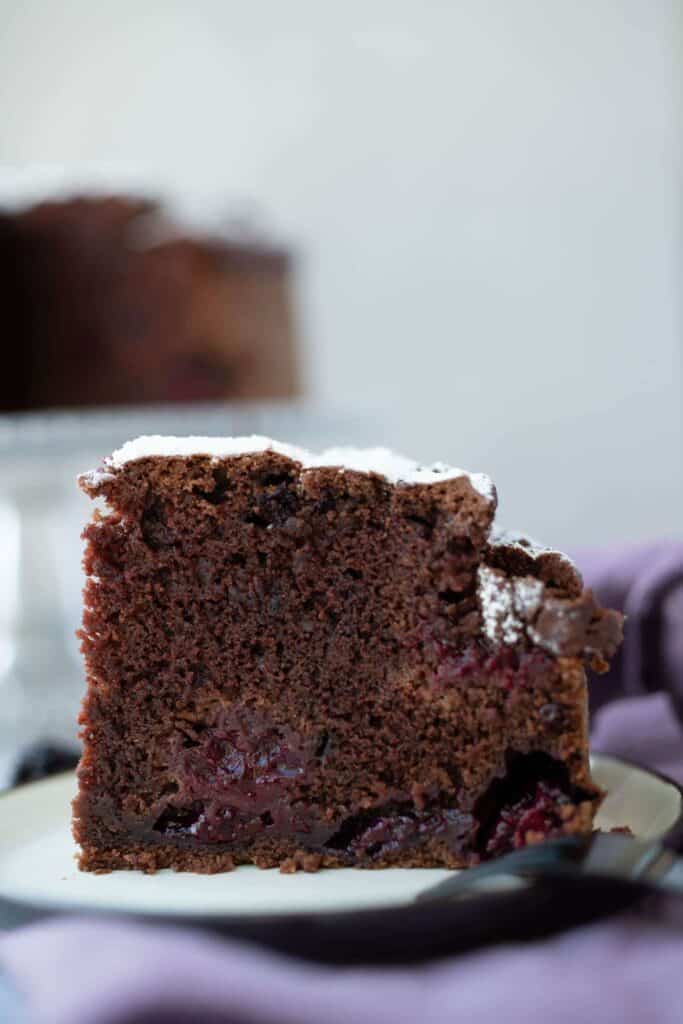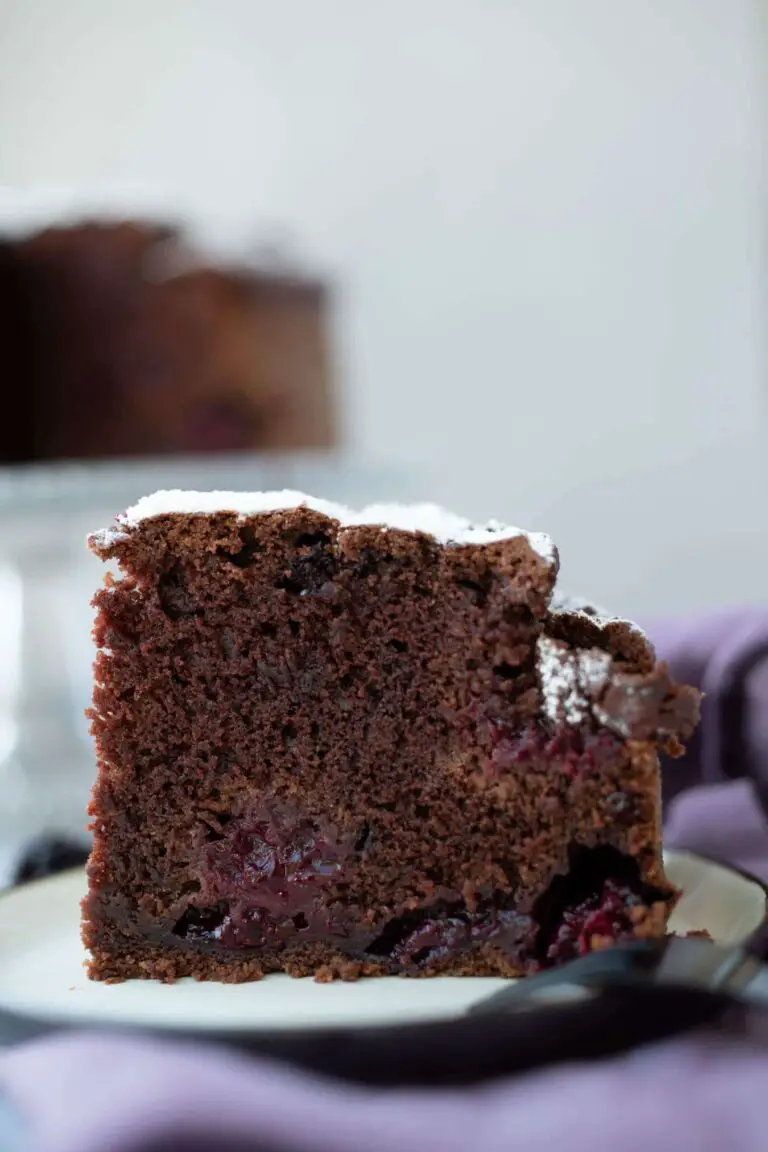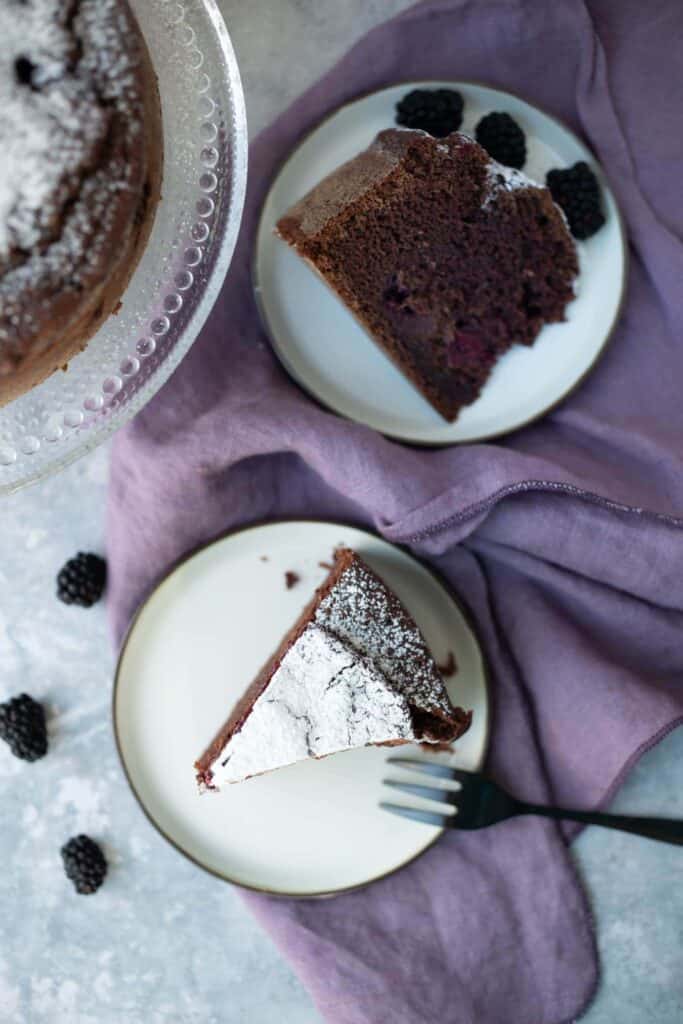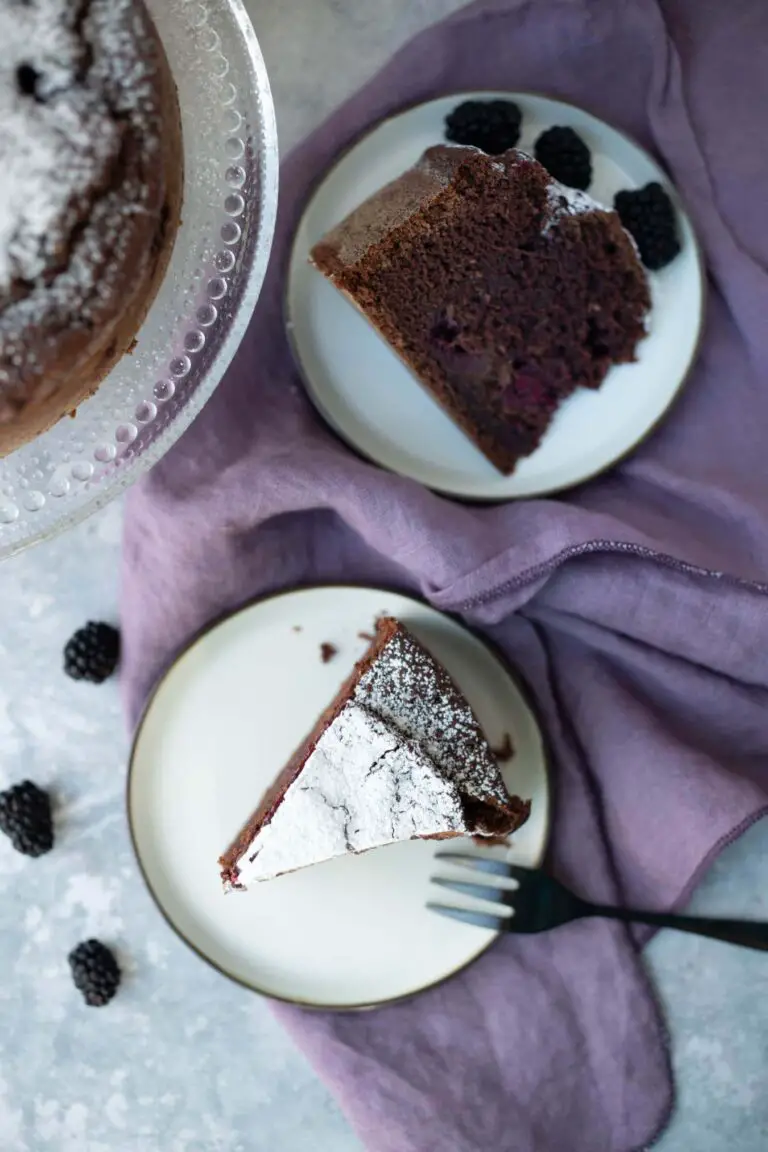 Our today's Cake is simple, fluffy, chocolatey and fruity at the same time. If you like to give up gluten, you're just as golden, because we make this treat with my gluten-free flour mixture . The ingredient list is simple as usual started with flour, almond flour (I buy mine at a fairly well-known drugstore with 2 letters … sorry for the guessing game, but it is no longer allowed to refer to something without immediately labeling it as advertising), cocoa, sugar, baking soda, baking powder and some vanilla. It continues with vegetable milk, coconut oil, a dash of apple cider vinegar and blackberries. That's it! Hard to believe, but true. So there are no more excuses, because even the most inexperienced baker can manage with these simple instructions.
How healthy are blackberries?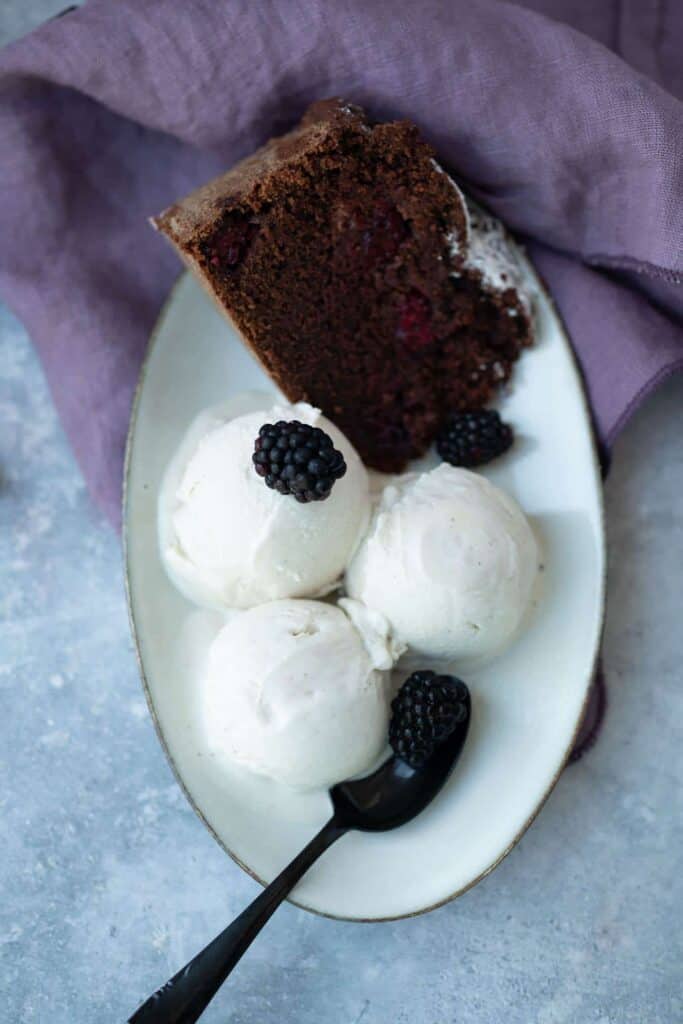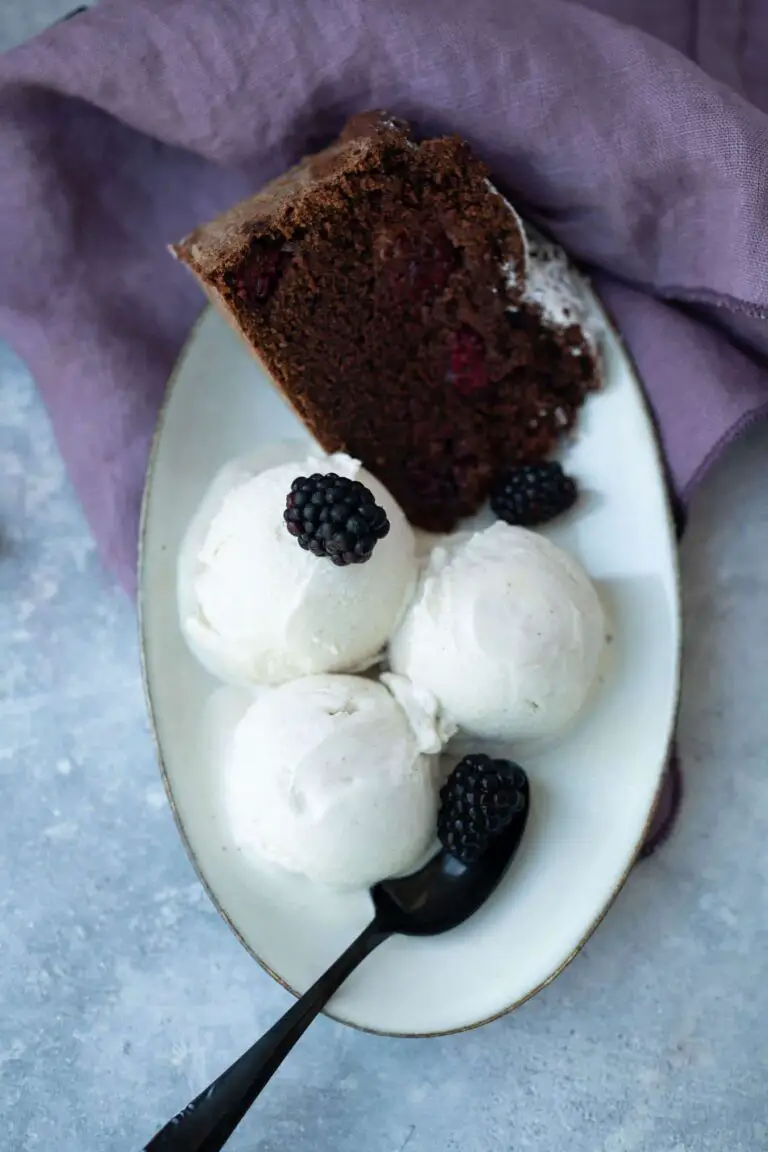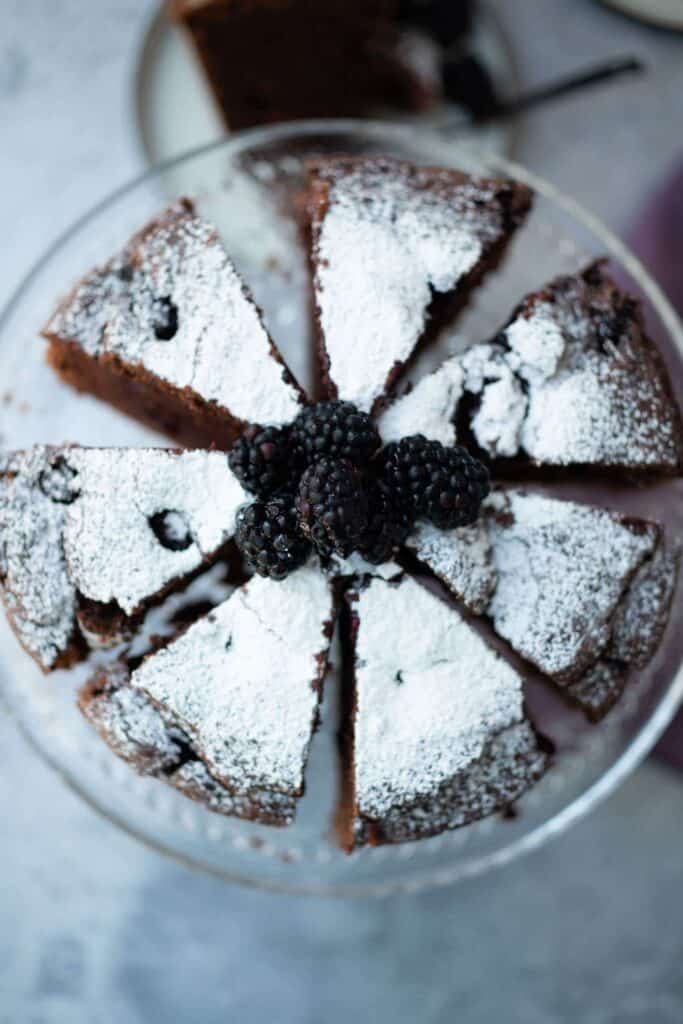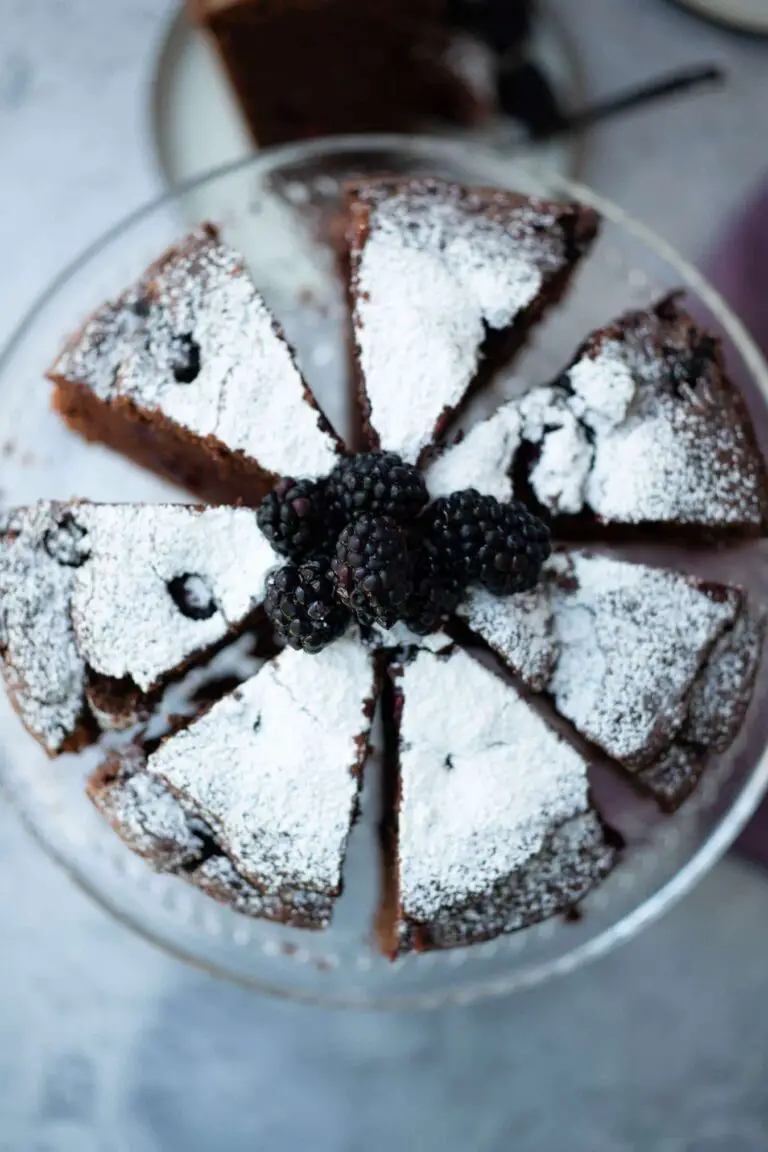 Somehow brown-black color of blackberries always fascinates me. Almost black on the outside, they take on an intense purple hue in the smoothie. But besides that, they are one thing above all: healthy!
Highest content of provitamin A among all berry fruits (body converts it into vitamin A, important for vision process).
Vitamin C and E (cell protection)
B vitamins (metabolism)
44kcal per 100g
Like almost all fruits, blackberries are sensitive to heat. So during the baking process important vitamins can be destroyed. What to do? Just always snack on some raw fruit and all is well.
This Cake fits just perfectly in the summer, especially because the main harvest season begins from mid-July. So off we go to the nearest organic supermarket or into the garden (like me)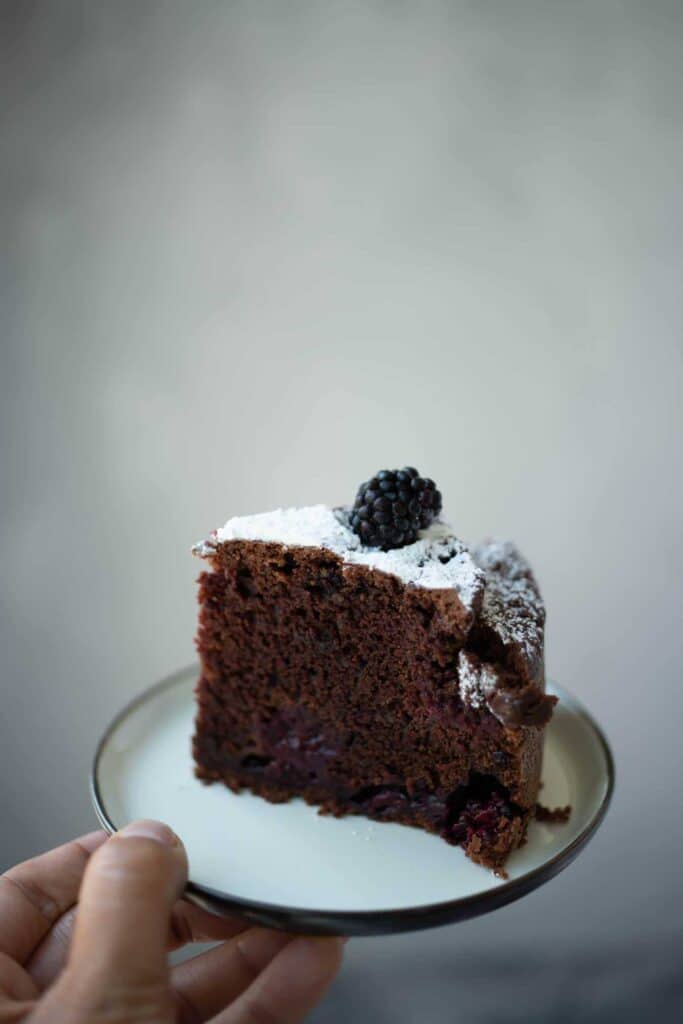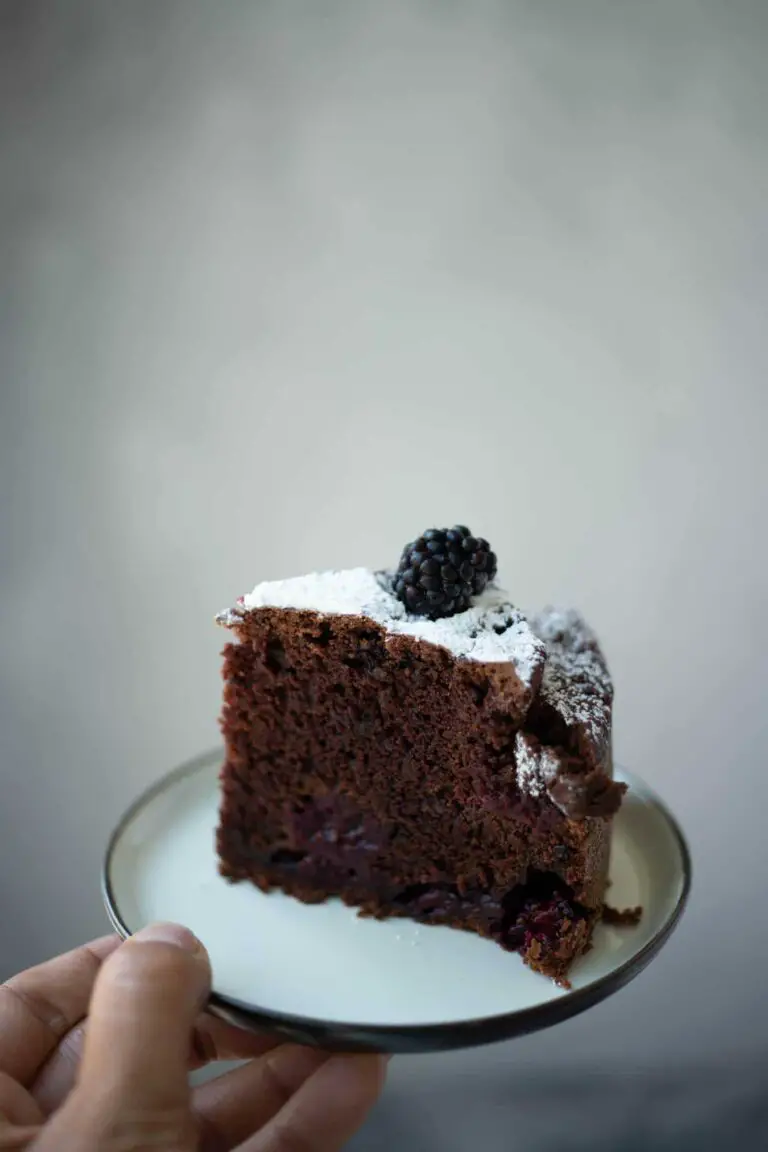 Another little tip about the right baking time, because it is incredibly important, especially for vegan cakes. To make sure the cake is ready on the dot, I do the chopstick test. When the stick comes out clean, I turn off the oven and let the cake cool while still in the oven. Voilà!
For the topping, I opted for plain powdered sugar and homemade vanilla ice cream(recipe for the vanilla ice cream coming very soon). However tastes also Coconut cream excellent with it.
Let's get started with this chocolatey blackberry pie. I hope you enjoy baking and of course about a review at the bottom of this page. If you post a picture, use the hashtag #veganevibes.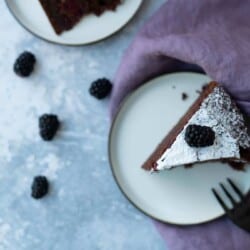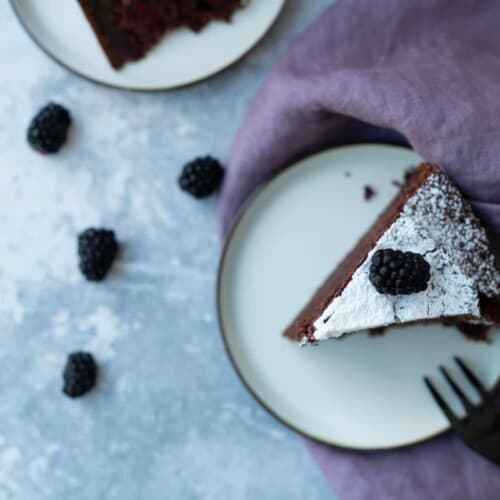 1-BOWL blackberry chocolate cake
Simple, moist, vegan and gluten-free blackberry chocolate cake topped with fine powdered sugar. Made with just one bowl, fluffy and juicy inside, with a nice mild acidity from the blackberries. Perfect for the summer coffee party.
AUTOR: VEGANEVIBES
TOPPING:
optional organic powdered sugar to taste

optioonal homemade vanilla ice cream
Anleitung 
FOR THE CAKE Preheat the oven to 175 degrees and grease a round baking dish (20cm) with a little coconut oil and dust with flour (optional).

For the batter, combine almond milk, alsan, baking soda, and apple cider vinegar in a large baking bowl. The liquid should now begin to foam slightly.

250 ml Almond milk or another vegetable milk,

105 g Alsan or coconut oil,

½ tbspn Baking soda,

15 ml Apple cider vinegar

Put a sieve over the bowl, sift in the flour, almond flour, cocoa, cane sugar, baking powder, sea salt and vanilla and mix everything once until a homogeneous dough.

100 g Almond flour,

30 g Cocoa,

200 g Raw cane sugar,

½ tbspn Baking powder,

½ tbspn Sea salt,

¼ tbspn Bourbon vanilla ground or 1 tsp vanilla extract,

250 g gluten-free flour mix or

ALTERNATIVE: Place all ingredients in a high-performance blender (e.g. Blendtec) in order and process with the dough program to a homogeneous dough.

CAUTION: Do not stir too long, otherwise the driving force of the natron will be destroyed.

The dough should be neither too solid nor too liquid and should be easy to pour into the baking pan. If too firm, add a little more almond milk, if too runny, add a little more flour. The strength may vary from one type of flour to another.

blackberries into the batter and fold carefully fold in until they are evenly distributed.

250 g 1 bowl blackberries

Place in the oven, bake for

40-50 minutes

and test with a wooden stick to see if the cake is done. When the wooden stick comes out clean, then the cake is ready. Turn off oven and leave cake in it for another 30 minutes (if possible). Remove from oven and let cool completely (preferably an hour).

Garnish with(optional) powdered sugar, vanilla ice cream and fresh blackberries, cut into pieces and enjoy!

optional organic powdered sugar to taste,

optioonal homemade vanilla ice cream

Store in an airtight container in the refrigerator for up to 5 days, keep frozen for a few weeks.
Notizen
NOTES /HELPFUL ACCESSORIES:
Nährwertangaben
Serving:
1
Piece
Calories:
244
kcal
Carbohydrates:
35
g
Protein:
4
g
Fat:
12
g
Saturated Fat:
1
g
Sodium:
112
mg
Potassium:
81
mg
Fiber:
4
g
Sugar:
18
g
Vitamin A:
45
IU
Vitamin C:
4.4
mg
Calcium:
66
mg
Iron:
1.5
mg