It's hot, damn hot! Yesterday Regensburg was the hottest place in Germany with almost 35 degrees. What is there to cook at these temperatures? Again Indian ? Tastes good, but we had only on Sunday. Mexican! There I had extremely much desire, especially because it reminds me of the weekly girls' nights at university times. We always went to the same Mexican place and it was a blast every time. Even then I had a favorite dish, quesadillas! Today we have a delicious vegan version of this with yummy Cheese sauce . You will love them!
Viva la (vegan) Mexico – Quesadillas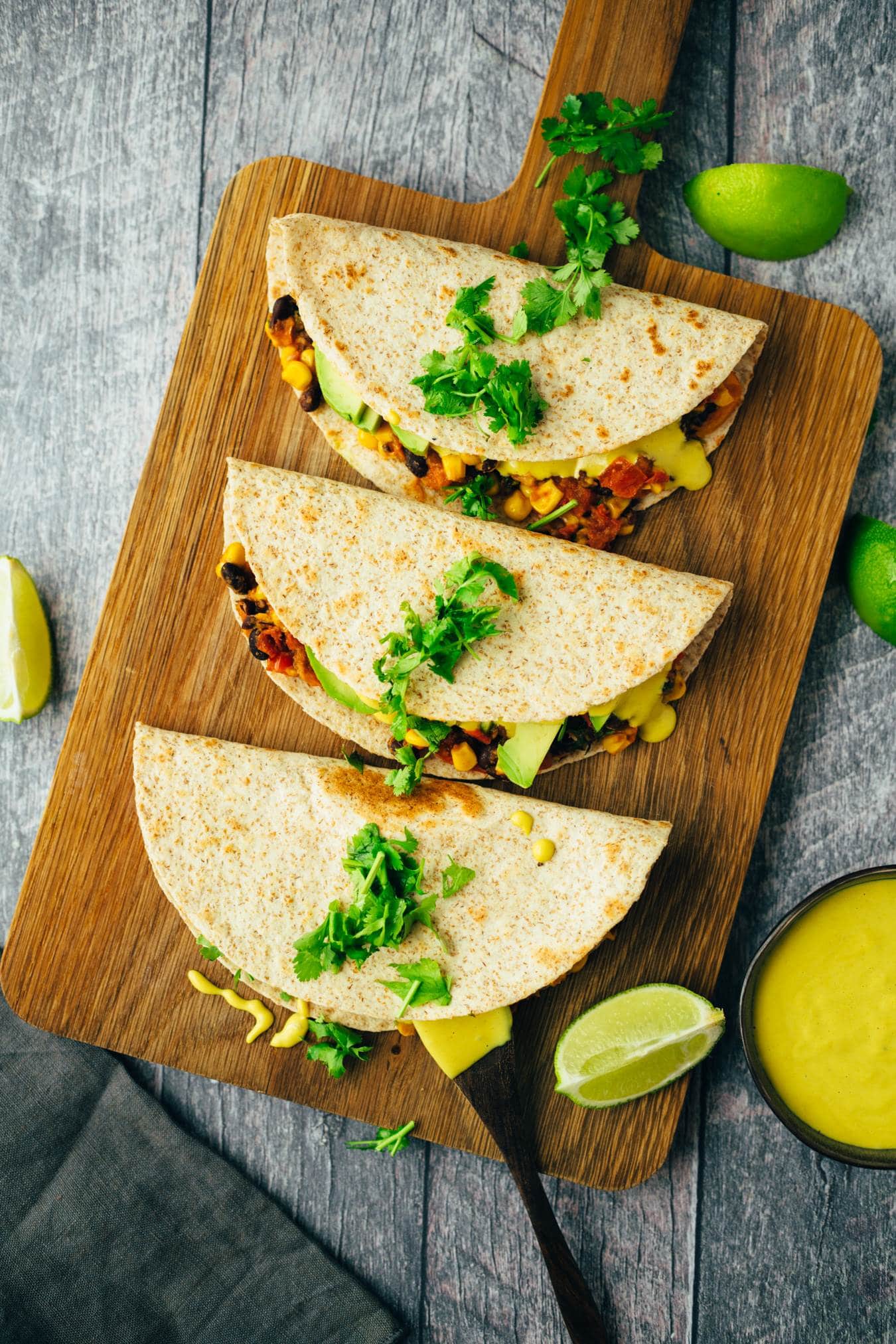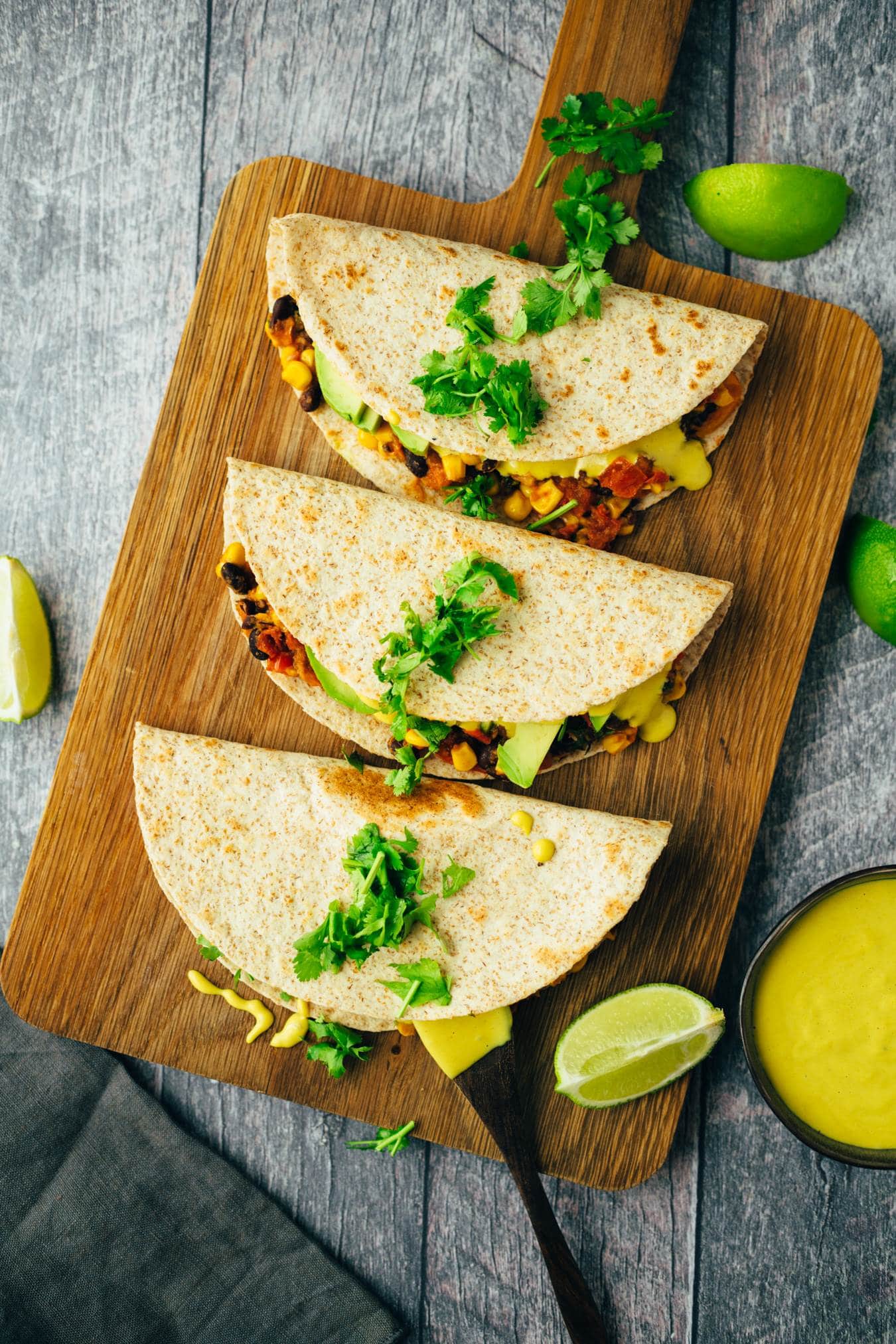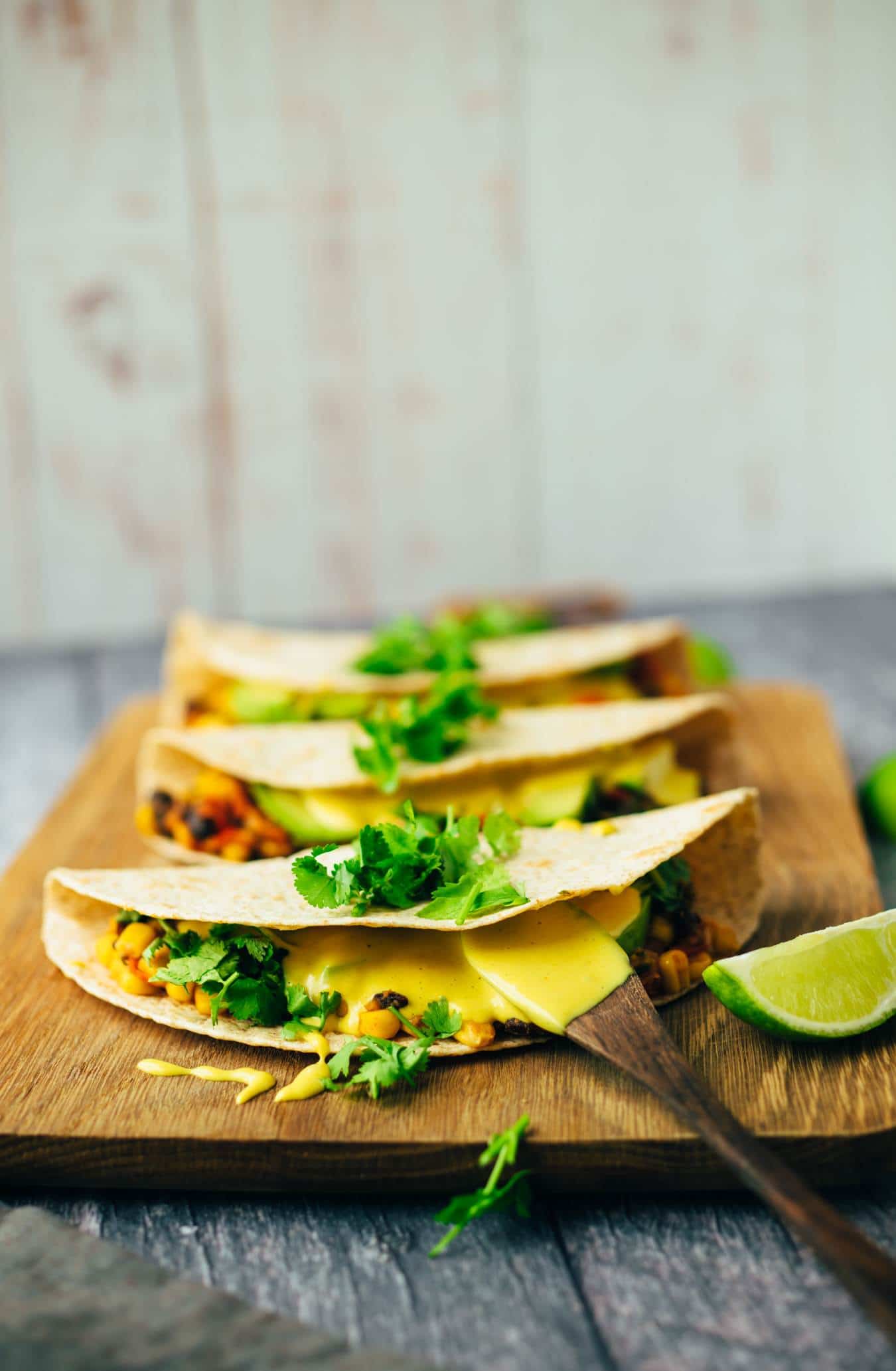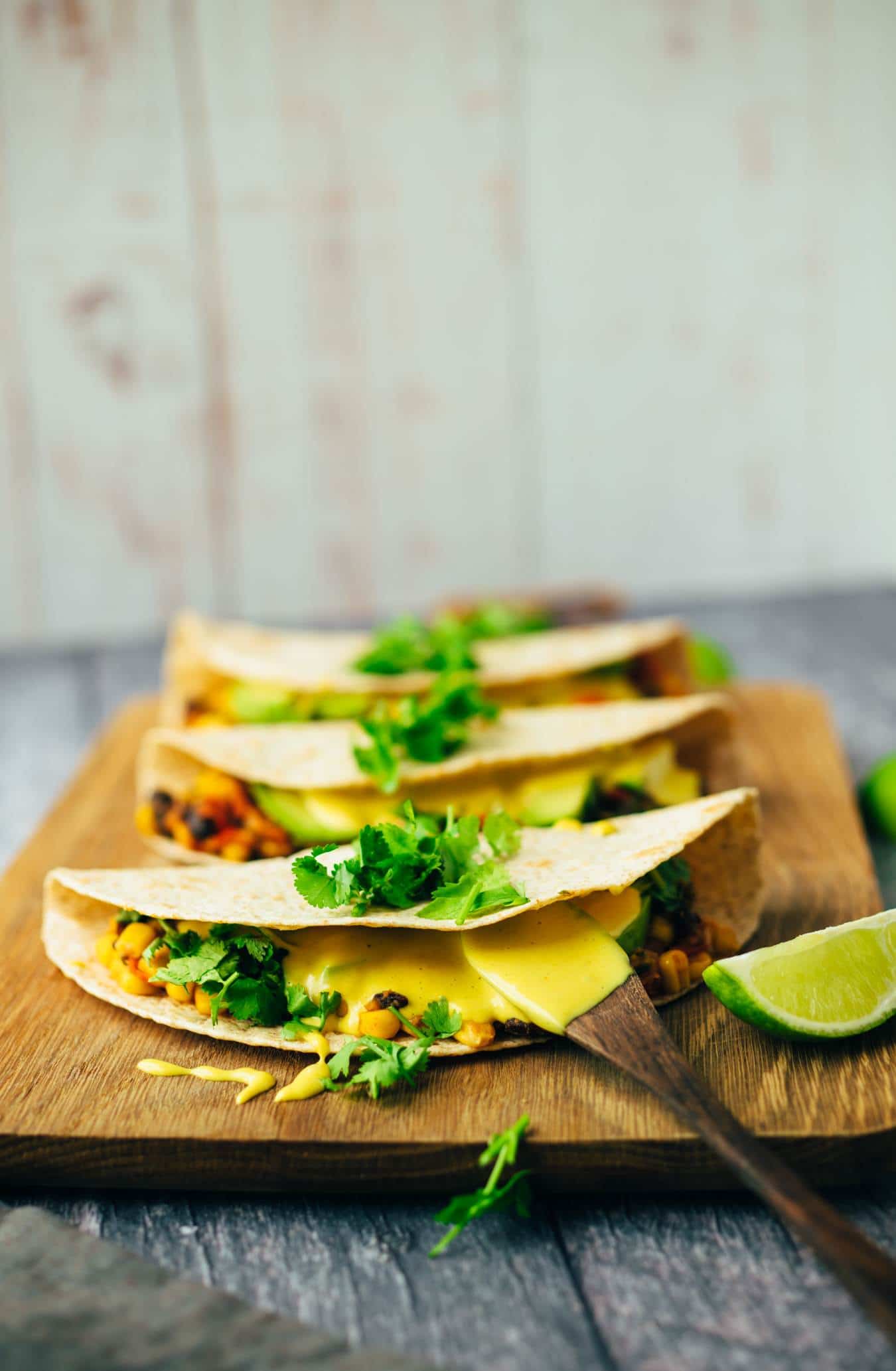 The ingredient list is very manageable, you don't want to run yourself ragged in these hot temperatures. Let's start with the filling, sweet corn, black beans, a red chili or chili flakes, cherry tomatoes, cumin, coriander (dried and fresh), a little frying oil, juice of a lime, sea salt and avocado. To make this, you'll need one package of tortilla wraps (I like to use the whole wheat version here) and a portion of cheesy vegan nacho sauce.
Alternatively, you can grab a package of vegan cheese or cheese sauce from the organic supermarket. However, I don't really like the pre-packaged vegan cheeses. I find they always taste like almost nothing. Do you know any great brands that taste good? Then I look forward to tips at the bottom of the comments.
Cheesy vegan nacho sauce – give me more of it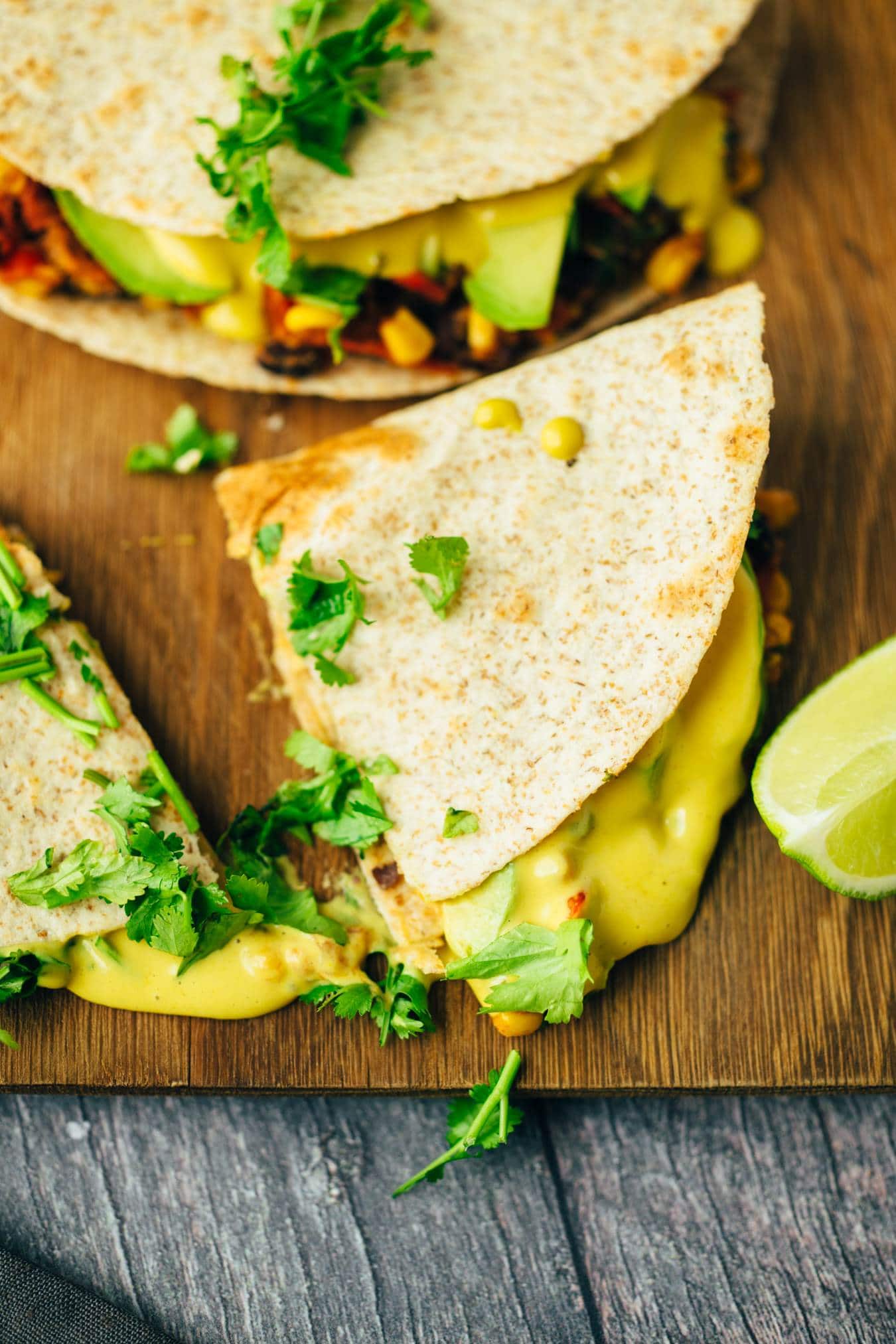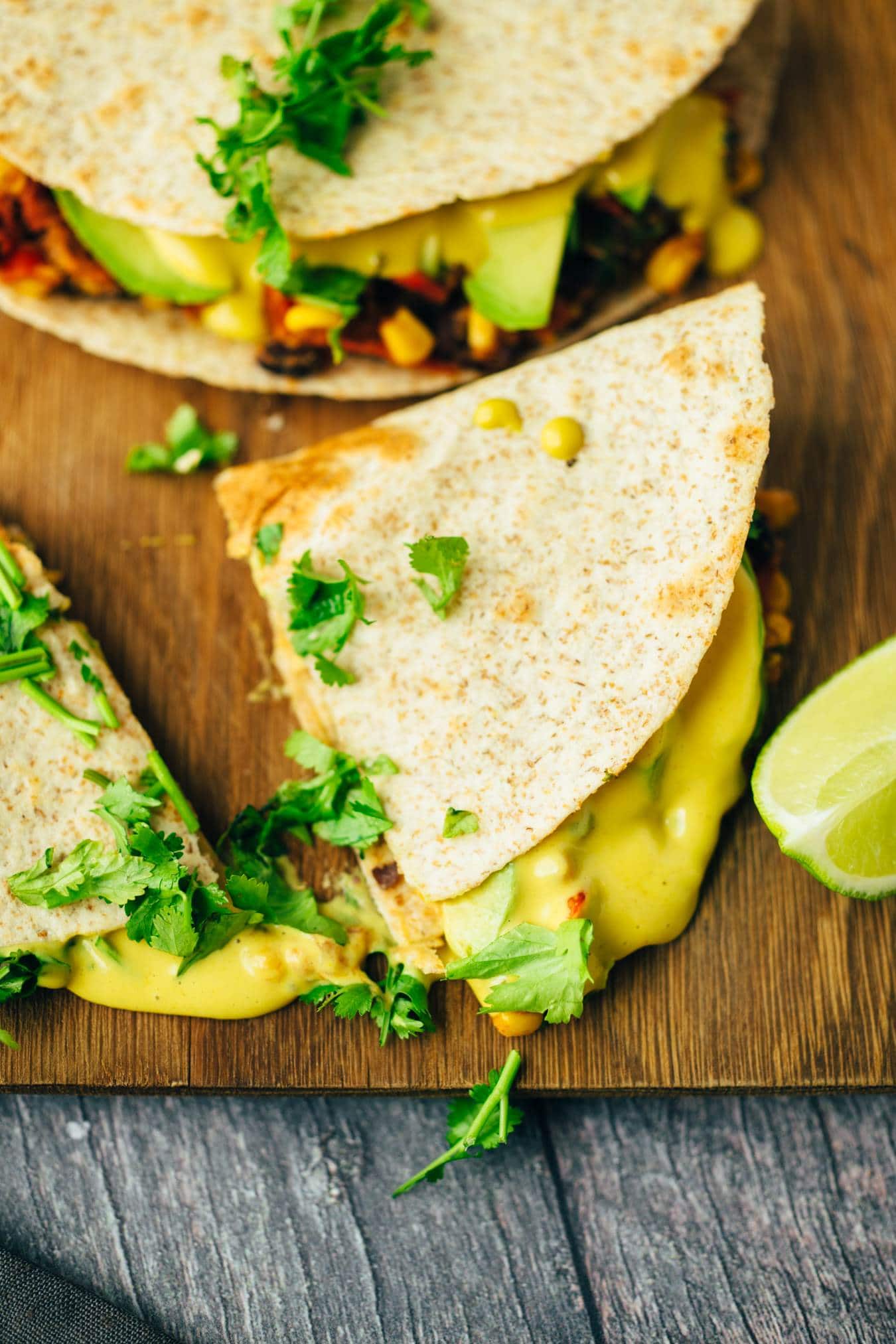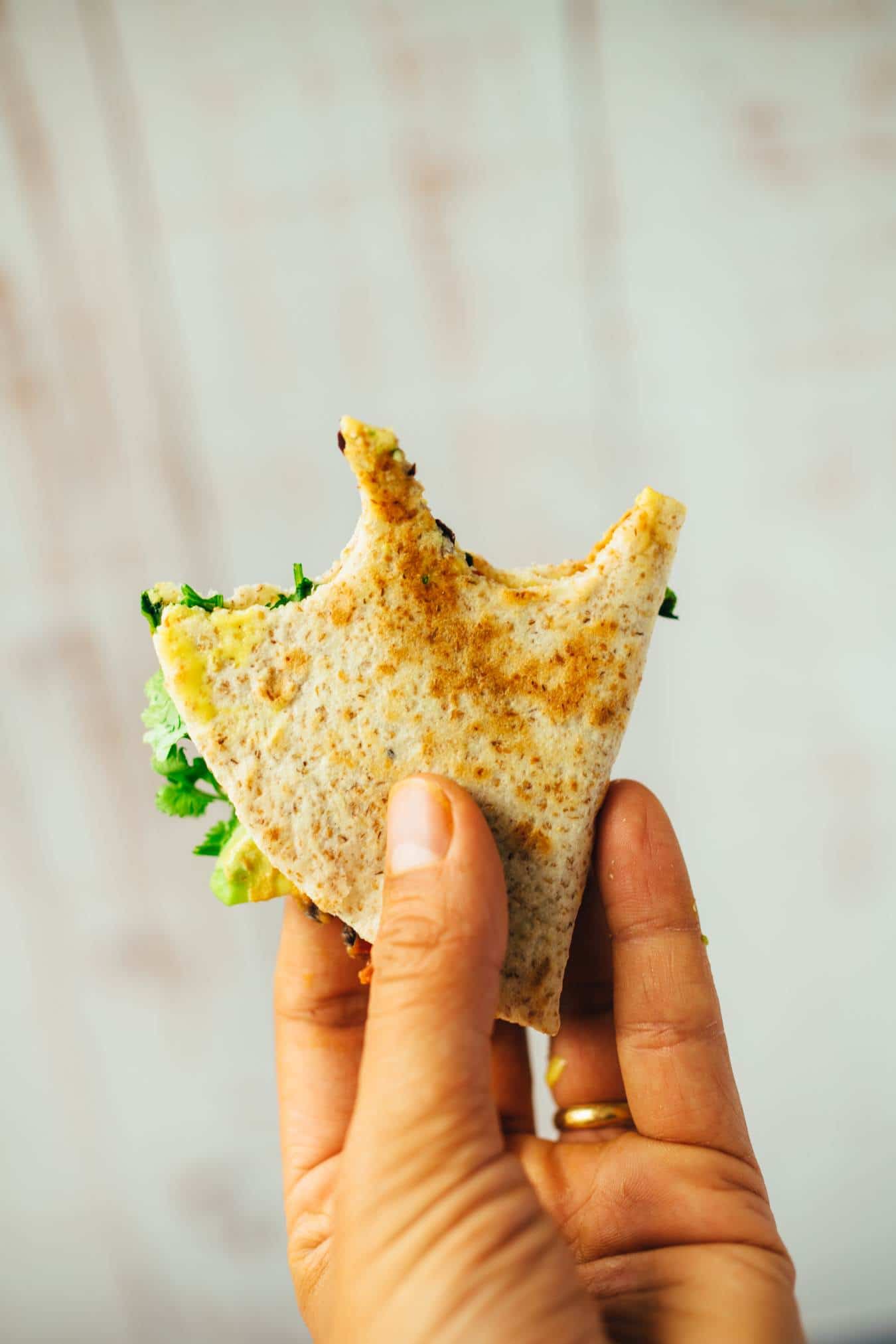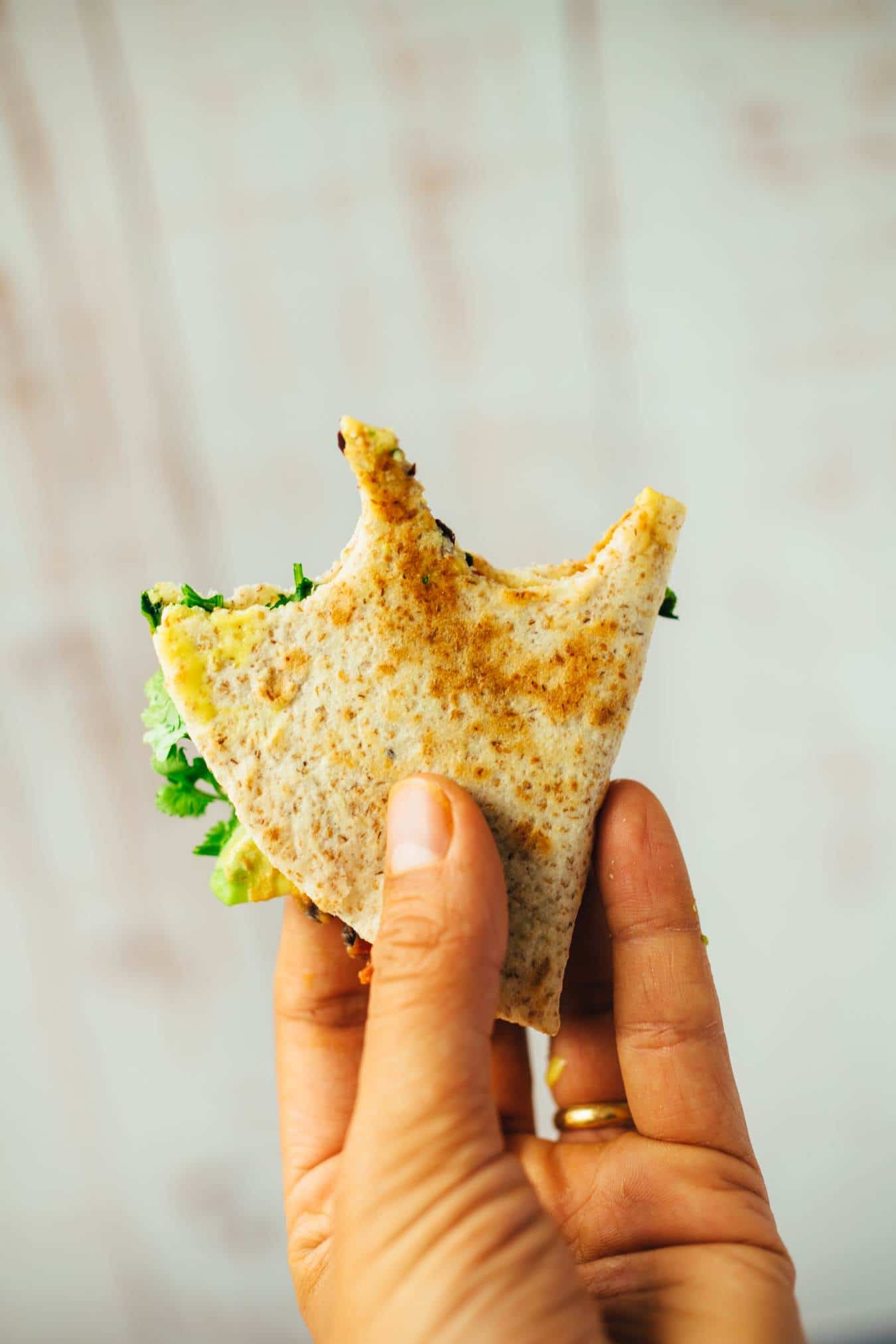 The preparation is also more than simple and you don't even need an oven for it. A large frying pan is quite sufficient. First we make the filling with delicious beans and corn, then the quesadillas. Keep it simple! My mouth is watering again too when I think of this delicious vegan snack.
While we're at it, we might as well take a look at the healthy ingredients. Today we take a closer look at the Avocado more closely. On the one hand it is highly praised, on the other it is frowned upon because of its high fat content. Many press claims that it is even an environmental sin to buy an avocado. I have done some research for you and summarized the most important facts.
Avocados are:
full of healthy unsaturated fatty acids, the enzyme lipase even promotes fat burning
rich in minerals, such as magnesium, potassium, iron & provitamin A, B, E and K
Avocados consume quite a lot of water during cultivation (approx. 2000 liters per kilogram) and often have long transport routes behind them
CONCLUSION: Avocados are quite healthy and I think it is not reprehensible to indulge in one here and there. The main part of food can still be bought regionally and ideally from organic cultivation. Class instead of dimensions!
Mexiacan Vibes Baby!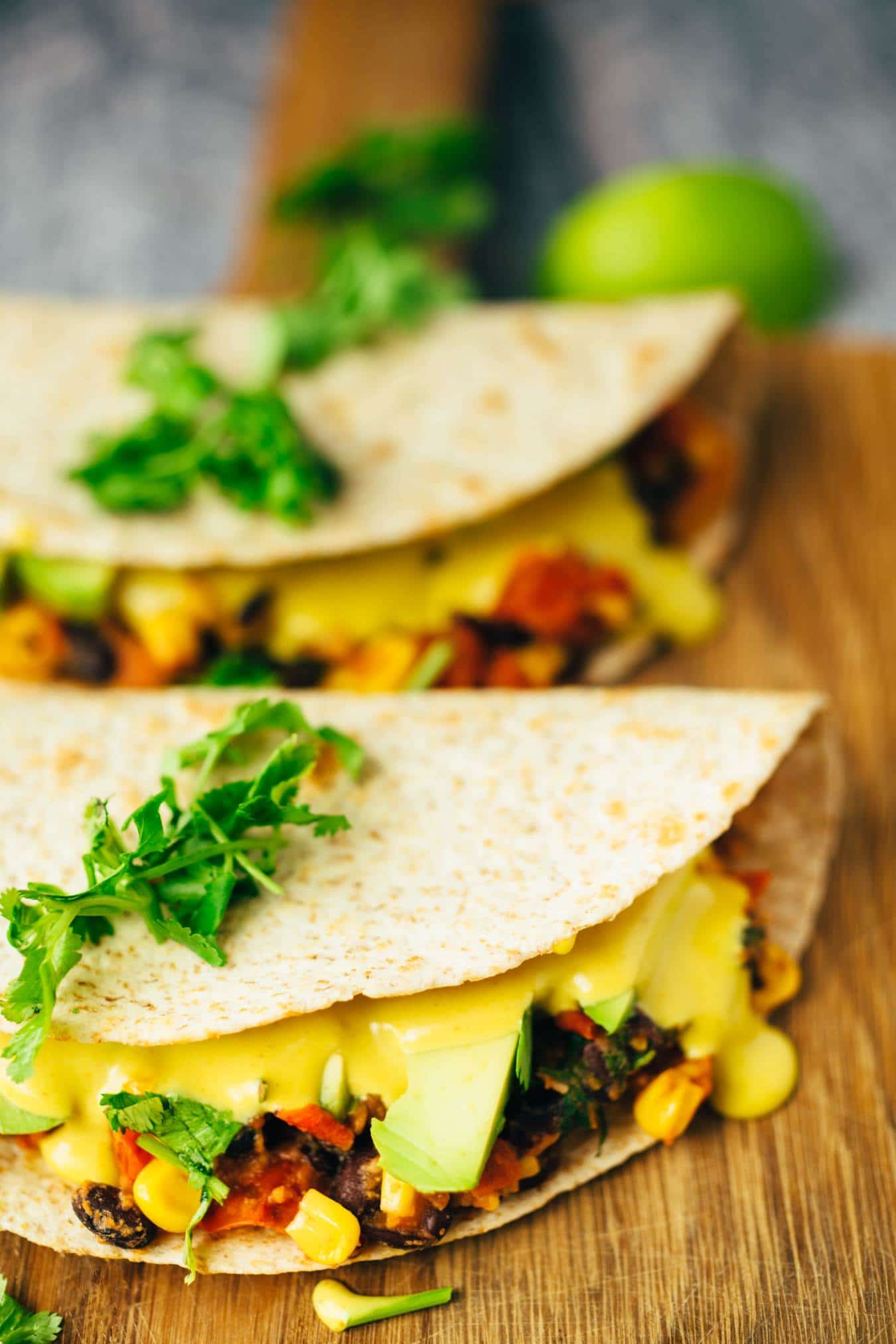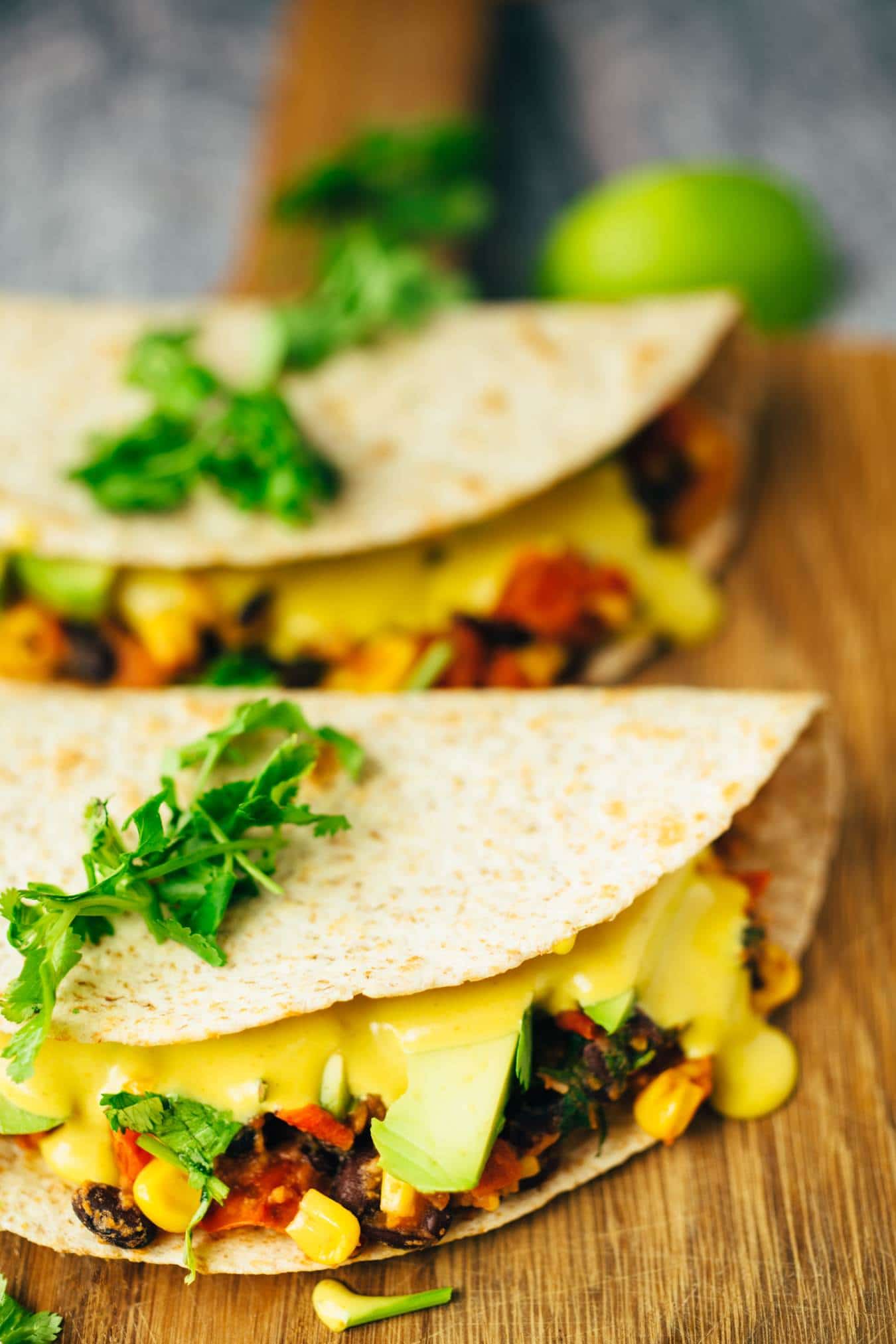 Here we go! Are you with us? Oven on I would say. This dish is especially good as an appetizer, but also as a main course combined with a great salad. For dessert, I recommend a delicious vegan Vanilla – or Chocolate ice cream .
Vegan Quesadillas (30 minutes):
Mexican spiced
High protein
With lots of vegetables
filling
Easy to make
Are you ready for this delicious Mexican delicacy? I wish you a lot of fun in recooking and of course a review at the bottom of this page. If you post a picture, use the hashtag #veganevibes.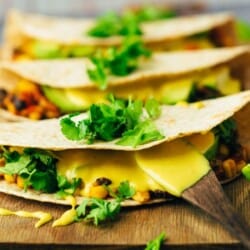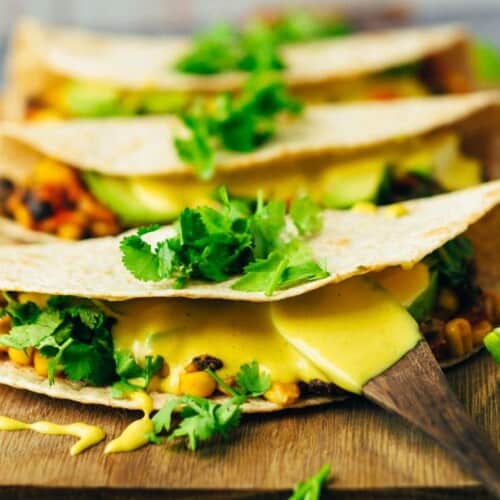 Vegan quesadillas (30 minutes)
Quick, delicious and Mexican dish for every day. 30 minutes, a delicious filling of beans and corn, topped off with a homemade vegan cheese sauce, baked in crispy tortillas. This tastes good for the whole family (except maybe grandma).
AUTOR: VEGANEVIBES
30

ml

Frying oil or other heat resistant oil

200

g

sweet corn drained and well washed with cold water*.

200

g

black beans drained and well washed with cold water*.

220

g

Cherry tomatoes

washed and quartered

2

tbspn

Cumin

ground

1

tbspn

Coriander

ground

1

Bird Eye Chili ground

or another chili of your choice

60

ml

Lime juice

Equivalent to the juice of one lime

a bunch of fresh coriander

2

ripe avocado peeled and cut into strips

1

Pack or 6 tortillas

can be found in any well-stocked organic supermarket or online (Important: corn flour tortillas are gluten-free, wheat flour tortillas are not).
Anleitung 
(Optional) prepare cheesy nacho sauce and refrigerate.

Heat the frying oil in a large frying pan. Add in sweet corn and sauté on medium heat for 3-4 minutes. Add black beans, cherry tomatoes, cumin, coriander, Bird Eye chile, lime juice and about half of the fresh cilantro and simmer for another 5 minutes. Season with sea salt, place in another large bowl, set aside and mash the beans with a masher or spoon. This way the filling will hold together better later.

30 ml Frying oil or other heat resistant oil,

200 g sweet corn drained and well washed with cold water*.,

200 g black beans drained and well washed with cold water*.,

220 g Cherry tomatoes,

2 tbspn Cumin,

1 tbspn Coriander,

1 Bird Eye Chili ground,

60 ml Lime juice,

a bunch of fresh coriander,

Sea salt to taste

Rinse pan briefly. Caution hot! Dry off, put back on the stove and heat.

Tortillas (if bought ready from the package and drizzle with a little water) in the hot pan against. Bake on one side for 2-3 minutes, until golden brown, flip over and fill with 3-4 tablespoons of corn bean paste on one side only. Spread avocado, cilantro and cheesy nacho sauce on top, folding once. Ready! Remove from pan and place on a plate or wooden board.

2 ripe avocado peeled and cut into strips,

1 Pack or 6 tortillas,

A portion of cheesy nacho dip

For the remaining quesadillas, repeat step number 3 until all tortillas are used.

Drizzle more cheesy nacho sauce into the quesadillas as desired and enjoy!

Leftover cheesy nacho sauce is especially good as a dip for nachos.
Notizen
NOTES /HELPFUL ACCESSORIES:
Nährwertangaben
Serving:
1
Portion
Calories:
131
kcal
Carbohydrates:
17
g
Protein:
4
g
Fat:
5
g
Sodium:
5
mg
Potassium:
296
mg
Fiber:
3
g
Sugar:
2
g
Vitamin A:
275
IU
Vitamin C:
15.3
mg
Calcium:
18
mg
Iron:
1.4
mg