Chocolate angel eyes and again shine the eyes of all lovers of vegan cookies. For those who were looking forward to healthy, sugar-free pastries, I'm afraid I don't have good news. These little tempting beauties hide a lot of margarine, a little sugar and chocolate. Maybe you're wondering if you can make cookies super healthy too? Of course you can, but then I recommend to use Bliss Balls, which are sweetened with dates and contain virtually no sugar or fat. For those who want to indulge in these wonderful angel eyes with pleasure, I now have a very fine recipe.
Vegan angel eyes cookies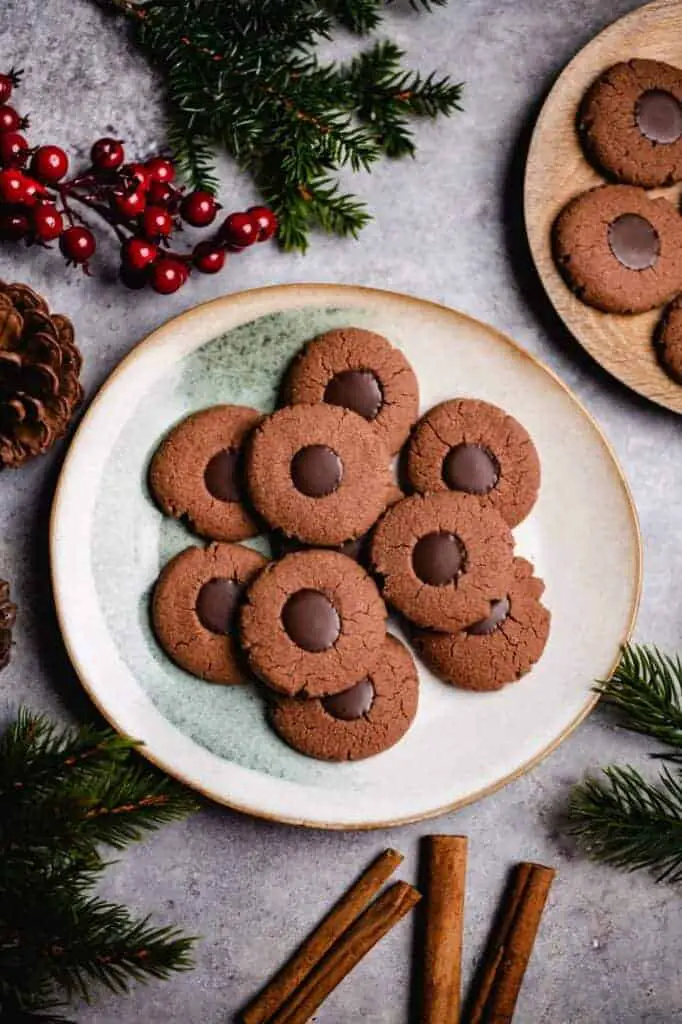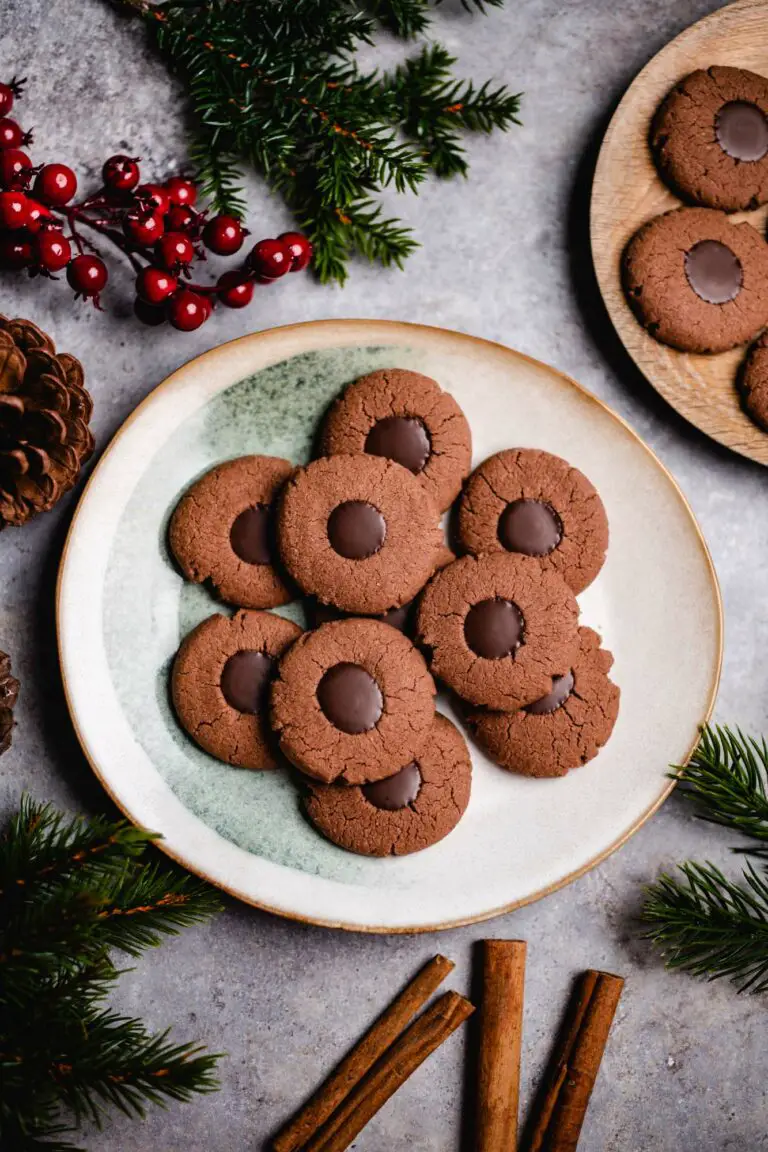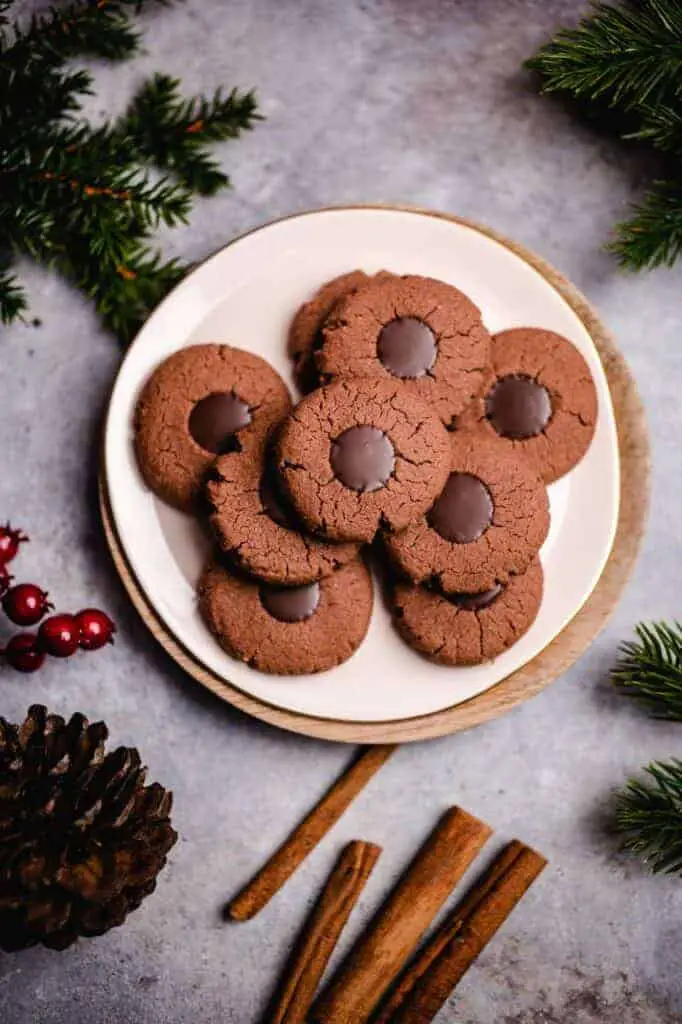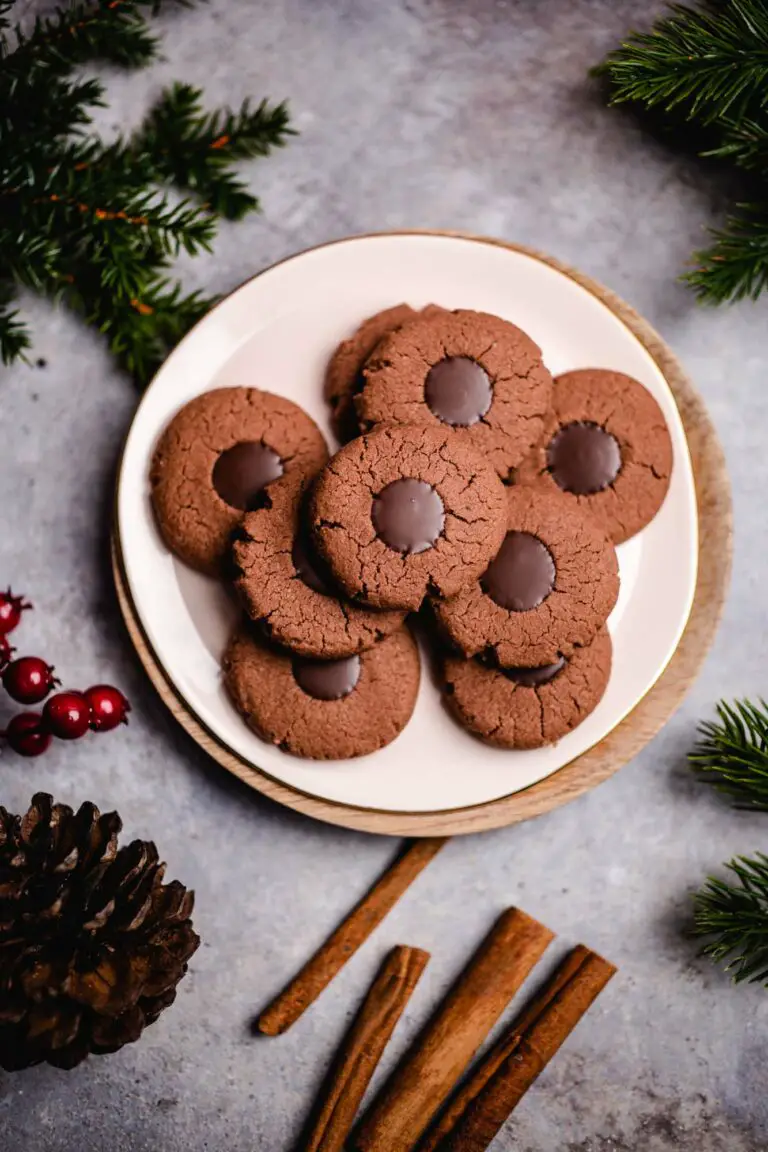 Angel eyes are quite something and almost irresistible when they lie so innocently on the cookie plate. Easy to make they are also, but you need a little patience. Flour, ground almonds, raw cane sugar, margarine, cocoa powder and a pinch of salt. This all goes together in the Food Processor and is worked into a uniform dough. Then it goes also immediately off into the refrigerator or you roll out the dough immediately afterwards.
Note: It is always said that after processing the dough should first be placed in the refrigerator and then processed. If the dough is really very firm, then I absolutely recommend the short stop. Otherwise, you might as well go ahead with the processing. I have not had any negative experiences with immediate further processing. If you don't have time anyway, feel free to put the dough in the fridge for at least 2 hours or overnight.
Bake vegan angel eyes at Christmas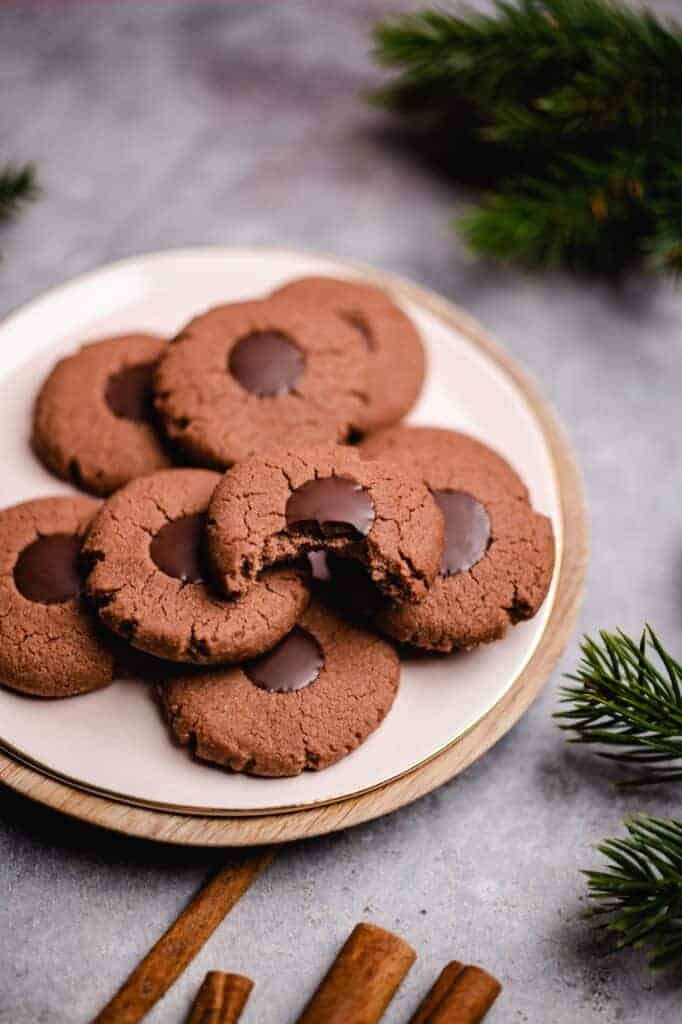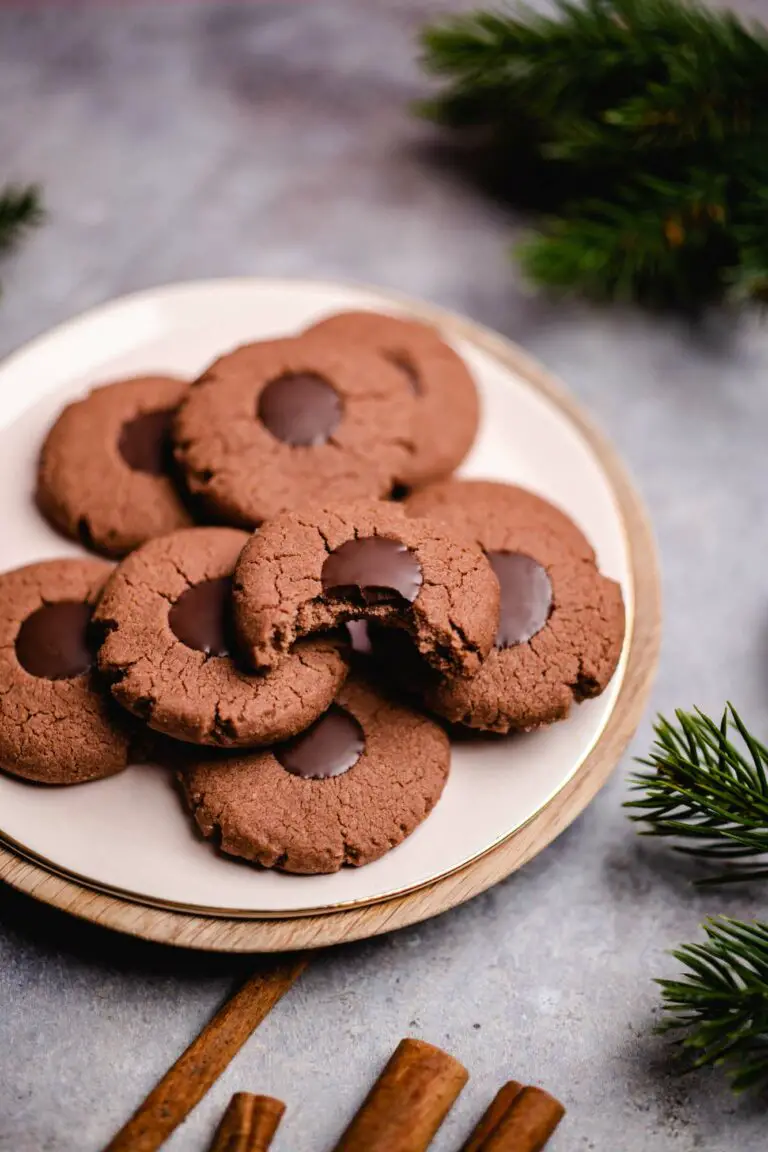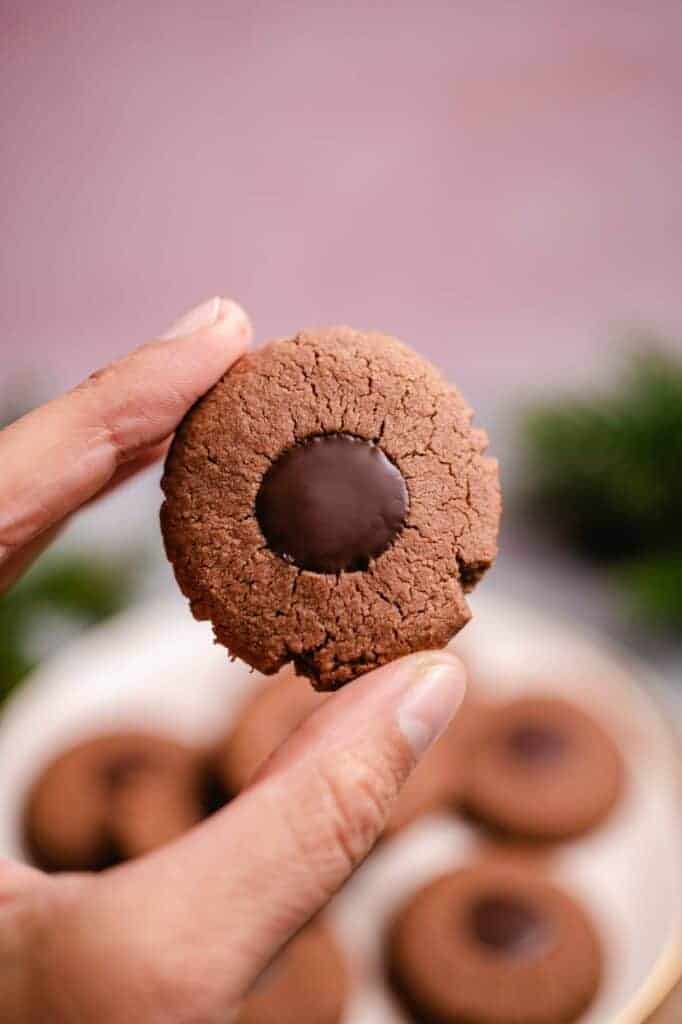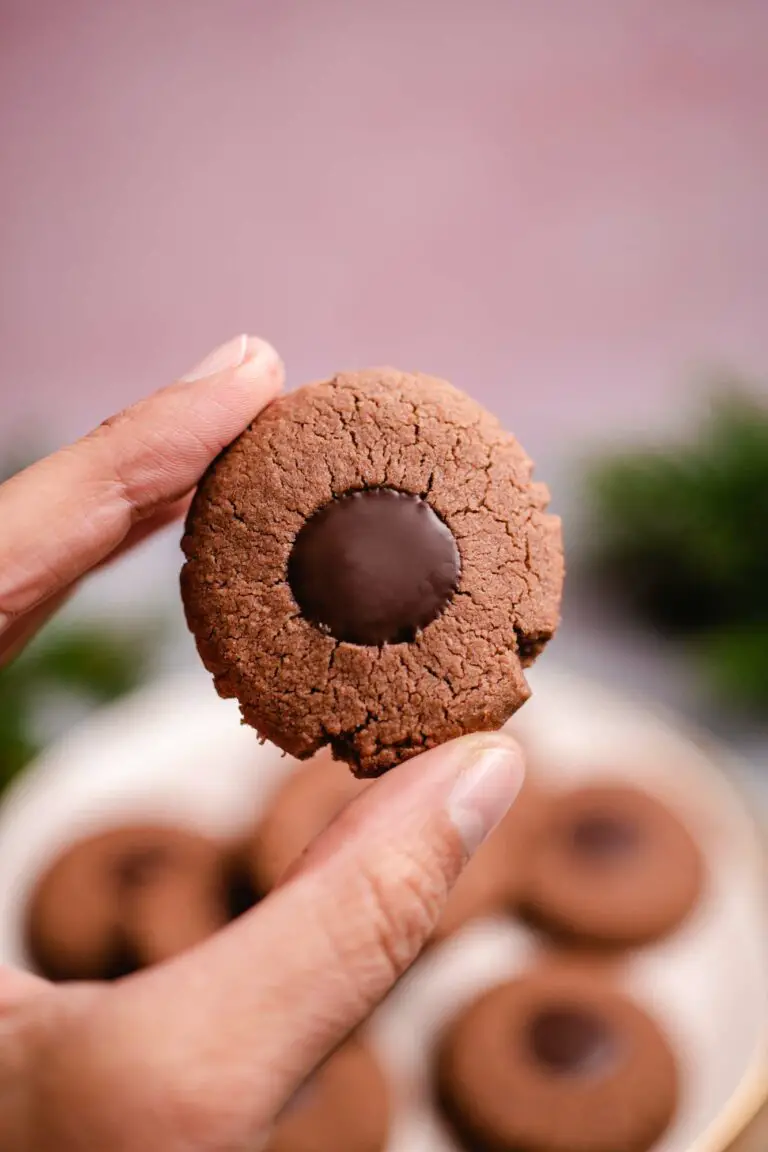 Let's move on to cookie making. Divide the dough into four portions, roll into strands and, using a knife or a dough scraper, divide into equal portions of about a teaspoon each to make one cookie. It is said that there are people who weigh the dough so that the cookies are the same size. But I'm more on the "casual" team and do it by eye. Now roll into balls and make a deep hole with the style of a wooden spoon or similar object. This is important so that we can fill in the melted chocolate afterwards. Already it goes into the oven with a baking time of 8 minutes.
While the cookies are cooling, I melt the chocolate in a melting pot. I use a dark vegan chocolate coating and add a little cocoa butter so that the chocolate is a little more liquid. With a spoon, or a tip tube I fill the chocolate into the holes and ready are the pretty, vegan angel eyes.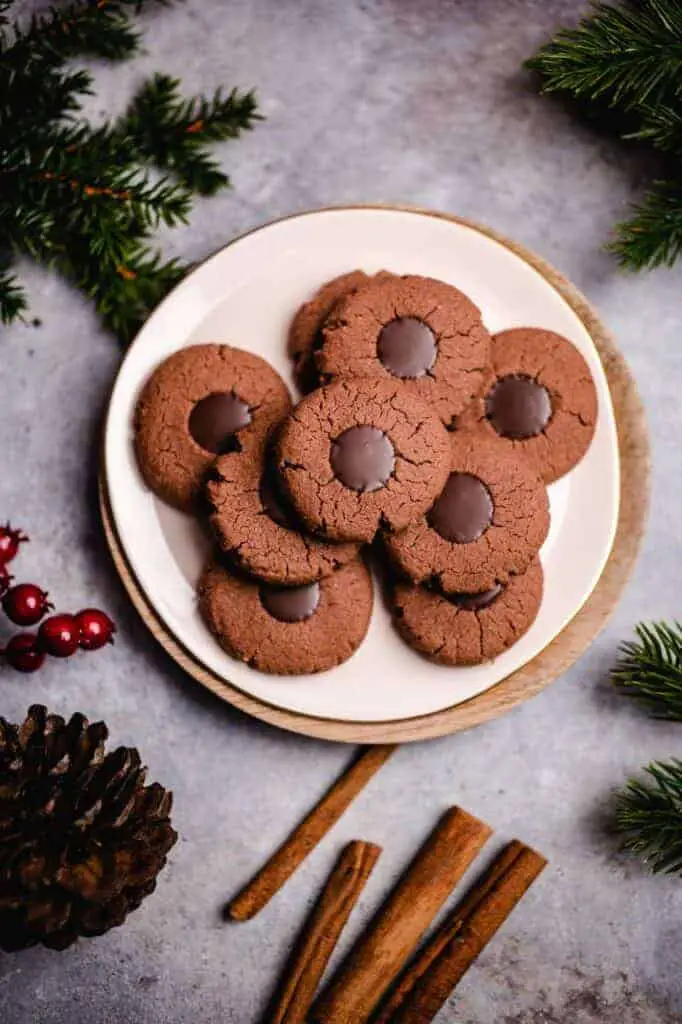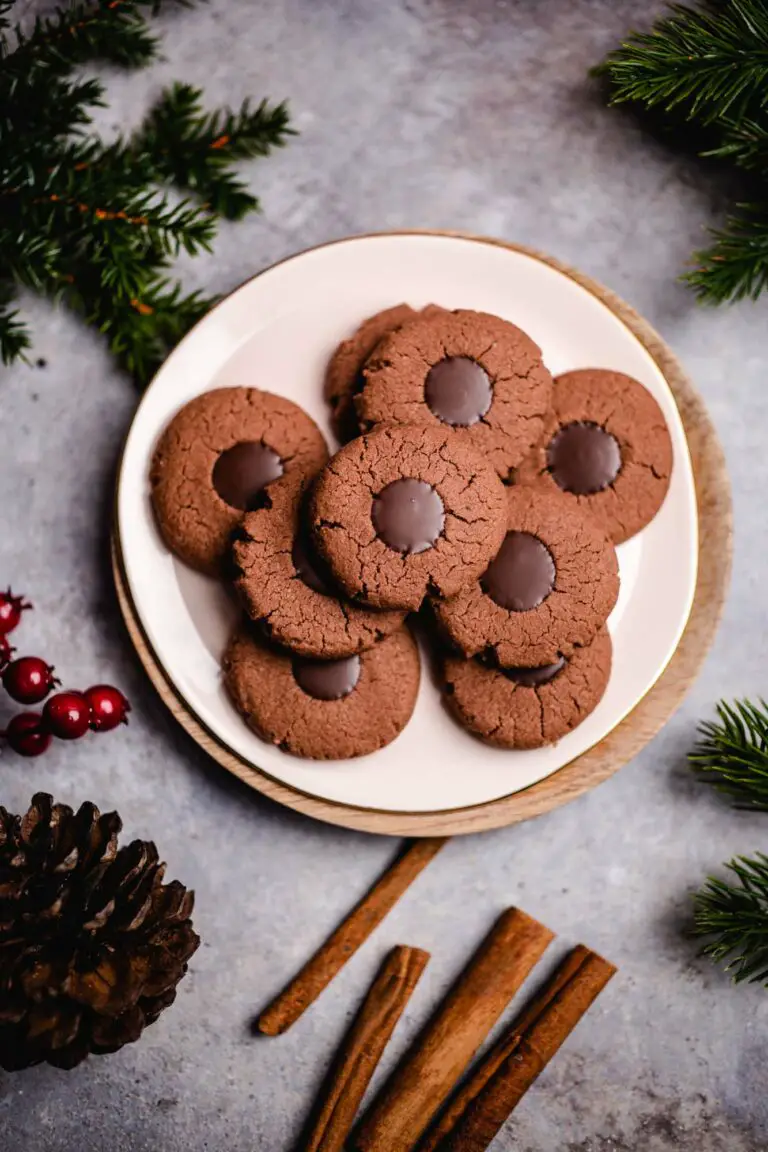 If you're in the mood for some other vegan cookies today, I have the following suggestions for you:
Let's get started with these incredibly delicious vegan chocolate angel eyes. I hope you enjoy baking and of course about a review at the bottom of this page. If you post a picture, use the hashtag #veganevibes.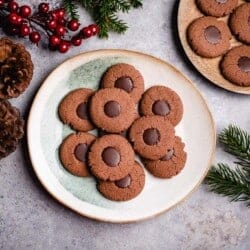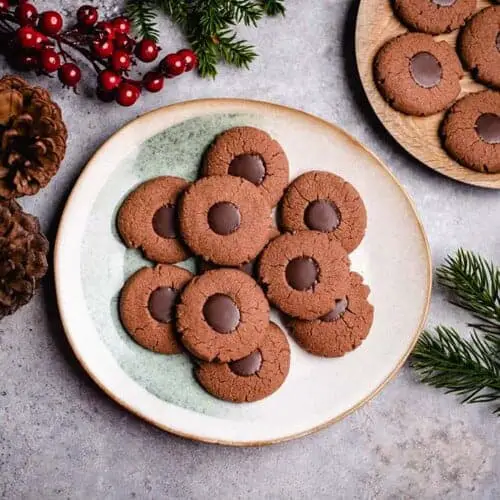 Vegan chocolate angel eyes
Simple, crumbly and vegan chocolate angel eyes filled with delicious dark vegan chocolate. Perfect for the Christmas cookie plate. Short, pleasantly sweet and very tasty with lots of cocoa and chocolate.
AUTOR: VEGANEVIBES
Anleitung 
Prepare 2 baking sheets and line with baking paper or a permanent baking mat.

FOR THE DOUGH Place spelt flour, margarine, raw cane sugar, cocoa powder, ground almonds and a pinch of salt in a food processor and process until smooth and even.

210 g fine spelt flour type630 or wheat flour type550,

175 g vegan margarine,

75 g Raw cane sugar,

23 g Cocoa powder,

100 g ground almonds,

1 Pinch of salt

OPTIONAL: Cover and refrigerate for at least 1 hour or overnight. I process the dough right away.

Preheat oven to 160 convection (180 degrees top-bottom heat). Divide into four parts and roll out one block at a time into a long strand. Using a knife or dough scraper, separate into approximately tablespoon-sized portions. Roll into a ball with your hands and place on the baking sheet. Repeat until both baking sheets are filled.

Using a wooden spoon or similar object, press a hole in the center of each cookie. Repeat for all cookies. Place in the oven and bake for about

8 minutes

, until the cookies are nicely risen and dry.

Remove from oven and let cool completely.

In the meantime, carefully melt the chocolate over a water bath. Pour into a piping bottle and fill the cookies with it.

150 g dark vegan chocolate

Allow chocolate to set and enjoy!

The vegan chocolate angel eyes keep covered at cool room temperature for up to 2 weeks (similar to other long-life pastries such as Stollen).
Nährwertangaben
Serving:
1
Piece
Calories:
85
kcal
Carbohydrates:
8
g
Protein:
2
g
Fat:
6
g
Saturated Fat:
2
g
Polyunsaturated Fat:
1
g
Monounsaturated Fat:
2
g
Trans Fat:
1
g
Sodium:
27
mg
Potassium:
10
mg
Fiber:
1
g
Sugar:
3
g
Vitamin A:
159
IU
Calcium:
6
mg
Iron:
1
mg