Gluten-free waffles made with potatoes and topped with a delicious salsa made with tomatoes, avocado and lime juice. Can it get any better? I think not, especially when it comes to these incredibly delicious and hearty vegan waffles. I was blown away when I first tested the recipe. The combination with the homemade salsa and cream cheese is simply unbeatable, especially if you're into savory dishes for breakfast. I like both very much savory but it may also be sweet. Next time there's a brunch coming up, I'll definitely be offering this fine waffle variation and I'm already looking forward to it.
Potato waffles (gluten free)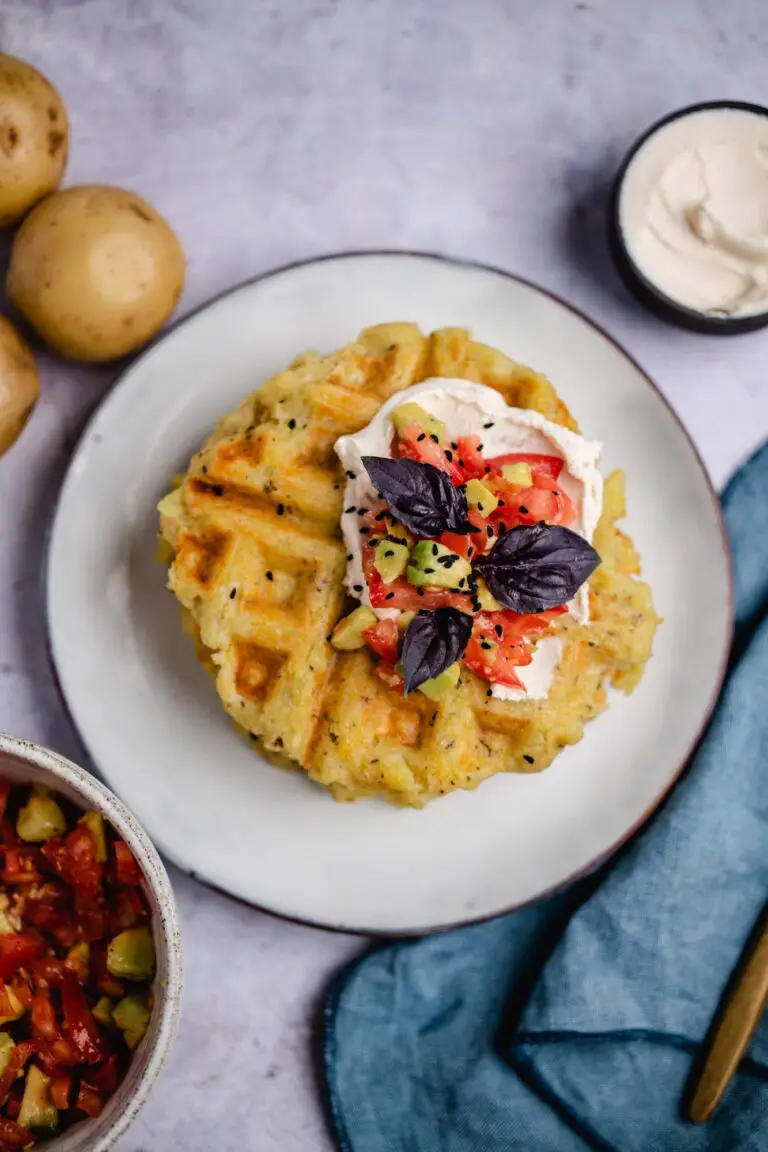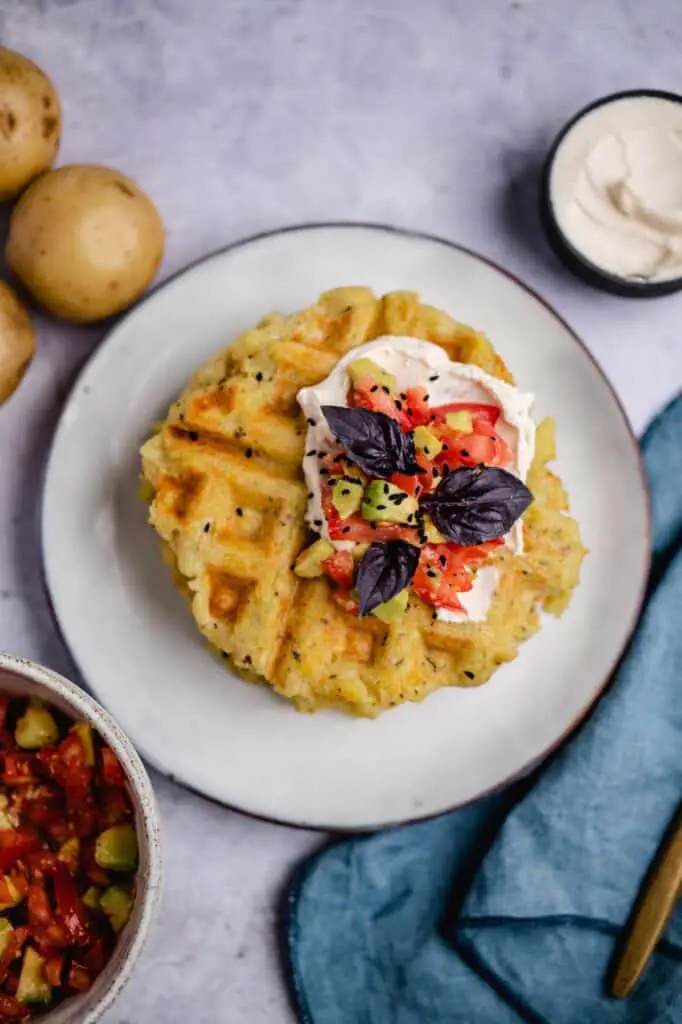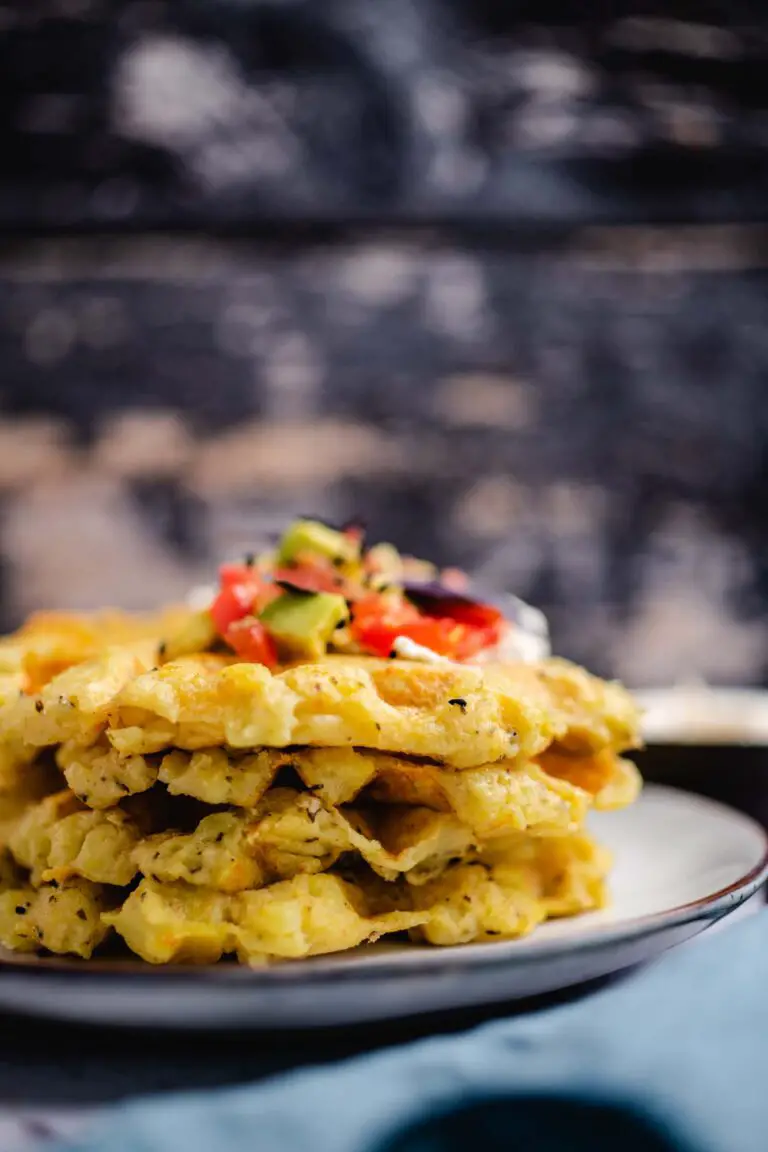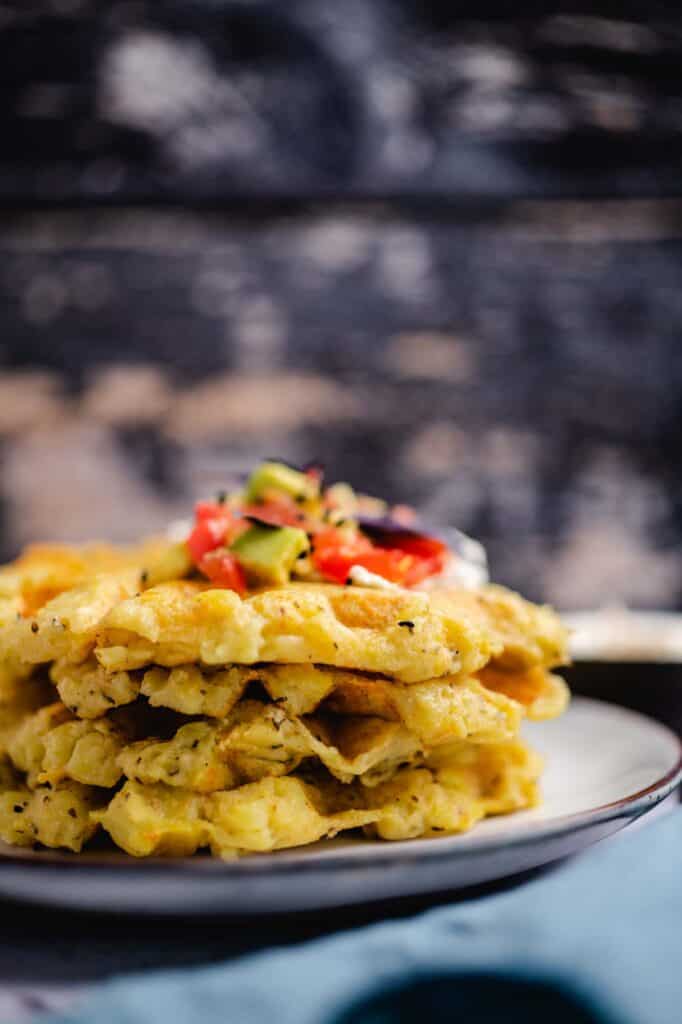 For the dough, first boil the potatoes and then cool. I like to cook them a day ahead and let them cool overnight. They are then peeled and mashed. This would obviously go better when the potatoes are still warm, however something magical happens when you let them cool. Resistant starch is formed, which is something wonderful for intestinal health. It is indigestible, however, it serves as food for the good intestinal bacteria and they form short-chain fatty acids, which in turn serve as food for important bacterial species. All this ensures all-round healthy intestinal flora and good health.
To the mashed potatoes add a little water, olive oil, garlic granules, onion powder, salt and pepper. This is all worked into a compact dough with your hands and baked into waffles. I use a waffle iron for this, which I brush with a little oil beforehand. The waffles take a little longer than sweet waffles and are ready when they are dry on the outside and nicely browned.
TIP: Depending on how dry the mashed potatoes are, you may need more or less water. Dose carefully, not that the dough becomes too wet. Otherwise, add in a little more oatmeal to bind.
Make hearty vegan waffles quickly and easily yourself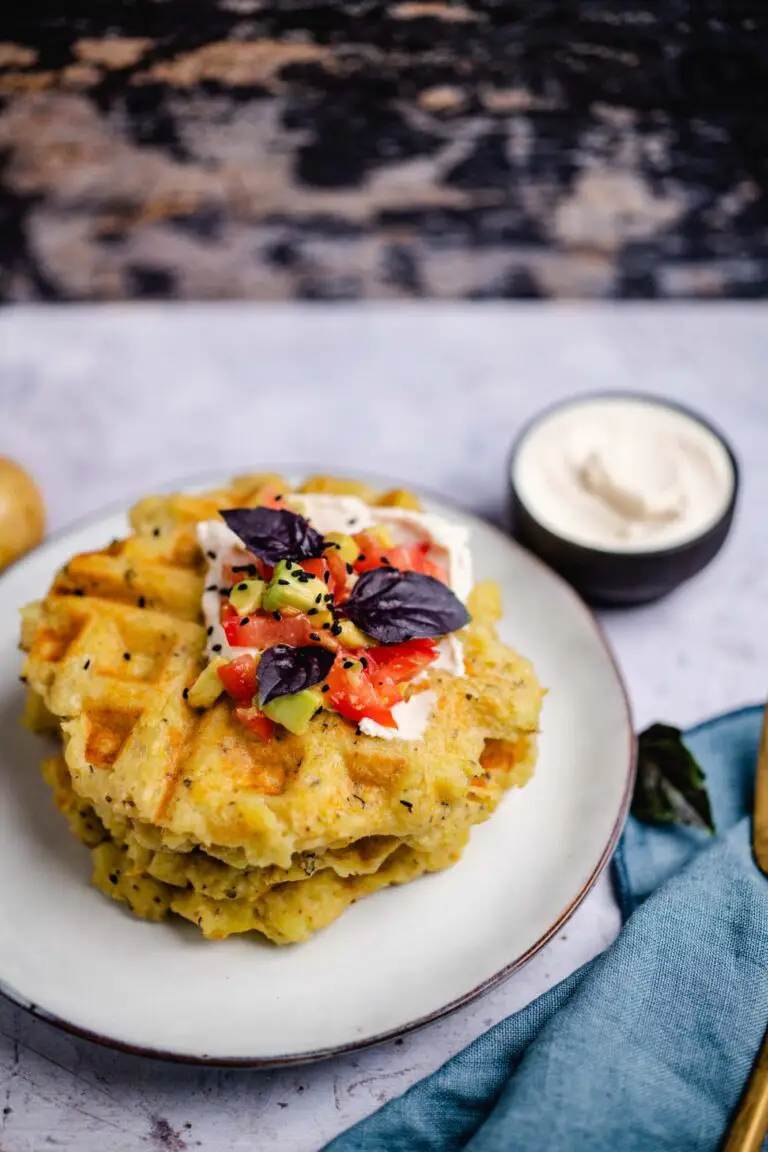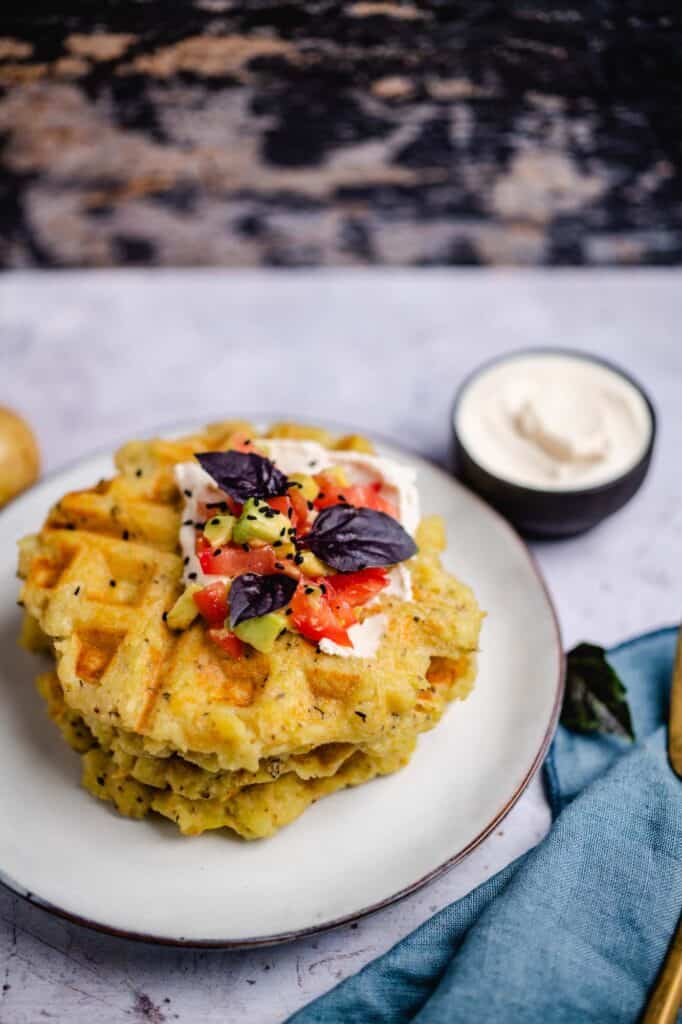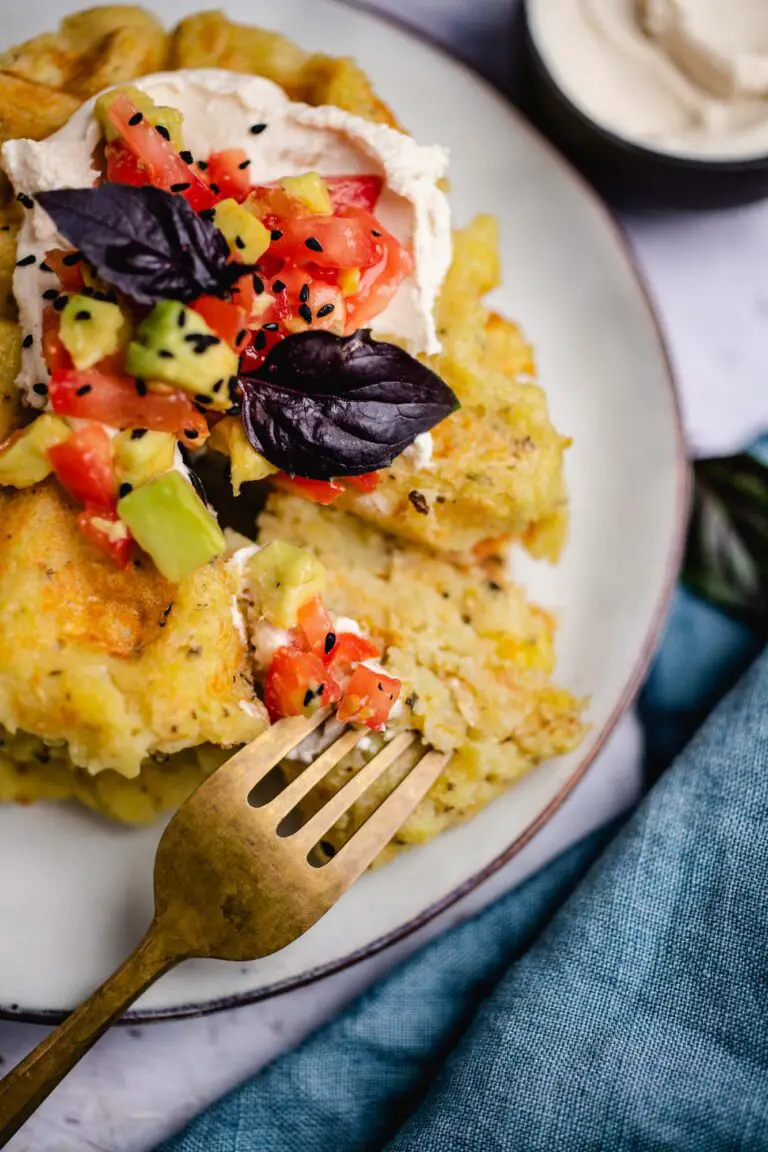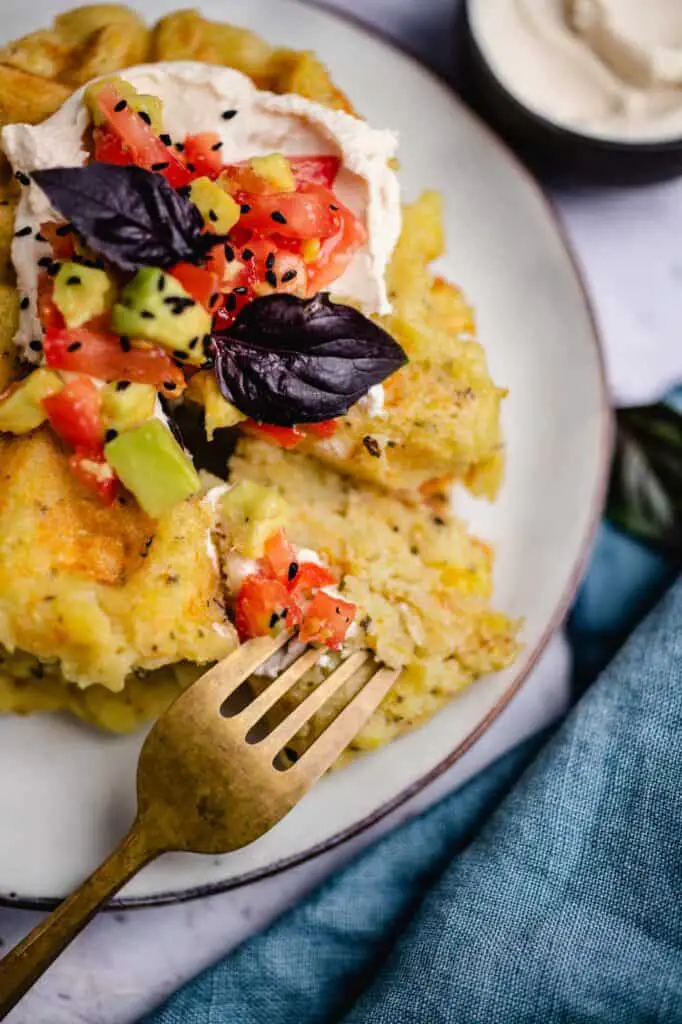 Once the waffles are baked, I place them on top of each other on a plate to keep them nice and warm. Served with the fine homemade salsa, cream cheese (or vegetable ricotta) and fresh basil.
If you're craving sweet waffles or pancakes today, I have the following suggestions for you:
I would say we start off with these wonderful savory gluten free waffles. I wish you a lot of fun baking and of course a review at the bottom of this page. If you post a picture, feel free to use the hashtag #veganevibes.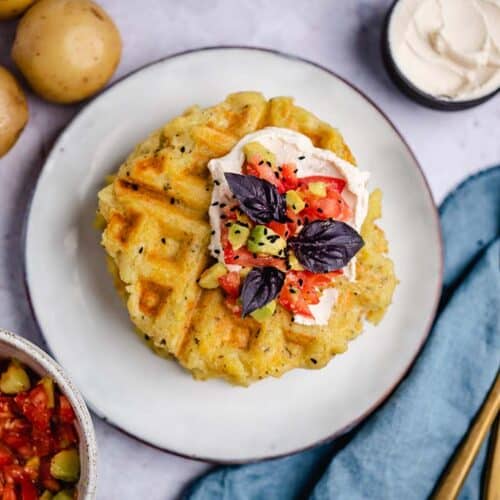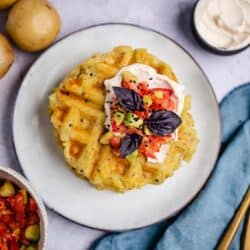 Potato waffles (gf)
Hearty potato waffles with oat flour and fine spices. Topped with a homemade cream cheese, tomatoes and basil. Perfect for an extended vegan breakfast or brunch on the weekend. Vegan, gluten-free and easy to make.
AUTOR: VEGANEVIBES
FOR SALSA:
1

Piece

Avocado

cut into small pieces

3

Piece

Tomatoes

cut into small pieces

1

tbspn

Lime juice
TOPPING:
vegetable cream cheese or ricotta

Fresh basil
Anleitung 
Prepare waffle iron and provide a small bowl with high-heat oil and a silicone brush.

For THE SALSA Place avocado, tomatoes, lime juice, salt and pepper to taste in a small bowl and stir with a spoon until well combined. Season and set aside.

1 Piece Avocado,

3 Piece Tomatoes,

1 tbspn Lime juice,

Pepper to taste,

Salt to taste

For the potato dough Place oat flour, garlic granules, onion powder, olive oil, water, potatoes (mashed), oregano, salt and pepper in a large bowl and work into a uniform dough, preferably with your hands. Depending on how dry or wet the potatoes are, add more or less water. The dough should be compact and easy to portion.

30 g Oatmeal,

1 tbspn Garlic granules,

1 tbspn Onion powder,

15 ml Olive oil,

30 ml Water,

1 kg Potato,

Salt to taste,

Pepper to taste,

1 tbspn Oregano

Heat the waffle iron, dip the silicone brush into the oil and brush the top and bottom of the waffle iron.

Some high heat oil for baking

Skim a portion of batter (e.g., with a tablespoon) and place in waffle iron. Bake for

4-5 minutes

until the first steam has dissipated somewhat. Open waffle iron and test to see if waffle is nicely browned on the outside and comes out of the waffle iron easily.

Repeat until the dough is used up. It is best to stack the waffles on top of each other, so the waffles stay warm longer.

Top with plant-based cream cheese or ricotta, salsa, fresh basil and black sesame seeds and enjoy! Best fresh.

vegetable cream cheese or ricotta,

Fresh basil,

Black sesame seeds
Notizen

Hint:
The preparation time is calculated without the cooking time of the potatoes!
Nährwertangaben
Serving:
1
Portion
Calories:
223
kcal
Carbohydrates:
35
g
Protein:
5
g
Fat:
8
g
Saturated Fat:
1
g
Polyunsaturated Fat:
1
g
Monounsaturated Fat:
5
g
Sodium:
14
mg
Potassium:
886
mg
Fiber:
6
g
Sugar:
2
g
Vitamin A:
56
IU
Vitamin C:
36
mg
Calcium:
28
mg
Iron:
2
mg