Red cabbage doesn't sound that exciting at first glance. But if you now imagine a great vegan roast with sauce and spaetzle to it imagines? Then everything already sounds a little rosier, respectively already really tasty. Especially when it's so wet and cold, I'm totally into foods that bring color into play. In our today's Recipe it becomes really nice purple-blue and that is not only a color, but there is also a health benefit behind it. I'll explain what that is exactly a little later in the text.
Red cabbage, blue cabbage, red cabbage? The main thing is that it tastes good!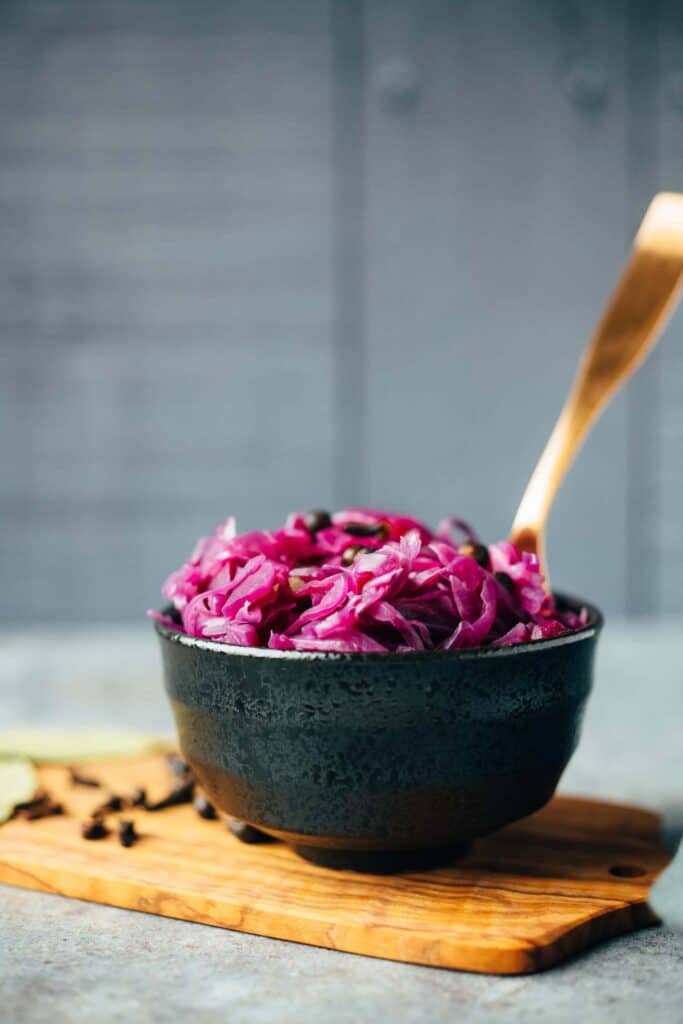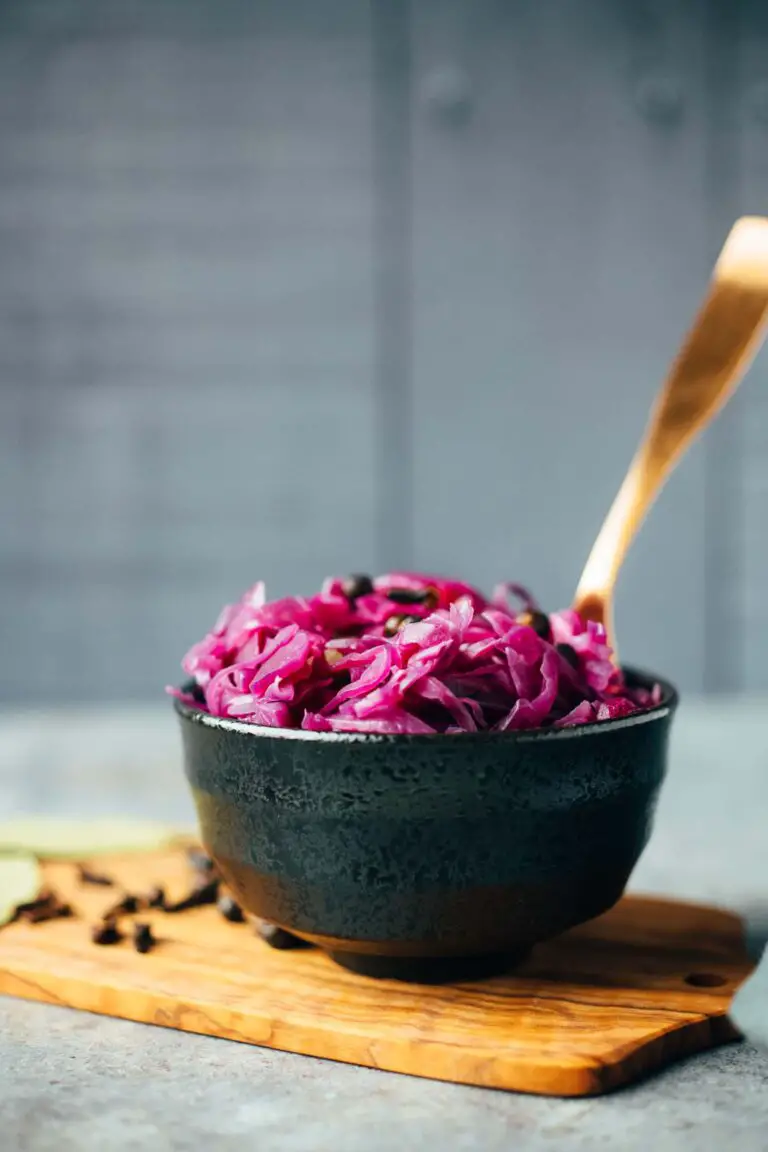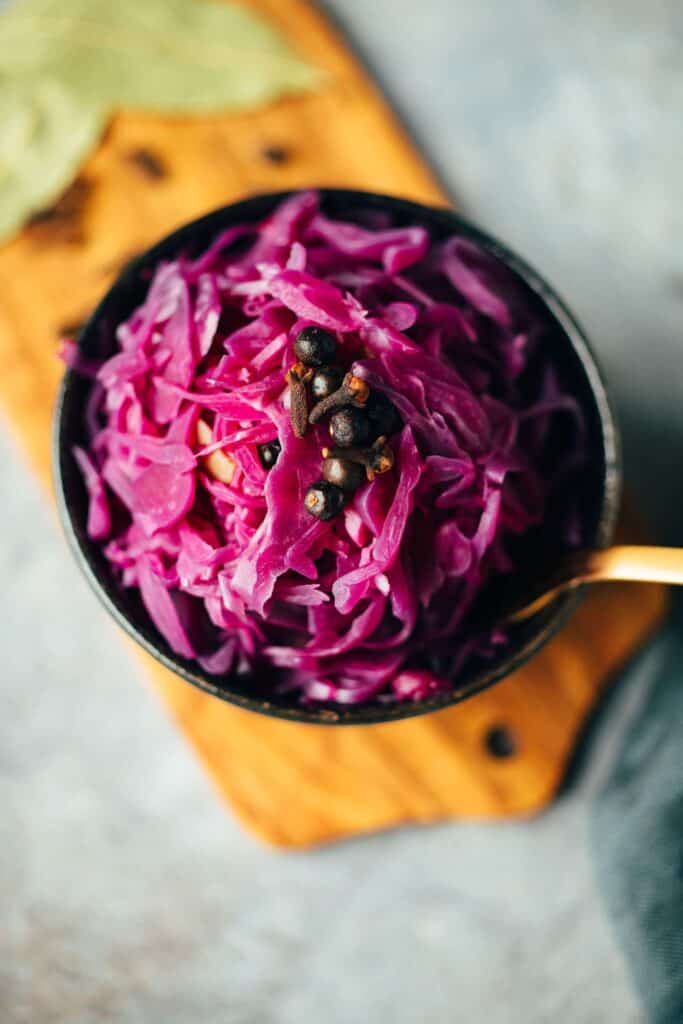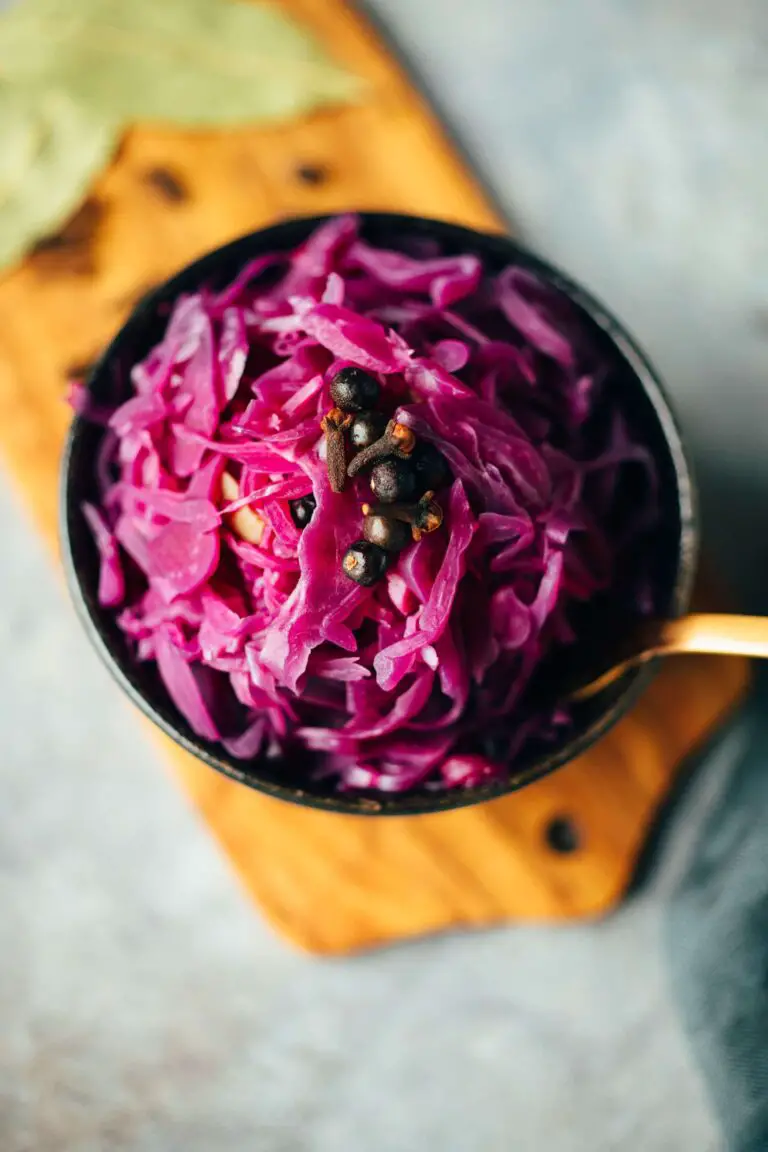 You know what I think is totally cool? Filling ready cooked meals or in our case side dishes into large canning jars. It kind of makes me feel so good to cook ahead and then reheat it when I need it. There's just nothing like home-cooked food, and if you have the luxury of a small pantry, it's absolutely worth "canning" things. Maybe you like to try it with Fermenting it's super easy and perfect food for your intestinal bacteria. They suffer quite a bit because of today's diet, which is often low in fiber and full of sugar.
That's exactly why the simple things are totally trendy again. I am already looking forward to the first vegan christmas menu in our new house and there will certainly be my homemade red cabbage to go with it.
How to cook red cabbage properly?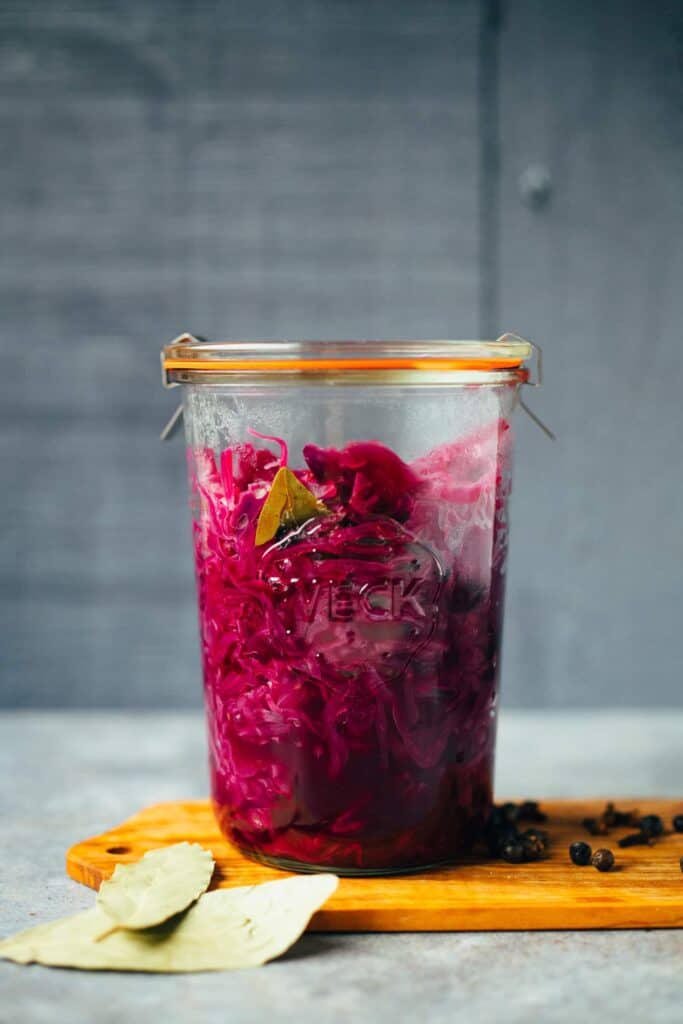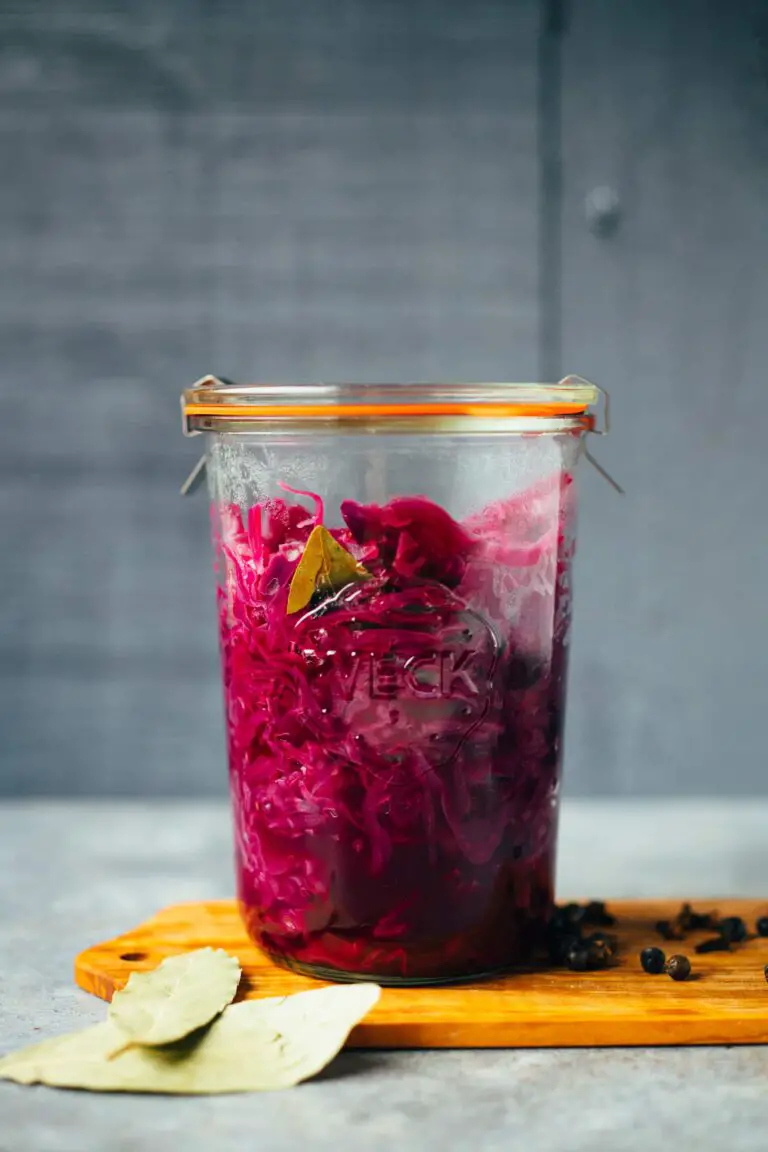 There are a few things you can do wrong, but don't worry! It's really super easy if you keep a few things in mind:
Jars, lids and rubbers must be sterilized: You can do this either in a steamer or in a large pot of hot water. In the steamer, simply search for a program, e.g. "Disinfect baby bottles". Otherwise, bring water to a boil in a large pot, place jars in and simmer for 5 minutes. Remove (be careful hot!) and pat dry with a very clean kitchen towel. The point is that before boiling down there is absolute sterility. Otherwise, unwelcome bacteria and germs can form and multiply.
Fill hot: Fill ready red cabbage hot and then close. This creates a sterile vacuum and keeps everything clean.
Remove cleanly: Once opened, it is best to use it all up at once or remove with a clean spoon. Then reseal, place in refrigerator and consume within 3 days.
Let's move on to the last point and that is the question of how healthy the red cabbage actually? I have summarized this once for you:
Very low in calories with only 20 kcal / 100g
High nutrient density (i.e. very many nutrients with few calories).
Rich in phytochemicals (such as anthocyanins) that give the herb its red color (phytochemicals are "free radical scavengers" and can protect the body from oxidative stress
Very Rich in vitamin C (50mg per 100g of raw herb). Vitamin C supports the absorption of iron.
A little tip at the Side note: If you ever buy red cabbage ready-made in the supermarket, pay attention to it, that as few additives and sugar as possible are added. Often the ready variants full of glucose-fructose syrup, animal lard and other additives.
The winter red cabbage with apple is:
Low calorie with high nutrient density
versatile
Wintery seasoned
Simply made
simple to be produced
Are you as big a red cabbage fan as I am? Then I look forward to a review at the bottom of this page. If you post a picture, then like to use the hashtag #veganevibes.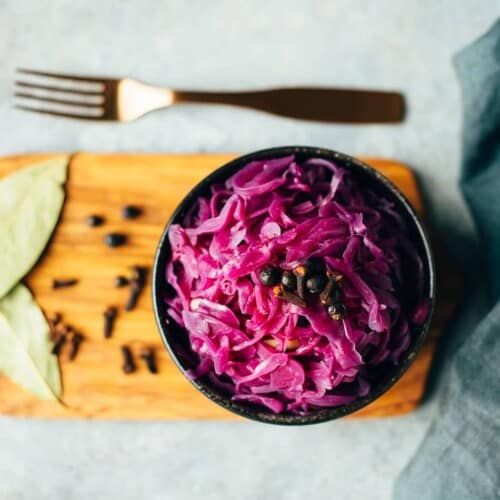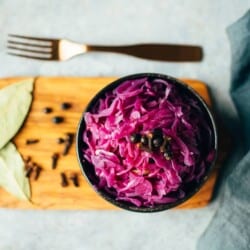 Winter red cabbage with apple (vegan)
Wonderful winter spiced red cabbage. The perfect, healthy side dish for various dishes from the vegan kitchen.
AUTOR: VEGANEVIBES
1

kg

Red cabbage

corresponds to a medium head

200

g

Apple

cut into pieces

60

ml

Apple cider vinegar

or any other vinegar of your choice

30

ml

maple syrup

Raw cane sugar or other sweetener of choice

125

ml

Water

more if needed

5

Piece

Cloves

all over

5

Piece

Juniper berries

all over

2

Piece

Bay leaves

all over

Salt to taste

I recommend 2 tsp, more if needed
Anleitung 
Cut the cabbage head in half, remove the stalk and remove the outer leaves.

Cut into fine strips with a slicer, food processor or knife.

Pour plenty of cold water into a large bowl and add a hefty pinch of salt.

Salt to taste,

Cold water

Add red cabbage and wash briefly in it.

Strain and place in a large pot. Add apple pieces, apple cider vinegar, maple syrup, cloves, juniper berries, bay leaves, water and salt and stir vigorously once.

1 kg Red cabbage,

200 g Apple,

60 ml Apple cider vinegar,

30 ml maple syrup,

125 ml Water,

5 Piece Cloves,

5 Piece Juniper berries,

2 Piece Bay leaves,

Salt

Heat and simmer over medium heat for

30-40 minutes

.

Consume immediately or "preserve". Follow the instructions for canning above in the text.
Nährwertangaben
Serving:
1
Portion
Calories:
44
kcal
Carbohydrates:
10
g
Protein:
1
g
Fat:
1
g
Saturated Fat:
1
g
Sodium:
30
mg
Potassium:
259
mg
Fiber:
2
g
Sugar:
6
g
Vitamin A:
1128
IU
Vitamin C:
57
mg
Calcium:
53
mg
Iron:
1
mg