Banana bread, are you as big a fan of this as I am? There are already banana breads on this site, but none yet that get along so completely without processed sugar. We sweeten this time all alone with dates, perfect, right? Otherwise, it's easy as always, without a lot of frills and made quickly and easily. I always love the way it smells in the kitchen when you have this great item in the oven. Dates are particularly suitable for sweetening because they are wholesome and rich in fiber. Maybe you even feel like making this wonderful banana bread for Easter? I wish you a lot of joy with it.
Vegan banana bread, vegan and sugar free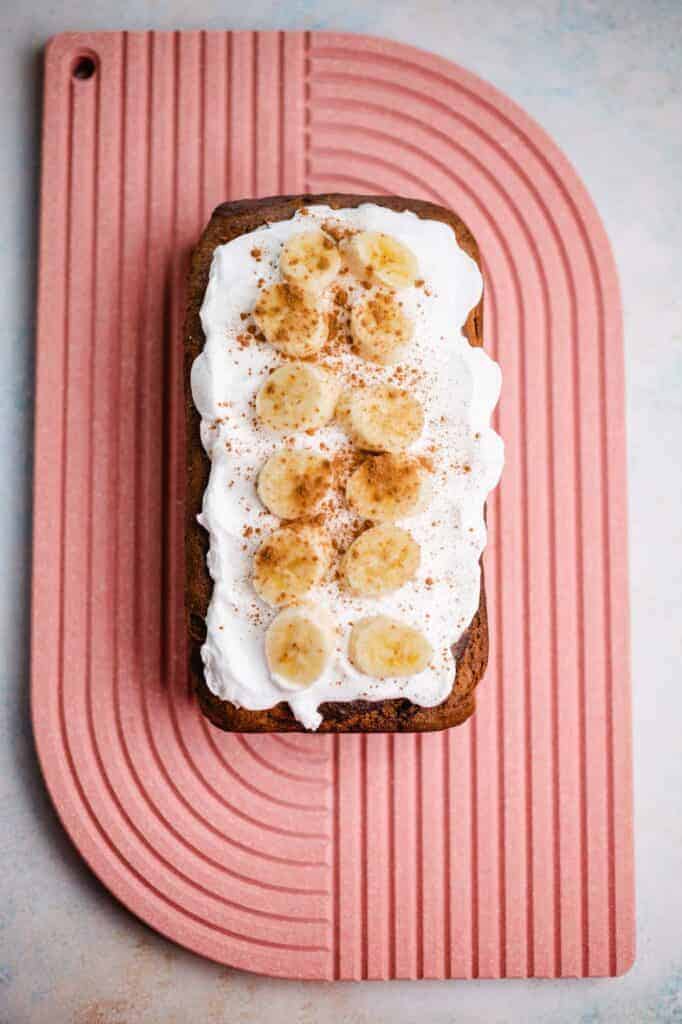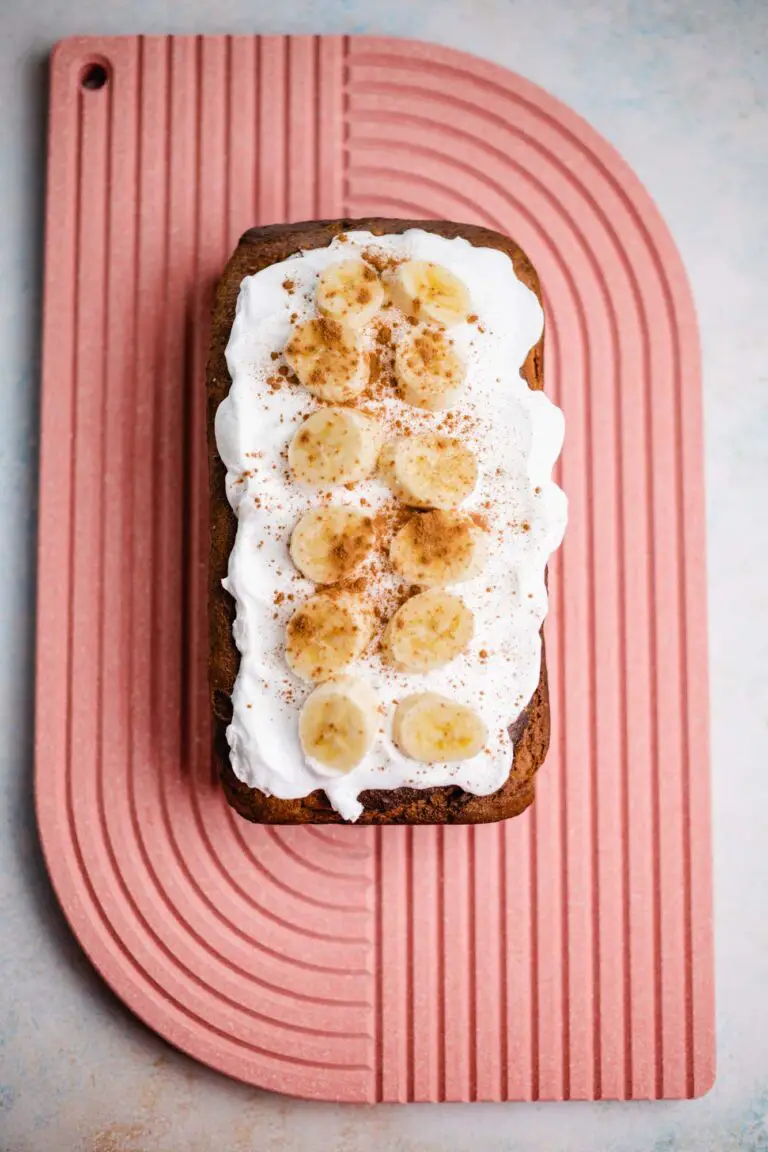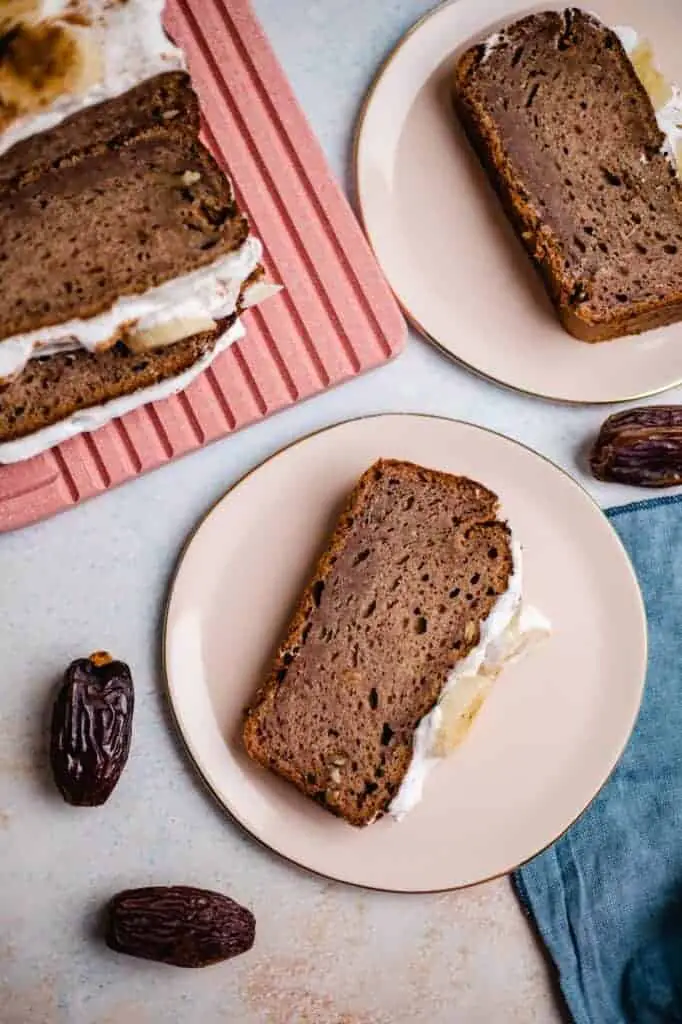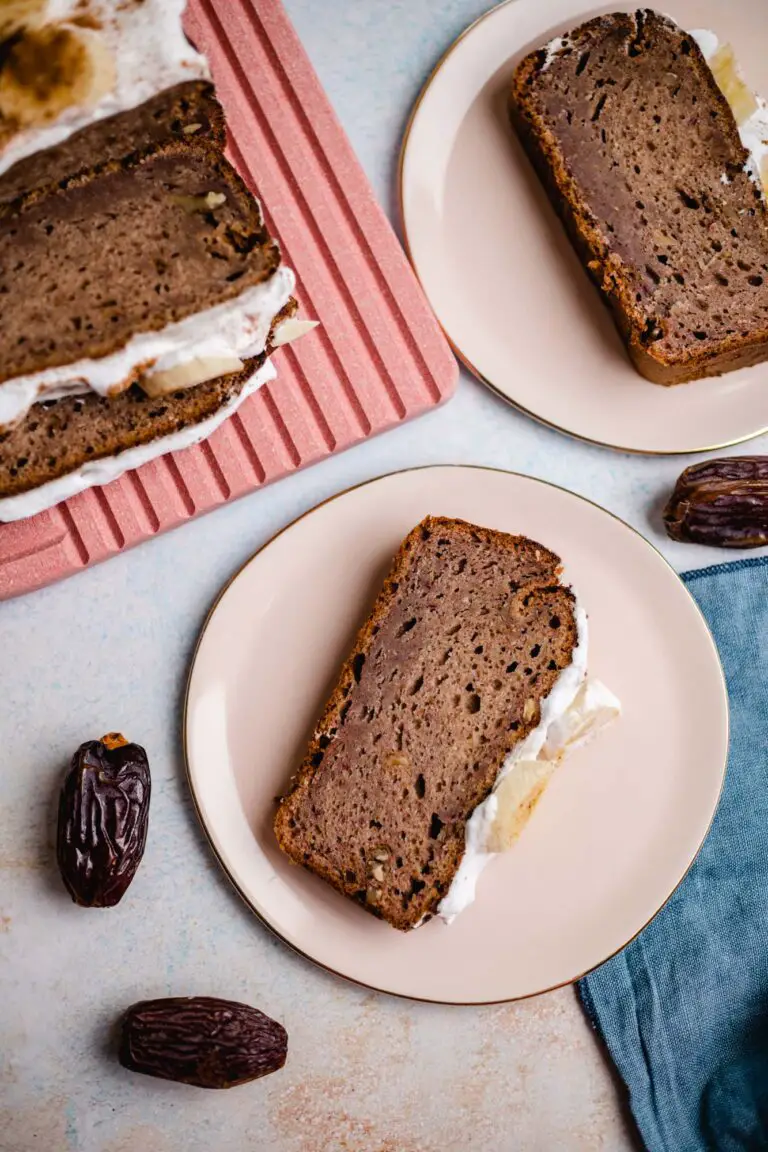 A handful of ingredients and very ripe bananas and you're good to go. Dates, oil, apple pulp, ripe bananas, gluten-free flour blend, buckwheat flour, baking powder, cinnamon, bourbon vanilla and a pinch of salt. That's all there is to it. I use my MagiMix to mix the ingredients into a smooth dough. Then off into the loaf pan and into the oven. About 50 minutes later, the beauty is also ready and allowed to cool.
By the way, bananas are not only delicious, but also very healthy:
rich in magnesium
rich in natural fructose
Rich in calcium
easily digestible carbohydrates, thus a perfect source of quickly available energy
Click here to go directly to a post on the site if you want to learn more about bananas.
TIP: If you like it a little more chocolaty, I recommend mixing in up to 100g of chocolate drops.
Vegan breakfast, gluten free and sugar free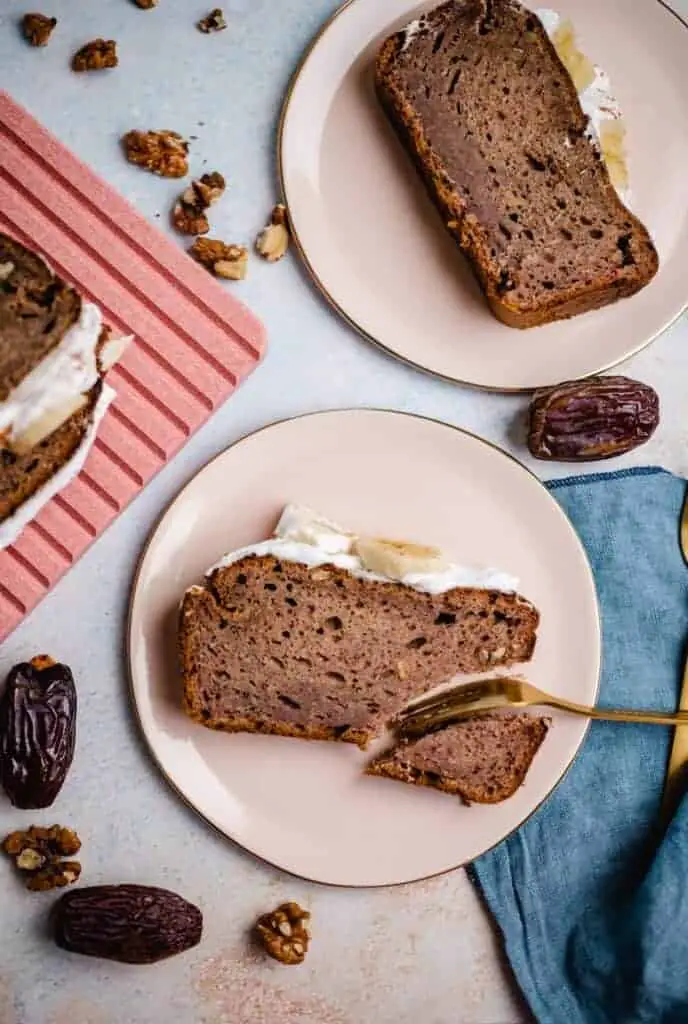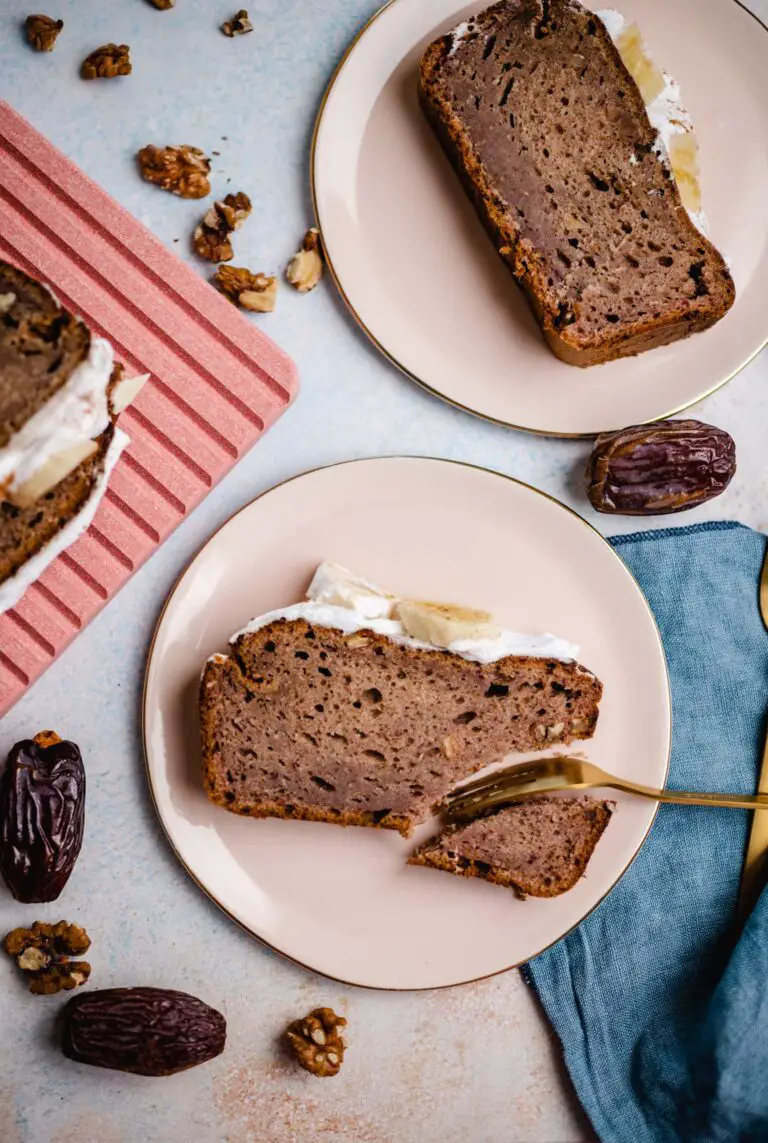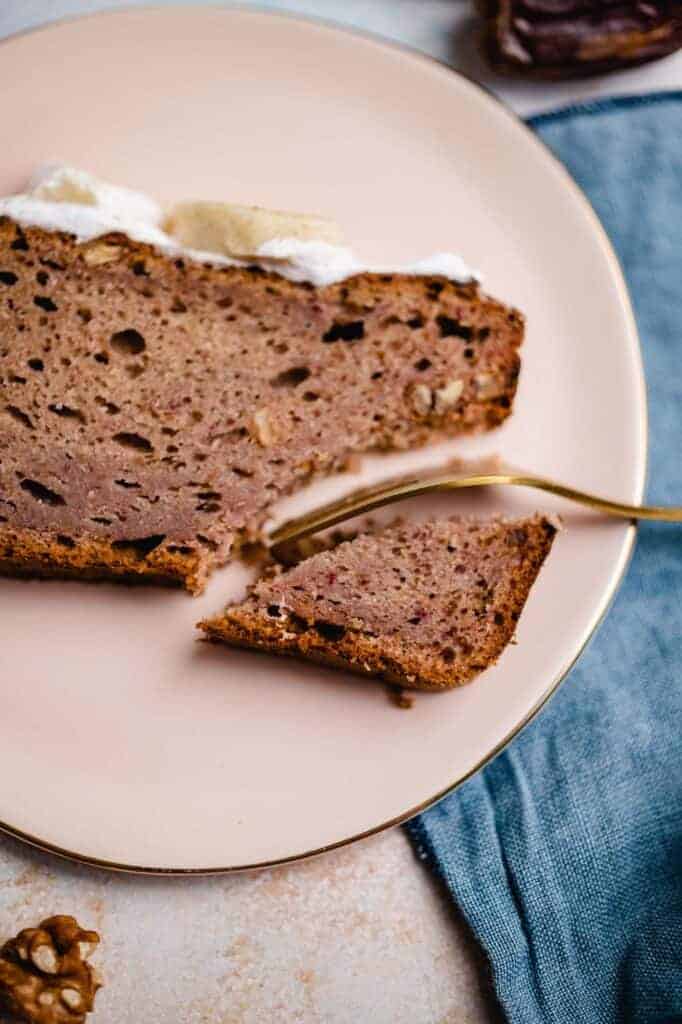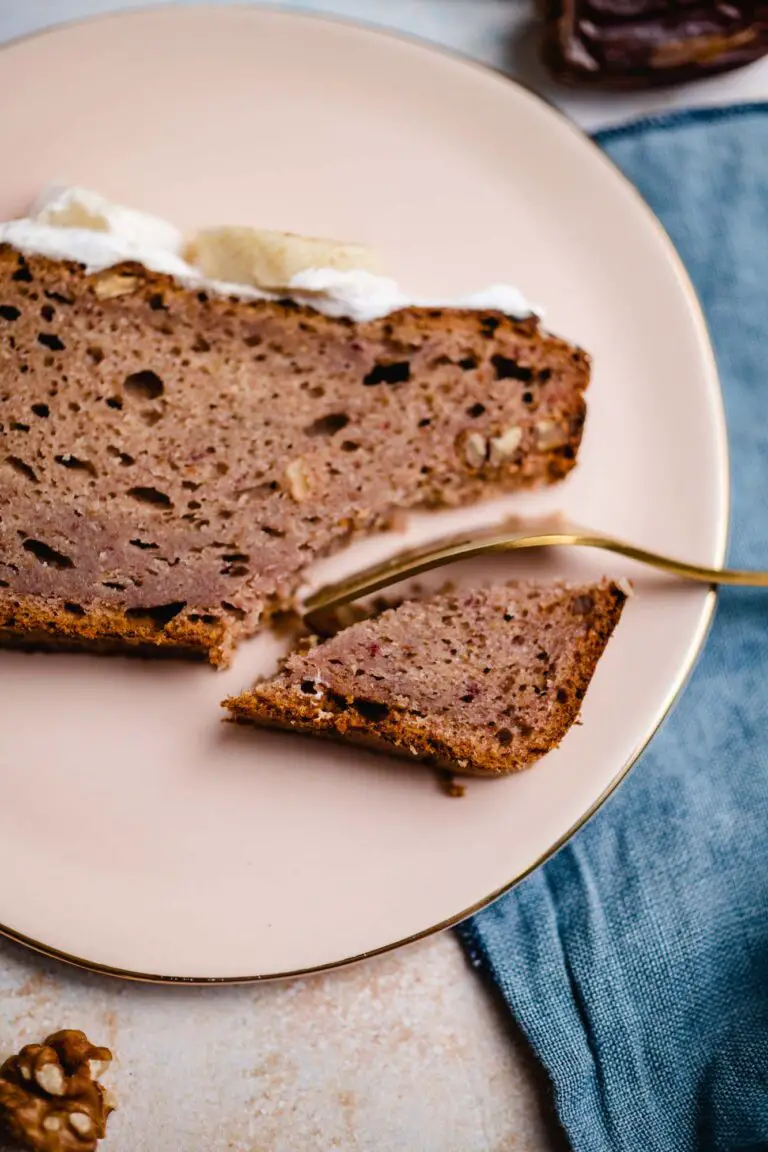 The banana bread gets a good binding by adding apple pulp. I use a gluten-free flour blend and buckwheat flour this time. However, you can always use a spelt or wheat flour if you don't have an intolerance to gluten. I also find walnuts or pecans in the dough very tasty, but that is optional. If you devour the banana bread at home with your coffee, then a vegan cream also goes wonderfully with it. Otherwise, just wrap it up and take it with you as banana bread-to-go.
The banana bread (sugar free):
juicy
Pleasantly sweet
sugar free
saturating
Full of healthy fiber
I hope you enjoy baking and of course about a review at the bottom of this page. If you post a picture, use the hashtag #veganevibes.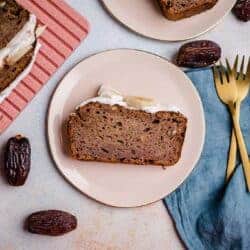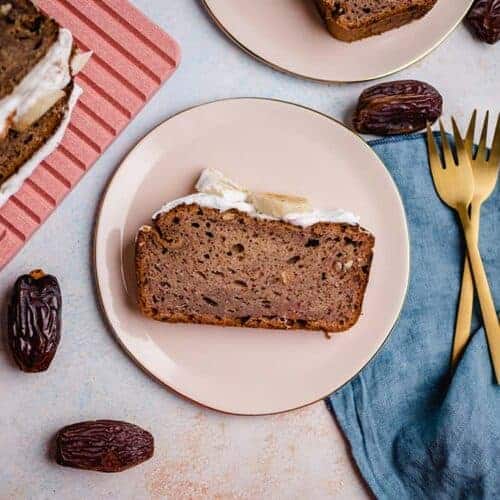 Banana bread (sugar free)
Simple, success-safe banana bread without added sugar. Quickly made, naturally sweetened and incredibly delicious. Together with a dollop of cream for coffee or just so to-go a pleasure. Gluten-free, vegan, delicious.
AUTOR: VEGANEVIBES
Anleitung 
If dates are too dry, soak in water for about 1 hour.

10 Piece large Medjool dates

Preheat oven to 175 degrees and grease a king cake pan and optionally dust with a little flour.

Peel bananas and mash in a large baking bowl with a fork. Place dates, oil, apple pulp and mashed bananas in a blender (I use my MagiMix with an S-shaped blade) and blend until smooth. Add gluten-free flour blend, buckwheat flour, baking powder, cinnamon, bourbon vanilla, walnuts and a pinch of salt and continue to mix until a uniform dough is formed.

10 Piece large Medjool dates,

45 ml Baking oil,

120 g Apple pulp,

3 Piece medium ripe bananas,

200 g gluten free flour mix,

50 g Buckwheat flour,

1 Pack Baking powder,

½ tbspn Cinnamon,

¼ tbspn Bourbon vanilla,

A pinch of salt,

50 g Walnuts

The dough should be neither too liquid nor too solid. If too firm, add a sip of vegetable milk, if too runny, add a little more flour.

Pour batter into king cake pan, smooth out and place in oven. Bake for

50-60 minutes

and test with a wooden stick if the banana bread is ready. If the wooden stick comes out clean, then it's done. Turn off oven and like to let banana bread cool in oven. Allow to cool completely.

Cut into pieces and enjoy!
Nährwertangaben
Serving:
1
Piece
Calories:
230
kcal
Carbohydrates:
33
g
Protein:
5
g
Fat:
10
g
Saturated Fat:
1
g
Polyunsaturated Fat:
6
g
Monounsaturated Fat:
2
g
Trans Fat:
1
g
Sodium:
16
mg
Potassium:
311
mg
Fiber:
4
g
Sugar:
12
g
Vitamin A:
39
IU
Vitamin C:
3
mg
Calcium:
33
mg
Iron:
1
mg