The countdown is on, only 2 more sleeps and it's Christmas . Reason enough for a vegan last-minute recipe that everyone will enjoy: spice cake. There was a time when I was addicted to it. The perfect symbiosis between chocolate, winter spices and a delicious sweet icing. In combination with a vegan chai latte simply dreamy for any christmas Kaffeekränzchen. Of course, it does not have to be Christmas to devour this delicacy. It also works prime in autumn, spring, winter… ahm, actually almost always!
Spice cake only one bowl (1-bowl)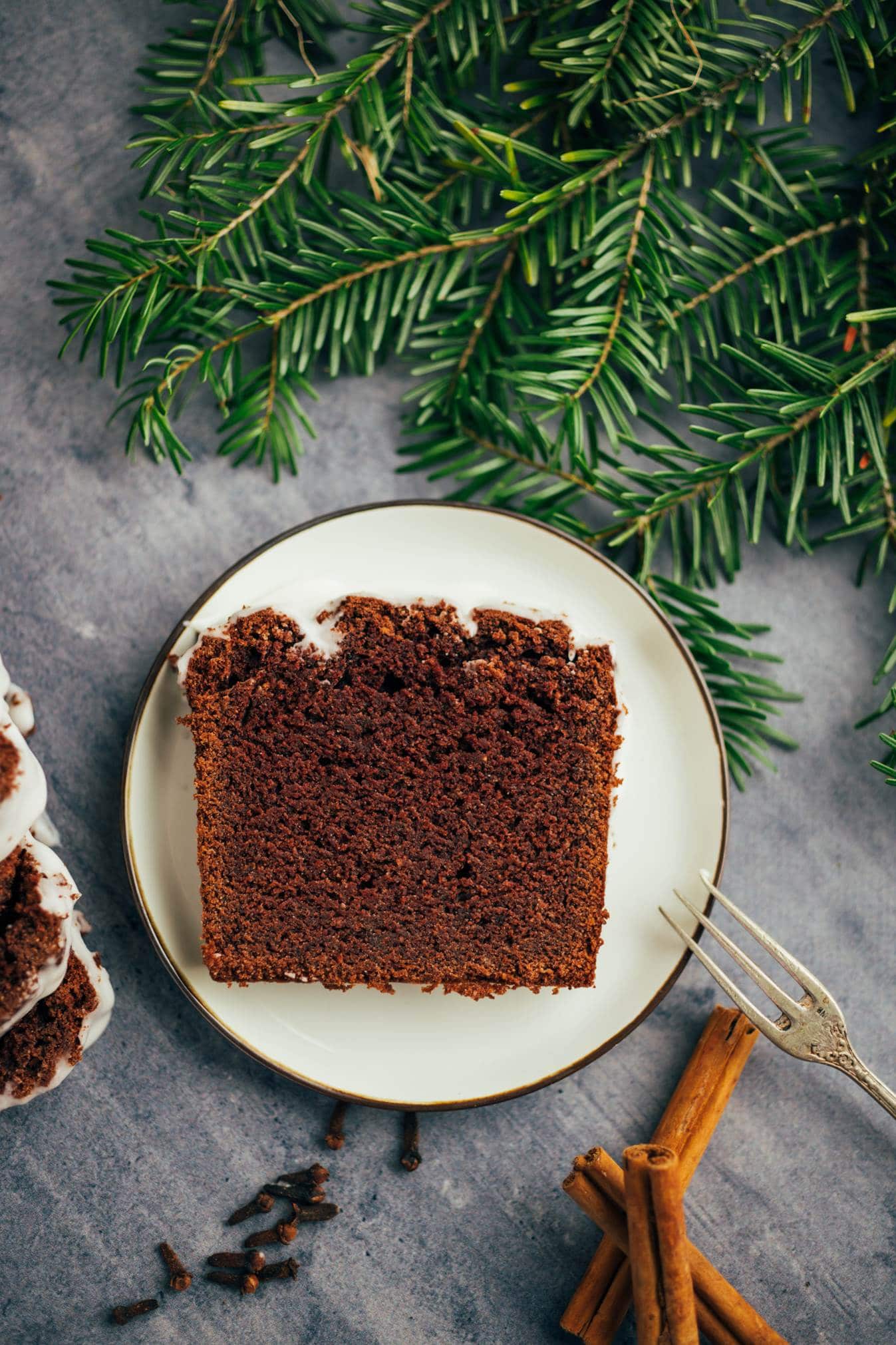 The highlight of this cake is that it becomes wonderfully fluffy even without egg. You just need to follow a few little vegan baking tricks and you're good to go. Honestly, I'm already craving baking again as I write this recipe. With this deliciously fluffy cake, you can surely convince all "not yet" vegans that baking without animal products is at least as sexy.
Easy, quick baking, that's how I love it. A bowl, few ingredients, an oven and off you go. Oh yes, one more thing to clarify, do you want the cake gluten free? Then I recommend my gluten-free flour blend, which also works great. I used spelt flour in this recipe.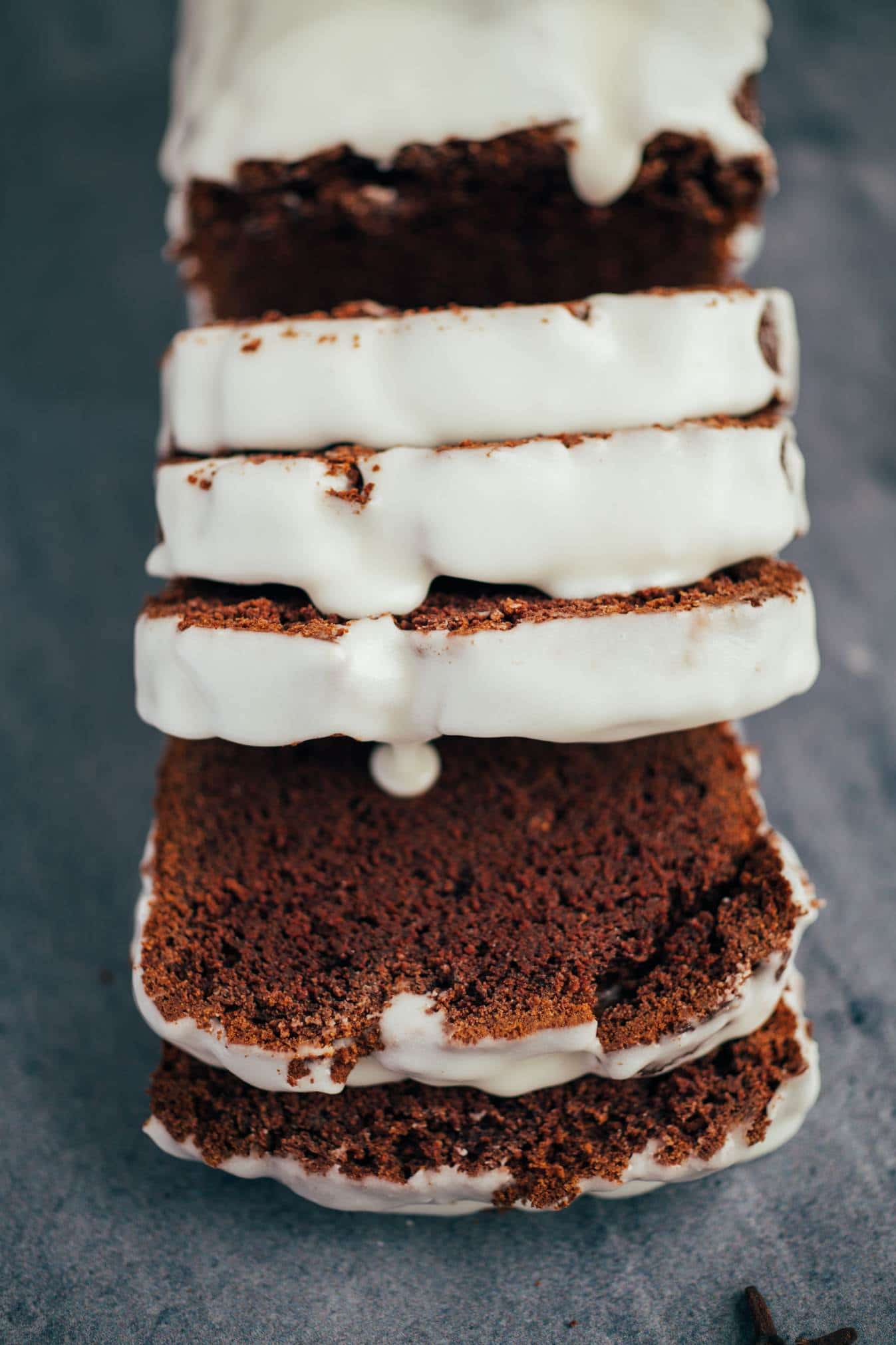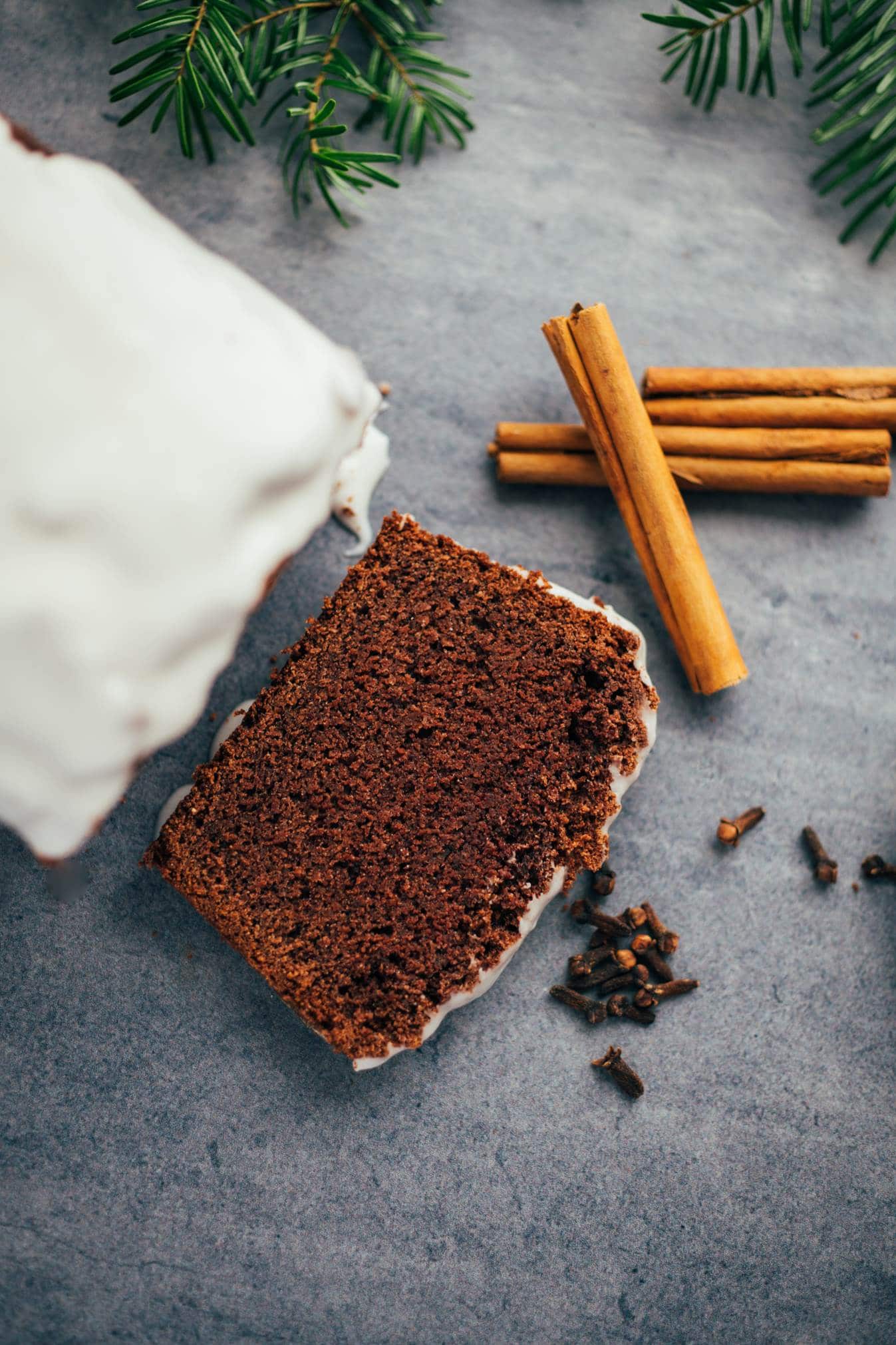 After all, there is always the question of whether cake can be "healthy". Hmmmm, I just always make it as healthy as possible:
Reduce oil and replace part with apple pulp
One part almond flour to increase the protein content
Cane sugar replaces white sugar (for more info on alternative sweeteners, check out this blog post).
But now it's really time to get going. I hope you enjoy baking and of course about a review at the bottom of this page. If you post a picture, use the hashtag #veganevibes.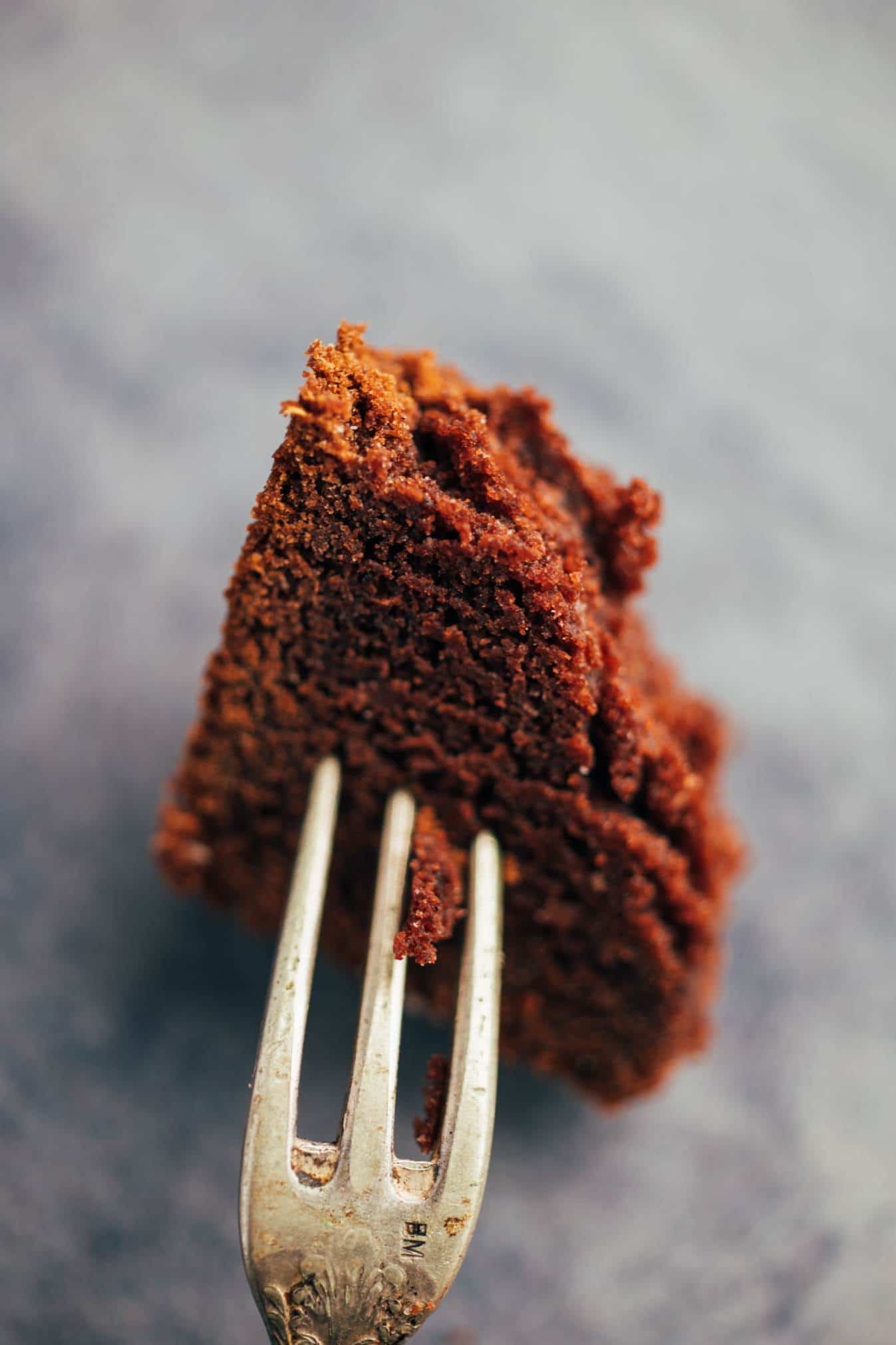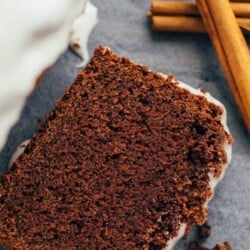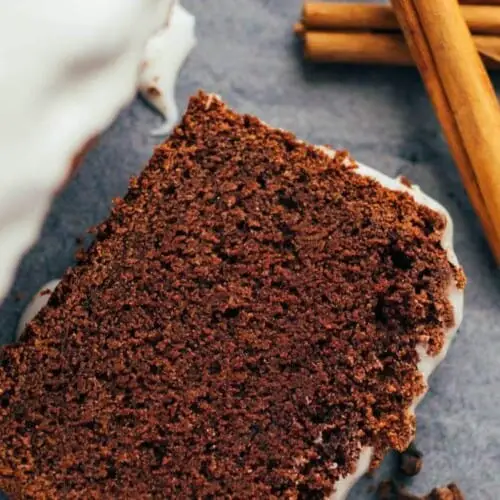 vegan spice cake (1-bowl)
Simple, juicy and full of winter spices? Yes you can with this recipe for a magical vegan spice cake. Fluffy and moist inside, topped with a heavenly icing. Simply to melt away.
AUTOR: VEGANEVIBES
AS TOPPING:
56

g

vegan margarine

melted

150

g

Powdered sugar

I take organic quality
Anleitung 
FOR THE CAKE
Preheat oven to 180 degrees (convection) or 200 degrees (top-bottom heat) and grease a loaf pan with a little oil and dust with cocoa powder (optional).

Pour the vegetable milk and apple cider vinegar into a large baking bowl and whisk together. Add the baking soda and stir. The liquid should now foam slightly. Now slowly stir in the liquid margarine (or tasteless oil).

250 ml Plant milk,

½ tbspn Baking soda,

1 tbspn Apple cider vinegar,

150 g Margarine melted

Tip: For the Oil reduced variant instead of 150ml oil, use 80g apple pulp and 70ml oil

Place a sieve over the bowl, add flour, almond flour, cane sugar, cocoa, baking powder, vanilla and salt and continue to stir until everything is combined into a uniform dough. Stir in gingerbread spice until well combined. The dough should be leciht to put in the baking dish, if it is too firm, add a little vegetable milk.

200 g Flour,

100 g Almond flour,

150 g Cane sugar,

33 g Cocoa,

½ tbspn Baking powder,

1 tbspn Bourbon vanilla,

½ tbspn Sea salt,

2 tbspn Gingerbread spice

Pour batter into loaf pan, smooth out and place in oven. Bake for 50-60 minutes and test with a wooden stick if the cake is already done. When the wooden stick comes out clean, then the cake is ready. Remove from oven and let cool completely (preferably an hour).
FOR THE FROSTING
Sift powdered sugar into a bowl, add melted margarine and vegetable milk and mix well. The consistency should be creamy but still liquid so that it can be easily poured over the cake. If in doubt, add a little more vegetable milk.

56 g vegan margarine,

150 g Powdered sugar,

A splash of almond milk or other plant milk

Pour over cooled cake, let set briefly, cut into pieces and enjoy!

Tip: After decorating the cake, leave it to infuse for a few hours, preferably overnight, which makes it taste even better.
Notizen
NOTES /HELPFUL ACCESSORIES:
Nährwertangaben
Serving:
1
Piece
Calories:
418
kcal
Carbohydrates:
49
g
Protein:
4
g
Fat:
25
g
Saturated Fat:
14
g
Sodium:
103
mg
Potassium:
81
mg
Fiber:
2
g
Sugar:
30
g
Calcium:
60
mg
Iron:
1.8
mg