Vegan lemon muffins, who can say no here? I definitely don't, because I love cupcakes more than anything. If they are then gluten-free and taste like lemon, I'm all over it. Especially in summer I long for a refreshing taste. Lemon fits here just super well. By the way, I've also gotten into the habit of not drinking coffee in the morning, but half a liter of water with lemon. Then I wait half an hour and again treat myself to half a liter of celery juice. Admittedly, it's not easy to find really good and fresh organic celery, but I'll get there. Have you also heard about the healing properties of celery juice? If so, feel free to let me know if you drink it regularly and how you're doing with it.
Vegan lemon muffins (gluten free)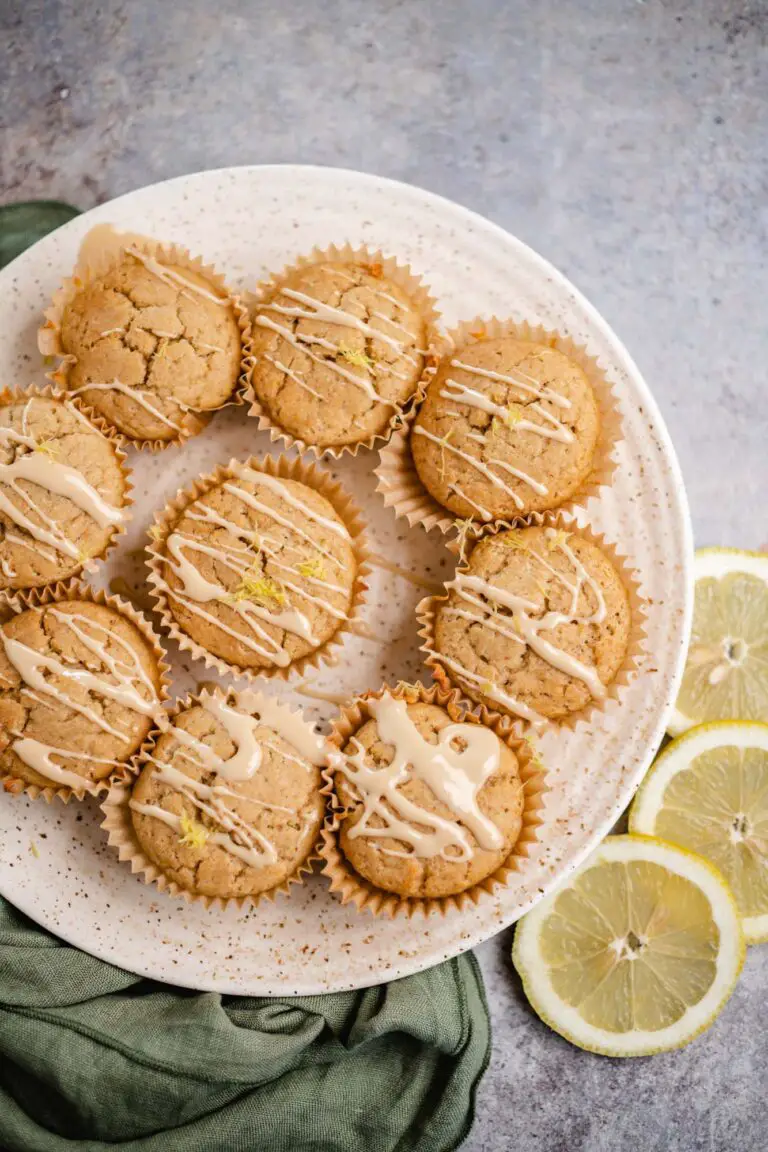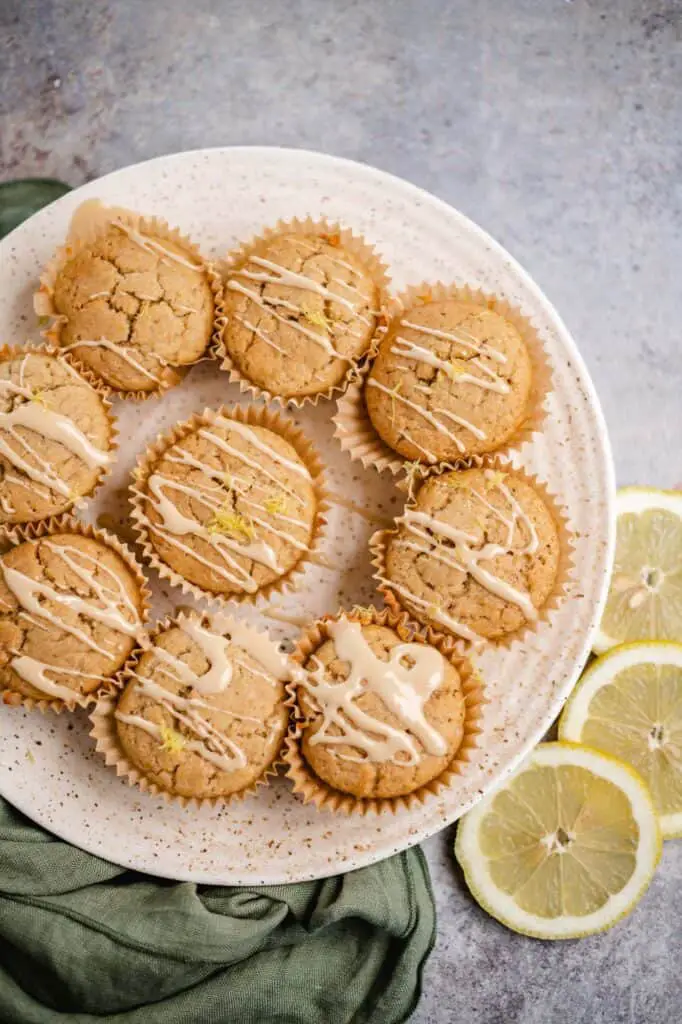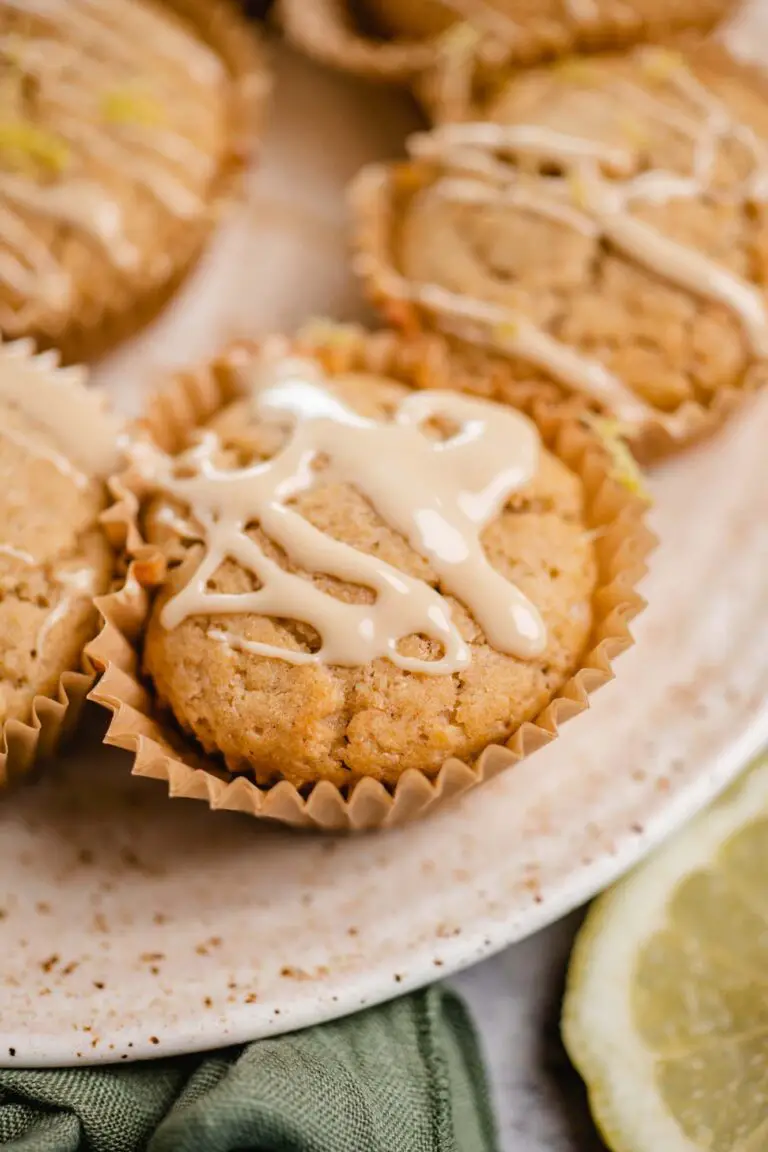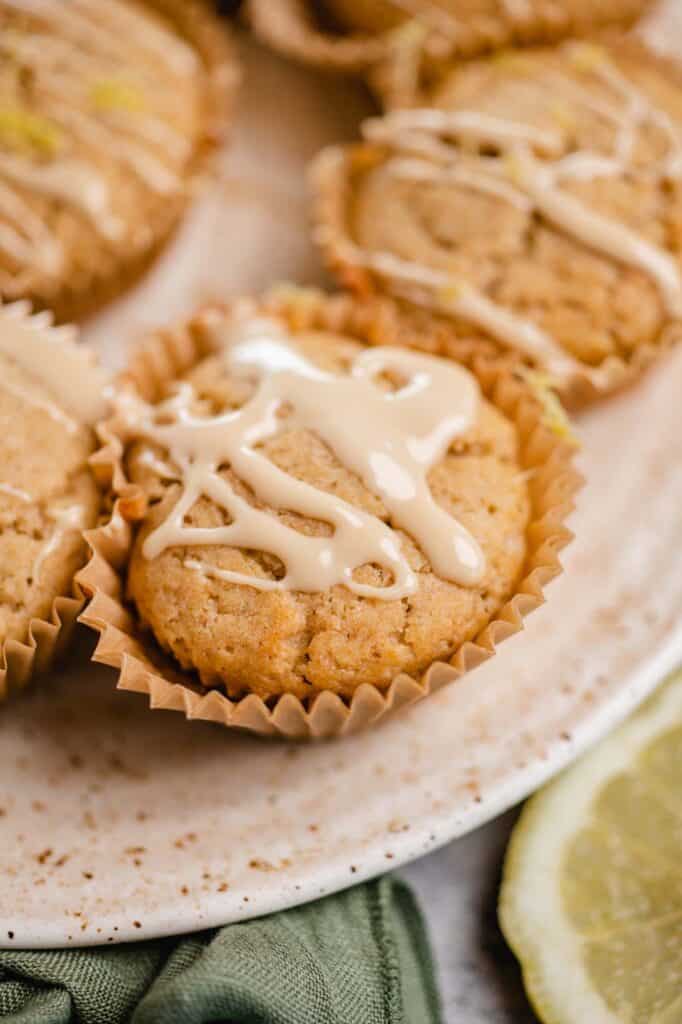 But now let's get to the delicious and easy lemon muffins, which are quick to make and consist of only eight ingredients. Oat flour, buckwheat flour, raw cane sugar, baking powder, lemon zest, baking oil, water and lemon juice. Sounds simple, doesn't it? It is. First, I mix the dry ingredients together. Then I add the liquid ingredients and mix everything into a compact dough. Then it goes directly into the muffin tins and into the oven. After 30 minutes, the beauties are also ready.
For decorating, I took the easy way out this time and just added a little liquid light almond paste over the top of the muffins. Otherwise, you can also make a frosting with 1 cup of powdered sugar and 2 tablespoons of lemon juice. However, I find the variation with the almond paste very tasty and it is also very healthy.
TIP: It's best to always use an organic lemon if you want to use the lemon zest. Conventional lemons are often chemically waxed and treated with pesticides that you don't want in your food.
Bake simple vegan and gluten free muffins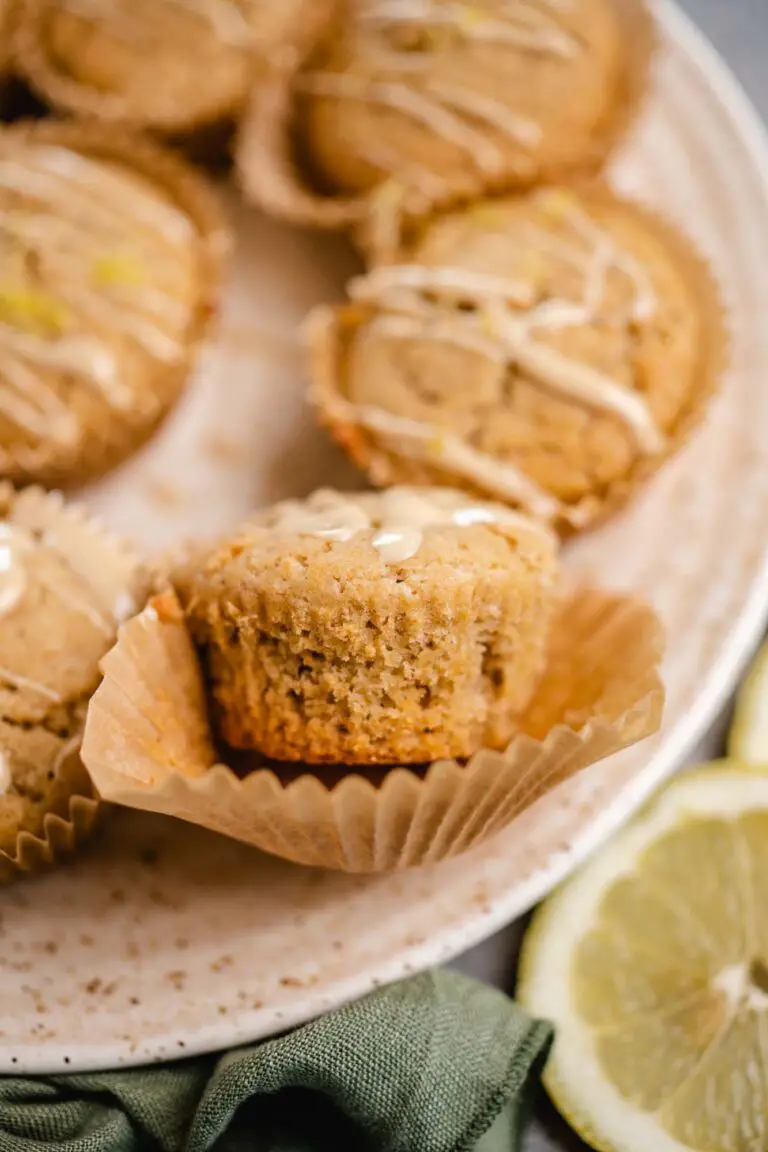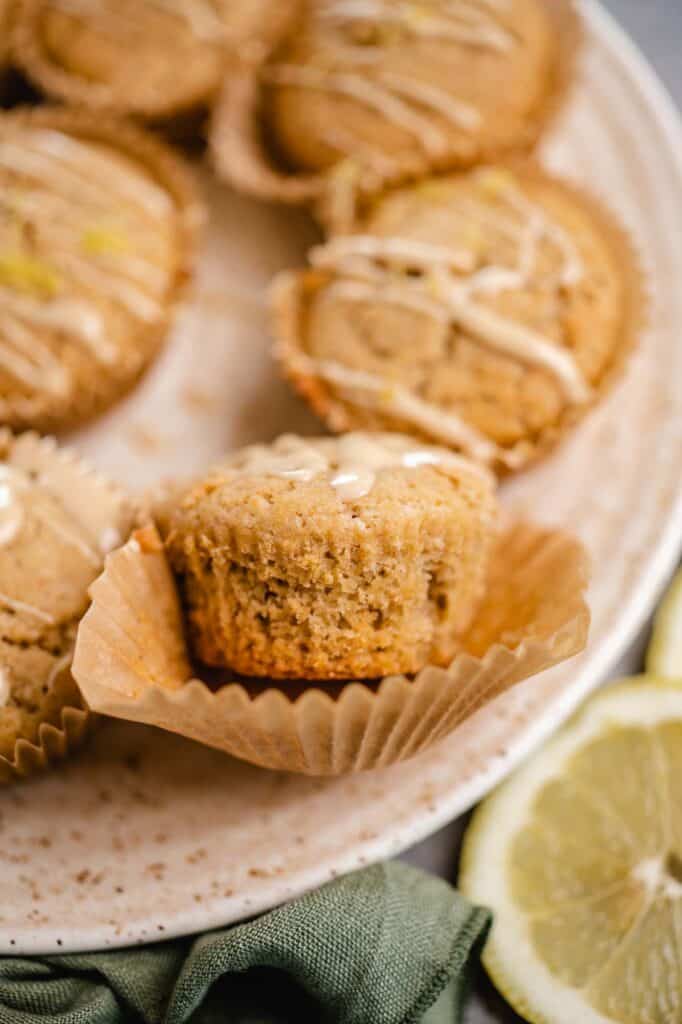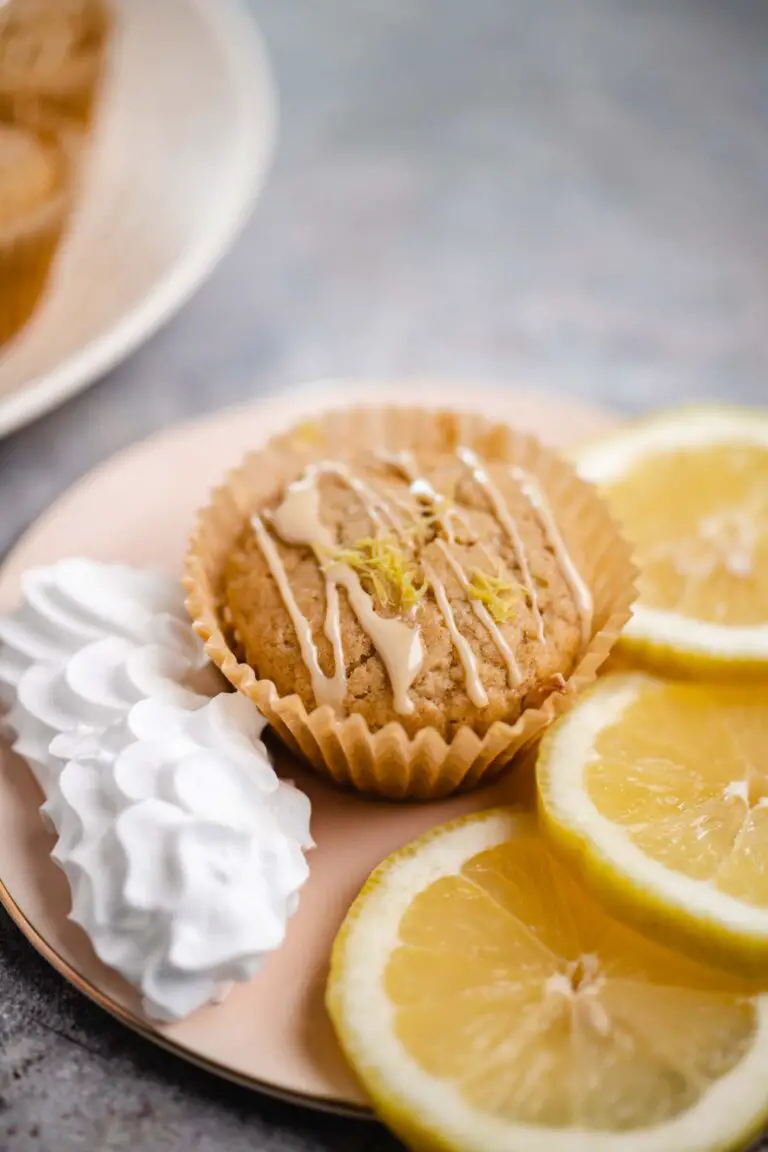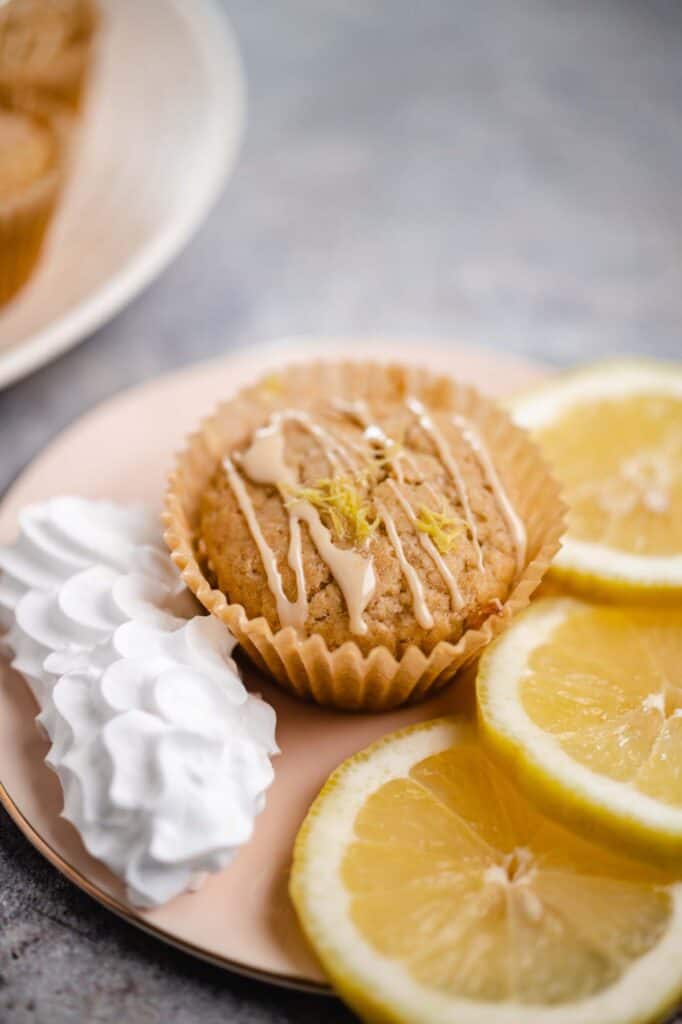 Otherwise, you really can't go wrong with these fine little beauties. By the way, I also find them very tasty with olive oil, which has a flavor of its own that I think goes perfectly with it.
If you're looking for some different muffins today, here are my suggestions:
These delicious, lemony, gluten-free muffins are quick to make and taste just great.
The vegan lemon muffins are:
Locker & Fluffig
Oil-free
Lemony
Gluten free
Quickly and easily made
Well, are you ready for the lemony sins? I wish you a lot of fun baking and of course a review at the bottom of this page. If you post a picture, use the hashtag #veganevibes.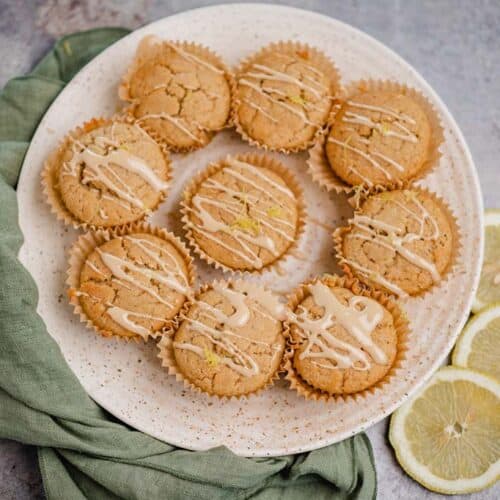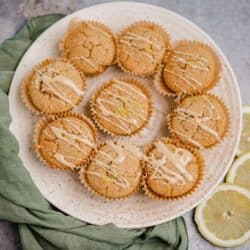 Vegan lemon muffins (gf)
Vegan lemon muffins that are ready in no time. With a subtle, lemony note, these gluten-free beauties are a real treat. Vegan, gluten-free and quickly made.
AUTOR: VEGANEVIBES
Anleitung 
Preheat the oven to 175degC convection (195degC top-bottom heat) and line a muffin baking tray for 12 muffins with muffin cups or lightly grease if needed.

Provide a large baking dish. Add in oat flour, buckwheat flour, raw cane sugar, baking powder and lemon zest and stir with a whisk until the dry ingredients are well combined and no lumps are visible. Pour in the baking oil, water and lemon juice and continue mixing until a compact dough is formed.

90 g Oatmeal,

90 g Buckwheat flour,

120 g Raw cane sugar,

2 tbspn Baking powder,

2 tbspn Lemon peel,

60 ml Baking oil,

60 ml Water,

80 ml Lemon juice

The dough should be compact, but easy to portion. If too dry, add a sip more water, if too runny, add a little more oatmeal.

Divide the batter evenly among the muffin cups with a spoon.

Put in the oven and bake for 30 minutes. Use a wooden stick to check if the muffins are baked through. Let cool, decorate with a little almond paste and enjoy.

Store leftovers (if any) in an airtight box in the refrigerator for up to one week. Can be kept frozen for up to one month.
Nährwertangaben
Serving:
1
Portion
Calories:
138
kcal
Carbohydrates:
21
g
Protein:
2
g
Fat:
6
g
Saturated Fat:
1
g
Polyunsaturated Fat:
3
g
Monounsaturated Fat:
1
g
Trans Fat:
0.03
g
Sodium:
21
mg
Potassium:
81
mg
Fiber:
1
g
Sugar:
10
g
Vitamin A:
0.4
IU
Vitamin C:
3
mg
Calcium:
19
mg
Iron:
1
mg