Rösti with antipasti vegetables is a really fine dish. I don't find the combination of potatoes and vegetables particularly exciting per se, however, it gets a whole new twist in the form of Röstis. As we all know, antipasti always goes well, whether simply with some sourdough bread or as a main course, as here with potato hash browns from the pan. Admittedly, in the current heat it is not always easy to cook the right thing. At least I'm trying to give you some ideas and of course I hope you like it. Let's get started together! One more tip on the side, by the way, this dish is "Anthony Williams" suitable, for those who are specifically looking for these recipes.
Rösti with antipasti vegetables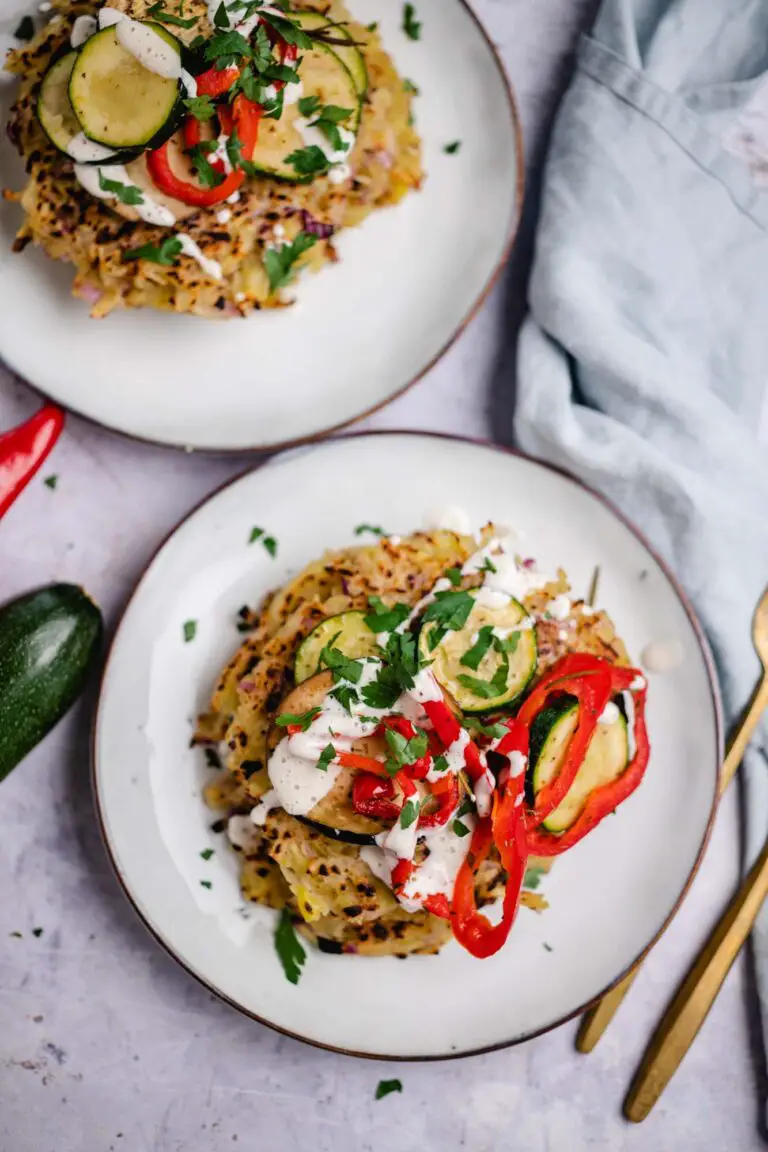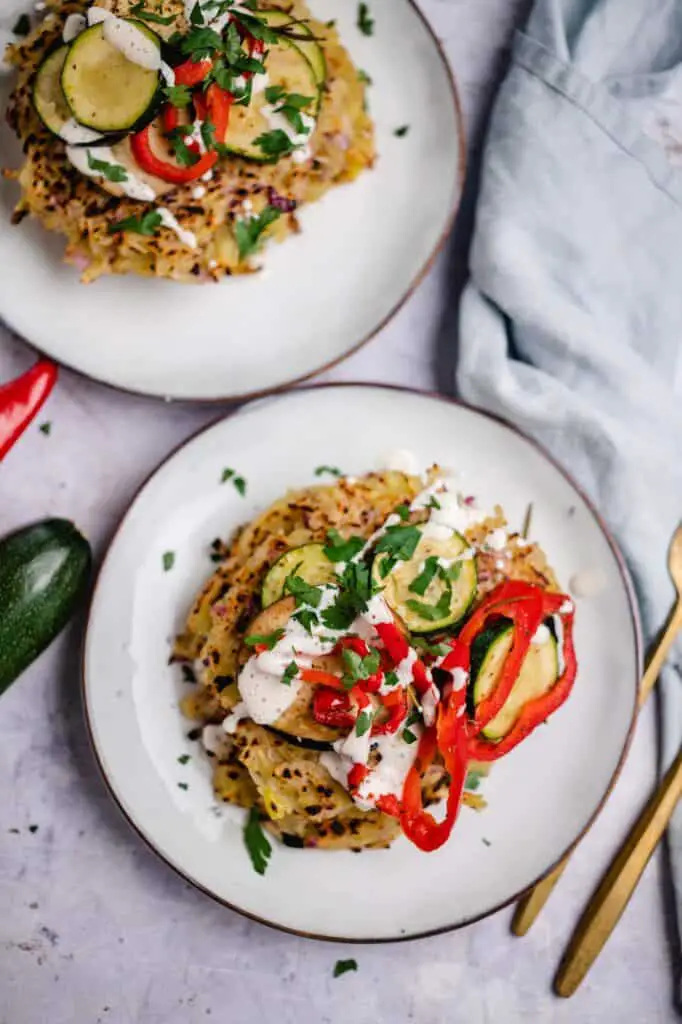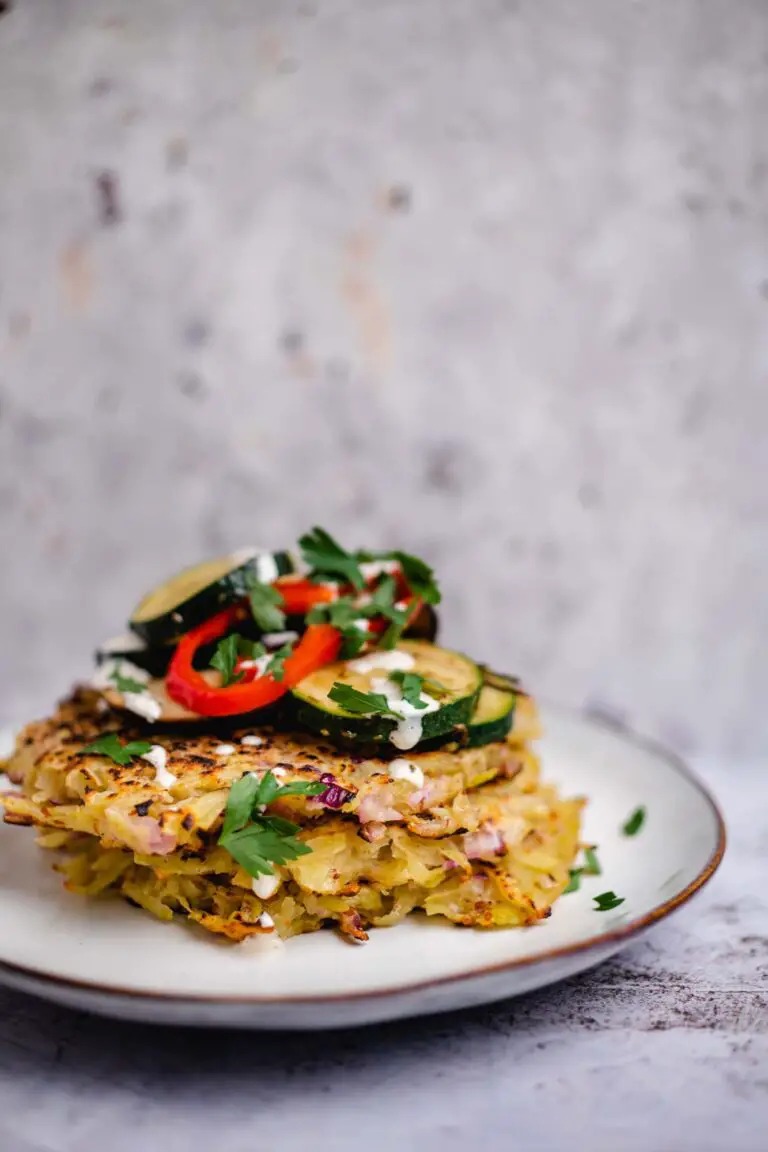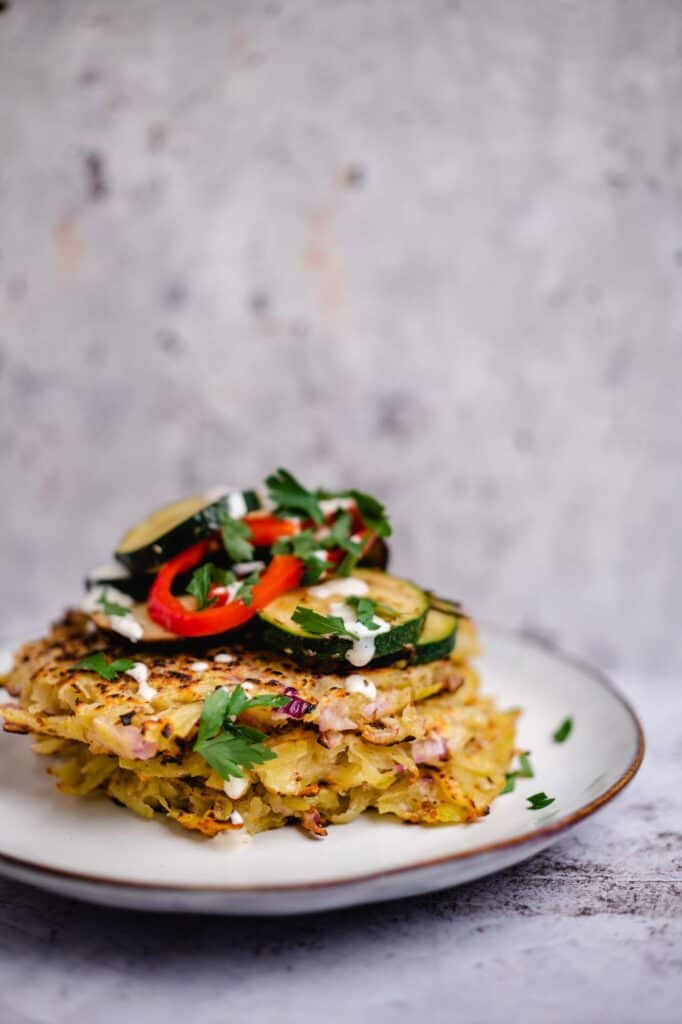 This simple and delicious main dish consists essentially of two steps, making the hash browns and the antipasti vegetables. To make the rösti, first peel the potatoes and grate them finely using a vegetable grater or food processor. To avoid too much water in the dough, I put the grated potatoes in a nut milk bag and squeeze them. Otherwise, the roasties would have too much moisture and not bind enough. Add onion, oatmeal, lemon juice, flaxseed egg, salt and pepper. I then shape the hash browns and bake them in the pan until they are soft on the inside and crispy on the outside.
For the antipasti, I put eggplant, zucchini and peppers in a baking dish. To this is added olive oil, salt and Italian herbs. Mix well once with your hands and it's off to the oven. Bake for 20 minutes and then turn off the oven and leave the vegetables inside. Excuse me? Yes exactly, so the vegetables are nice and soft, but do not burn. I think the tip is really ingenious.
Now the only thing missing is our cashew cream, which I prepare according to this recipe.
TIP: For the antipasti, in addition to the above ingredients, you can also use other vegetables such as mushrooms, other types of mushrooms, carrots, asparagus, or whatever is in season.
Simple vegan main dishes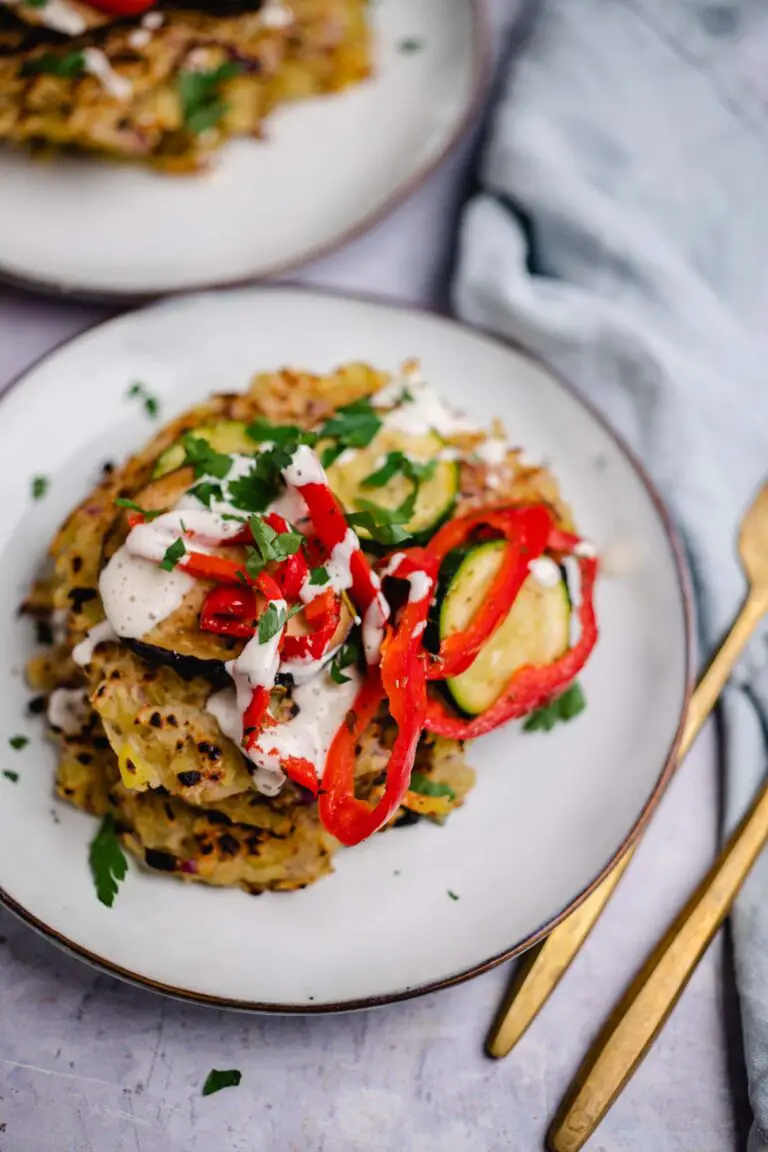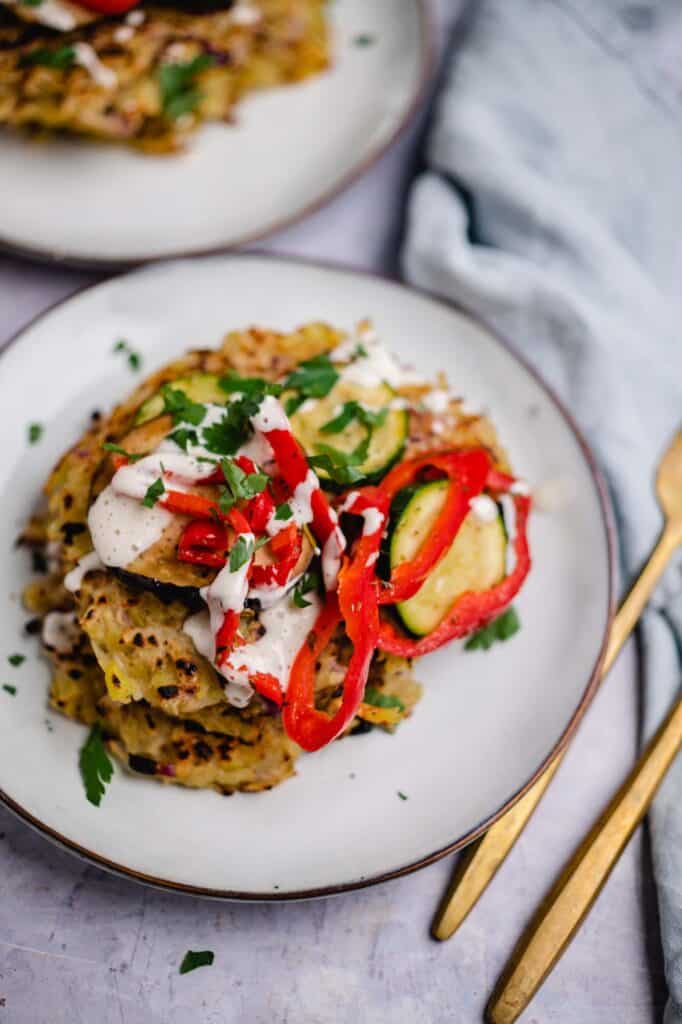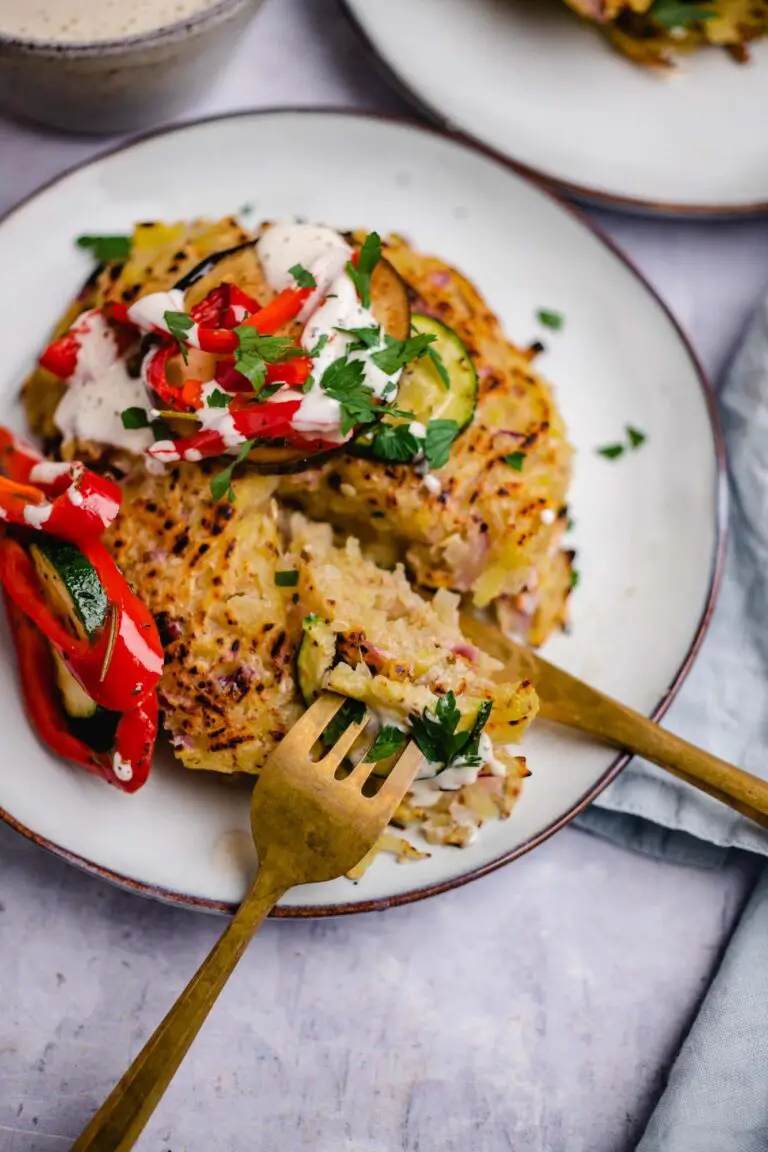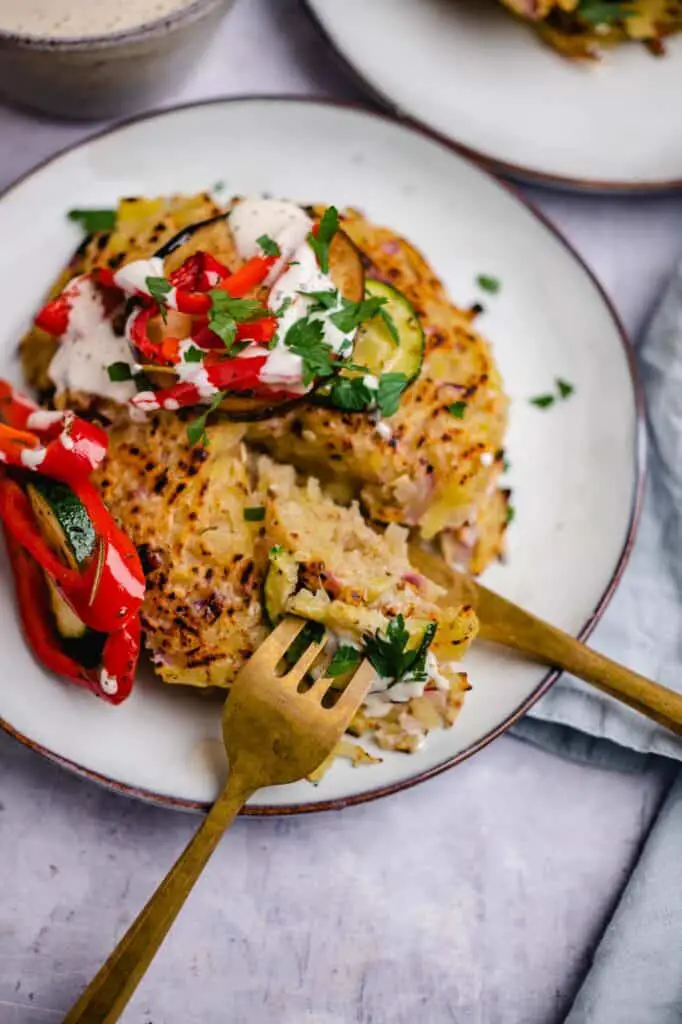 Today's dish doesn't impress with its quick preparation, but it still brings some variety to the table. I love combination of the crispy roasties and finely aromatic stewed vegetables. The cashew sour cream adds the very last touch.
But our dish today is not only incredibly delicious, but also healthy and rich in important fiber, vitamins, minerals and phytochemicals.
If you are looking for other quick and healthy recipes today, I have the following suggestions for you:
The rösti with antipasti vegetables are:
Healthy
High protein
aromatic
filling
Easy to make
Craving this healthy, hearty dish? I wish you a lot of fun in recooking and of course a review at the bottom of this page. If you post a picture, use the hashtag #veganevibes.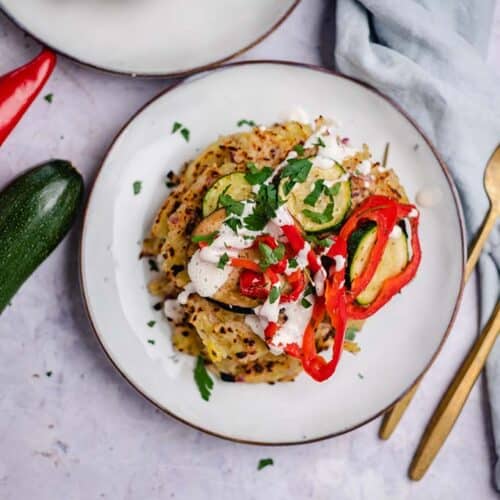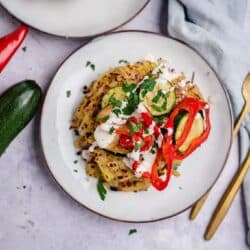 Rösti with antipasti vegetables (v&gf)
Fancy a delicious and aromatic dish? Then these roasties with antipasti vegetables are just right for you. Satisfying, aromatic and rich in valuable fiber and phytochemicals. Vegan, gluten free and high in fiber.
AUTOR: VEGANEVIBES
FOR THE ANTIPASTI:
350

g

Eggplant

medium, stalk removed, cut into slices

250

g

Zucchini

Stalk removed, cut into slices

155

g

Paprika

core removed, cut into strips

1

tbspn

Olive oil

1

tbspn

Lemon juice

optional

½

tbspn

Salt

1

tbspn

Italian herbs

4

Piece

Garlic cloves

Fresh rosemary and thyme sprigs

if at hand
FOR THE CASHEW SOURCREAM:
Anleitung 
Heat oven to

200

°C

convection (

220

°C

upper-lower heat).

Prepare cashew sour cream and place in refrigerator.

NOTE: The antipasti can be prepared without stress on the pre-dough and warmed before serving. This saves time when you are already hungry.

FOR THE ANTIPASTI Place eggplant, zucchini and peppers in a large baking dish. Add olive oil, lemon juice, salt and Italian herbs and mix until everything is well combined. Add garlic cloves whole, add rosemary and thyme sprigs and place in oven. Roast for

20 minutes

, then turn off the oven and let the vegetables stew in the closed oven for another

60 minutes

. NOTE: With this method, the antipasti becomes really nice and soft, develops its roasted flavors, but does not burn.

350 g Eggplant,

250 g Zucchini,

155 g Paprika,

1 tbspn Olive oil,

1 tbspn Lemon juice,

½ tbspn Salt,

1 tbspn Italian herbs,

4 Piece Garlic cloves,

Fresh rosemary and thyme sprigs

FOR THE ROAST Peel the potatoes and grate finely with a vegetable grater or a food processor. Place grated potatoes in a nut milk bag and squeeze so that the liquid from the potatoes is reduced. Then place in a large bowl. Add onion, lemon juice, salt, pepper, oat flour and flaxseed egg and knead with hands until a compact dough is formed.

800 g Potatoes,

150 g red onion,

15 ml Lemon juice,

1 tbspn Salt,

¼ tbspn Pepper,

40 g Oatmeal,

1 Flaxseed egg

Heat a large pan on the stove and add a little oil. Separate a portion of batter and place in pan. Flatten with a spatula and roast over medium heat for about 5 minutes. Turn over and roast for another 5 minutes, until the roast is already brown on the outside and soft on the inside. Repeat until the dough is completely used up. TIP: Stack Rösti on top of each other on a plate, so they stay nice and warm.

Divide hash browns between two plates, arrange antipasti on top and finish with cashew sour cream and fresh basil. enjoy!

Store leftovers in an airtight container in the refrigerator for up to 2 days (without rice). Rösti are very good for freezing.
Nährwertangaben
Serving:
1
Portion
Calories:
591
kcal
Carbohydrates:
113
g
Protein:
18
g
Fat:
11
g
Saturated Fat:
3
g
Polyunsaturated Fat:
3
g
Monounsaturated Fat:
3
g
Cholesterol:
15
mg
Sodium:
348
mg
Potassium:
2855
mg
Fiber:
21
g
Sugar:
20
g
Vitamin A:
2892
IU
Vitamin C:
214
mg
Calcium:
168
mg
Iron:
6
mg