Creamy beet pasta is simply fun and very healthy at the same time. I always try to incorporate as many different fruits and vegetables into my diet as possible. Experts speak of 30 different varieties per week, which we should integrate into our diet. Yet this is often not so easy, because we tend to always put the same thing in the shopping cart. Our brain is just so polarized and does not like to make an effort. Cucumbers, tomatoes and lettuce are okay, but beet, no thanks, I've never liked them. Does that sound familiar? By the way, the 30 different plant foods include herbs, seeds and nuts. Otherwise, it would be a bit more difficult to accommodate this number in one week.
Vegan beet pasta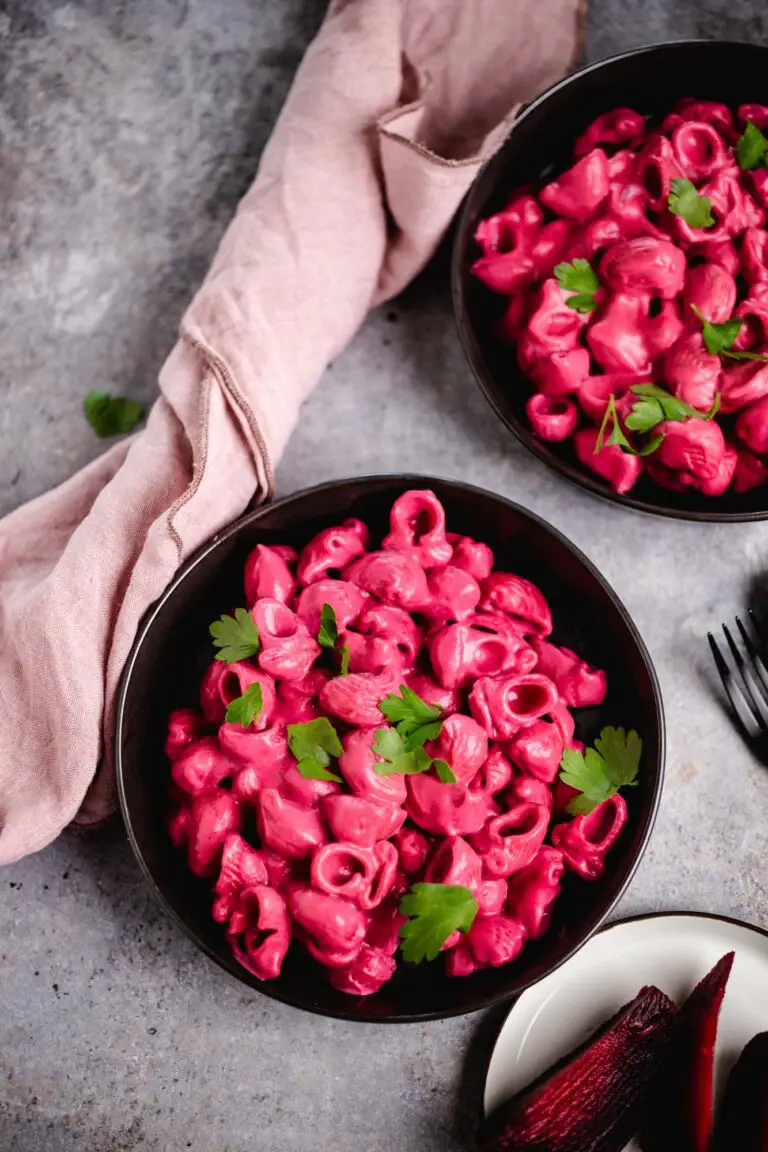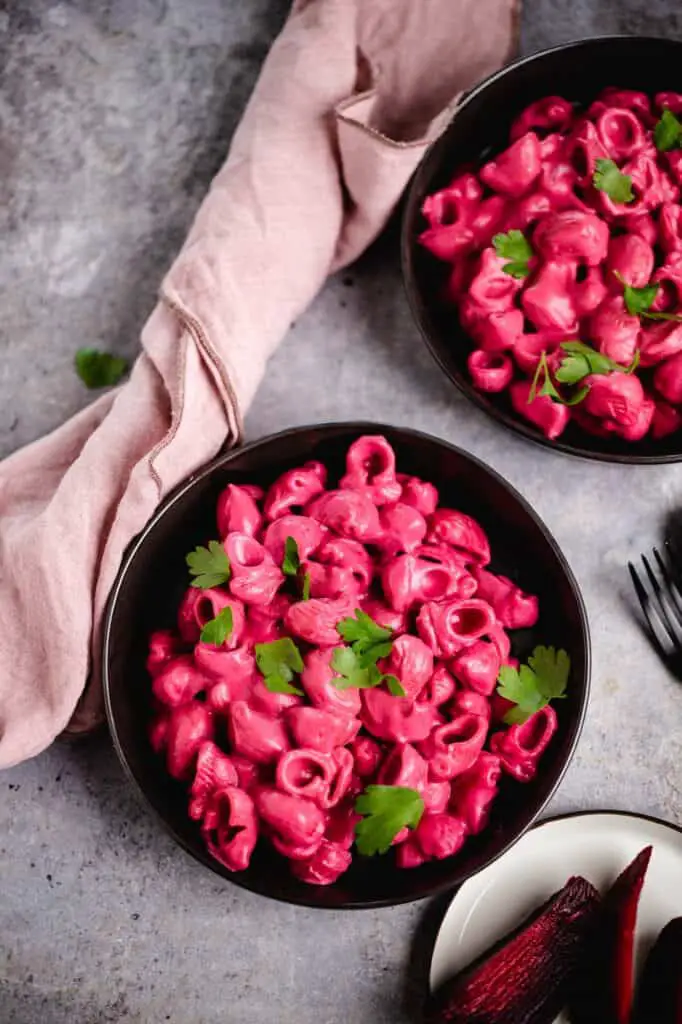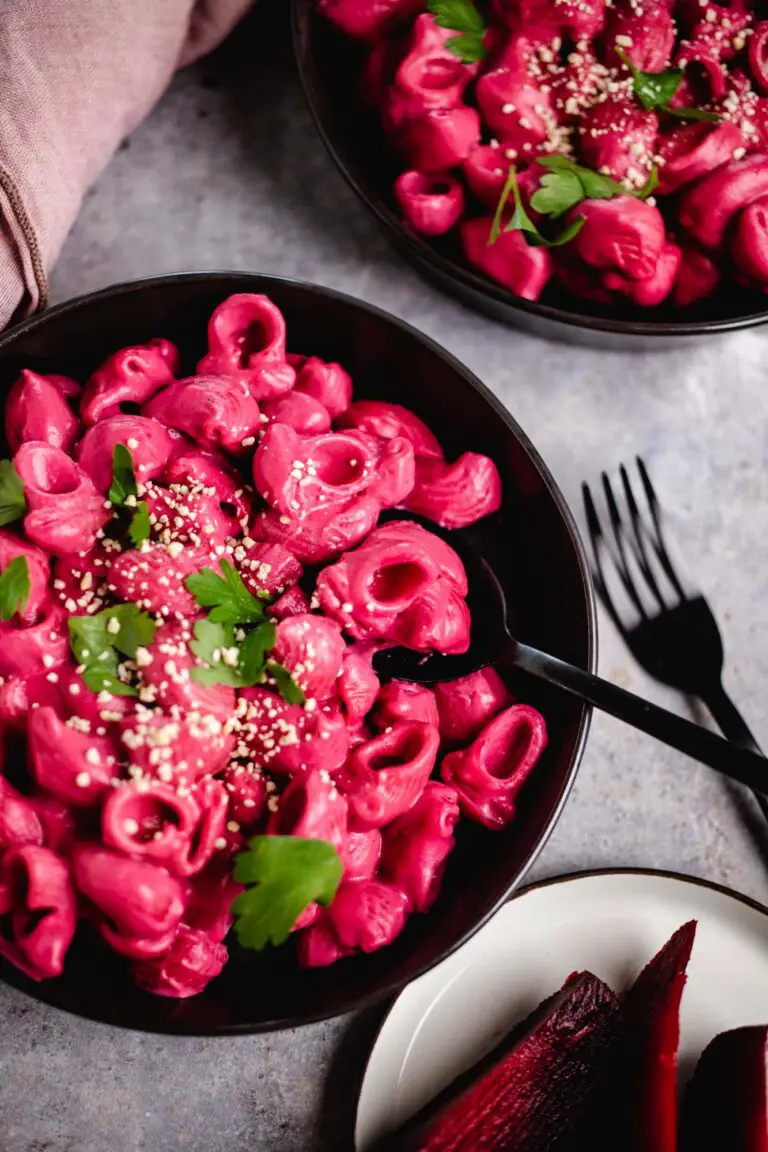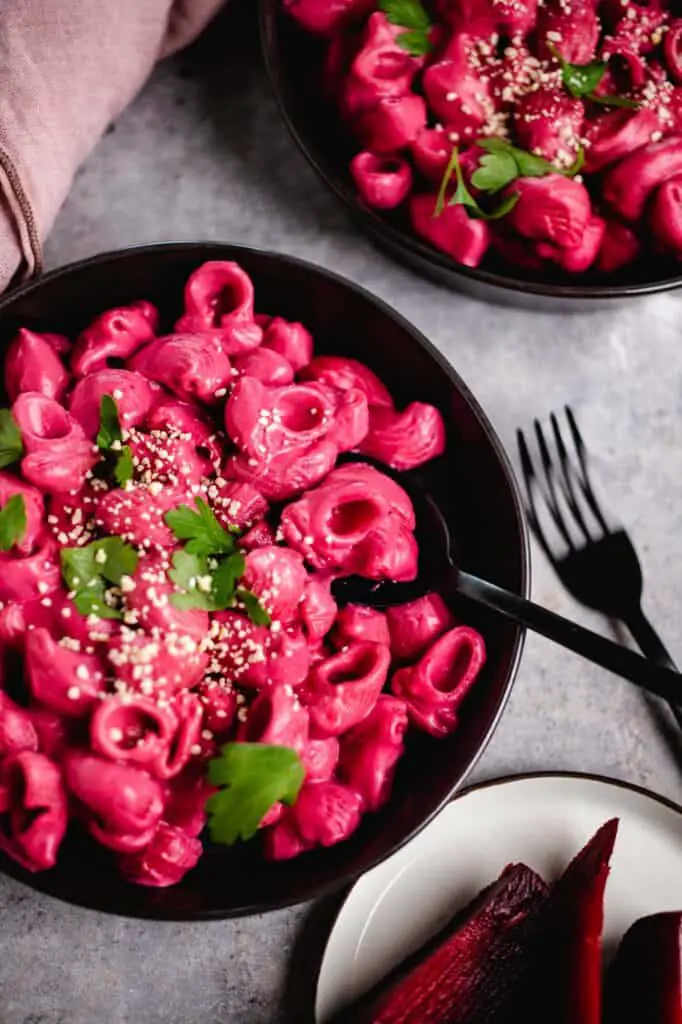 Our beet pasta today brings color to the plate. It's going to be pink and that really puts me in the mood, because I love colorful food more than anything. The production is once again super simple and quickly made. Cook pasta and make a creamy sauce.
For the sauce, I get my high-powered blender ready and add beet, cashews, plant milk, lemon juice, light miso, salt and pepper. I then blend everything on high, about 60 seconds, until a creamy sauce is formed. Season to taste, stir into the pasta, heat briefly (do not boil) and serve immediately. Already we are ready and ready to enjoy!
Regarding pasta, you can choose what is right for you. I use conchiglie, but you can also use spaghetti or even rigatoni. Gluten-free pasta works just as well, of course, depending on what you like best.
TIP: Depending on how powerful your blender is, you may want to soak the cashews beforehand. Since my blender is really good, I put them in the blender un-soaked. If you want to soak the nuts, you can find instructions here.
Vegan dishes with pasta – quick and easy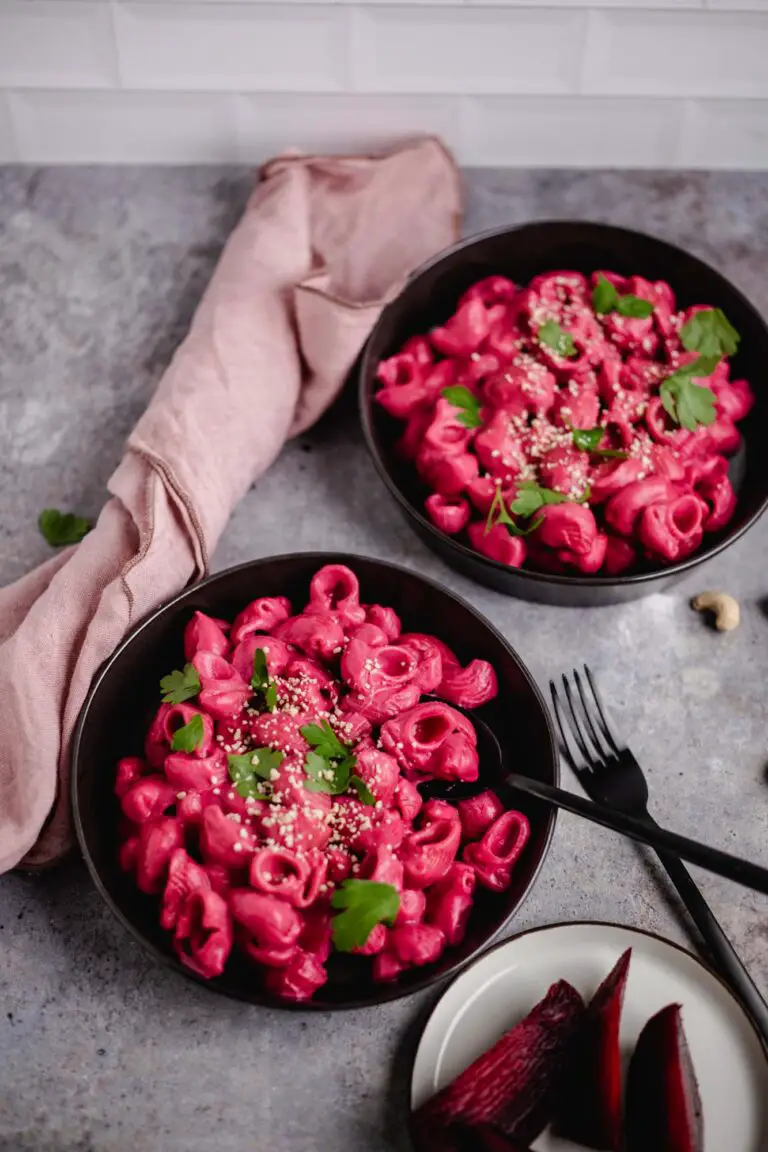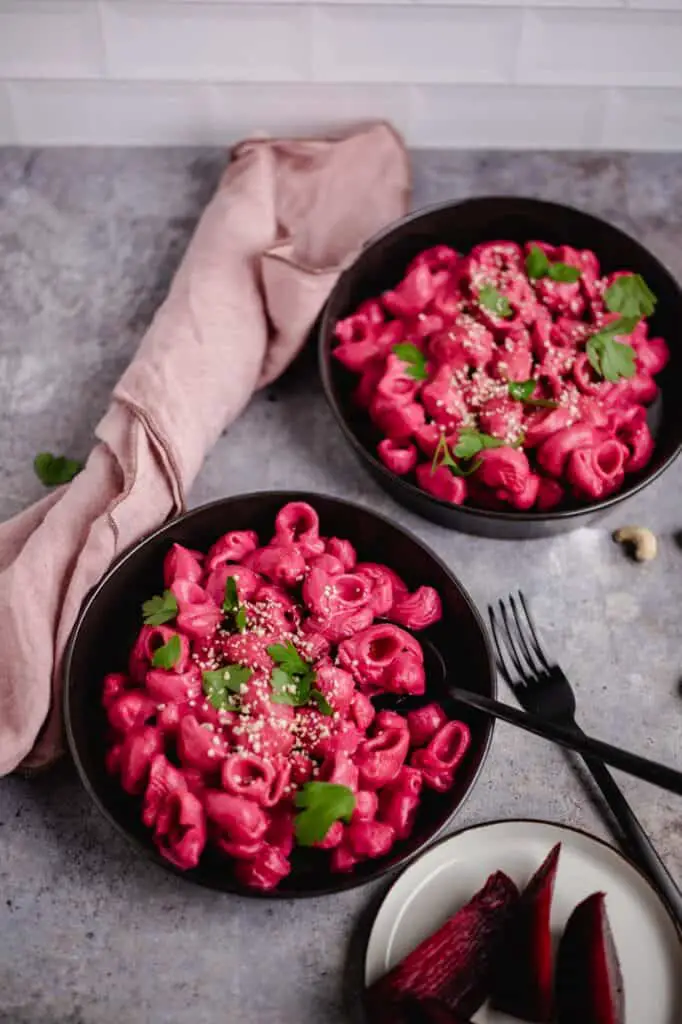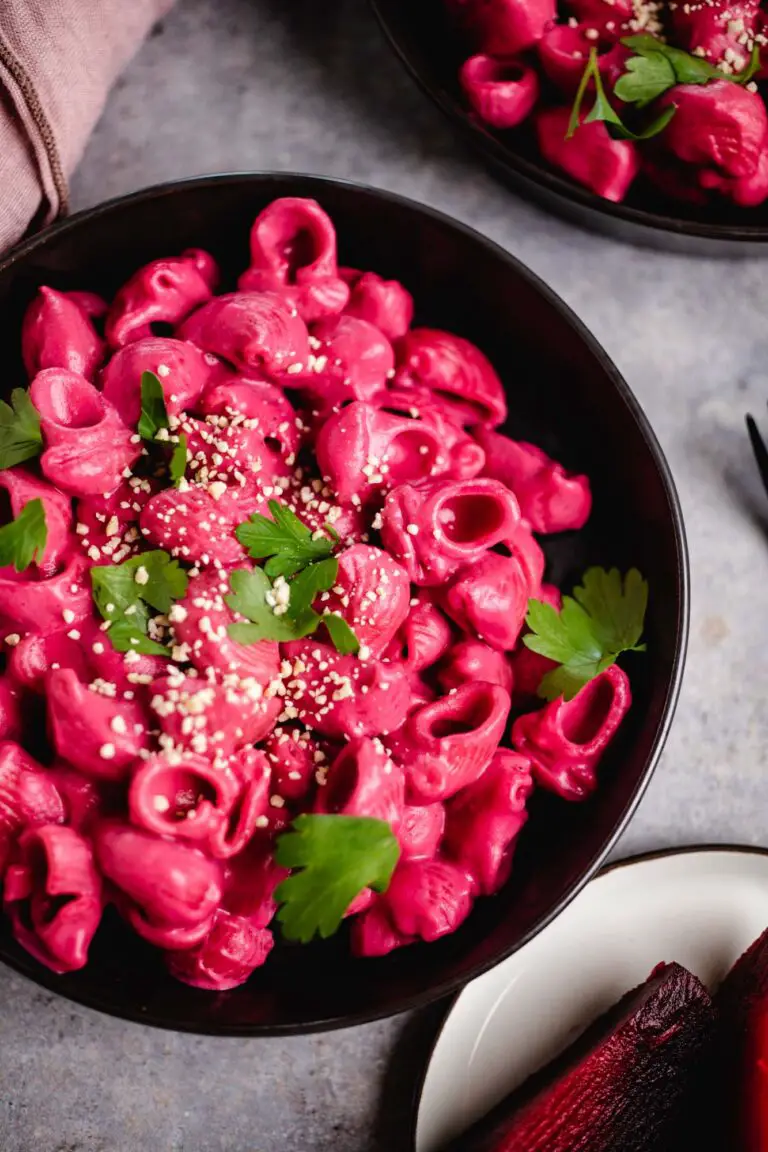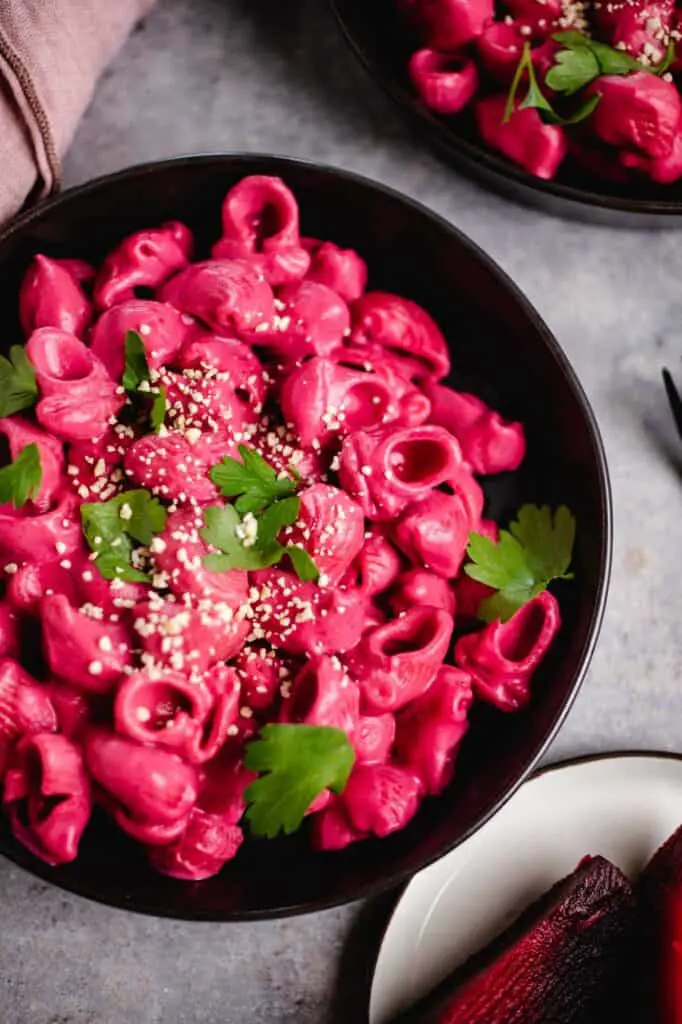 This pasta dish is not only quick and easy to make, and is especially good for a quick and filling meal. Beet is super healthy and it's worth incorporating the tuber into your diet more often:
Low calorie thanks to high water content with 90 percent
Rich in minerals such as calcium, phosphorus, potassium, magnesium and iron
Rich in important vitamins such as vitamins of the B group, vitamin C and folic acid
Betanin belongs to the flavonoids (secondary plant compounds) has antioxidant properties that can prevent heart disease and scavenge free radicals in the body
So it's worth incorporating beet into your diet every now and then, and it tastes particularly good in this pasta.
NO WASTE TIP: The leaves of fresh beet can be eaten without thought. They contain equally valuable nutrients and go particularly well in soups, salads or smoothies. It is also interesting that the leaves contain more magnesium than the beet itself.
Looking for another vegan pasta dish? Then I recommend you the following delicacies:
The creamy beet pasta is:
aromatic
High protein
Tomato
filling
Easy to make
Well, fancy a delicious vegan pasta with beet and cashews? I wish you a lot of fun in recooking and of course a review at the bottom of this page. If you post a picture, use the hashtag #veganevibes.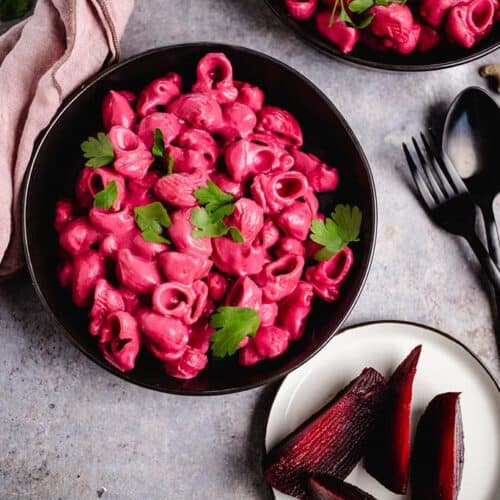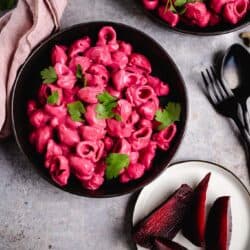 Creamy beet pasta
Creamy and colorful pasta that will blow your loved ones away. An easy way to incorporate healthy beets into your diet while still feasting. Quick to make, creamy and full of healthy nutrients. Vegan, gluten free option, oil free.
AUTOR: VEGANEVIBES
250

g

Beet

precooked and coarsely chopped, I use peeled and cooked beet from the bag

125

ml

Plant milk

I use unsweetened oat milk

75

g

Cashews

25

g

light miso

I use the Shiro Miso from Arche

30

ml

Lemon juice

250

g

Pasta of choice

I use conchiglie, alternatively use gluten free pasta
Anleitung 
Cook pasta of choice (according to package directions) and set aside.

NOTE ON RED BEET: can stain strongly, in case of doubt protect skin and clothing with gloves and an apron.

FOR THE SAUCE provide a blender. Add beet, vegetable milk, cashews, lemon juice, miso, pepper and salt to blender and blend on high speed for about 60 seconds until a creamy sauce is formed.

250 g Beet,

125 ml Plant milk,

75 g Cashews,

25 g light miso,

30 ml Lemon juice,

Pepper to taste,

Salt to taste

Pour directly over the pasta and heat gently once, do not boil! Remove heat once the sauce has thickened slightly and combined well with the pasta.

Divide among plates, garnish with Parmesan cheese and fresh parsley and enjoy! Best fresh.

Vegan parmesan,

Fresh parsley
Nährwertangaben
Serving:
1
Portion
Calories:
781
kcal
Carbohydrates:
123
g
Protein:
29
g
Fat:
21
g
Saturated Fat:
4
g
Polyunsaturated Fat:
5
g
Monounsaturated Fat:
10
g
Sodium:
607
mg
Potassium:
1063
mg
Fiber:
10
g
Sugar:
17
g
Vitamin A:
298
IU
Vitamin C:
17
mg
Calcium:
155
mg
Iron:
6
mg