Blueberry Coconut Bircher Muesli is a fine thing and I thought it was time for a healthy breakfast again. Mornings usually have to be quick, so I like recipes that I can prepare the night before. It should be quick and easy, healthy and full of flavor. There is already a classic Bircher Muesli recipe on this site, but I thought I would make another variation. Fruity-coconutty it may be today and I hope that I do not promise too much. Personally, this breakfast tastes super good to me, as I'm a big fan of blueberries and shredded coconut.
Blueberry Coconut Bircher Muesli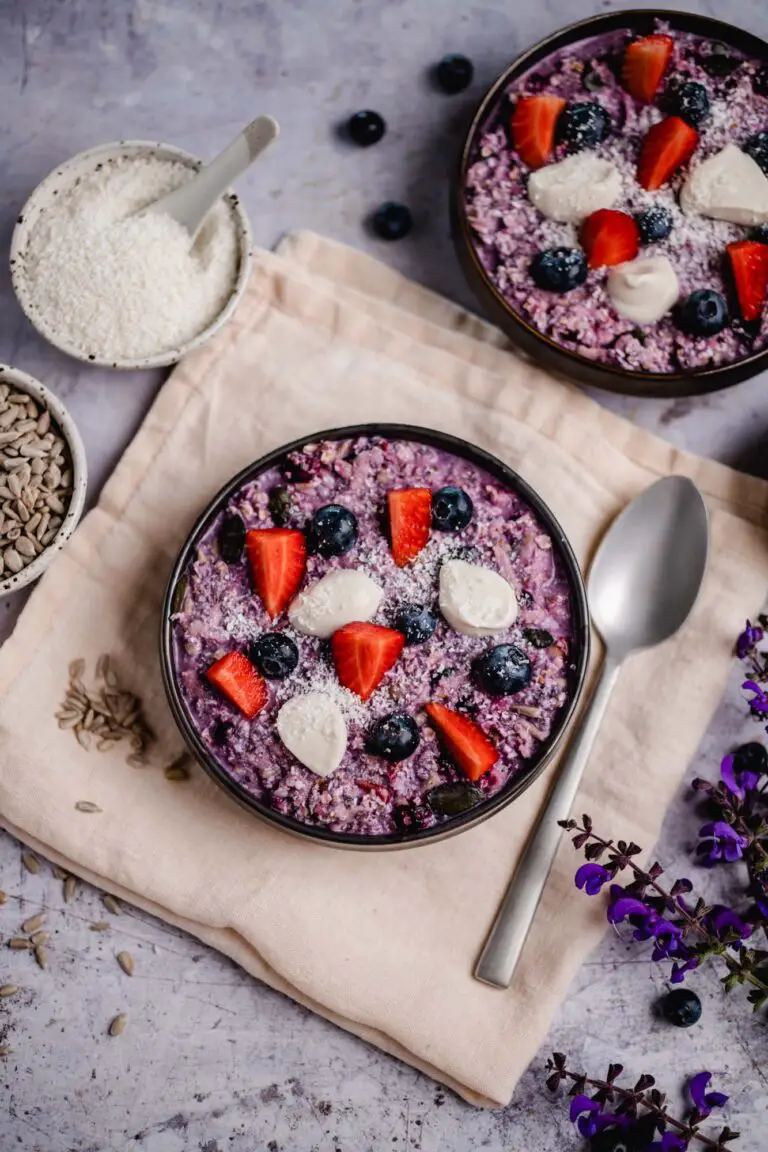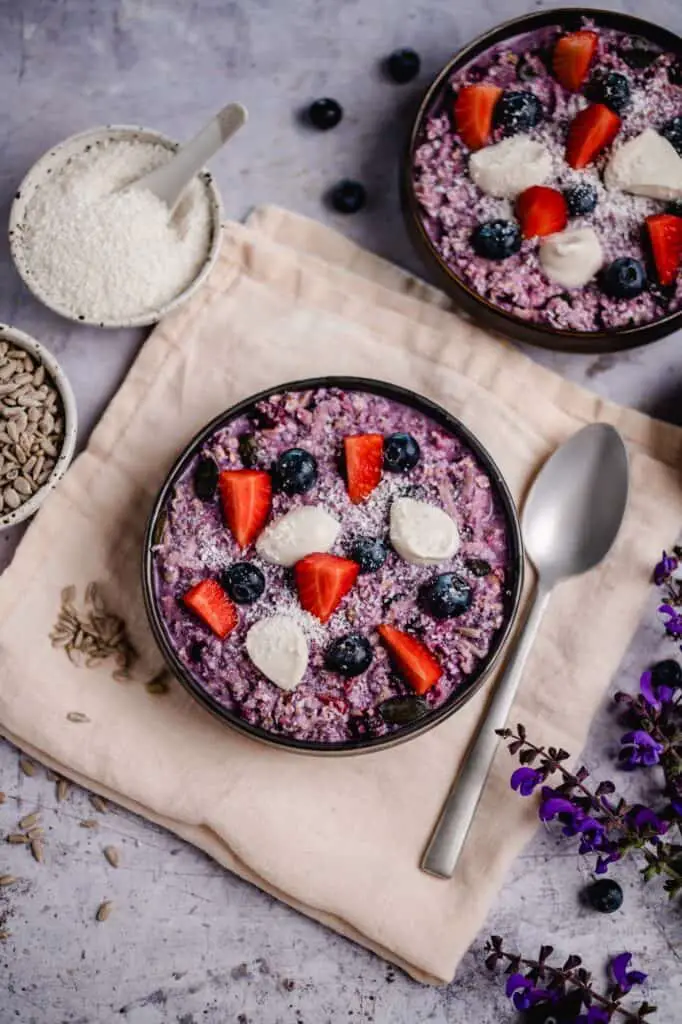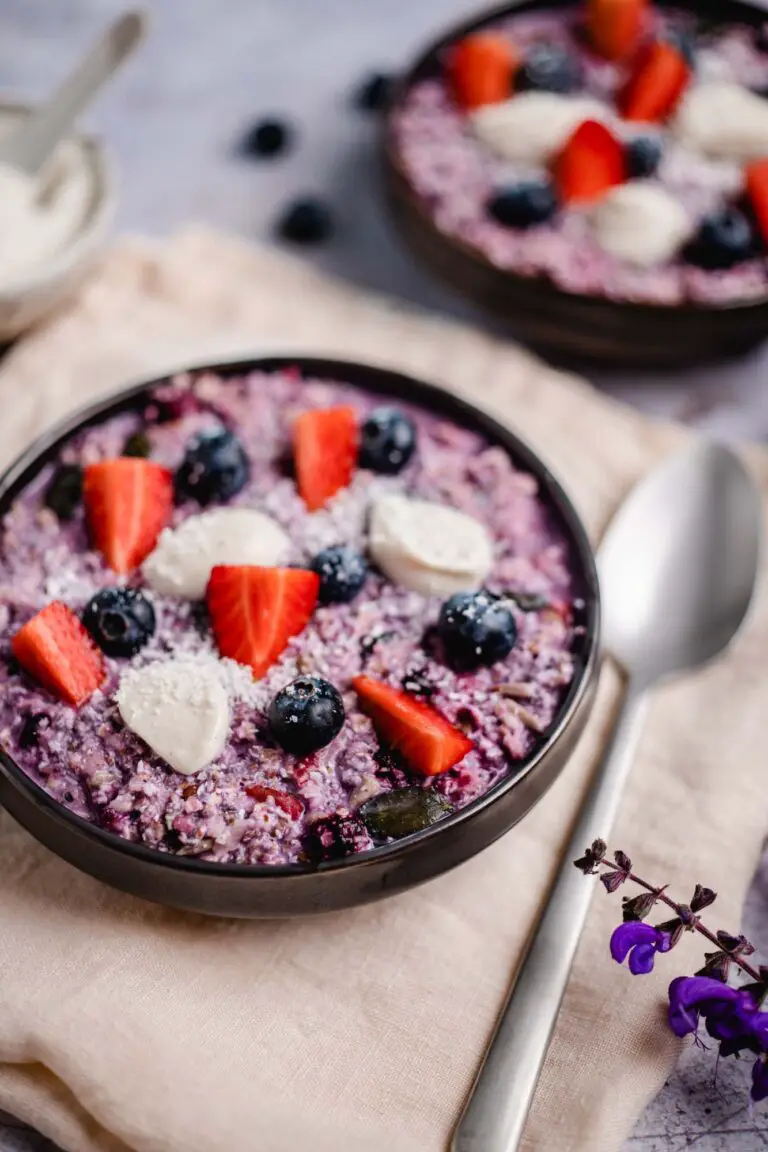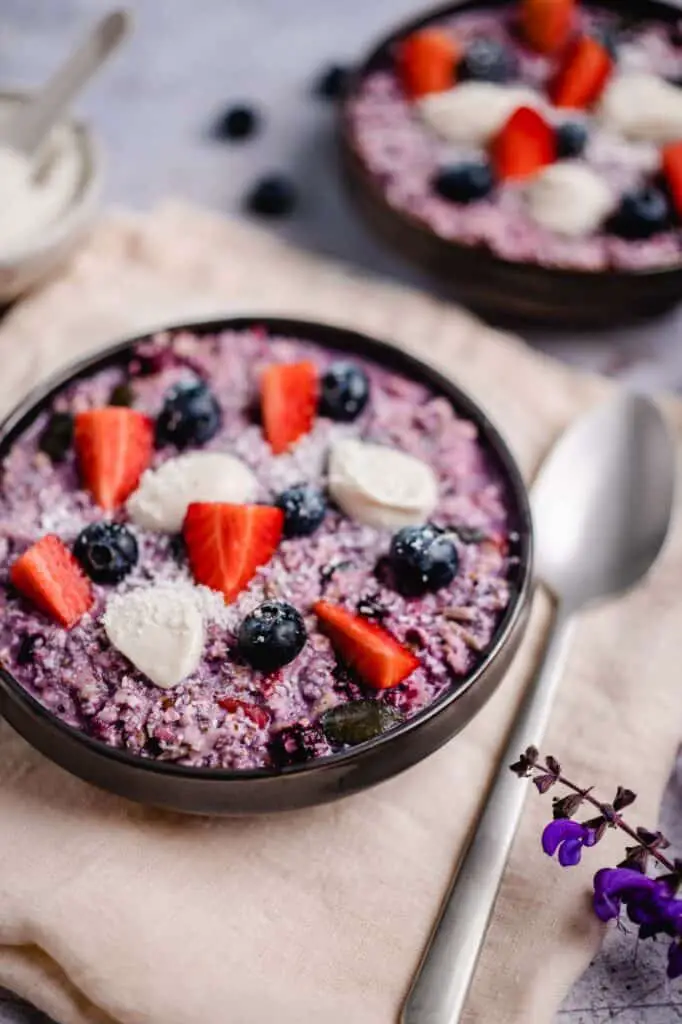 Our Bircher Muesli today is perfect to prepare and take with you the next morning. I put the granola in a canning jar with a screw-on lid, or in a special breakfast box. Preparation the night before takes just 5 minutes and then it's off to the fridge. The next morning everything is nicely done and the only question left is the toppings. Fruit, vegetable yogurt or more shredded coconut, anything goes.
As usual, the ingredient list is short and crisp. Rolled oats, pumpkin seeds, sunflower seeds, shredded coconut, flax seeds, chia seeds, yogurt, frozen blueberries and plant milk. Perfect!
TIP: If you don't have frozen heather berries at home, then you can use other frozen fruits as you like. For example, I'm thinking of a frozen berry mix, raspberries, strawberries or mango.
Vegan breakfast recipes made quickly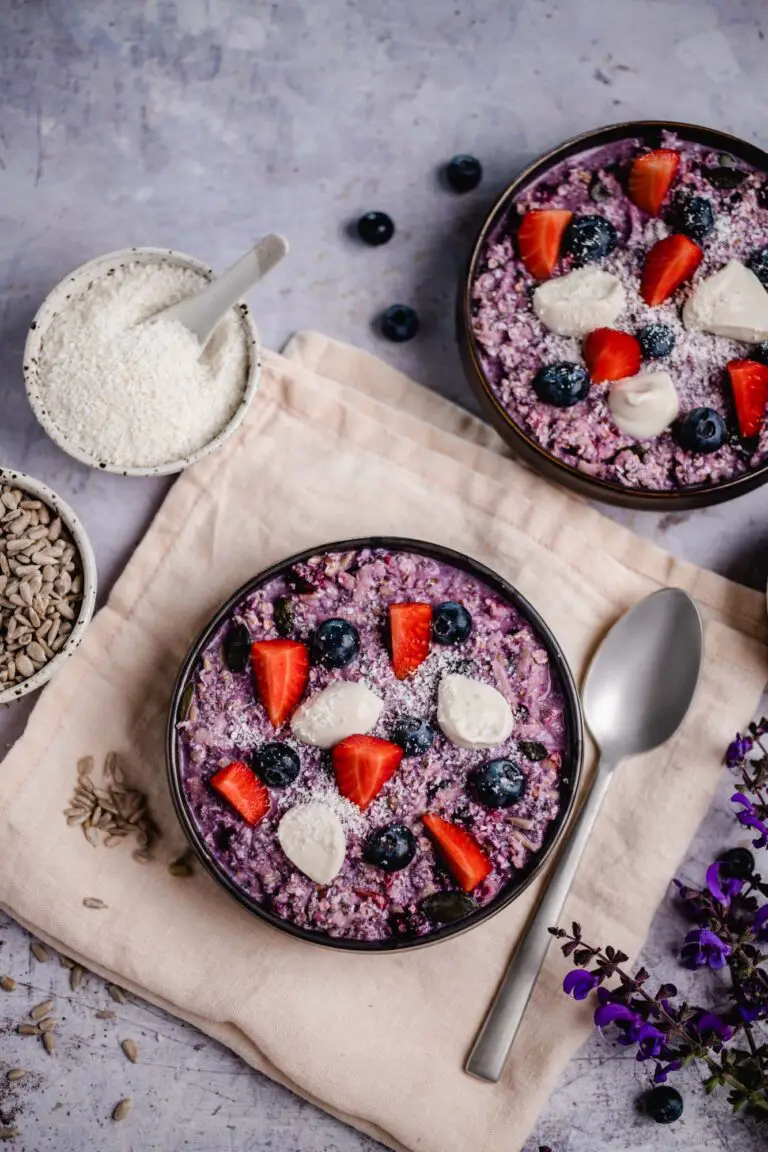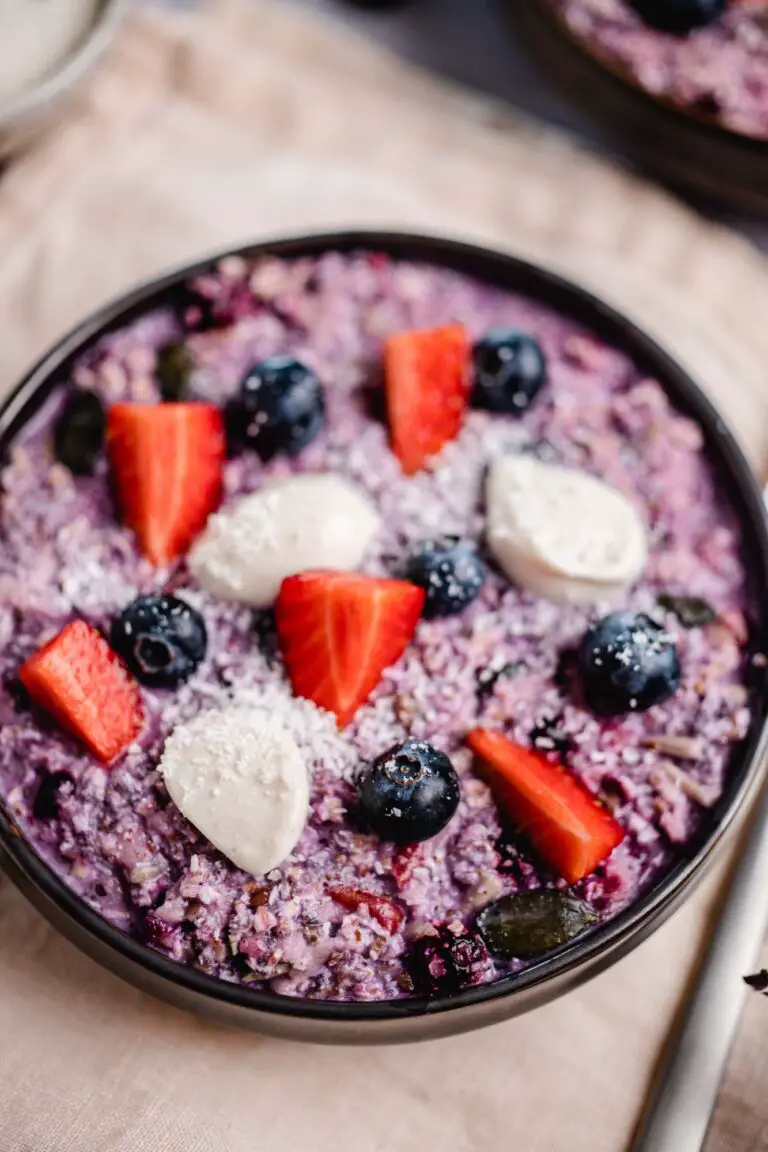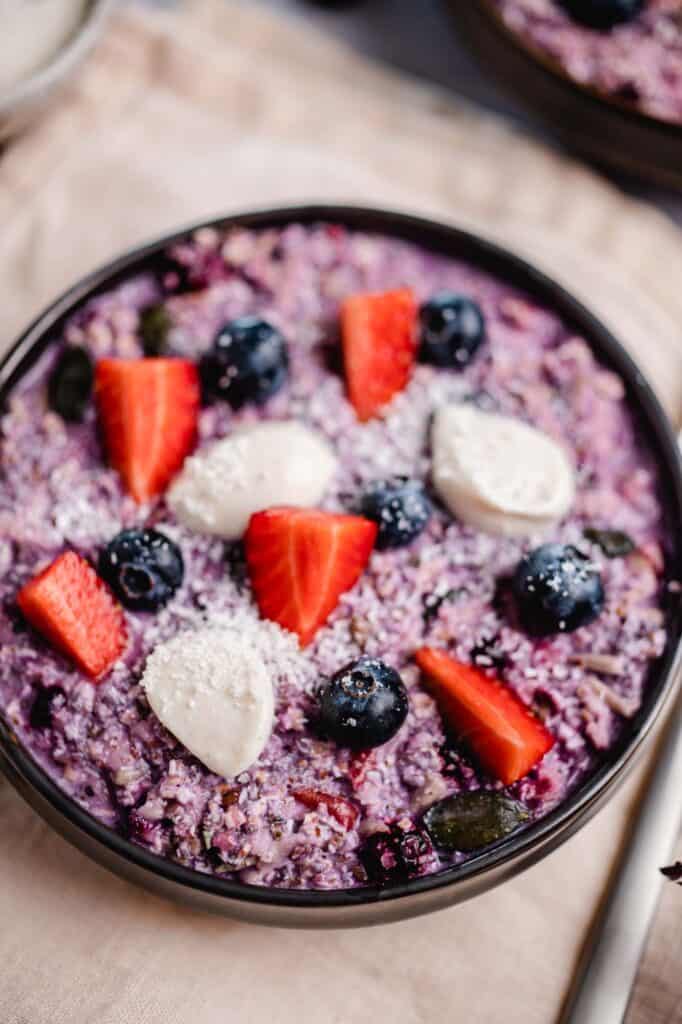 Who actually invented the Bircher muesli? It was the Swiss physician Maximilian Oskar Bircher Benner who laid the foundation for the popular breakfast 150 years ago. At that time, Bircher Muesli was a dietary food for patients and today it is considered a healthy breakfast by the general public.
I tried to pack as many seeds as possible into this granola. If you want, you can add hemp seeds, for example, or nuts of your choice.
NOTE: One more quick note about gluten-free oatmeal. Oatmeal is gluten-free per se, but it is often contaminated during processing. Since I myself do not have a gluten intolerance, but simply like to eat gluten-free, I buy oatmeal that is not specifically declared gluten-free. For those who suffer from gluten intolerance or celiac disease, it is a must to buy special gluten-free oatmeal, which is also declared as such.
If you're looking for a different breakfast idea today, I have the following suggestions for you:
The Blueberry Coconut Bircher Muesli is:
Pleasantly sweet
Healthy
filling
Ideal TO-GO
fruity
Get started with this modified Bircher dream that will sweeten your day first thing in the morning. I wish you a lot of fun with making and of course about a rating at the bottom of this page. If you post a picture, use the hashtag #veganevibes.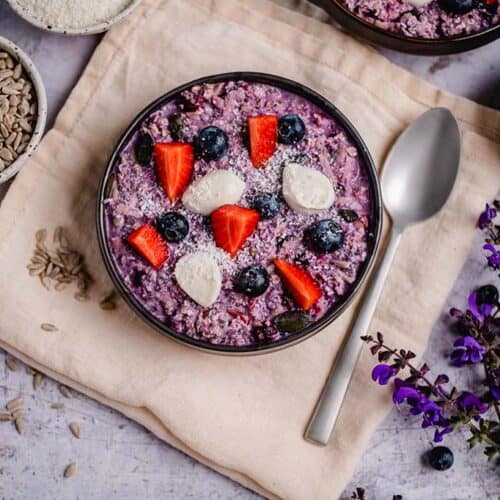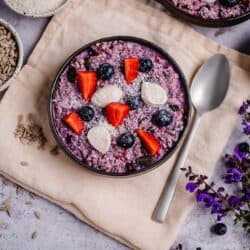 Blueberry Coconut Bircher Muesli
Fruity, coconut and healthy Bircher muesli rounded off with blueberries, which is also wonderful to prepare. Full of healthy seeds and oatmeal that keeps you full for a long time. Rounded off with fruity apple and plant milk. Vegan, gluten-free & perfect to go.
AUTOR: VEGANEVIBES
TOPPING:
Vegetable yogurt

Strawberries

or other berries of your choice

Coconut shavings or coconut flakes of your choice
Anleitung 
FOR THE BIRCHER MÜSLI Put oatmeal, pumpkin seeds, sunflower seeds, shredded coconut, flaxseed, chia seeds, blueberries, plant yogurt and grated apple in a bowl and mix until everything is well combined. Alternatively, pour directly into screw-top jars or breakfast boxes. Enjoy immediately and use with desired toppings, maple syrup or other sweetener to sweeten. Optional: Seal and refrigerate overnight.

33 g Oatmeal,

15 g Pumpkin seeds,

15 g Sunflower seeds,

3 g Coconut shavings,

15 g Flaxseed,

15 g Chia seeds,

70 g Vegetable yogurt,

95 g Frozen blueberries,

250 ml Plant milk,

1 Apple,

Maple syrup to taste

TIP: If the Bircher Muesli becomes too firm, add some vegetable milk and stir.

Vegetable yogurt,

Strawberries,

Coconut shavings or coconut flakes of your choice
Nährwertangaben
Serving:
1
Portion
Calories:
413
kcal
Carbohydrates:
44
g
Protein:
12
g
Fat:
23
g
Saturated Fat:
4
g
Polyunsaturated Fat:
8
g
Monounsaturated Fat:
9
g
Trans Fat:
0.01
g
Sodium:
73
mg
Potassium:
522
mg
Fiber:
11
g
Sugar:
20
g
Vitamin A:
570
IU
Vitamin C:
23
mg
Calcium:
308
mg
Iron:
3
mg