Grilled tofu pineapple skewers on rice are a fine thing. Right now I'm in barbecue fever and always looking for new recipes. Once again I thought of pineapple, which is excellent on the grill. Fruit on the grill is totally underrated from my perspective, and I'll be experimenting with it more in the coming weeks as well. The summer means it currently very well with us and I look forward to many more barbecues with fine vegan dishes. But now we want to fully concentrate on our delicious skewers.
Grilled tofu pineapple skewers on rice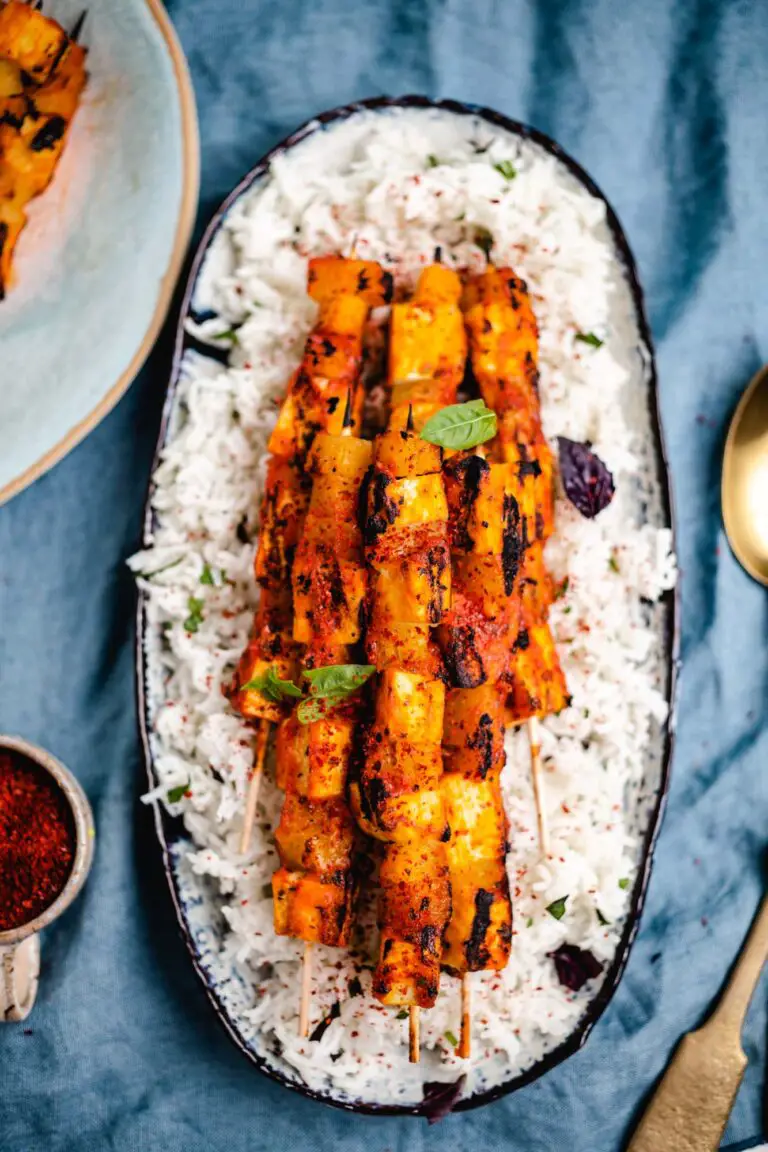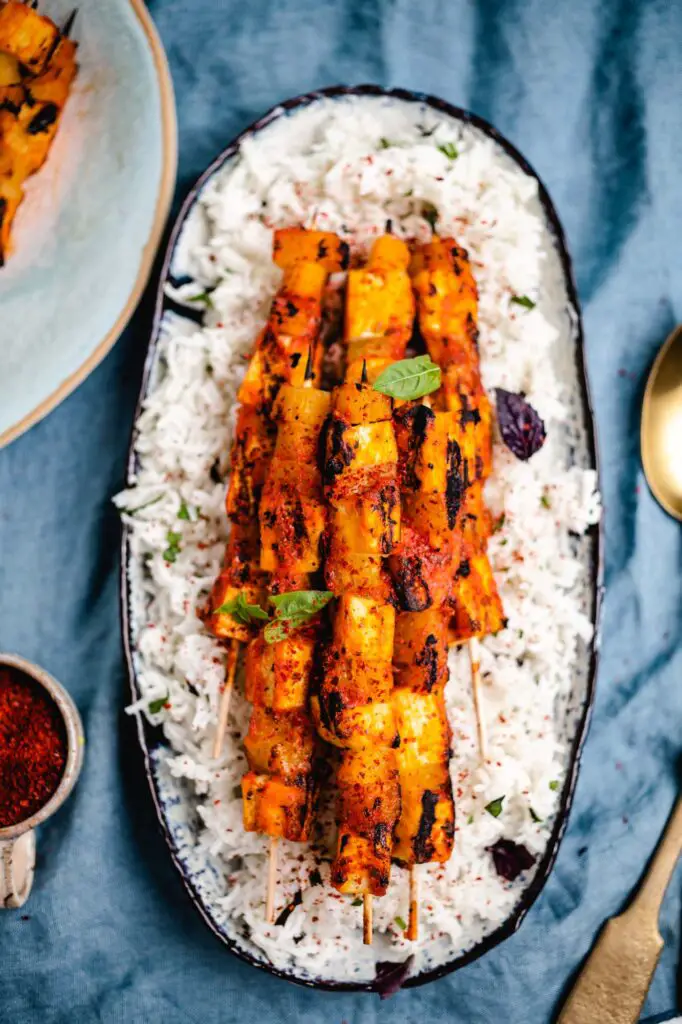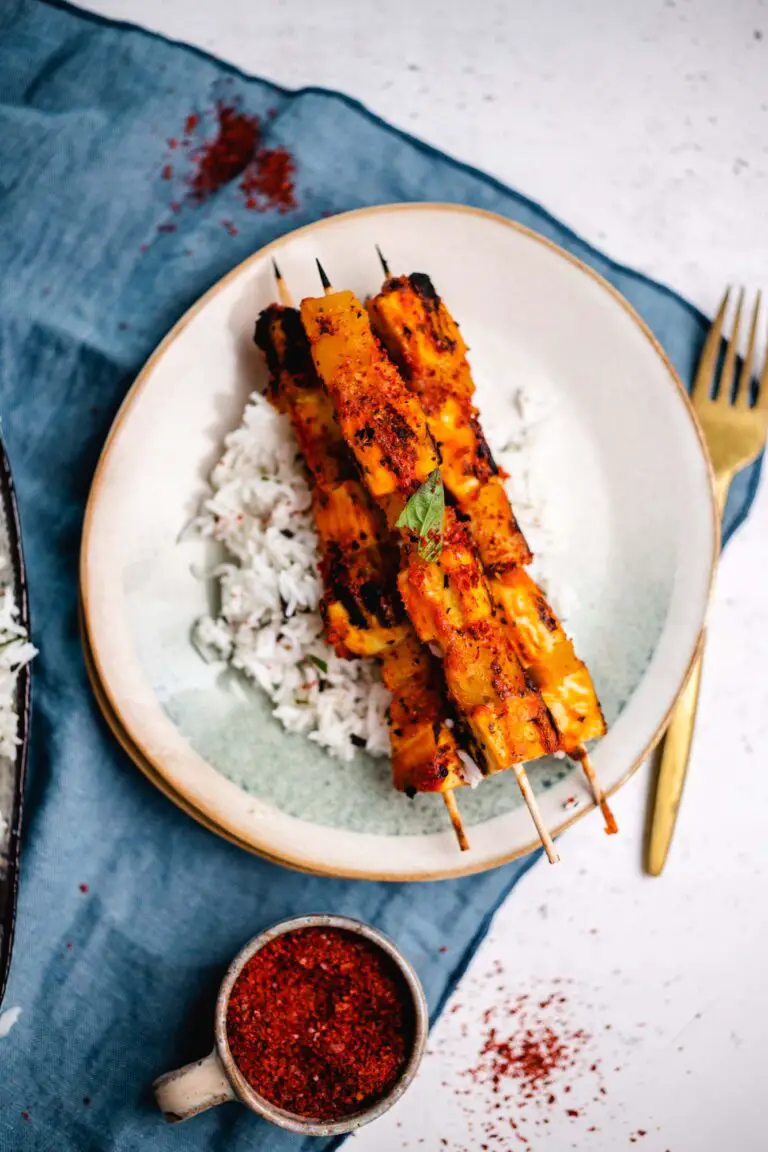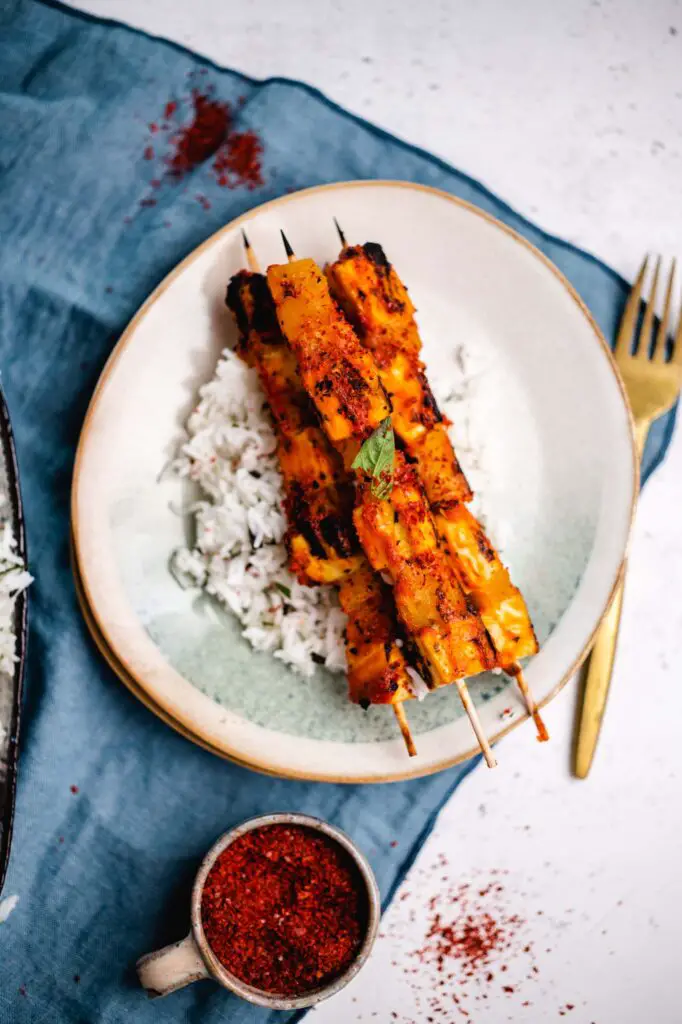 Let's take a closer look at this wonderful recipe for a moment. We'll start with the skewers, which are made with pineapple and tofu and coated with a delicious homemade marinade. They are served with rice or cauliflower rice. Of course, if you want to omit the garnish altogether, that's no problem either.
The marinade consists of ketchup, paprika powder, garlic granules, oregano, chili, ginger and a sip of olive oil. This is all stirred together until a creamy mariande is formed. But now we first prepare the barbecue skewers by alternating pineapple and tofu on each skewer. They are then brushed heavily with marinade and are just waiting to go on the grill. That's all, because once again it's a simple, quick and delicious recipe for warm summer days!
TIP: If you don't have natural tofu at home, you can always use a smoked tofu, that will also work without any problems. Another little tip for pressing tofu. I'm a big fan of professional tofu presses, like this one. Previously, I always used hand-pressed kitchen towels, which honestly didn't work very well.
Simple vegan barbecue recipes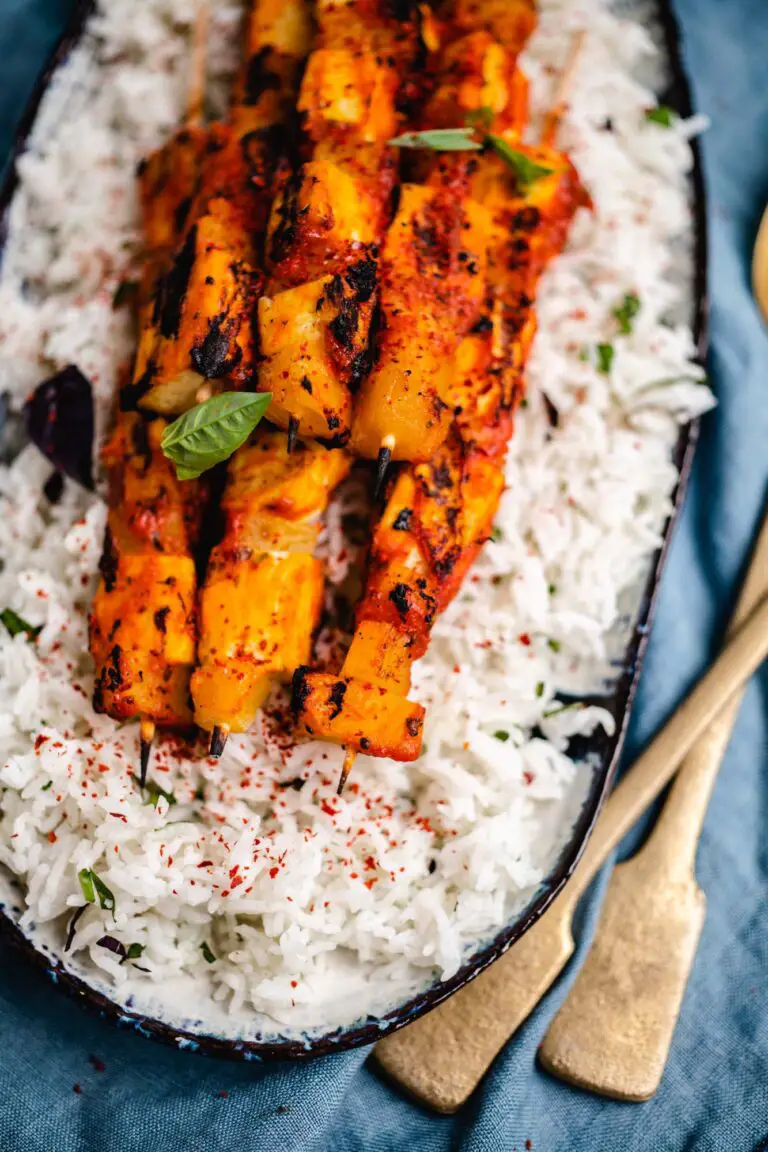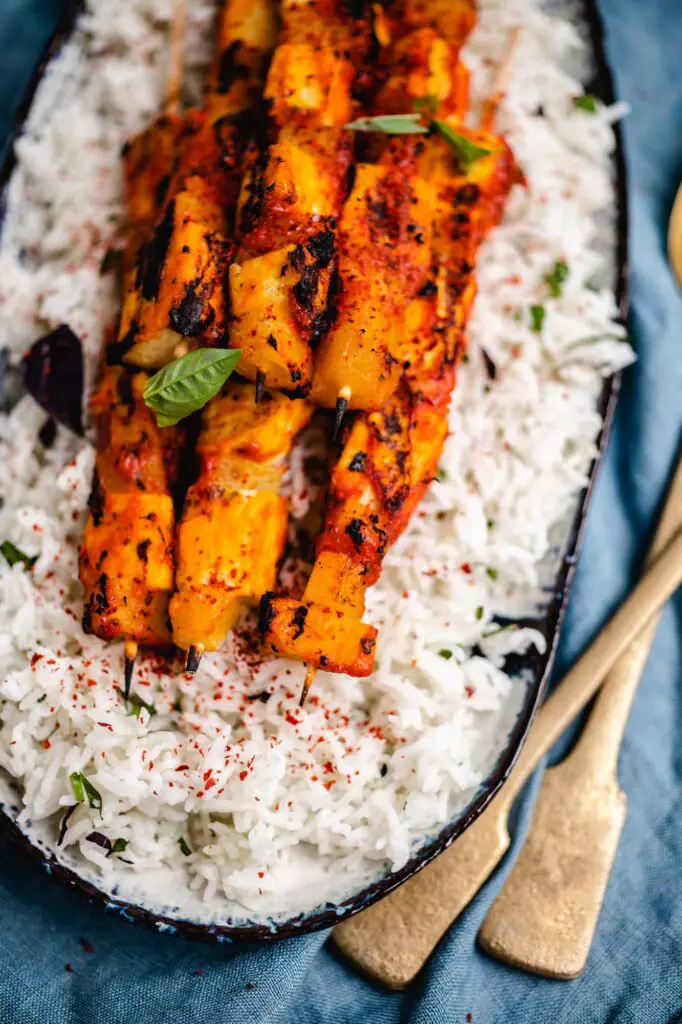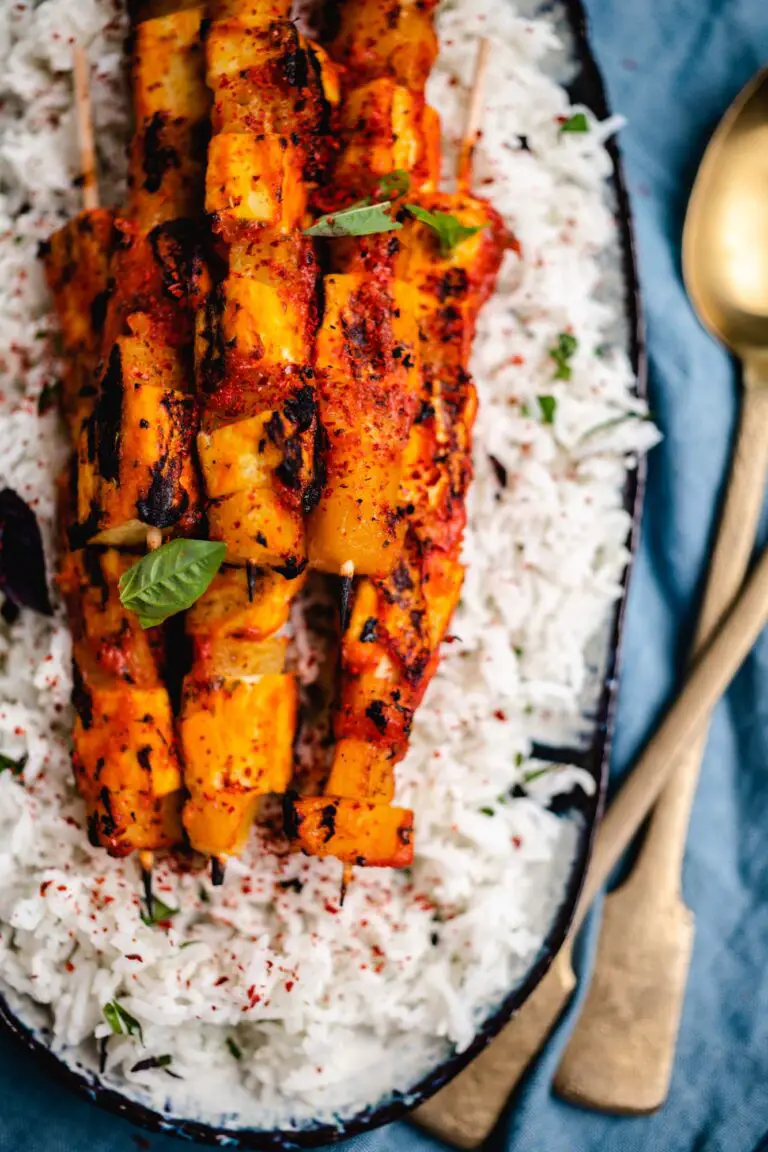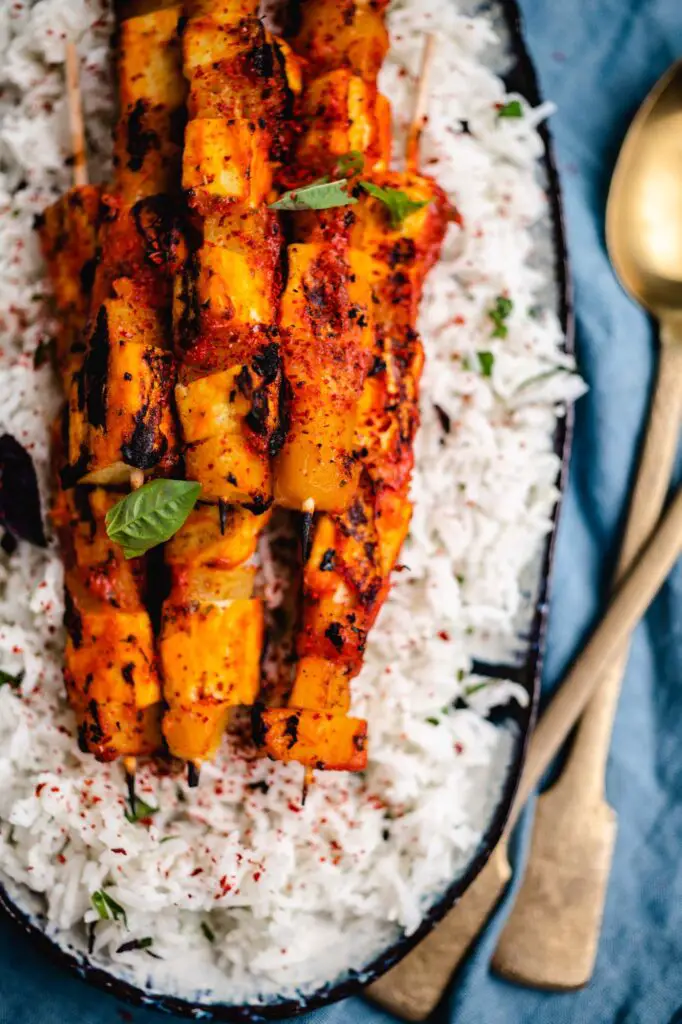 Otherwise, there is not much more to say about this simple incredibly delicious dish from the grill. For decoration, I use mild Korean chili flakes and some fresh basil.
Looking for another vegan dish to grill? Then I recommend you the following delicacies:
The grilled tofu pineapple skewers on rice:
aromatic
fruity
Slightly sharp
filling
Easy to make
Well, fancy a vegan barbecue? I wish you a lot of fun with it and of course about a rating at the bottom of this page. If you post a picture, use the hashtag #veganevibes.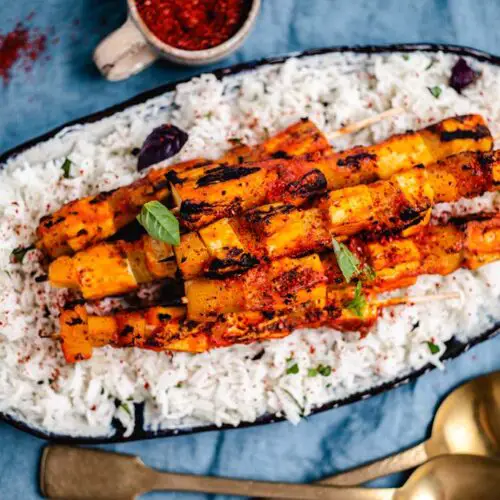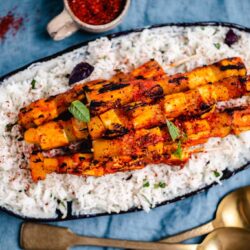 Grilled tofu pineapple skewers on rice
Vegan pineapple tofu skewers fresh off the grill, coated in a delicious marinade that will leave you wanting more. Together with rice it becomes a delicious main dish and promises absolute grilling fun. Vegan, gluten-free and with little oil.
AUTOR: VEGANEVIBES
FOR THE GRILLED TOFU-PINEAPPLE SKEWERS:
TOPPINGS AND GARNISHES:
Rice at will

Mild chili flakes
Anleitung 
FOR THE GRILLED TOFU-PINEAPPLE SKEWERS To remove tofu from package and place in a tofu press. Alternatively, squeeze with your hands. Cut into bite-sized pieces. Place in a bowl, along with the cornstarch. Shake until the tofu pieces are coated with the starch.

400 g Tofu natural,

3 EL Cornstarch

If serving with rice, cook according to package directions.

Provide a bowl. Add ketchup, paprika, garlic granules, oregano, chili, ginger and olive oil and mix with a spoon or whisk until a creamy marinade is formed. Set aside.

80 g Ketchup,

1 TL Paprika,

1 TL Garlic granules,

½ TL Oregano,

1 Chili,

1 EL Ginger,

15 ml Olive oil

Prepare barbecue skewers. Take one skewer each, and alternate a piece of pineapple and a piece of tofu until the skewer is full. Repeat until pineapple and tofu are used up. Brush with the marinade and set aside.

685 g Pineapple in pieces

Heat grill, place skewers on grill and grill for a few minutes on each side until nicely browned.

Transfer rice to a large serving platter and drape skewers on top. Garnish with fresh parsley and enjoy! Best fresh!

Rice at will,

Basil,

Mild chili flakes
Nährwertangaben
Serving:
1
Portion
Calories:
500
kcal
Carbohydrates:
91
g
Protein:
16
g
Fat:
9
g
Saturated Fat:
1
g
Polyunsaturated Fat:
3
g
Monounsaturated Fat:
4
g
Sodium:
192
mg
Potassium:
377
mg
Fiber:
5
g
Sugar:
22
g
Vitamin A:
451
IU
Vitamin C:
100
mg
Calcium:
180
mg
Iron:
3
mg