Baked potatoes with tomato pesto is a really fine thing. I am a big fan of pasta, however I am incorporating more and more potatoes into my recipe right now. why? I think potatoes unfairly have a bad reputation because they are often put in the wrong corner due to quite greasy dishes like fries. In itself, the potato is a very healthy food and in earlier times came much more often on the table. I can still remember when my grandmother stood in the kitchen and peeled potatoes for hours for the most diverse dishes. So it's time for a delicious dish with the good old potato in a new guise. Well, do you feel like it?
Baked potatoes with tomato pesto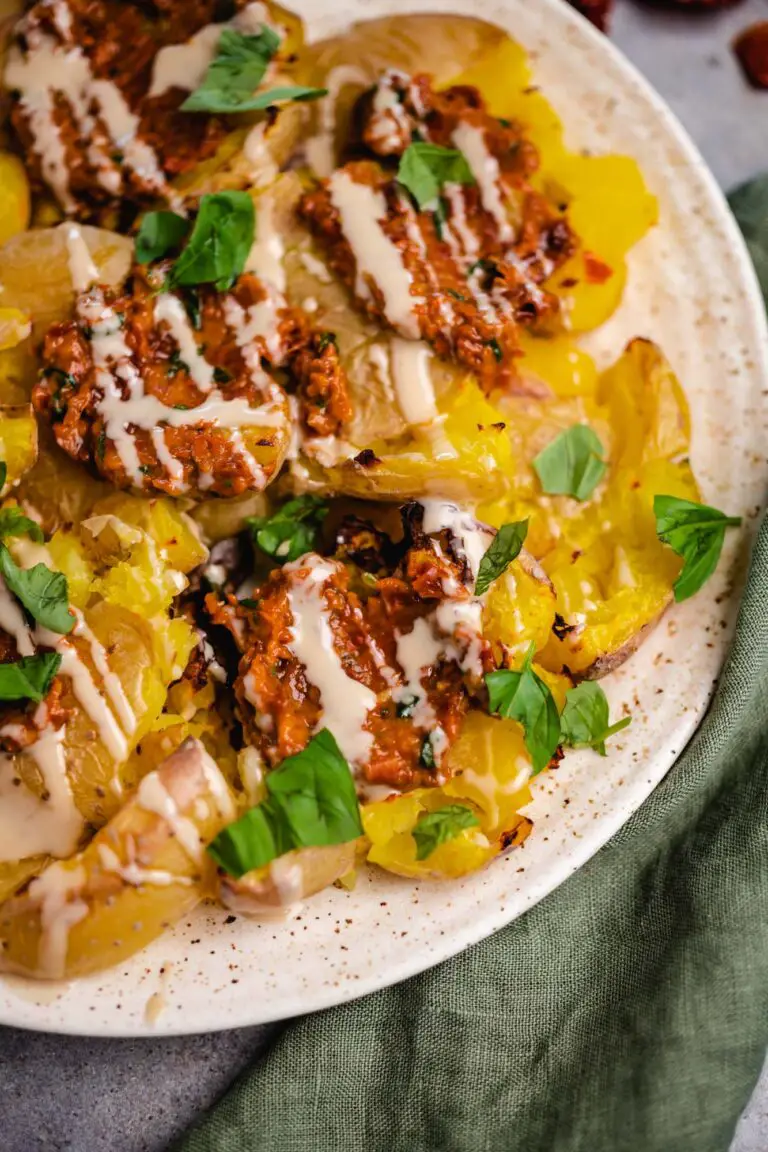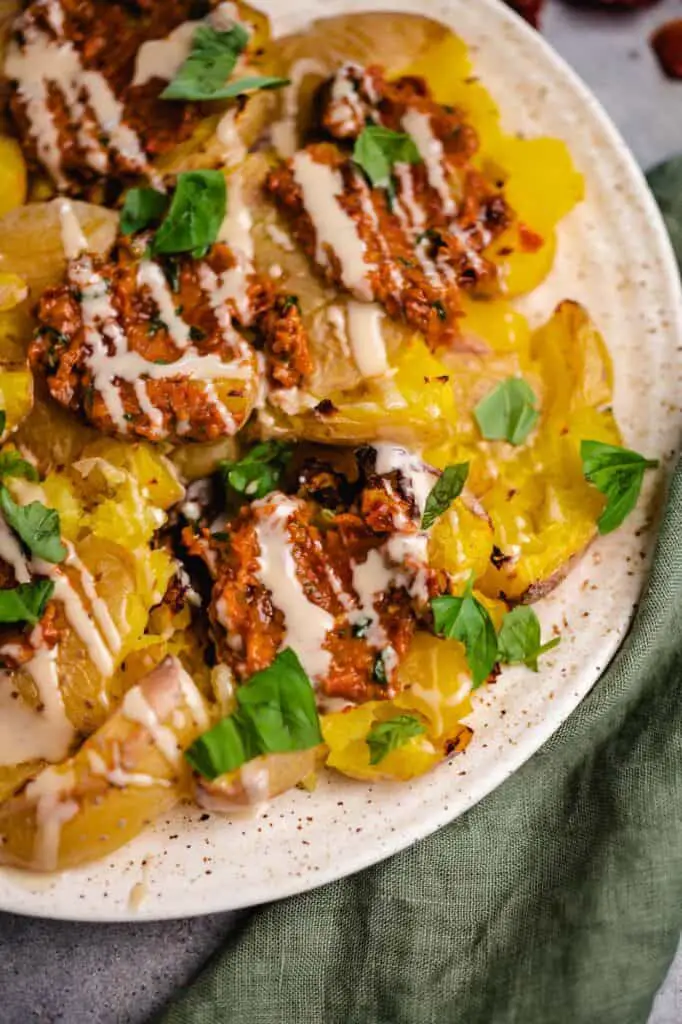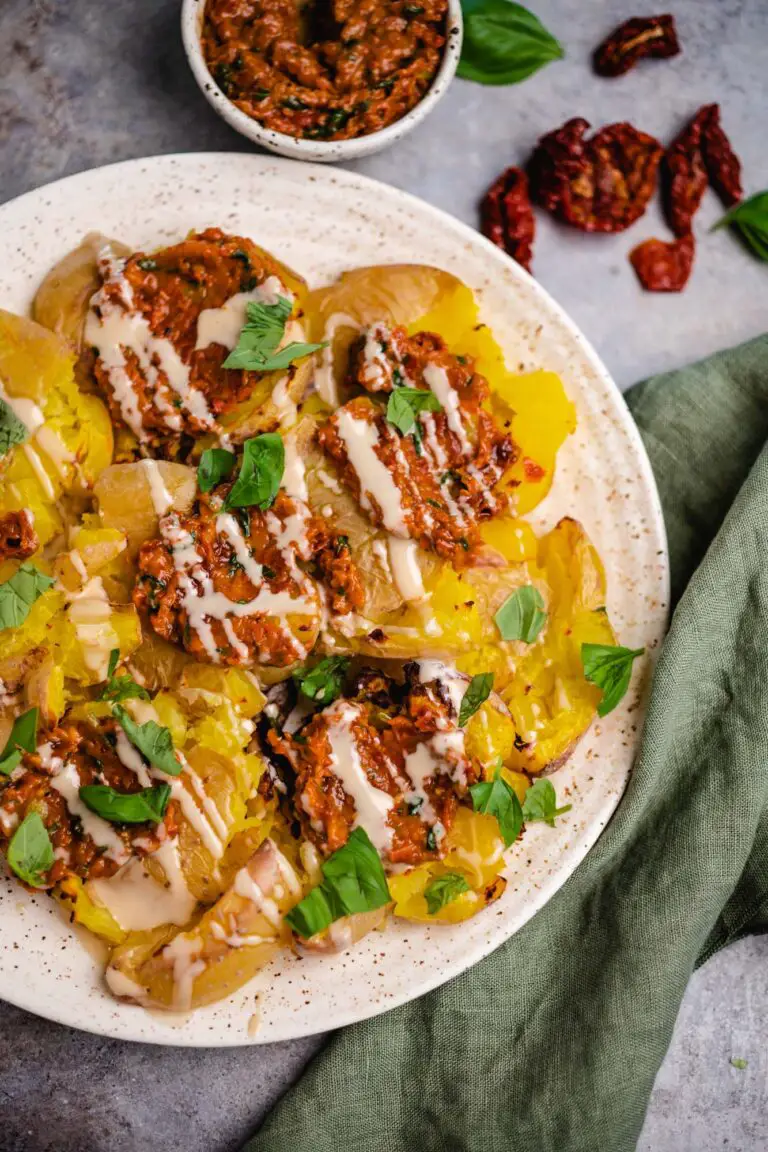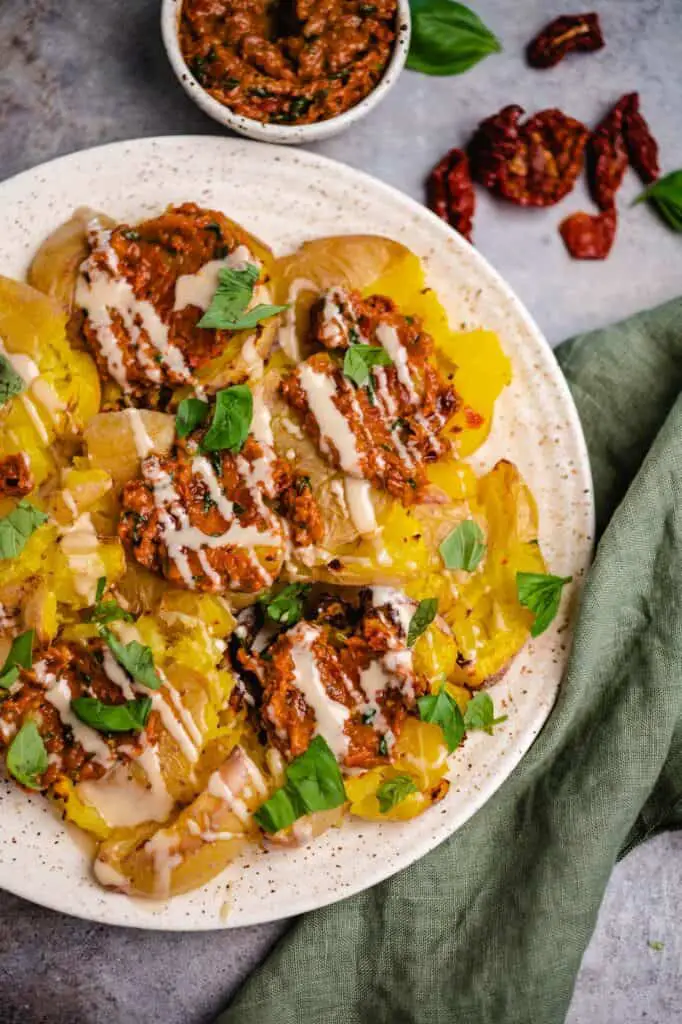 I've been testing potatoes over and over the past few weeks for the best and fastest way to cook them. At first I thought that they would cook the fastest in my pressure cooker. That's partly true, too, though it's one of those things. The problematic thing about the pressure cooker is that I just never found the ideal cooking time. Once they were undercooked, the other time they were already mushy and burst open. In my opinion, the best method is cooking in a steamer. I get a perfect result here every time. Otherwise, of course, the time-honored method of boiling in water also works. What is your favorite way to cook your potatoes? Feel free to write me a comment about it at the very bottom of the page.
Once the potatoes are cooked, I let them cool. Then they go directly onto a baking sheet and I crush them with a glass. In the same way, they go into the oven for a final crispy touch. I deliberately do without extra oil, or other spices, because the final taste subsequently with the pesto.
For the pesto, I put garlic, sun-dried tomatoes, basil, olive oil, salt, pepper and a sip of water in a high-powered blender to make a fine pesto. Once the potatoes are ready, finish them with the pesto and you have this heavenly dish.
Are potatoes healthy for the intestines?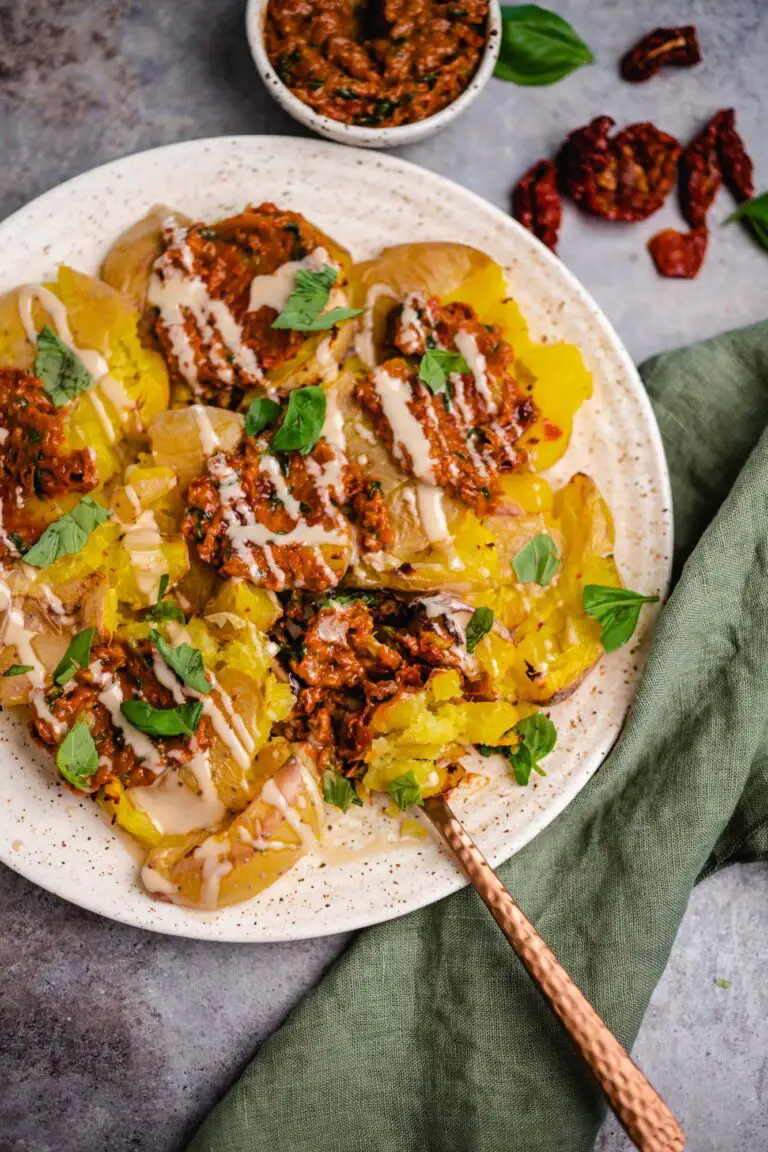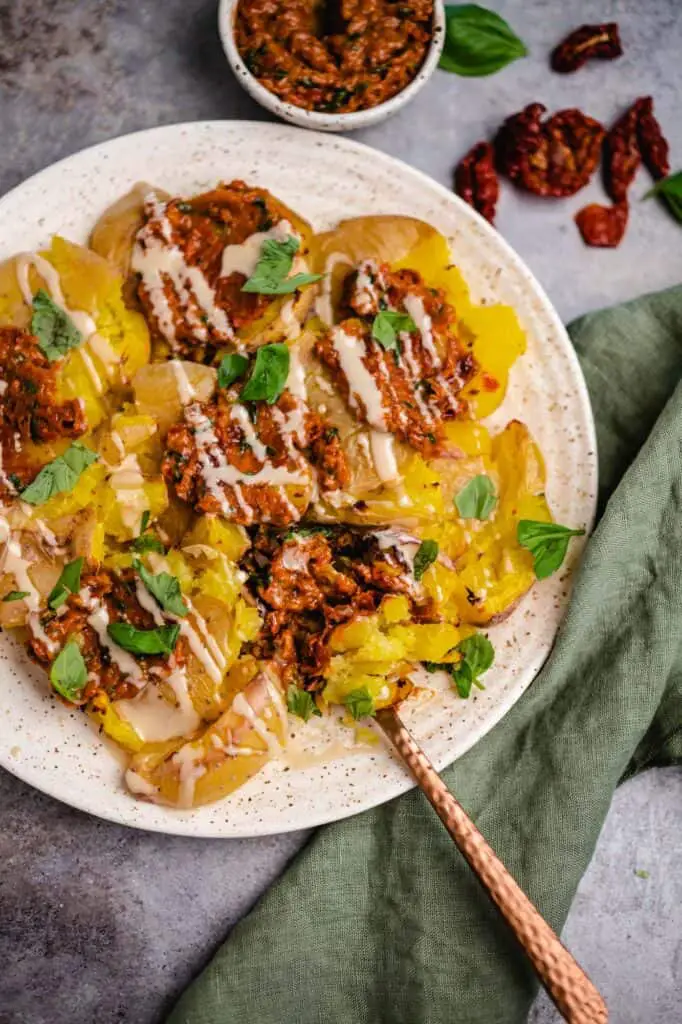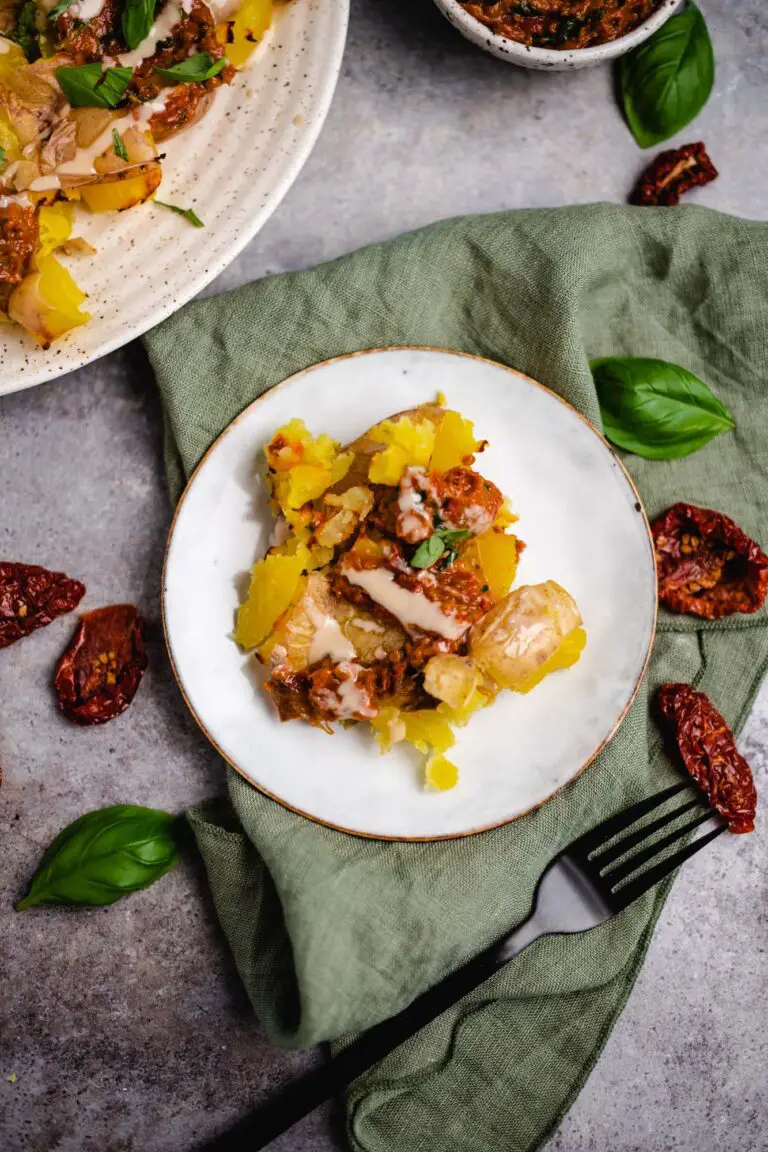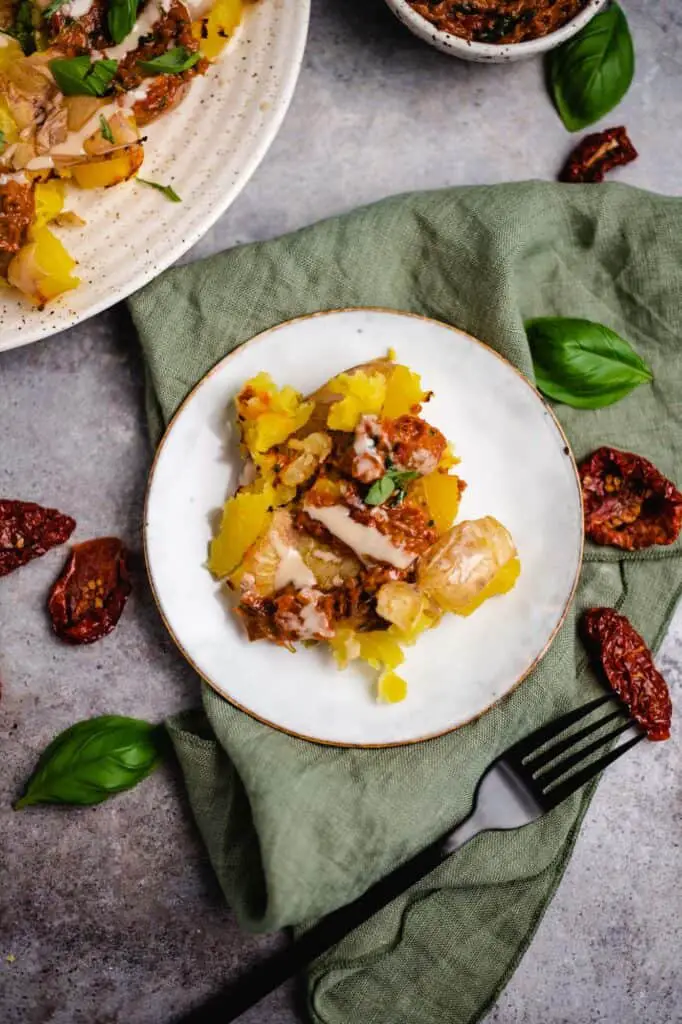 Potato in itself is a very healthy food and it becomes even healthier if we let it cool after cooking. why? When cooled, a so-called resistant starch is formed, which is particularly good for the intestines. It passes undigested into the large intestine, where it serves as food for the good bacteria. This produces a short-chain fatty acid called butyrate, also known as butyric acid, which has a particularly wide range of health benefits. I'd say go for the potato!
If you are looking for other dishes with potatoes, then I have the following suggestions for you:
Our today's dish is perfect as a side dish with grilled food, or simply as a main dish together with a fresh green salad.
The Baked Potatoes with Tomato Pesto are:
High fiber
aromatic
Spicy
filling
Easy to manufacture
Let's get started with this delicious vegan oven dish. I wish you a lot of fun in the recooking and look forward to a review at the bottom of this page. If you post a picture, use the hashtag #veganevibes.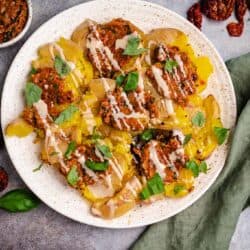 Baked potatoes with tomato pesto
Crispy baked potatoes with a delicious tomato pesto made with dried tomatoes, basil and garlic. Perfect as a vegan, filling main dish or as a side dish with grilled meats. Vegan, Gluten Free, High Fiber.
AUTOR: VEGANEVIBES
FOR THE POTATOES:
680

g

Potatoes

predominantly waxy
FOR THE TOMATO PESTO:
180

g

Tomatoes in oil

I use the dried tomatoes from Alnatura, it can also be a little more or less weight, this may vary from manufacturer to manufacturer

20

g

Basil

2

Piece

Garlic cloves

Pressed

15

ml

Olive oil

60

ml

Water

or more at will
FOR THE TOPPING:
2

EL

Tahini & a little water

Fresh basil leaves
Anleitung 
Bring a large pot of water to a boil. Add the potatoes and cook for about 25 minutes until the tubers are cooked. Towards the end of the cooking time, test with a sharp knife whether the potatoes are cooked. Otherwise, extend cooking time. Quench with cold water and leave to cool.

Preheat oven to 200degrees and line a baking sheet with parchment paper.

Place potatoes on baking sheet and flatten with a flat kitchen utensil (I used a glass). CAUTION: Potatoes may still be hot inside.

Spread evenly on the baking sheet and place in the oven. Bake for

30 minutes

until golden brown.

FOR THE TOMATO PESTO Put dried tomatoes in oil, basil, garlic cloves, olive oil, salt, pepper and water in a blender. I use my MagiMix (small blender jar) and blend until you have a fine pesto. Put in the refrigerator.

180 g Tomatoes in oil,

20 g Basil,

2 Piece Garlic cloves,

Salt to taste,

Pepper to taste,

60 ml Water,

15 ml Olive oil

FOR THE TOPPING Mix 2 tablespoons of tahini with a little water until smooth, so you can just drizzle it over the potato.

2 EL Tahini & a little water

At the end, place baked potatoes on plates, top with tomato pesto and drizzle with tahini topping. Sprinkle with fresh basil leaves and enjoy!

Fresh is best, store leftovers in an airtight container in the refrigerator for up to 2 days.
Nährwertangaben
Serving:
1
Portion
Calories:
518
kcal
Carbohydrates:
81
g
Protein:
12
g
Fat:
20
g
Saturated Fat:
3
g
Polyunsaturated Fat:
3
g
Monounsaturated Fat:
13
g
Sodium:
262
mg
Potassium:
2873
mg
Fiber:
13
g
Sugar:
3
g
Vitamin A:
1692
IU
Vitamin C:
161
mg
Calcium:
104
mg
Iron:
5
mg